Versace is one of the undisputed big hitters when it comes to fashion. The 1978 brainchild of Gianni Versace has risen to global fame; the iconic Medusa logo, inspired by Roman ruins, is now synonymous with one of the true world leaders in luxury. While the Italian fashion house is mostly known for their vibrant printed clothing, their glasses range offers understated style.
This buying guide seeks to highlight the best offerings from Versace, as well as our groundbreaking Virtual Try-On tool that lets you see how the glasses look without even having to leave your home! If you've ever wondered how much Versace glasses cost or where to buy Versace glasses, you've most definitely come to the right place.
Versace Glasses Men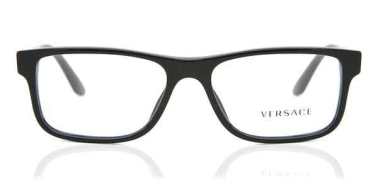 These black Versace glasses bring sleek, professional cool to the table. With rectangular acetate frames, these full-rim specs are a really refined way to accentuate your face shape. If you're not sure about how these will look, you can try them on at home using the Virtual Try-On tool on the product page.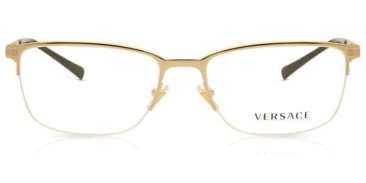 These Versace gold frame glasses are a really slim, minimalist way of upping your frames game. These semi-rimless specs are another classic design from Versace – they're simple, they look great, and they do their job. If you're not keen on the gold, this particular model also comes in black and gunmetal!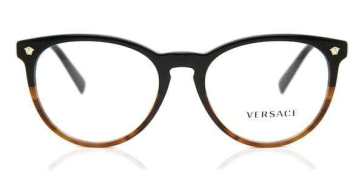 Offering a different style to the last two pairs, these fun round Versace glasses frames are something else when it comes to frame colour! These are made of a Havana/black acetate mix with the aforementioned Medusa head logo on the frames and temples to show off the signature Versace look. These glasses are full-rim and come with custom prescription lenses.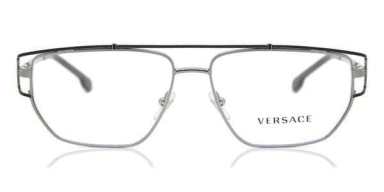 As worn in the featured photo for this article, these Versace men's designer frames bring some retro flair to an otherwise unassuming pair of thin-rimmed glasses. Available in gold or silver, these specs manage to blend 'out-there' design and '50s minimalism to great effect! Plus, if you're not sure which colour suits you better, check out our Virtual Try-On tool.
Versace Glasses Women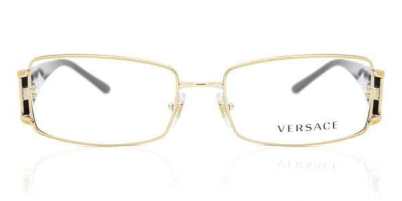 These hip gold and black frames are a great way to channel some '90s style to great effect. With slim gold metal rims and wide black temples (and BIG Medusa branding to boot), these glasses look like something out of a Bella Hadid lookbook, and rightfully so!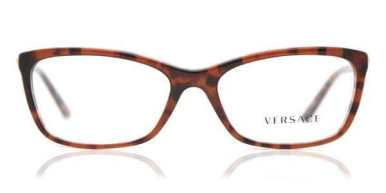 Quite dissimilar to the last pair, these Havana full-rim frames are definitely a toned-down option – but one that still brings trademark Versace style to the table. These frames are a cross between rectangular and cat-eye shapes. There's so much you can do with them, as they come in a huge range of different colours (not to mention with custom prescription lenses).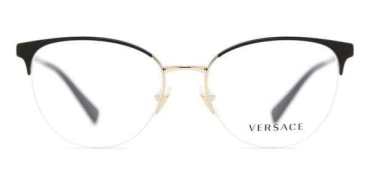 These glasses are a stylized version of Ray-Ban Clubmasters. The rims on the frames are pared back and have a tip at the corners for a cat-eye-type look. These are never going to go out of fashion with their minimal, refined style. Plus, they come in two other colours: red and 'eggplant violet'!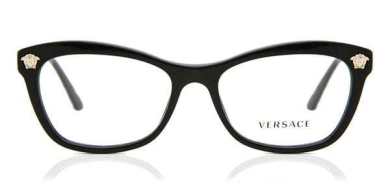 These women's glasses are a really nice spin on typical rectangular models. With black acetate and gold metal frames in a design that subverts the norm (including the signature Versace branding), these glasses are a great way to effortlessly pull off classy chic. And, if you're not sure how these will look on you, check out the Virtual Try-On tool on the product page!
If you liked this guide, be sure to check out our full range of cheap Versace glasses (or Versace sunglasses) or our buying guide to another famous Italian brand: Persol.