Prada is one of the oldest luxury fashion houses in the world. While it's now one of the most recognisable brands out there (and the home of the amazing Prada glasses listed below), it was founded in 1913 by Mario and Martino Prada as a small leather goods shop, Fratelli Prada. Mario held the belief that women should not be involved in business, but it was ironically his daughter that took the helm of the company after him. Her daughter is still involved with the company, and is also the head designer and founder of Miu Miu.
Prada still upholds its reputation as a leather merchant; it's best known for handbags, but it also branches out into accessories, shoes, perfumes and, of course, eyewear. Prada was thrust further into the cultural limelight in 2006, with the release of The Devil Wears Prada, starring Meryl Streep and Anne Hathaway.
This buying guide seeks to show off some of the best Prada glasses, as well as our groundbreaking Virtual Try-On tool that lets you see how they look without even having to leave your home – perfect for a socially distanced try-before-you-buy! If you're interested in Prada glasses frames or Prada prescription glasses, you've most definitely come to the right place.
Prada Glasses Women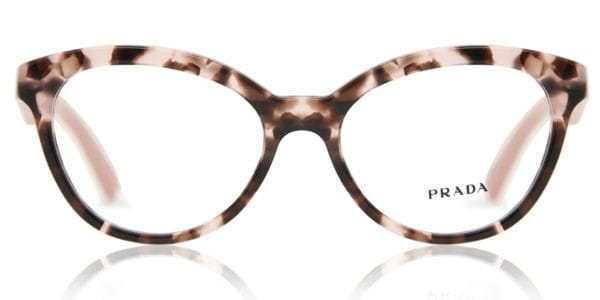 These Prada cat-eye glasses kick off this buying guide with some real style oomph. The frames themselves are beautifully accented with dark Havana marbling, and are sure to pop on any wearer's face. They're a classic piece of eyewear design; these full-rim specs also come in white or grey/brown.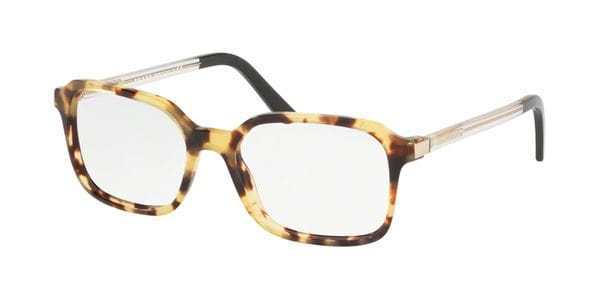 These unique Prada tortoiseshell glasses combine sturdy square frame design with wildly-coloured frames. They're full-rim, with acetate frames and temples in contrasting colours; while the temples are simple, classic, and to-the-point, the frames are detailed with a really unique light Havana design. These glasses are full-rim, and come in a large range of colours – there's really something for everyone with these Prada eyeglasses.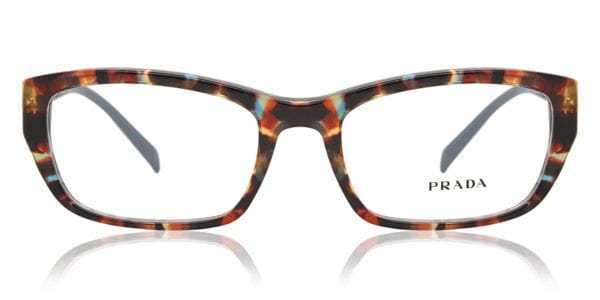 Prada is one of the few fashion houses that can make something as low-key as rectangular glasses stand out. With iridescent blue spotted Havana frames, these Prada reading glasses combine subtle outlines with popping colours. These full-rim glasses are also available in a more classic black. Can't decide? Our Virtual Try-On tool, available on the product page, lets you try these Prada optical glasses on without even leaving your home!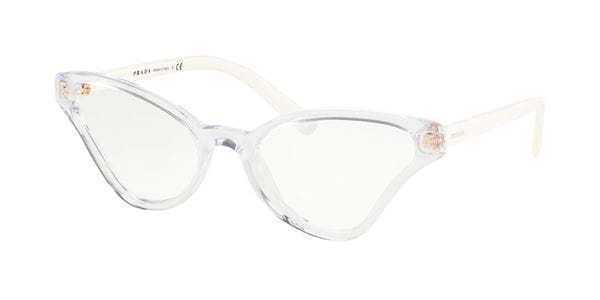 These Prada clear glasses effortlessly blend Milanese verve with Parisian chic. With streamlined transparent frames and angular design flair, these Prada cat-eye glasses are a modern style essential. While sunglasses tend to lead the charge in terms of out-there design, these full-rim clear frames are a great option for any fashion-conscious eyeglasses wearer. Plus, if these aren't your style, they also come in black, Havana and transparent pink!
Prada Glasses Men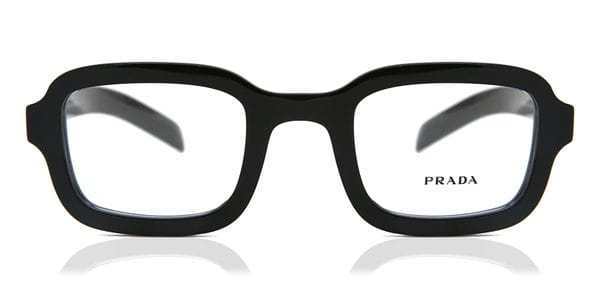 These thick full-rim men's glasses are a great pairing with a dark suit – and with good reason; they're sleek and professional. These black Prada glasses offer fashionably modern design and classic sophistication, blended together in a unique rectangular frame. These glasses also come in two different kinds of tortoiseshell – if you can't decide which one suits you best, try our amazing Virtual Try-On tool, available on the product page.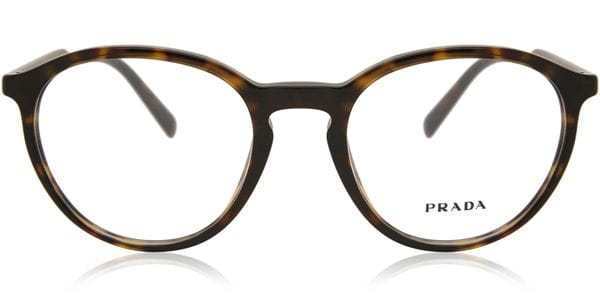 These Prada frames are simple, classic and unassuming – as well as being highly stylish. With round tortoiseshell frames, these timeless spectacles are one of the best examples of Prada's enduring design pedigree. These full-rim glasses also come in striped brown or matte black.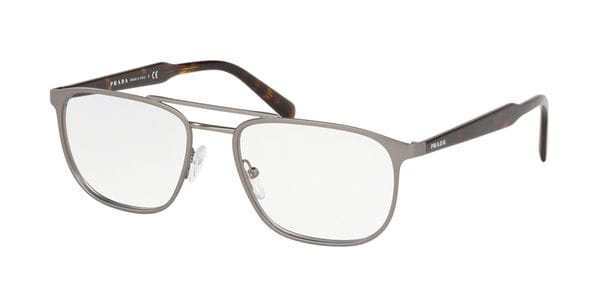 These men's glasses from Prada offer a great insight into modern Italian industrial design. With a mix of machined metal and tortoiseshell acetate in the frames, these glasses are a truly fashionable vintage-style model. These full-rim glasses also come in gunmetal, gold, full tortoiseshell and black – and there's no better way to decide which suits you best than the Virtual Try-On tool, available on the product page!
Special Mention: Prada Linea Rossa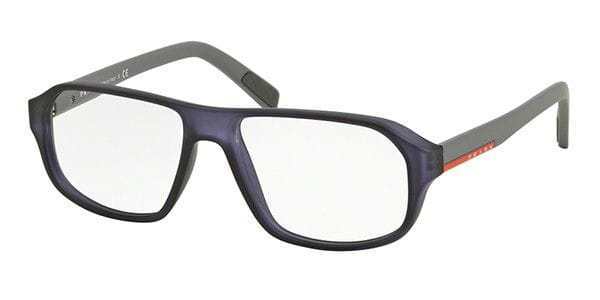 Prada's modern work, which has even extended into streetwear, has made great use of their Linea Rossa branding. These men's frames in particular, show off the radically different designs that the Prada Linea Rossa glasses team pursues. With a futuristic mix of grey and translucent blue acetate frames, these full-rim glasses are a surefire way to elevate your style to the next level.
How Much Are Prada Glasses?
Glasses from Prada typically range from about £120 – £200. However, you can find great prices at SmartBuyGlasses; we offer great value Prada eyeglasses for as little as £96 so you can enjoy designer eyewear for the best price.
How To Tell if Prada Glasses Are Real
There are several key indicators of authenticity when it comes to Prada eyeglasses. Products from SmartBuyGlasses will come with a genuine Prada case. These cases are high-quality and sturdy with a soft interior and a cloth that features the Prada logo. This logo, as well as the phrase 'Made in Italy' will also be located on the inside of the stems of the glasses themselves. Both the logo and the text will be evenly spaced and written clearly without any blurred lines or letters.
It's always best to enquire about the eyeglasses' model number. This information is readily available for authentic Prada eyeglasses; if you're not sure about this, drop us an email at customerservice@smartbuyglasses.co.uk.
Where To Buy Prada Glasses
If you're in the market for Prada eyewear, look no further than the huge range available at SmartBuyGlasses. We've got over 500 different types of some of the hottest eyewear Prada has to offer. With a 2 year warranty, 100 day returns and FREE shipping on all products, you'll be able to find what you love from Prada and more. It's eyewear made easy.
If you liked this guide, be sure to check out our full range of Prada eyeglasses (or Prada sunglasses) or our buying guide to another world-famous Italian brand: Versace.