Actress and humanitarian, the leading lady of 'Breakfast at Tiffany's', Audrey Hepburn's style was one of Hollywood's all-time most iconic, and she one of the world's most successful actresses. She has been famed for her ability to project an aura of sophistication, balanced with charming innocence. Read on to discover who Audrey was before Holly Golightly and what set her style apart from other world-famous icons. 
Audrey Hepburn Biography
Audrey Hepburn was a Belgian born, British actress, and Hollywood royalty. She was a talented performer. Hepburn was well-known for her beauty, elegance, and style, and her lifelong efforts to help children in need. She had a rough childhood, growing up in the Nazi-occupied Netherlands left her malnourished from the age of 9 to 16. However, she managed to take up ballet lessons and attend school. This rendered her opportunity to prosper in ballet stunted.
The actress was iconized in Hollywood following her effervescent yet mysterious role as Holly Golightly in the 1961 release 'Breakfast at Tiffany's'. She enchanted movie audiences with her charming demeanour through her performances in a variety of movies like Sabrina, War & Peace, The Nun's Story, Charade, Two for the Road, and My Fair Lady. In 1988, she started a new career at UNICEF as Goodwill Ambassador, where she devoted herself to humanitarian work, visiting children in famine-stricken villages in Africa, Latin America, and Asia until passed away in 1993.
Filmography
Audrey Hepburn rose to fame in her first American movie in 1953. The starlet won hearts worldwide with her elegance, doe-eyed innocence, and stellar acting. In fact, she was a rare EGOT,.ie., holder of an Emmy, a Grammy, an Oscar, and a Tony Award. She had won an Oscar for Best Actress in a Leading Role for 1953's Roman Holiday. The next year she was awarded the Tony for Best Actress in a Drama for her performance in Ondine. Hepburn's Emmy and Grammy are more surprising. Hepburn retired from acting long before it became acceptable for movie stars to take TV roles. She won an Emmy for hosting PBS's 1993 documentary series Audrey Hepburn's Gardens of the World, which, as the title implies, featured avid gardener Hepburn visiting some of the world's most spectacular gardens. 
Audrey's Style
The actress's style was very popular in the 1960s with the release of her blockbuster movies and continues to be looked upon as a point of reference for fashion enthusiasts alike. Audrey was a style icon, known for her effortless, minimal and classic looks, both on and off-screen. She would wear neutral signature and masculine pieces, like a white shirt, cropped black trousers, and neutral midi skirts. Then she would feminize the look with subtle and statement accessories like bags, scarves, and sunglasses. Keep reading to learn more about Audrey Hepburn's most iconic sunglasses looks over the years.
The starlet's signature looks
Audrey Hepburn had a heart-shaped face- a wider forehead, high cheekbones, and chiselled jawline. Cat-eye frames feature an upswept browline that tapers towards the temples. Audrey Hepburn's style involved wearing large frames with this statement-making style over a number of her movies.
Tiffany Sunglasses
As far as Audrey Hepburn's fashion goes, her style is most associated with that of Holly Golightly. She played that character in the romantic comedy- 'Breakfast at Tiffany's' wearing arguably the most famous black dress in Hollywood history. She had worn custom-made Oliver Goldsmith sunglasses in the Manhattan style; a feminine, classic, oversized tortoiseshell wayfarer design with hazy green lenses. So, these sunglasses could hide Holly Golightly's feelings, hangover and would add an element of mystery to her character.
Oliver Goldsmith sunglasses would set you back by more than £400. Here's how you can get the Audrey Hepburn Breakfast at Tiffany's look for less!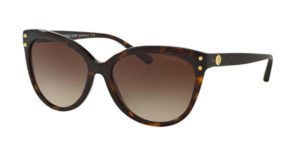 An elegant cat-eye shaped dark-tortoise frame with gradient brown lenses, this pair by Michael Kors can be described as Holly Golightly sunglasses. These sunnies feature tone-on-tone lenses, two-pin detailing on the lens front, and also a subtle MK branding to add that touch of glamour to your look.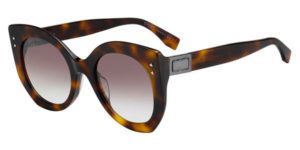 Featuring an unconventional design from the Italian atelier, these oversized, Audrey Hepburn style sunglasses are made with acetate, ensuring strength and longevity. The nylon lenses are virtually indestructible and will see you through those times when you want to wear Tiffany sunglasses.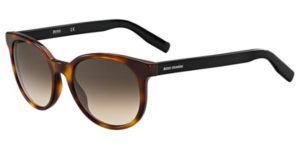 If you've been looking for discount tiffany sunglasses, we've got you covered with these acetate sunnies. These sunnies from Boss will have you rocking that 'Holly Golightly' look effortlessly without having to pay over £100. In short, these cat-eye tortoise frame sunglasses embody Audrey Hepburn's fashion philosophy of being simple, yet classy.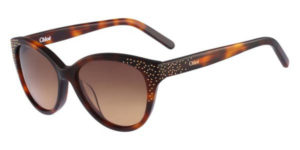 The stars will be on your eyes with this stunning pair from Chloe. A modern take on the 1960 sunglasses, these acetate frames are nothing short of refined elegance. These tortoise print Chloe frames are long-lasting and will always keep you protected from UV rays. Above all, the graduated lenses make this pair the right choice for not only looking your best but for giving the day your best.
'How to Steal a Million' Sunglasses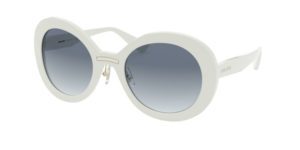 Trendsetter Audrey Hepburn wore bold, round & oversized acetate sunglasses for her popular role in the 1966 romantic comedy- 'How to Steal a Million'. These Miu Miu sunglasses are an affordable alternative to the original Oliver Goldsmiths that Hepburn had worn in the movie. These sophisticated yet bold frames are made from fine acetate & high-quality plastic, rendering them very durable and lightweight. In addition, the non-slip temples and optical hinges give a steady and nice fit.
'Two for the Road' Sunglasses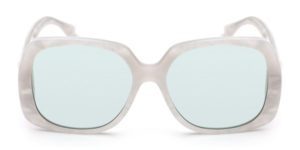 These George Keburia glasses made of glossy pearl acetate are symbolic of Audrey Hepburn's style. Super chic and in addition to the 'Room for Two' style, these sunglasses have light green lenses, which even resemble the Tiffany blue colour when you're wearing them. 
If you're a fan of old school glamour, now that you've read about Audrey Hepburn style sunglasses, you may be interested in getting the Jackie Ohh look too! Take a browse through the top sunglasses for 2020 here.