Ray-Ban Justin sunglasses are some of the most fashionable sunglasses on the market right now. They've got that killer mix of high-quality design and pared-back simplicity that hits that sweet spot in eyewear design. What the Justin range represents is a step away from the classic horn-rimmed Wayfarer outline and a step towards a more modern aesthetic, seen in other Ray-Ban glasses like these.
This buying guide is going to take you through some of our favourite Justin styles from our huge range at SmartBuyGlasses. From classy classics like Ray-Ban Justin black frames to sleek vintage finishes like tortoiseshell, via sporty polarised frames and Asian fit models, this guide really does have something for everyone!
Virtual Try-On
This guide includes quite a few sunglasses – more than you'd be able to find in a physical retail store! If you want to see how Ray-Ban Justin on face looks without having to spend hours shopping, check out our innovative and easy-to-use Virtual Try-On tool. It lets you see how they look without even having to leave your home – perfect for a socially distanced try-before-you-buy!
One of the best things about these classic designs is that they're pretty much unisex; granted, they come in men's and women's models, but they share the same design features that make them so popular.
Ray-Ban Sunglasses for Men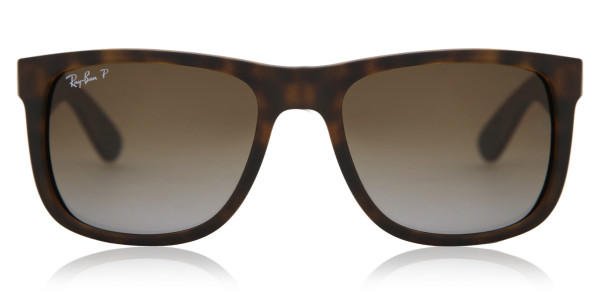 These men's Ray-Ban Justin polarised sunglasses are a perfect example of why we love the Justin range. They've got those classic frames with a cool tortoiseshell finish, but they're also brimming with modern technology and design. These full-rim sunglasses have a classy matte finish and, of course, polarised lenses!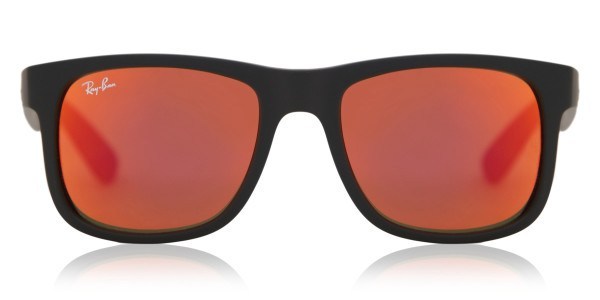 These Ray-Ban Justin matte black sunglasses are a sporty twist on the iconic silhouette. With black rubber frames and reflective brown mirror orange lenses, these are the perfect shades to accompany an active day out. These particular frames come in a cool full-rim design with that signature Ray-Ban Justin Color Mix branding on the temples and lenses.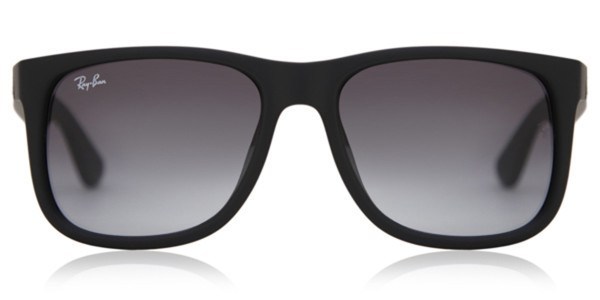 These black sunglasses blend subtle high fashion influences with cool professional design. Again, these shades are made with tough, durable full-rim rubber frames. The standout feature on this particular model is the stylish gradient dark grey lenses – these sunglasses might be basic, but sometimes it's better to stay on the safe side. These shades, it must be noted, are Asian fit, but if that's not for you, you can explore plenty more designs from Ray-Ban here. If you're not quite sure what asian fit is all about, check out our informative guide here.
Women's Ray-Ban Justin Sunglasses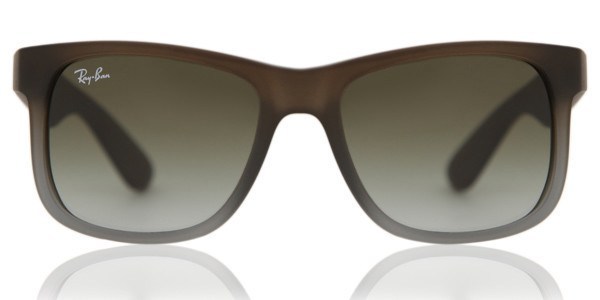 These women's sunglasses are a smart, stylish design that imposes a more modern take on this model. After all, there's a reason why they're our top sellers. One of the reasons why this particular design works so well (and is so popular) is the 'double gradient' in both the lenses and frames. Simply put, it's another design classic from Ray-Ban.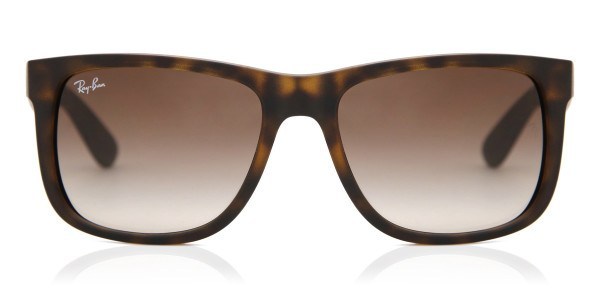 These sunglasses bring some glorious retro style to the women's shades section. With an elegant mix of light Havana and classy gradient brown frames, these shades are a real winner. They've got full-rim frames and signature Ray-Ban branding; frankly, they look like something Jackie Kennedy would wear!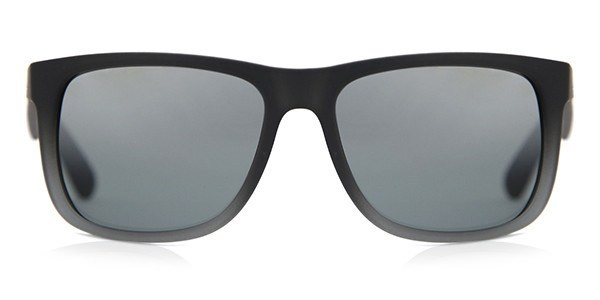 These frames are a cool kind of mash-up between two models already on this list. They bring some funky design flair with gradient frames, but also tone down the heat with some neutral, classic silver lenses. They're one of the few acetate designs on this list and, like the other models, feature that trademark Ray-Ban style and branding.
Ray-Ban Justin vs Wayfarer
We've spent a lot of time exploring the best Justin sunglasses out there, but I think it's worth checking in with their predecessors. The first thing you picture when you think of sunglasses, here are our favourite Ray-Ban Wayfarers.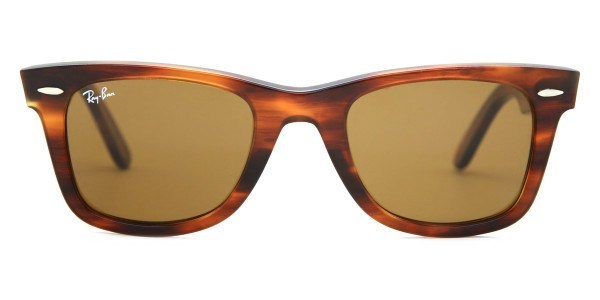 These full-rim sunglasses serve as an effortlessly stylish, vintage counterpart to their modern successors. These are just such a cool classic, and wouldn't look out of place in the city or at sea. They feature some exquisite light tortoise acetate frames, which perfectly compliment their brown lenses. They're a bit more angular than the Justin range, packing some punchy horn-rimmed features and, of course, classic Ray-Ban logos on the lenses and temples.
If you've enjoyed this guide, check out our recent review of Versace glasses here. If you want to shop Ray-Bans, browse our range of Wayfarer-style sunglasses here.