Love a retro throwback? Then discover browline glasses and sunglasses. Made famous in the 50s and 60s, they're seriously trending at the moment. Read on to find out more!
What are
browline glasses
?
Browline glasses are a style of eyeglass frames wherein the upper part of the frame front is bolder and thicker than the lower part. In other words, they are glasses with prominent upper rims, giving an impression of having very defined eyebrows or simply drawing attention to the wearer's browline area.
How did
they
come to be?
Browline glasses were originally invented in the 1940s by the eyeglass company, Shuron Ltd. The very first model, named "Ronsir", was ahead of its time, with options to customize bridges, eye wires, and "brows". This style started a trend and many other eyewear makers followed suit, releasing their own browline versions. Art-Craft Optical released their men's version under the name "Clubman" and the women's counterpart under "Leading Lady". Ray-Ban branded their version as Browline, hence making it a household name for the eyewear fraternity. 
Browline frames on celebrities
Malcolm X
Browline glasses have been associated with Malcolm X for his iconic 50s style. The African American human rights activist was said to own multiple "brows" in various colours and patterns to coordinate with his outfits. These frames came to be associated with him, to be known as "Malcolm X Glasses"
Colonel Harland Sanders 
The founder of "Kentucky Fried Chicken", was the brand ambassador and has been the symbol of the "Finger Linkin' Good" fast-food chain since 1952. You'll be sure to notice his browlines the next time you see the KFC logo!
Lyndon B. Johnson
Popularly known by his initials, LBJ, served as the 36th President for the United States of America. He sported his browline glasses while signing the 1964 Civil Rights Act at the White House.
Bruce Willis
In the mid-80s, Bruce wore these browlines with tinted lenses on the series "Moonlighting". This led to a resurge in popularity, prompting Ray-Ban to introduce the "Clubmaster" sunglasses, a traditional browline frame with sunglass lenses. This went on to become their third best-selling sunglass style in the 80s, behind the Wayfarer and Aviator.
Jack Coleman
In the 2000s, Jack's character in the TV series "Heroes" became distinctly recognizable thanks to his "horn-rimmed glasses", abbreviated as HRG. This influenced the fashion world and consequently eyeglass makers to bring the 50s style back into the picture
To sum up, individuals wearing browline glasses make a bold statement in doing so and they stand out as changemakers who walk the talk. Let's embrace the attitude and this style by checking out the best browline glasses for you!
Our top browline glasses picks: 
SmartBuy Collection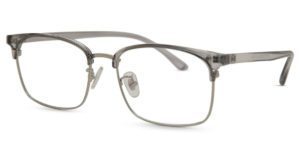 It's never been cheaper to try out a new frame style. At just £6, you can try a slick rectangular browline frame as well as add-on customizable prescription lenses without paying a heavy price tag. Take your lenses to the next level with the zFORT™ blue light blocking technology.
Ray-Ban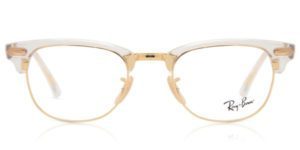 There cannot be a post about the browline style without mentioning the ever-iconic Ray-Ban Clubmaster. The air nose pads, non-slip temples, and high-end optical hinges are for a secured but nice fit. You don't have to ever worry about this style going out of style with these OG frames. With a combination of metal and plastic, you can rest assured that you own a long-lasting, durable piece that will enhance your style every day, no matter what you wear it with.
SmartBuy Collection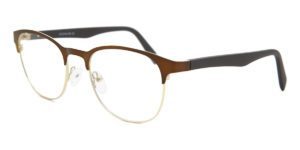 Wear a stylish, rustic look every day with these brown metal frames from SmartBuy Collection. Enjoy the 2-year warranty on this durable pair. If you're hesitant about not knowing how this will look on you, try out the Virtual 3D try-on! 
Police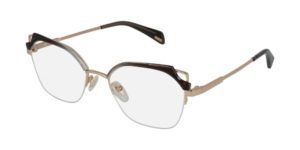 If you have a round, oval, or heart-shaped face and want to explore the browline style, you will love these metal frames by Police. The cat-eye shape will accentuate your bone structure to flatter you and enhance your look every single day. Rest assured that you can carry out any activity wearing this pair as it's virtually indestructible, yet super trendy!
Moncler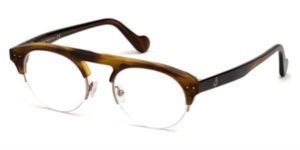 Embrace that vintage look and look your stylish best while doing so with this classic piece from the Italian fashion house. These tortoiseshell browlines would suit square-shaped faces the best thanks to its round shape at the frame as well as the lens. The non-slip nose pads and temples will provide a snug fit as well as ensure stability. 
Gucci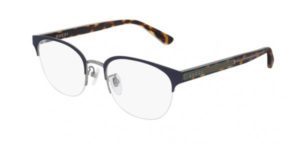 If you've read our Asian Fit glasses post, you'll have noted that it's particularly challenging to find stylish frames for wide-faced individuals. Here we have both issues tackled, with one pair from the legacy Italian fashion brand. Crafted with a combination of lightweight corrosion-resistant metal and durable, hypoallergenic acetate, these semi-rimless frames exude designer appeal without overpowering. The temples feature wide tips, ensuring stability behind the ears. Flaunt your impeccable style every day thanks to the subtle Gucci branding around the endpoints.
Giorgio Armani 
These matte brown Giorgio Armani frames make a great addition to any outfit. With the ultra-defined brow line, these glasses make a statement whilst being an aid in vision. Giorgio Armani uses state-of-the-art propionate, for these frames, making them feel practically weightless and very comfortable. 
Like this style? Discover Semi-Rimless here.
Don't stay in vogue just with your glasses. Bring the heat up a notch with these trendy sunglasses.