On our road trip down the entire Oregon Coast, we made a stop on the Central Coast for Finders Keepers, a treasure hunt for some Lincoln City glass floats.
Every year, visitors head to the Oregon Coast to hunt for these colorful and beautifully crafted glass treasures. Luckily, Jacob has a keen eye. I thought I was doing a thorough search, but I kept missing them.
There were others around, and you could tell they are highly coveted treasures. A few people even approached us and asked if they could touch them.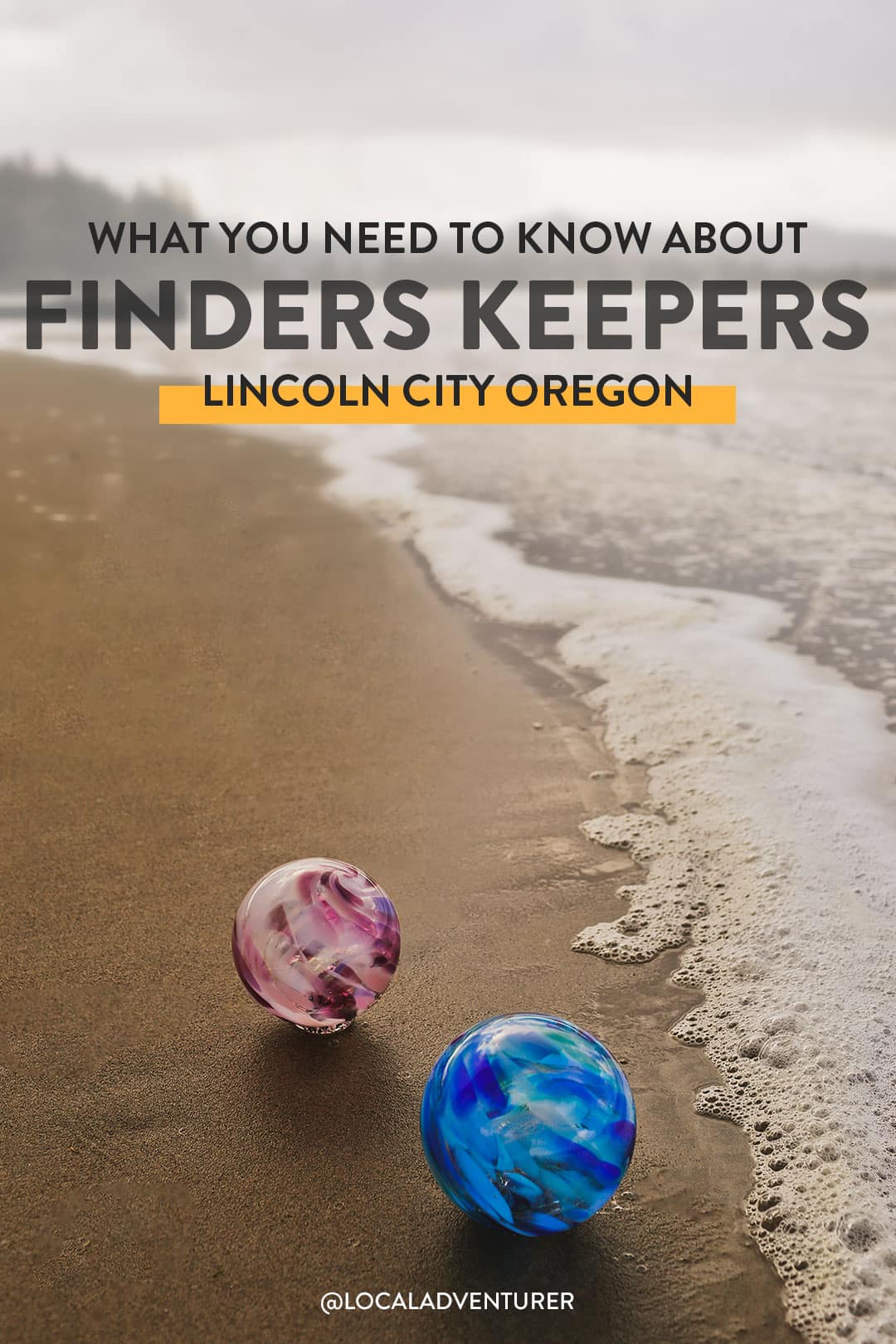 A big thank you to Travel Oregon for hosting our trip. All opinions are always our own. This post may contain affiliate links, where we receive a small commission on sales of the products that are linked at no additional cost to you. Read our full disclosure for more info. Thank you for supporting the brands that make Local Adventurer possible.
Last Updated: August 3, 2020
Finders Keepers – How to Treasure Hunt for the Famous Lincoln City Glass Floats
During our time in Lincoln City, we did a waterfall hike, saw one of the shortest rivers in the world, and paid a visit to the Seven Miles of Smiles, the name for the 7 miles of beautiful beach here. The unique feature about these beaches is the Lincoln City glass float hunt called Finders Keepers.
Finders Keepers is temporarily suspended until further notice. We'll update you on when they're back up and running. In the meantime, you can enter to win one of five through their Home Edition.
You can find one of the 3,000+ glass floats hidden along Lincoln City's seven miles of sandy beaches year-round. (It used to be only during winter from mid-October to Memorial Day). If you're lucky enough to stumble across one, it's yours to keep.
The Seven Miles of Smiles runs from Roads End on the north to Siletz Bay on the south.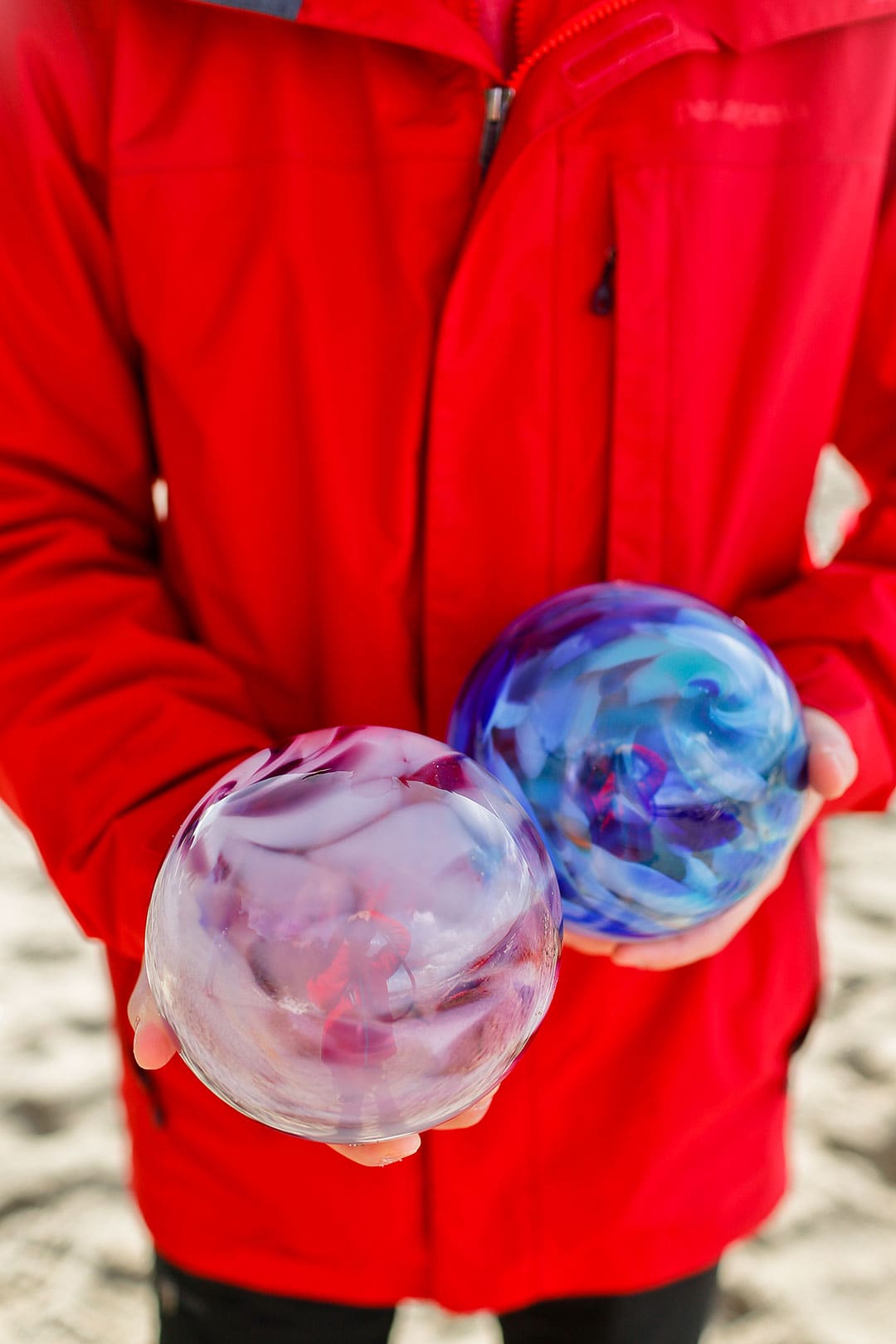 History of Finders Keepers
Years ago, beachcombers would be lucky to find a blown glass Japanese fishing float on the shores of Oregon. Fisherman used these beautifully crafted tools on their float fishing nets, but sometimes they ended getting cut off and lost. Anyone who found them would bring them home and admire their new-found treasure.
Nowadays, all fishing vessels have phased out glass floats to use buoyant plastic. A local artist thought bringing back the glass floats would be a great way to launch the new millennium and attract visitors during the slower season. Lincoln City sponsored the project and held the inaugural season of Finders Keepers in 1999-2000.
Finders Keepers brought tourists from all over the country looking for these signed and numbered floats. It was a success! The city loved how it turned out since it combined art and the outdoors, and many of the visitors also spent time in the city.
Since then, it's been an annual tradition that gets locals and visitors excited!
To help you in your search, the Float Fairies, who are responsible for hiding the glass floats follow a basic set of rules:
The fairies place the floats above the high tide line to ensure they don't get washed away, and below the beach embankment.
The fairies hide them throughout the day (not all at once) and only during daylight hours.
They're out rain or shine, except for during unsafe weather or ocean conditions.
Find info on cancellations via social media and their website.
You can only have one float per person per year to give everyone a chance to find one!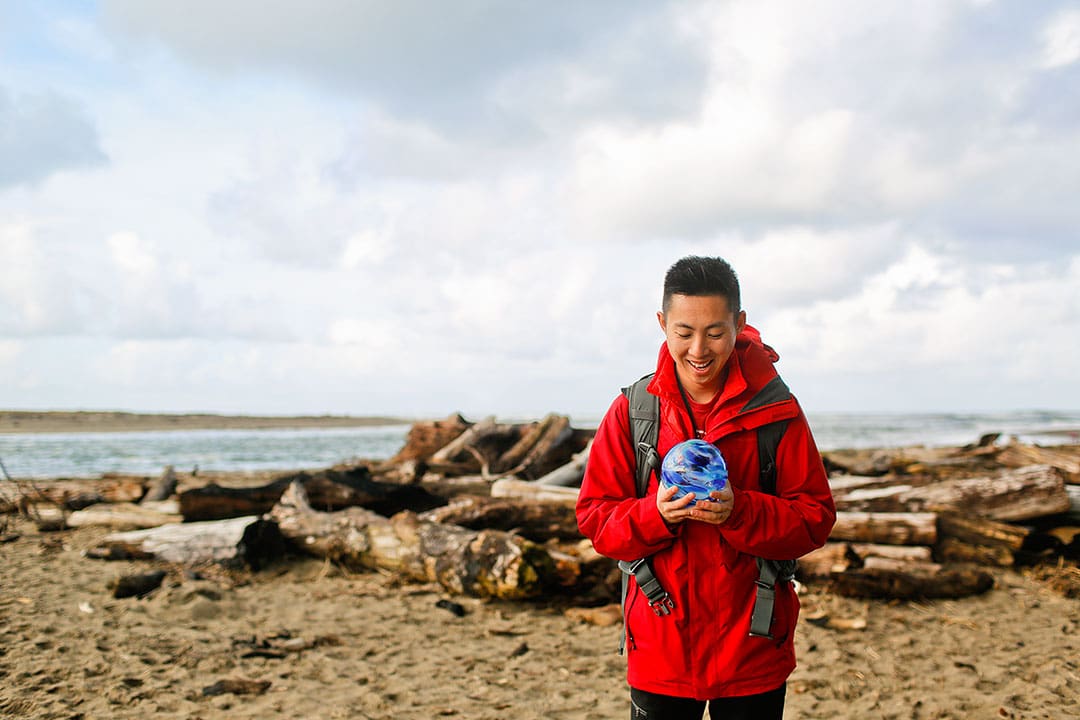 Registering Your Lincoln City Glass Float
After finding your float, be sure to register your float here! By doing so, you'll receive a Certificate of Authenticity and information about the artist.
You can also call 541-99601274 or text FLOATS to 24587. Just be sure to have your float registration number handy, which you can find near the bottom or "button."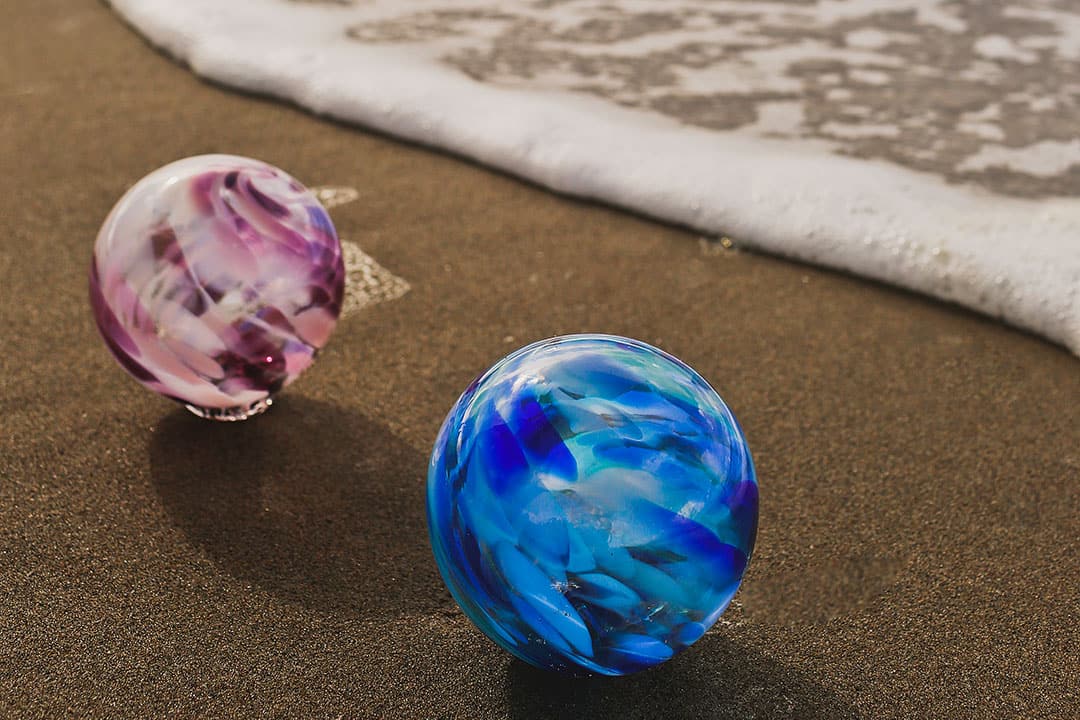 Special Lincoln City Glass Float Drops
On top of the floats that are normally placed on the beach each day, extra floats are hidden for holidays and special occasions. Those usually include the following:
Opening Weekend (Oct): 100 Extra Floats
Thanksgiving (Nov): 50 Floats
New Years (Dec): 50 Floats
Antique Week (Feb): 300 Japanese Antique Floats
Valentine's Day (Feb): 50 Red, Pink, and White Floats
Spring Break (Mar/Apr): 300 Extra Floats
Earth Day (Apr): 40 Globes
Mother's Day (May): 50 Extra Floats
Memorial Day (May): 50 Red, White, and Blue Floats
Summer Kit (June): 10 Extra Floats
Casino Anniversary (June): 25 Extra Floats
Celebration of Honor (Sept): 50 Red, White, and Blue Floats
They haven't updated the 2021 Season Dates yet. Note that we based the number of extra floats from the 2020 Special Drop Dates.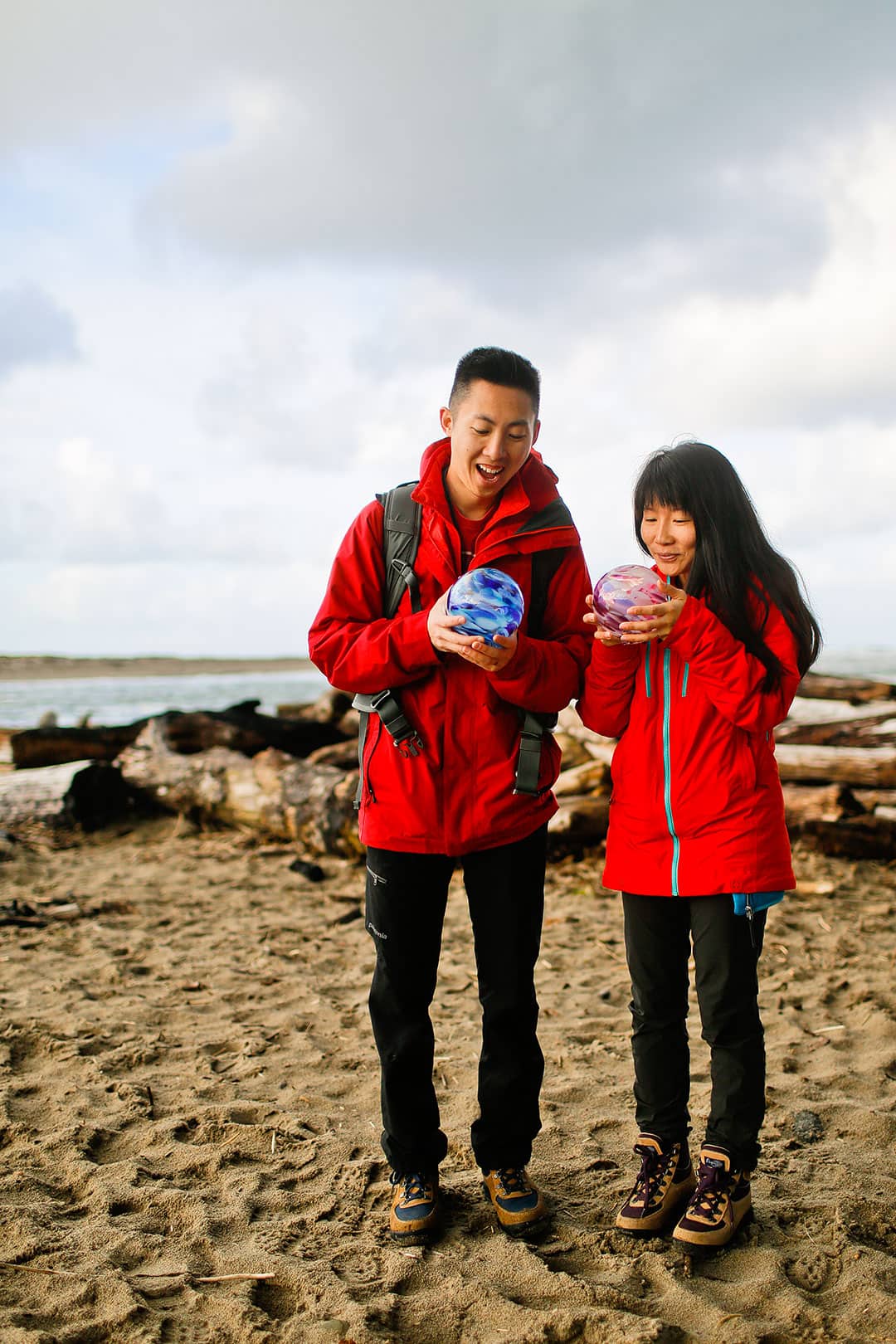 There's More than One Way to Get a Float
Whether you weren't lucky enough to find a glass float during your visit, or you don't have the time to look for one, there are a few other ways to get one.
Many of the local art galleries and shops will carry unnumbered glass floats for purchase. A few shops you can check out are:
Lincoln City Glass Center
Volta Glass Gallery
Flanigan's Glass Gallery
The city also holds a monthly drawing at the Visitor Center for glass floats. To enter, you can bring either of these to the Visitor Center: a bag of beach trash or bring a dated photo of you picking up litter. They will give you an entry form that you to fill out.
When you're looking for a glass float, they use the term "hide" loosely since they want you to find them. We found ours in tall grass, and the bright blue was hard to miss.

A great place to start hunting is at any of the public beach access points. We found ours at the SW 51st Street Beach Access.

There's no pattern to when or where they hide the floats. The Float Fairies pick a random time of day, and not even the organizers know the locations.

As always, have a

raincoat

handy with you. The rain can be unpredictable on the Oregon Coast.
Have you gone treasure hunting for Lincoln City glass floats before? How did it go?
Did you enjoy this post? Pin it for later
"Discovery consists not of seeking new lands but in seeing with new eyes" – M. Proust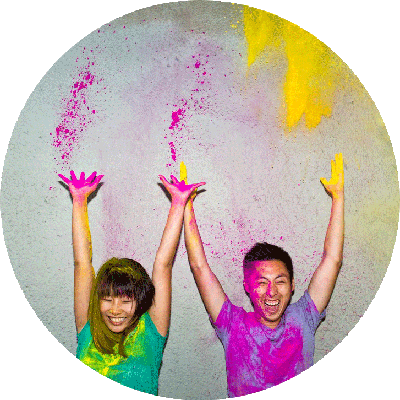 Esther and Jacob are the founders of Local Adventurer, which is one of the top 5 travel blogs in the US. They believe that adventure can be found both near and far and hope to inspire others to explore locally. They explore a new city in depth every year and currently base themselves in Las Vegas.
The post How to Treasure Hunt for the Famous Lincoln City Glass Floats appeared first on Local Adventurer » Travel Adventures in Las Vegas + World Wide.