Most people use St George as a base to visit Zion National Park and Bryce, and it's a shame they completely miss all the great hiking close by.
Since St George is less than 2 hours away from Las Vegas, we've done a handful of day trips to climb in Moe's Valley. Other than that, this was the first time we explored other parts of the city and the hidden gems in the area.
If you're planning to visit Zion but you're over the crowds, check out these stunning things to do in St George UT.
This post may contain affiliate links, where we receive a small commission on sales of the products that are linked at no additional cost to you. All opinions are always our own. Read our full disclosure for more info. Thank you for supporting the brands that make Local Adventurer possible.
Last Updated: April 9, 2021
I consider St George to be an outdoor destination more than anything else, but if you're looking for something different, there are several museums and great educational activities for the whole family too.
15 Best Things to do in St George
When we drove up to Pioneer Park, we were blown away by the landscape within the city. The popular thing to do is climb up Dixie Rock (or Dixie Sugarloaf) to enjoy the sunset and get the best views of the city.
We also loved the slot canyons (the St George Narrows), and we later noticed the rock climbing in the park. Because it had rained the day before, we didn't want to ruin any of the climbs, but we'll be back for sure.
Local Tip: There are two separate parking lots, one specifically for Dixie Sugarloaf and another that takes you to the loop.
Fees: $15 per vehicle ($10 for Utah residents)
When we visited Snow Canyon State Park, we only had a few hours in the afternoon. We decided to hike to Scout Cave and Jenny's Canyon.
Scout Cave itself was really beautiful, although the hike overall wasn't that interesting. Jenny's Canyon is a short approach and an easy 10 minute stop.
Amazingly, this state park is only 10 minutes from the city. After talking to a few locals, they told us it's often overlooked by visitors since they are so focused on visiting Zion.
When we have more time, next we want to check out the Lava Tube Trail, which is the hike that several locals recommended.
Local Tip: There's a ton of hiking within Snow Canyon, and had we known better, we would have set aside a full day just to explore the rest of the park.
Photo Tip: If you can't do sunrise or sunset, Scout Cave looks much better in the morning light than the afternoon or evening light.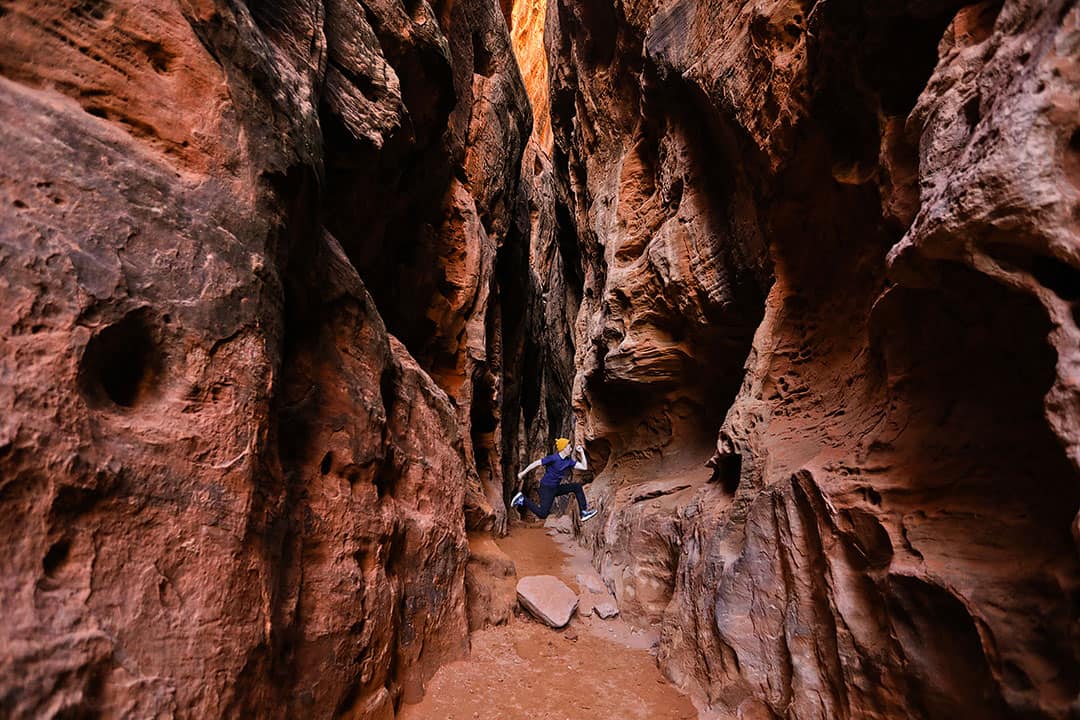 3. Red Cliffs Recreation Area
If you're looking to explore areas of the desert, check out Red Cliffs Recreation Area. The massive red sandstone cliffs will remind you of how small you are and you can step back in time as you see remnants of a Virgin Anasazi habitation.
One of the most popular easy trails is the Red Reef Trail. You can also check out the Orson Adams House to get a glimpse at pioneer life and see dinosaur tracks on the Silver Reef Trail.
Local Tip: Parking is very limited (only 52 general use parking spaces) which can cause traffic. You also have to drive through tunnels that will only fit vehicles less than 12 feet in height or width.
4. Moe's Valley Bouldering
If you boulder, this is by far the best thing to do in St George. People say it's soft, but regardless of grades, we found the climbs to be a lot of fun. It's also a great intro to outdoor bouldering if you're strictly a gym climber.
Our favorite area so far is Super Mario Land, but I'm sure we'll continue to find more fun spots in Moe's Valley.
Local Tip: We picked up the bouldering guide at The Desert Rat (shop local!). The book covers the entire St George area. Also, if you forget any outdoor gear, this is where you can pick up supplies.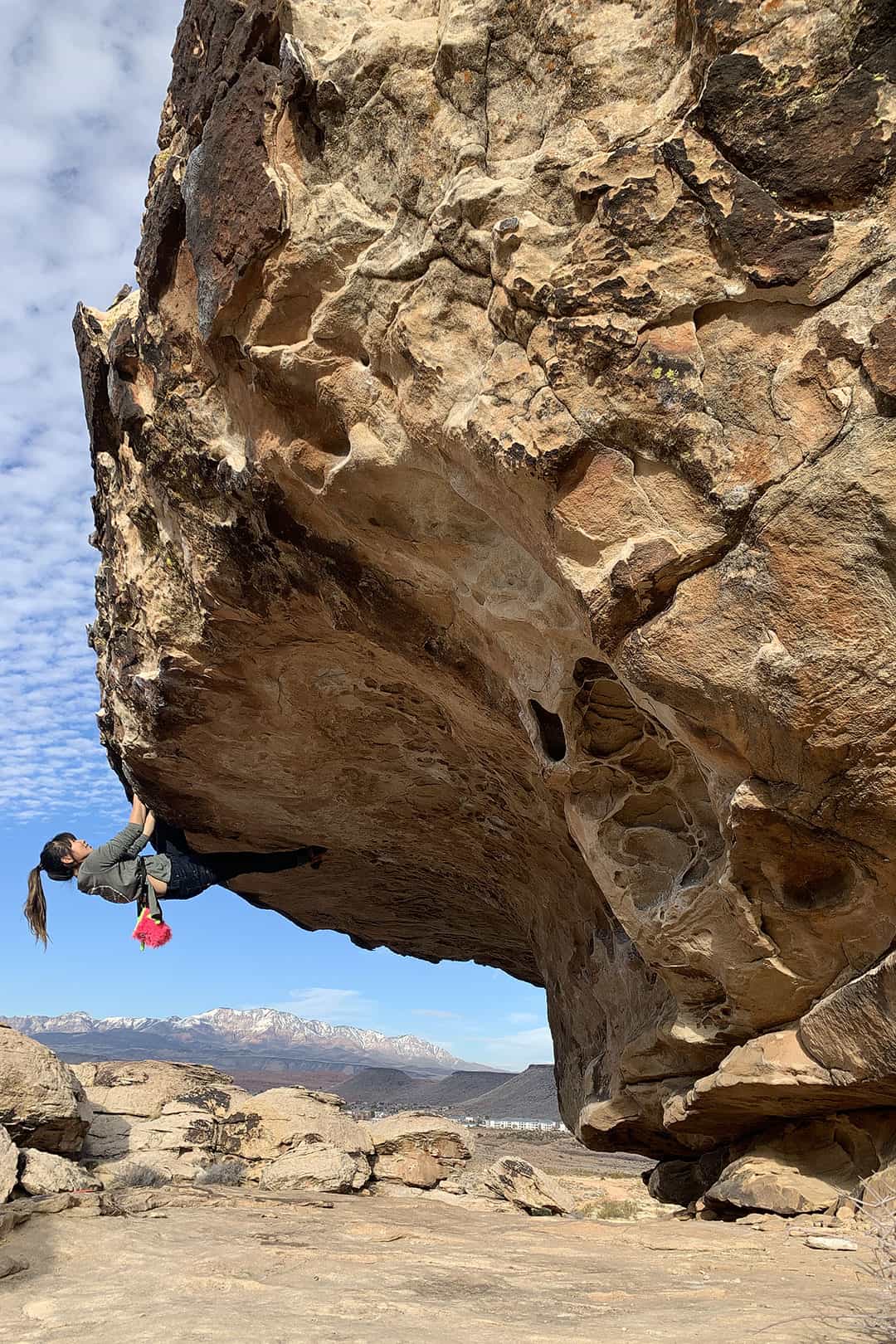 The Vortex hike is a unique hike, and if there's one hike you do near St George, we recommend this one. Not only is the Vortex itself dope, but the entire hike is interesting.
It's really popular and busy on weekends, but on our mid-week visit, we only saw 1 other group as we were leaving. It's a moderate hike that is roughly 2.16 miles roundtrip and should take roughly 1-1.5 hours (not including the time you want to hang out there).
Keep in mind that you'll be driving on unpaved roads for the last 5 miles. It had recently snowed when we went so there were parts of the road that were really muddy with a few sketchy spots. It always helps to have high clearance and 4-wheel drive, but we saw a minivan in the parking lot too.
Photo Tip: The position of the sun makes a huge difference when it comes to photographing the Vortex. You need to either be there at dawn, dusk, or midday when the sun is at its peak to avoid harsh shadows on the rock feature. If it's a cloudy day, anytime is fine
Hiking Tip: We highly recommend getting an offline map for the trail since some cairns were hard to find. We used Alltrails, hit record, and left it running. Usually, you have to pay for premium to get offline maps, which is the safer option. If the app crashes and you suck at navigating, you're out of luck.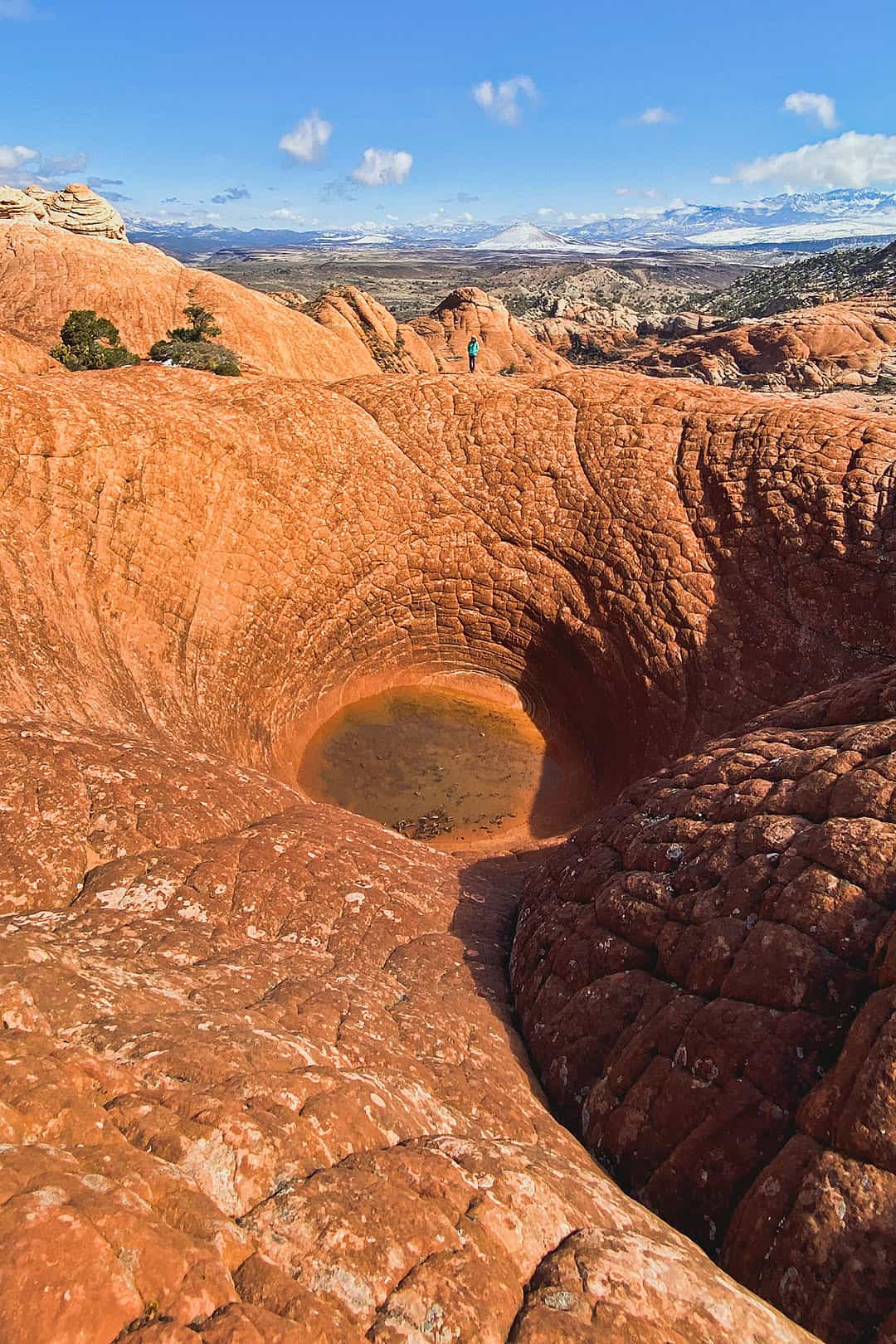 We weren't sure what to expect at this free desert garden. At the entrance, it didn't seem like anything special. But the further we got in, we were pleasantly surprised at how much fun it was to explore.
It features 5,000 water-efficient plants, dinosaur tracks, and a replica slot canyon. If you plan on visiting Pioneer Park, the Red Hills Desert Garden is right next to it.
Photo Tip: There's a bridge above the artificial slot canyon that's a great spot to shoot photos of people down below.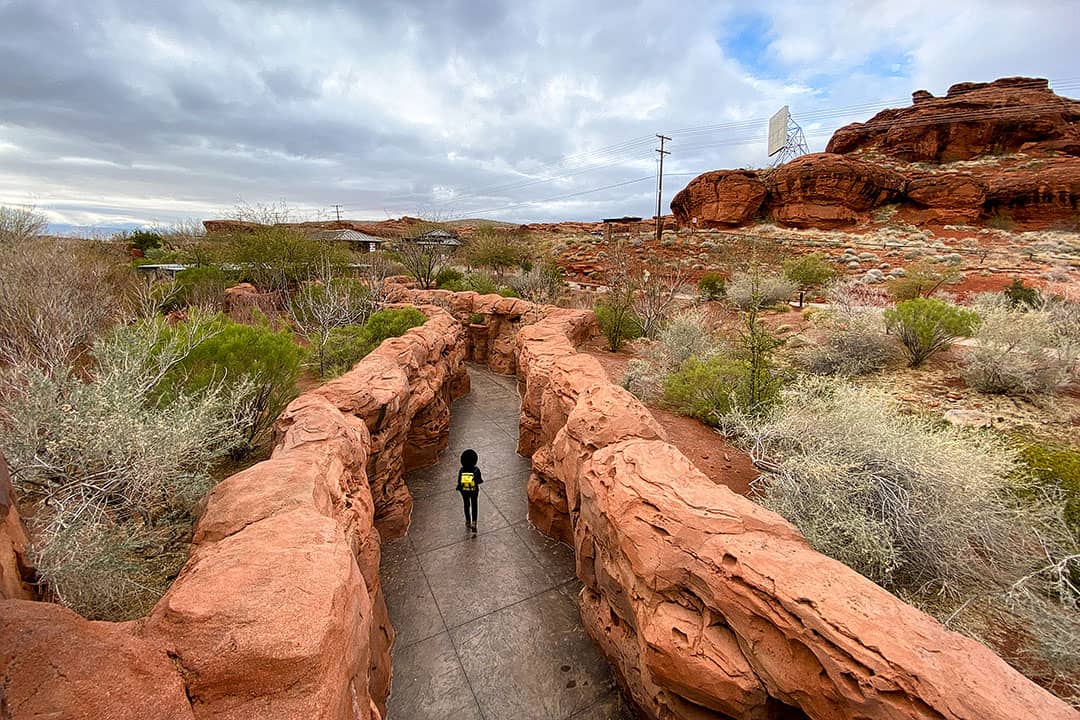 The temple is hard to miss in St George. It is the longest operating temple of the Church. 
When they finish their renovations, they will have an open house where you can check out the inside. After that period, the public won't be allowed inside but can still enjoy it from the exterior grounds.
Local Tip: The Temple was covered in scaffolding, so I wouldn't recommend visiting it now, but you can get a great view of it in the distance from Dixie Sugarloaf where you don't notice the construction.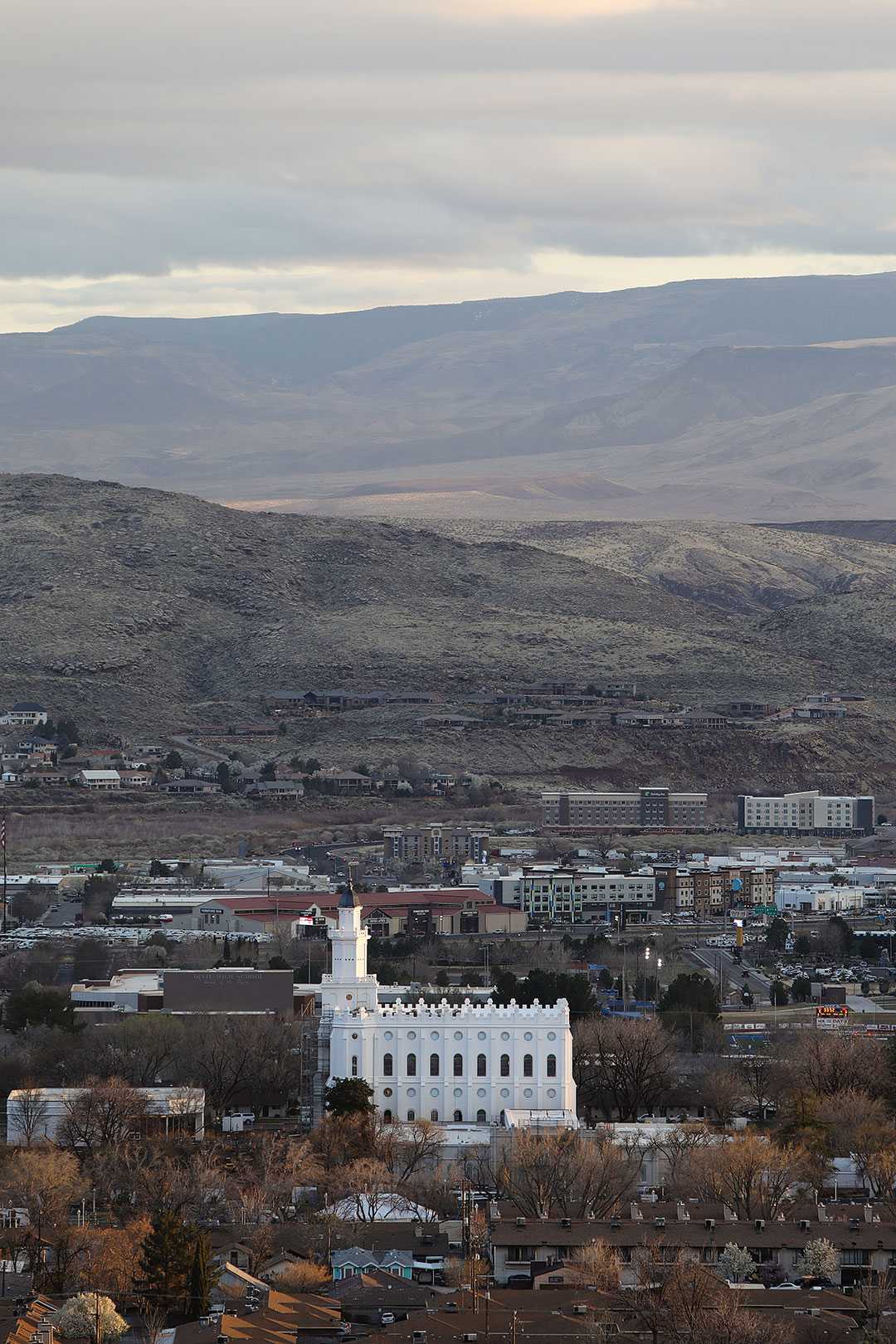 Fee: $8 adult / $4 children
Did you ever have a dinosaur phase as a kid (or are you still into dinosaurs)? I had no idea that St. George had so many fossils in the area.
This museum lets you get up close and personal with fossils and also has five life-sized models. On top of that, there's a real fossil prep lab at the facility and park to enjoy.
Local Tip: Be sure to check current hours before visiting. They are continuing to update their hours.
If you love art, head over to this small community of art galleries and studios. At the Kayenta Art Village, you'll also find theatre, art festivals, and restaurants.
Local Tip: If there is a specific spot you want to visit, call ahead to get the current hours at a specific shop or gallery. We visited based on the overall village hours and a lot of spots were still closed.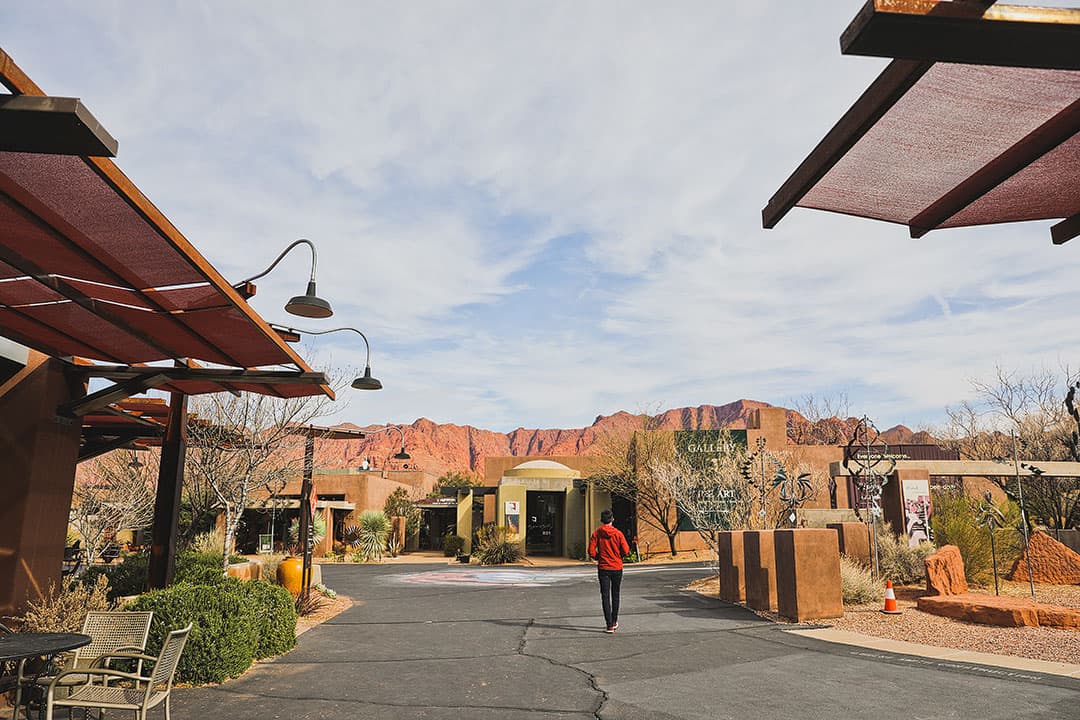 If you love getting a glimpse into history, check out this short 0.8 mi hike to find over 500 individual rock-art designs on the cliffs and boulders, including work from the Great Basin, Western Anasazi, and Lower Colorado River.
Local Tip: The main access route is currently shut down because the state leased land for a gravel pit. The best way to head there is via the Glitter Mine's direction, but it doesn't hold up well in rain and impassable during heavy rain.
When we stopped by, they weren't doing any shows (due to COVID), but seeing it reminded us of the Red Rock amphitheater near Denver.
This beautiful outdoor amphitheater brings music and performances right inside a canyon. The red rock backdrop is absolutely stunning and after our visit, we want to come back to see a show here.
Since opening in 1995, they've produced 60+ major musical theatre productions and hosted over 200 concerts. This year, they'll have productions like Beauty and the Beast, Annie, School of Rock, A Christmas Story, and more. You can also go on a backstage tour for only $5.
Local Tip: If you want to check out this beautiful amphitheater but don't have time for a show, they have a Cafe that overlooks the space.
Fees: $20 per vehicle ($15 for Utah residents)
The contrast of red sandstone landscapes and blue waters is stunning. This is one of Utah's newer state parks and easily one of the most popular for water recreation.
You can boat, fish, and dive at the Sand Hollow Reservoir, ride on the dunes of Sand Mountain, and camp in a campground or beach.
Local Tip: Their social media is a great way to get up-to-date info and current conditions.
Fee: $20 per vehicle ($15 for Utah residents)
Boaters and anglers love this reservoir with some of the warmest waters and mild winter climates. On top of that, you can camp, hike, and explore the beautiful landscapes. 
The maximum depth of the reservoir is 120 feet, which allows them to stock it with rainbow trout, bullhead catfish, and crappie. There's also largemouth bass and bluegill.
The Brigham Young Winter Home wasn't open when we visited (also COVID), but we got a chance to check out the exterior.
As noted by the name, it is where Brigham Young and his family lived in the winter months. When it's open you can take a tour where they tell you about Young's family life and role in directing the settlement.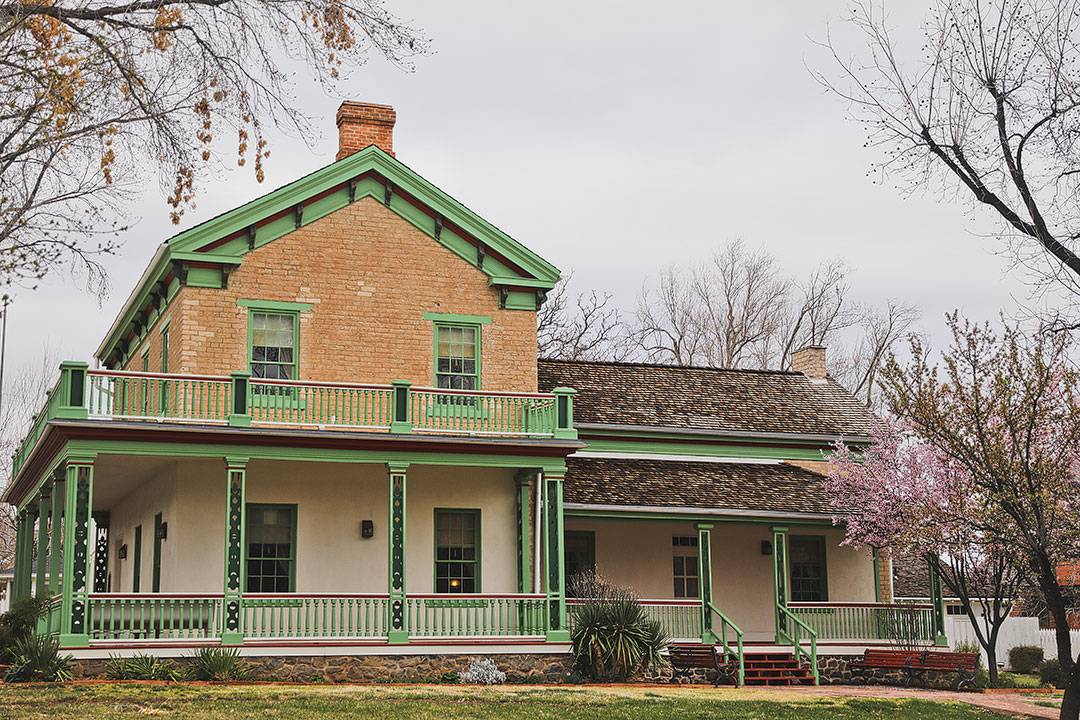 Town Square Park is a beautiful spot right inside the downtown historic district (where we stayed). Not only is it surrounded by the most prominent historic buildings, but it also has water features, plenty of space to relax, and a beautiful vintage Carousel.
When we went in mid-March, there were several trees with spring blooms. We also saw a few engagement sessions being shot here.
Local Tip: They hold events throughout the year, including First Night, Art Festivals, Summer Movies on the Square, and more.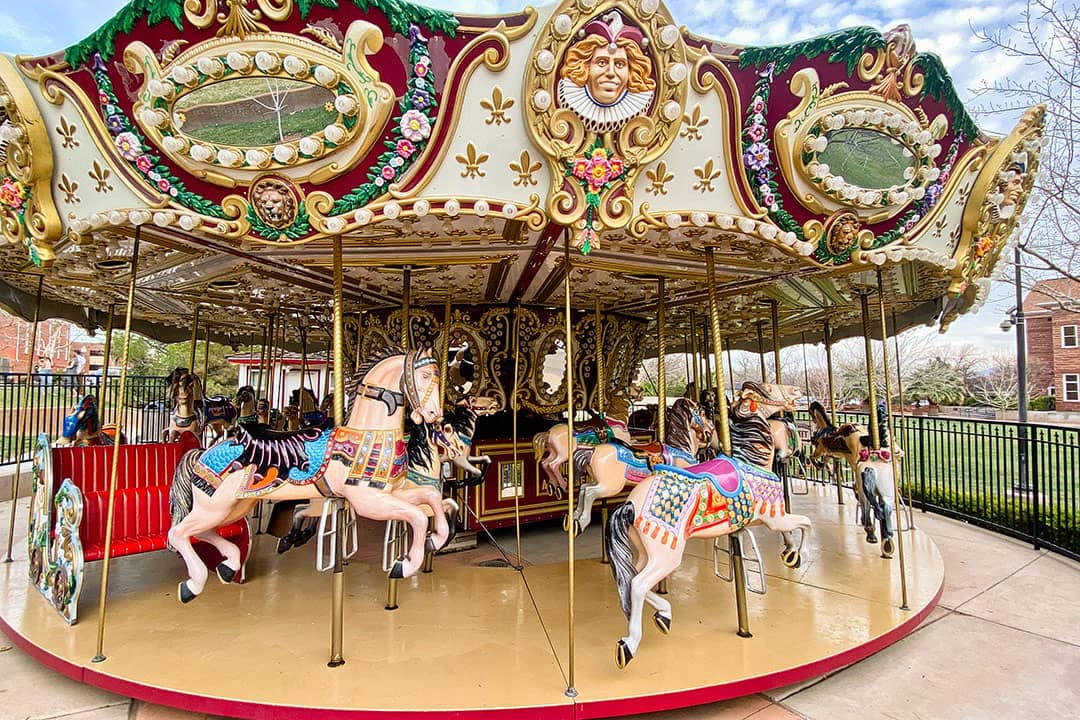 Fee: $5 per person
If you're traveling with the little ones, this is a great stop! They have a  ton of different everyday exhibits to explore, like the Library,  Farm, Airport, Grocery Store, and Bank. But also some more creative ones, like Magic Castle, Music, Art, Prehistoric, and Desert.
Local Tip: Adults without children are only allowed in with a government-issued ID and escort by a SGCM staff member.
This is a great hike if you're looking for a real life oasis in the desert. You end at a beautiful waterfall with a swimming hold to play in. The majority of the 12 mile hike is on a dirt road, so if you have a 4×4, ATV, or high clearance vehicle, you can drive much closer.
Local Tip: Check the current conditions. When the buses aren't running, getting a parking spot inside the park can be really difficult. 
Part of the best golf courses in the world is the beautiful scenery that sets the backdrop. The golf course at Entrada allows you to enjoy an award-winning course set right inside of Snow Canyon. Imagine black lava rocks contrasted by brilliant red rocks.
Local Tip: They are ungoing a massive $7 million renovation that should finish by late 2021.
Located within Tonaquint Park, Thunder Junction All Abilities park uses a dinosaur theme and thoughtful design to create a space that is easily accessible for everyone. There's wheelchair accessible playground equipment, climbing, an "erupting volcano, splash bad, and train ride too (which does cost $1).
Map of the Best Things to Do in St George
Call us uncultured, but we prefer the outdoor spots to museums. If you love learning more about the history of the region or want a taste of the art and culture, here are the museums and landmarks to check out.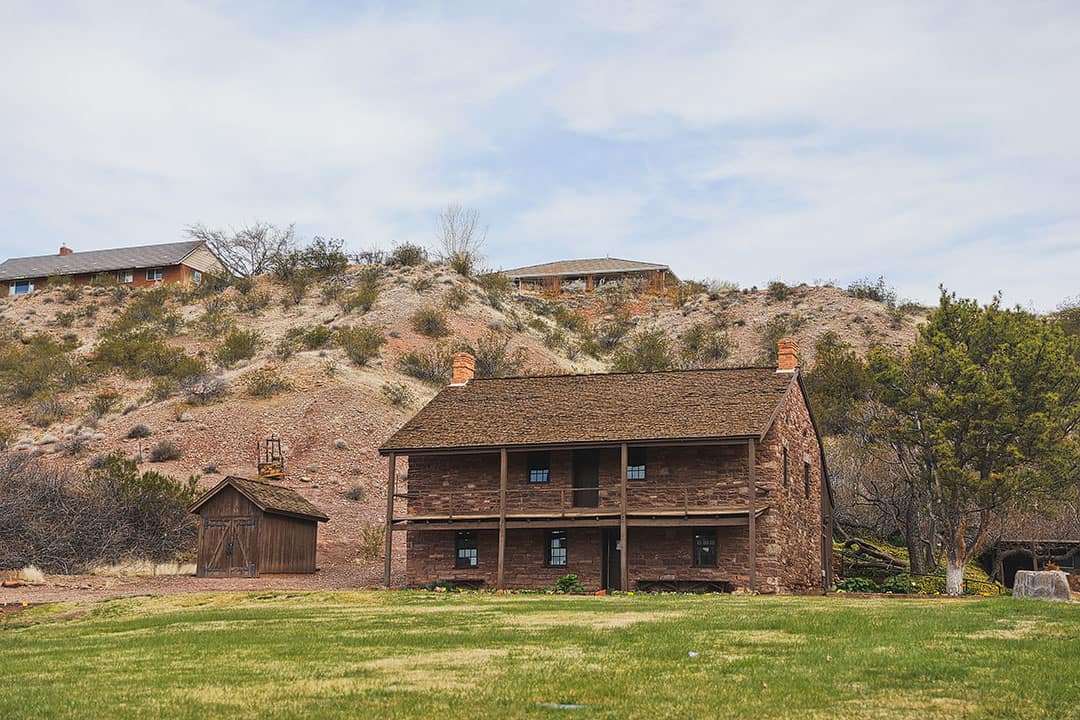 Palledin Balloon Excursions
Paragon Adventures – hiking, climbing, biking, canyoneering tour guides 
Happy Trails Adventure Co 
Southern Utah Scenic Tours 
Best Restaurants in St George Utah
Where to Shop in St George
Coyote Exchange
Judd's Store
Mugwum Antique Shop
Wear sunscreen and bring plenty of water on hikes – especially in the summer. We love this water bottle because it keeps our drinks cool and is self-cleaning. 
Bring good hiking shoes that are comfortable and have good traction. St George is outdoorsy and you don't want to miss the hikes. Some hikes have slick rock.
Check the weather. Flash floods can happen and can be deadly, so keep an eye on local weather before hiking.
If you plan on visiting the National Parks, pick up an Annual Pass to save you time and money.
Elevation in St George Utah
The elevation in St George is 2,700 feet. It's a bit cooler here than Las Vegas and if you plan on exploring the surrounding areas, keep in mind that the mountains will be colder.
Directions to St George Utah
Most people who visit St George fly to a nearby major airport and drive up to it. They do have a small regional airport but since you need a car to get around, it's usually easier to rent a car and drive in.
St George, Utah Airport: SGU
Las Vegas, NV Airport (Closest Major Airport): LAS 

Las Vegas to St George Utah (119 mi, 1 hr 34 min, map) – Take I-15 North all the way.

SLC (Salt Lake City, UT) 

Salt Lake City to St George Utah (302 mi, 4 hr 17 min) – Take I-15 South all the way.
Best Places to Stay in St George
During our short getaway, we stayed at The Advenire Hotel, Greater Zion's first-ever luxury boutique hotel. Located in St. George's Historic District, it's a great home base to explore the area.
It was perfect for our style of travel, catering to outdoor enthusiasts who also want to wind down in luxury.
After a long day of exploring, we could come back to relax and find a spot to have dinner within walking distance (plus they have a bar and restaurant inside).
As you enter, you're greeted with a stunning lobby and view of the bar. The rooms were comfortable and pet-friendly, so we got to bring our boys with us. Check out the hotel and book your stay here.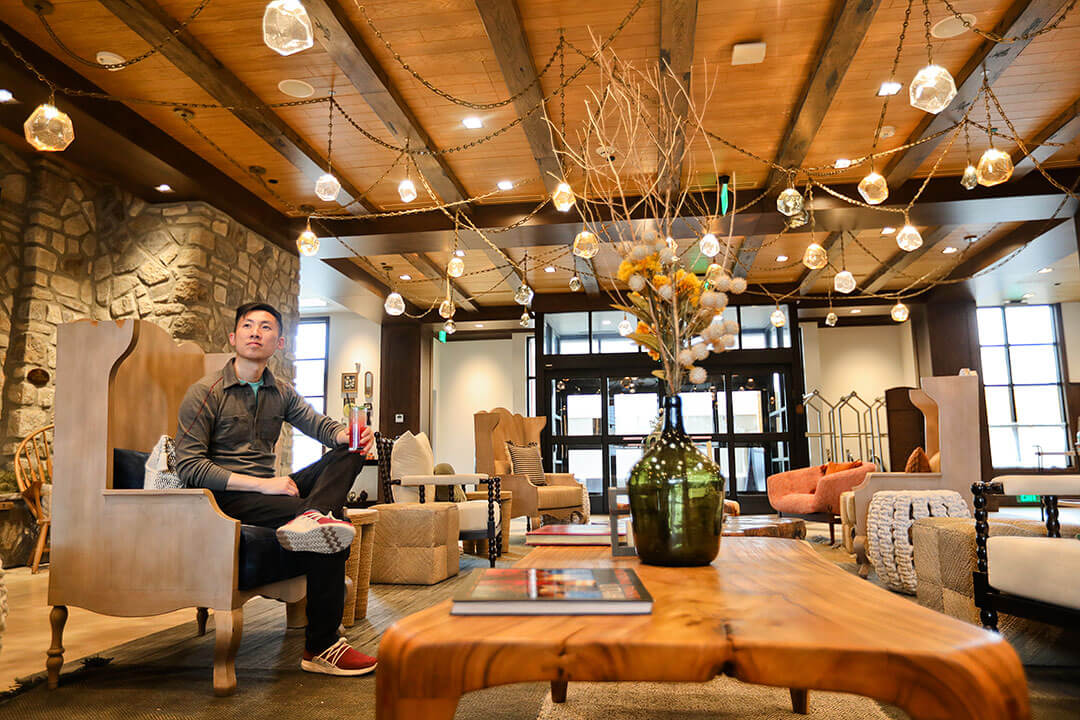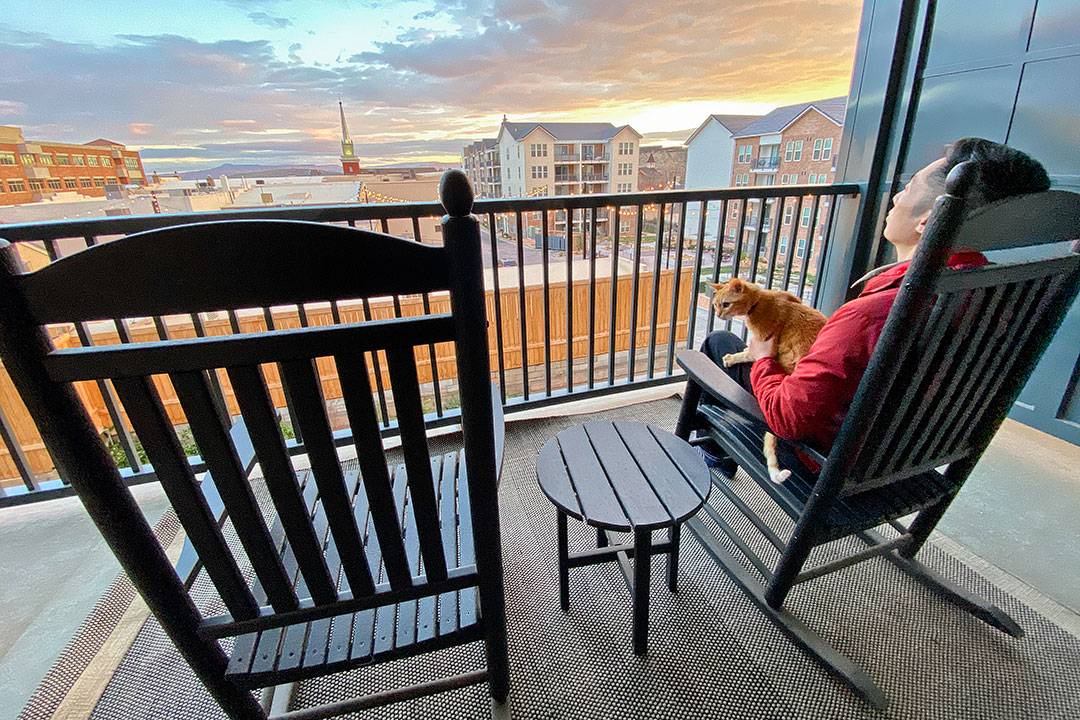 Things to Do Near St George Utah
Gunlock State Park (20 mi, 35 min, map)
Fort Zion, Petting Farm, Virgin (32 mi, 35 min, map)
Historic Pine Valley (35 mi, 45 min, map)
Kanarraville Falls (40 mi, 40 min, map)
Zion National Park (47 mi, 55 min)
Valley of Fire, NV (89 mi, 1 hr 30 min)
Bryce National Park (141 mi, 2 hr 10 min)
Grand Canyon (147 mi, 2 hr 45 min)
How many of these have you done? Any things to do in St George UT that we missed?
Did you enjoy this post? Pin it for later
See More National Park Guides
"Discovery consists not of seeking new lands but in seeing with new eyes" – M. Proust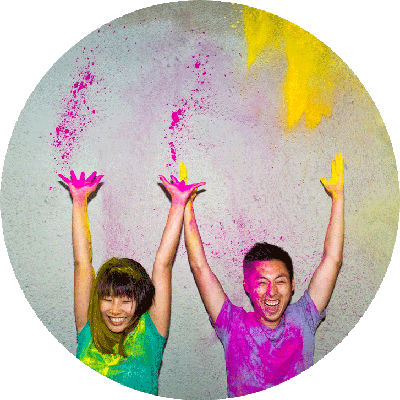 Esther and Jacob are the founders of Local Adventurer, which is one of the top 5 travel blogs in the US. They believe that adventure can be found both near and far and hope to inspire others to explore locally. They explore a new city in depth every year and currently base themselves in Las Vegas.
The post 15+ Best Things to do in St George Utah appeared first on Local Adventurer » Travel Adventures in Las Vegas + World Wide.