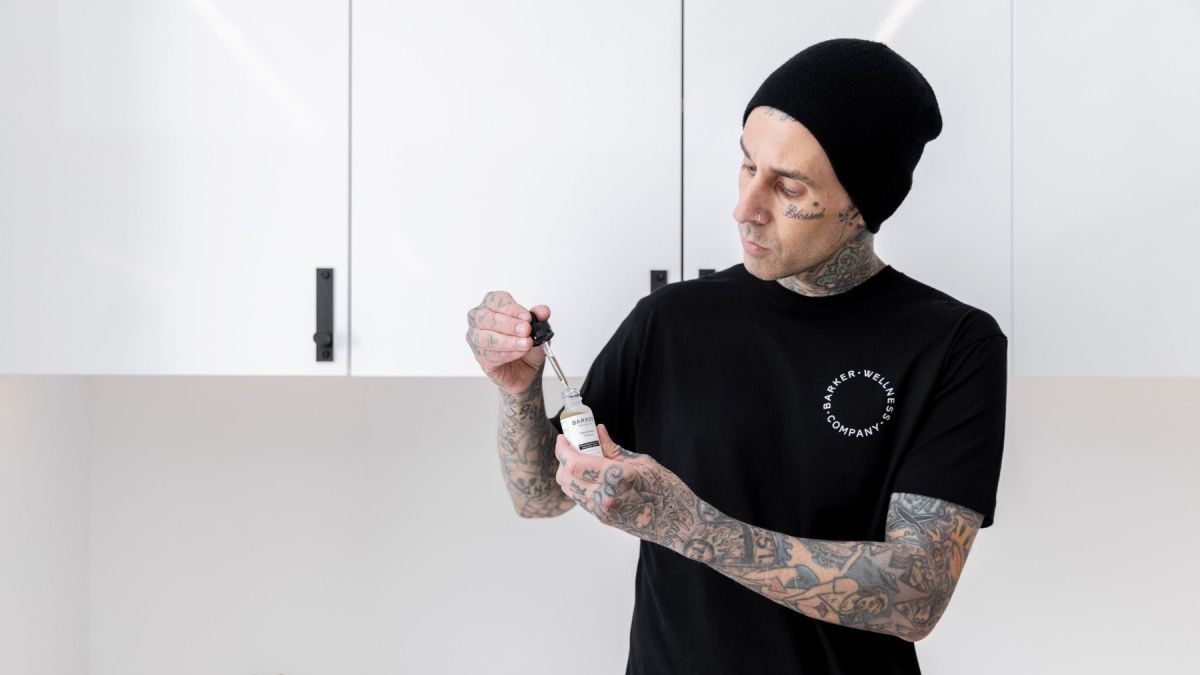 Blink-182 drummer Travis Barker has launched his own line of CBD products.
As Rolling Stone reports, Barker Wellness offers THC-free tinctures, a pain relief cream, and "snap packets" — all of which target three main areas of focus: sleep, maintenance, and recovery.

In an interview with Rolling Stone, Barker said he began using CBD while on the road with Blink-182. "I started to notice that recovery was an issue, especially touring for months [and] doing five to six shows a week. And the process became like, 'How do I feel with recovery?' I tried everything from cryotherapy to massage therapy, but CBD was like the best kind of result that I got."
Barker, who suffers from restlessness and insomnia, also credited CBD with helping him fall to sleep at night.
The Blink-182 co-founder began working on his own line of product two years ago, culminating today with the launch of Barker Wellness. In reflecting his own values, Barker said his CBD products are also vegan, cruelty-free, and made with natural ingredients.
Barker isn't the only musician to embrace CBD. Last year, Sigur Rós began selling a line of tinctures, and Willie Nelson launched a line of products specifically for pets. Editor's Note: Consequence also recently launched our own line of CBD and hemp products, including smokes, tinctures, gummies, and flower. See our full selection at Consequence Shop.
In related news, Barker and girlfriend Kourtney Kardashian recently went Instagram official. On the music front, he and Blink-182 are working on their next album, which will feature guest appearances from Grimes, Lil Uzi Vert, and Pharrell.
Related