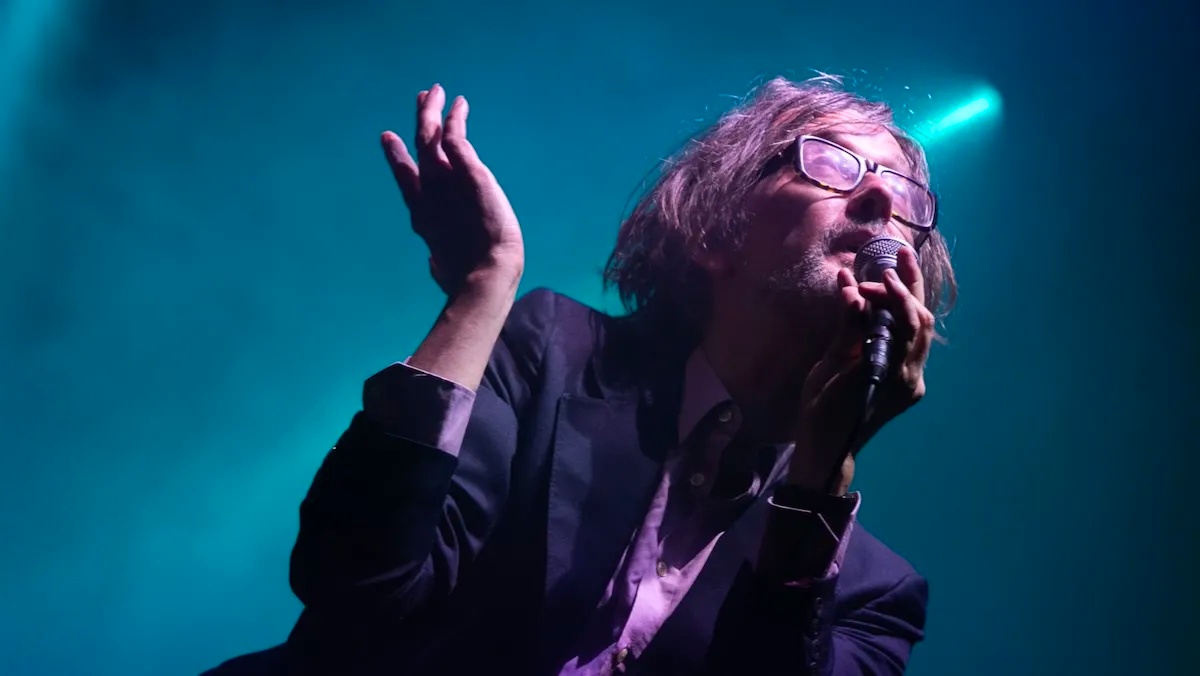 Pulp's reunion tour brought the beloved Britpop band to Mexico City for a headlining set at Corona Capital on Friday, where they unveiled a new song called "Background Noise."
Frontman Jarvis Cocker introduced the new composition, and dedicated it to his girlfriend, who was watching from the audience. Carried by a string arrangement and the kind of introspective, spoken lyrics you'd expect from Pulp, the tune uses its verses to build into a thesis-presenting chorus: "Love turns into background noise/ Like this ringing in my ears/ Like the buzzing of the fridge/ You only notice when it disappears."
Previously, Pulped played an unreleased song called "Hymn of the North" at a hometown show in Sheffield, England.
The reunion tour is Pulp's first outing in over a decade, and now, with new music being teased, it's possible that the band might be eyeing a return to recording. The band's most recent release is the 2001 album, We Love Life.
This past March, Pulp's longtime bassist, Steve Mackey, passed away at 56. In 2022, Mackey had announced that he'd be sitting out on the reunion tour.
Up next, Pulp will play a few more shows in Latin America, before returning to Europe for a New Year's Eve show in the UK. Next August, they're booked to perform in Norway. Check out the full list of their upcoming dates below, and grab tickets here.
Watch a fan-recorded video of the new song "Background Noise" and check out Pulp's full setlist from Corona Capital below.
Pulp Setlist:
I Spy
Disco 2000
Background Noise
Pink Glove
Weeds
Weeds II (The Origin of the Species)
F.E.E.L.I.N.G.C.A.L.L.E.D.L.O.V.E.
Sorted for E's & Wizz
This Is Hardcore
Do You Remember the First Time?
Babies
Sunrise
Underwear
Common People
Pulp 2023-2024 Tour Dates:
11/21 – Montevideo, UY @ Teatro de Verano Ramón Collazo
11/24 – Santiago, CL @ Fauna Primavera 2023
12/31 – Edinburgh, UK @ Princes Street Gardens West
08/07 – Oslo, NO @ Onsdagsbillett Øyafestivalen 2024, Tøyenparken