Nearly 800 people evacuate through Rafah Crossing
Almost 800 people traveled through the Rafah Crossing out of Gaza and into Egypt today.
A total 790 people evacuated, including at least 63 medical patients, while 40 trucks of aid departed that were sent to help with the humanitarian crisis in Gaza.
U.N. Secretary-General 'deeply shocked' over attacks on schools
UN Secretary General Guterres said Sunday he was "deeply shocked," by strikes on two UNRWA schools in less than 24 hours.
"Hundreds of thousands of Palestinian civilians are seeking shelter at United Nations facilities throughout Gaza due to the intensified fighting," Guterres said in a statement. "I reaffirm that our premises are inviolable."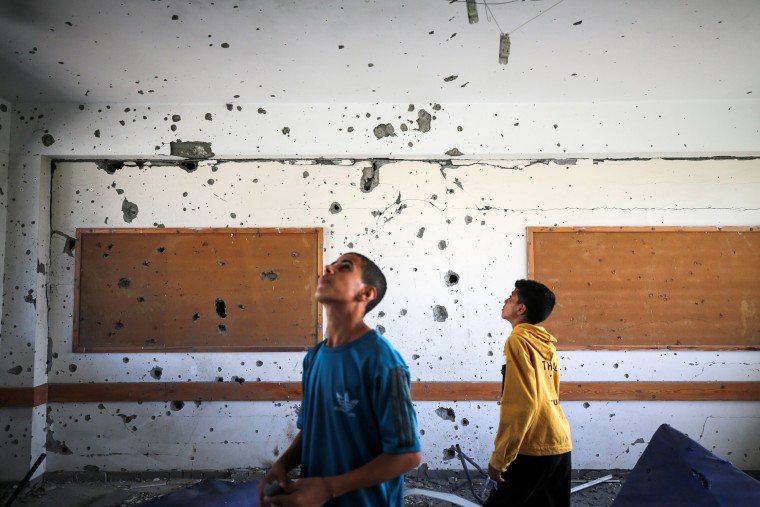 The strikes killed and injured dozens of people, many of them women and children according to the UN.
"This is yet another proof that no one, and nowhere is safe in Gaza," said UNRWA Commissioner General Philippe Lazzarini. "Once again, shelters meant to provide safety and protection to civilians have been hit, killing many people, including children. These acts not only blatantly contravene the rules of war, they also show a total disregard for humanity."
Canadian university fires director of sexual assault center over open letter
The University of Alberta, Edmonton, terminated the director of its sexual assault center yesterday after the employee signed an open letter that disputed reports that women were raped during Hamas' Oct. 7 attack.
Bill Flanagan, the university president, said in a statement yesterday that the letter "raised understandable concerns" and that a new interim director was appointed effective immediately.
"I want to be clear that the former employee's personal views and opinions do not in any way represent those of the University of Alberta," Flanagan wrote.
The letter demanded that Canadian Parliament call for a cease-fire but also included a line criticizing New Democratic Party Leader Jagmeet Singh for repeating the "unverified accusation that Palestinians were guilty of sexual violence." Israeli police said they were opening an investigation into crimes committed during Hamas' Oct. 7 attack, including allegations of sexual violence.
Congressional leaders aiming to pass Israel supplemental aid before Christmas
WASHINGTON — Congressional leaders are hoping to muster a supplemental package to aid the war efforts in Ukraine and Israel, as well as make improvements to the U.S. immigration system, by the end of the year, according to multiple people involved in discussions.
The ambitious timeline would mean striking a deal that satisfies the funding requested by the Department of Defense to aid conflict zones, while simultaneously crafting an immigration package that not only provides resources for border security but includes a suite of policy changes to appease conservatives without alienating progressive Democrats.
The Republican-led House has already passed an aid bill for Israel, but it includes hefty cuts to the IRS and excludes humanitarian assistance — both items that the White House and Senate Democrats find untenable. The question is how the next stage of negotiations will proceed.
More than 170 people killed in UNRWA shelters since beginning of war, commissioner says
Schools run by the United Nations that are used as shelters for internally displaced Palestinians are being hit "constantly," the commissioner-general of the U.N.'s Refugee and Works Agency for the Occupied Palestinian Territories, Philippe Lazzarini, said in a statement today.
Eighty-five incidents have struck 67 structures so far, including 17 direct hits, he added, killing at least 176 people and injuring 800 more. All the facilities were clearly marked as U.N. buildings, the coordinates of which have been shared with both Hamas and Israel.
"The large number of UNRWA facilities hit and the number of civilians killed cannot just be 'collateral damage,'" Lazzarini said, adding that over half the facilities hit were south of the Wadi Gaza, inside the zone where Israeli forces have told Palestinians to evacuate.
Almost 1.7 million Palestinians have been displaced across Gaza since the start of the war, according to the UNRWA, with 900,000 living in UNRWA facilities and temporary shelters.
31 premature babies arrive in Rafah in the hopes of crossing tomorrow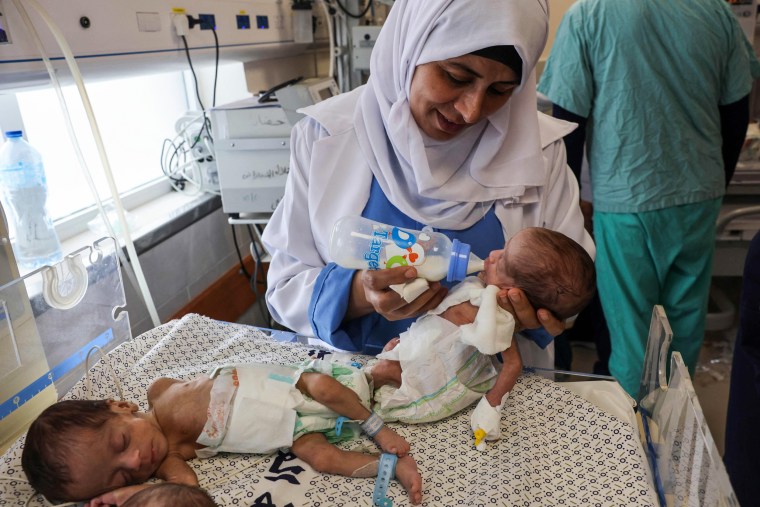 More than 30 premature babies in desperate need of medical care arrived at Rafah today, but are not expected to cross the border into Egypt until tomorrow.
The babies were taken to Al Sultan Hospital in Rafah under the supervision of the United Nations' refugee agency. The decision was made to delay their journey due to their poor health condition.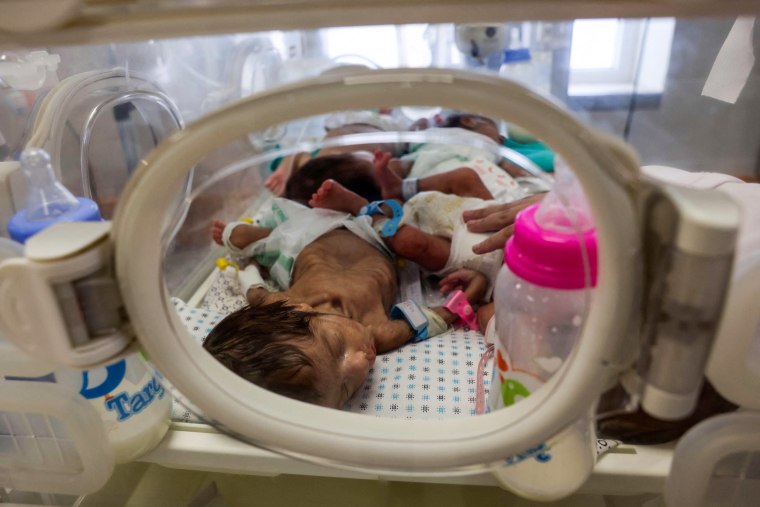 'How many more civilians will be killed?' U.N. high commissioner asks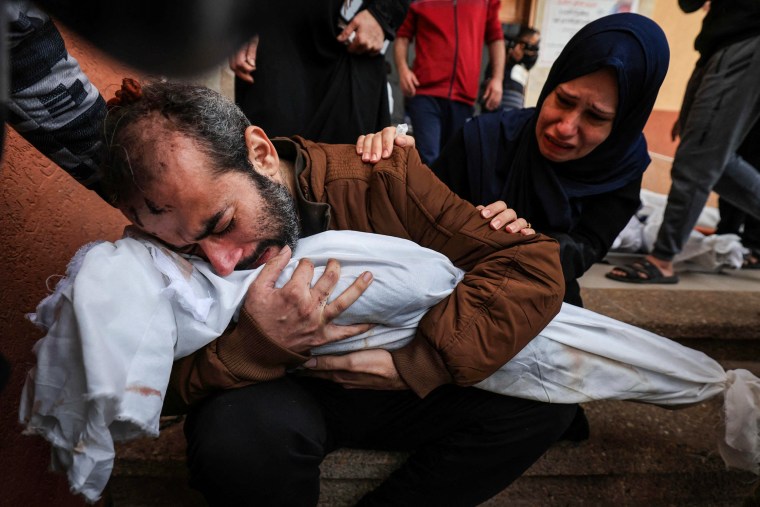 Events in Gaza over the last 48 hours "beggar belief," U.N. High Commissioner for Human Rights Volker Türk said in a strongly worded statement Sunday, in which he added that attacks on schools and mass internal displacement were actions that "fly in the face of the basic protections civilians must be afforded under international law."
Those in Khan Younis could not obey IDF orders to travel to "recognized shelters" as it continued to strike Gaza, he said, adding: "Irrespective of warnings, Israel is obliged to protect civilians wherever they are." Images purportedly taken after an attack on Al-Fakhoura school in Jabalia refugee camp were "horrifying," he added.
"How much more violence, bloodshed and misery will it take before people come to their senses? How many more civilians will be killed?" he asked, reiterating calls for a cease-fire.
In a Washington Post op-ed, President Joe Biden has again called for a two-state solution in the Middle East, pledging steadfast support for Israel and saying the Palestinian people deserve their own country free from Hamas.
Ministers from Arab countries to travel to China to push for an end to the war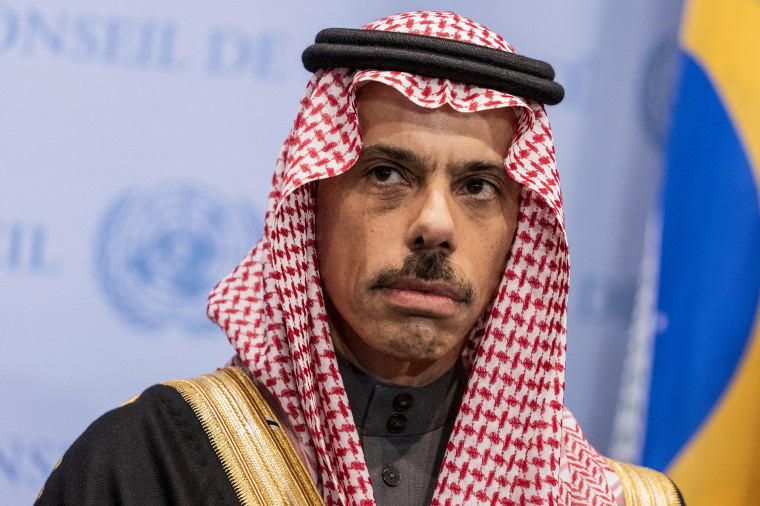 Ministers from across the Arab and Islamic worlds will begin an international tour tomorrow, with the aim of drumming up international support for ending Israel's war with Hamas in Gaza.
The tour will be the first step in carrying out decisions reached at a joint Arab and Islamic summit held in Riyadh earlier this month, officials said.
"The first stop will be China," Saudi Arabian Foreign Minister Prince Faisal bin Farhan said in a video posted to the Foreign Ministry's account on the social media site X. He add they would then move on to "a number of capitals" with the message that "there must be a ceasefire immediately," as well as the delivery of humanitarian aid.
Pro-Palestinian protester interrupts Cricket World Cup final
A pro-Palestinian protester broke through security cordons and briefly stopped play in the Cricket World Cup final in front of some 130,000 fans in Ahmedabad, India today.
The protester wore a mask depicting the Palestinian flag and a T-shirt that read "Stop Bombing Gaza." Photos of the pitch invasion showed the protester attempting to embrace India's star batsman Virat Kohli, and carrying what appeared to be a Pride flag in his hand.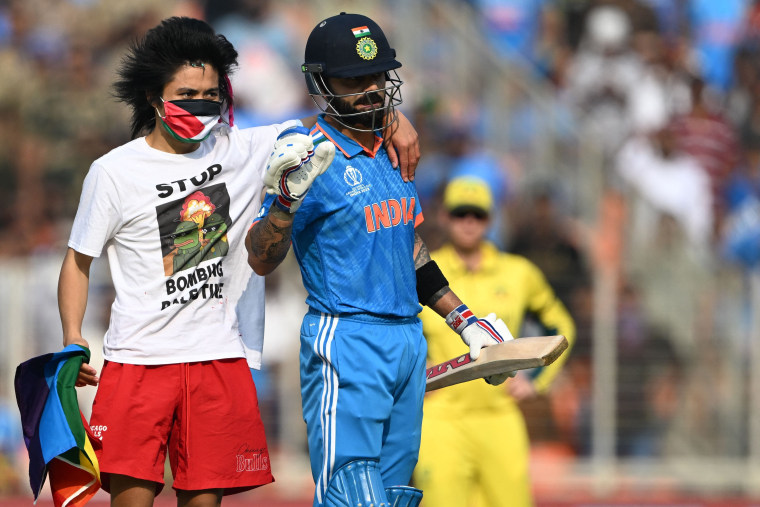 The protester was apprehended and escorted off the pitch by security, and play between Australia and India resumed.
Israeli president tells Jews around the world 'Israel is here for you'
President Isaac Herzog expressed solidarity in a speech directed to Jewish communities around the world, saying that Israel is fighting the war for the entire "civilized world."
In his speech, which was posted to the social media site X, Herzog told Jewish communities that "Israel is here for you" as the war continues into its second month. He also noted the rise of antisemitic incidents all over the world, stating that there was a "close link" between anti-Israel sentiment and antisemitism.
But communities are also thriving, Herzog said.
"Israelis of every background are showing up for each other in remarkable ways," Herzog said. "Jewish communities across the world, are mobilizing an unprecedented energy."
New poll finds Biden's standing at new lows amid Israel-Hamas war
President Joe Biden's approval rating has declined to the lowest level of his presidency — 40% — as strong majorities of all voters disapprove of his handling of foreign policy and the Israel-Hamas war, according to the latest national NBC News poll.
What's more, the poll finds Biden behind former President Donald Trump for the first time in a hypothetical general-election matchup, although the deficit is well within the poll's margin of error for a contest that's still more than 11 months away.
The erosion for Biden is most pronounced among Democrats, a majority of whom believe Israel has gone too far in its military action in Gaza, and among voters ages 18 to 34, with a whopping 70% of them disapproving of Biden's handling of the war.
'Closest they've been' to a hostage deal, says national security official
Current talks for the release of several hostages in exchange for a multiday pause in fighting are the closest officials have been to any form of agreement, Deputy National Security Adviser Jon Finer told NBC's "Meet the Press" this morning.
More than 12 hostages could be released in exchange for a cease-fire, Finer said, although he added that nothing has been finalized.
Finer did not confirm whether the hostage deal was centered on women and children only, or if it would be American hostages who would be released. There are around 240 hostages currently believed to be held in Gaza.
Militants seize a cargo ship in the Red Sea
Militants seized a cargo ship in the southern Red Sea this morning, according to three U.S. officials.
The ship is called the Galaxy Leader. It's Bahamian flagged but owned by a Japanese company.
The officials believe the Houthis, Iran-backed rebels in Yemen, are behind the attack. Early reports are that a helicopter hovered over the ship and several armed individuals rappelled down to the deck.
This comes just days after the International Maritime Security Construct issued an advisory to all mariners in the area because of a threat from the Houthis to attack international shipping. The group has also launched a number of drone and missile attacks toward southern Israel during the war with Hamas.
The Israeli military said in a statement that "the hijacking of the cargo ship by the Houthis near Yemen in the southern Red Sea is a very serious event on a global level." The ship had "an international civilian crew, with no Israeli crew members on board," IDF spokesman Rear Adm. Daniel Hagari said in a post on X. A spokesperson for the U.S. naval forces in the region referred to the Pentagon for comment, and NBC News has reached out.
Growing optimism that a hostage deal could be close
TEL AVIV — There is "growing confidence" from Qatar, seen as a key intermediary in the negotiations, that a deal for the release of some hostages held by Hamas can be reached.
31 'very sick' babies were evacuated from Al-Shifa, WHO says
Thirty-one "very sick" babies were transported from Al-Shifa hospital in Gaza City to Al-Helal Al-Emairati Maternity Hospital in the southern part of the strip, director-general of the WHO, Tedros Adhanom Ghebreyesus, said on X.
The premature babies, who have survived several days without incubators, exposing them to infection and cold, are receiving urgent care in neonatal intensive care units, Ghebreyesus said.
Six health workers and 10 family members were also evacuated in the mission, he added, with more evacuation missions from the besieged hospital planned in coming days. More than 290 patients and 25 health workers remained in Al-Shifa, the WHO and U.N. agencies said in a joint statement earlier this morning.
Hezbollah and IDF continue to clash on border
The Iran-backed Lebanese militant group Hezbollah said in a statement Sunday that it had achieved a "direct hit" on the al-Marj site in northern Israel, where IDF forces were carrying out maintenance work.
The statement did not say how the attack was carried out or using what weapons. NBC News could not independently confirm the attack.
An IDF statement in response said that "interceptors were launched toward several suspicious aerial targets that crossed from Lebanon toward the area of the Upper Galilee in northern Israel." Other launches from Lebanon toward northern Israel were also detected, the statement said, adding that no injuries had been reported.
Tension has been mounting between Israel and Hezbollah in recent days. In remarks to the press on Saturday, Israeli Defense Minister Yoav Gallant said that Israel was ready "on land, in the air and at sea" if Hezbollah "makes a mistake."
Chilly temperatures and rain make a difficult situation worse
RAMALLAH, West Bank — It's a chilly day here in the occupied West Bank, where temperatures have dipped to around 57 degrees Fahrenheit amid heavy rain.
"The atmosphere is very cold," Hassan Al-Dreemli, a Gazan worker who is staying at a makeshift shelter in Ramallah until he can return home, says in a text. "But we are better than others in Gaza. There, they could not sit in a place, even for shelter."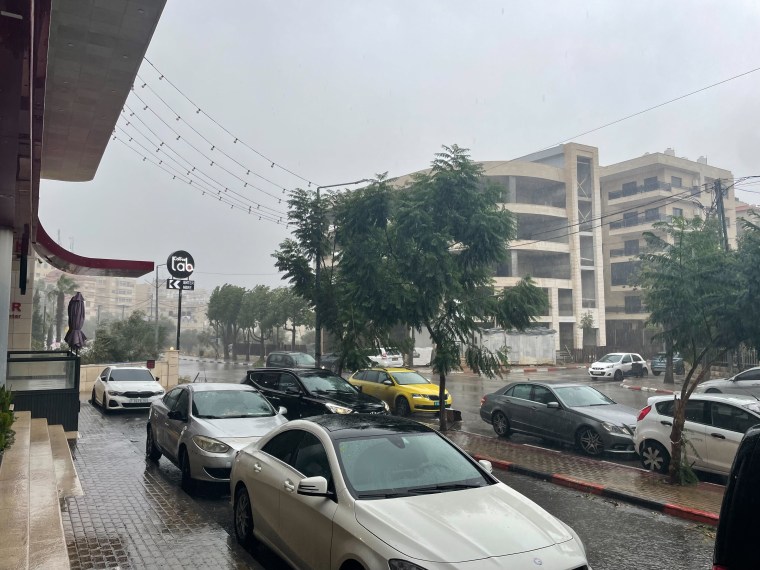 The rainy season is also underway in Gaza, where cooling temperatures and heavy rains bring fresh concerns for the thousands of Palestinians displaced amid Israel's offensive in the enclave.
Rain is expected across parts of enclave today and tomorrow. Temperatures are also predicted to dip to just below 61 degrees this evening, creating a difficult night for many.
No Arab troops will go to Gaza, Jordan's foreign minister says
Jordan's foreign minister said that no Arab troops would enter Gaza and strongly criticized Israel on Saturday.
Speaking at the IISS Manama Summit in Bahrain, Ayman Safadi said that Arab governments were in agreement that their troops would not enter the besieged coastal enclave to "come and clean the mess after Israel," adding, "We're not going to be seen as the enemy."
Clashing with U.S. envoy Brett McGurk, who said that Hamas must release hostages for any progress on a cease-fire and to unlock greater levels of international humanitarian aid, Safadi later said "Israel is taking 2.3 million Palestinians hostage." Israel did not immediately respond to any of Safadi's comments.
The current conflict is exposing cracks in Israel's regional peace efforts, with recognition deals splintering with major regional players such as Saudi Arabia and Turkey. On Thursday, Jordan said it would not sign a deal providing Israel with energy in exchange for water. Jordan and Israel first brokered peace in 1994.
Premature babies evacuated from Al-Shifa hospital
Dozens of premature babies have been evacuated from Gaza's main hospital and will be transferred to facilities in Egypt, the territory's health ministry and the Palestine Red Crescent Society have said.
"Today, PRCS emergency medical services teams, in coordination by the World Health Organization (WHO) and the United Nations Office for the Coordination of Humanitarian Affairs (OCHA), successfully evacuated 31 premature babies from the Al-Shifa Hospital," the Red Crescent said in a post on X.
Medhat Abbas, a spokesman for the ministry, confirmed the evacuation in a phone call with The Associated Press this morning.
Fears had mounted for the babies' health after the hospital ran out of fuel, shutting down incubators and forcing doctors to take emergency steps to keep the babies warm. Hundreds of patients and staff who were able to flee left the facility yesterday after it was raided by Israeli forces, but many of the most vulnerable remained.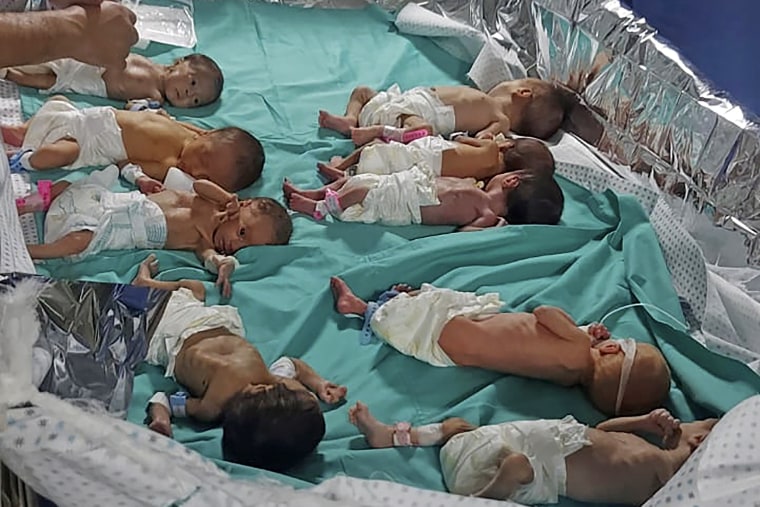 Doctors Without Borders condemns 'deliberate' attack that killed one in convoy
The relative of a Doctors Without Borders (Médecins Sans Frontières) worker was killed and another injured in an attack on a convoy evacuating 137 people from premises near Al-Shifa hospital on Saturday, a statement from the humanitarian organization said.
Two of five of the MSF cars in the convoy were "deliberately" hit, the statement said, as it traveled back toward the MSF offices after being forced to turn away from the final checkpoint in Gaza's south due to overcrowding, extreme wait times and the sounds of gunfire nearby.
MSF had informed both the Israeli army and Hamas of its evacuation plans prior to the journey, the statement said, and was traveling along the Salah al-Din route marked safe by the IDF. It added that 65 children were in the convoy at the time it was attacked.
Israel says residents of four Gaza neighborhoods must leave by 4 p.m.
The IDF has told residents of Daraj, Tuffah and Shejaiya in Gaza City and Jabalia in the north of the strip that they must evacuate as soon as possible or by 4 p.m. (9 a.m. ET) today "because you staying there is dangerous."
In a statement released on X, IDF spokesperson Avichay Adraee said that residents should travel south via the Salah al-Din road, and that the military would pause fighting between 10 a.m. and 2 p.m. to facilitate travel.
Jabalia is home to the Jabalia refugee camp, where thousands of people already internally displaced by Israel's ongoing war with Hamas are living alongside long-term internal refugees. Despite the south of Gaza being designated as the evacuation zone for Gaza civilians, it has also come under heavy bombardment in recent days.
Smoke from airstrikes in Gaza visible from Israel
Images taken from southern Israel show the scope of damage from the airstrikes hitting besieged Gaza. Smoke billowed above buildings in the area on Sunday.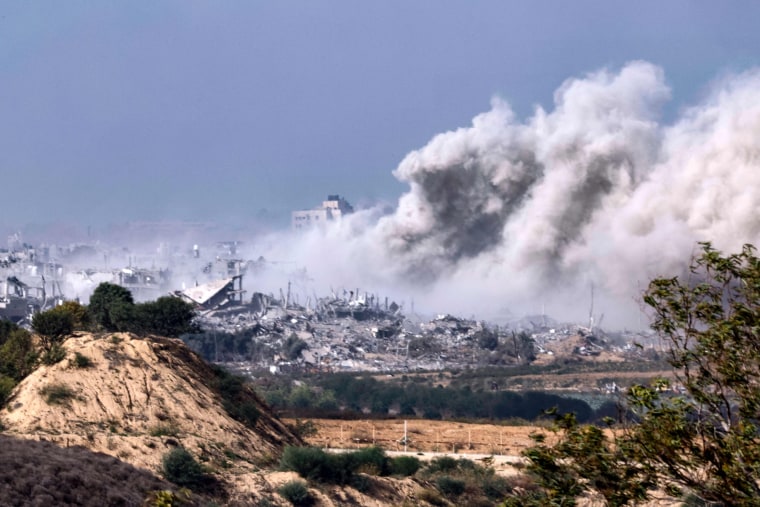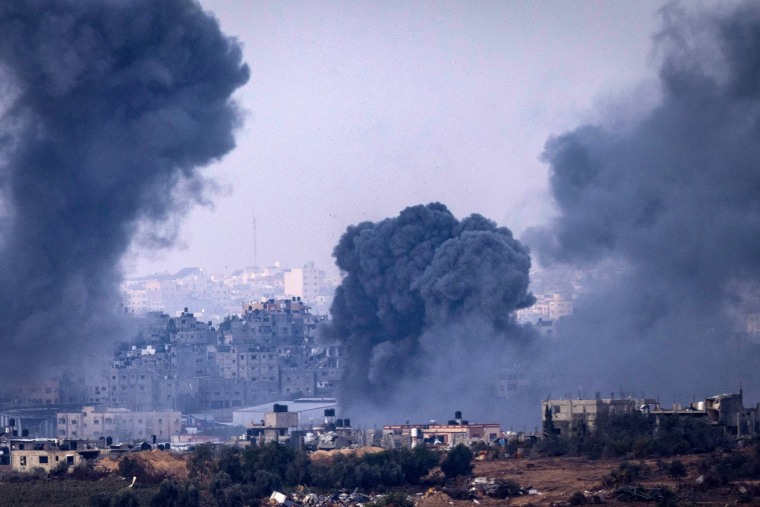 Israel says it located Hamas tunnel shafts in Gaza neighborhoods
Israeli soldiers operating in Gaza City found 35 tunnel shafts on Sunday, IDF spokesperson Daniel Hagari said in a series of posts on X.
Hagari said that paratroopers, operating alongside armor, engineering and the air force located the tunnels in the southern Sheikh Ijlin and central Rimal neighborhoods.
In a separate statement, the IDF also said that it raided the residences of senior Hamas officials in Rimal, an area of Gaza City that contained "military posts" and "terrorist infrastructure." Though both statements claimed to have "eliminated" Hamas militants, they did not suggest how many.
NBC News is unable to independently verify these reports. Hamas did not immediately confirm the deaths of combatants.
Negotiators are closing in on a deal to release hostages, sources say
American, Israeli and Hamas negotiators are closing in on a deal to release some hostages taken during the Oct. 7 terror attack in exchange for a pause in fighting, sources familiar with the negotiations told NBC News.
These sources caution nothing has been finalized yet, and the U.S. insisted overnight that work toward a deal was continuing.
A senior Israeli official also said that "as the military pressure increases, the chances of a release of hostages grows because Hamas is desperate for a cease-fire." This official also stressed that no deal has been finalized.
A spokesperson for the National Security Council made a similar statement last night.
"We have not reached a deal yet, but we continue to work hard to get to a deal," spokesperson Adrienne Waston posted on X in response to a Washington Post report about a possible agreement.
IDF continues operations in north Gaza and at Al-Shifa hospital
Israel's military says it is continuing its pursuit of Hamas in northern Gaza.
"Even at this hour, special forces are operating in the shaft that we discovered last night at the Shifa hospital," said Israel Defense Forces spokesperson Rear Adm. Daniel Hagari. "We will distribute the visual documentation from there, in the near future," he said.
He did not address reports of attacks that hit cities in the southern part of the Gaza Strip, including in Khan Younis.
The IDF has said that Hamas was operating a command center under the hospital, showing images of weapons and a tunnel to substantiate its claim. NBC News has not been able to independently verify the claim and staff at the hospital have strongly denied it.
More than two dozen babies among those left at Al-Shifa
More than two dozen babies in "extremely critical condition" and 291 patients are left at Al-Shifa hospital in Gaza City, according to a joint statement from the WHO and U.N. agencies following a visit to the hospital.
Workers at the hospital have previously said that the lack of fuel and electricity prevented them from running incubators for premature babies, whom they were forced to put together in ordinary beds, lying side by side for body heat and exposed to infection and temperature changes.
Gaza's health ministry said Friday that the number of babies who have died at the hospital had risen to four.
In the West Bank, Gazan workers wait to return home
RAMALLAH, West Bank — Weeks have passed since Israel sent scores of Palestinian workers back into Gaza, but in the occupied West Bank, many remain — some grief-stricken as they absorb devastating news from back home.
Sitting outside a community center in Ramallah, where dozens of makeshift beds have been set up for Gazan workers, Hassan Al-Dreemli, a 32-year-old construction worker and father of two, told NBC News he found out today that his sister-in-law and young nephew were killed in an airstrike in Khan Younis in southern Gaza.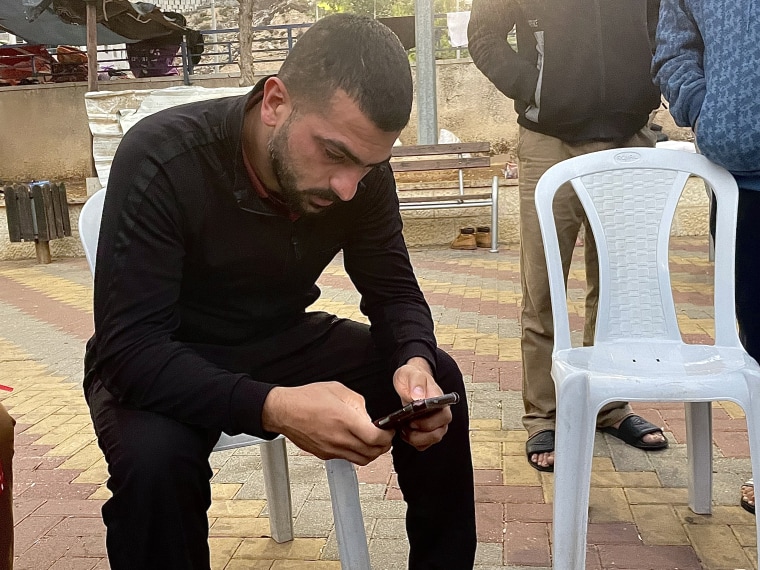 "They slaughtered us. They killed us," he said, holding his head in one hand and his phone in the other as he listens to voice notes from loved ones updating him on his brother's condition. His relatives have told him his brother survived the airstrike, but was injured.
Having yet to hear from his sibling himself, he said he's worried they might be lying to him to protect him from a harder truth.
Al-Dreemli said he worries constantly for his family, including his wife and two young children. He said his son is just 2 months old and he has yet to meet him in person. But until it is safer to return home, he said, all he can do is wait and hope to have that chance.
Al-Shifa hospital is a 'death zone,' says World Health Organization
A joint team of United Nations and World Health Organization workers on an "assessment mission" to Al-Shifa hospital in Gaza City called the hospital a "death zone" and said the situation is "desperate," according to a statement released by the WHO Saturday.
The humanitarian team found a mass grave at its entrance, which they were told contained the bodies of 80 people. The hospital, which has been without clean water, fuel, food or medical supplies for the past six weeks, also contained signs of shelling and gunfire, according to the statement.
Some are unable or unwilling to leave Al-Shifa: 291 patients and 25 health workers remain. Damage and a lack of key resources at the hospital had caused it to "essentially stop functioning as a medical facility," the WHO statement said, adding that medical and solid waste piled in the corridors. Many injured patients' wounds were severely infected due to the absence of sanitation and infection control measures at the hospital, it said.
The statement added that evacuation plans for patients to hospitals in the south are being "urgently developed" by humanitarian organizations, but the ability to carry them out is "pending guarantees of safe passage by parties to the conflict."
Grief in southern Gaza after more airstrikes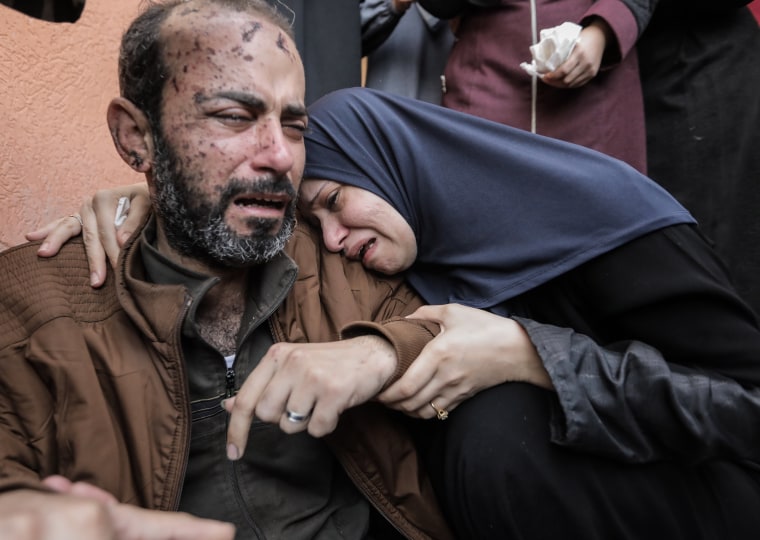 Palestinians mourn as they collect the bodies of those killed in airstrikes today in the city of Khan Younis, in southern Gaza.
U.N. relief chief: People were killed while sheltering at Al-Fakhoura school
People were killed while sheltering at Al-Fakhoura school in northern Gaza, said Martin Griffiths, the United Nations undersecretary-general for humanitarian affairs and emergency relief coordinator.
"Shelters are a place for safety. Schools are a place for learning," Griffiths wrote on X. "Civilians cannot and should not have to bear this any longer. Humanity needs to prevail."
The bodies of dozens of people who were killed in the attack on the school arrived at Kamal Adwan Hospital in Jabalia refugee camp in northern Gaza today, said Dr. Ahmed Al-Kahlout, the hospital's director.
The number of fatalities has not been released.
An official statement from Hamas blamed Israel for the strike and said it would be "held accountable."
NBC News could not immediately verify the source of the blast.
WHO plans evacuation of patients, workers at Al-Shifa hospital
The World Health Organization said today that the agency and its partners are making plans to evacuate the remaining 25 health workers and 291 patients at Gaza's Al-Shifa hospital, where conditions continue to deteriorate.
The hospital is no longer operational, no longer admitting new patients and has become what a United Nations humanitarian assessment team called a "death zone," the WHO said.
"Over the next 24–72 hours, pending guarantees of safe passage by parties to the conflict, additional missions are being arranged to urgently transport patients from Al-Shifa to Nasser Medical Complex and European Gaza Hospital in the south of Gaza," the WHO said. However, the organization stressed that the latter two hospitals are also overwhelmed, and an influx of patients will "further strain overburdened health staff and resources."
The WHO called for immediate efforts to restore functionality at Al-Shifa and other hospitals to provide urgently needed services in Gaza. "The extreme suffering of the people of Gaza demands that we respond immediately and concretely with humanity and compassion," the WHO said.
Hundreds flee on foot from Al-Shifa hospital
Hundreds fled on foot from Al-Shifa hospital toward the southern Gaza Strip amid conflicting reports from health officials and the Israeli Defense Forces about who ordered an evacuation. Some rode in horse-drawn carts while others were pushed in wheelchairs.
Dr. Ramez Radwan described seeing bodies in the streets as they walked on the road leading from the hospital through Gaza City.
Catch up with NBC News coverage of the Israel-Hamas war
Israel's information missteps have led to weakened credibility
Alongside its fight with Hamas, Israel is fighting another battle: to convince the world, and chiefly the United States, that this is a just war.
Israel's public-relations machine has gone into overdrive in recent weeks to make the case that its pummeling of Gaza has been necessary and conducted in a way meant to minimize civilian deaths. It has allowed journalists, including those from NBC News, to embed with its soldiers in Gaza, maintained a steady drumbeat of social media posts, and made Israeli representatives available for TV appearances.
But in its recent outreach to global allies, Israel has released several pieces of inaccurate or disputed information including claiming that an Arabic calendar was a shift schedule for Hamas kidnappers, and using curtains as evidence that hostage videos had been filmed in a hospital.
The widespread reaction calling out these questionable pieces of evidence has weakened Israel's credibility, according to some experts, and could lead to a boy-who-cried-wolf situation unless concrete evidence for a Hamas headquarters is found beneath Gaza's Al-Shifa hospital, one of Israel's key contentions at this stage of the war.
"The irony is they might find something and nobody is going to believe them," said H.A. Hellyer, a senior associate fellow at the Carnegie Endowment for International Peace, a Washington, D.C., think tank. "At this point their credibility is shot."