Soon after the derailment of a Norfolk Southern train in East Palestine, Ohio, a team of researchers began roving the small town in a Nissan van.
It was February, less than three weeks after the disaster, and the van was outfitted with an instrument called a mass spectrometer, which can measure hundreds to thousands of compounds in the air every second.
The team was searching for harmful levels of air pollution. At the time, a primary concern was a flammable substance called vinyl chloride, because Norfolk Southern intentionally burned off the chemical in an attempt to avoid the chance of an explosion. Some environmental health experts thought the chemical may have contributed to the rashes, vomiting, bloody noses and bronchitis some residents reported.
But a new study from the team behind the research van — a group of scientists at Carnegie Mellon and Texas A&M universities — raises a flag about a different substance.
According to the study, levels of a chemical irritant called acrolein detected near the derailment site on Feb. 20 and 21 were up to six times higher than normal levels recorded before the disaster. But local and federal officials had told residents it was safe to return home on Feb. 8.
The test results were released earlier this year but published for the first time Wednesday in the journal Environmental Science & Technology Letters. Longer-term exposure to concentrations of acrolein at the detected levels may be a health concern, the researchers wrote.
Low levels of exposure to acrolein are associated with slow breathing and burning in the nose and the throat. Studies in animals have found that long-term exposure can result in damage to the lining of the lungs, abnormal lesions or nasal tumors.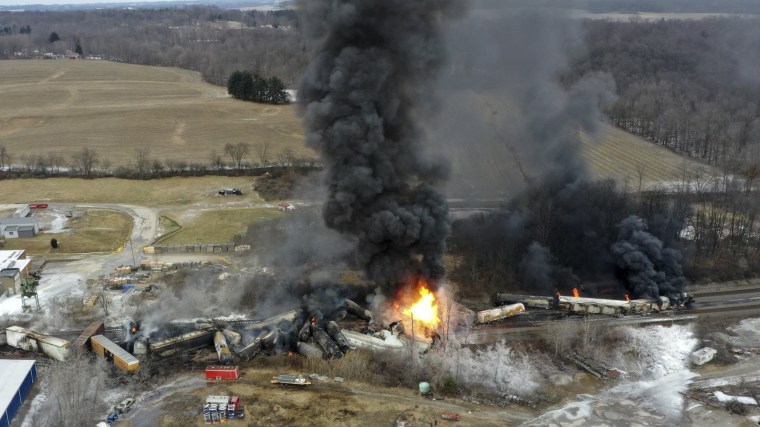 "The acrolein was a little bit surprising," said Albert Presto, an associate research professor in mechanical engineering at Carnegie Mellon, who conducted the research.
That's because acrolein wasn't among the chemicals that spilled or burned after the train jumped the tracks. The researchers aren't sure why it was present, though it could have been a byproduct or a mixture of other chemicals that were released.
The levels of vinyl chloride that were detected, meanwhile, were below the Environmental Protection Agency's threshold for long-term risks.
Residents seek answers about why they still feel sick
Ashley McCollum, who has lived in East Palestine for about seven years, said she is relieved that independent researchers tested extensively for air pollution. But despite studies like this one, McCollum said, she is still frustrated that many residents couldn't get similar tests performed in their homes.
Residents still have questions about what's causing their lingering symptoms, McCollum said.
"It's frustrating just because we have some symptoms that don't align with the chemicals that are present," she said.
McCollum said she is still living in a hotel in Columbiana, Ohio. When she visits her home roughly a block away from the derailment site, she said, she experiences burning in her eyes and tingling in her fingers and toes, develops a rash and feels "kind of loopy and dizzy."
Presto said that his team measured many other chemicals but that most "looked like typical 'you're in a town in the United States' concentrations."
The spectrometer did, however, pick up on chemicals that the researchers weren't looking for, such as elevated levels of formamide, which can cause eye and skin irritation, drowsiness and nausea — symptoms commonly reported by East Palestine residents.
The EPA also detected acrolein in the air
The EPA found elevated levels of acrolein near the disaster site in February, but Presto said it didn't look for the chemical at low enough levels to determine whether it posed a long-term health risk.
"For some compounds, including acrolein, concentrations that would have been potentially health-harmful were below what EPA could measure," he said. "We were more sensitive."
Kellen Ashford, a spokesperson for the EPA's emergency response in East Palestine, said the agency "has deployed extensive resources to perform stationary and roving air monitoring" in the area.
"EPA cannot speak for data interpretation reported by Carnegie Mellon but welcomes their scientific review and interpretation," Ashford said.
Presto said it's hard to link any one chemical to people's health concerns, because researchers haven't measured every compound in the air, water and soil, and it's difficult to isolate exposures to individual contaminants. In addition, many of the chemicals that were detected aren't fully understood in terms of their health effects, he added.
"If you live near the where the train cars derailed, you weren't just exposed to one thing at one time," he said. "You were exposed to this whole mixture."
Andrew Whelton, a professor of environmental and ecological engineering at Purdue University who wasn't involved in the new research, agreed that although the study provides important information about contamination in East Palestine, "it is not the whole story."
"Their van stayed on roadways. They didn't drive in Sulfur Run or into people's homes where many of the exposures took place and still take place to this day," Whelton said, referring to a contaminated creek the EPA is working to remediate.
Whelton said that when he visited East Palestine in March, he detected multiple hazardous chemicals, including benzene and butyl acylate, in at least one building.
Last month, he sent a letter to Sens. Sherrod Brown and JD Vance and Rep. Bill Johnson of Ohio to share his observation that as of mid-June, several of the town's buildings had "the characteristic odor of chemical contamination."
"There are still acute health threats inside buildings that agencies have yet to eliminate," Whelton wrote.