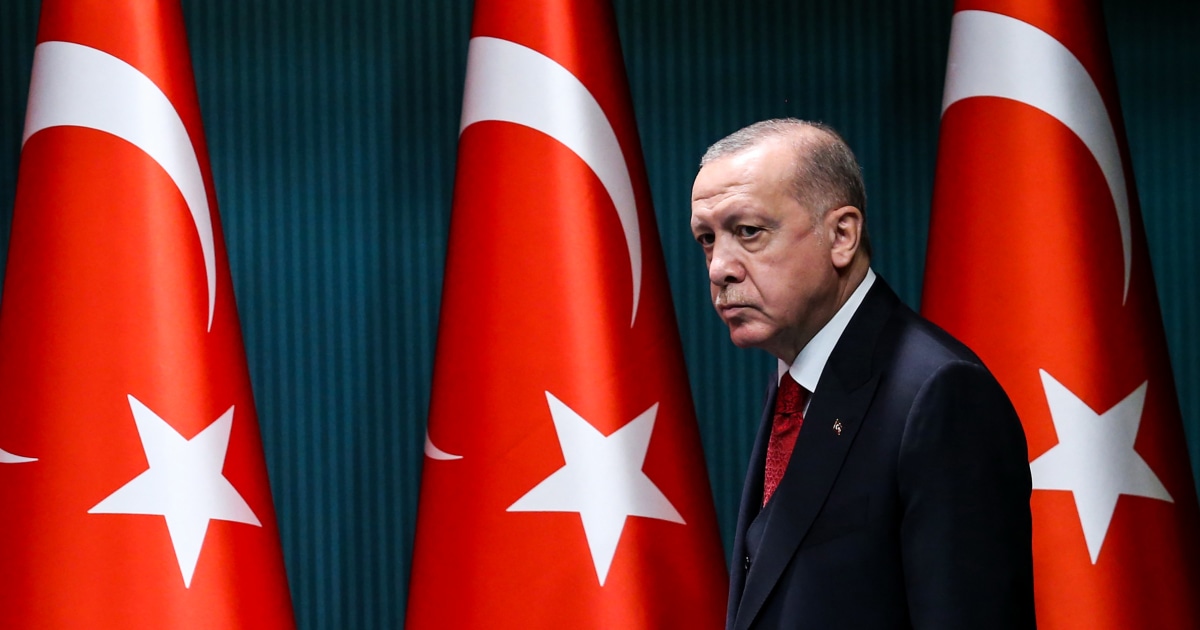 The results will have myriad ramifications outside Turkey, which, despite being a NATO member, has maintained close ties with Russia and blocked Sweden's membership of the Western military alliance. Turkey boasts NATO's second largest armed forces after the U.S., it controls the crucial Bosporus Strait, and it is widely believed to host U.S. nuclear missiles on its soil.
It remains to be seen what the results mean regionally, too, as Turkey's influence grows among its neighbors and the Muslim world as a whole.
Buoyed by the first-round lead, Erdoğan said he welcomed a second vote if that was the wish of the electorate and expressed pride in what he said was record turnout. "Turkey has once again proved that it's one of the leading democracies in the world," he said at his party's headquarters.
That is strongly disputed by human rights groups, which say Erdoğan has centralized power and silenced government critics. The Economist Intelligence Unit, a leading research group based in London, classes Turkey as "hybrid regime" between democracy and authoritarianism — trending toward the latter.
Voter turnout is traditionally strong, despite the government's suppressing freedom of expression and assembly over the years and especially since a 2016 coup attempt.
Some 89% of the more than 64 million eligible people, including 3.4 million overseas voters, case votes, the election board said.
The runoff in the Turkish Republic's centenary year comes after some of the most hotly contested presidential and parliamentary elections in recent times.
Erdoğan's AK Party won just short of 50% of the votes in the simultaneous parliamentary elections, preliminary results showed, adding to the sense that he is well placed in the presidential runoff.
Sinan Oğan, a third candidate who was eliminated after he got around 5% in the first round, could prove a potential kingmaker, and he has the backing of an anti-immigrant nationalist party.
For around 5 million new voters who have never known any other leader, the election was the chance for change in a country where Erdoğan's AK Party has been in power since 2002. Erdoğan became prime minister the next year and president in 2014.
Ahead of the election, the mood was buoyant in Istanbul, with the opposition and its supporters hopeful of victory.
"We hope this time something might change in our country. Because now I think people are more conscious," said Zafer Özi, 81, a retired pharmacist.
Turkey is still reeling from two massive earthquakes in February, which caused devastation in 11 southern provinces and killed tens of thousands of people. Erdoğan's administration has been criticized for its response to the disaster, as well as the lax implementation of building codes that worsened the misery.
A languishing economy, which critics have accused the government of mishandling, and a steep cost-of-living crisis also dominated the agenda, along with a backlash against millions of Syrian refugees, in the lead-up to the vote.
Erdoğan increased wages and pensions and subsidized electricity and gas bills in a bid to woo voters while leading a divisive campaign in which he accused the opposition of being "drunkards" who colluded with "terrorists." He also attacked opponents for upholding LGBTQ rights, which he said were a threat to traditional family values.
Kılıçdaroğlu, 74, who has led the secular, center-left Republican People's Party, or CHP, since 2010, vowed to reverse Erdoğan's policies and restore democracy.
A starkly different figure from Erdoğan, who is known for his bombastic speeches, he is soft-spoken and has built a reputation as a bridge builder. During the campaign he recorded videos in his kitchen in a bid to talk to voters.
His six-party Nation Alliance has promised to dismantle the executive presidential system narrowly voted in by a 2017 referendum.
Erdoğan has since centralized power in a 1,000-room palace on the edge of Ankara, and it is from there that Turkey's policies on economic, security, domestic and international affairs have been formulated.
Neyran Elden reported from Istanbul and Henry Austin and Alexander Smith from London.