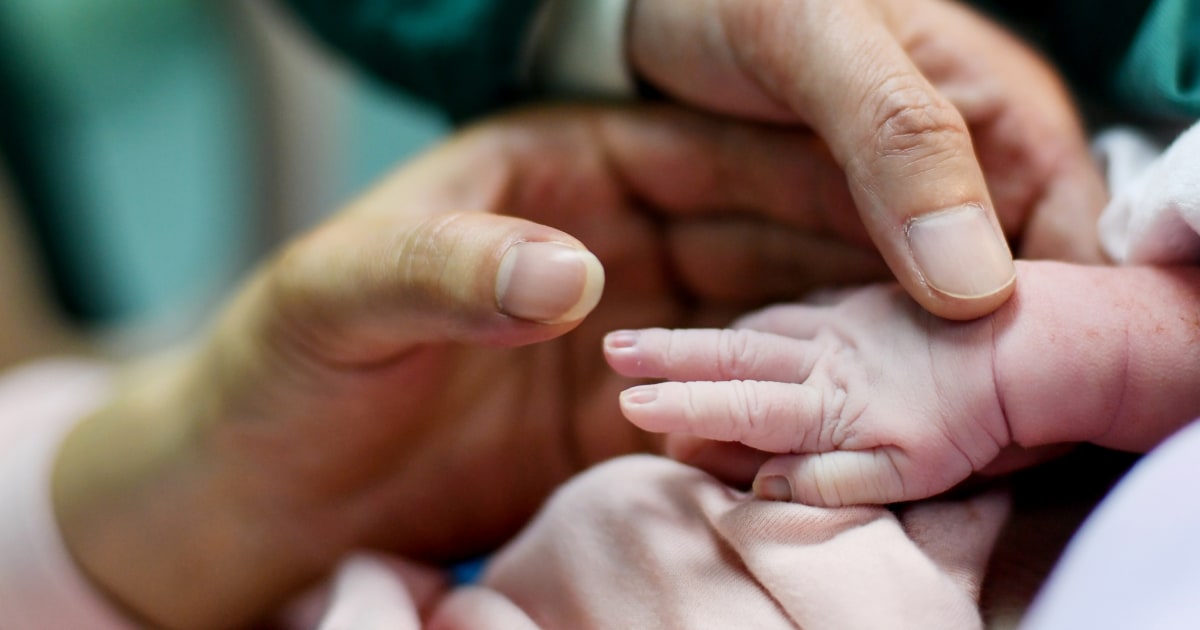 HONG KONG — Early this year, shortly after China lifted strict "zero-Covid" measures that had kept it isolated for three years of the pandemic, Lydia Huang headed across the border to Hong Kong to do something she felt couldn't wait any longer.
"Finally got to freeze my eggs," Huang, 38, a financial professional from Shanghai, wrote on social media this spring. "It was what I had always dreamed of."
Egg freezing has become a growing topic of discussion in China, where officials alarmed by the country's first population decline in six decades are trying to boost the birth rate even as young people are increasingly putting off marriage and childbearing or avoiding it altogether.
But unmarried women like Huang are legally barred from undergoing the procedure in mainland China, prompting some to do it elsewhere at a much greater cost in a bid to extend their reproductive window.
After posting about her experience, Huang said, she received a flood of messages from women asking for advice or sharing their own experiences.
"I had over 10 people come to me right after I posted my story, and some of them had already gone and finished freezing their eggs," she said.
Government reluctance
Current law in China, where having children out of wedlock is frowned upon, prohibits unmarried women from using any assisted reproductive technologies, including egg freezing. Men are allowed to save their sperm regardless of their marital status.
The law was challenged in 2019 by Teresa Xu, an unmarried woman who sued a Beijing hospital that rejected her as a candidate for egg freezing. Her case was dismissed last year by a court in Beijing, which said the hospital did not violate Xu's rights.
Xu made a final appeal in May, hoping the case will become a landmark and expand reproductive rights for single women like her. She is still waiting for a verdict.
"The time, geographical and social conditions are right — all that's lacking is a favorable policy opening," Xu told Reuters in May.
The Chinese government has been reluctant to provide egg freezing for single women.
In 2021, the National Health Commission, responding to a proposal to make assisted reproductive technology available to single women, said egg freezing was more invasive than procedures undergone by men, raised ethical issues around commercialization and could have adverse social impact.
"Freezing eggs for single women may further delay the reproductive age of women, which is not conducive to protecting the health of women and offspring," it said.
But the issue continues to be raised. Members of China's top political advisory body proposed again this year that unmarried women gradually be allowed to freeze their eggs to preserve their fertility, though they would have to be married to use them.
Amid concerns that its working-age population is falling too quickly, China has made other moves aimed at increasing the birth rate. In 2016 it amended its decadeslong "one-child policy" to allow all couples to have a second child, and in 2021 the limit was raised to three.
But the policy shift has not increased the birth rate as expected, with young people citing the high cost of raising children, work stress and a reluctance to bring babies into a highly competitive society as reasons for their resistance to getting married and starting families. The country had a record-low fertility rate of 1.09 last year, state media reported in August.
Some Chinese provinces and cities are taking action on their own to encourage more births and earlier marriages. A county in Zhejiang province said in August that it would give couples a "reward" of 1,000 yuan ($137) if the bride is younger than 25.
Others are making it easier for women to have children regardless of their marital status. Officials in the city of Chongqing announced last week that women no longer need to be married to receive maternity benefits. Similar restrictions have also been loosened recently in the provinces of Guizhou, Shaanxi, Hunan and Jiangsu, state media reported.
They join the city of Shanghai and the provinces of Sichuan and Guangdong, which have also given single mothers access to the same subsidies and paid maternity leave as married ones.
Going to great lengths
Hong Kong, a Chinese territory, is a natural choice for many mainland Chinese women seeking to freeze their eggs because of its geographical proximity, shared language and high-quality health care.
Dr. Ng Hung Yu, a clinical professor at the Department of Obstetrics and Gynecology at the University of Hong Kong, said his hospital had received a growing number of egg-freezing inquiries since opening its services to single women from mainland China without any health issues.
"I talked with some of my patients before, some of whom wanted to freeze their eggs because they are in an administrative position and might want kids a few years later," Ng said. "Some of them just didn't have partners."
But the obstacles for women like Huang don't end in Hong Kong, where frozen eggs cannot be stored for more than 10 years. Women can thaw and fertilize their frozen eggs only if they are in a heterosexual marriage, unless they pay to transport the eggs to another jurisdiction such as the United States.
Gu Yang, a third-party coordinator at Los Angeles Reproductive Center, said the number of women from mainland China coming in for consultations on egg freezing seemed to be increasing, and that they seemed to be getting younger.
"Previously, most of the clients were in their 30s or even over 40 years old," Gu said. "But last year, I found that women in their 20s have come to consult about egg freezing. Some are even under 25 years old."
Whether in Hong Kong or elsewhere, women who travel from mainland China to freeze their eggs pay far more than they would at clinics back home, and a successful pregnancy is far from guaranteed.
According to price lists at various licensed fertility clinics in Hong Kong, the cost of egg freezing is about 100,000 Hong Kong dollars ($12,800), plus an annual storage fee of about 10,000 dollars ($1,280), many times what it would cost in mainland China.
After fighting for limited appointments for a Hong Kong visa and undergoing long preparation cycles, Huang eventually froze 15 eggs, saying it was necessary to take control of the "steering wheel" of her life.
She didn't feel scared going to Hong Kong for the procedure, she said, "because I was protecting my reproductive rights."