KYIV, Ukraine — They sang about love and loss, their lyrics reflecting the hopes and fears of their fellow Ukrainians as brutal battles raged a few miles from their home city of Zaporizhzhia in the country's south.
Now their musical lament is playing at their own graves.
Street musicians Svitlana Siemieikina, 18, and Kristina Spitsyna, 21, were killed by a Russian airstrike on a residential area of Zaporizhzhia last week. Their deaths — and a video of them singing in the streets that was purportedly shot hours before the attack — prompted an outpouring of grief across social media in Ukraine, with thousands mourning the loss of two young lives.
From the graveyard where the budding artists were buried side by side on Friday, Svitlana's father, Yuriy Siemieikin, told NBC News that the girls had bonded over music and formed their duo shortly after the start of the war in February 2022.
"See how they are looking at each other," he said Saturday, pointing at the adjoining graves decked out in colorful wreaths and blue and yellow Ukrainian flags waving in the breeze above them.
Siemieikin, 41, said that the family had chosen not to play Svitlana and Kristina's songs at the funeral, but that he had decided to play some of them through his car speakers when he returned to the burial site the following day. In a video he shared with NBC News, Kristina's voice can be heard ringing across the cemetery.
"They had more than 200 songs that they could play and sing," he said.
They were playing some of them on the day of their deaths, busking in central Zaporizhzhia on Wednesday.
Kristina's mom, Halyna Spitsyna, said in a separate interview that the girls had left Svitlana's boyfriend, Mykyta, to look after their equipment so they could go to a park. "At that very moment, those 2 minutes and those 300 meters became fatal for them," she added.
Ukrainian officials said the Russian rocket hit a residential quarter in Zaporizhzhia on Wednesday, killing Svitlana and Kristina, and injuring 9 other people, including an 11-month-old baby. A church and shops were also damaged in the attack.
Russia denies hitting Ukrainian civilians or civilian infrastructure. There was no public reaction to the attack or the girls' death from Moscow. NBC News reached out to Russia's defense ministry for comment.
Since the outbreak of war in February last year, the U.N. Office of the High Commissioner has estimated that 9,083 civilians have been killed. The actual number is likely to be considerably higher, given the difficulty of receiving and corroborating information in areas where fighting is ongoing.
Siemieikin, Svitlana's father, said he was at home in the city's suburbs when he heard the explosion from far away. "I immediately started to call her, but she didn't answer. I started to realize that something was wrong," he said.
After grabbing his backpack and first aid kit, he said he drove to the city center, picking up Spitsyna on the way. When he arrived at the scene, he said, "Kristina was still alive and had left yet some signs of life, and Svitlana was there, already dead."
Kristina would be pronounced dead later.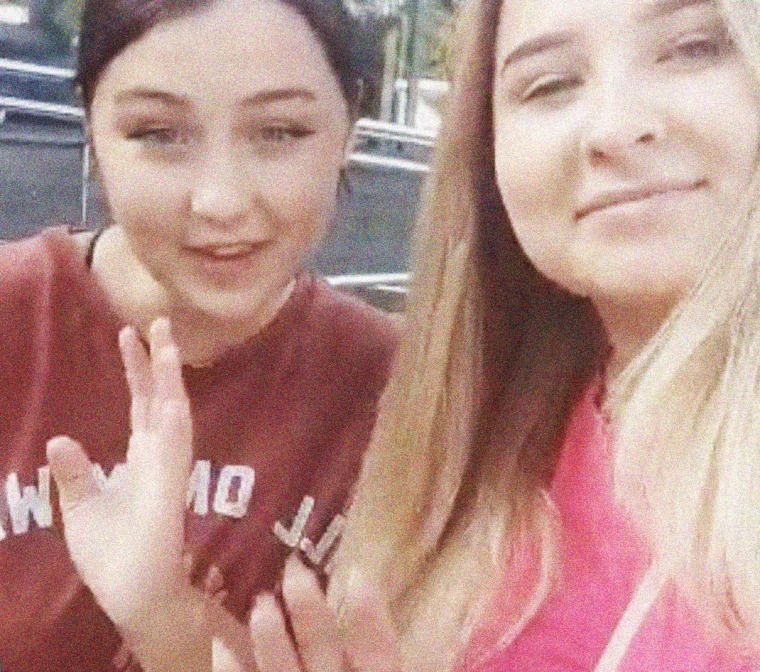 'Similar Girls'
Siemieikin, a railway worker, said that his daughter initially enjoyed rock bands like Queen and Nirvana.
"Later, when she became more professional, she switched to the Ukrainian artists and started to copy them, to learn from them and to play their songs," he said. The pair, who made up a musical duo known as the Similar Girls, wrote and recorded their own music, Siemieikin said.
His daughter was also a foreign languages student at a local university, he added, and dreamed of going to South Korea one day as a fan of K-pop.
Spitsyna, Kristina's mom, 44, a furniture factory sales manager, said her daughter had been "surrounded by musicians since she was a kid, because I had many friends among them."
Kristina "grew up in music," she said, adding that her daughter had started dancing when she was 5 and performed on stage. From there, "she became interested in singing," Halyna said.
Although Kristina and Svitlana went to the same school and later remembered "singing together on the same stage at school," Halyna said they really got to know each other around three years ago, when Kristina was invited to sing in a band that featured Svitlana on guitar.
About this time a year ago, she said the two decided to perform together as street musicians, despite Svitlana initially having doubts.
"Their first show wasn't very successful," Spitsyna said, adding that they had nonetheless earned some money "and the girls decided to continue."
As they gained in confidence, Spitsyna said they performed on multiple occasions in Zaporizhzhia, which sits close to the front lines as well as a major nuclear power plant that has been occupied by Russian forces since the early weeks of the war. Shelling around the plant has raised fears of a nuclear accident.
Spitsyna added that they also regularly traveled to perform in cities across the country, including Dnipro in central Ukraine and the capital, Kyiv.
"They went to bars and cafes if they could get an invite and get paid, or they just sang on street corners and in public spaces," she said. "They performed for Ukrainian soldiers, too."
She added that her husband and Kristina's father, Oleksandr Spitsyn, 43, is a private in the National Guard of Ukraine, who had served on the front lines since last fall. In a statement to NBC News, his regiment expressed its condolences and said the girls had raised funds to support the military. Their deaths were "yet another terrible testimony of Russian terrorist attacks on the civilian population," the statement added.
Although some family members had opted to move abroad after the Russian invasion, Siemieikin said that like all military age men he could not leave the country, and his wife, Anna, also a railway worker, decided not to leave him behind. Svitlana also "categorically refused" to go, he added.
"She had started to communicate with Kristina a lot, they had common interests," he said.
"She wanted to be only here at that period of her life."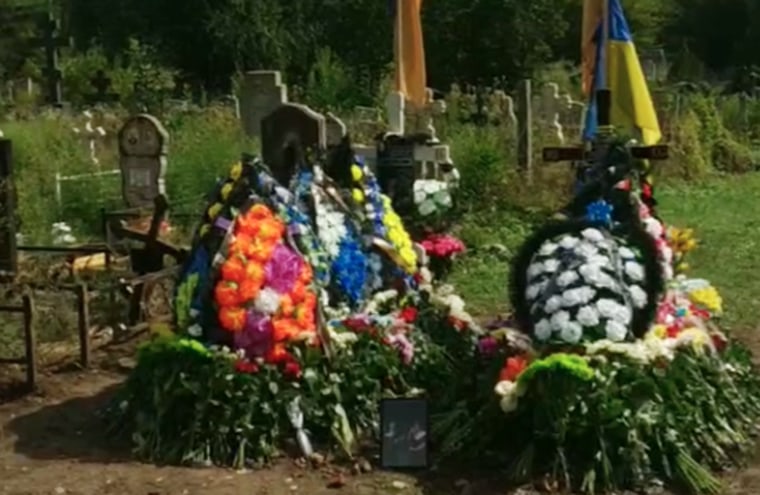 The girls' deaths sparked a wave of outrage and grief across Ukraine.
Alongside a video of a cover of one of their songs, the Ukrainian pop band Dzidio wrote on Instagram that "the Russian missile mercilessly took away their voice, their life, and at the same time, a piece of the soul of each of us."
A local cultural center was the first to break the news of the girls' death online, saying in a Facebook post that Svitlana and Kristina "believed in a bright and peaceful life under the Ukrainian flag," and that the Ukrainian people will never forgive Russia for this loss.
Offering "condolences to the families," Ukrainian President Volodymyr Zelenskyy said on Twitter that "Russian terrorists," had carried out the attack, which he called a "war crime." He also shared a video showing the smoking ruins of buildings near a church, an area where Siemieikin said the women often performed.
The comments under posts in the girls' Instagram channel were also filled with messages of disbelief and sorrow.
Back in the graveyard, Siemieikin said the families had decided to lay Svitlana and Kristina to rest next to each other.
"They understood one another well, complemented one another," he said. "Kristina was better with vocals, Svitlana was better with guitar. They felt each other."
Siemieikin said he wants the world to know about what has happened. "This tragedy has to be stopped," he said.
Victor Sema and Anastasiia Parafeniuk reported from Kyiv, and Yuliya Talmazan and Leila Sackur from London.