As we came over the hill, we could finally see a steeple, then the barn. We were racing the sun to get there before it closed and felt relieved when the full ghost town came into view.
I can't believe it's taken us this long to make it out to Nelsons Landing / Nelson Ghost Town. It was such a fun place to shoot that I didn't mind coming out of retirement for a friend's elopement and BIL's engagement session.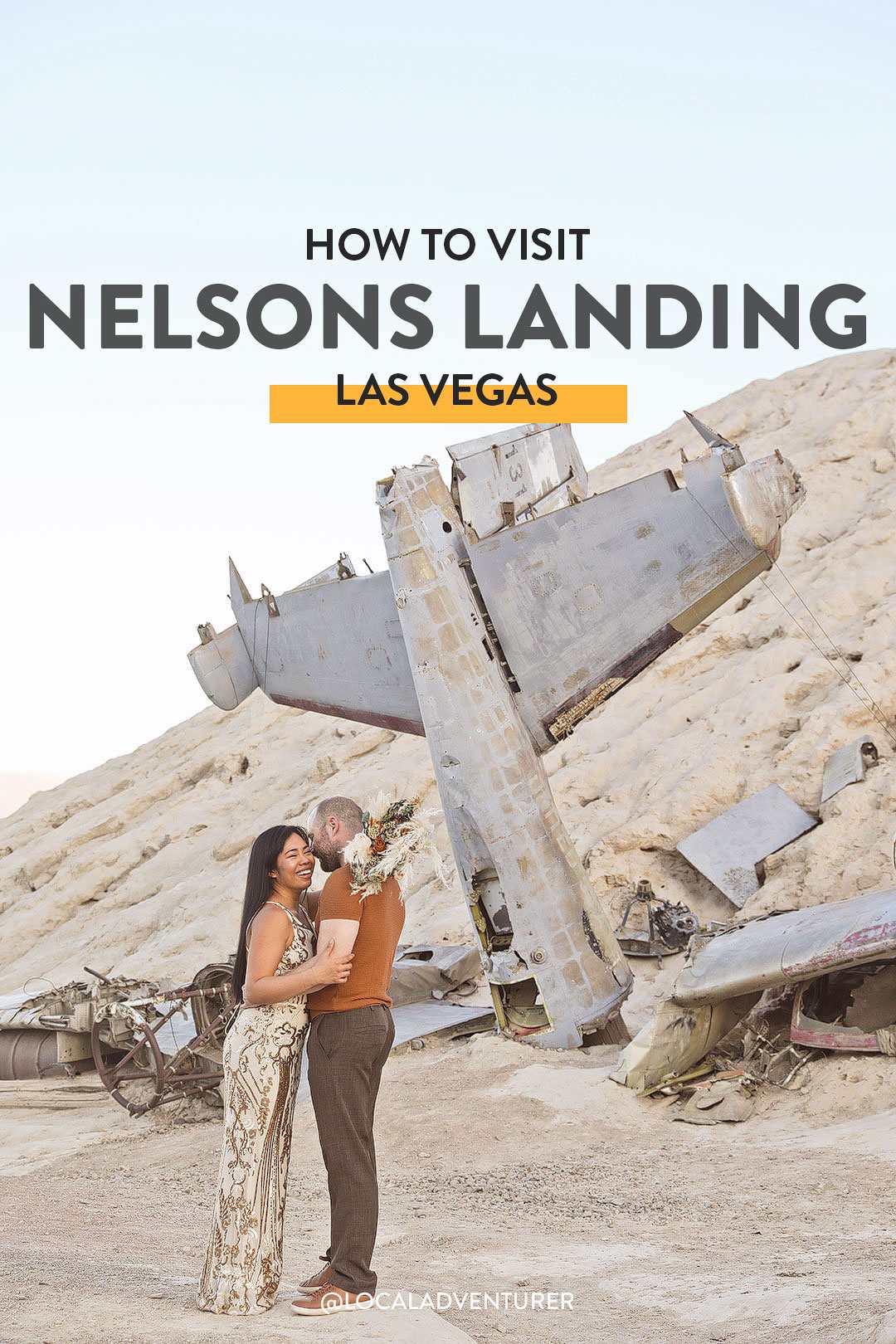 This post may contain affiliate links, where we receive a small commission on sales of the products that are linked at no additional cost to you. All opinions are always our own. Read our full disclosure for more info. Thank you for supporting the brands that make Local Adventurer possible.
Last Updated: April 19, 2021
A lot of people in Vegas refer to the whole area as Nelsons Landing, but Nelsons Landing is actually the cliff jumping area not too far from Nelson Ghost Town.
Nelson Ghost Town, on the other hand, is a mix between a junkyard, outdoor art display, and burning man tribute. It's easy to see why it's popular among photographers and videographers because it looks like a movie set, except it's the real deal (minus the planes). In both our visits, we saw several photoshoots.
Located just five miles away from the Colorado River, Nelson was known as El Dorado by the Spaniards who discovered it. It is home to the Techatticup Mine (or El Dorado Canyon Mine). It was once home to one of the largest booms in Nevada, which also resulted in bloody labor disputes and ownership disagreements.
But because of its location in the El Dorado Canyon, it was susceptible to flash flooding making it uninhabitable. The remaining weathered buildings, machinery, and Texaco station are what's left of the boomtown.
There are also some really popular crashed planes on-site, but those aren't historical but rather movie props from 3000 Miles to Graceland.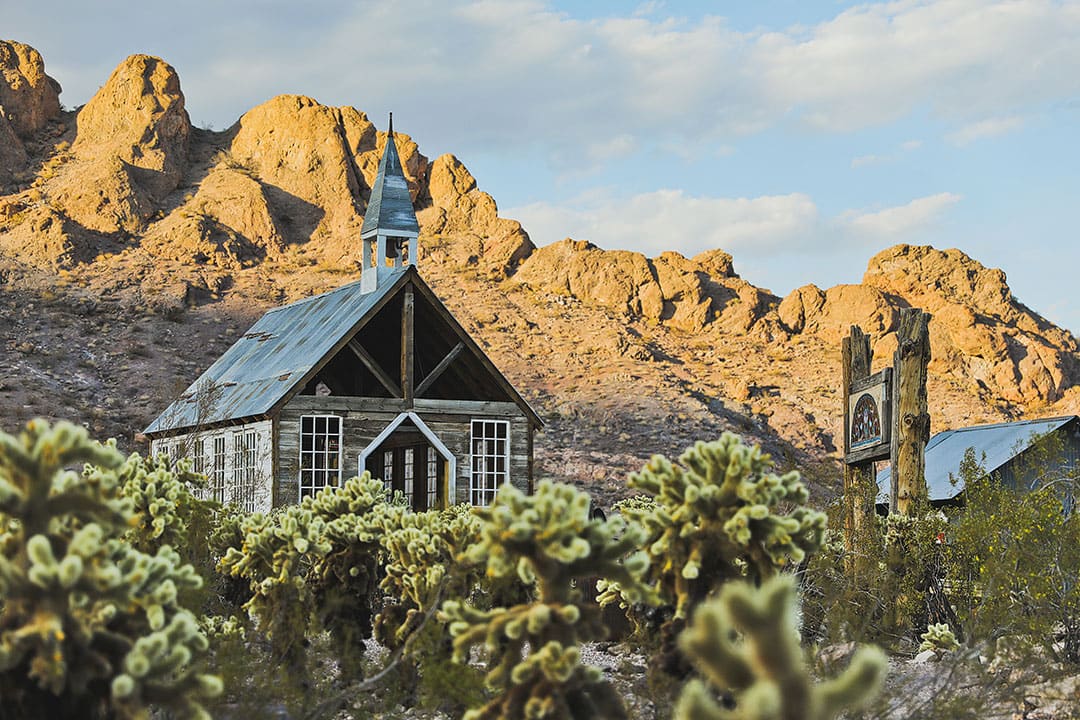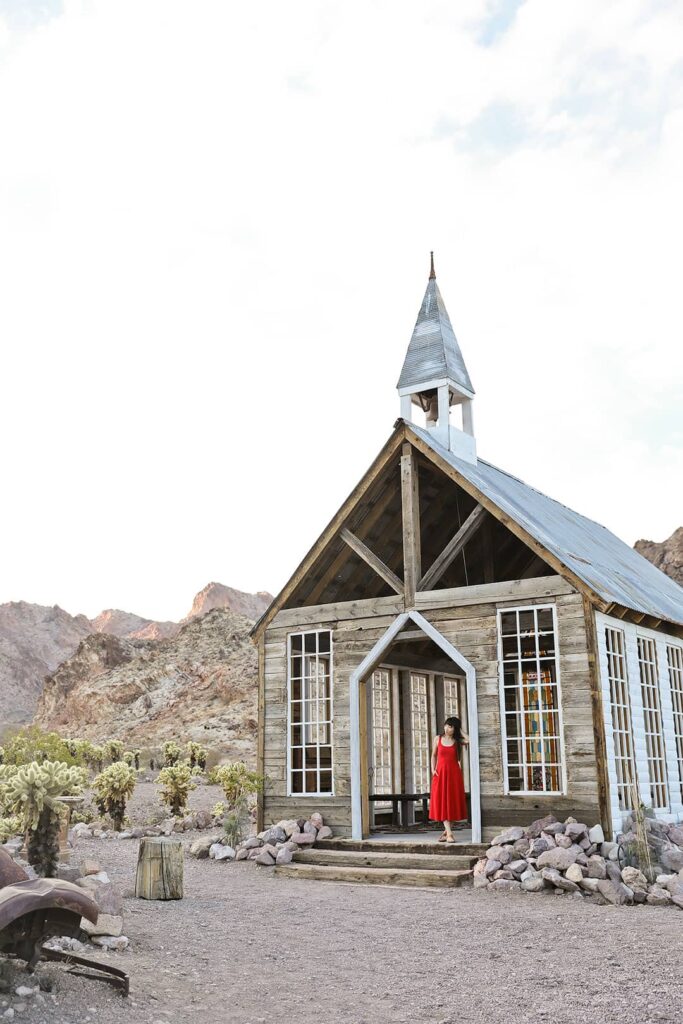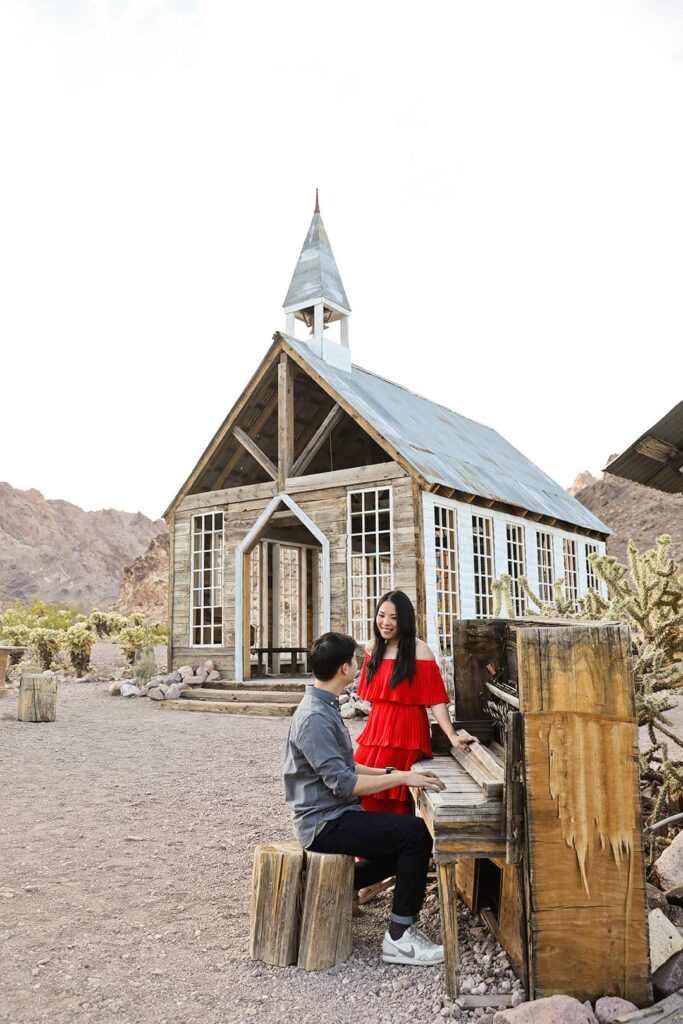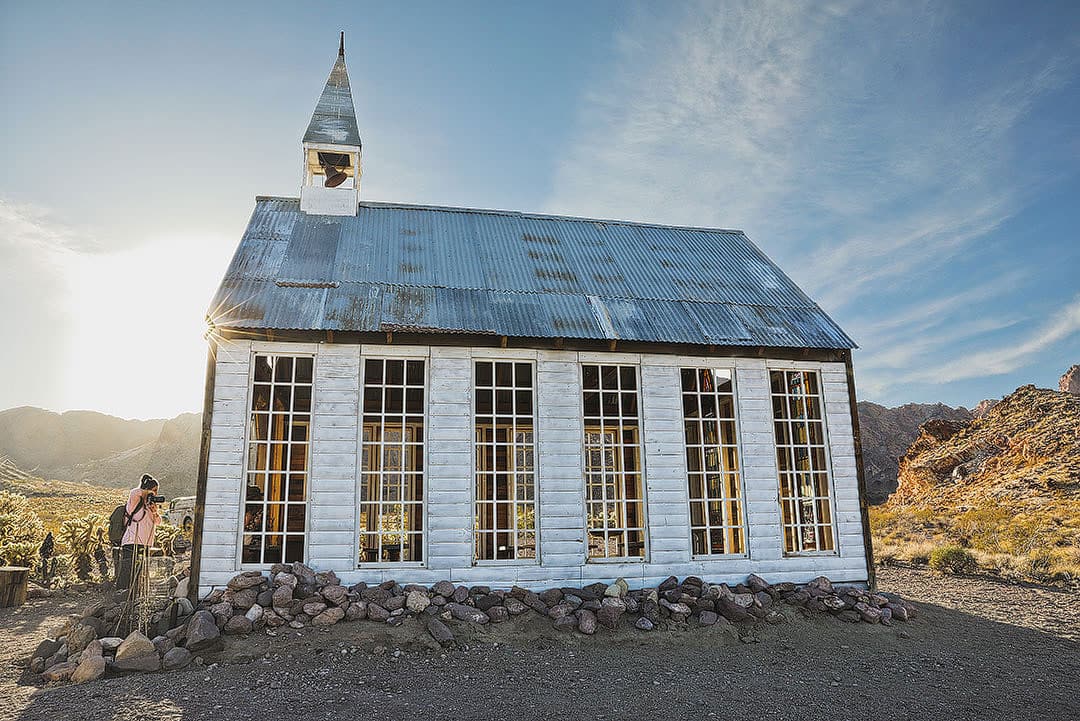 Visiting Nelson Ghost Town
Nelson Ghost Town Hours and Fees
Hours: Open Daily from 8 AM – 6 PM
Arriving before or after hours is strictly prohibited. Plus, the owners live on the property.
If you arrive before 6 PM, you're typically welcome to stay until sunset, but they ask that everyone be off the property by dark.
Regardless of what you are doing, always stop by the store first to sign their waiver and get a better idea of what to check out while you're there. Plus, there's a ton of fun items to see inside (we still don't know what's inside the freezer).
Fees:
$2 per person to walk around and hang out
$10-20/hr to take photos depending on whether it's just for yourself or professional
When you check in, explain what you plan on doing, and they will let you know the fee.
In addition, you can also rent out their BBQ area or even have events or weddings there. Contact them for pricing.
Local Tip: If you're just making a quick stop to walk around for 10-15 minutes, they don't charge anything. But no photos.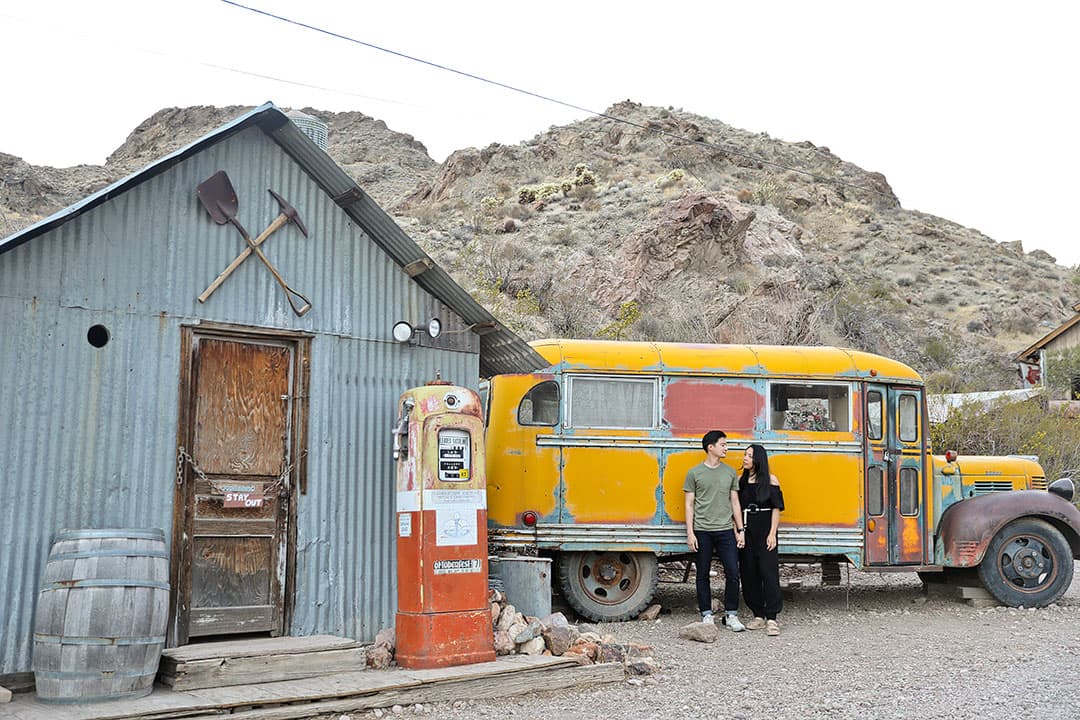 El Dorado Canyon Mine Tours / Techatticup Mine Tour
Since the Techatticup Mine is the oldest and richest gold mine in Southern Nevada, the mine tours are very popular. 
The tour runs roughly 1 hr 10 minutes and you'll walk about 1/4 mile. They run tours at 9 AM, 12 PM, and 2 PM (when they have 4 or more adults). The best thing to do is make a reservation ahead of time at 702.291.0026
Tours are:
$15 for Adults
$10 for Kids (5-12)
Kids under 5 are Free
Local Tip: It will be much cooler in the cave so it's always good to have a light jacket.
Directions to Nelson's Ghost Town
Nelson's Ghost Town is 45 minutes away from Las Vegas. Their address is:
Nelson Cutoff Rd, Searchlight, NV 89046 (map)
Parking: As soon as you pull up, you'll see a bunch of buildings on the left and right of you. Park on the right side, then walk over to the store to check in, sign the waiver, and pay your fees.
Local Tip: You will have service up until the last few miles, but if you start your Google Maps navigation in town, you should have no trouble getting there. When you leave, just back track until you have service again.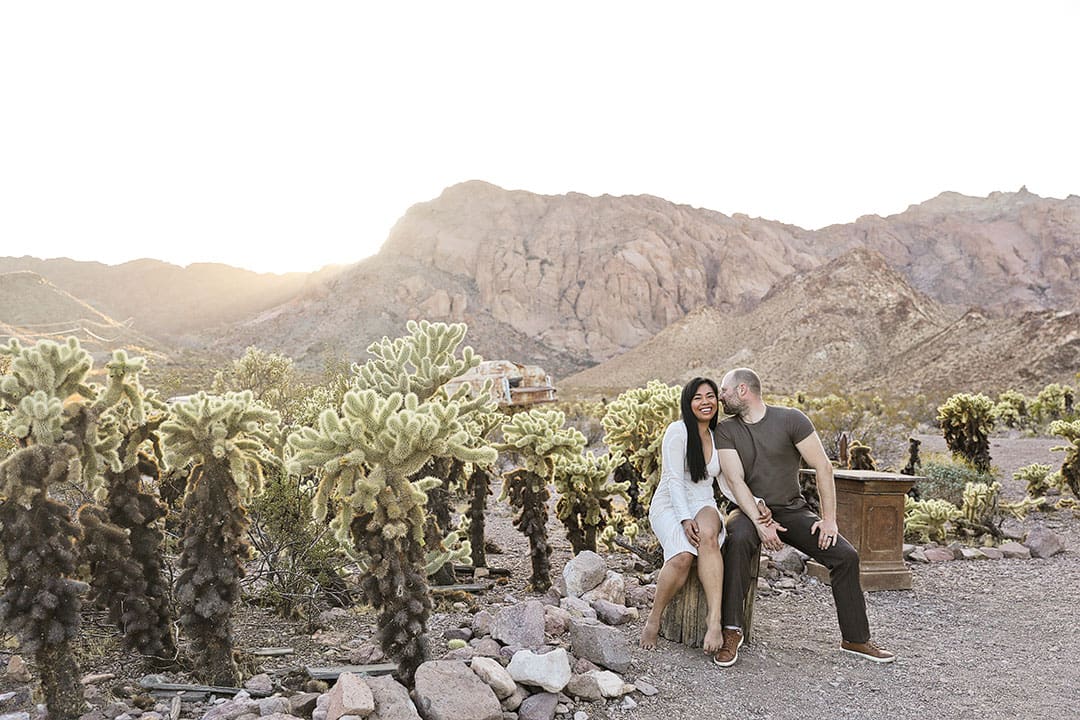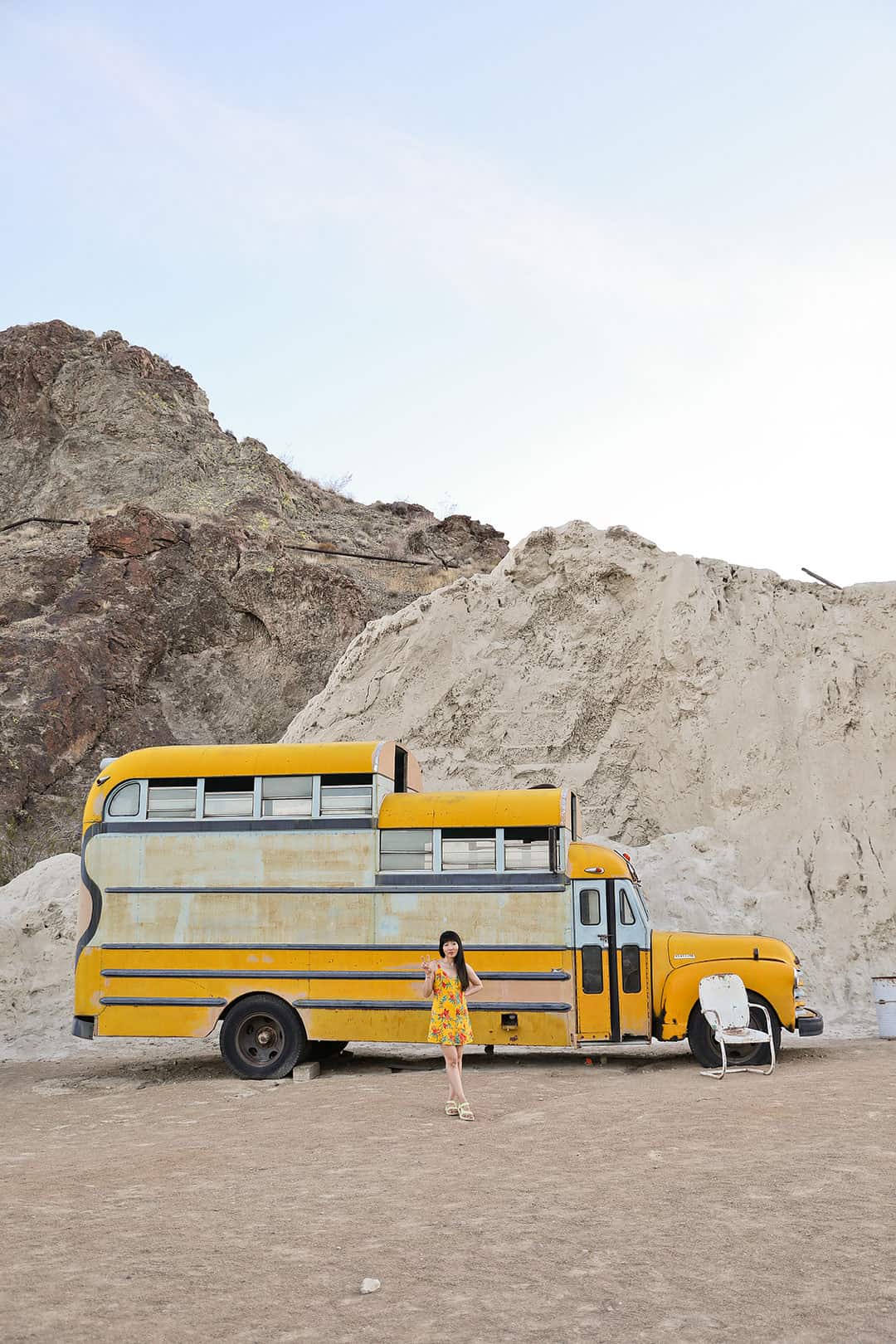 We loved these rules posted on large signs on both sides of the road.
Everyone must now check in at the store FIRST.
This is not Disneyland, A Theme Park, or A Playground.
Due to the abundance of

Stupid People

, you can no longer just walk around here.
This is NOW a FEE AREA.
PARENTS – Stray children and teenagers will be shot on site.
If we are open, check in at the store First.
If we are closed or after dark DON'T STOP… GO AWAY.
Store (702) 291-0026 / or after hours (702) 318-1758.
This is Private Property. We Live Here.
Besides that, when you check in, they remind you to:
Respect all the signs that say "Stay Out" or "Don't Go Beyond This Point".
Don't climb all over the old equipment.
Beware the Cholla Cacti – they will get you if you're too close and it isn't pleasant.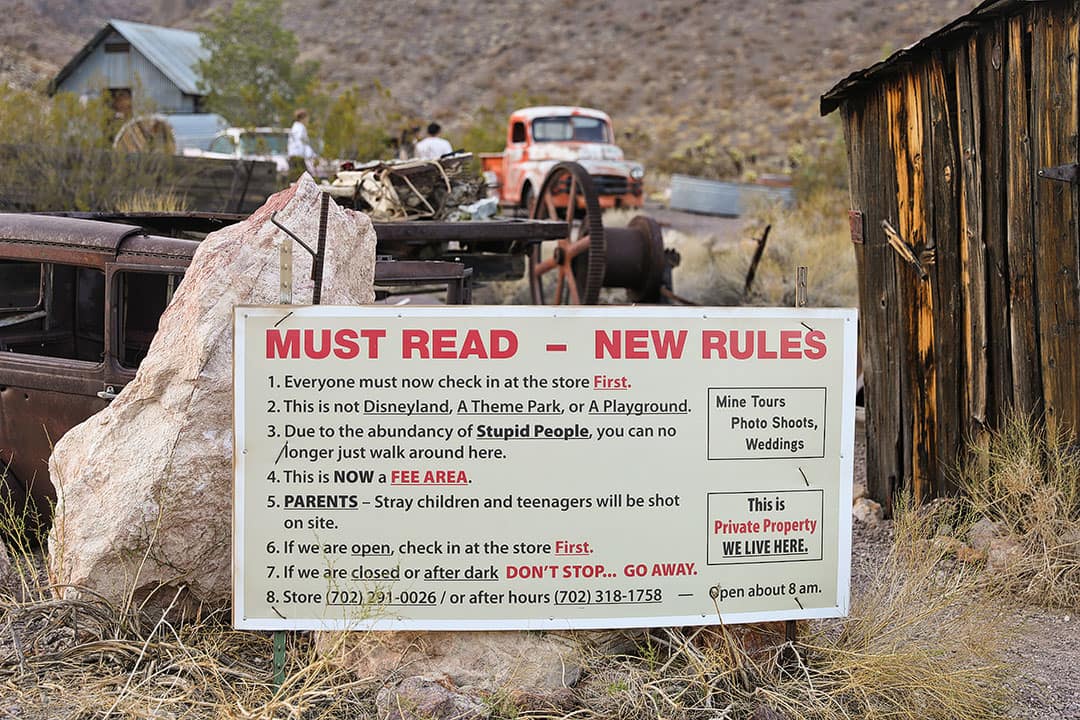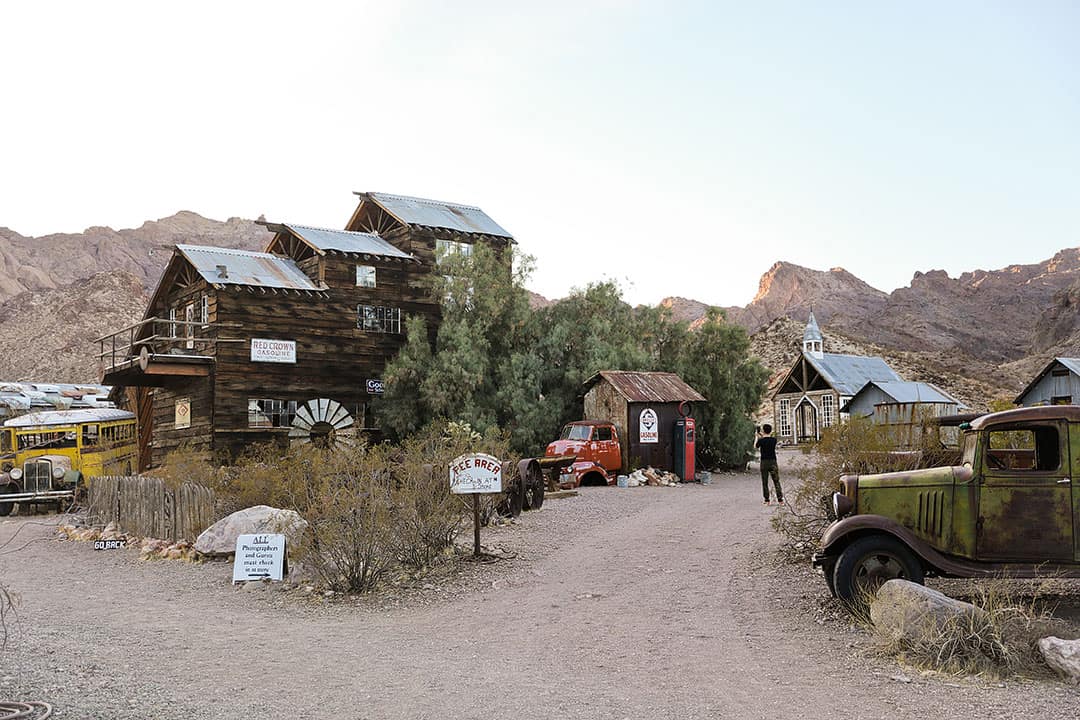 If you drive 5 miles down the road to the Colorado River, you'll find yourself at Nelson's Landing. It's a popular spot in the summer to cool down, and you'll find a bunch of people with tents set up.
The cliff jump is the most popular part of Nelsons Landing. There are varying heights but the main jump is 60 feet and is considered dangerous. Jump at your own risk.
If you plan on visiting, pack out everything that you pack in (and some extra trash if you see any if you want to go the extra mile).
Arrive during business hours to check in. If you arrive anytime before or after, do not stay on the premises. They typically allow you to stay after closing the store as long as there is still light out.
Light for Photos: Since it's located in a canyon, direct sunlight will be gone before sunset making it nice even light for photos.
Beware the Cholla Cacti. They'll show you photos of what happens to the people and animals that get too close. So sad for the cat!
Bring Layers: It's the desert and once the sun sets, the temperatures go down significantly.
Don't forget to check out the store inside.
If you have any questions about what you can or can't do, just ask them.
Calling ahead to schedule shoots is always helpful.
What to Do Near Nelsons Landing
Have you been to Nelsons Landing or Nelson Ghost Town? What was your favorite part?
Did you enjoy this post? Pin it for later
See More Las Vegas Guides
"Discovery consists not of seeking new lands but in seeing with new eyes" – M. Proust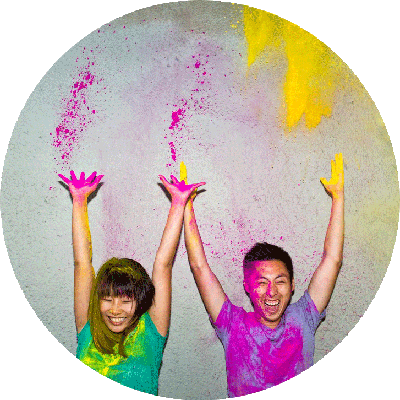 Esther and Jacob are the founders of Local Adventurer, which is one of the top 5 travel blogs in the US. They believe that adventure can be found both near and far and hope to inspire others to explore locally. They explore a new city in depth every year and currently base themselves in Las Vegas.
The post Nelsons Landing + Ghost Town – What You Need to Know Before You Go appeared first on Local Adventurer » Travel Adventures in Las Vegas + World Wide.