Here is our guide on the best things to do at the Venetian.
The Venetian is still one of my favorite hotels in Las Vegas. Even though visitors are all about the shiniest or biggest new hotel on the Strip, the Venetian has maintained a classic charm that we love.
They have a ton of fun things to do, eat, and it's the prettiest casino-hotel to photograph. Plus, parking is free.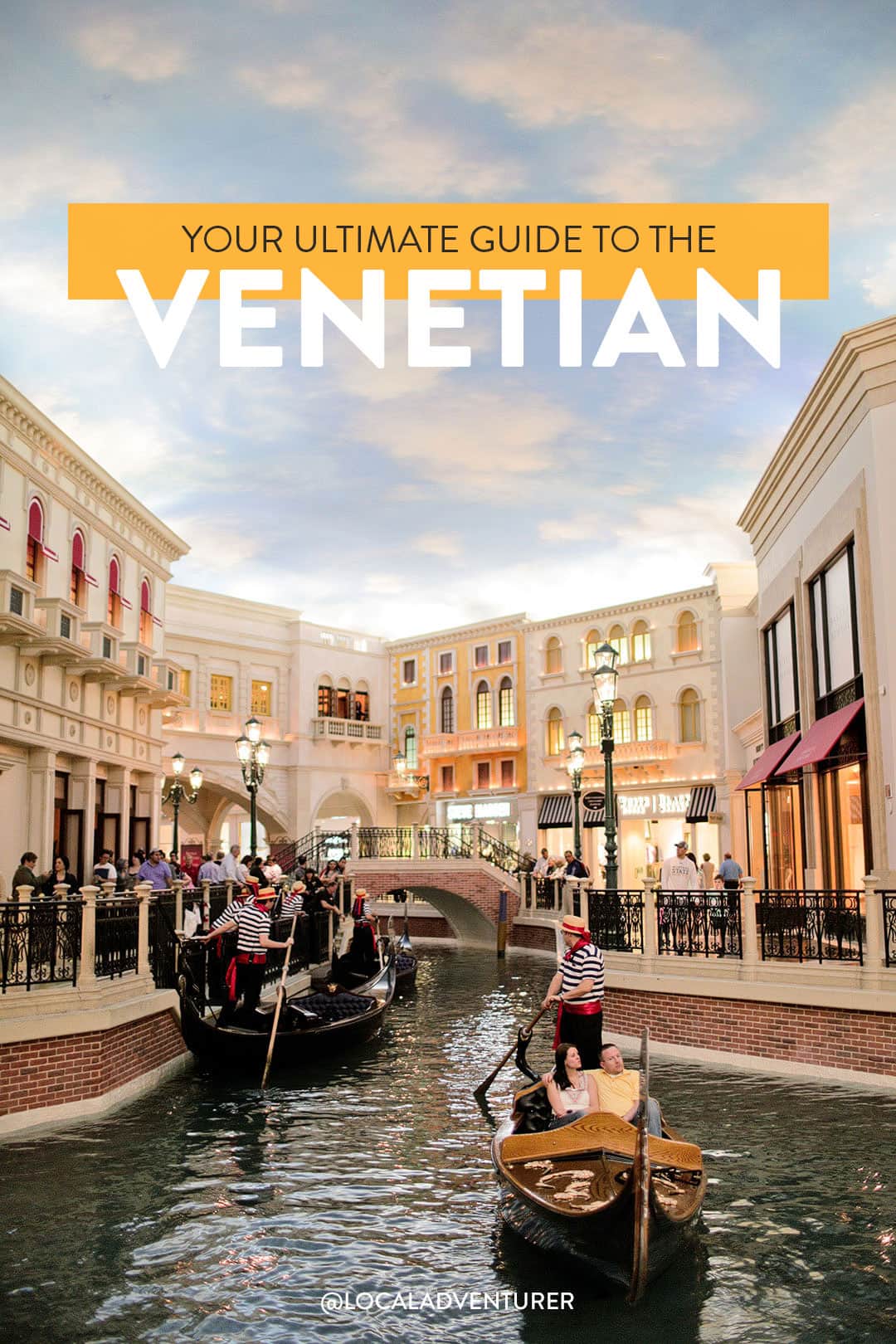 A big thank you to Grand Canal Shoppes and Venetian for hosting some of our meals and experiences. All opinions are always our own. This post may contain affiliate links, where we receive a small commission on sales of the products that are linked at no additional cost to you. Read our full disclosure for more info. Thank you for supporting the brands that make Local Adventurer possible.
Last Updated: September 29, 2021
15 Best Things to Do at The Venetian Las Vegas
The Gondola Ride at The Venetian is an iconic Vegas activity. Out of all the touristy activities, it's one that we've repeated (5x!) and recommend for visitors.
There are two separate rides: an indoor ride and an outdoor ride. After having done both, we prefer the outdoor ride (as long as it's not blistering hot outside). You also get serenaded!
Local Tip: When it gets busy, tickets aren't always available for certain time slots. It's best to book a ticket ahead of time.
We've done over 10 escape rooms in Las Vegas, and there are only two located on the Strip. PanIQ Room is one of them and is located inside the Grand Canal Shoppes at the Venetian.
They have 3rd gen (higher tech) escape rooms with fun reveals. On top of that, there is a lounge where you can get drinks while you wait.
We did the Atlantis room and even bounded as Little Mermaid characters. If you want to see how it compares to other escape rooms, check out our Vegas escape rooms post linked below.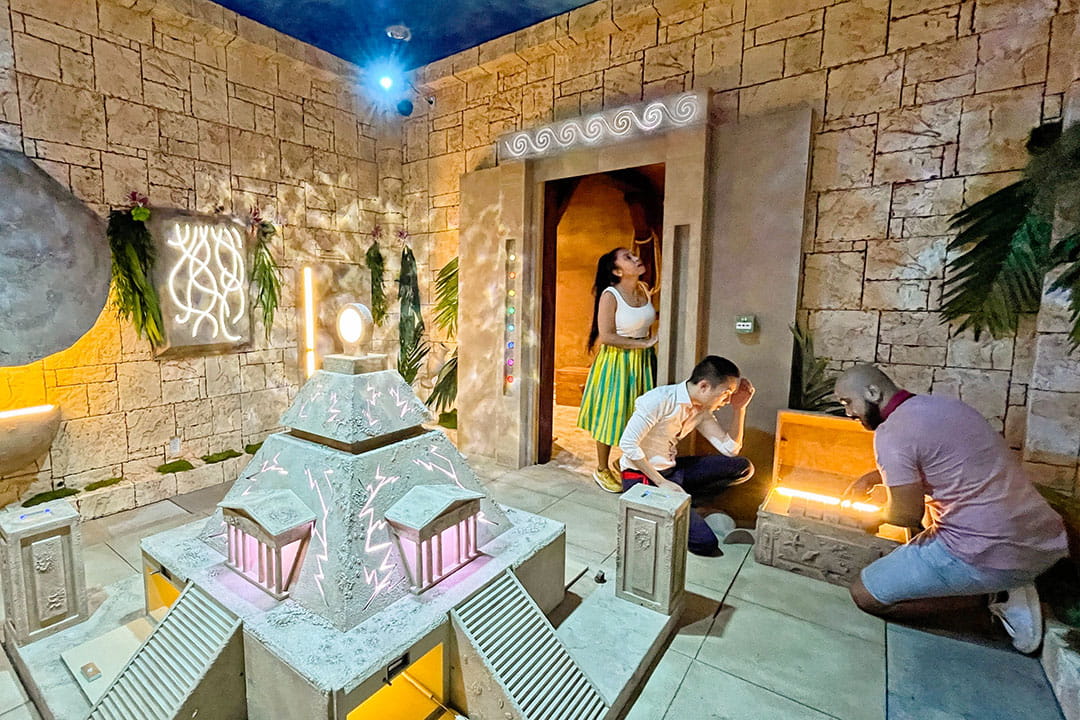 We've tried a handful of different VR experiences, and this is our favorite so far. It feels very immersive.
You and your team of up to 6 people are in a room to freely move around. Your body is tracked by the motion sensors and you work together to accomplish your goals.
They recommend maxing out the number of people for each experience to increase your chances of success.
In the end, it's so fun to watch the trailer that they create of your experience. It switches between the footage of you in real life to what it looks like in VR.
Local Tip: Depending on the experience you choose, it can be a workout. Dress comfortably. A long dress was not the best choice, but it worked out okay. In the VR, my legs were constantly moving because of it.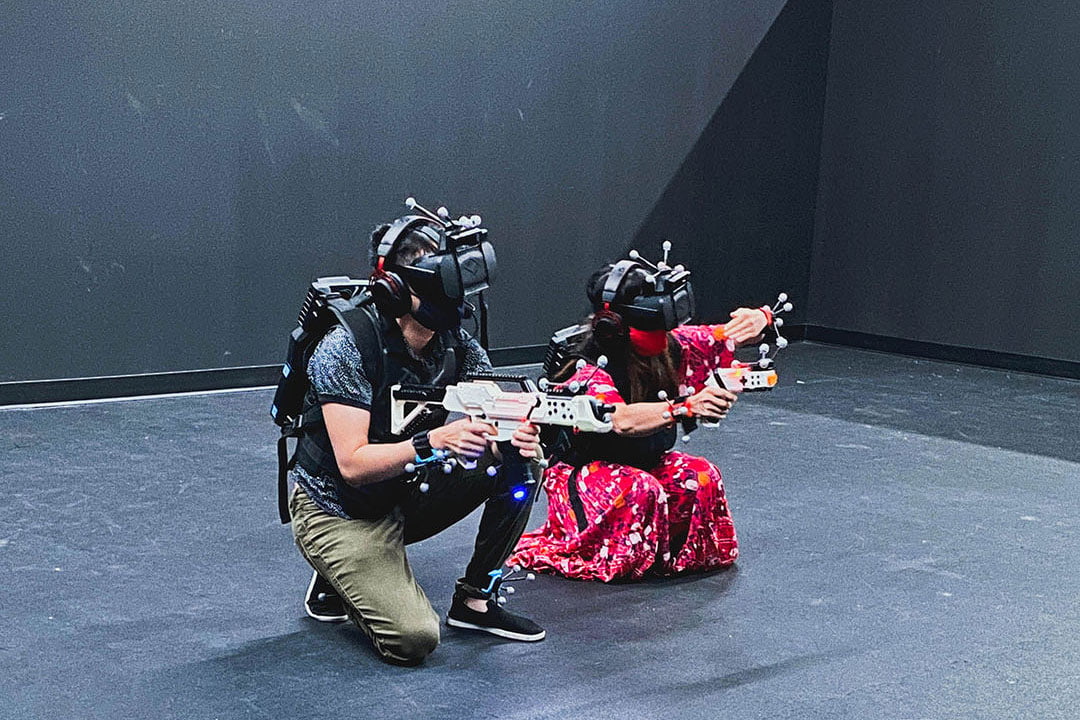 Cozy up and get a drink at the Minus5 Ice Bar where everything around you is covered in ice and your drinks are served in glasses made of ice. It's the perfect escape from the Vegas heat.
This is our favorite location so far with icescapes of penguins, polar bears, and even a Star Wars section.
When we went, there were times it was empty, and there were times it was packed. Most people stayed for a drink and some photo opps, so the flow was sporadic.
They provide a jacket, hat, and gloves to keep you warm, but proper shoes are your responsibility. Read our tips below.
Save money by prebuying drinks when you get your ticket.
Use the coasters. One of my drinks slid right off the table.
Wear close-toed shoes. Like an idiot, I wore sandals thinking I could make it. My feet were pretty cold from the get-go, but after I spilled the drink on myself (rookie move), I was not enjoying myself anymore. They were nice enough to replace my drink for me, but my toes were not having it. Just wear the closed-toed shoes, yeah?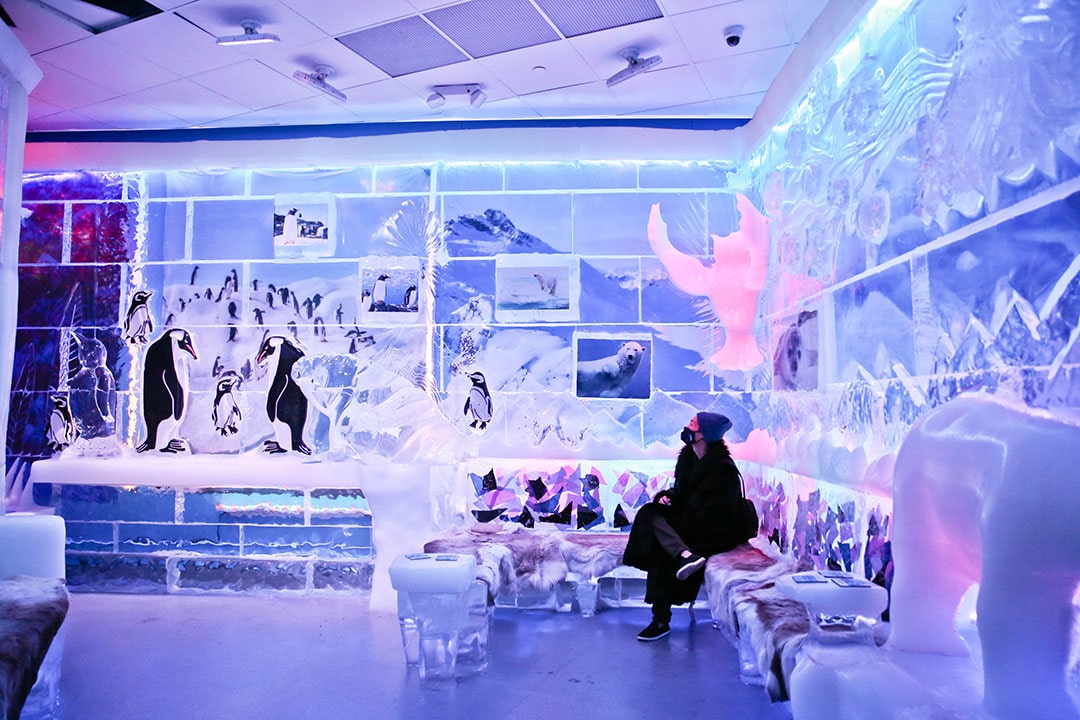 We've seen the other two Spiegelworld shows, Absinthe and Opium, but have yet to see the Atomic Saloon Show. We've heard a lot of great things about it, and one of our friends told us it's their favorite out of the three.
If this show is anything like Absinthe and Opium, you'll have a great time.
Local Tip: If you're having dinner at any of the restaurants before the show, just let them know you have a show to get to so they can get you out in time.
This was one of those cheesy experiences we wanted to try, and we ended up having way more fun than we expected. Some of them looked so real, I was afraid to go near them.
It's always fun playing tourist at home. I'm not sure I would put it at the top of my list of things to do if it was my first visit to Vegas, but maybe if it was my third or fourth.
It's your chance to take a bunch of photos with celebs without actually bothering them IRL. Get tickets here.
Local Tip: They also have a Marvel 4D show.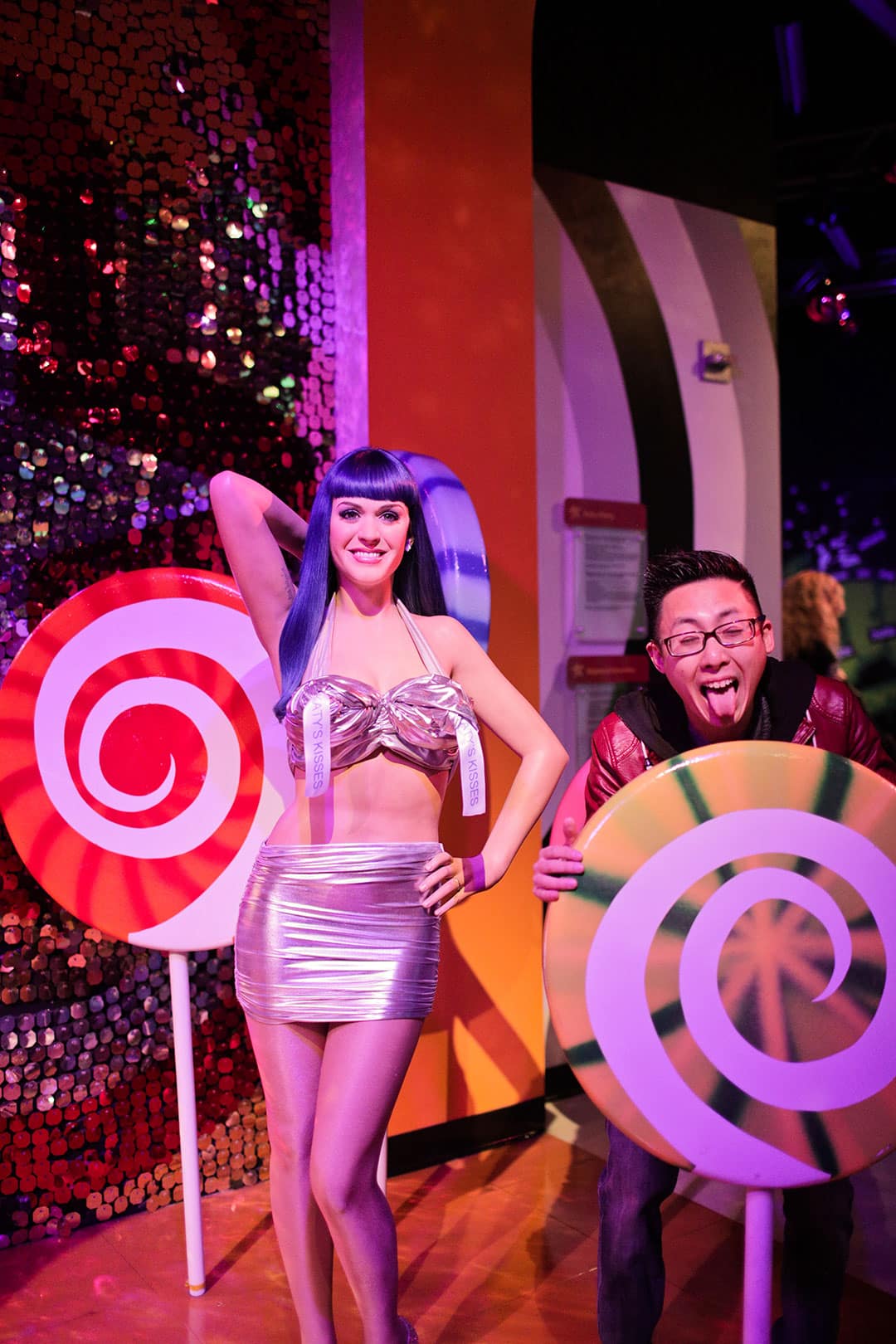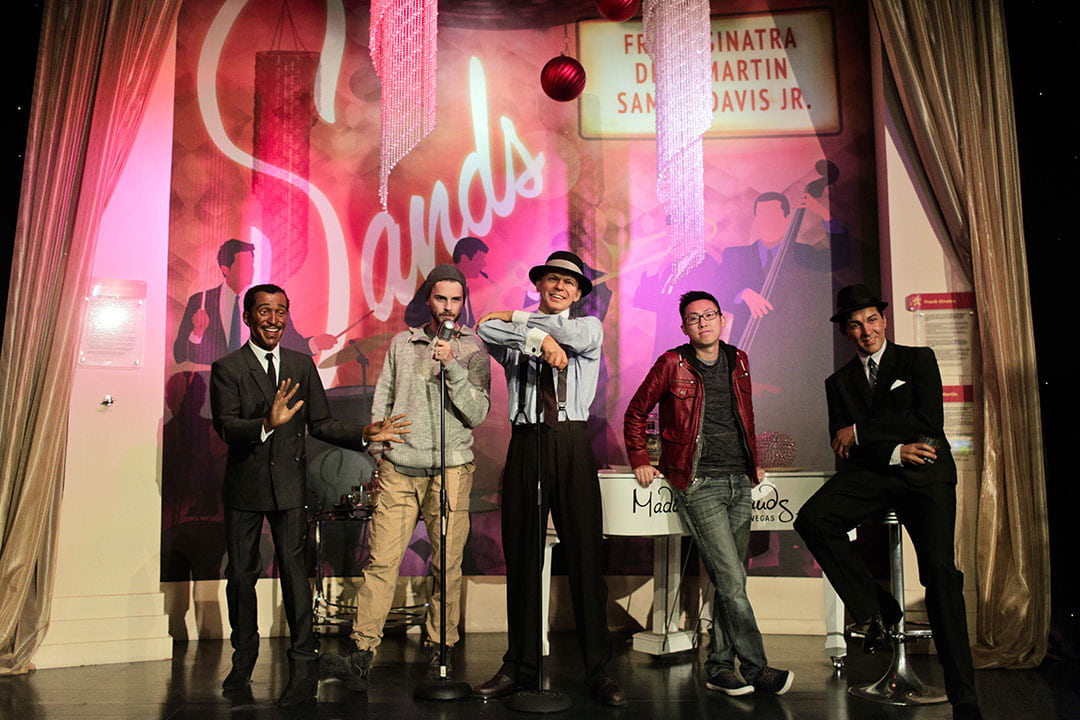 This is one of the top free activities to do in Las Vegas. Head to St. Mark's Square on the weekends to catch a free 15-minute show. You'll see a rotation of performers sing, play instruments, and dance.
Performances run every Friday, Saturday, and Sunday from 12 PM to 7:30 PM.
Local Tip: Get a table at Mercato Della Pescheria for dinner and a show.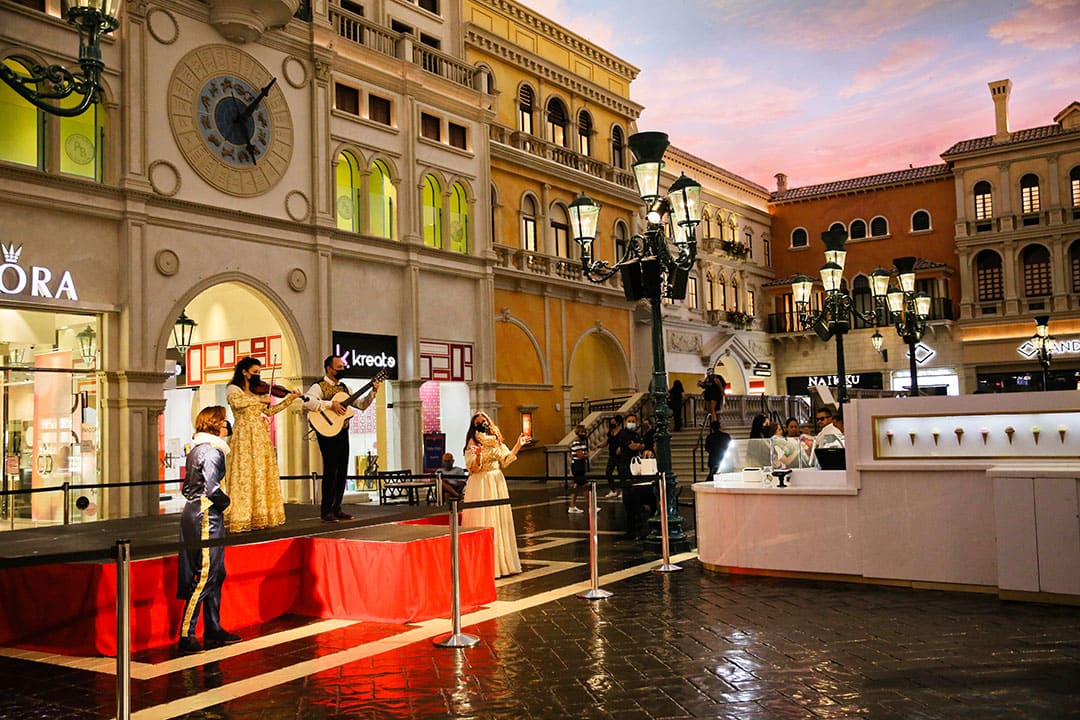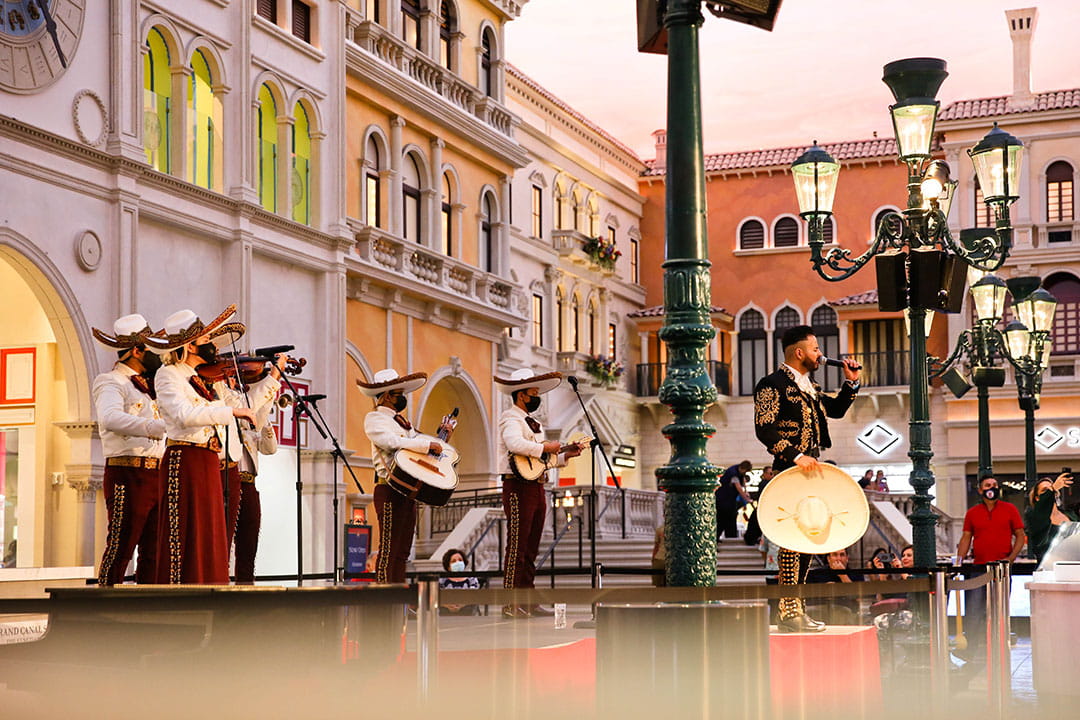 If you love hot pot, X-Pot takes it to the next level. My favorite was the chicken broth with the Wagyu feast. Don't forget the drinks – so good! You even have robot servers assisting the human servers.
TAO Nightclub is still one of the popular clubs on the strip. It's been around for over a decade and often hosts the biggest DJs and artists. 
The LOVE sculpture in the Waterfall Atrium is a popular photo spot. Created by artist Laura Kimpton, the giant red letters are 12 feet tall and span 36 feet across. We saw one of her other pieces in Reno too!
Local Tip: Make sure you have a wide-angle lens to capture the whole thing.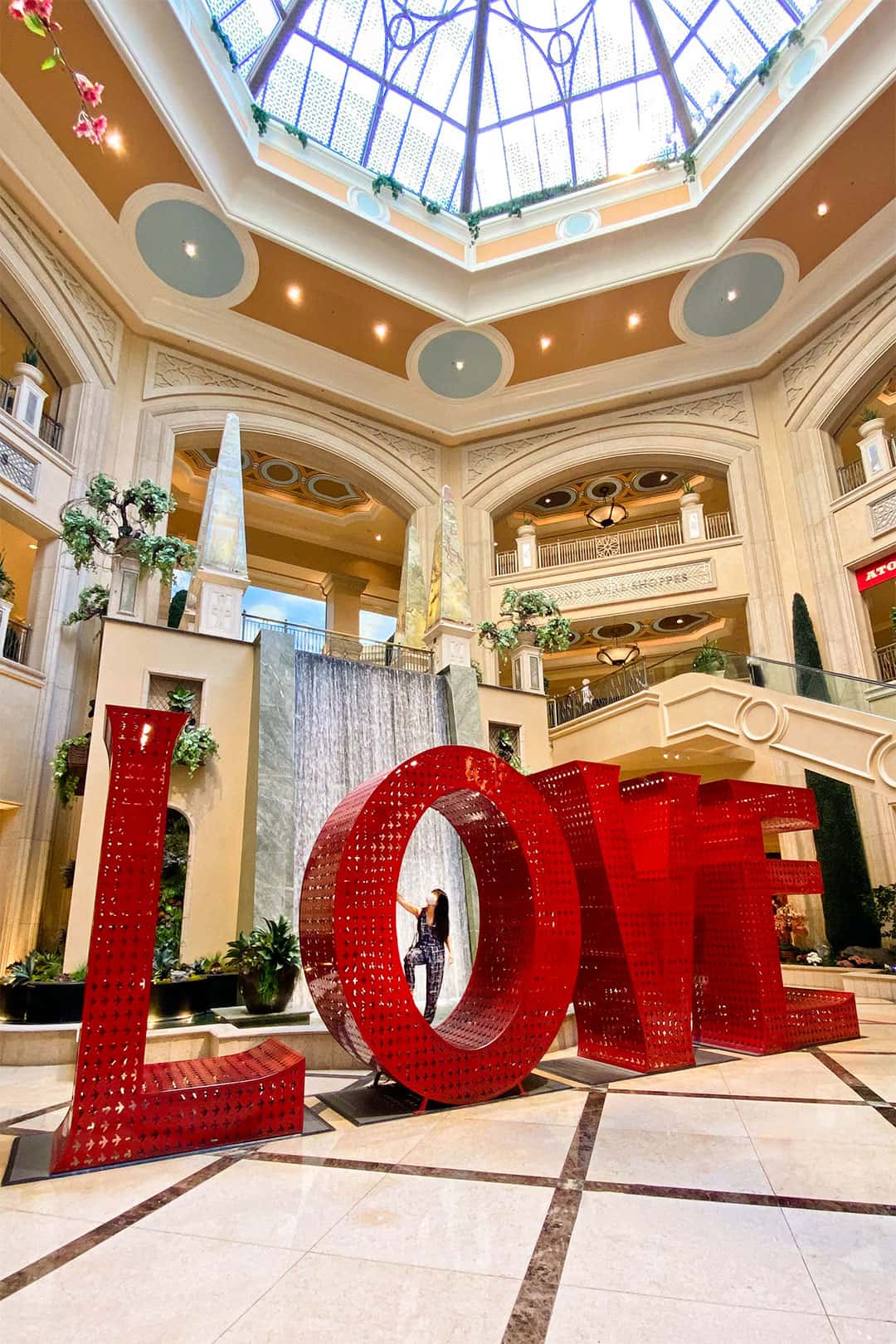 12. Shop at the Grand Canal Shoppes
There are a ton of shops at the Grand Canal Shoppes. We love wandering under the painted skies and along the beautiful canals.
When we need to buy gifts, we like to pick up chocolates from ROYCE.
The Wishing Tree is a 20-foot olive tree sculpture with brass leaves and hidden glass birds. It's a fun photo spot and has an AR experience. Just scan the QR code and speak your wish into an Instagram filter and see what happens.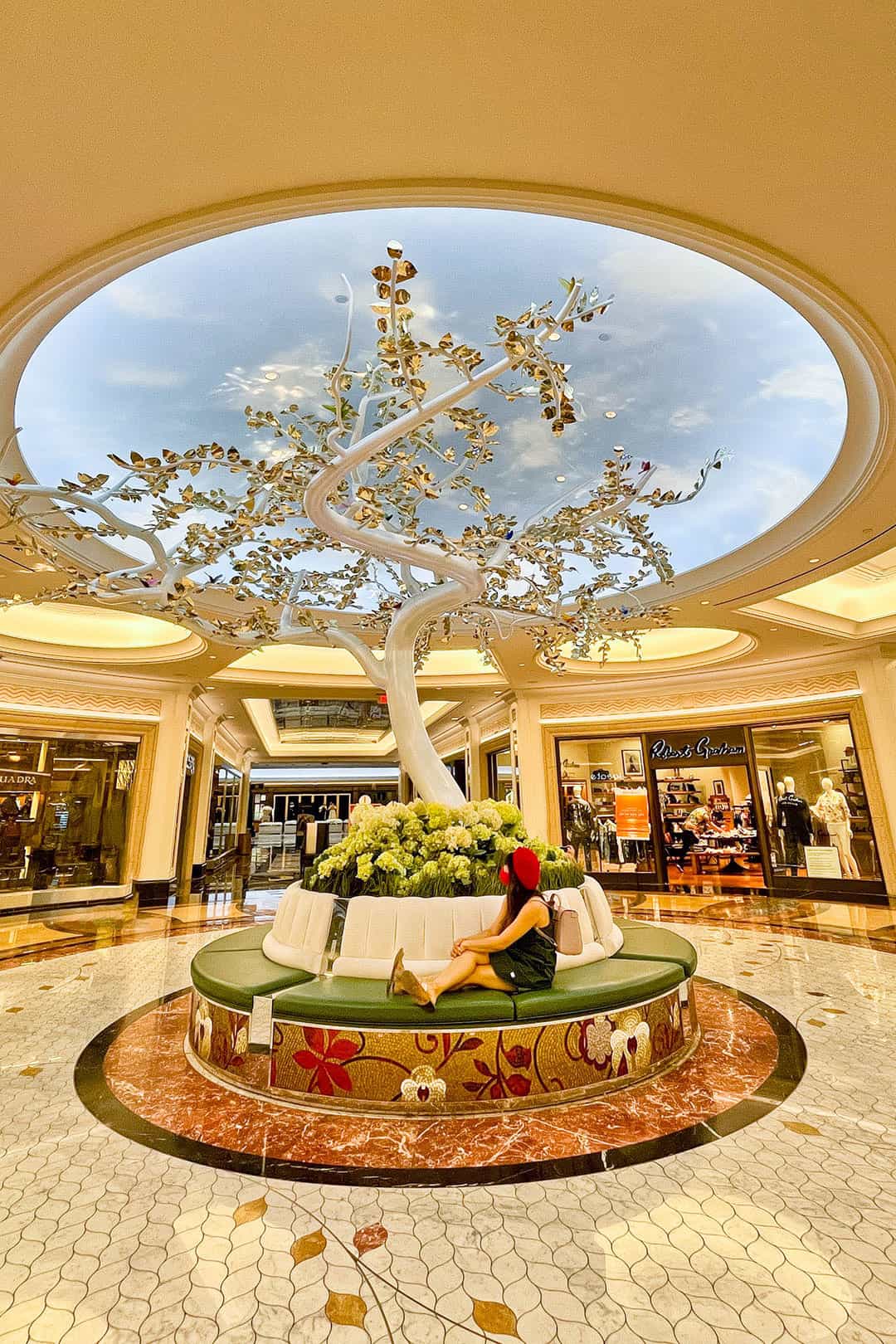 14. Photo Opps in Front and at the Red Corridor
The Venetian is one of our favorite photo spots in Las Vegas. Not only do you get iconic moments like the Gondola Ride, but the front outdoor area is so picturesque. There's a bridge to shoot at and corridors too.
Local Tip: Early mornings will be the least crowded!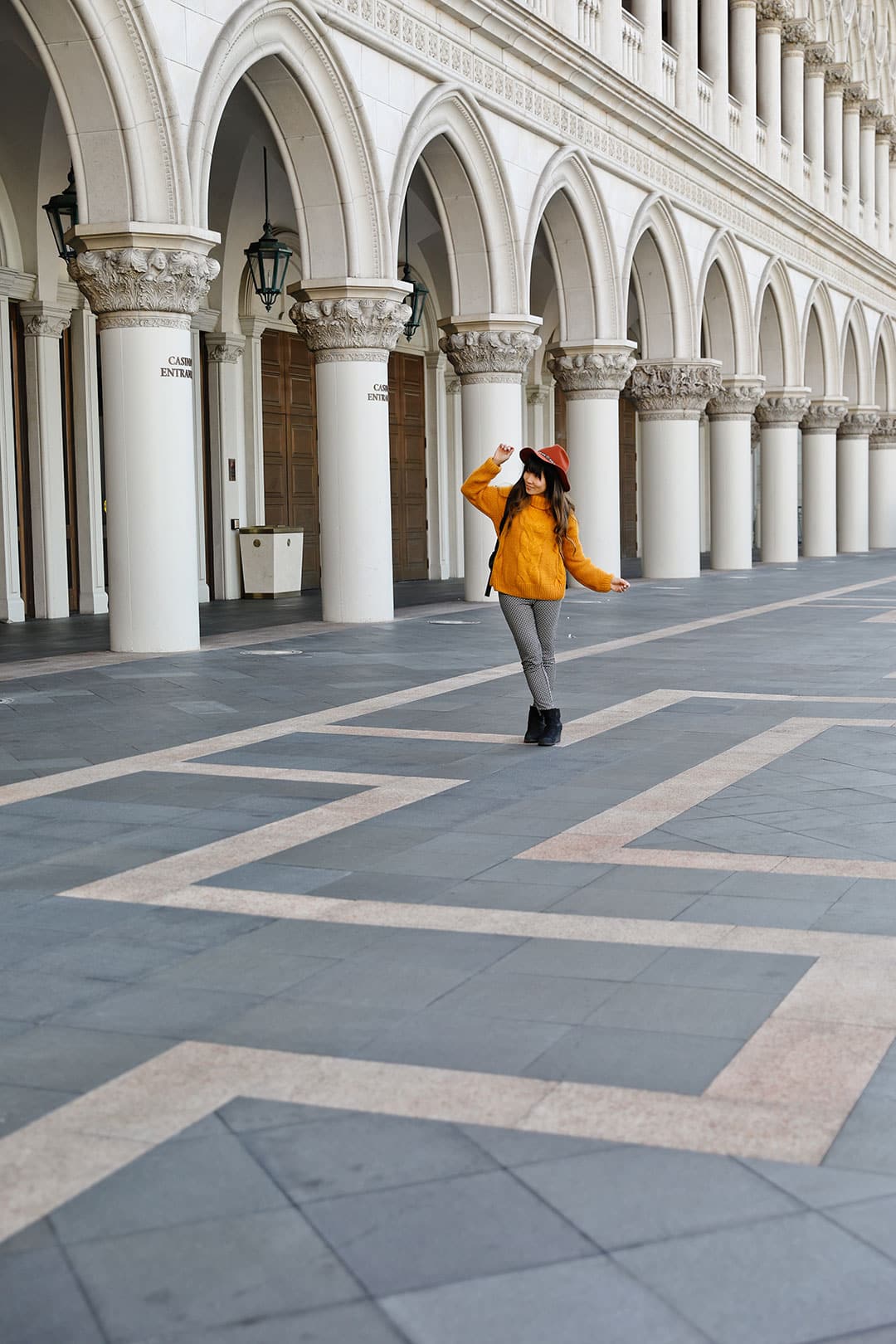 There is a steady stream of guests that come perform at the Venetian, whether it's your favorite musical act or comedian. We saw Kelly Clarkson perform a few years ago. We highlighted some upcoming acts for you.
We love karaoke, but particularly Asian karaoke where you get your own private room. Kamu Ultra Karaoke is the first Asian karaoke spot on the strip. Get a room for you and your friends to sing your heart out, order delicious food, and drink up.
Local Tip: Waits for rooms can get really long on the weekends. Go early.
Map of the Best Things to Do at THe Venetian Vegas
Best Restaurants in Venetian Las Vegas
Voted Best Bar in Las Vegas by Condé Nast Traveler. If you're looking for a quieter experience where you can chat with the bartender and have them create something unique for you, visit between 4-8 PM. If you prefer DJ vibes and crowds, visit after 10:30 PM.
Up until recently, you had to go off strip to get bubble tea, but that's no longer true. The Alley is tucked away in the Grand Canal Shoppes and has a cute seating area. They made their own creme brulee for their drinks too!
This was the big surprise on our staycation. Not only is it one of the few affordable places to eat on the Strip, but it's open till midnight, and all the food we tried was good. We kept coming back here at random hours of the day.
David Chang has been opening up new restaurants on the strip, so we were excited to try one of his newest ones. The Shrimp Crispy Rice was our favorite and the Big Bread with Tingly Lamb was delicious too. For dessert, The Major Doughnut is fun to watch as they make it tableside and great to share.
Located right in St. Mark's Square, you can enjoy your meal while being entertained by Streetmosphere. The food and service are great. The branzino was our favorite, and they make the tiramisu tableside.
Ate here a couple of years ago but wasn't impressed, but apparently, we missed out on the Peking duck, which you have to order and 24 hours in advance. From what we hear from our food-loving friends in town, that is the highlight!
Asian food on the strip is next-level terrible, so when you find a place that's good, it's a true gem. See more details above.
It's hard to go wrong with Thomas Keller's restaurants. We've gone to Bouchon a handful of times and really like his take on chicken and waffles with bacon and chives.
This is one of the newest restaurants in the Venetian. They have the best prix fixe lunch at only $38, where you get an appetizer, main, and dessert.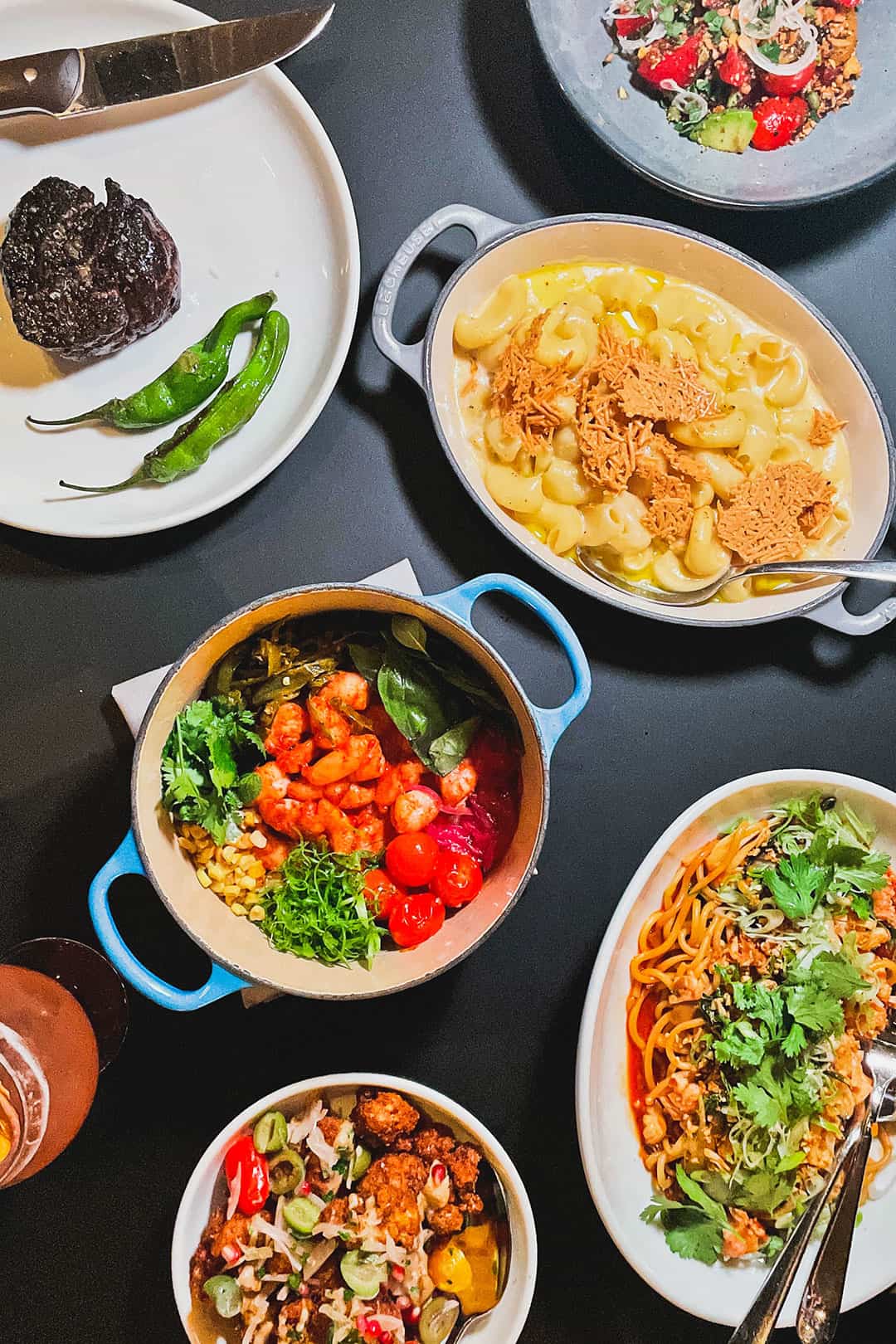 All Restaurants at The Venetian Grand Canal Shoppes
The Alley (Bubble Tea, )
Auntie Annes (Pretzels, )
Breathe Oxygen Bar
Brera Osteria (Italian, )
Buddy V's Ristorante (Italian, )
Cafe Pan (Creperies, )
Canaletto (Italian, )
Canonita (Mexican )
Carlos Bakery (Bakery, )
Casanova (Italian, )
Chipotle (Mexican, )
Cocolini (Coffee/Tea/Gelato, )
Coffee Bean & Tea Leaf (Coffee & Tea, )
CR Creat (Cofee & Sandwiches, )
Curry Pot, Food Court (Indian, )
Fat Tuesday (Bars, )
Grimaldi's (Pizza, )
Gus Dean's (Ice Cream, )
Illy Caffe (Coffee & Tea, )
Johnny Rockets (Burgers, )
Le Macaron (Macarons, )
Lobster Me (Seafood, )
Mercato della Pescheria (Italian/Seafood, )
Panda Express (Chinese, )
Prime Burger (Burgers, )
Rockhouse (Burgers, )
Royal Britannia Gastro Pub (Pub, ) 
Sloan's Homemade Ice Cream (Ice Cream, )
Smith & Wollensky (Steak, ) 
Social Life Pizza (Pizza, )
Subway (Sandwiches, )
Sushi Samba (Asian Fusion, )
TAO Asian Bistro & Nightclub (Asian, )
Trattoria Reggiano (Italian, ) 
Trustworthy Brewing (Brewpub, )
X-Pot (Chinese, )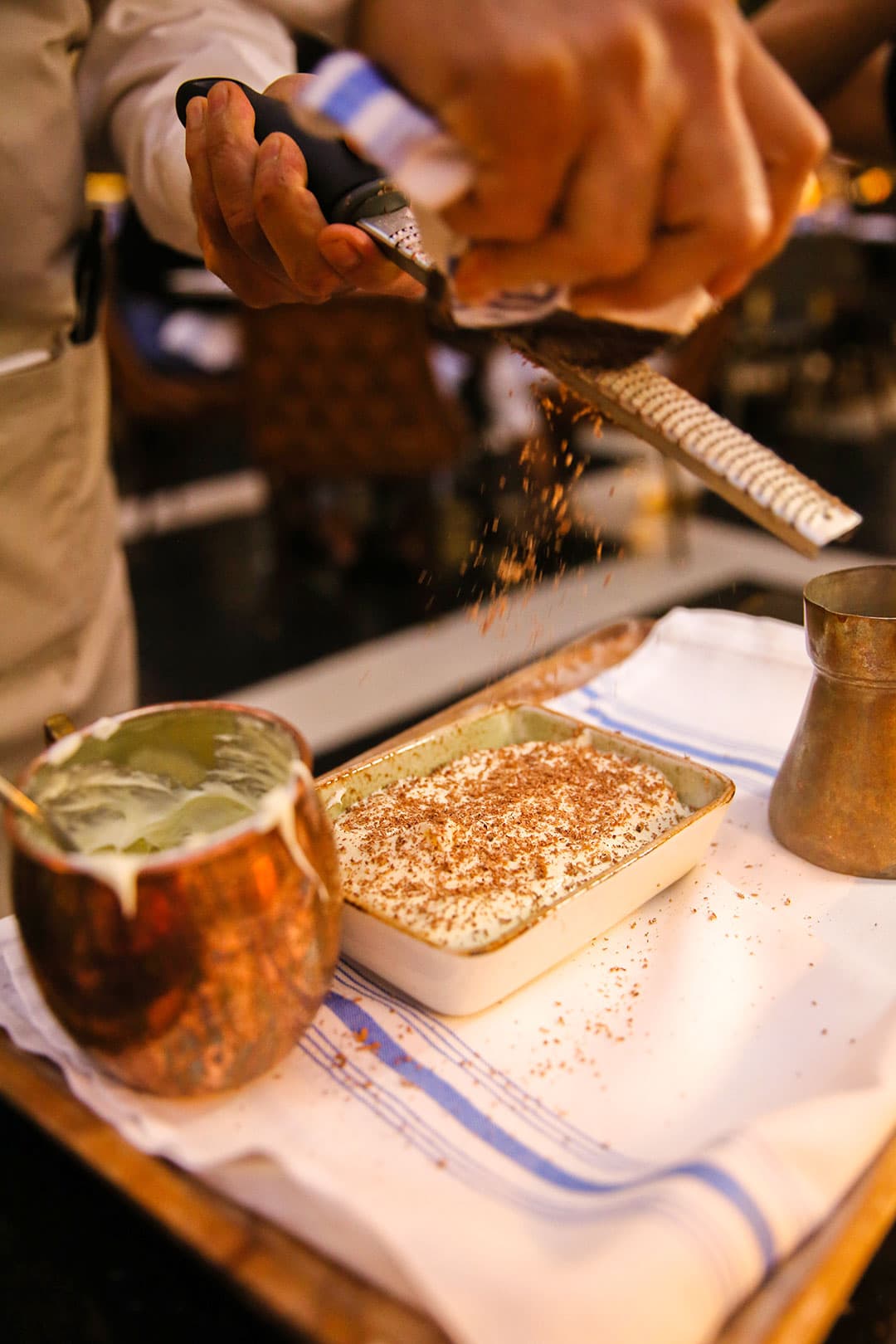 All Restaurants at Venetian Las Vegas
JuiceFarm (Juice Bars, )
Majordomo (New American, )
Matteo's Ristorante Italiano (Italian, )
Moon Palace (Burgers, )
Mott 32 (Chinese, )
Noodle Asia (Dim Sum, )
Rosina (Cocktail Bar, )
San Gennaro Burger (Fast Food, )
SPRITZ (Southern, )
Starbucks (Coffee, )
Sugarcane Raw Bar Grill (Tapas, )
Tacos & Ritas (Mexican, )
Truth & Tonic (Brunch, )
Yardbird Southern Table & Bar (Southern, )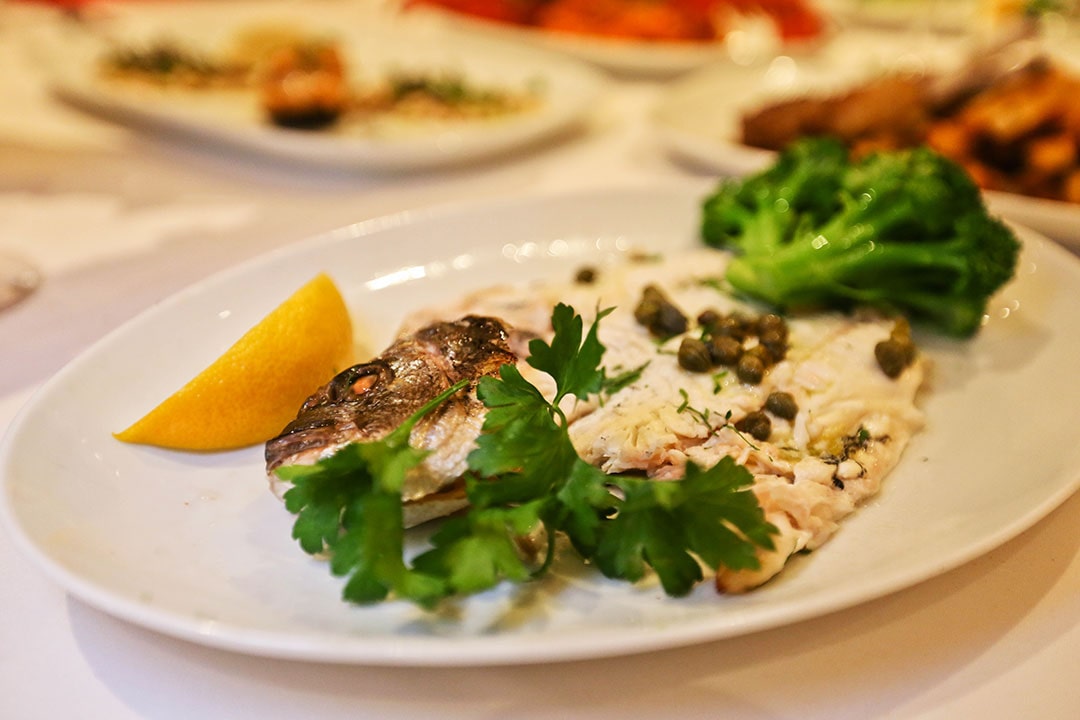 The Venetian Happy Hour Deals
Buddy V's Ristorante
$5 domestic bottled beers, red and white house wines, prosecco, sangria, bloody marys
$6 small bites ranging from their famous grandma's meatballs to mac & cheese carbonara
Indoor Patio – 7 days a week: 11:30 am – 5:30 pm
At the Bar or Lounge – 7 days a week: 3 pm – 5:30 pm
Canonita 
$4 cocktails and cervezas
$5 classic margaritas and specialty cocktails
$5.50 vinos
7 days a week: 3 pm – 6 pm and 9 pm – close
Grimaldi's Pizzeria
$15 off bottles of wine (excludes house wines)
$2 off draft beer
$3 off glasses of wine, signature cocktails, antipasto, and bruschetta
7 days a week: 3:30 pm – 6:30 pm
Mercato Della Pescheria 
$7 crispy calamari, bruschetta, seafood croquettes, select wines by the glass, handcrafted cocktails, martinis, or Peroni drafts
7 days a week: 3pm – 6pm
Rockhouse (casino)
$5 Cocktails and Beer Royal Britannia
Half off all drinks, every day
7 days a week: 4pm – 6pm
Sugarcane Raw Bar Grill
Specially priced beverages and bites from the bar, like bacon-wrapped dates and goat cheese croquettes
7 days a week: 4pm – 7pm and 11pm – close
Sushisamba 
Special sushi bar and hot kitchen menu specials in addition to signature cocktails, wine, sake, and beer
Sunday – Friday: 4pm – 7pm and 11pm – close
TAO Asian Bistro
Complimentary cocktail ($15 & under) with purchase of an appetizer
Mon – Fri: 5 pm – 6:30 pm (Excluding holidays and major convention weeks)
Trustworthy Brewing Co. & BBQ
$2 off Trustworthy draft beers, specialty cocktails, and wines by the glass
50% off select appetizers
7 days a week: 3 pm – 6 pm and 9 pm -close
Parking is free at The Venetian and Palazzo. The Venetian parking connects you to the center of the Grand Canal Shoppes near the food court, whereas the Palazzo parking takes you to the backside of the shops near X-Pot.
Visit during the morning and weekdays to avoid crowds.
Reservations always help for food spots, especially during the weekends.
We've stayed at the Venetian or Palazzo 3 times, and it's one of our favorite places to stay on the strip. The rooms are spacious, and there's so much to do on their property that can fill an entire trip. If you're looking for other hotel options nearby, check out the map below.
Have you been to the Venetian? What is your favorite shop or restaurant at the Grand Canal Shoppes?
Did you enjoy this post? Pin it for later
SEE MORE LAS VEGAS GUIDES
"Discovery consists not of seeking new lands but in seeing with new eyes" – M. Proust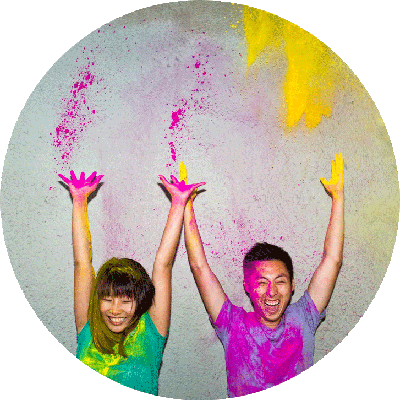 Esther and Jacob are the founders of Local Adventurer, which is one of the top 5 travel blogs in the US. They believe that adventure can be found both near and far and hope to inspire others to explore locally. They explore a new city in depth every year and currently base themselves in Las Vegas.
The post 15+ Best Things to Do at the Venetian Las Vegas appeared first on Local Adventurer » Travel Adventures in Las Vegas + World Wide.