Famous for its festivals, live music, cuisine, and raucous nightlife, New Orleans just might be the most fun city in the United States.
If you're planning a trip to the Big Easy and want to stay right in the thick of all the action, you're probably looking for the best hotels on Bourbon Street.
Even if you haven't been to New Orleans yet, you've probably heard of Bourbon Street. After all, there are few places on earth that party as hard as this infamous street in New Orleans.
It's true, there's always a huge party going on here, but there are quite a few hotels on Bourbon Street where you can escape the madness.
For those interested in being near the action but not necessarily right in the middle of it all, there are also plenty of excellent French Quarter hotels nearby.
In this guide, we'll take a look at 10 of the best hotels on Bourbon Street (and nearby) to help you plan that dream trip to New Orleans.
Ready to get right into it? Click here to jump down the page to the best Bourbon Street hotels. Or, read on to learn more about the area.
An Introduction to Bourbon Street
There's no doubt that Bourbon Street is the most iconic street in New Orleans. Located in the city's historic French Quarter, Bourbon Street stretches for 13 city blocks from Canal Street to Esplanade Avenue.
In a city famous for its rowdy nightlife, epic Mardi Gras celebrations, and other awesome festivals, Bourbon Street is definitely party central.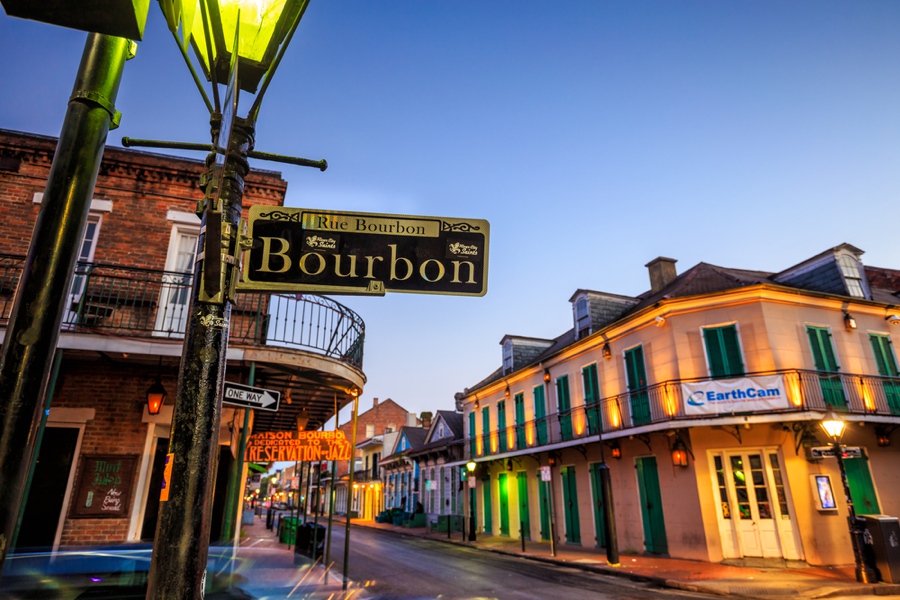 Bourbon Street is home to countless bars and clubs.
No matter what night of the week it is, you'll find hordes of tourists here enjoying "to go" cups as they stroll along the famous street. That's right — this is one of few cities in the US where you can legally drink alcohol in public!
Popular choices include New Orleans cocktails with names like the Hurricane and Hand Grenade or the ubiquitous "huge ass beers." Bars stay open late here (some of them don't even close), so the party rages all night long on Bourbon Street.
On this hard-drinking and hard-partying street, you might assume that it got its name from the liquor. Actually, there's an interesting history lesson behind the name…
History and Layout of Bourbon Street
New Orleans was founded back in 1718, and French engineer Adrien de Pauger had the task of laying out the city's streets a few years later.
He named one of the streets Rue Bourbon in honor of the French royal family that was ruling at the time. As a matter of fact, some people believe that the famous liquor actually got its name from the street.
Upper Bourbon Street is where you'll find an abundance of bars, souvenir shops, and restaurants that are geared towards party animal tourists.
You definitely won't find many locals hanging out here, but it's still a fun place to check out if you're visiting New Orleans.
Moving downstream towards the Mighty Mississippi, you'll eventually cross what's known as the "Lavender Line" on St. Ann Street. This area, known as Lower Bourbon Street, caters to the thriving LGBTQ community.
This is the center of the Southern Decadence festival that happens over Labor Day weekend, which many refer to as NOLA's "gay Mardi Gras."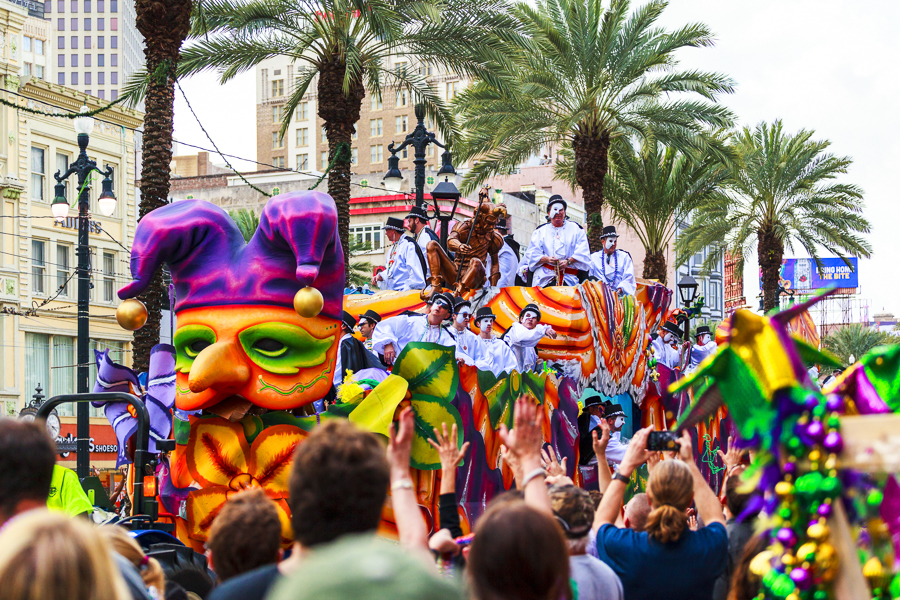 It's not all just a wild party on Bourbon Street, though.
Here you'll also find the Musical Legends Park, which has statues of famous jazz musicians and free outdoor concerts. In a city that's known as the Birthplace of Jazz, there are several venues on Bourbon Street to catch some live music.
Should I Stay On or Near Bourbon Street?
Whether you stay directly on it or opt for one of the hotels near Bourbon Street is entirely up to you. It depends largely on your tolerance for noise, as the hotels on Bourbon Street are right on top of the action.
If you're not a fan of loud music or you're a light sleeper, it might be better to look for a hotel that's a few blocks away.
That being said, most of the hotels on Bourbon Street offer rooms that face away from the street and look out onto a courtyard. Many also provide earplugs in the room, as they're well aware of the racket that's going on down on the street!
During Mardi Gras, rooms with a balcony overlooking Bourbon Street are in very, very high demand. These book up many months in advance and cost a pretty penny.
Even on regular weekends in the city, it can be difficult and expensive to get one of these sought-after rooms. Thankfully there are several options for cheap hotels near Bourbon Street.
Now that you know a bit more about the street and what's going on there, let's take a look at where to stay on Bourbon Street.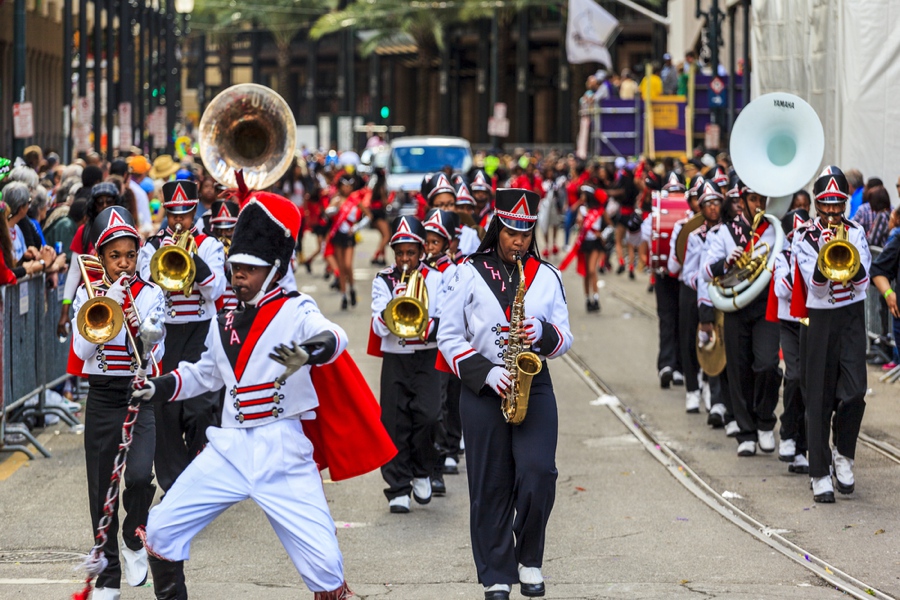 Best Hotels on Bourbon Street
Here are some of the top hotels on or near Bourbon Street. To find the price, I searched for a 3-night stay in New Orleans over a normal weekend a few months away.
Prices are usually lower during the week, and they can be much higher during holiday weekends or big events like Mardi Gras or Jazz Fest.
If you plan to visit New Orleans when one of those is going on, you'd better book your accommodation well in advance.
1. Royal Sonesta
When it comes to the best hotels on Bourbon Street, it's hard to top Royal Sonesta.
It's located right in the heart of all the action on the Big Easy's most legendary party street. This historic New Orleans hotel recently celebrated its 50th anniversary!
The Royal Sonesta has almost 500 rooms, ranging from their standard guest rooms up to their fancy balcony entertainment suites. All rooms are very well-appointed, each featuring a flat-screen TV, Keurig coffee maker, refrigerator, and much more.
Every room boasts a view of the French Quarter.
Many of them have wrought-iron balconies, some facing straight onto Bourbon Street that make for great people watching. Others face their tranquil outdoor pool and courtyard, for those who prefer a bit more peace & quiet.
This is more like a resort than a hotel, with several different bars and restaurants to choose from. There's even a jazz bar here with nightly live music.
In addition to the pool, there's also a 24/7 fitness center. With so much to offer, the Royal Sonesta is definitely one of the top French Quarter hotels. Click here to see the latest price from Booking.com.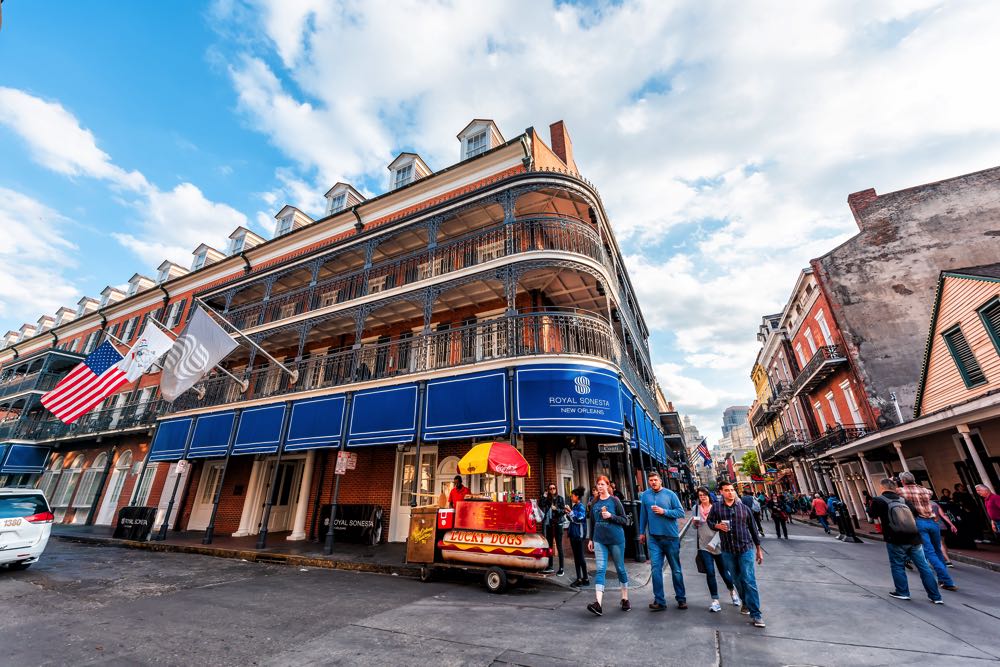 2. Four Points by Sheraton
Location, location, location! The Four Points by Sheraton is right in the center of Bourbon Street, meaning you're just a short walk away from landmarks such as Jackson Square and Preservation Hall.
This is certainly one of the nicer-looking hotels on Bourbon Street, as it used to be a French opera house. It's a classy oasis in the middle of a wild party, and the perfect place to retreat to after a big night out on the town.
Rooms here have a view out to their courtyard or the French Quarter. Many of them feature a balcony looking right out onto Bourbon Street. If you're worried about the noise, don't be — they provide earplugs so you can still get a good night's sleep.
There are two different restaurants on-site here: Cafe Opera and the Puccini Bar.
They also have a nice outdoor pool and a well-equipped fitness center for when you need to work off that tasty New Orleans food and daiquiris! Click here to see the latest price from Booking.com.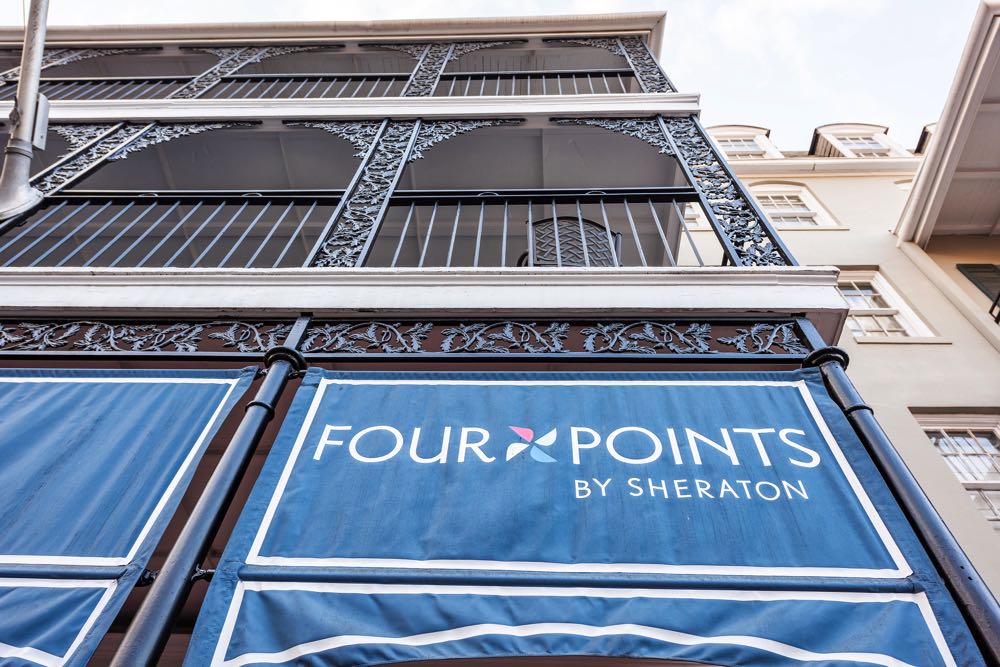 3. Lafitte's Guest House
This boutique hotel is set in a restored home that dates all the way back to 1849. It feels more like staying in someone's home than a hotel here, as there are only 14 rooms in total.
Lafitte's Guest House is located on Bourbon and St. Phillip Street, which is a great location for exploring all that the French Quarter has to offer.
The hotel features several shared balconies and some rooms have private ones as well. Each room has a private bath along with a flat-screen TV and a mini-fridge.
This is definitely one of the best hotels on Bourbon Street if you're looking to have a wedding, reunion, or just a fun get-together in the Big Easy.
They can help you plan an event for anywhere from 10-100 people, as they can offer additional accommodation at their sister property the Royal Frenchmen Hotel.
One of the best things about staying here is that it's located right next door to Lafitte's Blacksmith Bar & Shop. This is the oldest bar in town and one of the coolest places on Bourbon Street to visit.
Enjoying a drink in this historic watering hole while you listen to some live piano is a must-do when in New Orleans. Click here to see the latest price from Booking.com.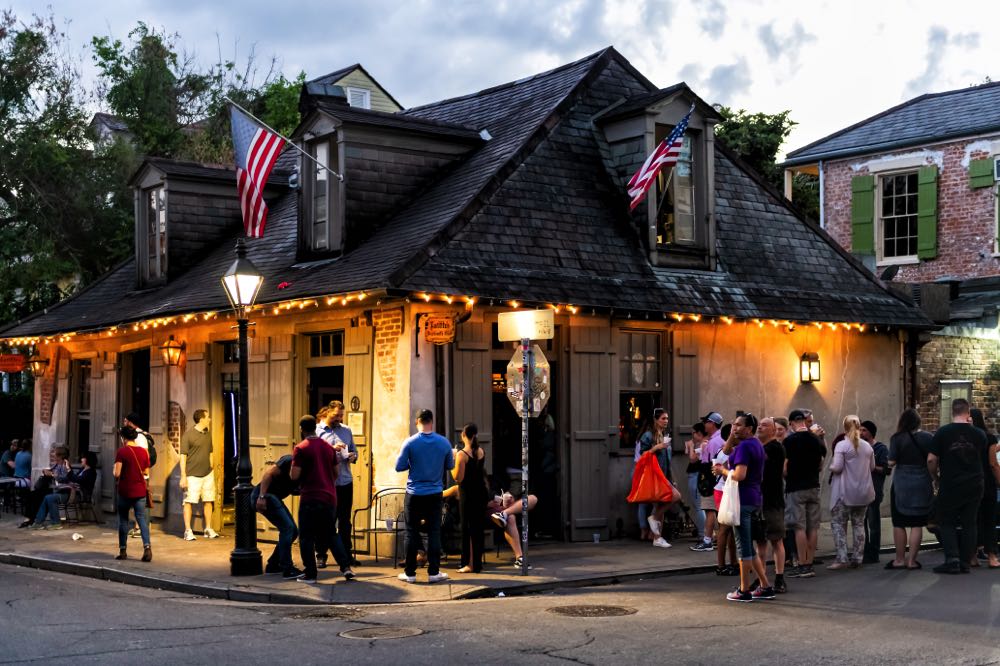 4. Hyatt Centric French Quarter
While this hotel isn't technically on Bourbon, it's close enough. It's right around the corner and offers some rooms with balconies overlooking Bourbon Street. After a late-night out on the town, you're just stumbling distance from your room!
As it's located near Upper Bourbon Street, this is a great option for those who are attending an event at the Superdome or Smoothie King Center. Both are just 15-20 minutes away on foot or by public transportation.
The Hyatt Centric has a wide variety of rooms to choose from, including some pretty swanky suites. All guests can enjoy the outdoor pool and gym. If you need to get some work done while you're here, there's also a business center on the premises.
With a few different restaurants and bars on-site, you don't have to go far to get some tasty food or cocktail.
There's even a poolside bar that's open from April to September. This is definitely one of the best hotels close to Bourbon Street! Click here to see the latest price from Booking.com.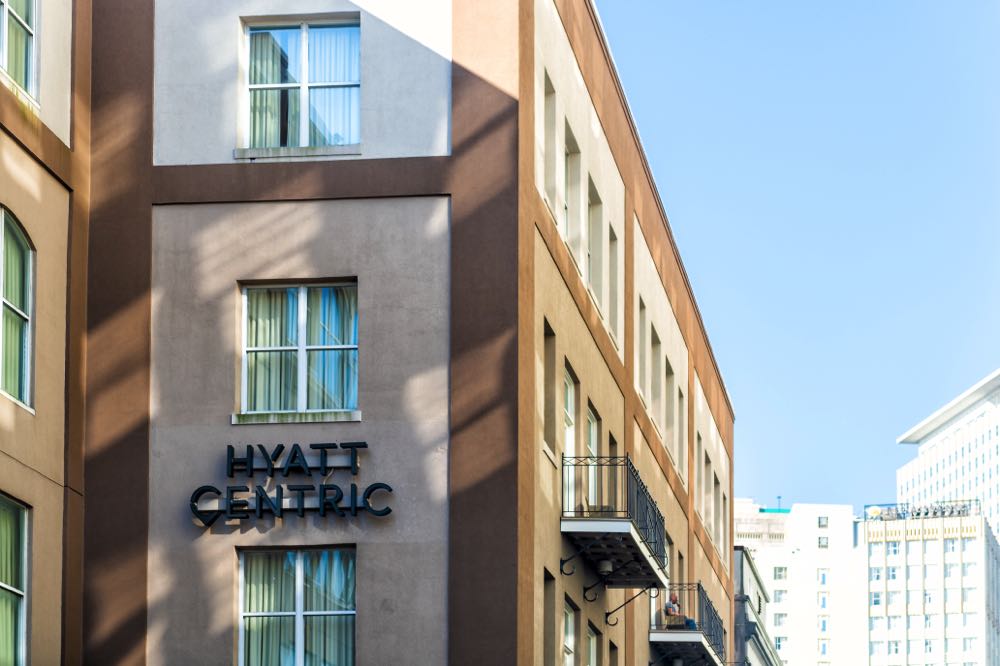 5. Astor Crowne Plaza
While their address is listed as being on Canal Street, the Astor Crowne Plaza is still located right on Bourbon Street.
The building itself dates back to the 1850s, but the hotel was recently renovated. It's a 4-star hotel in the heart of NoLa and it comes at a very reasonable price.
The Astor Crowne Plaza is an excellent choice for travelers who still need to get a bit of work done in between all the sightseeing and partying on Bourbon Street.
Rooms here have complimentary WiFi and executive work desks. There's also a business center in the hotel.
This is one of those French Quarter hotels that really exemplifies southern hospitality. They've got an attentive concierge service, as well as laundry, valet, limo, and room service available.
You can get late-night munchies to your room anytime as room service operates 24/7!
With nearly 700 rooms and 32,000 square feet of event space, this is a great choice for large gatherings like weddings or conventions. There's also a really nice outdoor pool and a fully stacked fitness center here. Click here to see the latest price from Booking.com.
Best Hotels Near Bourbon Street
Near to all of the action, but just a little farther away.
1. Bourbon Orleans Hotel
For those looking to be near Bourbon Street but not right on it, this is a great choice. Bourbon Orleans Hotel is located just around the corner from the action but it feels worlds apart once you're inside.
This hotel has a lot of history, as it was once a high-society ballroom and then later a convent. Some actually say it's a haunted hotel!
A common ghost story is that of a little girl rolling her ball up and down the hall. You can read more about the spooky history of the Bourbon Orleans Hotel on their website.
For wining and dining options, you've got their signature Creole restaurant Roux on Orleans and their Bourbon "O" bar for some of the best New Orleans cocktails and live jazz.
With a great location, comfortable rooms, friendly staff, and some great food & beverage options, this is one of the best French Quarter hotels around. Click here to see the latest price from Booking.com.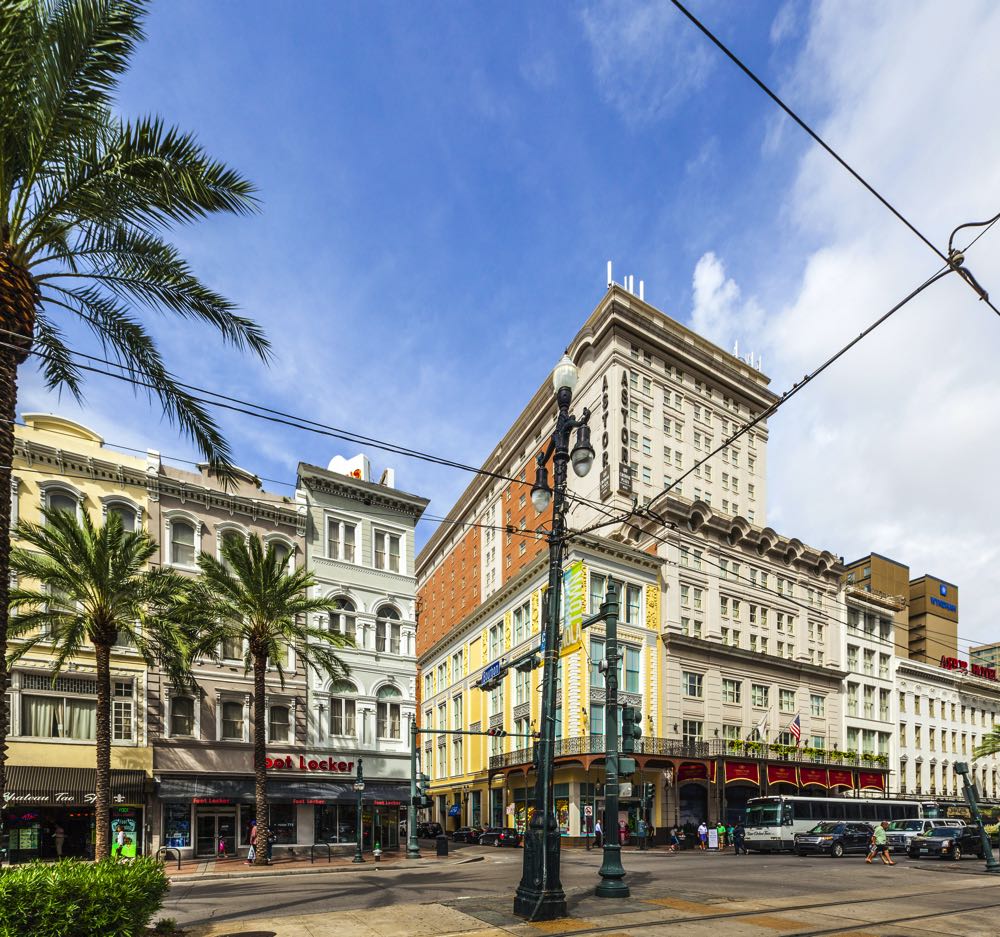 2. Hotel Le Marais
Hotel Le Marais must be doing something right, as they have a 9/10 score on Booking.com with over 600 reviews. That's pretty impressive!
It's located on Conti Street, right around the corner from Bourbon. This puts you close to all the bars but far away enough to be able to sleep.
I don't think I can describe this hotel to you better than they do on their website. Their description says, "the elegance of a luxury hotel fuses with the intimacy of a boutique hotel." Sounds great, doesn't it?
They have a few different types of rooms here. Their deluxe rooms have limited views, while the superior rooms feature courtyard or French Quarter views.
If you want to splurge, go for the premium room with its own private balcony. All rooms have a nice desk, ergonomic chair, fast WiFi, and coffee maker if you need to get some work done.
This is one of few hotels close to Bourbon Street that actually has breakfast included. You can also work up a sweat in the gym, cool off in the pool, and start your night off with a cocktail at their on-site bar, Vive! Click here to see the latest price from Booking.com.
3. Omni Royal
Omni Royal is one of the most historic French Quarter hotels, dating back to 1838 when it was called the City Exchange. It was constructed as a "European grand" hotel and was the first of its kind in New Orleans.
Over the years, the hotel crumbled and burned down several times, but it was always rebuilt.
It was here that one of the most quintessential New Orleans dishes (gumbo) was invented. The phrase "there's no such thing as a free lunch" also comes from this hotel, which once offered free food to daytime drinkers to entice them to keep ordering rounds.
Getting to and from this hotel is a breeze, as they have a partnership with the official shared shuttle service at the airport.
A quick walk brings you right to the center of Bourbon Street. With a heated rooftop pool and a fully-equipped fitness center, you've got a nice place to retreat to after sightseeing.
While staying at the Omni Royal, be sure to sit down for a drink and a meal in their award-winning Rib Room. If you're in town over a weekend, don't miss out on their Sunday champagne jazz brunch. Click here to see the latest price from Booking.com.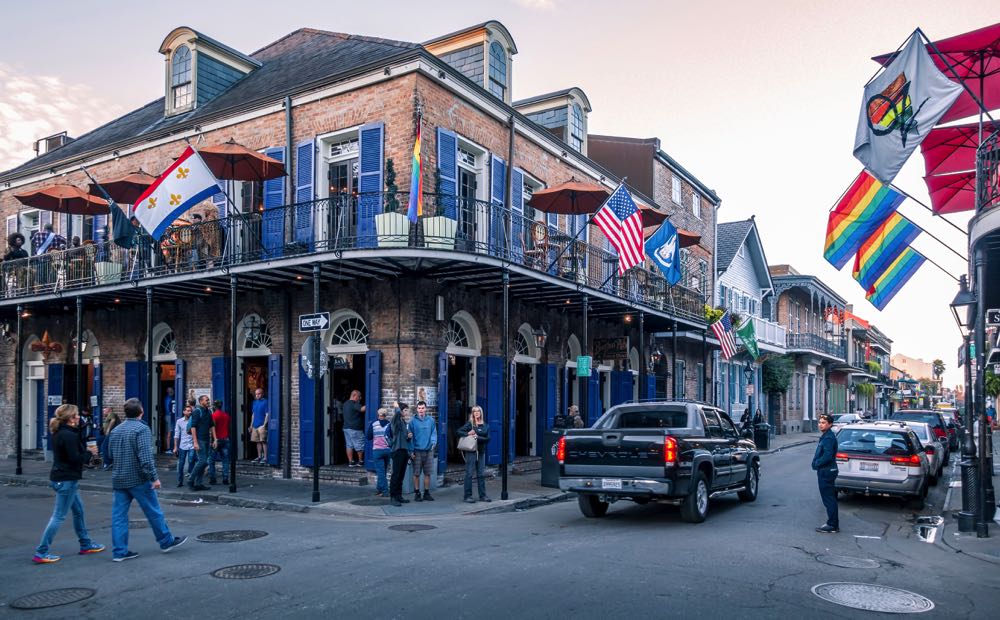 4. Hotel Mazarin
This is definitely one of the classiest hotels near Bourbon Street.
Rooms here feature crystal chandeliers and black porcelain, and they're accented with gold leaf. Talk about fancy! If you really want to splash out, you can book their amazing Fleur de Lis Suite.
Hotel Mazarin is just a quick walk from Bourbon Street. It's a great location for those who want to take advantage of the nightlife here but still be able to get some decent sleep.
In the morning, you can enjoy a complimentary breakfast in their lovely courtyard and get a quick workout in before exploring New Orleans.
One of the best things about staying here is the 21st Amendment bar. Inspired by the Prohibition era (the 21st Amendment officially repealed Prohibition and made alcohol legal again), this speakeasy is definitely one of the best bars in New Orleans.
Click here to see the latest price from Booking.com.
5. Best Western Plus French Quarter Courtyard Hotel
Last but certainly not least on our list of the best hotels near Bourbon Street is Best Western Plus French Quarter Courtyard Hotel. The location is excellent!
This hotel is located near Bourbon Street, just 2 blocks from the action. The non-smoking hotel has beautiful French Quarter decor, an outdoor courtyard, cocktail bar, fitness center, and swimming pool — perfect for those hot Louisiana days.
Guests here love the beautifully decorated rooms and the fact that breakfast is included in the rate. There's also a tea/coffee maker and refrigerator in the rooms. Click here to see the latest price from Booking.com.
Looking for more New Orleans Articles?
Enjoy Your Stay On Bourbon Street!
Hopefully, this post has helped you find the perfect place to rest your head in the Big Easy.
Whether you go with one of the hotels on Bourbon Street or opt for one that's nearby, you're sure to have a blast in New Orleans. After all, the city's motto is "Let the good times roll!"
New Orleans is probably my favorite city to visit in the US. The food is incredible, the bars are tons of fun, and the city hosts festivals and big sporting events all throughout the year. Plus, there are numerous day trips you can do from here, including a swamp tour.
Have you been to New Orleans? Do you have a good recommendation for a hotel that's on or near Bourbon Street? If so, drop a comment below and let us know about it!
Images in this article are courtesy of Shutterstock.com.
Like This Article? Pin it!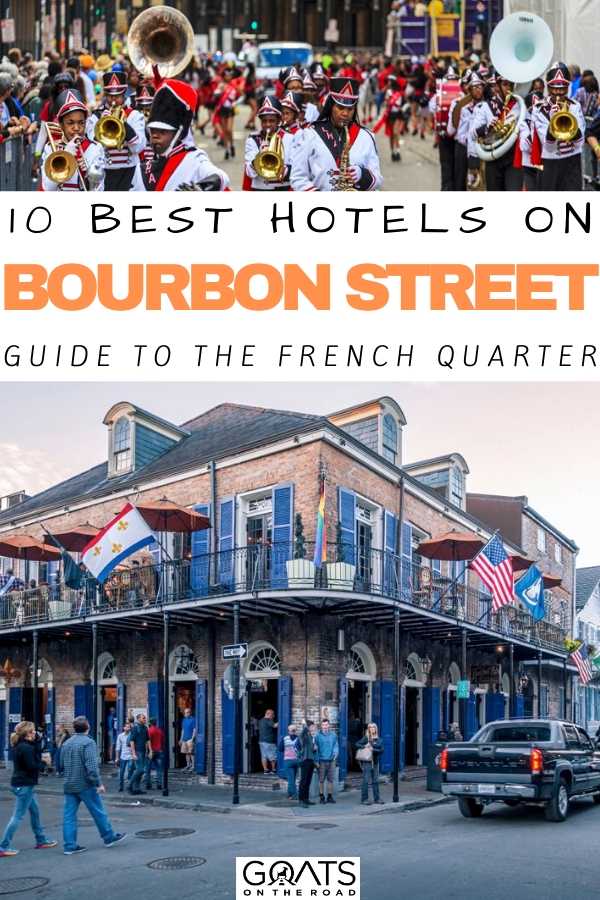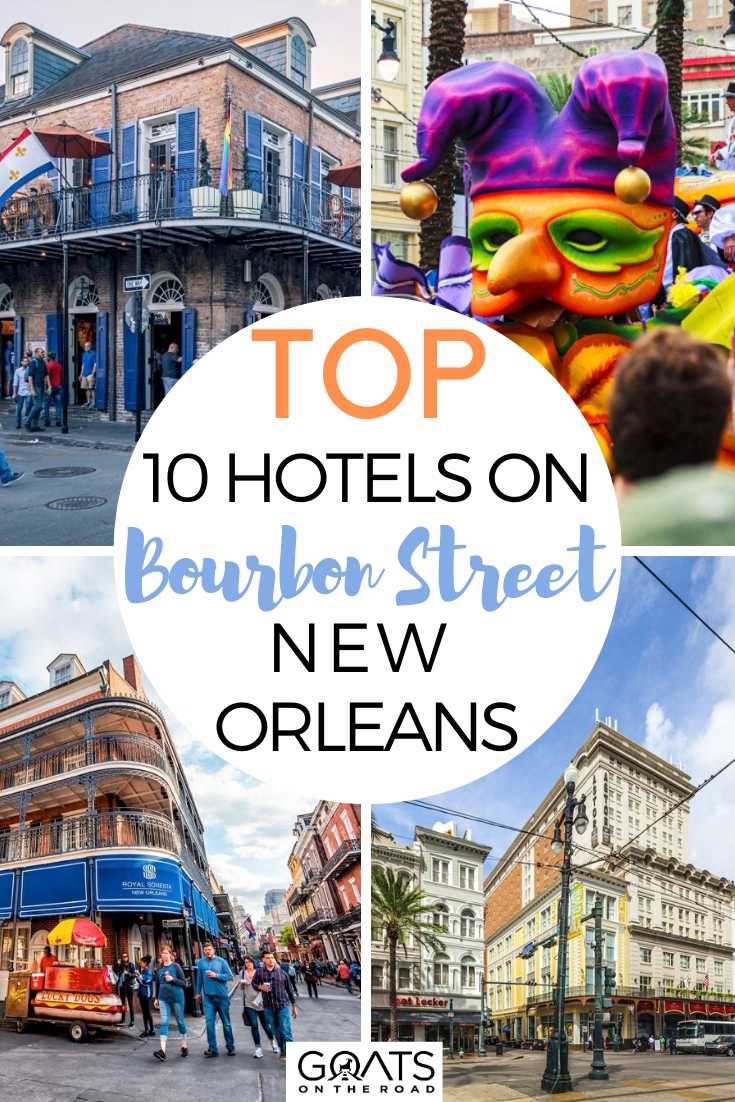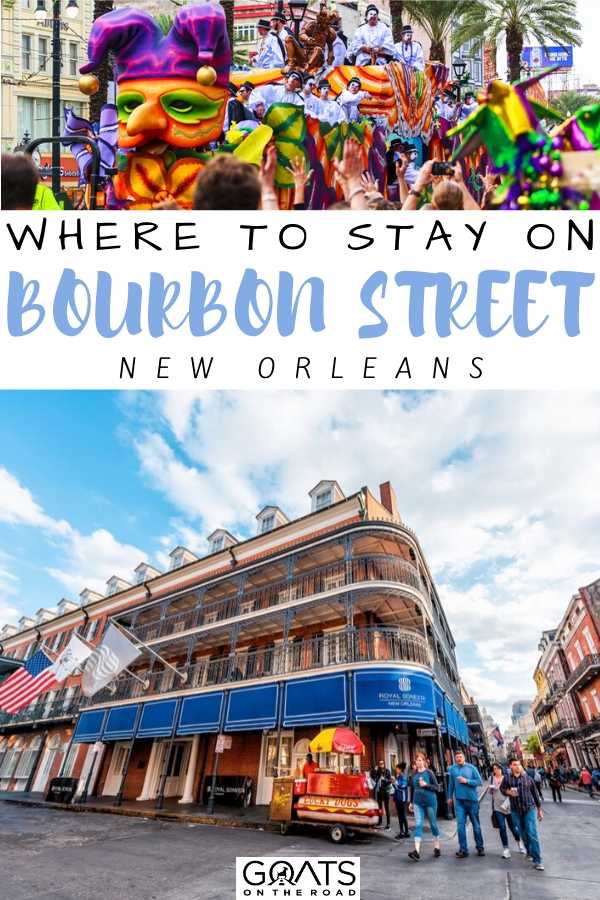 The post 10 Best Hotels On Bourbon Street, New Orleans appeared first on Goats On The Road.