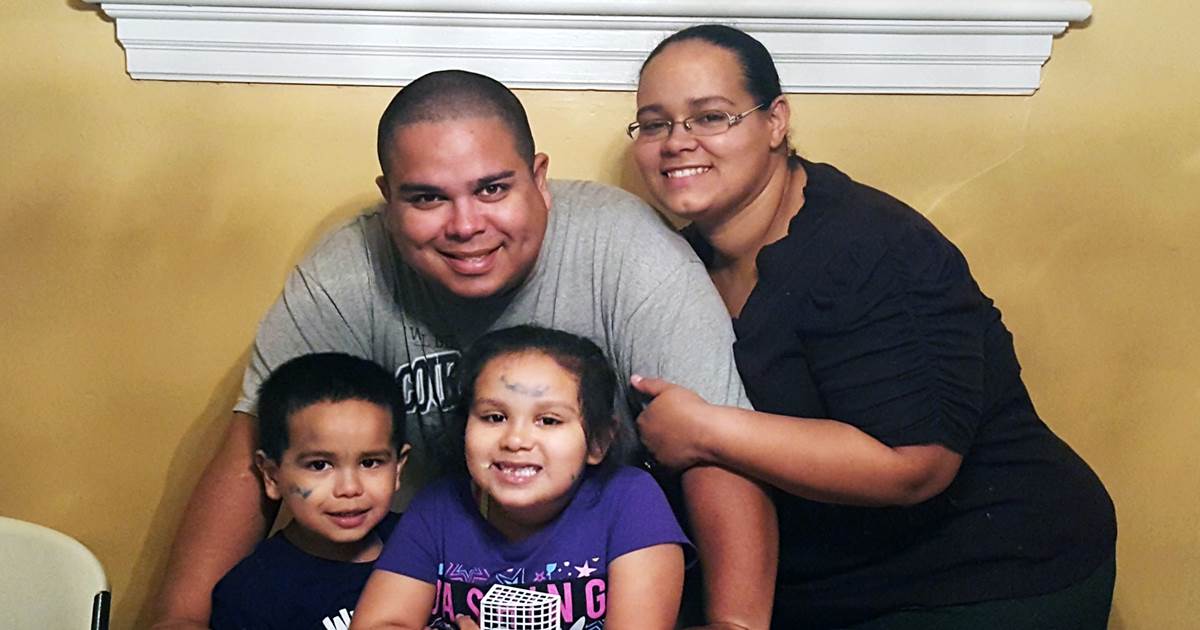 Melanie Hoyos, 22, recently received news that she had landed a job as an animal technician. But the first person she wanted to tell wasn't home to hear the news.
"Today's just one of those days where I wish I could've called my dad and tell him I got the job," she said. "He was always so happy whenever we called him with news."
Her father, Diego Hoyos, who was 49, is one of the more than 4,000 Latinos whom Covid-19 has killed in New Jersey, where the virus is disproportionately killing Hispanic men in the prime of their lives.
At least 361 Latino men ages 18 to 49 have died from Covid-19 complications in the state. Hispanic men account for nearly half (43 percent) of all confirmed coronavirus deaths among adults under 50, even though they make up just 12 percent of that segment of the population, according to a WNYC/Gothamist analysis.
The analysis found that Latino men in New Jersey died at seven times the rate of white men, twice the rate of Black men and 4.5 times the rate of Latina women.
Trauma of losing young parents can't be overstated
Israel Tolentino Jr. was 33 when he died of Covid-19. Tolentino, a firefighter and emergency medical technician in Passaic, was known to everyone for driving the ambulance or attending church and events around the city, said his sister, Illyjany Valdez, 36.
"I think that's why his death impacted the Passaic community so much," she said.
He is survived by his wife of 10 years, Maria Tolentino-Vazquez, and their two young children, Ailani, who will turn 11 this month, and Israel III, 8.
"In all his photos with his kids, he's always kissing them and hugging them, and he was just like that all the time with them," said Valdez, who said her brother promised his daughter that he would teach her to ride a bike last summer. He died before he got the chance.
"When you lose a generation of young parents, I think that the psychological and economic impact and trauma" can't be overstated, said Stephanie Navarro Silvera, a public health professor at Montclair State University in New Jersey. "I think it's going to be something we're going to be grappling with for quite a long time, because we have not seen something this stark happen all at once."
Valdez also lost her father, Israel Tolentino, 55, to Covid-19. She described her father's and her brother's deaths as the loss of "our family's patriarchs."
The nearly simultaneous deaths were very hard on Israel III, Valdez said. Her little nephew lost his dad, who was "his best friend," as well as his grandfather.
"My sister-in-law had to talk to him and tell him to not worry. He may be the only male left in the house, but he doesn't have to worry about anything. That's what adults are for," she said.
But it has been tough. "We lost a part of our essence, because a large part of us left with them," Valdez said.
As younger Latinos die, assessing vaccine equity
Covid-19 deaths among young Latino men in New Jersey give just a glimpse into bleaker nationwide statistics.
Covid-19 has killed at least 38,821 Latinos since the start of the pandemic. Most of them have died at much younger ages and at a rate of almost three times that of the country's white population, the Centers for Disease Control and Prevention said last month.
The staggering loss of young Latino lives, particularly those of people in their 30s and their 40s, led to a reduction in overall Latino life expectancy that is more than three times the reduction among white people, according to a peer-reviewed study published in February by the Proceedings of the National Academy of Sciences.
"If we're looking at the metrics that are used for vaccine rollout, if we're just using the broad population average, it suggests that risk goes up at age 65. That's not acknowledging that the risk is not the same across different racial and ethnic groups because of differences in lived experiences," Navarro Silvera said.
Latinos are among the youngest racial or ethnic groups in the country, with a median age of 30, according to the Pew Research Center. Latinos are also more likely to work in front-line jobs, and they have the highest uninsured rates of any racial or ethnic group in the U.S.
Navarro Silvera said that in relation to metrics about the rollout of vaccines, "in terms of equity, it may be that the cutoff age for eligibility might need to be different for different groups, or we might need to think about eligibility from a different angle in terms of risk, not only for severe illness or risk of hospitalization, but also risk of exposure — looking at different occupations that we know have had not only higher rates of disease, but higher mortality."
'He had so much left to do'
Melanie Hoyos said her father, Diego, died last April in Hackensack, New Jersey, at the height of the pandemic. He contracted Covid-19 the previous month while he worked to keep afloat a bar he had recently opened.
Diego Hoyos didn't get to celebrate his 25th wedding anniversary that summer or his 50th birthday in November.
He never got to see his oldest daughter, who was born in his native Colombia, become a U.S. citizen, a goal he was helping her achieve by sponsoring her.
Hoyos had left Colombia nearly 30 years ago after his brother was killed in the country's five-decade civil war. In the early 1990s, he arrived in New York, where he met his wife, and they later moved to New Jersey.
He worked many jobs to make ends meet, his daughter said. He prepared taxes, worked in construction, managed a bar and drove trucks and Ubers. Her father was "always trying to send money back home" to take care of family members in Colombia.
"He didn't have a will. He didn't have a 401(k). He didn't have savings. He never planned for any of that, because he had so much left to do, and he passed away," she said.
She holds on to a happy memory — the first time her father was able to reunite with his three daughters two years ago. Hoyos' oldest daughter, Elizabeth, was able to come to the U.S. from Colombia for a visit, and they went to Walt Disney World.
"He was just in tears, and he was so excited," Melanie Hoyos said. "It was, like, the happiest I'd ever seen him. He finally had his whole family together."
Follow NBC News Latino on Facebook, Twitter and Instagram.