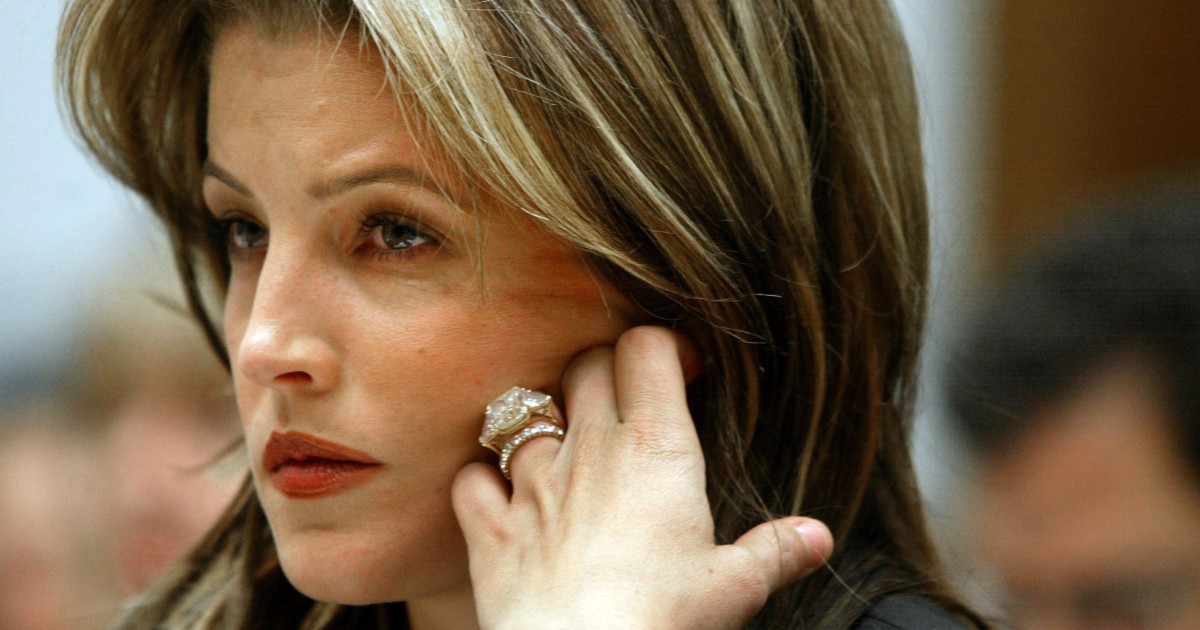 The cause of Lisa Marie Presley's death, revealed Thursday to be a small bowel obstruction, has cast new attention on the rare risks and long-term complications of bariatric surgery.
The Los Angeles County medical examiner's office determined that the obstruction was caused by adhesions — buildups of scar tissue that cause organ tissue or walls to stick together — that Presley developed after she had bariatric surgery years ago.
A treatment for severe obesity, bariatric surgery induces weight loss by modifying the stomach or small intestine to reduce how much food the stomach can hold.
Presley, the only child of Elvis and Priscilla Presley, died on Jan. 12 at the age of 54.
Two experts said the news should not cause panic for people who have had or are considering bariatric surgery. Past research has found that the risk of death associated with the procedure within 10 years is minimal. And in the short term after such a surgery, the risk of death is about 0.08%, or less than 1 in 1,000, according to a 2021 study based on data from several million patients.
"It's a terrible tragedy what happened to her and to her family, but in general, bariatric surgery is exceedingly safe," Dr. Marina Kurian, president of the American Society for Metabolic and Bariatric Surgery, said of Presley's death. "The risks of this type of thing occurring are very low."
Dr. Ali Aminian, director of the Bariatric and Metabolic Institute at the Cleveland Clinic, estimated that only about 3% of patients who get bariatric surgery experience long-term complications, with the leading risk being malnutrition. The risk of developing long-term bowel obstruction across all types of abdominal surgeries is about 1% or 2%, he said.
What's more, Aminian said, surgical techniques have improved significantly in the past decade.
"We've learned how to align the bowel better, how to connect the bowel better together, decrease the risk of scar formation," he said. "The way that we do gastric bypass now in 2023 is totally different than the way that we did the procedure 10 years ago, so we've learned how to do a better procedure, which is much safer now."
Although scar tissue that forms after abdominal surgeries does not usually cause health problems, it can sometimes lead the intestines to twist or give rise to adhesions, both of which can cause bowel obstructions, according to the Cleveland Clinic.
Symptoms of such an obstruction include abdominal pain, nausea and vomiting. Aminian said patients experiencing these signs should seek medical attention. The problem sometimes resolves itself, but in some cases, it may require surgery to clean the scar tissue or remove the diseased part of the intestine, he said.
Presley had complained of abdominal pain in the months leading up to her death and the morning of, according to the autopsy report and a coroner investigator. It was also found she had "therapeutic levels" of the painkiller oxycodone in her blood, among other substances, though those did not contribute to her death, according to the report.
"I do think that sometimes opioids can mask some of the symptoms," Kurian said. "The message really is that if you're having abdominal pain, and you've had any kind of abdominal surgery, you really should be evaluated for that."
Bariatric surgery was performed more than 260,000 times in the U.S. in 2021, according to an estimate by the American Society for Metabolic and Bariatric Surgery. More than half of the procedures done that year were gastric sleeve surgery, which removes about 80% of the stomach. Gastric band surgery, meanwhile, implants a medical band to reduce the size of the stomach, and duodenal switch surgery involves dividing the small intestine as well.
Details in Presley's autopsy report suggest she had duodenal switch surgery, Kurian said, which accounted for less than 3% of bariatric procedures performed in 2021, according to the society's data.
Aminian emphasized that bariatric surgery can improve health for many patients, including reducing the risks of heart disease, kidney failure, diabetes, high blood pressure and cancer. Some research has found that bariatric surgery can reduce the risk of death overall in adults with obesity; a 2015 study found that some patients could add an additional six years to their life expectancy from the surgery.
"The surgery can reverse all those health consequences of obesity, so those are the benefits," he said. "Like any other type of medical, any type of surgical intervention, there are some risks, but the benefits outweigh the risks."