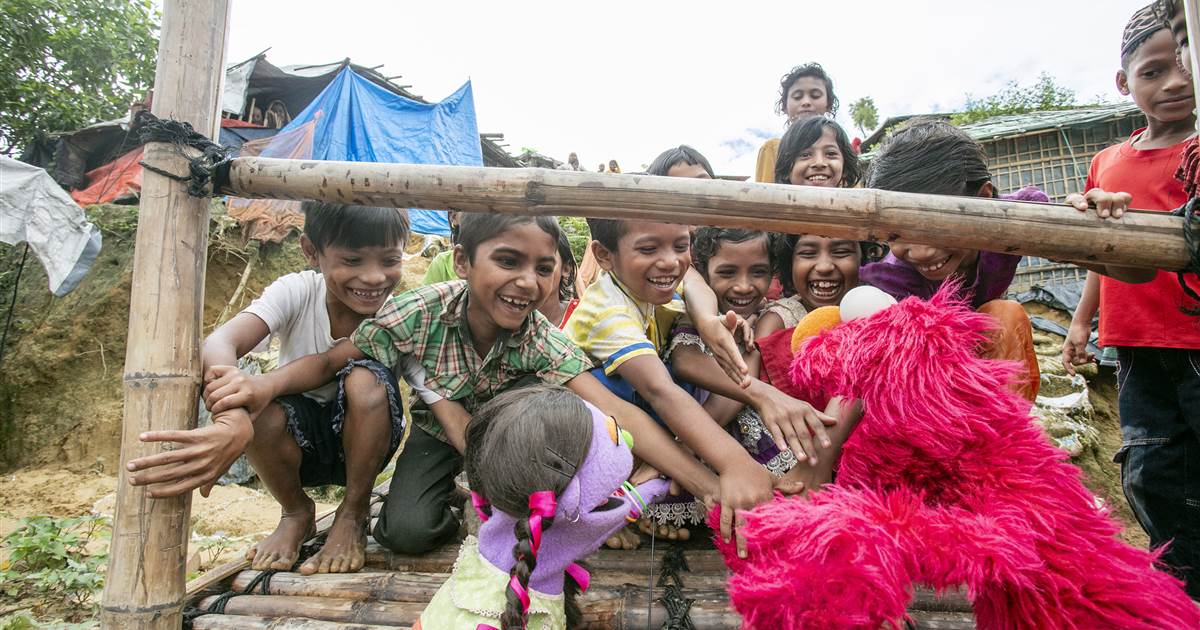 "Children in crisis settings not only need quality education opportunities but also ways to address their own stress and socioeconomic well-being," John Goodwin, CEO of the LEGO Foundation, said.
BRAC, Sesame's nonprofit partner on the ground in Bangladesh, has a history of educational success outside the camps: 85 percent of kids at BRAC schools complete the fifth grade.
The development of the new Rohingya Muppets began last year.
The Sesame team first explored reactions to characters such as Elmo and Grover from its Indian co-production. They also sought feedback from the Rohingya children's caregivers – a process that Westin said revealed a particular fondness for characters that value education, honesty and caring for others.
The design team created initial character sketches, but before moving forward the Sesame executives wanted to solicit feedback from the people who mattered most.
In February, just before the Covid-19 pandemic hit, about a dozen Rohingya children and their caregivers gathered for a focus group led by Kim Foulds, senior director of international research and evaluation at Sesame Workshop.
The meeting demonstrated Sesame's exacting approach to creating new characters. The Sesame executives wanted to hear directly from the children themselves on what kinds of Muppets would resonate with them.
"We know that children learn best when they see themselves," Westin said. "So it's so important that they identify with these characters."
Inside a colorful space adorned with children's art on the walls, Foulds presented the kids with a set of four pictures and, with the help of a translator, asked them to choose which they preferred.
The girls went first. The black and white characters had different clothing, hair styles and footwear. Staring at the set of four, the first girl to answer showed perhaps too much enthusiasm.
"All of them," she said when asked to pick the one she liked most.
Questions were also directed at the parents.
"Which one of these characters would you most want children in your community to say hello to?" Foulds asked.
Later, she asked: "Which of these is most likely to go to school?"
As the session went on and the children were presented with characters in color, the feedback got more specific – exactly what the Sesame executives had hoped for.
Some of the girls thought one of the female muppets had too much lipstick. A boy said he liked that one of the characters was wearing sandals.
The children were ultimately asked to choose their favorite and select a name. Foulds ended the roughly 30-minute session with a thank you and a promise.
"We're going to take all of the feedback that you've given us, share it with our teams back home, and create content that looks like you, speaks to what you like best, what you don't like," she said. "And we're going to create two new Rohingya muppets for you and your friends."