Life has 'completely changed,' says injured Pennsylvania teen as she returns from Gaza
TEL AVIV — She flies from Gaza to her home in rural Pennsylvania today with a life changing injury. Farah Abuolba, 17, told NBC News yesterday that she lost two fingers on her left hand when a blast exploded near the bus she was traveling on along Gaza's coastal road earlier this month.
"My life has completely changed now," she said, adding that she needed her mom's help with simple tasks like tying her hair and putting on a bandana.
After the bomb struck, Abuolba said she was left with cuts on her head and her clothes filled with blood. "I knew I was losing circulation," she said. "I felt dizzy. But I stayed strong and I didn't scream, I didn't cry, didn't do anything. I just kept praying."
Abuolba said she was taken to the Al-Quds Hospital where cats roamed the corridors, along with those seeking shelter from Israeli bombardment.
Now, she said she was "thinking about my family that's back home in America, how now I can finally go back home."
The WHO voices concern over spread of disease in Gaza
GENEVA — The World Health Organization said today that it was very worried about the spread of disease in Gaza as weeks of Israeli bombardments have led to the population crowding into shelters with scarce food and clean water.
"We are extremely concerned about the spread of disease when the winter season arrives," said Richard Peeperkorn, the WHO's representative in the occupied Palestinian territory.
He said that more than 70,000 cases of acute respiratory infections and more than 44,000 cases of diarrhea had been recorded, figures higher significantly higher than expected.
The WHO has previously warned of "worrying trends" in the spread of disease in Gaza, where bombardments and a ground offensive have disrupted the health system, access to clean water and caused people to crowd into shelters.
Satellite photos show evacuations in Gaza
Palestinians gather along Salah al-Din road today in southern Gaza as they attempt to flee south along the evacuation corridor.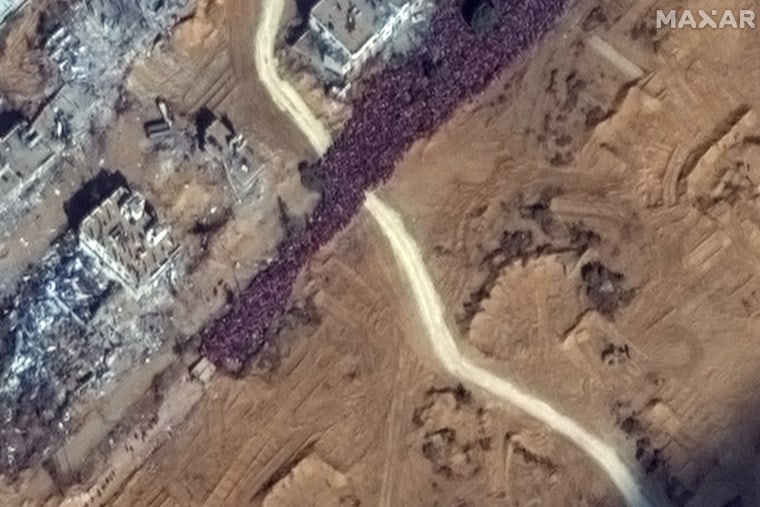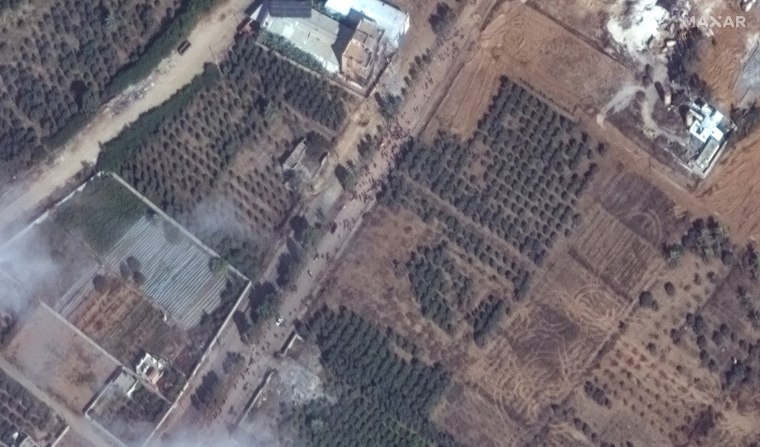 U.N. says Israel is using water as 'a weapon of war'
The U.N. said the lack of fuel in Gaza has led to catastrophic consequences, creating water, sanitation, health care and communications crises for the civilian population.
"Israel must stop using water as a weapon of war," said Pedro Arrojo-Agudo, the U.N. special rapporteur on the human rights to safe drinking water and sanitation. He added that depriving civilians of basic necessities with the intent of "destruction, is an act of extermination and classified as a crime against humanity."
The U.N. estimates that 70% of the population in Gaza is drinking contaminated water.
"Every hour that passes with Israel preventing the provision of safe drinking water in the Gaza Strip, in brazen breach of international law, puts Gazans at risk of dying of thirst and diseases related to the lack of safe drinking water," Arrojo-Agudo said.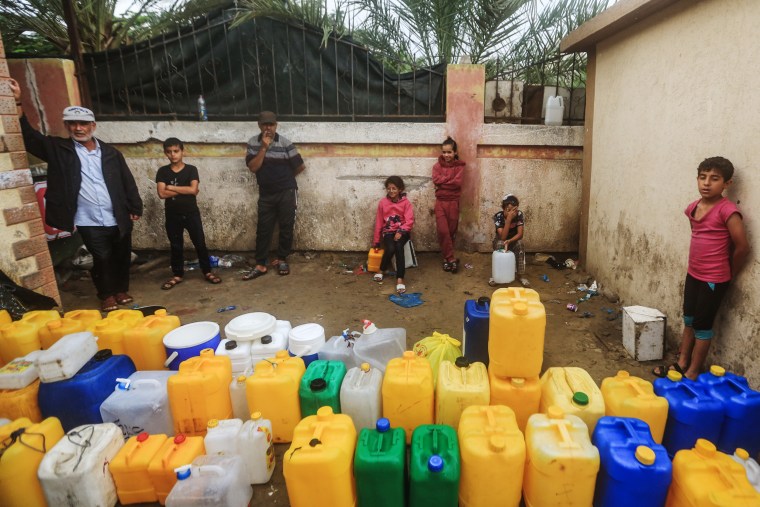 South Koreans pay tribute to Gaza victims
Shoes are arranged as a symbol of Palestinian victims during a rally for Gaza in Seoul, South Korea, today.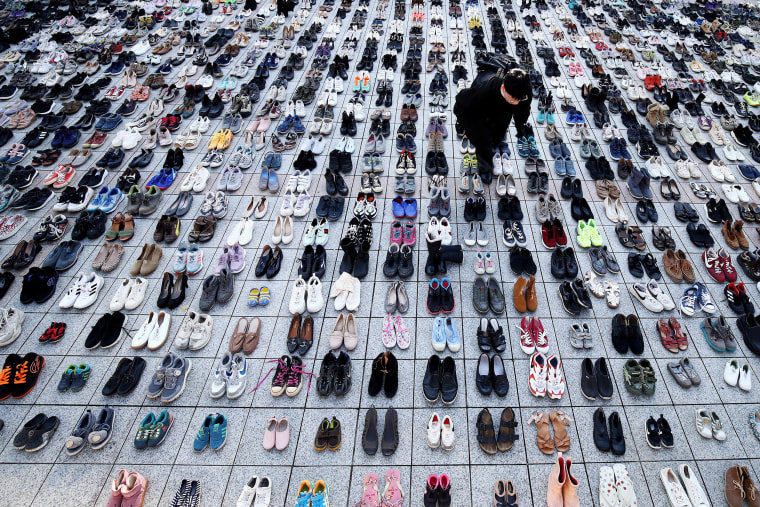 Pro-Palestinian demonstrators enter Fox News building in NYC
A group of protesters supporting Palestinians entered the News Corp building, which houses Fox News headquarters, today in New York City.
The protesters could be seen in the lobby clapping and chanting "Fox News, Fox News, you can't hide, your lies cover up genocide." Some were carrying a large sign that read "Fox News' lies cover up genocide," as well as a Palestinian flag.
As many as 16 people were taken into custody, according to the New York City Police Department.
Dozens of ICU patients have died at Al-Shifa Hospital, surgeon says
TEL AVIV — Dozens of intensive care unit patients have died at the Al-Shifa medical complex which serves as Gaza's main hospital, a plastic surgeon at the facility told NBC News today.
Dr. Ahmed El Mokhallalati said that 43 out of 63 patients, who were on ventilators in the ICU, have died over the last week.
Six days ago, there were 42 premature babies at the hospital and now there are 36, he added.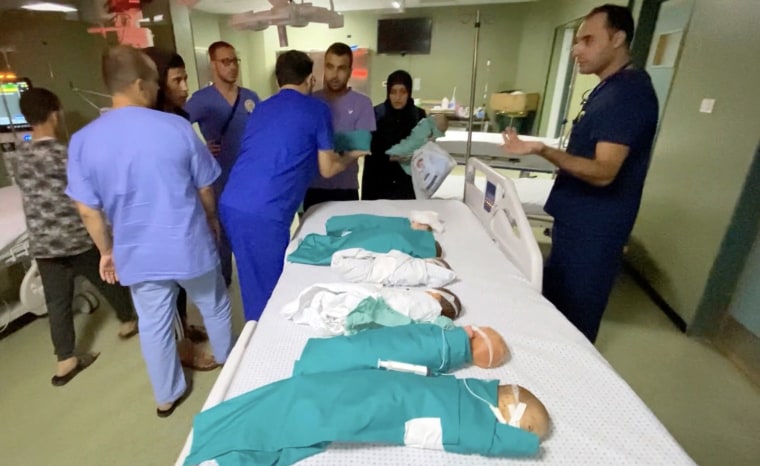 "It's really horrible, totally terrifying situation here," he said. "It's totally civilian hospital here with a group of us, the medical staff, the patients and some civilians, totally surrounded by the Israeli troops, by the tanks. We can't move outside the building."
The Israeli military raided the facility two days ago and has said a Hamas command center is based there. Hamas and doctors have forcefully denied this.
Mokhallalati said the military was preventing medical staff and patients from moving around the hospital.
He added that there was no electricity, water or oxygen supply at the hospital and a lack of oxygen means they can only provide patients who need surgery with minimal sedation.
IDF soldiers have provided some sandwiches and drinking water to the hospital, but only enough for about 30% of the hospital's occupants, he said.
Hundreds march in Israel to demand urgent action over hostages
Hundreds of people, including relatives of hostages held in Gaza, joined a march calling for their release as they headed toward Jerusalem today.
They plan to rally outside Israel's parliament, the Knesset, later.
Iran does not want war to spread but issues warning, diplomat tells the Financial Times
Iran has used back channels to tell the U.S. that it doesn't want the war to escalate, but conflict in the region was still a possibility if Israeli attacks continue, the country's top diplomat told the Financial Times today.
"In response to the U.S., we said that Iran does not want the war to spread, but due to the approach adopted by the U.S. and Israel in the region, if the crimes against the people of Gaza and the West Bank are not stopped, any possibility could be considered, and a wider conflict could prove inevitable," Hossein Amirabdollahian.
In October, the U.S. moved two carrier strike groups closer to Israel in a move largely seen as an effort to deter further unrest in the region.
"Our military officials are of the opinion that the deployment of U.S. aircraft carriers near our region, which makes them accessible, is not a strong point for the U.S. Rather, it makes them more vulnerable to possible strikes," Amirabdollahian added.
Photo shows wounded girl carried from rubble after bombardment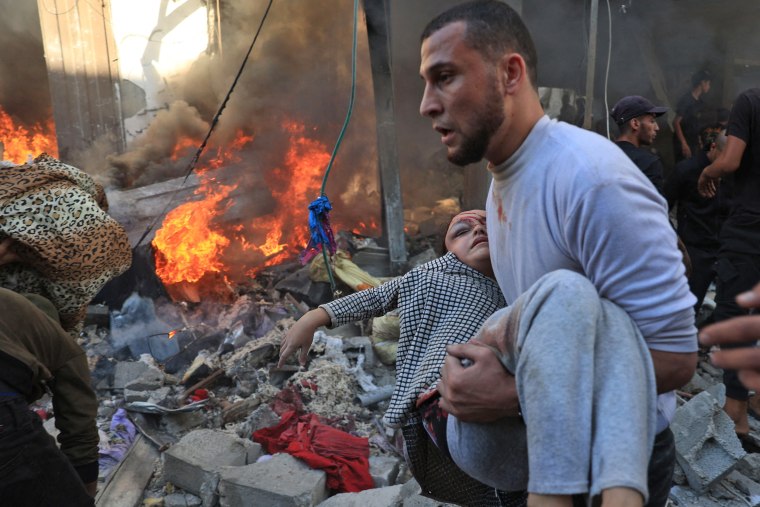 A man evacuates a wounded girl after a bombardment today in Rafah in the southern Gaza Strip.
More than 2,800 arrested by Israeli forces in the occupied West Bank since Oct. 7, Palestinian groups say
TEL AVIV — At least 47 Palestinians in the occupied West Bank were arrested overnight into today, bringing the total to 2,800 since the Hamas attacks of Oct. 7, two Palestinian groups said.
The Commission for the Affairs of Prisoners and Ex-Prisoners and the Palestinian Prisoners Club said in a statement today that last night's arrests were mainly in the town of Ni'lin/Ramallah, while the rest were in Jenin, Hebron and Jerusalem.
"The arrest campaign was accompanied by widespread harassment, severe beatings, field investigations, and threats against detainees and their families, in addition to widespread sabotage and destruction of citizens' homes, and intimidation and threats against citizens," the statement said.
The groups said that the arrest of Palestinians has been a long-standing element of life in the West Bank, but one that has "escalated significantly" since Oct. 7.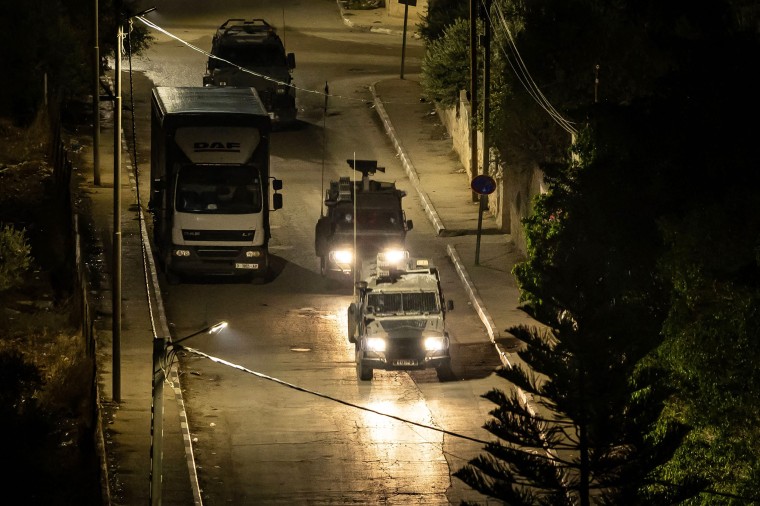 Dozens of injured Palestinians rushed to hospital after explosion near Khan Younis
Dozens of Palestinians were rushed to the Nasser Hospital after an explosion to the east of Khan Younis in the southern Gaza Strip today.
Children were among those brought to the medical facility in a variety of vehicles, including cars and pickup trucks.
IDF says it hit Hezbollah targets in Lebanon
Israeli fighter jets have carried out strikes on multiple targets within Lebanon, the IDF said today, adding that they hit "terrorist infrastructure" controlled by the militant group Hezbollah.
A weapons warehouse was among the targets, as well a "terrorist cell" in the Arab al-Aramsha area, spokesman Daniel Hagari said on X this morning.
NBC News could not independently verify his claims.
Hagari also referred to the strikes across Israel's northern border in a media briefing last night. "We are continuing to strike back immediately in response to any attempt to fire from Lebanese territory," he said. He added there had been missile attacks from Lebanon into the Israeli border towns of Malkia and Menara.
IDF warns people in four northern Gaza neighborhoods to evacuate
The IDF called for people in four neighborhoods in northern Gaza to evacuate south via the Salah Al-Din road, saying they should do so until 4 p.m. local time "to preserve your safety," according to an IDF post in Arabic on X.
It also said it would pause military activities from 10 a.m. to 2 p.m. local time in "the western Rafah area and in the Tal Al-Sultan neighborhood."
"Do not surrender to the dictates of Hamas, which has lost control over the northern Gaza Strip and is trying to prevent you from moving south and protect yourselves," the post said.
Florida sued over ban on pro-Palestinian student groups
The American Civil Liberties Union challenged Florida's ban on pro-Palestinian university groups, arguing in a federal lawsuit yestersday that the state is violating students' free speech as tensions roil U.S. campuses over Israel's war with Hamas.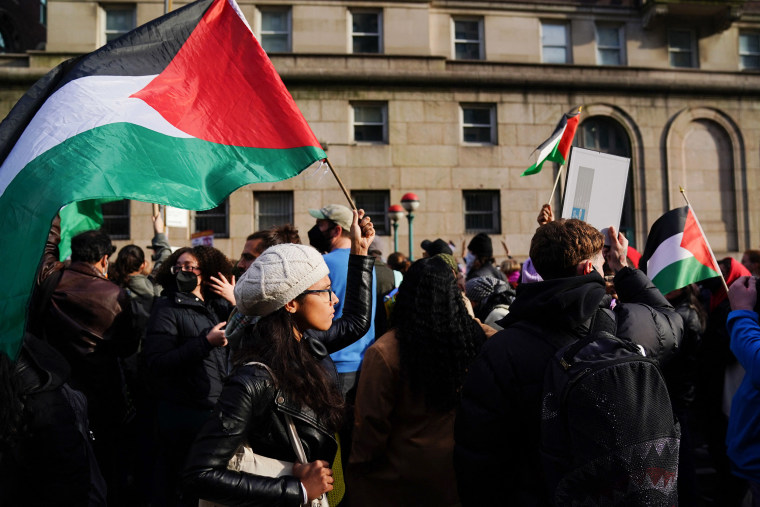 Florida's university system, joined by Gov. Ron DeSantis, last month ordered colleges to shut down chapters of Students for Justice in Palestine (SJP), a group at the center of U.S. campus activism since Hamas attacked Israel on Oct. 7.
The lawsuit — against DeSantis, a 2024 Republican presidential hopeful, and several state university system officials — was filed on behalf of the University of Florida's SJP chapter and seeks a preliminary injunction to a state order blocking SJP from receiving school funds and using campus facilities.
IDF now urges some residents of southern Gaza to evacuate
The IDF has urged residents of several neighborhoods in Khan Younis in southern Gaza to evacuate, according to a leaflet obtained by an NBC News crew.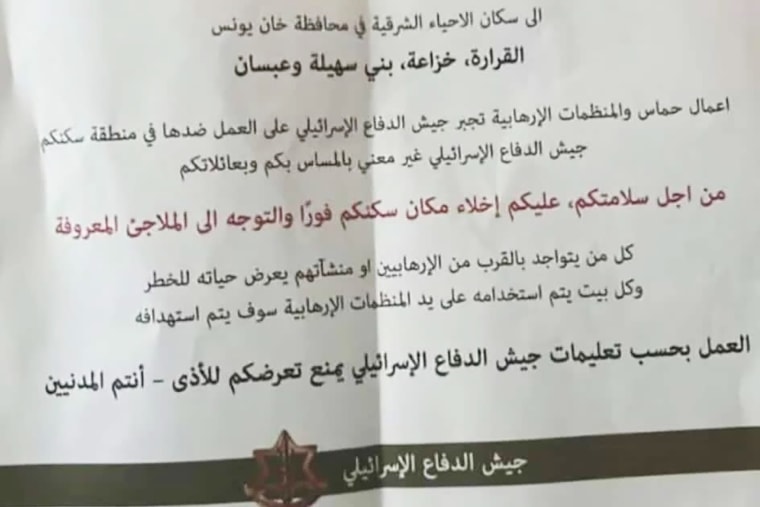 "The actions of Hamas and the terrorist organizations force the IDF to act against them in your area of residence," the leaflet obtained yesterday reads in Arabic. "For your safety, you must evacuate your place of residence immediately and go to known shelters," the leaflet adds, without specifying where exactly the safe shelters can be found.
For weeks, Israeli forces have told residents in the north of the enclave to move south for their own protection, while at the same time continuing to strike southern Gaza.
Medics at hospital in occupied West Bank ordered to walk outside with hands raised
Israeli forces ordered medics at Ibn Sina Hospital in the occupied West Bank to walk outside with their hands raised as the military searched the facility.
The IDF raided the town of Jenin, leaving a number of people killed and injured.
Blinken: Israel's attacks on hospitals are 'ground operations, not bombardments'
When pressed by NBC News' Lester Holt on claims by Israel and the U.S. that Hamas is operating a command and control center under Al-Shifa Hospital in northern Gaza, Secretary of State Antony Blinken said that the U.S. has information that Hamas embeds in civilian infrastructure.
"Two things: One, exactly why there should be assault rifles located next to an MRI machine escapes me and this is compelling evidence of the fact that Hamas embeds itself in civilian infrastructure of one kind or another," Blinken said. "We have our own information that command and control nodes are located either in or under hospitals."
Asked further about Israeli attacks on the hospitals, Blinken insisted that "what's going on now are ground operations, not bombardments." He then reiterated that there have been too many Palestinians killed and that the U.S. continues to urge Israel to minimize civilian casualties.
Funeral held for Israeli soldier
People attend the funeral of Noa Marciano, an IDF soldier, at a cemetery in Modi'in-Maccabim-Re'ut, Israel, today.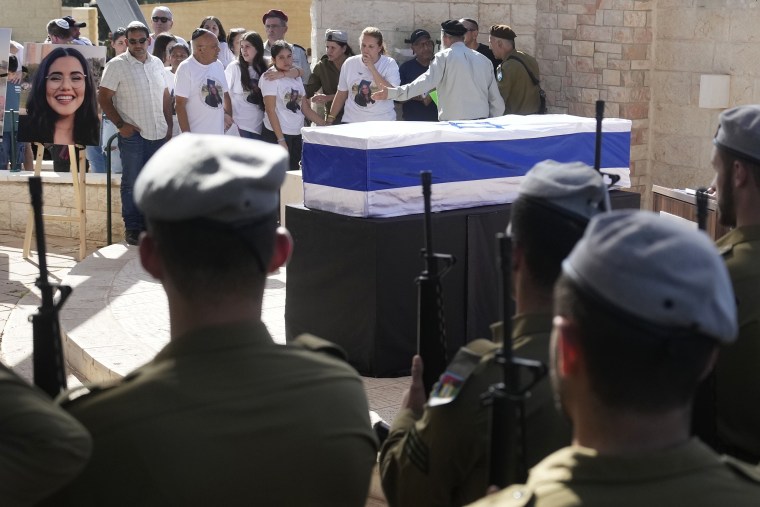 Blackout appears to continue as U.N. warns that Gazans are cut off from the world
It appears the complete telecommunications blackout throughout the Gaza Strip continued today because of fuel shortages. The U.N. warned that the enclave's 2 million residents are now cut off from the rest of the world.
Yesterday, Palestinian telecommunications company Paltel said on X that all telecommunications services in the Gaza Strip have gone out of service as all energy sources sustaining the network have been depleted. There have been no updates from Paltel since.
"People in the Gaza Strip were completely isolated again last night in the fourth communications blackout during this war," UNRWA, the U.N. Palestinian refugee agency, said on X today. "Gazans are completely cut off from their loved ones and the rest of the world."
NBC News has been unable to reach doctors at Al-Shifa Hospital since yesterday. The hospital has been raided by the Israeli army in recent days.
The fuel shortages, caused by a complete blockade of Gaza by Israel, have also disrupted aid delivery, health care and sanitation systems.
IDF 'close to dismantling the military system' in northern Gaza, chief of staff says
The Israeli military is "close to dismantling the military system in the northern Gaza Strip," its chief of staff said today.
Quoted in a Telegram post from the IDF, Lt. Gen. Herzi Halevi said that there was still "work to be completed."
He added that more of the enclave's regions would be targeted, "systematically eliminating commanding officers and eliminating operatives, and eradicating the infrastructure," the Telegram post said.
Civilians in Gaza are at risk of starvation, U.N. says
Those in Gaza risk starvation given the lack of food and water, according to the United Nations World Food Programme.
"Supplies of food and water are practically non-existent in Gaza and only a fraction of what is needed is arriving through the borders. With winter fast approaching, unsafe and overcrowded shelters, and the lack of clean water, civilians are facing the immediate possibility of starvation," Executive Director Cindy McCain said in a statement.
The organization said the amount of food supplies that has entered Gaza since the beginning of the war only accounts for 10% of what's needed. The only passage into and out of Gaza at Rafah isn't enough and McCain pushed for the opening of another way to get supplies into Gaza.
Grief as bodies await collection in southern Gaza
Palestinians mourn overs bodies outside a morgue in Rafah, in the southern Gaza Strip, this morning.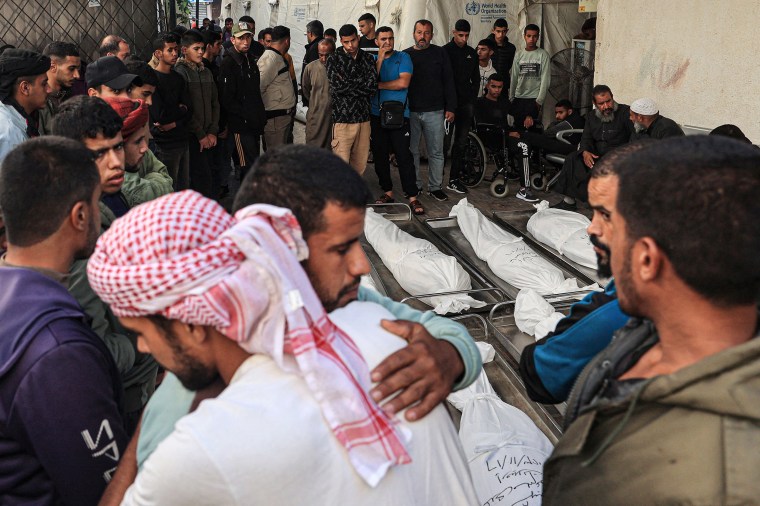 IDF searches hospitals in northern Gaza
Israeli forces released video claiming to show an operation tunnel shaft and a vehicle they said contained "a large number of weapons" at the Al-Shifa medical complex, Gaza's largest hospital.
Troops were also searching nearby Rantisi Hospital, where they "continued to unearth an operational tunnel," and Al-Quds Hospital "where weapons and ammunition were located," the IDF said in a statement.
NBC News has not confirmed the IDF's claims.
While NBC News verified the location of the tunnel shaft in Al-Shifa, video, photographs and statements released by the IDF so far do not appear to show definitive evidence that a Hamas command center exists beneath the hospital, a claim that Israeli officials have repeatedly made and Hamas and doctors at the hospital have forcefully denied.
Singapore fashion brand apologizes after backlash over perceived support for Israel
A fashion brand in Singapore has apologized after online backlash over its founders' perceived support for Israel.
"We do not condone the killings of thousands of innocent Palestinians. Our hearts weigh heavy and our thoughts and prayers are with them," Daniel Chew and Rebecca Ting, the husband-and-wife founders of Beyond the Vines, said yesterday in a post on Instagram, adding that they "take full responsibility for our insensitivity and mishandling of this matter."
The criticism began when social media users pointed out that Chew was following a pro-Israel Christian account on Instagram. The couple's attempts to address the fury in earlier Instagram posts and a livestream only further angered followers of the brand both in Singapore and overseas, who called for a boycott and accused the company of deleting comments and blocking users supporting Palestinians.
Chew said he had initially followed the account because of its culture, food and travel content and that he had unfollowed it recently when it became "more political and divisive in nature." In a livestream last week launching a new collection, Ting said they had been told by Meta, Instagram's parent company, that the company had a "sensitive content filter" that might delete comments or block accounts.
Israeli raid on West Bank's Jenin refugee camp leaves at least 3 dead
JERUSALEM — Three people were killed and more than 15 people injured by Israeli forces during a raid on the Jenin refugee camp in the occupied West Bank, the Palestinian Health Ministry said in a Telegram post today.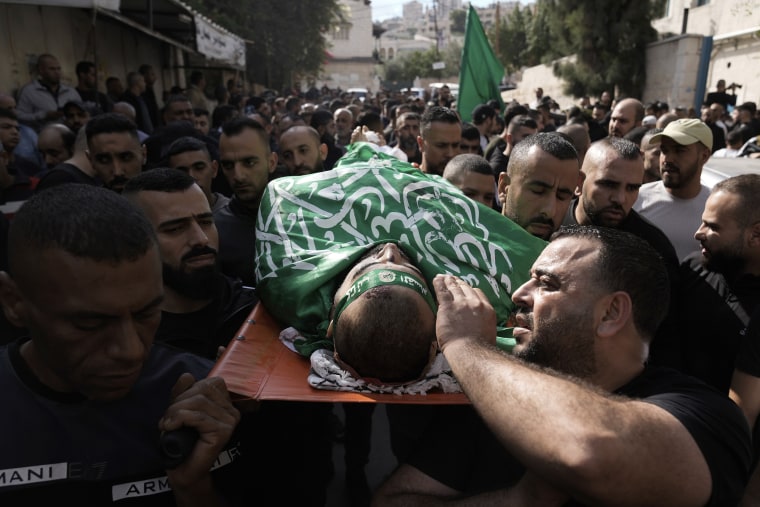 WAFA, the Palestinian news agency, reported that Israeli forces interrogated a number of paramedics at the hospital and searched ambulances in the vicinity. The agency reported that local sources told it that the occupation forces surrounded the hospital from all sides.
NBC News could not independently verify this claim.
The Israeli military said in a statement that "an armed terrorist cell" was struck by one of its aircraft during a raid on the camp. It said at least five "terrorists" were killed.
"Additional terrorists who fired and hurled explosive devices at the security forces were neutralized during the activity," it said.
The dead were named by the ministry as Bahaa Jamal Lahlouh, 23, Muhammad Jamal Fulu, 28, and Muhammad Azmi Al-Hassaniyah, 34.
The IDF added that it confiscated weapons, military equipment and improvised explosive devices during the raid and its forces apprehended "eight wanted suspects." In a separate post on X the IDF said that armed men fled in an ambulance to Ibn Sina Hospital.
NBC News was not able to independently verify these claims.
Former consul general says deal to release hostages is 'going to be one to one'
Former Consul General in New York told Andrea Mitchell in an interview that the deal between Hamas and Israel is "going to be one to one," meaning if one Israeli gets released, one Palestinian will also be released.
He described a complex network of communication behind a possible hostage deal, saying, "Hamas is talking to Qatar, to the Qataris, we've been talking to the Americans, we've been talking to the Israelis, will then divulge some information to the Egyptians who go back to the Americans and so on and so forth." He added, "this is not a negotiating table."
On which hostages would be released and how many, he said, "so we're looking at 50, 60, maybe up to 100 people. That would include people with dual citizenships, several, several dozens rather, of foreign workers."
He said the deal "probably does not include IDF soldiers, whether male or female."
"Hamas is asking for a five-day ceasefire, to which Israel reportedly has not agreed," Pinkas added. "Israel was saying three days maximum and even the three days are meeting some opposition in the IDF, which thinks we should, Israel should not agree to such a lengthy ceasefire."
Netanyahu: Indications that hostages had been held at hospital
Israeli Prime Minister Benjamin Netanyahu has said that hostages were being held at Al-Shifa Hospital in Gaza before the Israel Defense Forces arrived to begin a military operation there.
"We have strong indications that they were held in Shifa Hospital, which is one of the reasons we entered the hospital, but they were taken out," he told CBS News in an interview last night.
Netanyahu offered no evidence to corroborate the claim that hostages were held at the hospital, nor any new evidence that the site was being used as a military command center, an accusation rejected by Hamas and doctors at the complex. There was no firefight when the IDF arrived at Al-Shifa, he said, because Hamas' fighters had fled in advance.
Asked where the hostages are being held now, the prime minister hinted that his military is aware but would not confirm any details. "We have intelligence… but the less I say about it the better," he said.
On the question of a cease-fire — which has been called for at protests and demonstrations in the United States and across the world — Netanyahu repeated that this would only happen "if we can get our hostages back."
Photos: Protesters call for a cease-fire on a San Francisco bridge
On the bridge connecting San Francisco and Oakland, protesters calling for a cease-fire in the Israel-Hamas war held up traffic for a time while President Joe Biden was at the Asia-Pacific Economic Cooperation summit.
Police soon descended to clear the gridlock.