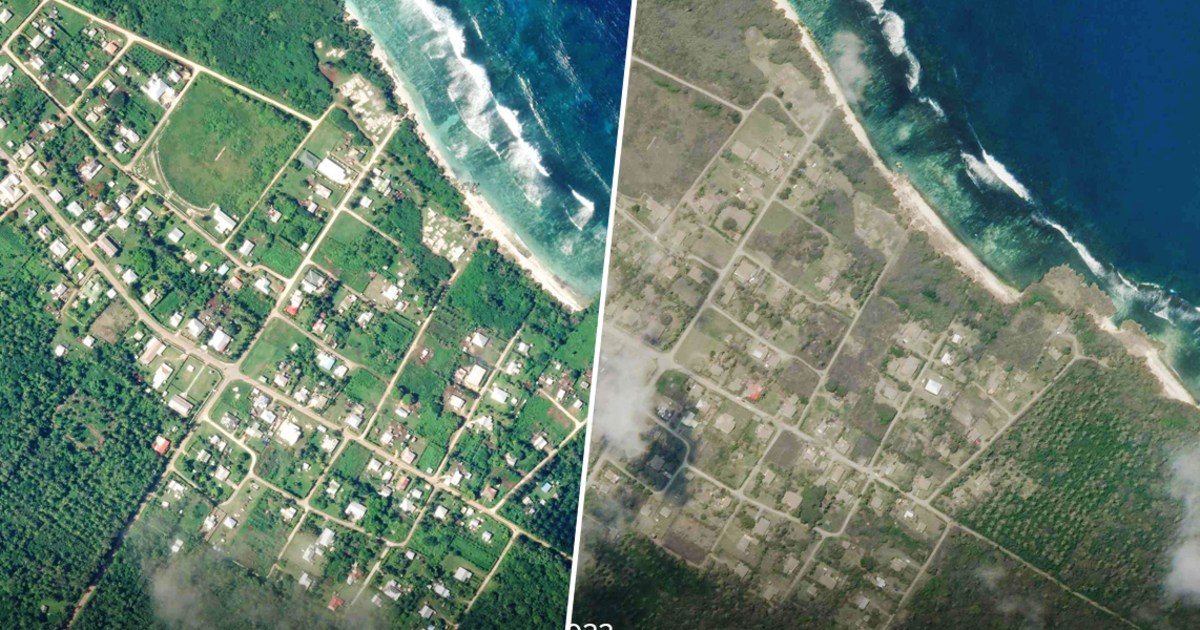 Around 100 homes were damaged and 50 destroyed on the main island of Tongatapu, according to a WHO report released Tuesday. Some residents were displaced and taking shelter at evacuation centers.
Tongan officials were hoping to evacuate people from the isolated, low-lying Ha'apai islands group and other outer islands where conditions were "very tough, we understand, with many houses being destroyed in the tsunami," Australia's minister for the Pacific, Zed Seselja, said, according to Reuters.
The government also sent emergency teams Tuesday to the Fonoifua, Mango and Nomuka islands, where there was extensive damage. Other islands in the kingdom, however, have yet to be contacted by outside officials.
Volcanic ash has affected water supplies, the government said, and Tongan authorities have called for immediate assistance, according to the U.N.
But while the island nation's main international airport was not damaged in the eruption and tsunami, heavy ash prevented full operations and hindered international relief efforts.
In addition, the waterfront in the capital city of Nuku'alofa was seriously damaged with rocks and debris pushed inland by the tsunami, according to a report published by the U.N.'s humanitarian affairs agency.
Communications were limited after the single underwater fiber-optic cable that connects Tonga to the rest of the world was severed in the eruption.
Two cuts to the cable could not be fixed until volcanic activity ceased, allowing repair crews access, said Samiuela Fonua, the chair of Tonga Cable, according to Reuters.
The World Health Organization said its representative on the main island was in possession of one of the only satellite phones and helped Tongan government officials communicate with U.N. agencies.
Australia and New Zealand sent the first reconnaissance flights to survey the damage on Monday after a towering ash cloud prevented earlier flights.
The two countries have sent ships loaded with water and relief supplies to the archipelago made up of 171 islands, which has a population of nearly 106,000.
However, aid efforts could be complicated by fears around Covid-19. Tonga has reported just one case of the virus since the pandemic started, according to the WHO, and it has strict border controls to keep the virus out.
New Zealand, whose ships won't arrive for three days, according to the country's defense minister, will deliver its aid in a contactless way, according to the defense force. The country pledged an initial $680,000 toward recovery efforts and has also sent survey and diving teams to assess damage to the ports.
The U.S. international aid agency also said that it is working with partners to provide relief supplies and shelter for residents.
Chinese Foreign Ministry spokesperson Zhao Lijian on Tuesday said China is preparing to send drinking water, food, personal protective equipment and other supplies to Tonga as soon as flights resume.
Experts said the volcano, which last erupted in 2014, had been puffing away for about a month before rising magma, superheated to around 1,832 degrees Fahrenheit, met with 68-degree seawater, causing an instantaneous and massive explosion.
Associated Press and Reuters contributed.