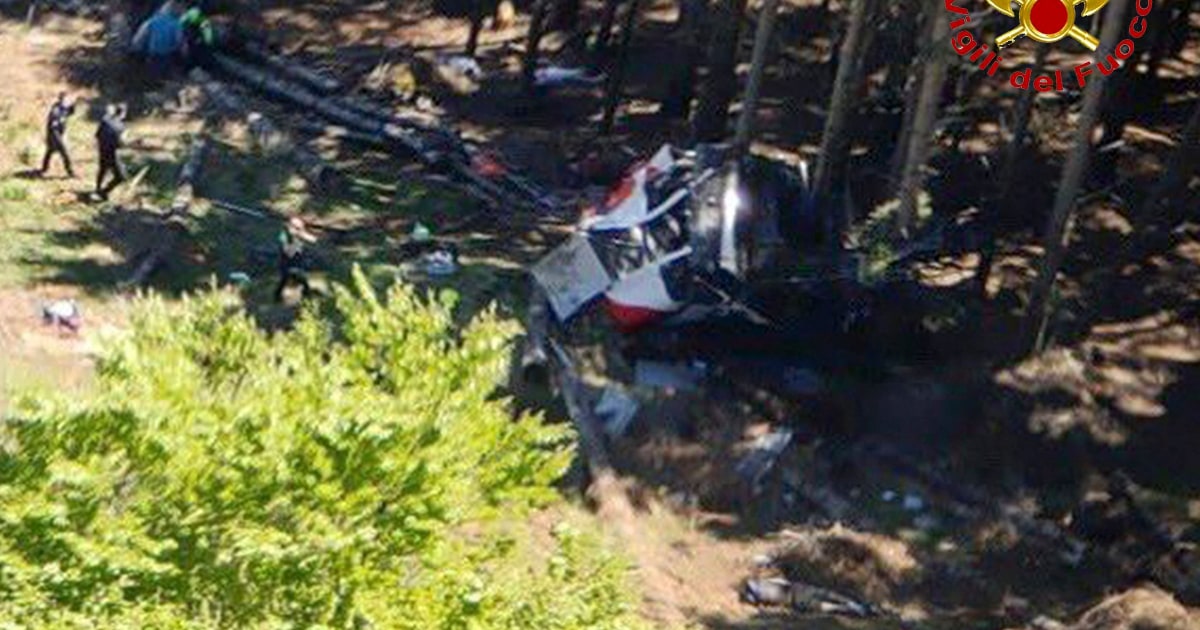 At least 14 people, including one child, were killed when a cable car plunged to the ground in northern Italy on Sunday, officials in the country said.
The Stresa-Mottarone cable car dropped 60 feet, Marcella Severino, mayor of the town of Stresa, told Reuters, adding that the cabin rolled several times down the steep slopes before it was stopped by the trees.
It came down as it was making the 20-minute journey from the town on the Maggiore Lake to the summit of the Mottarone mountain in the Alps, almost 4,500 feet above sea level.
A picture of the wreckage taken by Italy's fire department showed the crushed and crumpled remains of the cable car in a clearing of a thick patch of pine trees near the mountain's summit.
Hikers heard a loud hiss just before the crash, Severino said.
Two children were in serious condition when they arrived at the Regina Margherita hospital in nearby city of Turin, spokesman Pier Paolo Berra told NBC News by telephone.
A little boy, aged around 5, arrived conscious, but had fractured his legs and suffered trauma to his torso and abdomen, he said.
A second boy, whose age was not known, was in critical condition, Berra said, adding that he was not conscious on arrival. He had sustained severe head trauma and also fractured his legs, he added.
One child later succumbed to the injuries, but the hospital did not specify which of the two children died.
Walter Milan, a spokesperson for Italy's Alpine rescue service, said the identities of the remaining victims were unknown.
In a separate interview with the Associated Press, Milan said that the cable line had been renovated in 2016 and had only recently reopened after coronavirus lockdowns forced the closures of ski lifts across Italy.
At the location where the cable car fell, about 300 feet before the final pilon, the cables of the lift were particularly high off the ground, he added.
Italian Prime Minister Mario Draghi sent his condolences to the families of the victims in what he said was a "tragic accident" on Twitter.
"A special thought goes to the gravely injured children and their families," he added.
Download the NBC News app for breaking news and politics
The Mottarone peak is popular among tourists because of its panoramic views on Lake Maggiore and its picturesque islands as well as the vista of the surrounding Alps.
The cable car service first opened in August 1970 after almost three years of works to replace a cog railway, its website said. The dual cable system is split into two sections, just over a mile between Stresa and Alpino and another three kilometres between Alpino and Mottarone, it added.
It consists of two cars, in alternate directions, with each one carrying up to 40 passengers, it said.
The Associated Press and Reuters contributed.