If you're interested in becoming an online English teacher, you've probably heard about a popular teaching company called VIPKID. In this honest VIPKID review, I'll let you in on exactly what it's like to work as a teacher for this company.
I've been an English teacher with VIPKID for 3 years now and am here to share my insider information with you.
This first-hand review of VIPKID will cover everything you need to know about this online ESL giant, including what to expect as a VIPKID teacher and how to decide if it's right for you.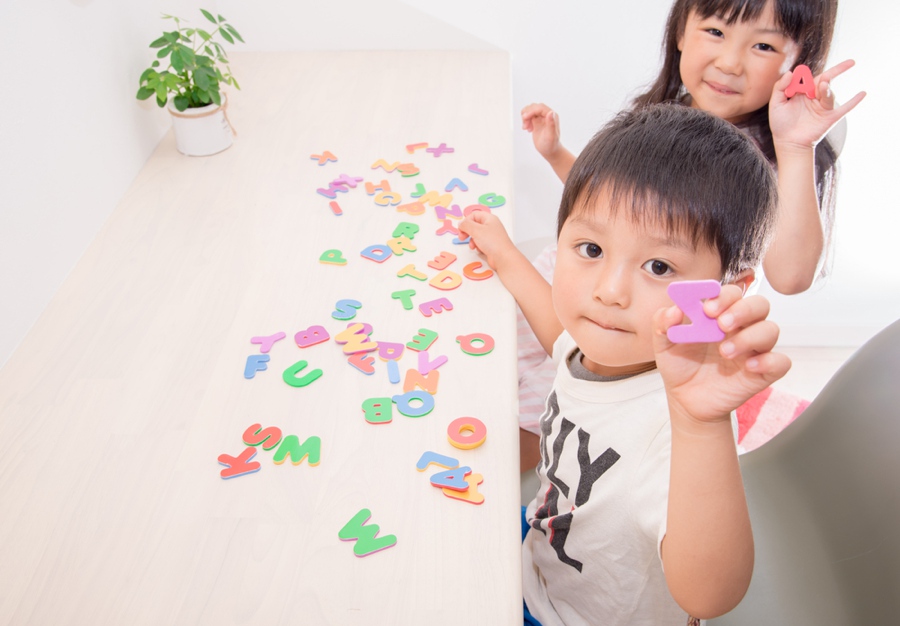 Let's get started! Here's my in-depth review of what it's like working as a VIPKID teacher.
Update 2021: In 2020, VIPKID slowed down on hiring teachers. But, the demand is high again and they are looking to hire as many English teachers as possible. Read more in this VIPKID review and submit your application to teach!
About VIPKID
Created in 2013, VIPKID is one of the largest and most established online English companies in the industry. They are based in China and focus on offering English lessons to Chinese children between the ages of 4 and 12.
Classes are one-on-one and students learn a curriculum designed to match a North American elementary education. This means that teachers will cover science, math, and social studies topics in addition to English grammar, reading and speaking.
VIPKID lessons are 25 minutes long and are taught through the VIPKID App. Teachers can enter the classroom and hold classes on a desktop computer, laptop, or tablet as long as there is a strong internet connection.
Teachers are paid between $14 – $22/hour and scheduling is extremely flexible. There are no minimum or maximum working hours each week so you can teach as much or as little as you want. You can also change your schedule each week as needed.
I learned about VIPKID when I was teaching in a traditional classroom back home in the USA. I was interested in remote work and a colleague mentioned that she had been able to earn a few hundred dollars a month teaching English online on the weekends and before school.

As you can imagine, I was intrigued. This was in 2017 and online teaching wasn't as widespread as it is now. The idea that you could actually make decent money teaching online was very new and I worried that it was too good to be true.
Still, my skepticism didn't stop me from signing up once school let out for the summer. It didn't take long for me to become totally hooked on the online teaching lifestyle.
VIPKID has changed a lot since I started in the summer of 2017. I think these changes are for the better. The hiring process has been simplified, the classroom design and functionality has improved drastically, and teachers are more supported than they were back in the day.
☞ SEE ALSO: 10 Things To Know Before Becoming An Online English Teacher
What Are The Requirements To Become a VIPKID Teacher?
Unfortunately, the VIPKID requirements are strict compared to some other online ESL companies. To become a VIPKID teacher, applicants must have the following credentials:
You Must Be From The USA Or Canada
While you can teach classes from anywhere in the world, you must be from the USA or Canada to be hired with VIPKID. As of 2020, VIPKID no longer hires teachers that live in California.
You Must Have A BA Degree Or Higher
Your degree can be in any subject, but you'll need to have at least a BA or higher to get hired by VIPKID. They are strict about this requirement and will require verification of your degree later in the hiring process. No degree? No problem! Check out this list of 10 companies that will still hire you.
1+ Year Experience Working With Children Is Required
Many types of experience will fit this requirement. If you have experience coaching, mentoring, babysitting, teaching, or tutoring, that counts toward your year of experience.
While traditional classroom teaching is a plus, it's not a requirement to teach English with VIPKID.
You'll Need a Computer or Tablet With High-Speed Internet.
It makes sense that you'll need reliable internet for a job that takes place online, so this requirement probably doesn't come as a surprise. VIPKID teachers need to have a device for teaching as well as consistent access to the internet.
If possible, the ideal internet speed for teaching online is at least 20 Mbps. I've been able to comfortably teach on around 10 Mbps, but higher speeds are preferable.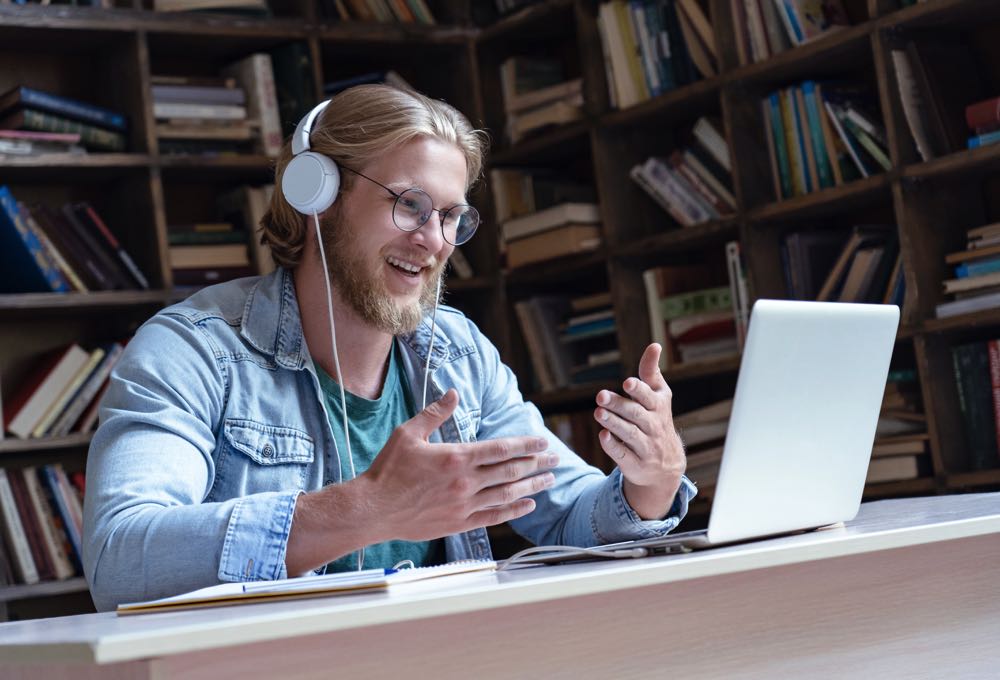 Special Mention: TEFL Certificate
For VIPKID, all teachers will need either a TEFL certification or a professional teaching license. But don't worry, you can still apply even if you don't have one of these qualifications.
If you don't have a TEFL certificate or teaching license, VIPKID will require that you take an in-house TEFL course while you complete your onboarding. This course is free and provided within the VIPKID platform.
As far as I know, this special VIPKID TEFL course won't transfer to other teaching jobs, but it is enough for you to meet the VIPKID requirements and start teaching on their platform.
If you do have your TEFL, your odds of being hired over someone who doesn't are much greater. Find out about the best 7 TEFL Certificates on the market here.
How Do I Apply To VIPKID?
The VIPKID hiring process used to be a deterrent for prospective teachers because it was so complicated. In recent months, however, VIPKID has overhauled its hiring process and now it's much simpler.
Here's what you'll need to do to start teaching with VIPKID!
Create an Account. This is free and easy and is done online and you'll need to make sure you meet the criteria above.
Complete an Interview Demo Lesson. You can do a short "Smart Demo Lesson" on your phone, record yourself teaching a Demo Lesson.
Review Materials in the Certification Center. After passing the interview, you'll have access to the Certification Center on the VIPKID website. You will find information about teaching, helpful resources, and the lessons you'll need to teach in your mock classes.
Complete your Mock Classes. Mock classes take place with an existing VIPKID teacher called a mock class mentor. You'll teach a mini-lesson and your mentor will give you feedback. Most people will do their mock classes 2-3 times before moving on. Think of this as your teacher training!
Upload your documents. You'll fill out your payment information and upload the required documents. Getting your documents verified can take a few days, so in the meantime, you can work on the final step…
Complete your Profile. This is where you'll create your teacher bio, welcome video, and upload profile pictures.
Click Here To Apply For a VIPKID Teaching Position
What Materials Do I Need For VIPKID?
Many VIPKID reviews don't mention the materials that you'll need. When I first started teaching with VIPKID, I used some flashcards I bought at the dollar store and dog toys as props. These days, my teaching equipment is a bit more refined!
Teaching Materials And Resources
For this part, you can get creative! While VIPKID does expect you to use some props and classroom decorations, you can be as inventive and unique as you want.
To get started, it's a good idea to find some sort of academic posters, a chalkboard, or decorations to put on the wall behind you while you teach. This gives your little computer thumbnail more of a classroom feel.
For props, you can't go wrong with a set of flashcards and a small dry erase board. You should also have a stuffed animal or puppet to help demonstrate question and answer scenarios to younger students.
You can find these items at dollar stores, teacher supply stores, or on Amazon.
Technology Requirements
You'll need a reasonably new laptop, desktop or tablet for teaching classes. You'll also need a headset with a microphone attachment so that your students don't get distracted by any background noises.
If your computer doesn't have an HD camera (most modern devices have one built-in), you'll need to buy a separate webcam camera so your students can see you clearly.
It's also a good idea to connect your laptop to your internet source via an ethernet cord if you're able to do so. Using an ethernet cord means your connection will be more reliable and ensures a smoother classroom experience.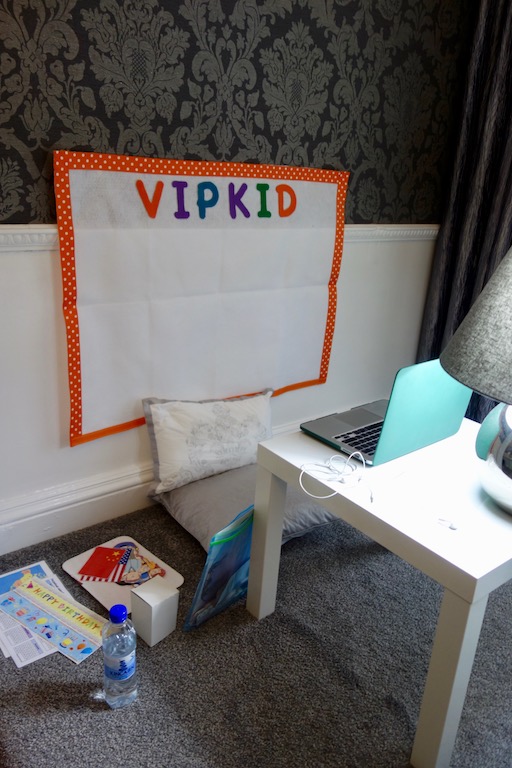 VIPKID Review: My First-Hand Experience
As I mentioned at the start of this VIPKID review, I've been a teacher for 3 years now! Here's a bit about what it's like working as a VIPKID teacher.
My typical day as a VIPKID teacher begins early in the morning. When I'm on the East Coast time zone, the time is opposite for me and my students in China. This means that China's evening is my early morning.
The highest demand for classes is in the afternoons and evenings after kids are home from school, so I'm up well before first light most weekdays.
After getting a cup of coffee and changing into my orange teaching t-shirt, I head to my classroom which is set up in the corner of my bedroom.
How I Prepare For My VIPKID Classes
With VIPKID, you open the time slots you're available to teach in the teacher platform. You can open classes a few weeks in advance or a few days in advance.
Parents can see your availability schedule. Starting about 1-2 weeks in advance, parents can book your time slots for their child. While you'll often see the same students again and again (called regulars), you might also meet new students.
Once a time slot gets booked by a student, I can see the lesson I'll be teaching. This means that I can look over the slides in advance so there are no surprises.
The night before a class, I make sure to review which lessons I have coming up and pull out any props I'll need.
For example, if I'm teaching a class about fruit, I might go to the kitchen and grab a banana so I can use it during the lesson. If I'm teaching a younger student about colors, I'll try to find a few different colored items that I can use.
I'm always amazed by how many teaching props I can find around my home!
I also look through my 2D image props and pull out any pictures that might be useful for the lesson. Some of my most frequently used 2D props are a picture of my family and a world map.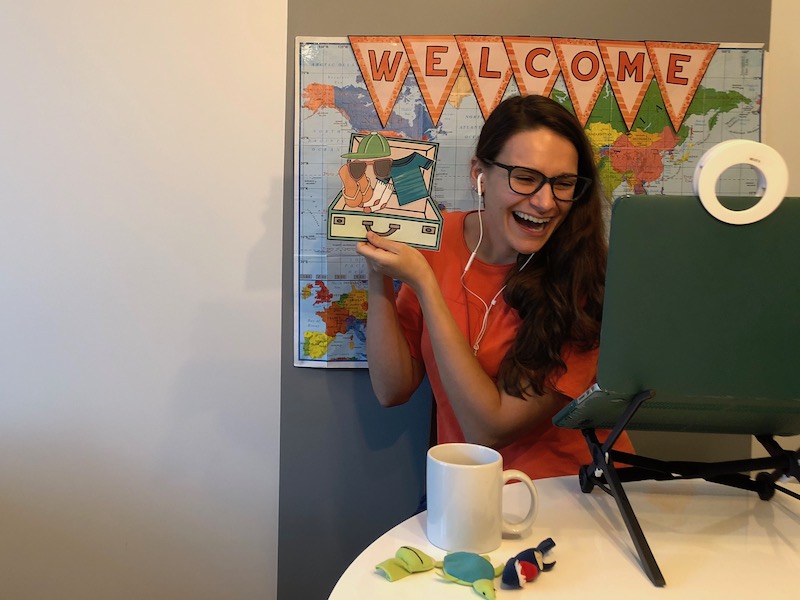 Starting A VIPKID Lesson
About 5 minutes before my first class, I get settled into my desk and connect my ethernet cord to my laptop. Then I launch the VIPKID computer app and click on my bookings tab.
This displays a calendar of all my booked classes, so I can click on the one that's about to start to "enter the classroom."
Once I'm in the classroom, I can see a timer that tells me exactly how long I have until the start time. VIPKID is strict about starting and ending classes on time, so don't be late!
With 10 seconds until class time, I turn on my webcam and unmute my microphone on my headset. Now I can see my student and the student can see me. It's time to begin class.
If I see a regular, I'll ask them about their day and chat with them about the topics we discussed last time before introducing the new material.
If I see a new student, I'll focus on more "get to know you" information like asking them their name, how old they are, where they're from, and, depending on their speaking level, their interests.
After saying hello and building that initial connection, we begin the lesson.
VIPKID Review: What Is A Lesson Like?
Lessons in VIPKID often follow the same format. They all start with a warm-up activity where the student practices reading or conversation skills. With younger students, this could be a song or matching game. Find more English classroom games here.
Then I introduce new material to the student and we practice it together. After practicing together, I encourage the student to practice independently. There will be activities to evaluate student understanding throughout the lesson.
Remember that VIPKID will provide the entire lesson for teachers so you don't have to worry about creating a curriculum. Teachers are expected to teach the material and encourage the student to participate independently.
At the end of the 25-minute lesson, my student and I will say goodbye. If I have another lesson scheduled in the next time slot, I have about 5 minutes between classes to go to the bathroom, refresh my coffee, stretch, and start on class feedback.
If you don't have any more classes booked, congratulations, you're almost done for the day.
Usually, I teach between six and eight classes (3-4 hours) in one sitting. It took me several months of teaching to build up to this point, so when you're starting out, give yourself plenty of breaks. Overall, I love having my workday finished around the same time most people are just getting started.
What Is Class Feedback?
VIPKID requires that you submit class feedback after every lesson you teach. This feedback goes to the parents of the student and is a way for you to tell them how their child is doing.
I usually write about a paragraph for my lesson feedback. I thank the parent for choosing my class and explain briefly what we learned during the lesson. Then I name at least three things the student did well and suggest an area to review independently. I end the paragraph by saying that I hope to see the student again soon.
Writing feedback will get faster with time, but to help remember what happened in each lesson, I'd recommend keeping a document open on your computer where you can jot down notes during or immediately after the class.
Class feedback must be submitted no later than 12 hours after the class in order to receive full pay, so don't procrastinate!
VIPKID Review: The Pros
Almost 100,000 teachers have made VIPKID their classroom of choice, and there's a good reason. The following VIPKID Pros are a big part of why so many teachers rave about this online ESL company. See Also: 15 Pros and Cons Of Being An Online English Teacher.
Totally Remote Work
One of the biggest pros of VIPKID is that your work is entirely online. You can work from home, from your friend's house, or while travelling. As long as you have reliable internet, you're good to go!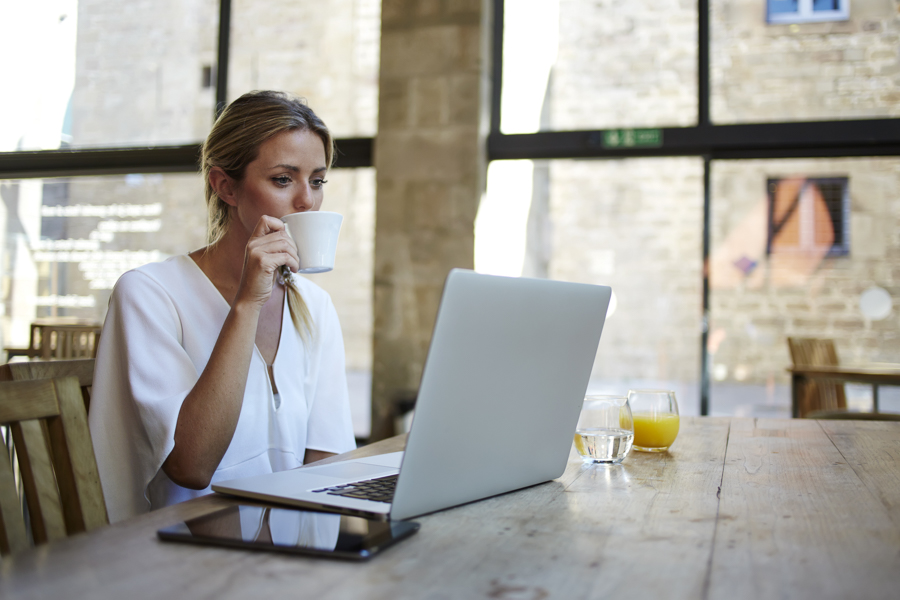 Schedule Flexibility
While some other companies require that you commit to the same schedule week to week, VIPKID offers more schedule flexibility. You can change your schedule as much as you want and there are no minimum or maximum teaching hours.
This means that on busy weeks, you don't have to teach at all if you don't want to. On the flip side, if you wanted to make more money, you could easily open more classes.
Engaged Teacher Community
Even though you won't physically spend much time with other VIPKID teachers, there is a large and active online community. VIPKID has a welcoming presence on social media and it's easy to find other teachers to connect with.
VIPKID also does a good job of keeping teachers up to date on company happenings via a weekly email newsletter. They listen to and address teacher concerns, making adjustments when necessary.
Online Teaching Is Fun
One of the reasons I became invested in VIPKID so quickly was because the classes were really fun! Even now after teaching thousands of lessons, I start to miss it if I take time off.
I have made bonds with several of my regular students and seen them grow over time. I love helping students build confidence in their language skills and many of my students have told me that they look forward to their VIPKID classes all week.
Students usually participate in VIPKID as an extracurricular activity. Classes are more focused on conversation skills than assessment.
Since the children usually take classes from the comfort of their homes, students are relaxed and excited to show their teachers their toys, pets, and siblings. I get to learn more about Chinese culture while teaching some of the sweetest students, which is definitely a win in my book!
VIPKID Review: The Cons
As with any job, some parts of the gig are less than ideal and it wouldn't be a legitimate review of VIPKID if I didn't include the downsides of the job. The following aspects of VIPKID can be challenging for some teachers.
Different Time Zones Means Early Working Hours
If you hate early mornings, you'll probably have a hard time making a substantial income with VIPKID if you're teaching from North America. Because the highest demand for classes is in the evenings, China time, most teachers get bookings during the early hours of the morning in North America.
Now, if you plan to teach with VIPKID in addition to a traditional day job, this could be a huge perk! I have friends with 9-5 jobs who do VIPKID for a few hours in the mornings to make extra money. For them, the early hours are perfect.
If you're working as a VIPKID teacher while you're travelling or living in Europe, Australia, or Asia, you'll have no issues with the time changes!
But if you're living in North America and are looking for something to totally replace your day job, you might have a hard time unless you're okay with early morning work sessions.
Across social media, one of the most common complaints of being a VIPKID teacher is the lack of "normal" working hours. Read more about what it's like to live in the USA as an online English teacher with VIPKID.
Slow Start-Up Process
Even though it's improved recently, VIPKID still has a lengthy hiring process. New applicants should allow at least two weeks from the time they fill out the application to the end of the hiring process.
After being hired, some teachers have trouble getting their first bookings right away. It's important to be very flexible at the beginning and open as many high-demand time slots as possible.
After you've taught some classes and built up good reviews, it gets easier. Be patient and remember that most teachers start getting consistently booked around 2-3 months in.
Strict Cancellation Policies
If you open a time slot and it gets booked by a parent, canceling that spot could have consequences. Teachers should avoid too many class cancelations.
VIPKID teachers get six class cancelations per six month period. The maximum they will count against you in a single day is two cancelations. For example, if an emergency comes up and you have to cancel ten classes in one day, you would only have two cancelations count toward your six month total.
If you are sick, you'll need to provide a doctor's note. If your internet or power goes out, you'll need to provide documentation of the outage from the provider. Other family emergencies will also require documentation for them not to count against your total.
Teacher Burnout Is A Real Thing
Another common complaint from VIPKID teachers is feeling burned out. VIPKID classes are short but require a lot of energy. For those 25 minutes in the classroom, one student has your full attention and teachers must be engaged at all times.
Especially when you're first starting out, it's easy to over-do it and get burned out. To avoid this feeling, make sure to:
Schedule breaks between classes. A good starting point is to teach two classes back to back, then take a 30-minute break. As you build your teaching stamina, you can teach more classes in a row with fewer breaks
Take a day off every week. I know it's tempting to schedule yourself to the max when you're first starting out, but having one morning to sleep in each week does wonders for preventing teacher burnout.
Get different VIPKID certification levels. In the teacher portal, you have the option to add different levels and class types. This will allow you to teach a greater variety of lessons so you won't get bored teaching the same ones again and again.
In my opinion, the pros far outweigh the cons!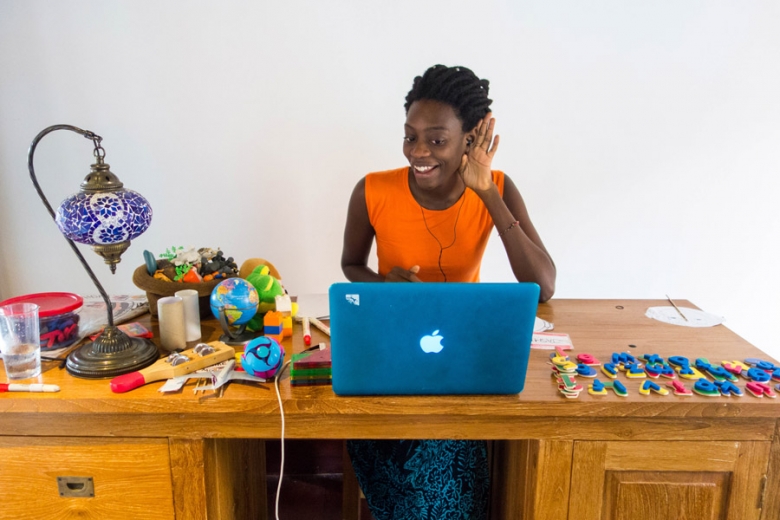 Is VIPKID A Good Fit For You?
I hope my VIPKID review gave you a good idea of what to expect from working as a teacher with this company.
VIPKID gave me the best of both worlds. I had the freedom to make my own schedule and work from home or on the road, but I also got to stay in the teaching profession.
VIPKID teachers should be excited to work with children and care about helping others learn the English language. They should also be comfortable working with the scheduling demands of students in China.
If you're from the USA or Canada, hold a BA degree, enjoy teaching children, and are looking for a flexible online job doing meaningful work, VIPKID could be a great fit for you! Click here to apply today.
Like This Article? Pin it!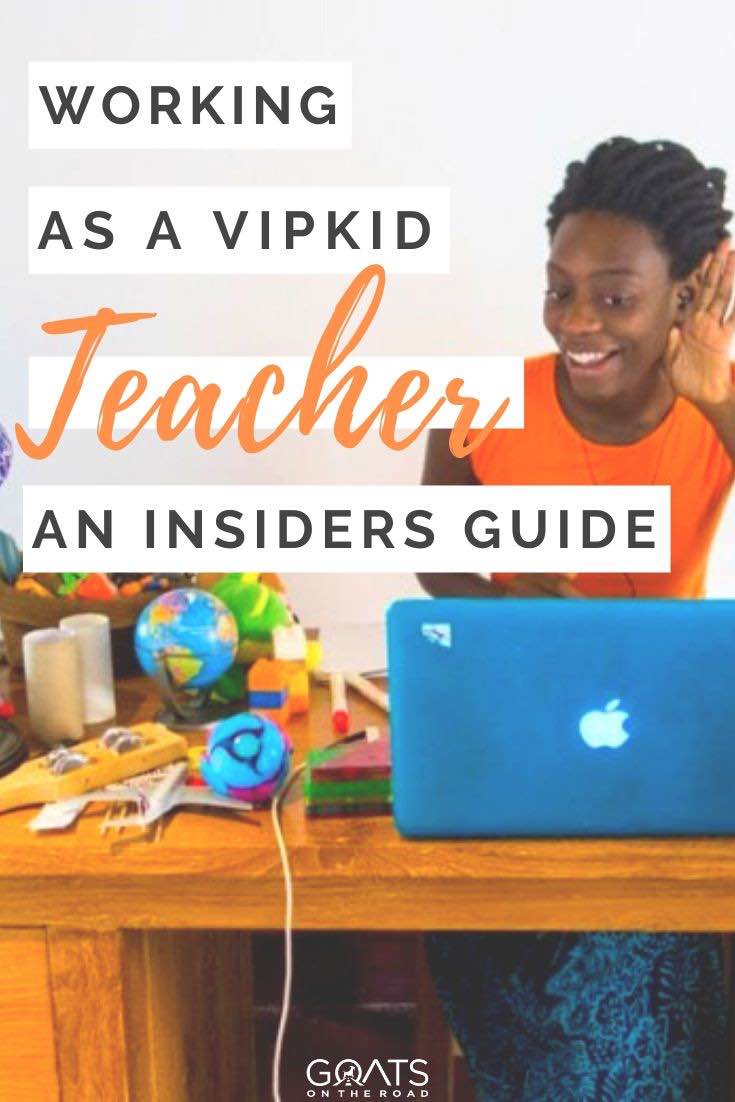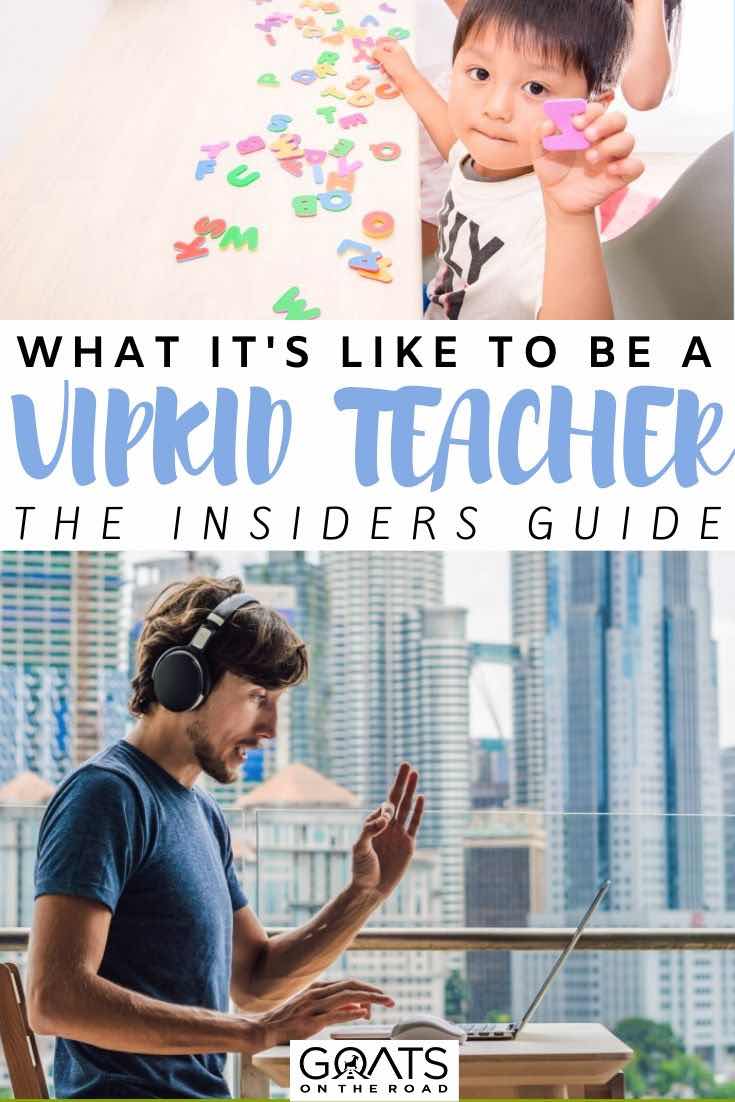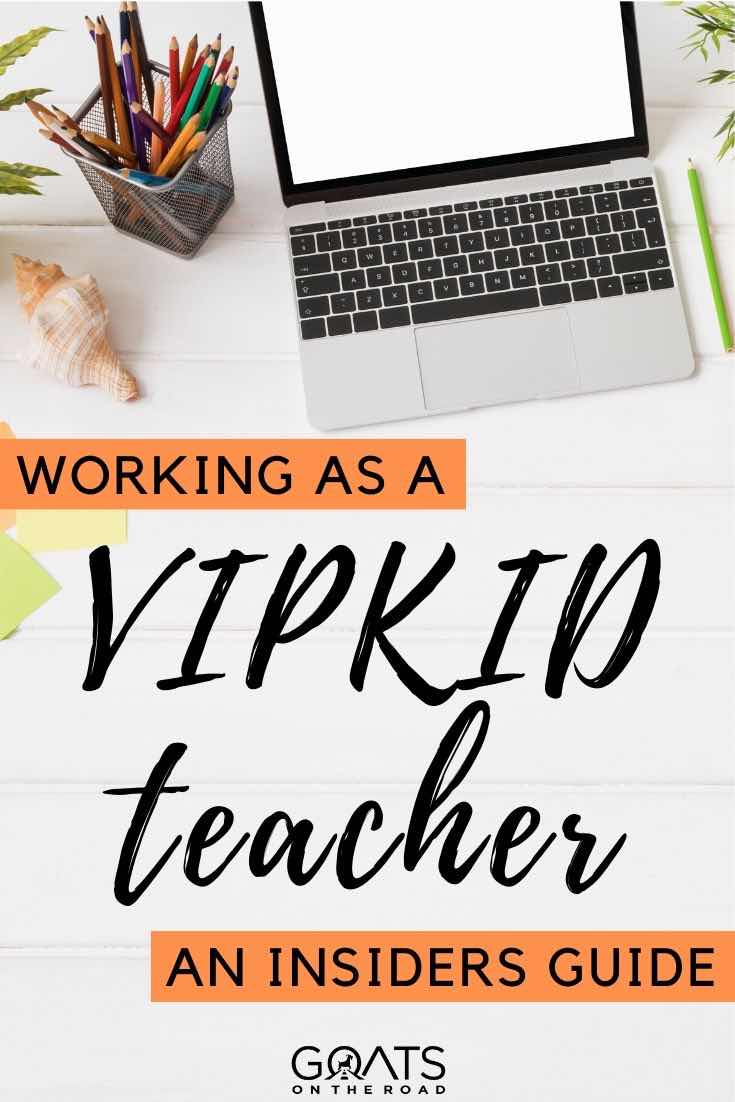 The post VIPKID Review: An Honest Report From A Teacher appeared first on Goats On The Road.