Since 2020, a multitude of people have started working from home, whether they're freelancers, small business owners, or even salaried workers. If you're wondering how to stay healthy while working from home, you're in the right place.
I started working remotely almost a year ago now. I've worked as a social media manager, graphic designer, article writer, web designer, and virtual assistant with over 30 clients. I have managed to try out many ideas for staying healthy while working at home.
In this list, you'll find ideas that I've personally tried.
Once I implemented some of these strategies and tips, my productivity, mental health, and physical health improved drastically.
Here's how to stay healthy while working from home this year.
About Remote Work and Working From Home
While remote working has been around for a while, it recently grew in popularity in the last year.
Whether you're a digital nomad, freelancer, online business owner, or if you work for an employer at a salary job — many companies are 100% remote and international. These days, it's easier than ever for people to work from the comfort of their own home.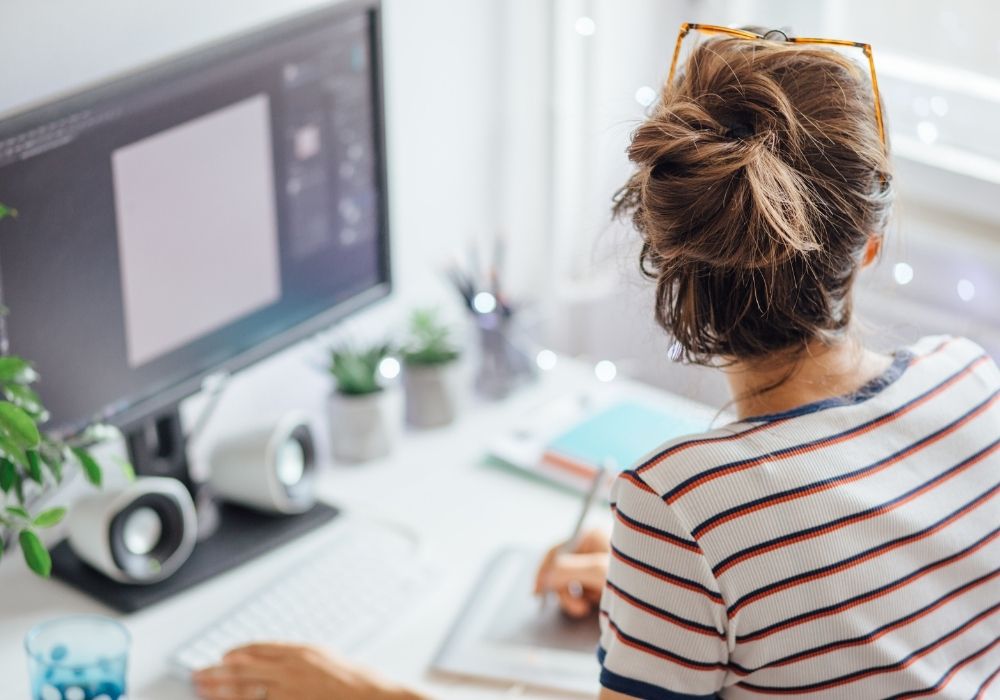 Working remotely has a wide variety of benefits, including wearing more comfortable clothes, being with your children and family more often, and not having to deal with rush hour.
☞ Looking for remote work jobs? Check out FlexJobs which is the leading online job board. Use promo code NOMAD to receive 30% off the (low) monthly fee. Click here for more details.
However, it comes with its own set of cons too.
Working from home can be lonely, and it can be challenging to separate work life from home life, making a balance near impossible for some.
It can also be tough to figure out how to stay fit and healthy while working from home, which is why I've put together this list to help you out.
10 Ways To Stay Healthy While Working From Home
Here is a tried and tested list of some of the best tips to stay healthy while working from home. Pick and choose the ones that feel easiest for you to focus on.
1. Meal prep to save time and energy throughout the week
This has been one of my own personal biggest life-savers the past year since I started working from home as a freelancer. My roommate and I specifically take the time to plan all of our meals for the week and then cook them in bulk.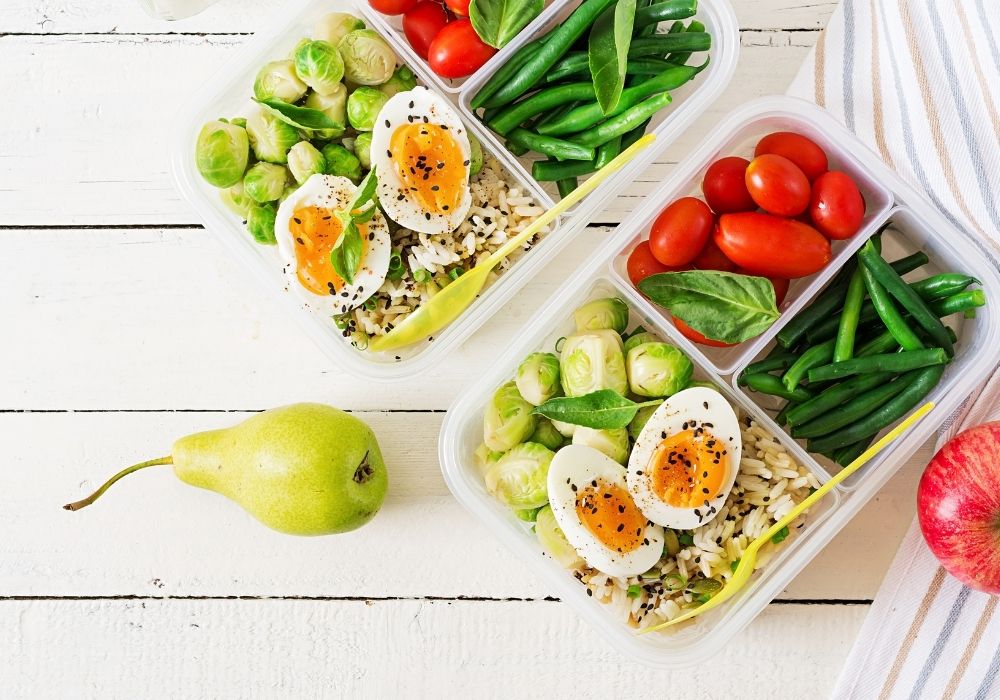 We found a great set of reusable meal prep dishes that we use religiously. As a tip, if you are meal prepping lunches, try to give yourself two options. You won't want to eat the same salad every day for a week… trust me, I've been there.
When I was struggling with how to stay healthy while working from home, I found that I was just grabbing what was quick and easy for my meals, which was usually microwave food. This, in turn, made me feel sluggish and less productive for the rest of the day.
Meal prepping has not only ensured that I eat more nutritious food, but it also leaves me feeling better knowing all the effort and care I put into creating the meal earlier in the week! If you're wondering how to eat healthy while working from home, meal prepping is one of the easiest ways.
2. Use your "rush hour" time to exercise
Utilize the time you would've spent in traffic if you had an in-person job. Since you're working from home, you now have "bonus" time. Whether it's a 30-minute or 1-hour block in the morning and late afternoon, utilize that time to move your body.
Dedicate it strictly to working out, even if that means working out while catching up on your favourite television show. Being active, especially in the morning, wires your brain to focus throughout the day!
3. Have your meals away from all electronics
Here's how to eat healthy while working from home: give your eyes a break and focus on what you're eating instead of munching mindlessly.
This is one of the biggest lessons I've had to teach myself. Don't use your electronics when you're taking your meals… give your eyes a break!
That message from your coworker can wait for a response until you return. Trust me; this is essential for an ideal work/life balance. It can be challenging to do this, so at least take the time to turn your notifications off for Slack or Gmail while you eat.
4. Utilize the time blocking method for your calendar
Time blocking is seriously one of the most overlooked methods of organization and weekly planning. This is one of the best ways to manage your time.
The weeks that I've used time blocking have been the weeks that I've checked the most tasks off my to-do list.
It can be done relatively quickly using the free calendar app on an Apple computer or even just Google Calendar. Schedule out everything from meetings to your designated break times.
Keep in mind while time blocking that no task is too small to include on your calendar. This way, you can get an accurate overview of what your day and the upcoming week looks like.
To take it to the next level, schedule in your designated workout time too! Having it written somewhere holds you accountable.
5. Go on walks whenever you can
This may seem like one of the most straightforward ideas for staying healthy while working from home, but honestly, most people forget to do it. As humans, we need fresh air, and yes, that means you need more than a cracked window by your desk.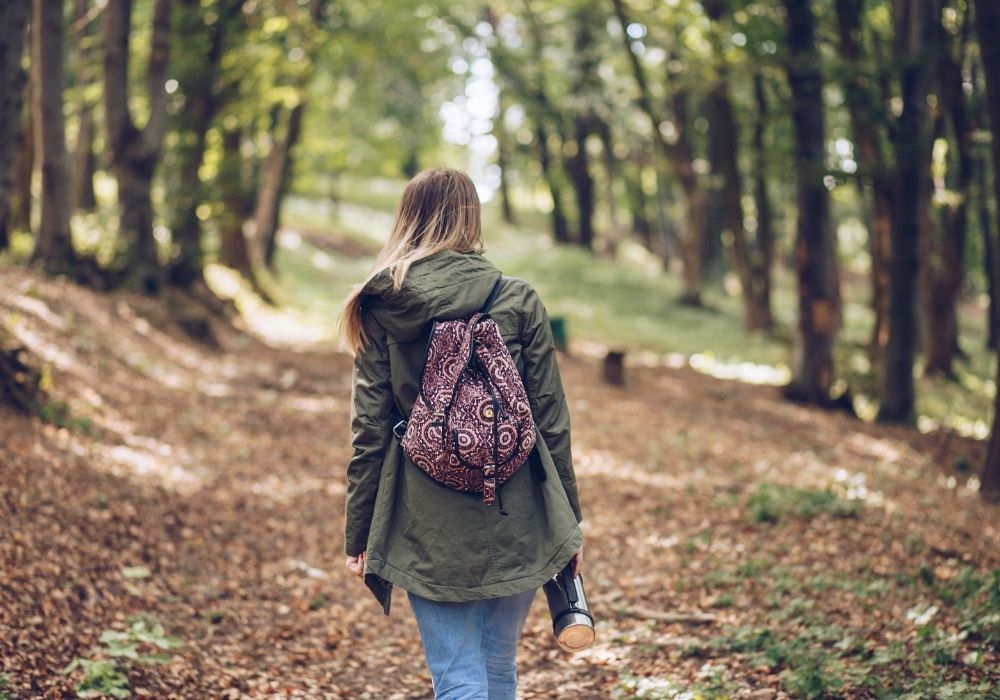 Designate one of your break times to go outside, even if it's just for a quick walk around your block. The fresh air is rejuvenating and can genuinely energize you even more.
There have been days where I've forgotten to go outside to get some fresh air, and I've found those were the days that I was most miserable.
The past few months, I've implemented at least one short walk outside per day, and it's done wonders for my work ethic.
If you're wondering how to stay active while working from home, know that this is one of the most simple yet overlooked ways!
6. Make the time to see family and friends
Spending time with loved ones is especially important if you live alone. Whether it's taking the time to do a quick FaceTime or Zoom call with someone you haven't seen in a while or grabbing a bite to eat with them after work, make sure you take the time to see the ones you love most in life.
When you're with them, be sure to not talk about work to maintain a work/life balance. Instead, talk about life, your hobbies, and what else you've been up to.
As an added challenge, try inviting one of your family members or friends to workout with you at least once a week as an accountability buddy. You're more likely to do something when you've made a set plan with someone else, especially a person you care about.
7. Don't answer work emails during your off time
I believe that this is the most challenging task for absolutely anyone who works from home.
Often, I'll get an email around 9 p.m., and I'll feel the need to answer it because it will only take a few minutes. However, anything work-related doesn't deserve my (or your) attention when you're relaxing in the evening.
Don't forget that we work to live, and not the other way around.
If you're wondering how to stay healthy while working from home, consider either deleting your work email from your email app or setting notifications to not pop up as part of your wind-down ritual when you log off work for the day.
8. Create an area strictly for work only
It's tough to get work done if you're doing it from your favourite couch or even from your bed. This is because your body knows this area as a spot for you to relax. The more you try to work in said spot, the more difficulty you'll start to have to relax in them!
To stop this from happening, designate a particular part of your house or apartment strictly for working. This can be as elaborate as a whole desk setup, or it might even be a spot at your dining room table.
If you can afford it, you might even consider getting a membership at a local shared office location/co-working space. Having a work-only space is pertinent for your mental health.
9. Invest in a comfortable chair
If you had told me six months ago that I'd buy myself a $350 chair for my remote work setup, I would've laughed in your face. Yet, the more I sat in my cheap $40 chair that I'd had for years, the more tired and loathsome I became.
Invest in a comfortable chair for when you work if you can afford to. If you own your own business or if you're a freelancer, you can even write this off on your taxes as a business expense.
Having a comfortable chair will allow you to be a bit more energetic throughout the day and won't strain your body as much, which is excellent for physical health.
10. Get dressed for the day as if you were working in-person
This tip might seem silly, but it can make a huge difference. Try not to go to work while wearing your favourite pajamas or leggings if you can help it.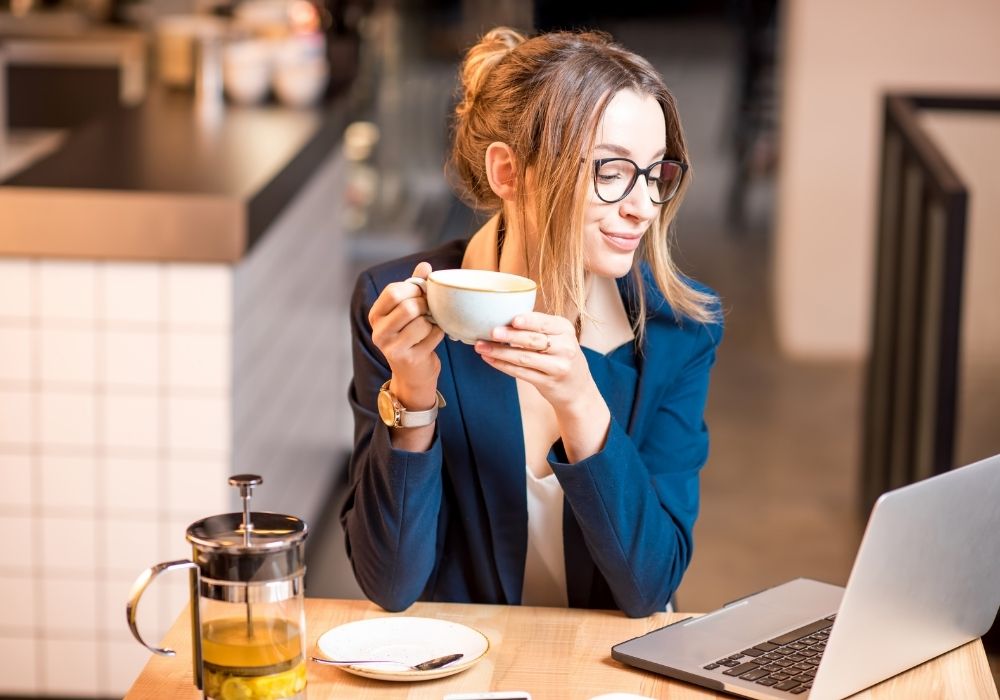 Your workout gear should strictly be for active activities, not working from home. This one can be hard to break out of, but you'll feel a lot more professional and ready to work if you dress like you're going to work.
Dressing for work can also be pertinent for mental health and maintaining a healthy work/life balance. The second that your workday is over, feel free to switch back into your comfiest clothes!
Looking for more Freelance articles?
5 Best Programs To Help Stay Fit and Healthy While Working at Home
Since working from home for the past year, I've found that there are tons of great programs out there to help you stay active while working from home. Here are some of my favourites.
1. Nike Training Club
I've been a user of Nike Training Club for at least six years now. What I love about it is that the membership is entirely free! If you're wondering how to stay active while working from home, this is hands-down one of the easiest ways.
Plus, a lot of the workouts don't require any equipment whatsoever. All you need is yourself and a space in your house or apartment.
The app also tracks your progress so you can see how active you've been over a set period. When you first set up your account, be sure to be honest about your current fitness levels because the app will make a suggested workout plan for you.
2. Peloton App
Do you have an old, dusty stationary bike sitting around your house? Or maybe you've been meaning to learn yoga for quite some time now?
Here's the solution: get the Peloton app. Many people think that to use Peloton's services, they need an actual Peloton bike, but that's not the case.
Their app and digital membership is only $12.99 a month and includes yoga lessons, stationary bike routines, and more. You'll have every type of workout imaginable right at your fingertips for an affordable price.
3. Pomodoro Method
This is another free program that so many remote workers swear by. Keep in mind that using the Pomodoro Method is easier for self-employed individuals or those who can create their own schedule.
With this method, you'll work in 25-minute sprints. After each sprint, you'll reward yourself with a 5-minute break.
If you're time blocking, this method will be extremely beneficial to you!
4. Pinterest
I've gotten nearly all of my recipes for meal prepping specifically from Pinterest. Just use the handy-dandy search bar and type in "meal prep recipes."
It's pretty easy to fall into a dark hole searching through all the recipes, but it can be quite rewarding with some of the foods you get to try. If you know there's a particular meal that you're in the mood for that week, then search that!
Remember to store all your favourite recipe pins on a board so that you can easily access them again at a later date. If you don't, it might be impossible to find them again.
5. Spotify
This might seem a bit silly to include, but listening to music can boost productivity while working and exercising.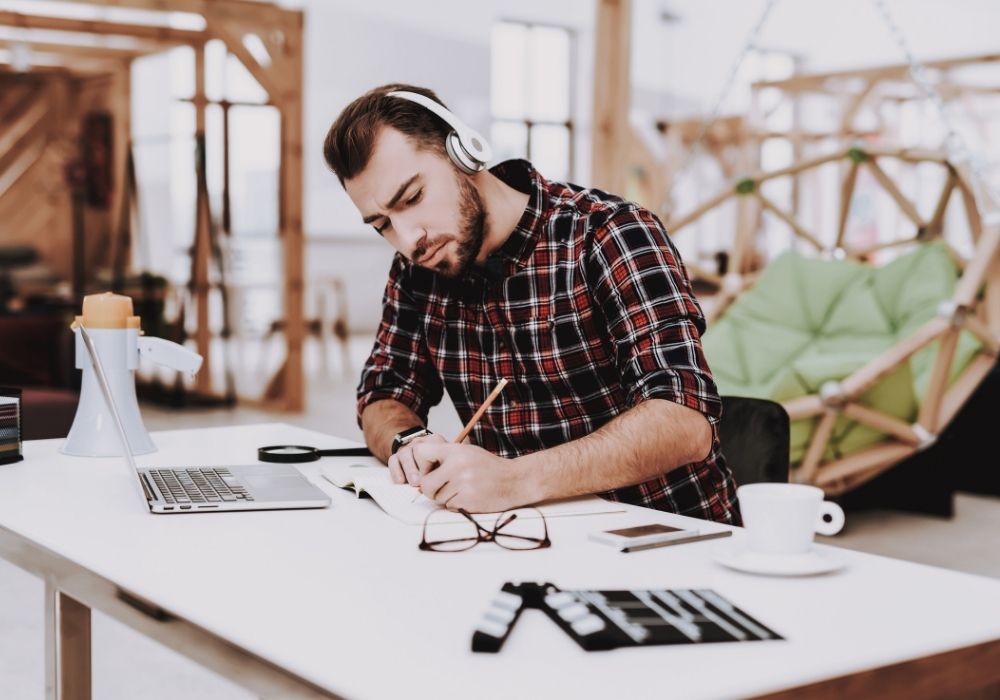 If you're not a music person, then take advantage of Spotify's podcast section. There are tons of podcasts, so you can find something to listen to no matter your interests.
While ad-free Spotify does require you to purchase a subscription, there's also a free version if you don't mind commercial breaks.
Now you know how to stay healthy while working from home!
Getting yourself on a schedule and into a routine can be quite tricky at first as a remote worker, but it will start to feel like second nature over time. So, what are you waiting for? Start applying these tips for staying healthy while working from home and enjoy a better work/life balance.
The post How To Stay Healthy While Working From Home appeared first on Goats On The Road.