In this complete guide, you'll learn what it's like to live in Playa del Carmen, Mexico as a digital nomad.
Located on the Yucatan Peninsula, with the Caribbean Sea at its shores, Playa del Carmen is one of the top places to visit in Mexico. Not only is it a beautiful destination, but it's also one of the best digital nomad cities around.
I've been a digital nomad since 2012, having lived in some pretty amazing destinations geared towards remote workers. Playa del Carmen has been my temporary home for six months now, and it checks all the boxes.
Learn more about living in Playa del Carmen as a digital nomad in this detailed guide.
About Living in Playa del Carmen
This once sleepy fishing village is now firmly planted on the map. It's a top tourist destination for those coming for a week or just a couple of days. It's also a top spot for expats to live, and for digital nomads to put down some temporary roots.
There are numerous things to see and do in Playa del Carmen. There really is something for everyone.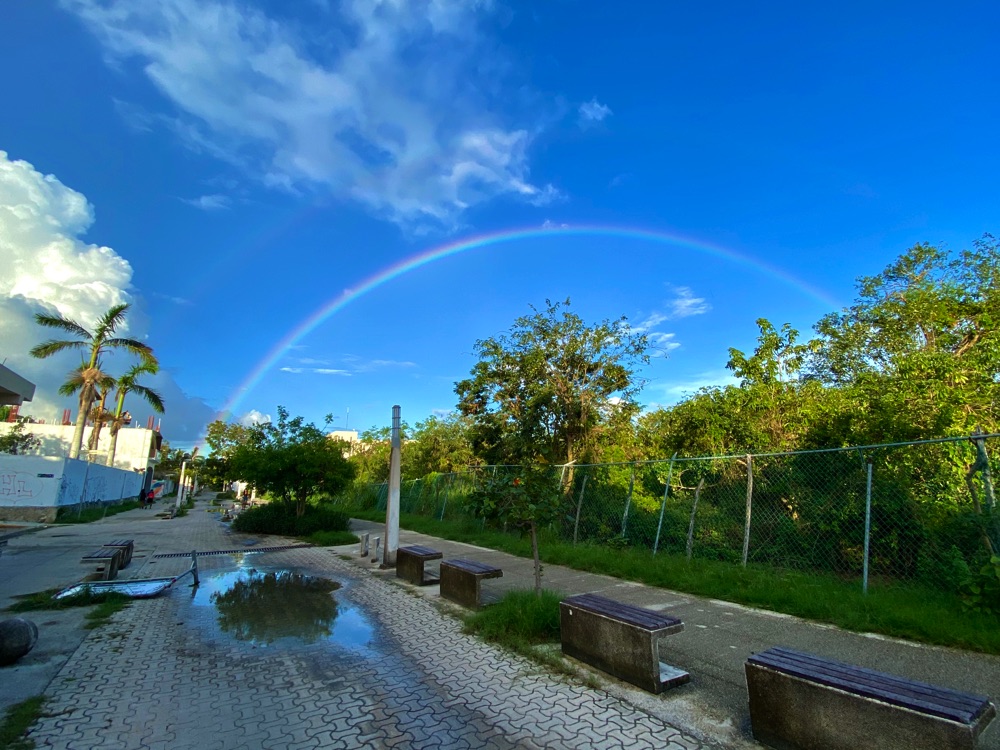 This modern city has become a popular destination for remote workers. Nick and I have been living in Playa del Carmen for close to 6 months now and will be extending our stay.
Living in Playa del Carmen gives you the option to work at a restaurant by the sea, or on a lounge chair next to a rooftop pool. If you prefer, you can open your laptop in a cafe, a co-working space, or in your apartment.
At first, I wasn't sure if I would like living here (Playa is known for being a party place), but with numerous amenities, great restaurants, day-trips galore, and excellent quality of life, Playa del Carmen is a place that has grown on me and now I don't want to leave.
Playa del Carmen for Digital Nomads
There's a reason this city is popular for remote workers. Life in Playa del Carmen, Mexico is pretty good for a digital nomad!
One minute you're working, the next you're cycling to a beach, going SUP'ing, or devouring tacos. The wifi is pretty solid and is very fast (some of the fastest we've experienced, more on that below).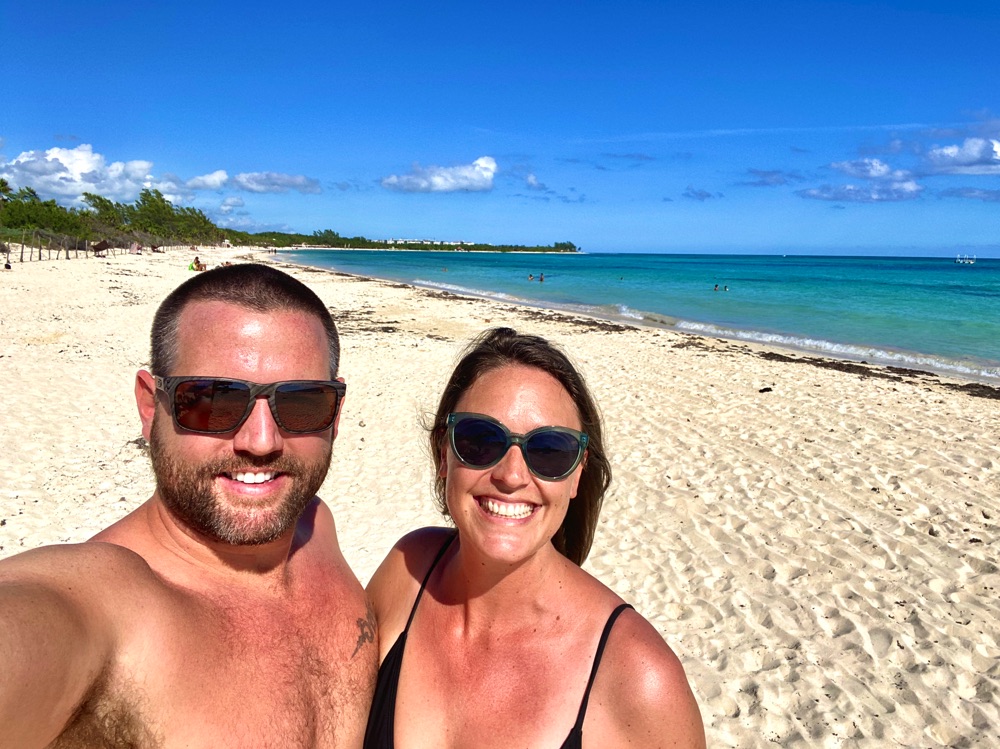 Playa del Carmen is flat which makes getting around by foot or bike super easy, but if you want, taxis are readily available and are cheap.
For flights, Cancun is the main airport in the area, which is just a 45-minute drive north of Playa. You can find direct flights to Canada, the USA, the UK, and many destinations in South America, which just adds to the convenience of Playa del Carmen.
Not only is the quality of life and access to other parts of the world a plus, but there are many other amenities available.
You'll find delivery service from Uber Eats, groceries can be dropped at your door using Rappi, and Amazon Mexico offers "prime" shipping.
On top of all of this, there are some great gyms, yoga studios, and community events that you can join — beach cleanups, dog walking, game nights, etc.
The digital nomad community is strong in Playa del Carmen.
Is Playa del Carmen Safe?
Playa del Carmen is safe for tourists, expats, and digital nomads — for the most part.
I say "for the most part" because things can and do happen here, but if keep your wits about you, aren't into the drug scene, and are minding your own business, you will be fine.
This is one of the most common things people want to know before going anywhere in the world. I want to get this topic out of the way at the start of this article so we can move on to all of the amazing things that Playa del Carmen has to offer digital nomads!
We've had no issues concerning our safety whatsoever. In my opinion, there are really just a few things to keep in mind when it comes to keeping safe in Playa.
Here are some tips for staying safe in Playa del Carmen.
Taking Taxis
Uber isn't available in Playa, so you will need to get around by bicycle, colectivo, car, taxi, or foot. While some people complain about the taxi drivers being scam artists here and ripping off foreigners, we've had nothing but positive experiences.
All of the drivers have been kind and we've had some great conversations with them.
If you have the number of a driver that you trust, WhatsApp him ahead of time to come and pick you up. If you're a woman, there's an all-female fleet as well (ask your Airbnb host or landlord for the latest WhatsApp number).
We always flag down a taxi (even when I'm out by myself) and agree to a price before getting in. The price for pretty much anywhere in Centro is 35 or 40 pesos, but as a non-Mexican, you'll most likely have to pay around 50 pesos ($2.50) to go anywhere.
The taxis that are parked at places like Walmart and Mega will charge tourists more than locals — around 70 pesos.
The reality is, 70 pesos equals $3.50. Is it really worth arguing over, or walking with full bags of groceries to prove a point? Probably not. Get in and get on with your day.
Top Tip: Ladies, a great idea anywhere in the world is to send someone your live location by WhatsApp when you get into a taxi by yourself. That way, they can track where you're going. I do this when I'm out without Nick and it makes us both feel more comfortable. Find a Friend is another good option.
Drugs and Alcohol
Again, as with everywhere, if you're into the late-night bar scene or are looking to buy drugs, you'll most likely find trouble. Trouble with the police, Cartel, or other residents of Playa.
I won't say much on this topic other than to avoid drugs (purchasing and using), keep an eye on your drink when you're at a bar (spiking of drinks happens) and don't get so inebriated that you lose your bearings, or make a scene. It also helps if you go out with a group of friends.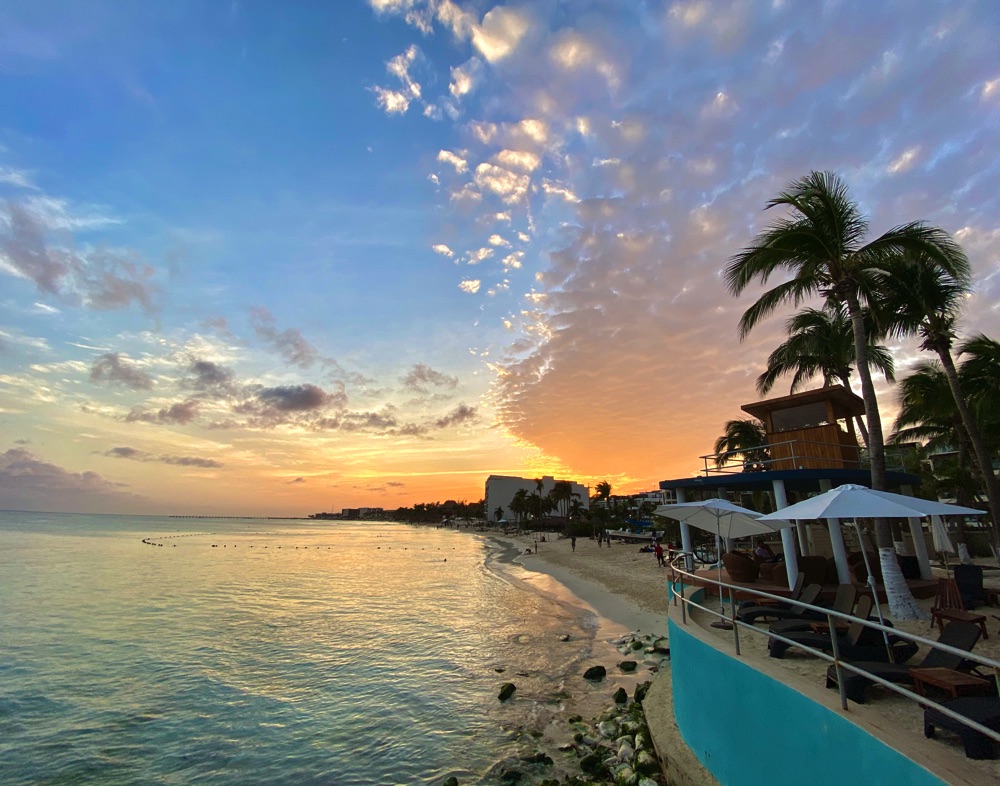 Driving and Sidewalks
This may sound funny, but the traffic and sidewalks can really have an effect on your overall safety while living in Playa del Carmen.
Pedestrians do not have the right of way here. Always look both ways when crossing the road — even on a one-way street. Make sure to watch out for random holes, broken cement, and water grates/manholes on the streets and sidewalks.
Use Common Sense
As with anywhere else in the world, the usual common sense applies here.
Don't walk alone late at night down dark streets. Don't carry your passport and a wallet full of cash. Don't flash your valuables (having your phone out for photos and maps is fine).
Watch for drive-by snatching of purses and phones — wear a waist pouch or a purse that crosses your body. Don't walk along the beach alone when it's dark.
What Are The Best Areas to Live in Playa?
After staying in the city for half a year, I believe that the best areas for digital nomads in Playa del Carmen are North Gonzalo Guerro, Zazil-Ha, or south of Calle 60 in Colosio.
As a general guideline, between 30 Avenida Nte. and the beach is a good place to look. Keep in mind that the popular, pedestrian-only 5th Avenue starts to become quiet from Calle 38 Nte. going north.
You're not coming here to be a tourist, so you won't want to be near all of the crazy partying, touts, loud beach clubs, and shops of Centro — or, maybe you do?
Another option for expats and digital nomads are the gated communities of Playacar (south of Centro), or the gated communities of Punta Estrella, Selva Nova, and Los Olivios (those three are across the highway).
Gonzalo Guerro
This neighbourhood encompasses the area in the map below. When choosing where to live in Playa del Carmen as a digital nomad, I would consider the north end of Gonzalo Guerro — north of Av. Constituyentes, between 30 Avenida and the beach.
Here you'll find lots of restaurants, bars, grocery stores, and accommodation options. You're pretty close to the beach as well.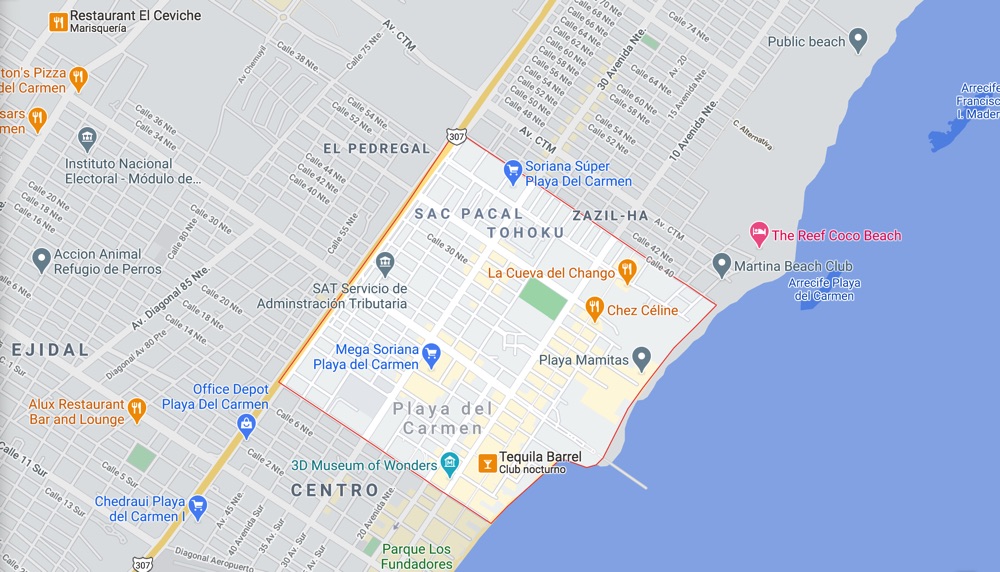 Zazil-Ha
We are staying on the border of Zazil-Ha / Tohoku and Gonzalo Guerro. Around Calle 34 Nte. north to Av. CTM between 25 Avenida Nte. and the beach is my pick for living in Playa del Carmen.
Zazil-Ha is a great neighbourhood as it's quieter than the other parts of Gonzalo Guerro, offers lots of restaurants, and is close to the less developed part of 5th avenue (which is great for walking). Plus, it's just a few steps to the beach.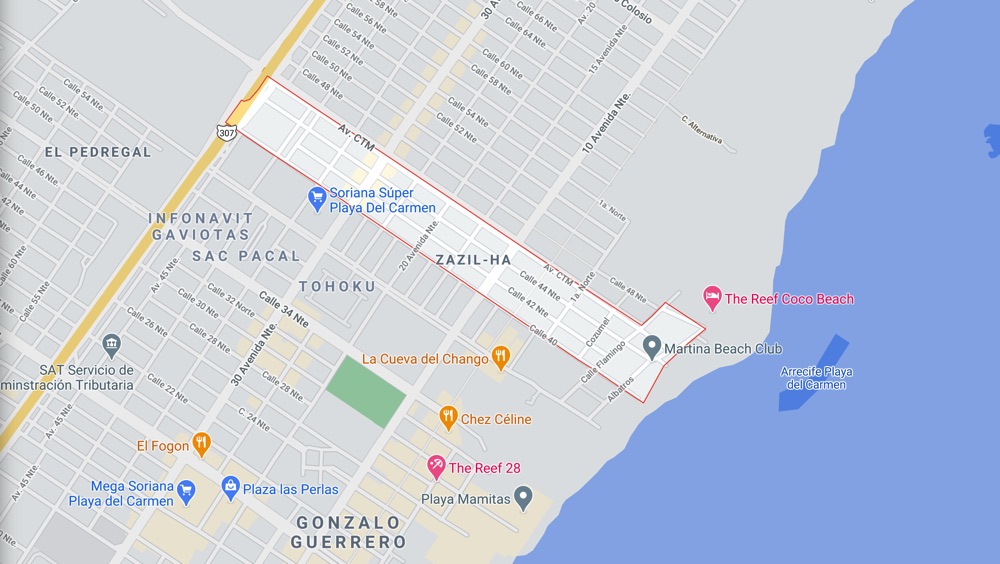 Luis Donaldo Colosio
This area north of Av. CTM is becoming more developed these days. While you'll find more local homes and shops, it's becoming more built up as of late and now there are more hotels popping up.
This is a quiet part of Playa del Carmen, but if you're staying south of Calle 60 Nte., between 15 Avenida Nte. and the beach, then you are still close to many restaurants.
It wouldn't be my top pick for digital nomads in Playa, but more people are starting to stay out this way.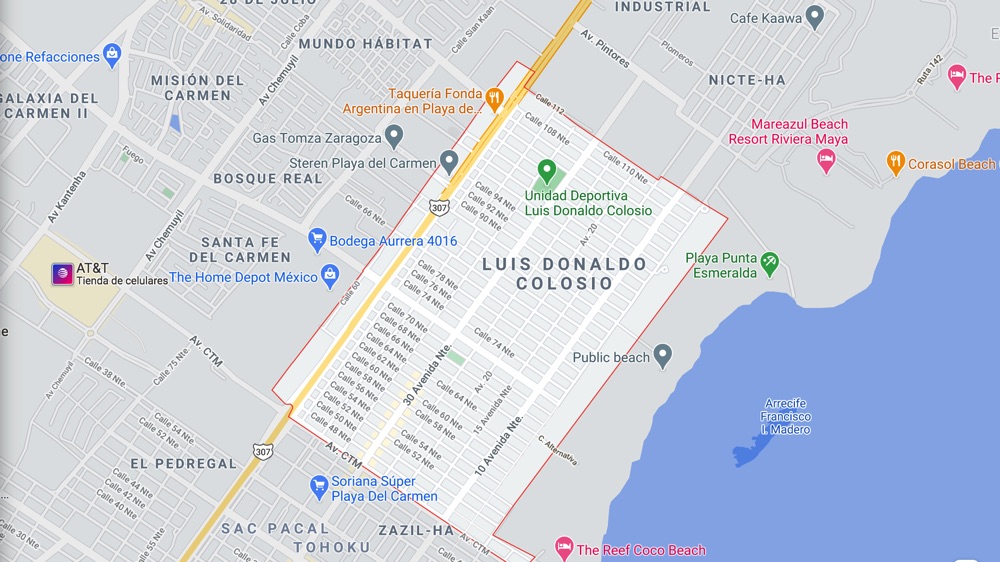 Gated Communities
Many expats who live in Playa del Carmen full-time are in the more high-end, luxury gated community of Playacar which is south of Centro. It's a quiet area and the beach is lovely.
Across the highway in the gated communities of Punta Estrella, Sleva Nova, and Los Olivios, you'll find more locals and long-term expats as well.
As these accommodations are farther away from the beach and the action, you'll spend much less here than you would on the beachside of the highway.
How to Find Apartments in Playa del Carmen
There are numerous ways to find apartments here and numerous accommodation options in Playa. Here are the best ways to sort out your stay:
Airbnb. This is our go-to when it comes to booking accommodation as you can read reviews and check "Superhost", meaning you'll have a landlord/host who will actually help you with any issues that may arise. If you're staying long-term, you can negotiate a price outside of the platform. Search here for Airbnbs in Playa del Carmen.
Facebook Groups: There are numerous groups for expats and digital nomads on Facebook. Have a look at Expats in Playa del Carmen and Expats and Locals in Playa del Carmen and post your request for accommodation.
Walking Around: You can look for "se renta" signs on buildings to see if there is availability.
Keep in mind that many accommodations here offer a pool and a gym. I highly recommend you choose accommodation with those amenities if it's within your budget.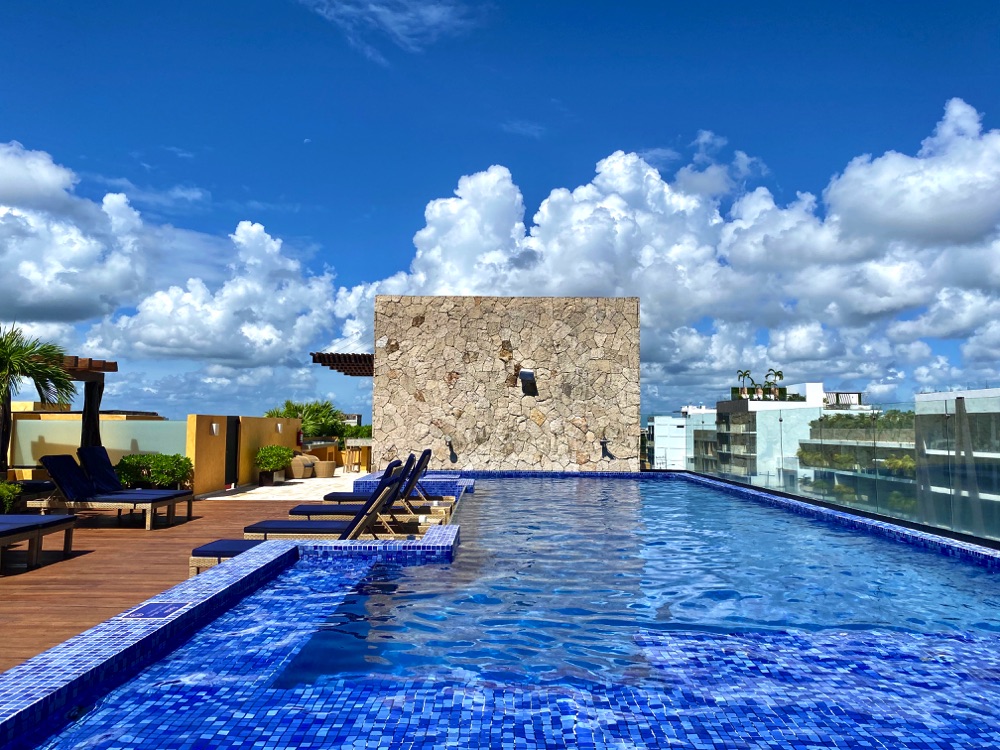 Something else to note is that electricity is quite expensive and is usually charged separately. If you can, try to get it negotiated into your rent. Otherwise, it'll probably cost around $200 more per month if you use the airconditioning.
Unless you're sure about the area you want to stay in, a good option is to spend a week or so here in Playa on the ground and find a neighbourhood that you like the most. Then, book a place for a longer stay. Have a look at Airbnbs in Playa del Carmen here.
WiFi Speed in Playa del Carmen
The fact that the wifi is consistent and fast is one of the biggest draws for digital nomads to live in Playa del Carmen.
I just ran a speed test at our apartment and it clocked in at 88 Mbps download speed and 40 Mbps upload speed. It's technically supposed to be 100 Mbps, but we usually receive around 90 Mbps on average.
The popular Nest co-working space offers 60 Mbps. Wifi isn't a problem in Playa del Carmen.
Co-Working Spaces in Playa del Carmen
There are lots of co-working spaces in Playa del Carmen, you just need to pick one that suits your needs.
A couple of popular co-working options include The Nest ($13/day or $180/month), and Bunker (from $5/day or $165/month).
There aren't really digital nomad cafes in Playa del Carmen as there are in places like Bali, but many people work from Ah Cacao (which has many locations), or Choux Choux. My choice for Ah Cacao would be the one in Zazil-Ha on 5th, which you can find here.
What Is The Cost Of Living in Playa del Carmen?
The cost of living in Playa del Carmen varies depending on your lifestyle and which part of the city you stay in. For a couple, expect to spend around $2,000 – $4,000 per month while living quite comfortably.
The living costs in Playa del Carmen aren't as low as in other parts of Mexico. But, the city does have lots of great beach clubs, fun bars and restaurants, international cuisine, and modern accommodation options.
Apartment Costs in Playa del Carmen
Apartment costs vary. If you stay in centro, or Zazil-Ha, you'll spend around $1,500 – $2,500 per month for a 2-bedroom accommodation.
If you choose to stay across the highway in gated communities like Punta Estrella, Selva Nova, or Los Olivios, you'll spend more like $600 per month.
For the prices above, you can expect a shared pool as well.
Food Costs in Playa del Carmen
If you choose to eat tacos and Mexican food, expect to spend just a couple of dollars per meal.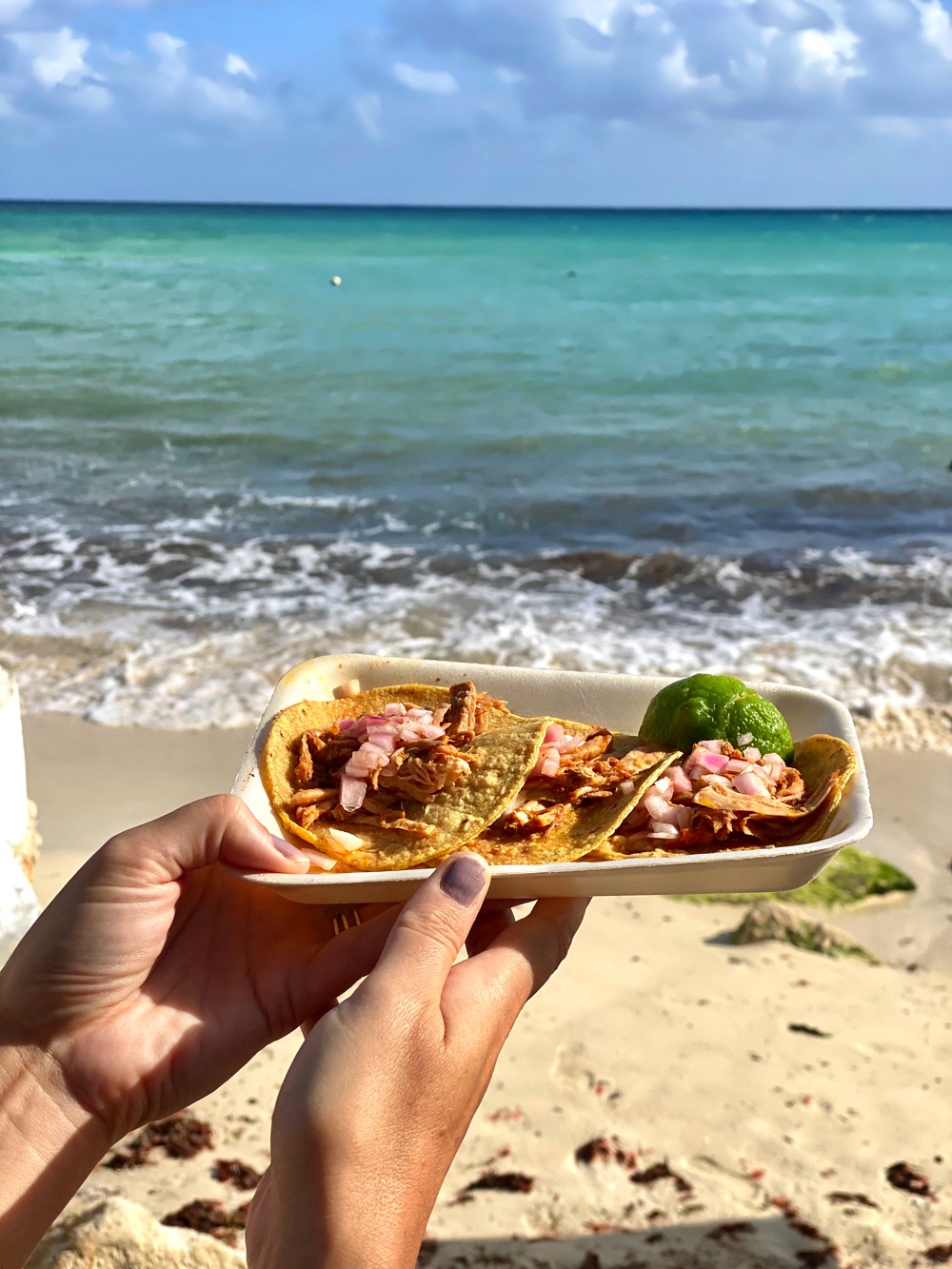 If you'd rather go out for international food (sushi, steak, or pasta), or dine in a cave, your meal will be closer to $15 – $20 per plate. Groceries are very affordable with Walmart, Mega, and Chedraui on offer.
For fresh fruit and vegetables, you'll want to shop at DAC, or at any of the small produce shops.
Beers are around $1, good bottles of wine for $8, and a 20-liter bottle of drinking water for $2.
Transportation Costs in Playa del Carmen
Taxis are very affordable at around 50 pesos ($2.50) pretty much everywhere around Playa, or you can walk or rent a shared bike.
BiciPlaya has 44 bike rental stands around the city. Payment is made in 30-minute intervals and the cost is 98 pesos ($4.50) for a day pass. Click here to learn more about BiciPlaya.
Many accommodations actually include bikes with the rental, so make sure to ask your host or landlord.
Weather in Playa del Carmen
There are two main seasons in Playa del Carmen — dry and wet.
The dry season runs from December – May, while the wet season runs from June – November.
During the dry season, the weather is cooler, the air is dry and there is less rain. The wet season is rainier, more humid and there is a chance of hurricanes as well. We experienced two hurricanes in 2020.
The temperature is between 27 ° Celcius (80 ° F) and 32 ° Celcius (89 ° F) during both seasons, however, it's the humidity that makes the wet season feel much hotter.
Pros and Cons of Living in Playa del Carmen as a Digital Nomad
As with anywhere in the world, while there are many upsides, there are some downsides to living in Playa del Carmen, Mexico. Here are my thoughts.
Pros of Living in Playa del Carmen as a Digital Nomad
It's located on the Caribbean Sea
There are numerous activities and ways to stay fit available (SUP, yoga, Crossfit, pilates, kayaking, running, etc.)
Many great day trips nearby
Excellent scuba diving
The wifi is solid and fast
The city is flat, making walking and cycling easy
Delivery services are available here (Rappi, Uber Eats, Amazon)
Lots of restaurants and bars
High quality of living
Many other digital nomads and entrepreneurs
Cons of Living in Playa del Carmen as a Digital Nomad
There can be sargassum (seaweed) on the beaches
A lack of traditional Mexican culture
Lots of construction going on — constantly
Tourist pricing (if you're not Mexican, you'll typically pay more)
It's more expensive than other digital nomad destinations in Mexico
Cartel activity (although, you're unlikely to encounter any problems)
What is The Visa Situation in Mexico?
Nationals from 69 countries do not require a visa to visit Mexico. Most passport holders are granted 180 days on arrival — which is one of the top reasons why living in Playa del Carmen is so popular. Learn more here.
Conclusion
After basing ourselves in Playa del Carmen, it's safe to say that it's grown to be one of my favourite digital nomad destinations.
I love being able to do a 5-kilometer walk along the beach in the morning, work in the afternoon and head out for dinner and drinks in the evening.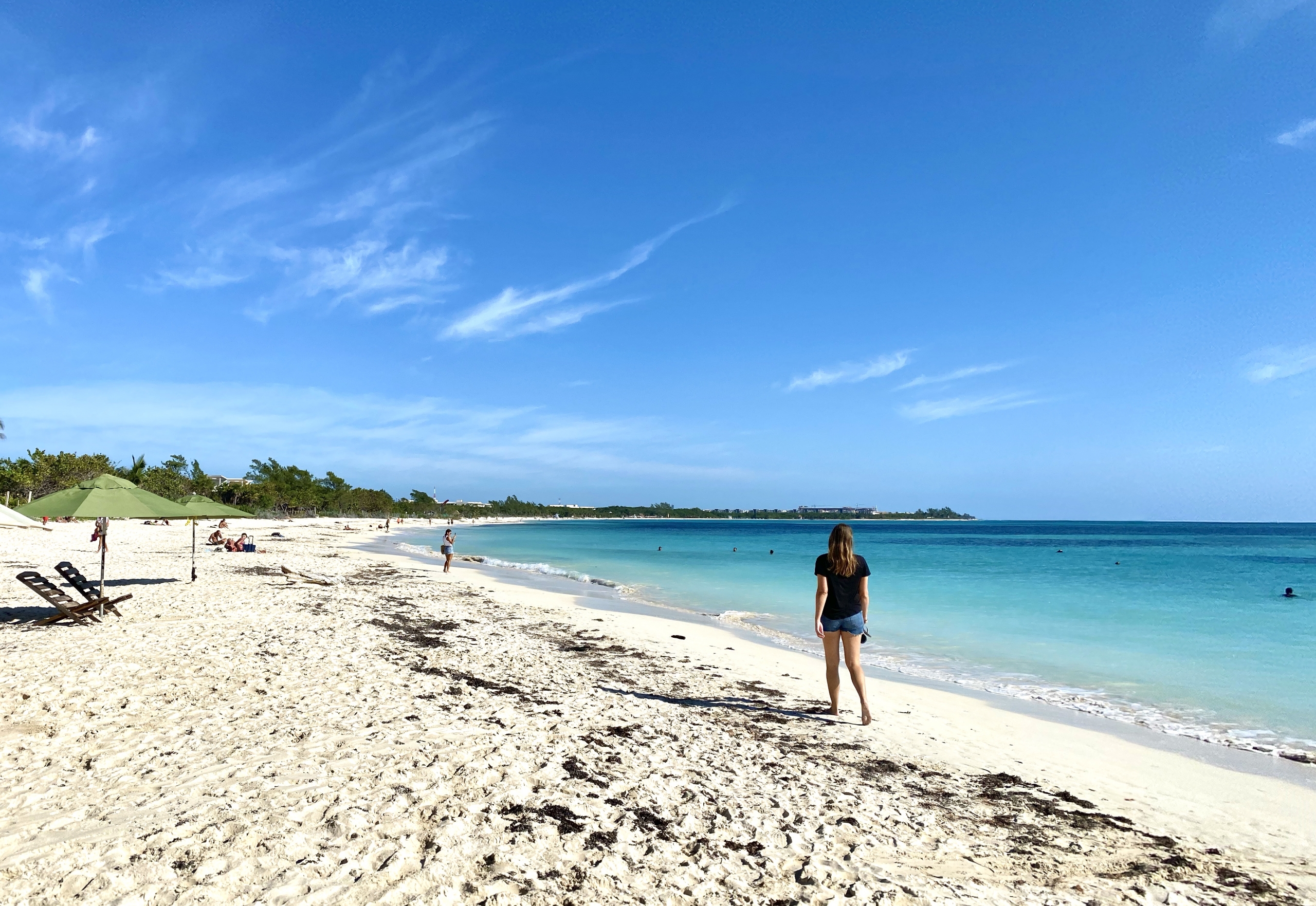 Weekends can be spent away in fun destinations such as Akumal, Tulum, Cancun, Isla Mujeres, Valladolid, Merida, Sian Ka'an, Cozumel, or further afield in Bacalar or even Belize.
Of course, eating ceviche and tacos beachside, and having handmade dumplings, pierogies, and sausages delivered to our door doesn't hurt either!
I hope you found this guide to being a digital nomad in Playa del Carmen useful. If so, please give it a share.
The post Digital Nomad Guide to Living in Playa del Carmen appeared first on Goats On The Road.