Whether you're a photographer or you want to capture beautiful memories to share with the fam, here are the best Las Vegas photo spots.
When people think of Vegas, they mostly think of the Strip, but we're here to show you a side of Vegas tourists rarely see.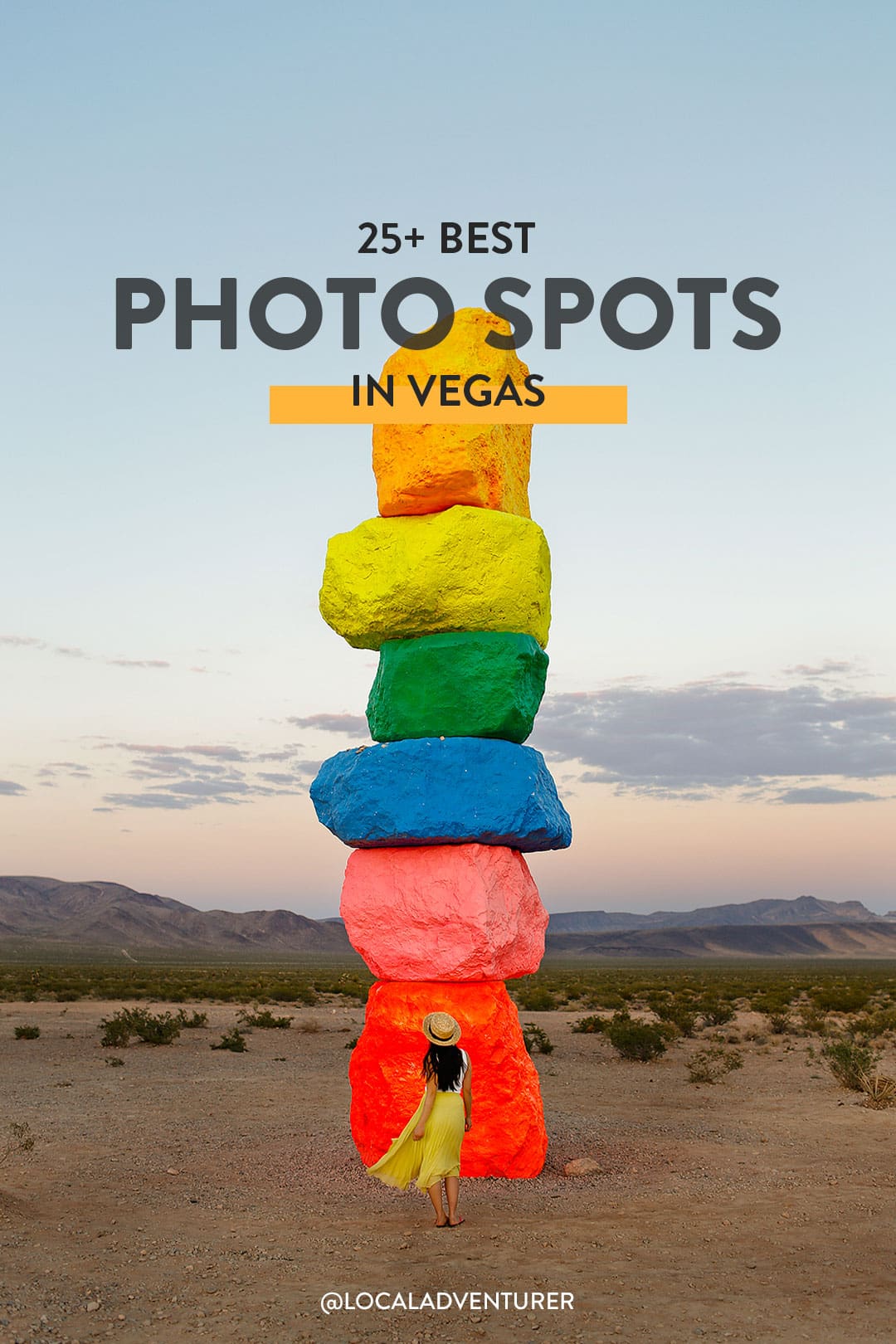 This post may contain affiliate links, where we receive a small commission on sales of the products that are linked at no additional cost to you. All opinions are always our own. Read our full disclosure for more info. Thank you for supporting the brands that make Local Adventurer possible.
Last Updated: March 24, 2021
As a photographer, I'm always scouting for good shooting locations, and we have a lot. On the Strip, you can practically take a trip around the world, and off-Strip, you can explore the budding art scene and beautiful desert landscapes.
We included the popular spots because most people start there, but we're excited to also share some hidden gems.
Las Vegas is constantly building something shiny and new, and in typical Vegas fashion, bigger or more extravagant. It's a surprise to see how much the city has transformed since we last lived here. As we continue to explore different neighborhoods, be sure to check back to see newer photo spots added here.
25+ Best Las Vegas Photo Spots You Shouldn't Miss
Always dressed to the nines. Out of all the casinos on the strip, if you want to see the best seasonal decor, this is where it's at. Plus, it's free to visit.
2. Fashion Show Mall Stairs Mural
This rainbow installation on the strip-side Plaza staircase is called "Colors that Speak to a United City" by Tanya "Miscre8" Watler.
On the northern strip-side staircase, there's another mural inspired by Red Rock Canyon called "Be Kind to Bugs" by Michael Dodson
P.S. I edited out the rails to make the photo look cleaner.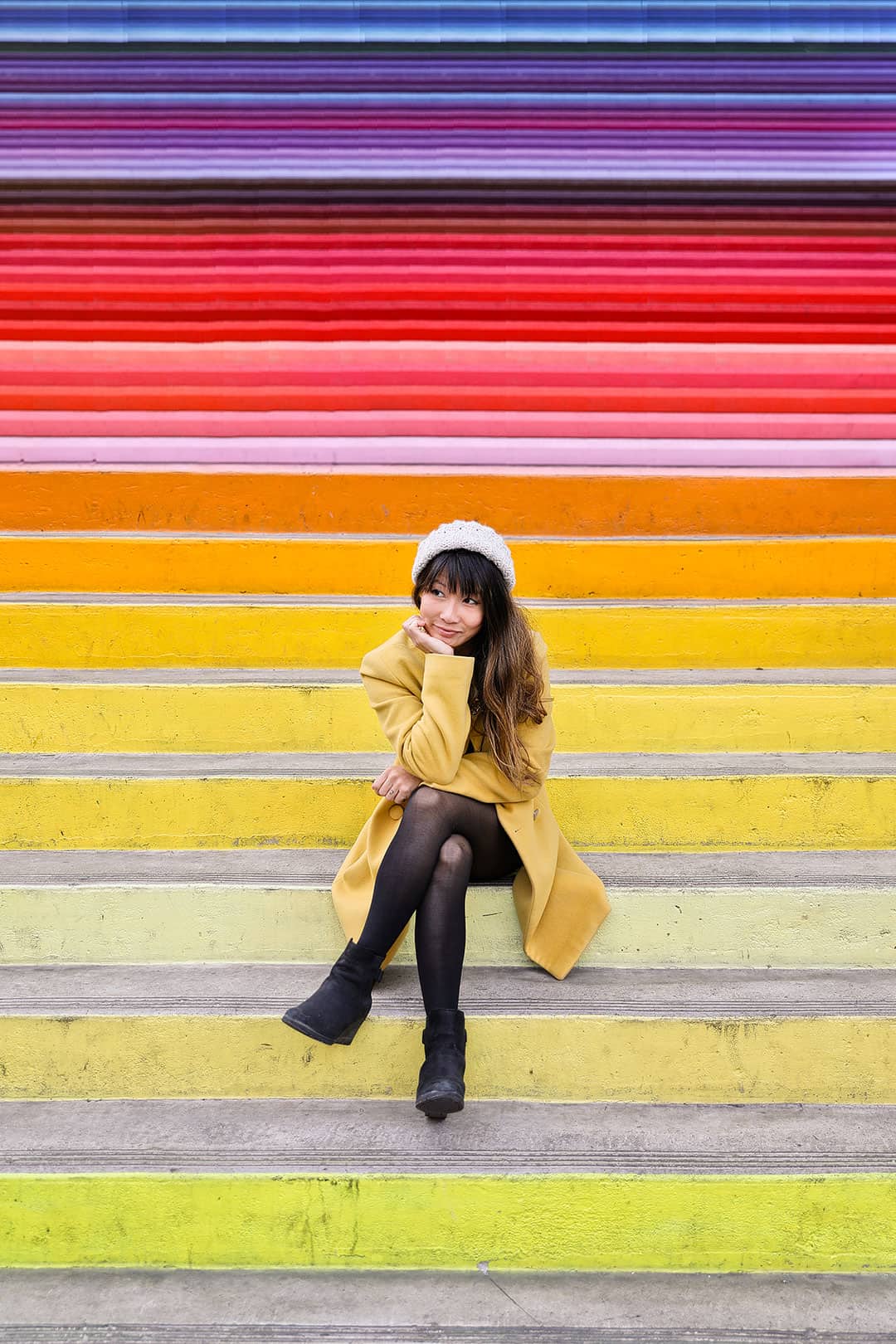 3. Eiffel Tower from the Bellagio
Starting from the Bellagio valet, you can take a walk around the fountains to find the perfect vantage point of the Eiffel Tower from Paris Casino.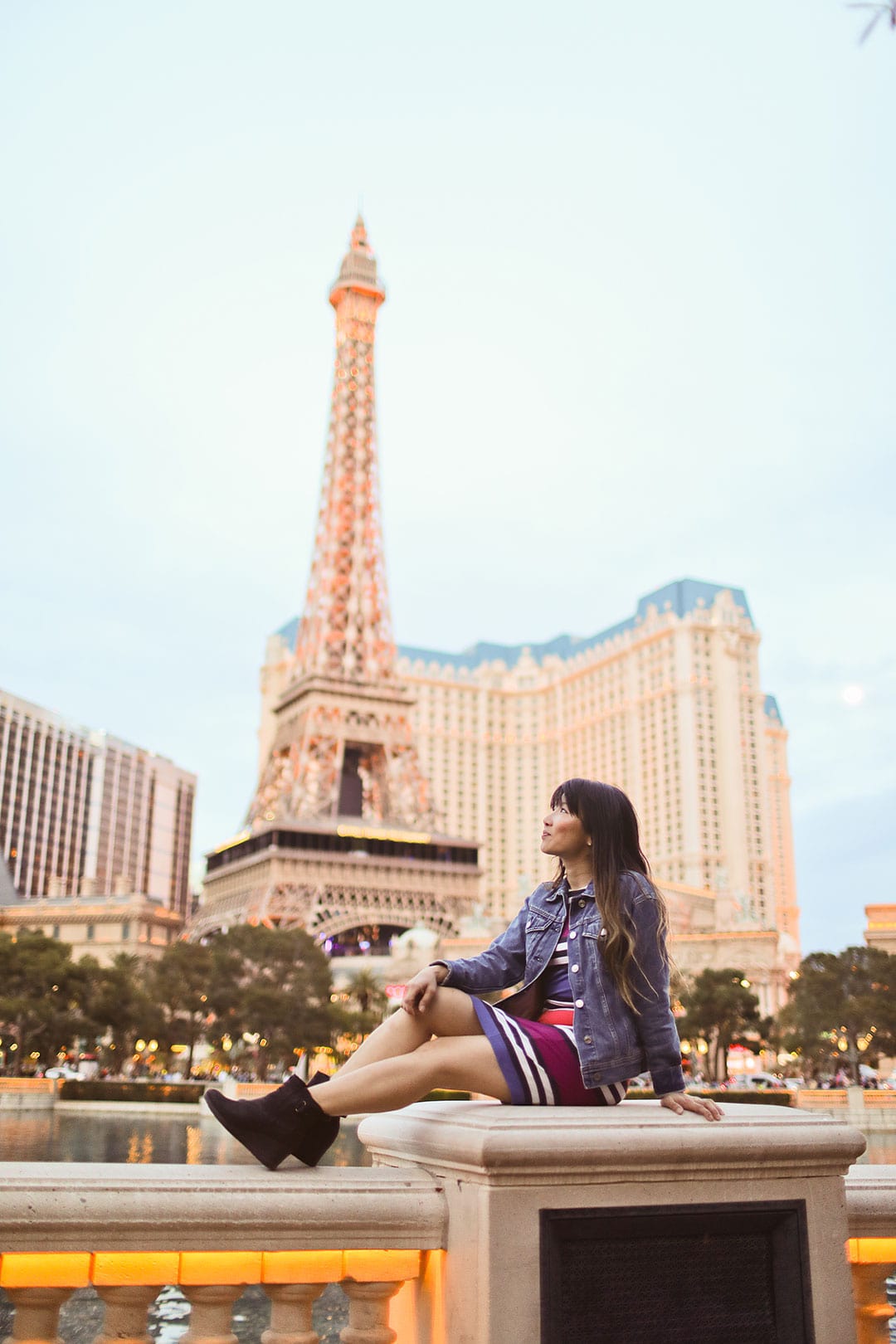 4. Flower Carousel at the Wynn
The Wynn has several photo spots, but our two favorites are the flower carousel and the tree-lined atrium.
If it's your first time in Vegas, you can't leave without taking a photo with the famous Welcome to Fabulous Las Vegas sign.
We took this from our Vegas engagement session back in 2010, but we need to take an updated one. Probably should have gone when all our friends biked down the Strip when it was closed.
Photo Tip: There's always a huge line here, but you can skip the line by taking an alternate angle (not straight on) either from the left or right.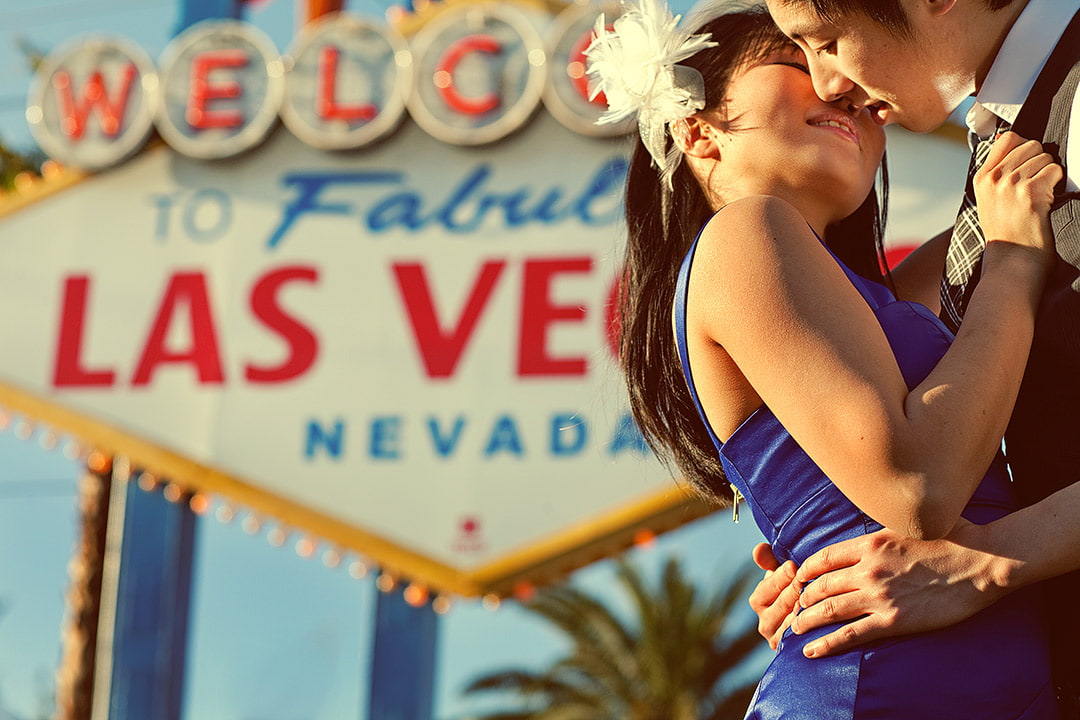 The 30-minute experience on the High Roller gives you 360 views of the city. Even if you don't go up for a ride, there are some photo opps on the LINQ Promenade with it behind you.
Photo Tip: If you're riding, bring a wide-angle lens (at least 16 mm on a full-frame or if your iPhone has the wide-angle, that works too.)
7. Trevi Fountain at Caesar's
Me pretending to throw a coin. Bc why not? There are tons of spots to take photos around the Caesar's Palace property, but the Trevi Fountain is by far the most popular.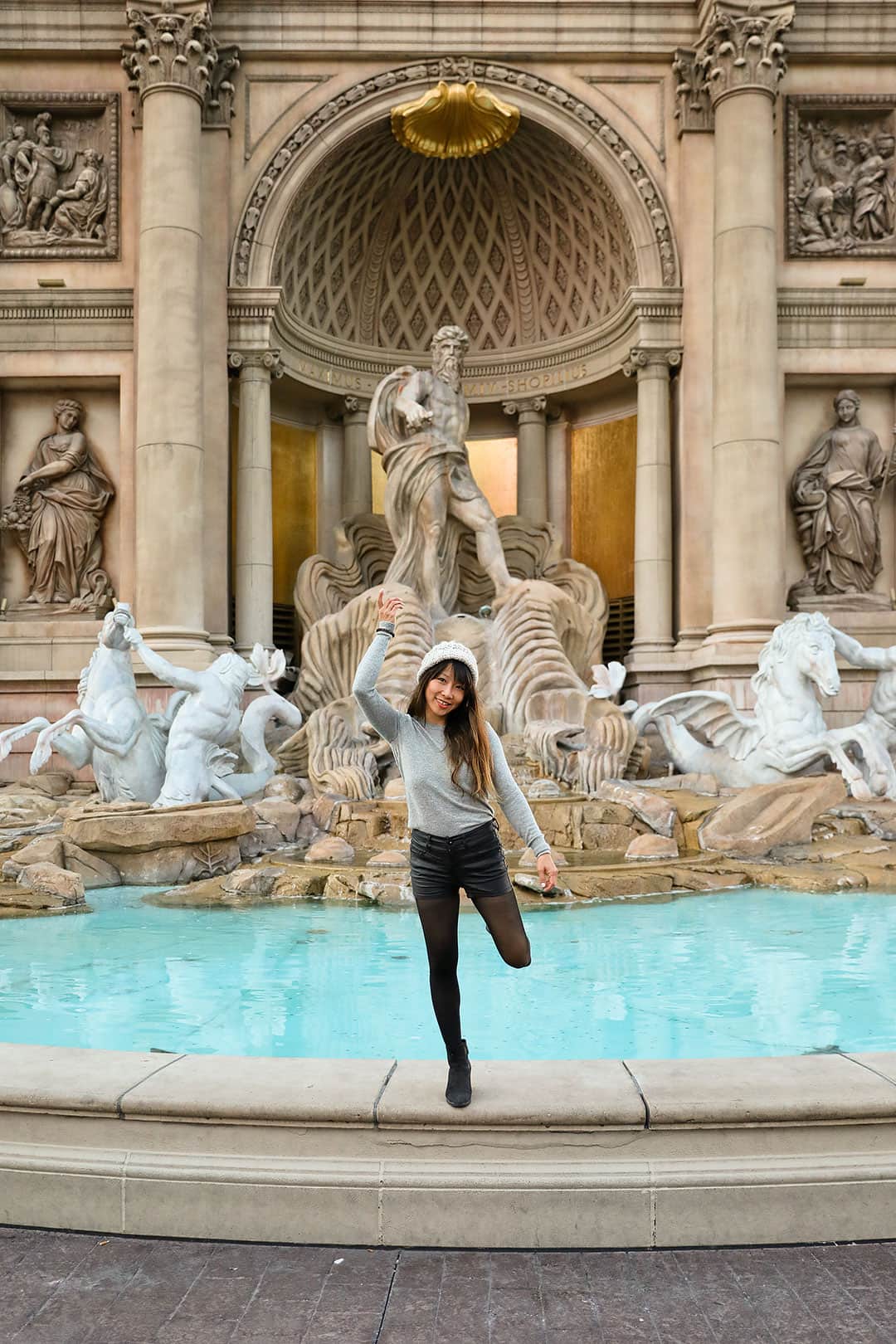 8. James Turrell Exhibit at the Crystals
Although this installation isn't nearly as amazing as Akhob, the one hidden inside Louis Vuitton at the Crystals, it's the only one you can take a photo of or with.
Currently, only the third floor is open to visitors. The tram station area is still closed.
If you get a chance, you should absolutely check out Akhob. It's mesmerizing. They recently reopened (Mar 2021) for weekends only and take reservations by phone (702.730.3150). Space is limited.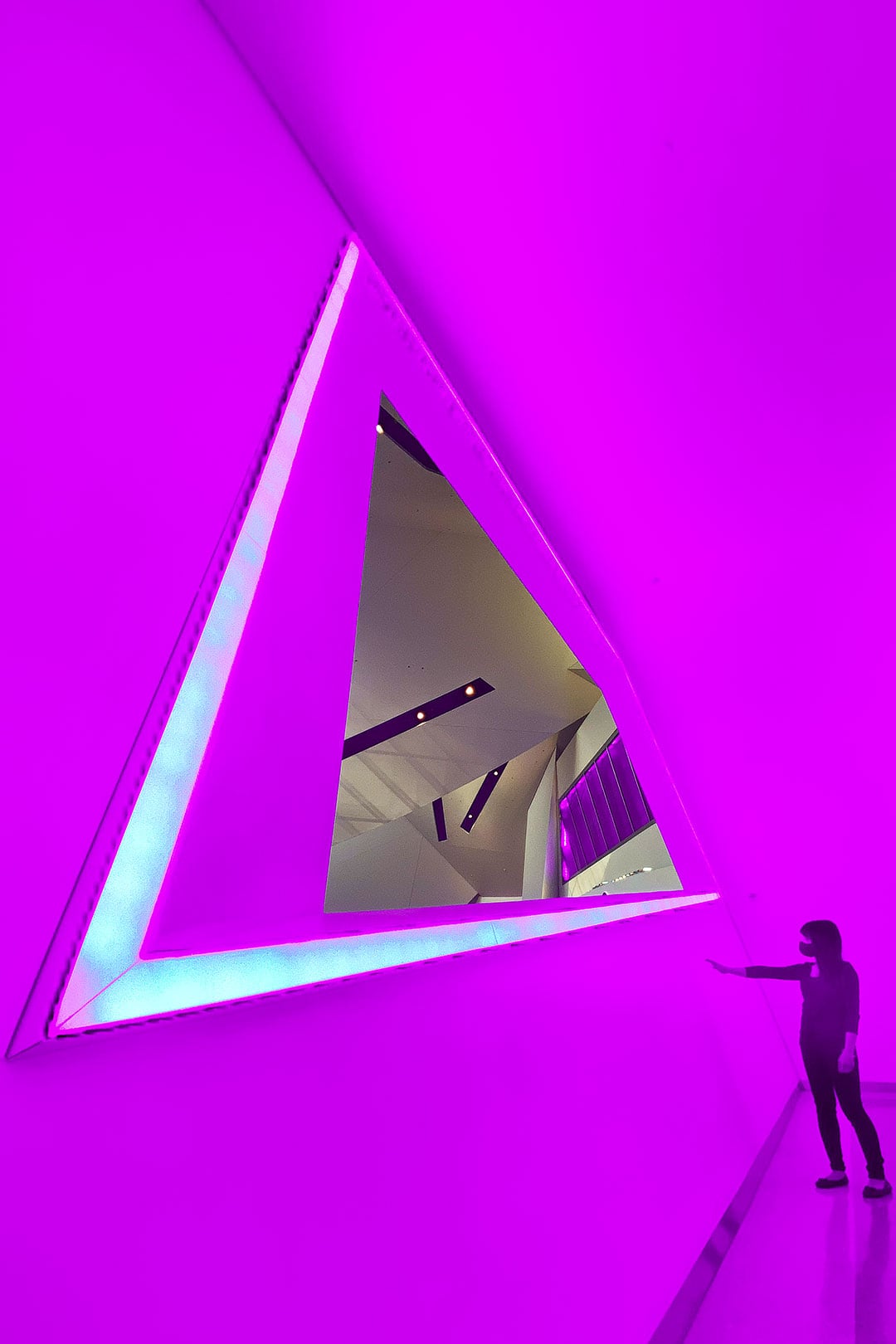 You can do the ride indoors or outdoors. We personally like the outdoor one since you can get better lighting, but the indoor one might give you more of that quintessential Venice vibe. There are also some great photo spots along the water where you can catch the gondolas in the background.
The photo on the right was taken by our friend, Henry. Go check out his work here.
Starting with the grand entrance, there are plenty of photo opps at the Catch Restaurant. The lighting inside isn't the best, but it doesn't stop people from taking photos. I've only seen it from the outside when it's closed, so one of these days we'll have to eat here.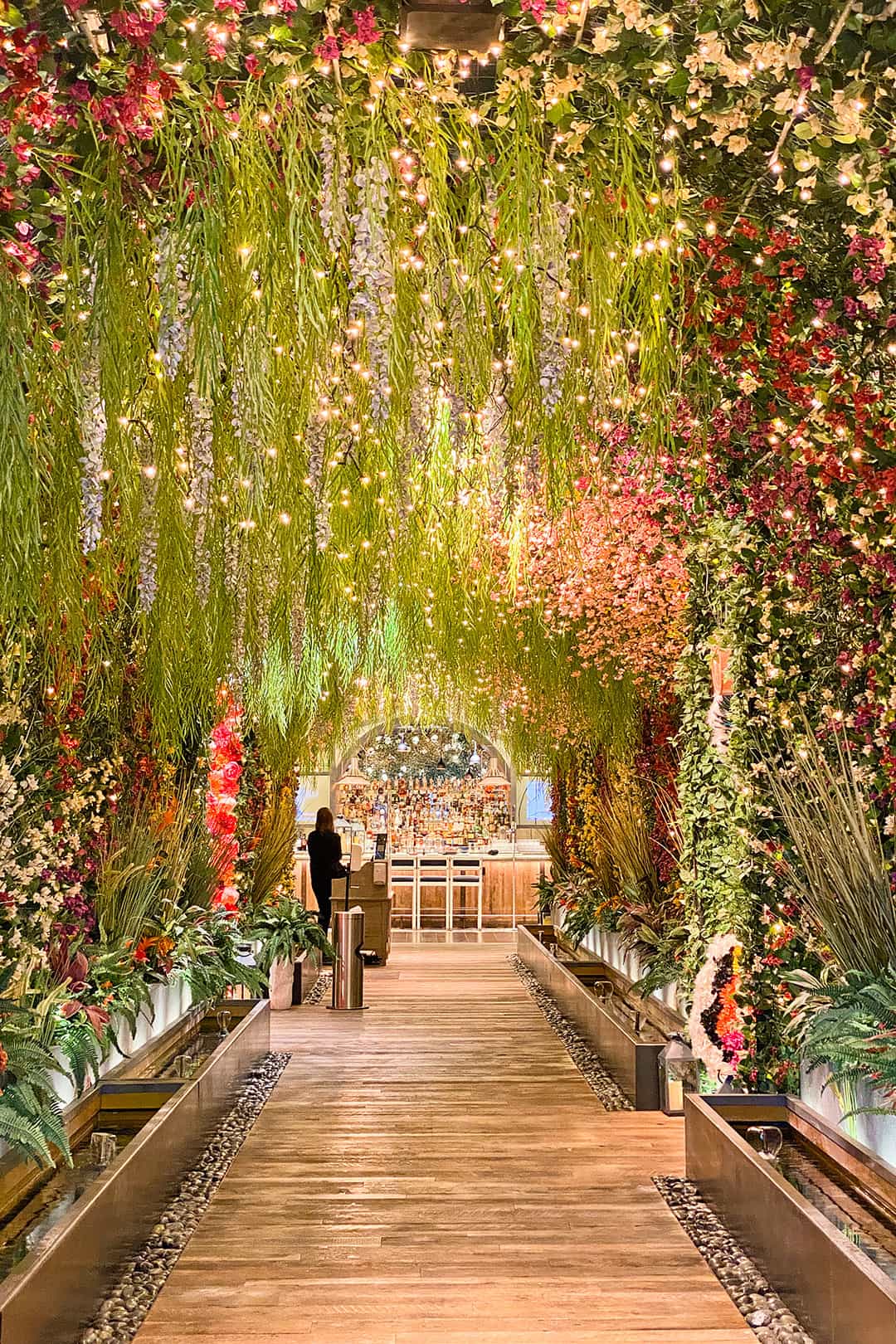 Admission: $20-28
Locals: $16-24 with ID
The Neon Museum, also known as the Neon Graveyard or Neon Boneyard, is where the older neon Las Vegas signs go after they retire. We've done both the evening tour and the DIY option during the day.
The area where you walk through the vintage signs is smaller than I first imagined, but it's a popular photo spot for visitors and engagement/wedding sessions. Go in the daytime to take portrait shots in front of the neon signs or go in the evening to take photos of the signs lit up.
Pro Tip: With regular admission, you're only allowed to bring your phone. If you want to do a legit shoot, you need to pay an additional fee of $600 or $50 for portrait hour where you share the space with other photographers.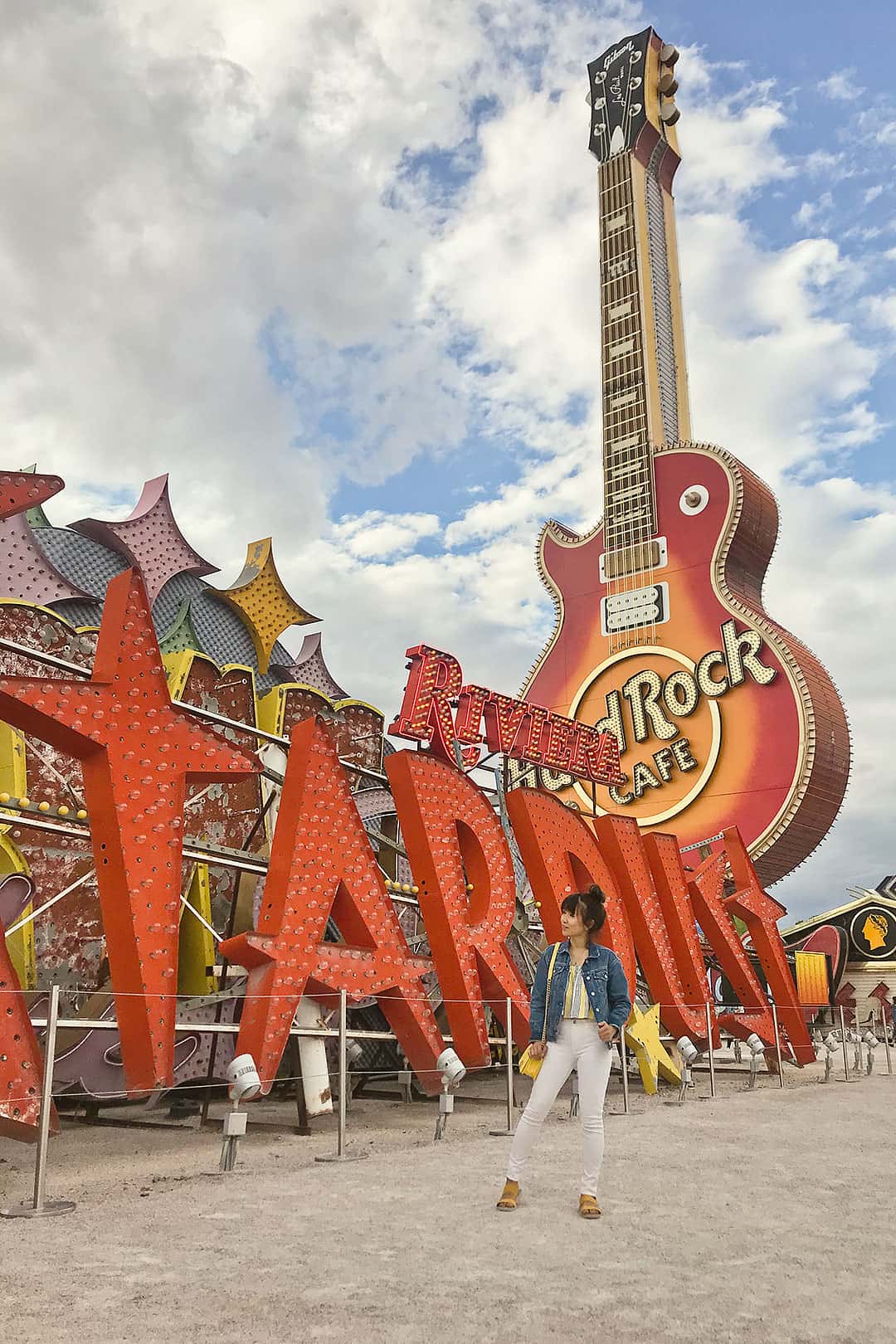 13. Lightning Bolt Building, Fremont East
Artist: Felipe Pantone
From the Life is Beautiful festival, Felipe Pantone's mural with black and white zigzags and a metallic lightning bolt. We still need to check it out at night, but it's supposed to light up at night since it's solar-powered.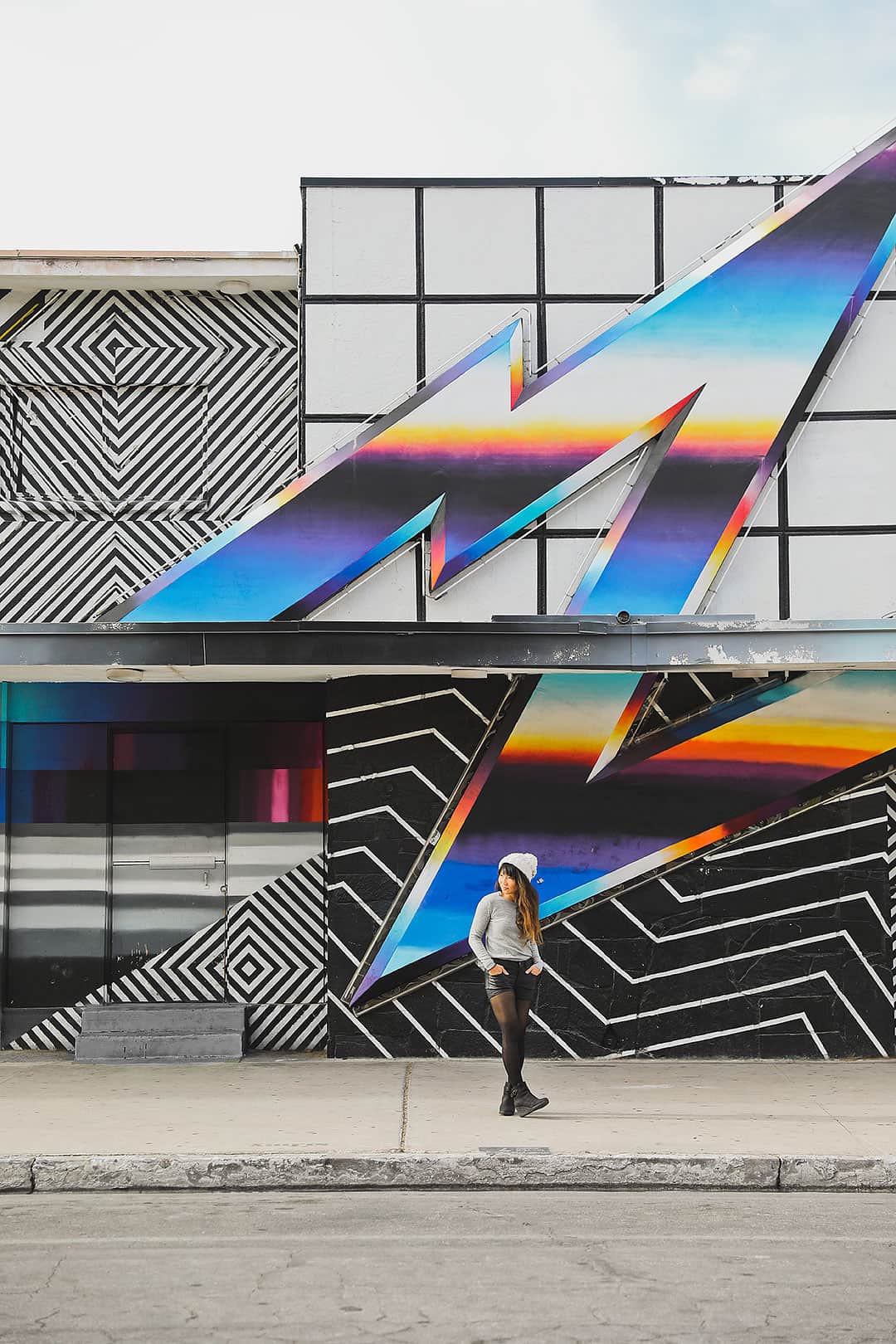 Artist: Andre Saraiva
One of the oldest surviving gas stations in town has transformed into art. This is another one from Life is Beautiful 2018.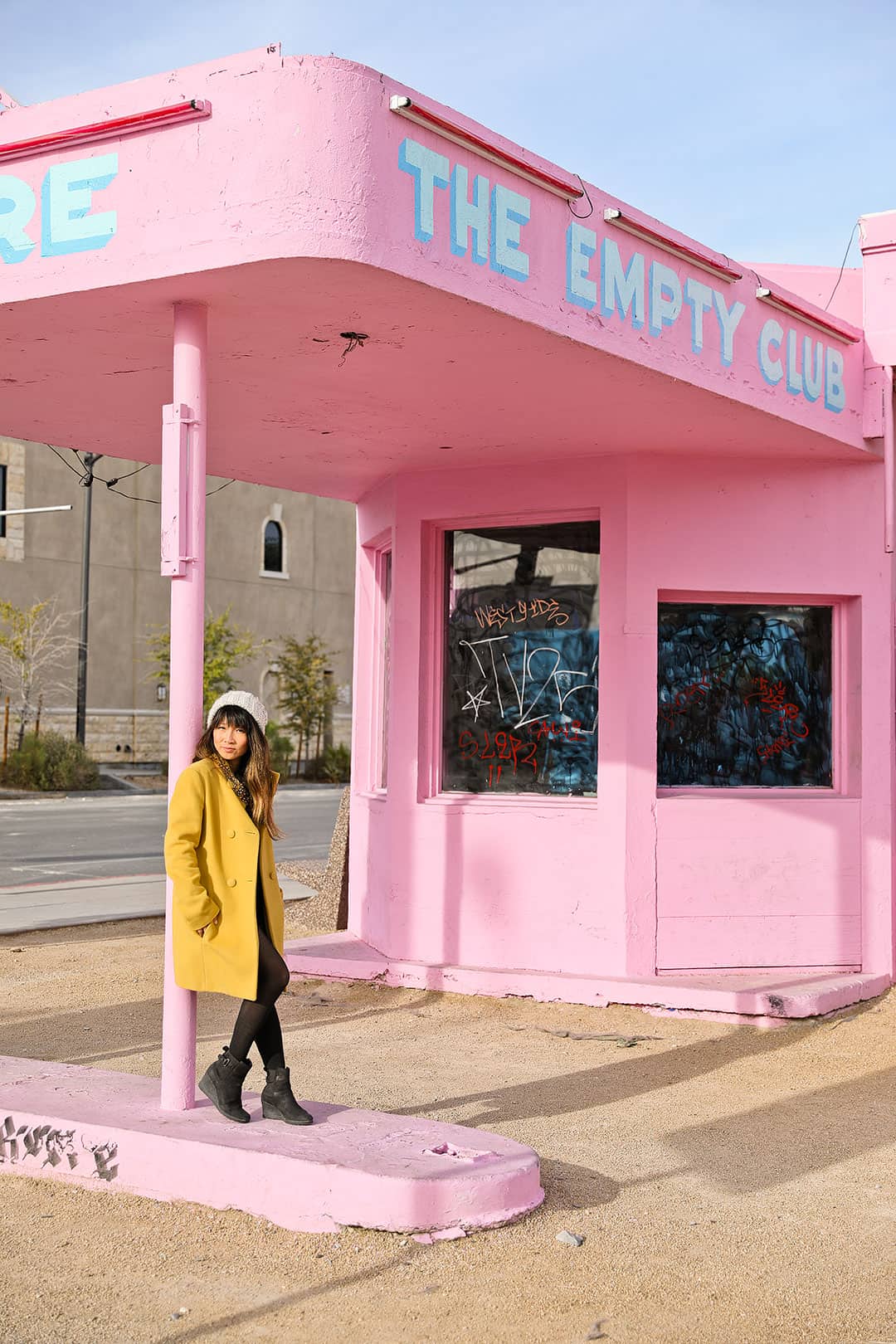 15. Rest of Three Graces Colorful Mural
Artist: Okuda San Miguel
This colorful mural titled "Rest of the three Graces" is just one of many murals in DTLV. It's such a perfect area to walk around and see all the street art.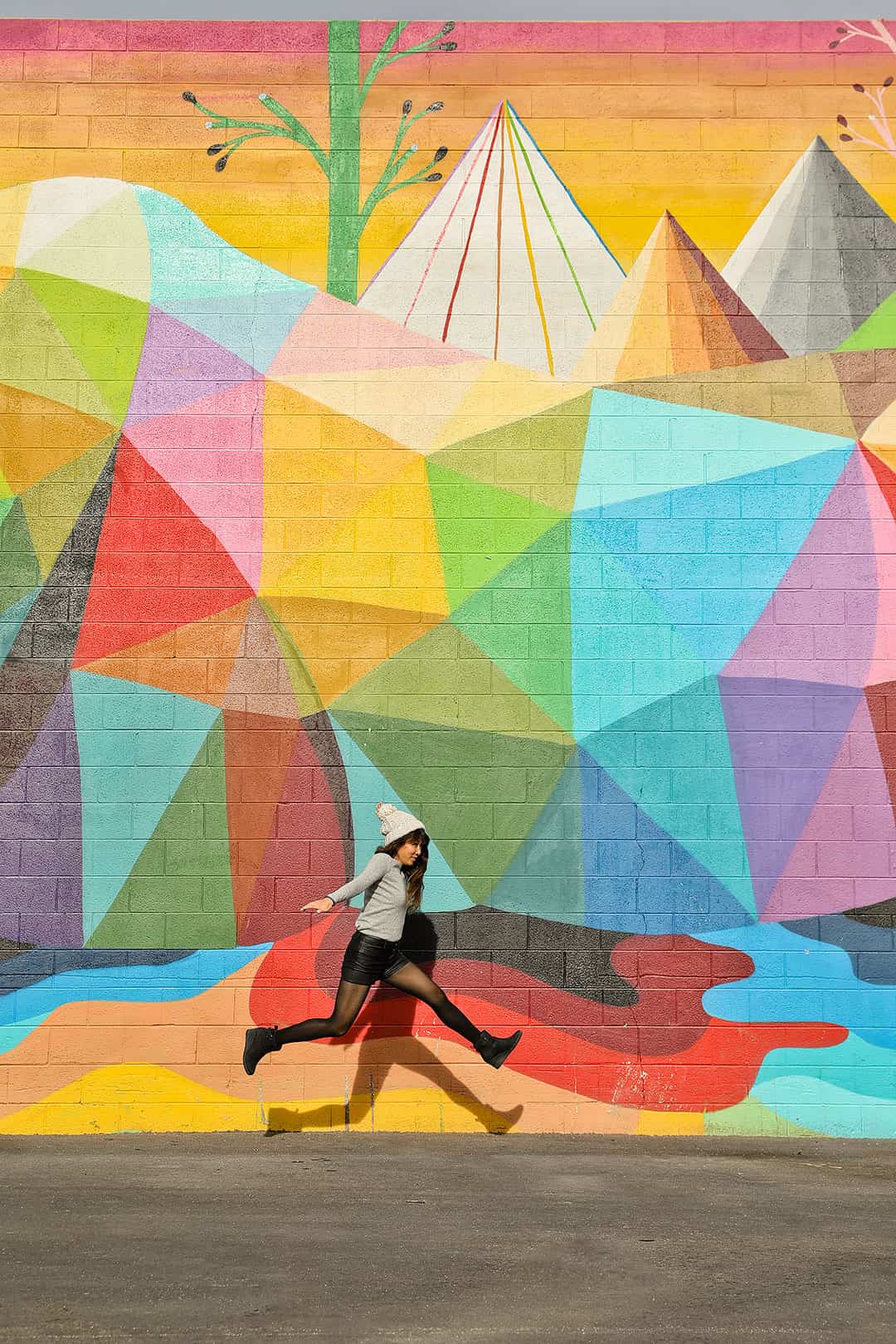 It was a surprise to me to hear that Frank Gehry had designed a building in Vegas. For the longest time, the architect refused to build anything in Vegas for fear that it would be turned into a theme, but Larry Ruvo was able to convince him by including Huntington's disease in their research. The Lou Ruvo Center for Brain Health also hosts events, and we can't wait for our friends to get married here.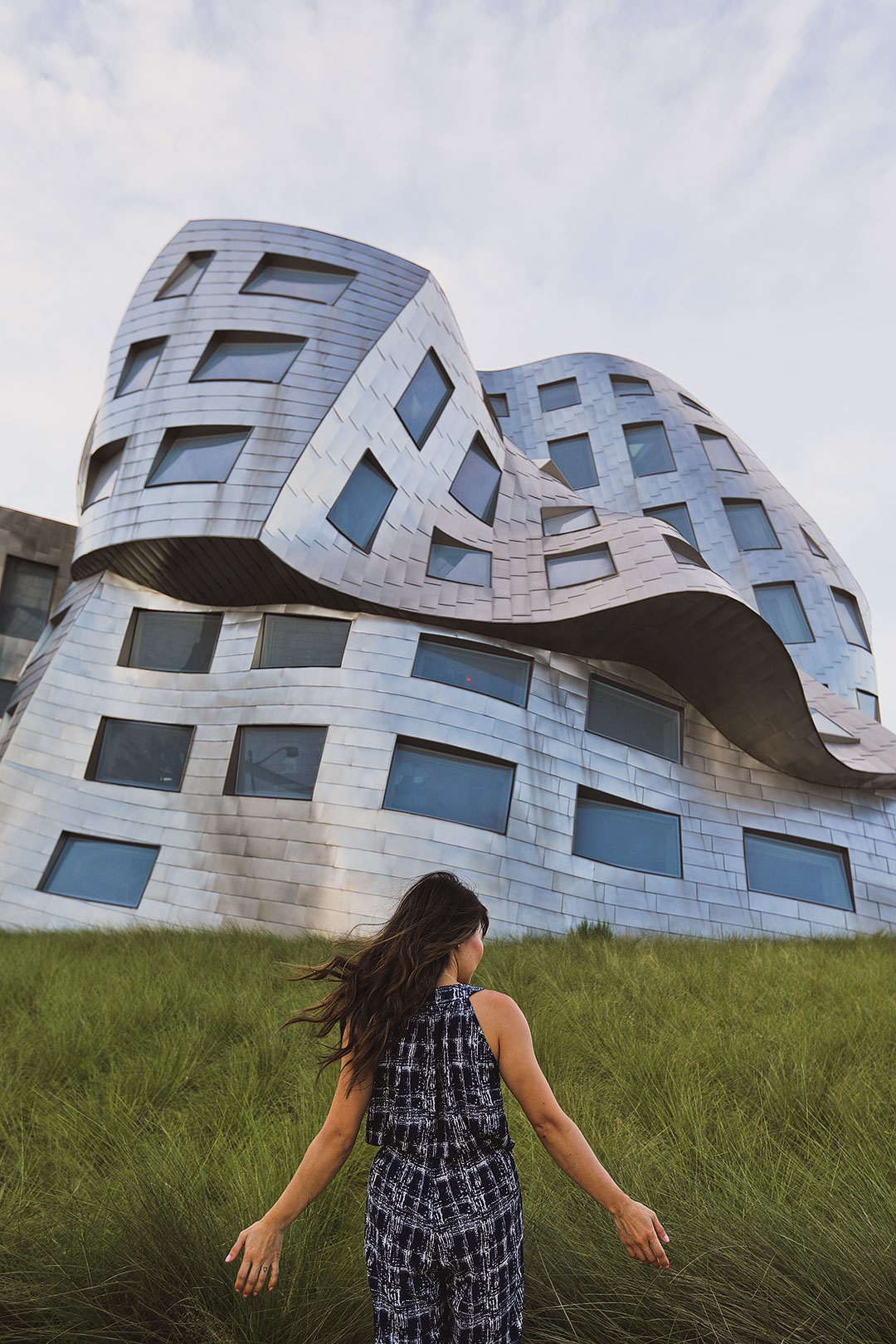 17. Symphony Park Pipe Dream
Only a couple blocks from the Frank Gehry Building, you'll find Symphony Park and this colorful striped sculpture called Pipe Dream from artist Tim Bavington. It's outside the Smith Center for the Performing Arts' east entrance and was designed to be the backdrop for their outdoor concert series. Hopefully, it will come back in the near future.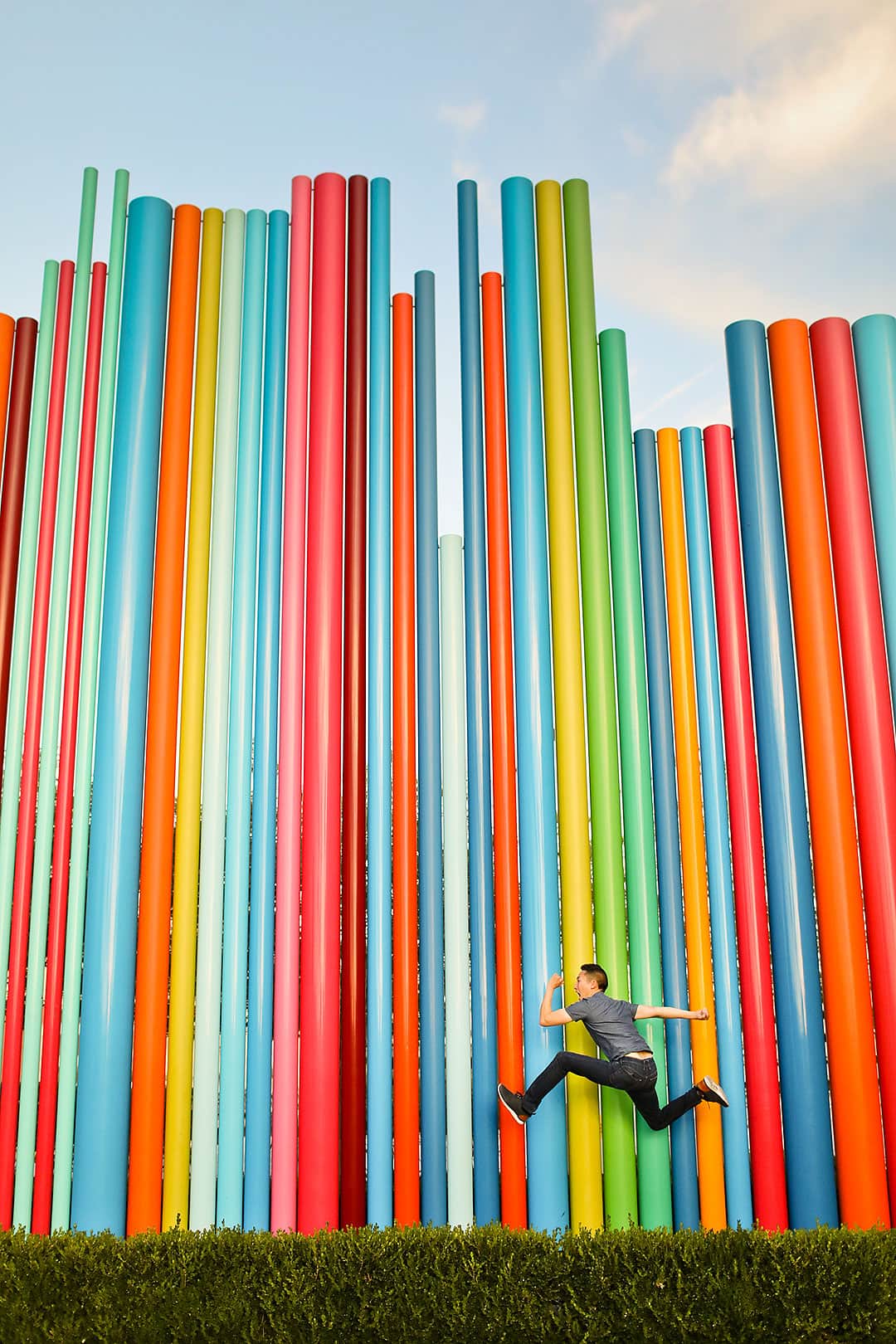 If you haven't been to Fremont Street in a while, then you might have missed the $32 million upgrade. It's brighter than ever.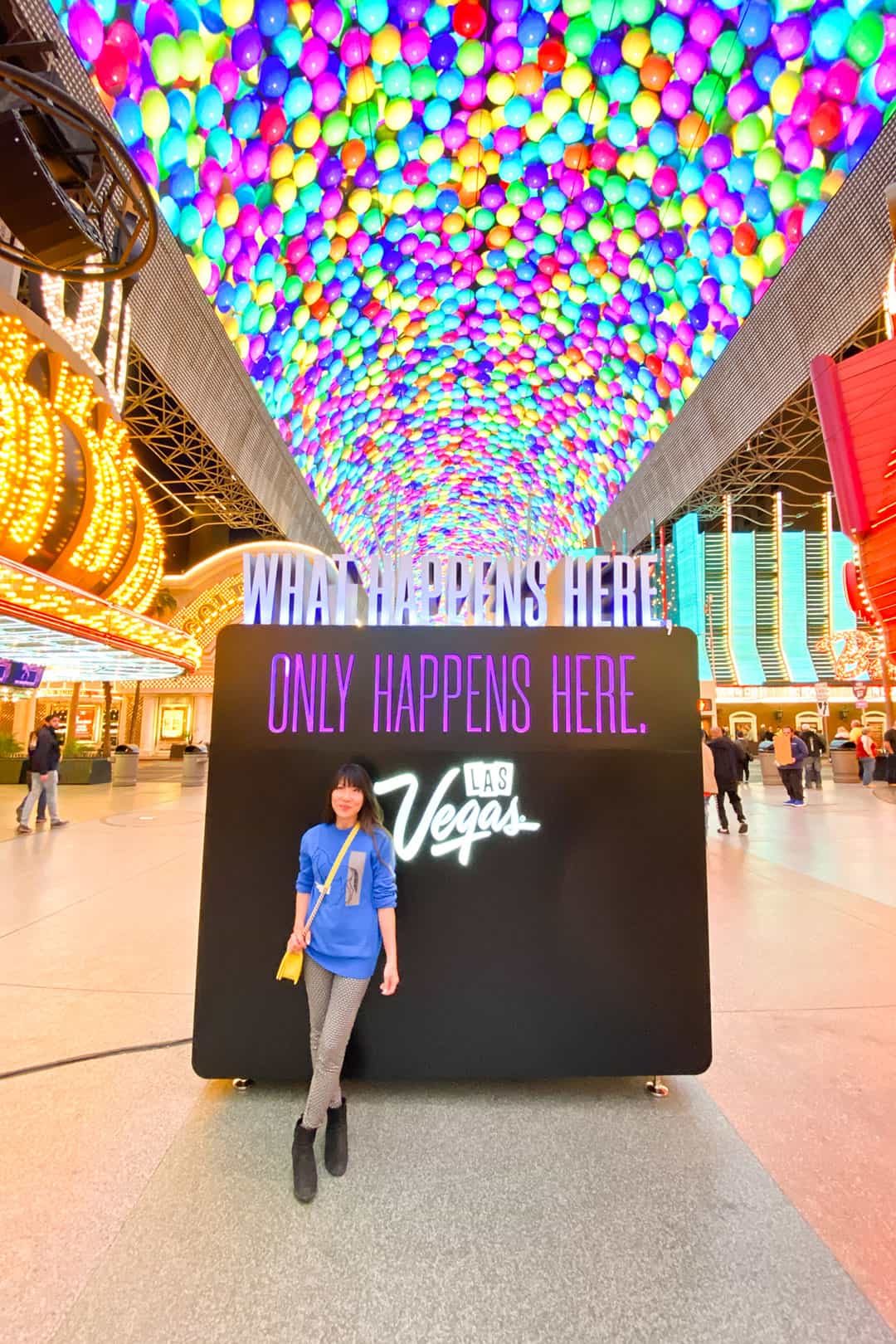 Even locals love frequenting this free attraction. Who can say no to free chocolate samples?
Local Tip: During Christmas and Valentine's Day, they decorate the gardens in lights, and because they have to limit capacity, tickets were completely sold out for Christmas last year. Reserve one ASAP.
Cost: $6 per vehicle
This is a popular local photoshoot location for family portraits and engagement sessions. So far I haven't seen many tourists come to this spot, but it's especially worthwhile during the fall.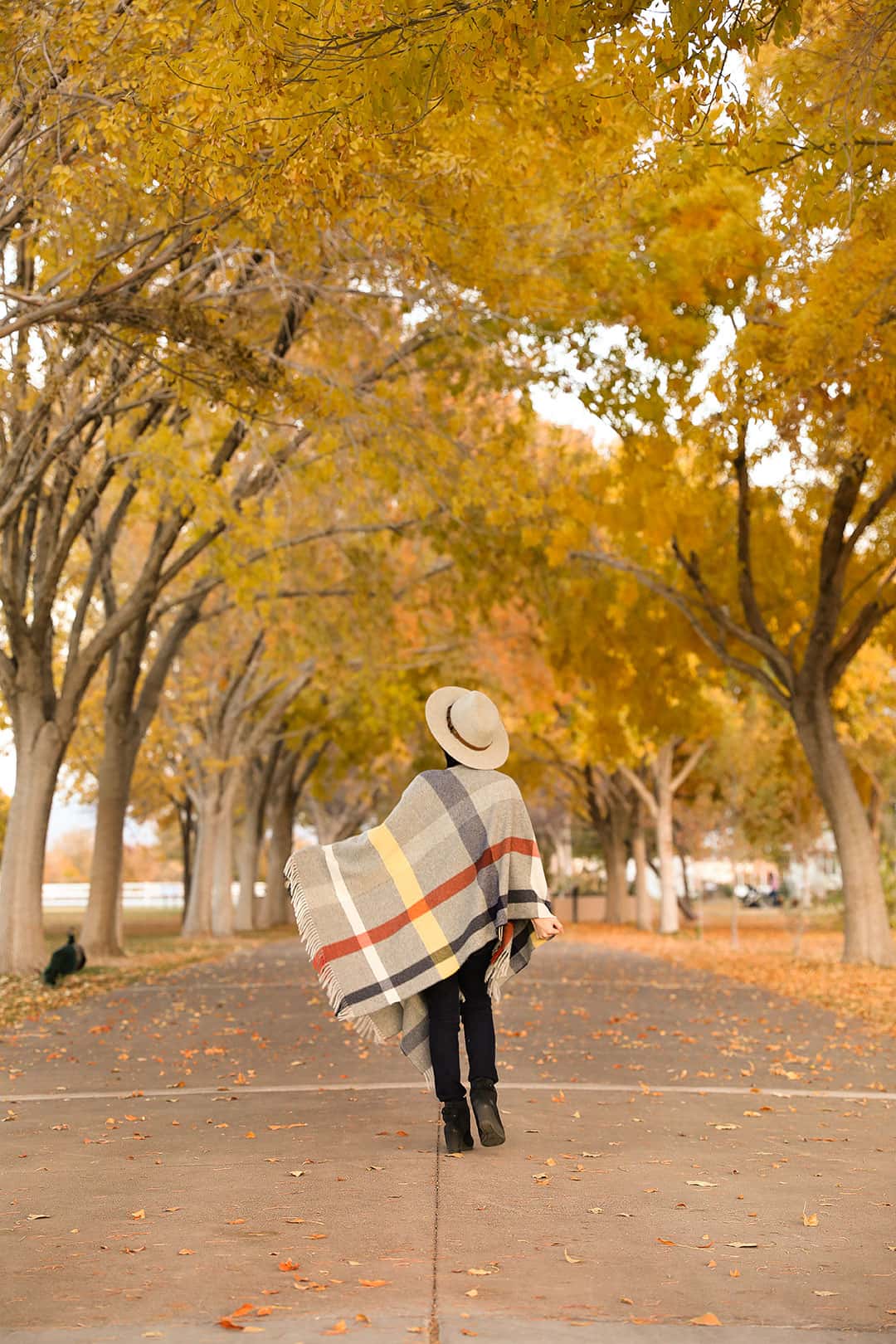 21. Aliante Nature Discovery Park
Aliante Nature Discovery Park in Northern Las Vegas has an urban waterfall and is a great picnic spot. We booked our picnic with LV picnic parties.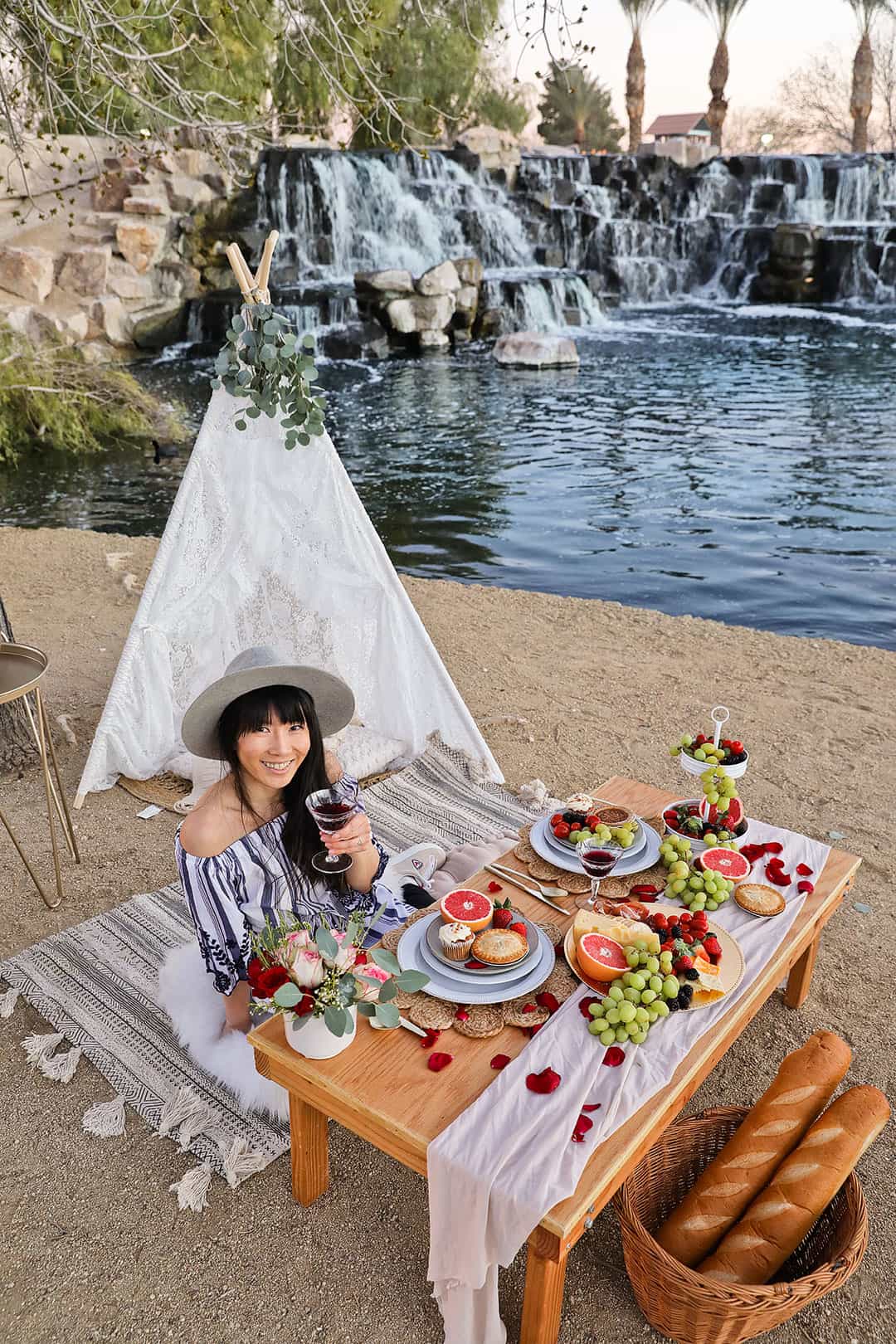 There are so many lovely hikes here. When the temps are right, you'll find us here at least once a week to explore new hikes or climbs.
If you boulder, chances are you're here to get a shot at the top of Plumber's Crack at Kraft Boulders. It's not difficult but scary AF. If you don't climb, we don't recommend it, since you can get seriously hurt.
Local Tip: They currently have an additional fee to drive in the loop, so until it's lifted, we've been hanging out on the outskirts like Kraft Boulders and Red Springs.
We often see Cactus Joe's Blue Diamond Nursery while driving to Red Rock from the Diamond side. I was surprised how big the nursery was. They have a lot of cute photo opps set up throughout the nursery.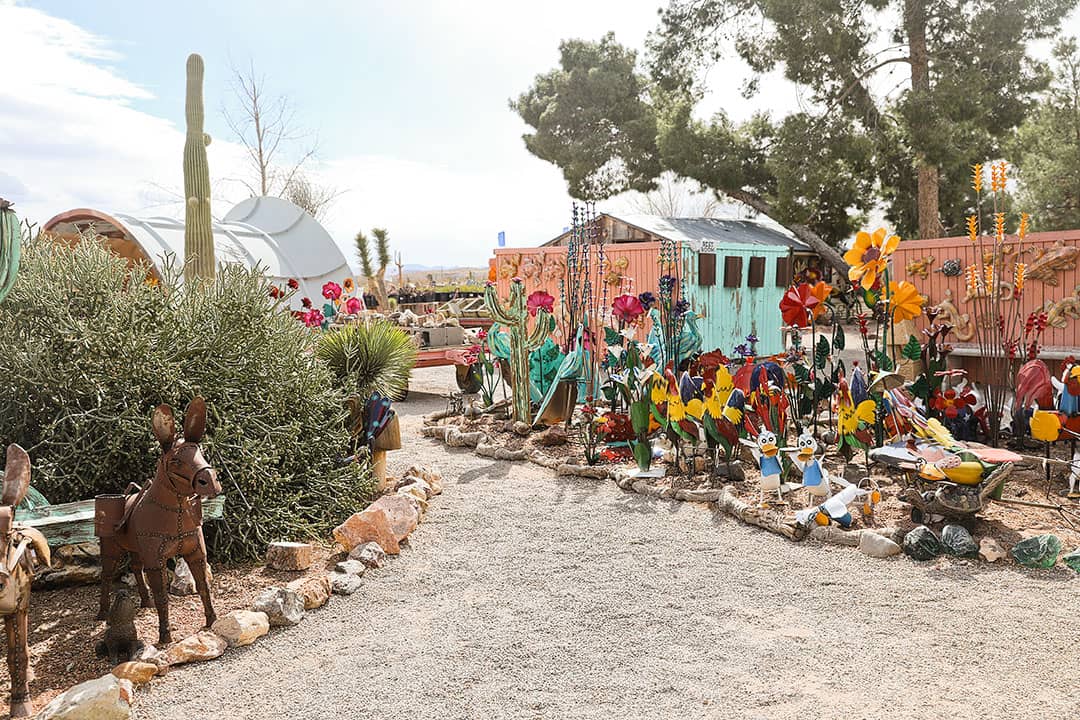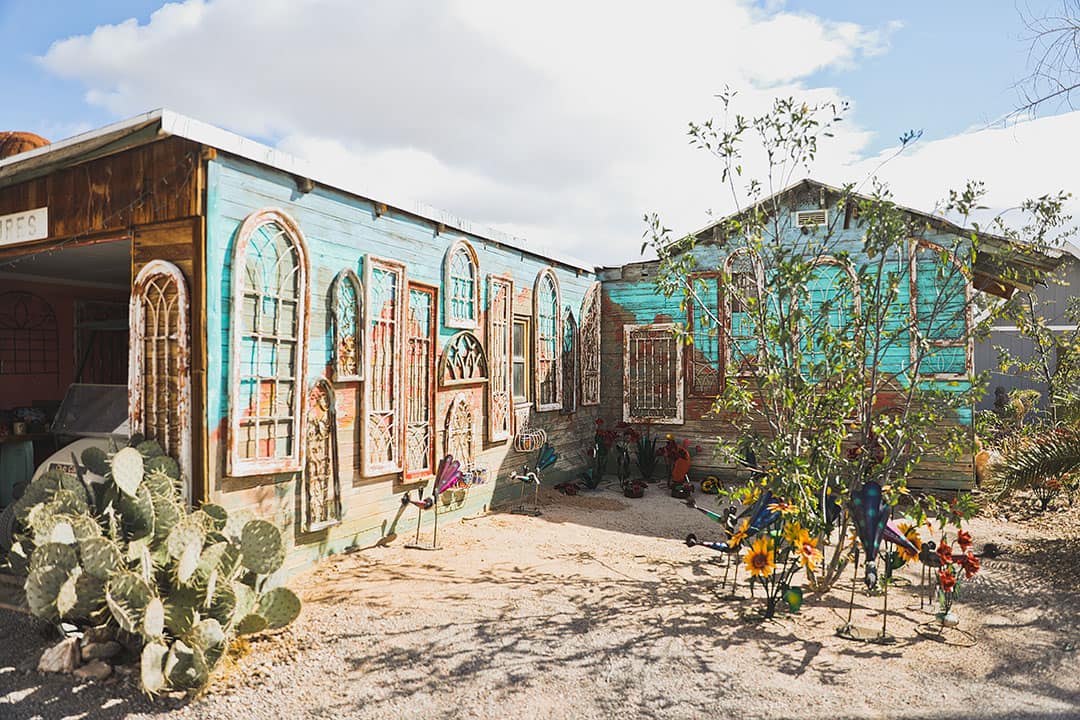 24. Seven Magic Mountains
It's hard to believe that this was once a hidden art gem in the desert. If you're an Instagrammer, this is probably at the top of your list of places to visit, and it's just 30 mins outside of Las Vegas. It opened in 2016 and the installation has been extended to be there until the end of 2021. If you haven't been yet, there's no guarantee it will extend again, but we can hope.
Pro Tip: It's actually one of the best astrophotography spots closest to Vegas. We go here during the milky way season and whenever there's an astro event like the Neowise comet.
Valley of Fire is just an hour away from Vegas and a popular spot to go to for photos. This road shot and the Fire Wave are both really easy to get to. See our guide linked below.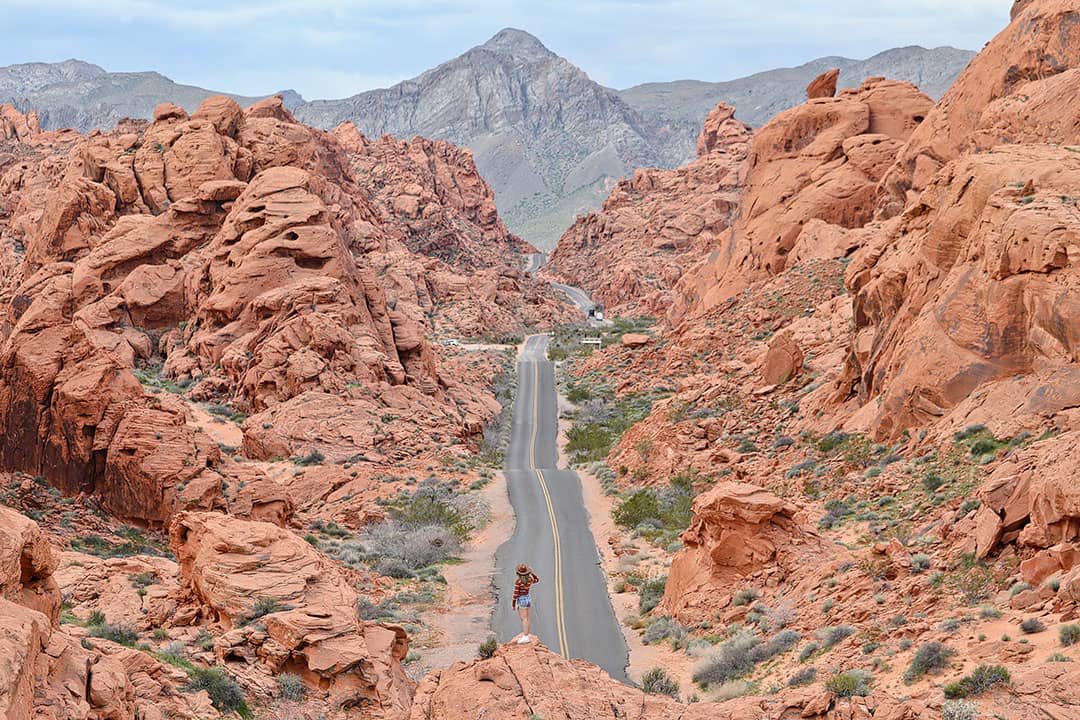 Map of the Best Photo Spots in Las Vegas
More Only Las Vegas Photography Spots
With the Bellagio Fountains
Chandelier at the Cosmo (light isn't great here)
Las Vegas Chapels – there are a lot of them but we loved the Viva Las Vegas Weddings package with Elvis and the Pink Cadillac.
Venetian's Waterfall Atrium and Love Sculpture
High Hat Motel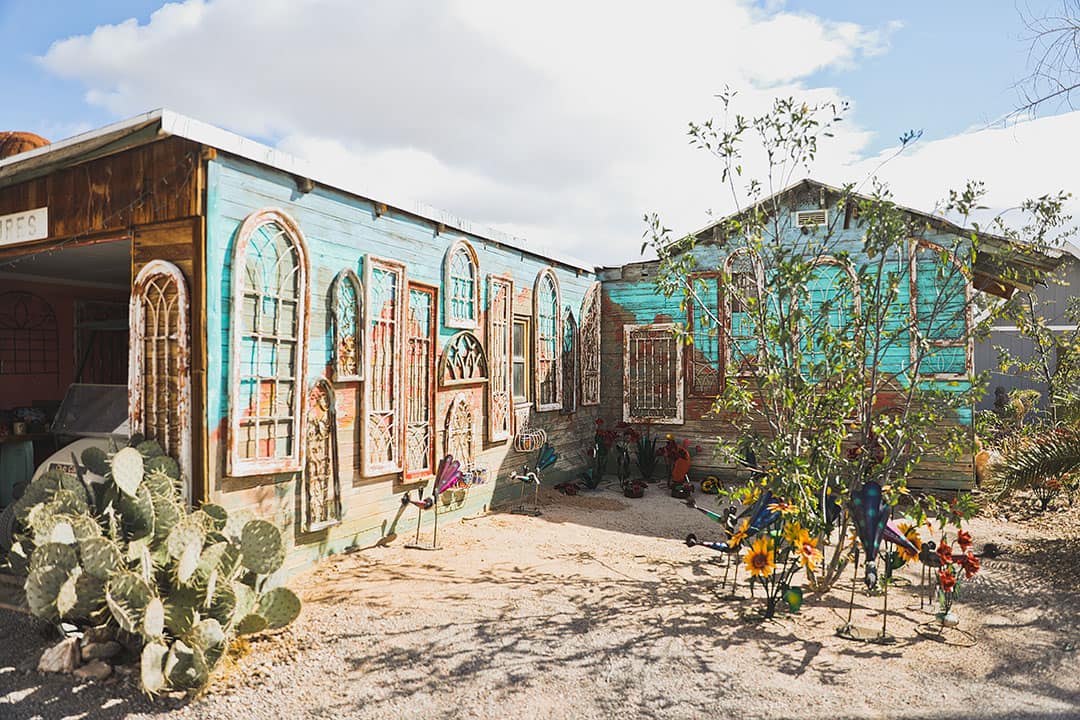 More Las Vegas Desert Photo Locations
More Modern or Urban Las Vegas Photo Spots
11th St Records
Downtown Las Vegas Sign
El Cortez + Abbey Road
Historic Fifth Street School
New Las Vegas Sign
Tivoli Village
Most Instagrammable Cafes and Restaurants
Cafe Lola – everything here was made for the gram.
Gabi Coffee and Bakery – pretty dark inside. You might want to bring your own lights.
Best Friend – The decor in the entrance is great for photos. As for the food, the frosé and uni fried rice were the best! 
Black Tap – over the top milkshakes that are much better for photos than for eating IMO.
Mizumi – the outdoor seating is prettier.
Mrs Coco 
Park on Fremont – outdoor patio area
Toast Society Cafe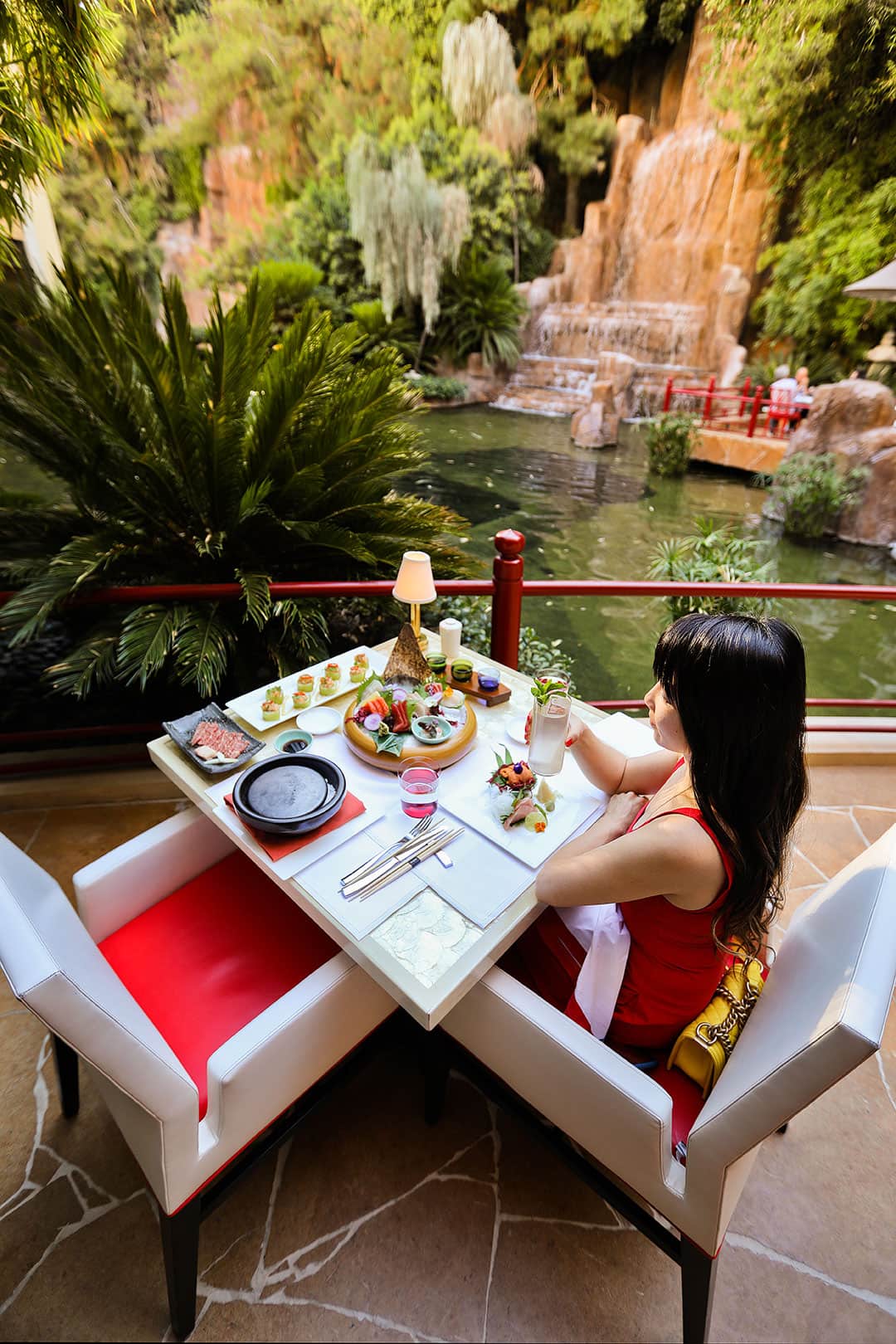 More Nature and Mountainscapes
If you're shooting indoor spots, it's best to bring a wide lens. Our goto is this one.
For outdoor spots, we like to have the option of a wide lens and a long lens in case we want to compress the background.
A solid camera backpack is really helpful to have. We love this one because it has a low profile but great access and organization.
Don't forget sunblock! The sun gets intense in Vegas.
Can you think of any other Las Vegas photo spots that we need to check out? Which of these are you hoping to see next?
Did you enjoy this post? Pin it for later
"Discovery consists not of seeking new lands but in seeing with new eyes" – M. Proust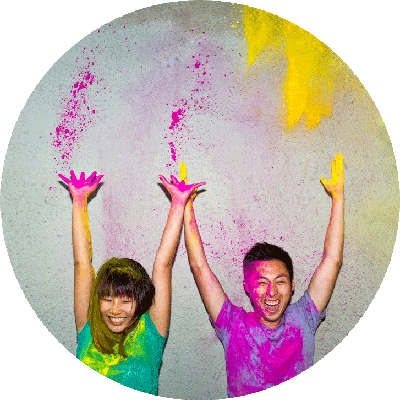 Esther and Jacob are the founders of Local Adventurer, which is one of the top 5 travel blogs in the US. They believe that adventure can be found both near and far and hope to inspire others to explore locally. They explore a new city in depth every year and currently base themselves in Las Vegas.
The post 25+ Best Las Vegas Photo Spots You Shouldn't Miss appeared first on Local Adventurer » Travel Adventures in Las Vegas + World Wide.