Surrounded by the Blue Ridge Mountains and located along the French Broad River, Asheville just might be the most beautiful city in the United States. There are lots of fun things to do in Asheville NC to keep you busy!
Take in the views of the city from the scenic Blue Ridge Parkway, and you'll quickly see why it's referred to as the Land of the Sky.
There are numerous things to do in Asheville and for such a small city, it really packs a punch when it comes to activities on offer.
Hiking in the mountains, feasting on southern cuisine, relaxing in hot springs, and sampling craft beer are just a few of the things you won't want to miss.
I've spent a lot of time in Ashville over the last decade, and in fact, my wife and I got married and had our honeymoon in here! It's easily one of my favourite cities in the USA and a place I always look forward to visiting.
In this Asheville travel blog, I'm excited to share some of the best activities, attractions, and places to visit in the city!
1. Visit the Biltmore Estate
A visit to the Biltmore Estate definitely deserves the top spot on this list of things to do in Asheville.
This historic mansion was built between 1889 and 1895 by George Vanderbilt. It's a great example of the Gilded Age and an absolutely stunning place to explore.
The Biltmore Estate is actually the largest privately-owned home in the US.
It features an astounding 250 rooms and is surrounded by picturesque gardens, ponds, and a lovely conservatory full of various plants and flowers.
After touring the estate and the grounds, be sure to drop by the winery. You can take a tour of the underground cellars, sample several different types, and pick up a bottle of your favourite wine to take home.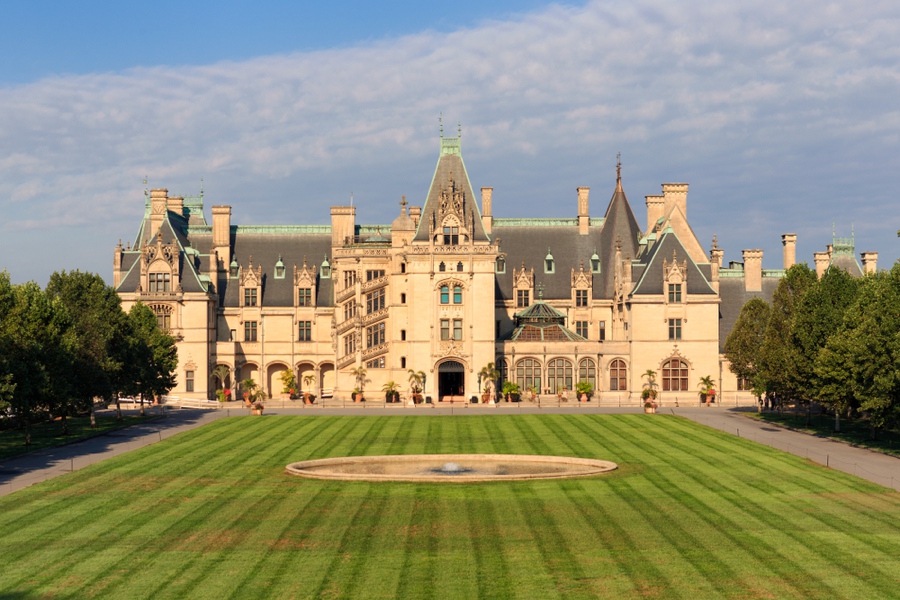 You can visit the Biltmore Estate every day from 9AM to 5PM. Tickets cost $70 for adults and $35 for youth with a free audio guide.
Pro tip – if you book your tickets at least a week in advance, you save $10! It's about a 15-minute drive from downtown to reach the estate, which you can find on the map here.
⇒ See Also: 15 Denver Attractions You Don't Want To Miss
2. Take a Walking Tour
Whenever I'm in a new city, I love going on a walking tour to get to know the place. Asheville is a small city and is very walkable, so you can easily explore downtown on your own two feet.
Thanks to Explore Asheville, you can choose between two excellent self-guided walking tours of Asheville. They have an urban trail as well as an architecture trail that you can follow.
Both have interactive and printable maps, and the urban trail even has an audio guide as well.
If you'd prefer to go with a guide, you can sign up for the Tip-Based Asheville Walking Tour.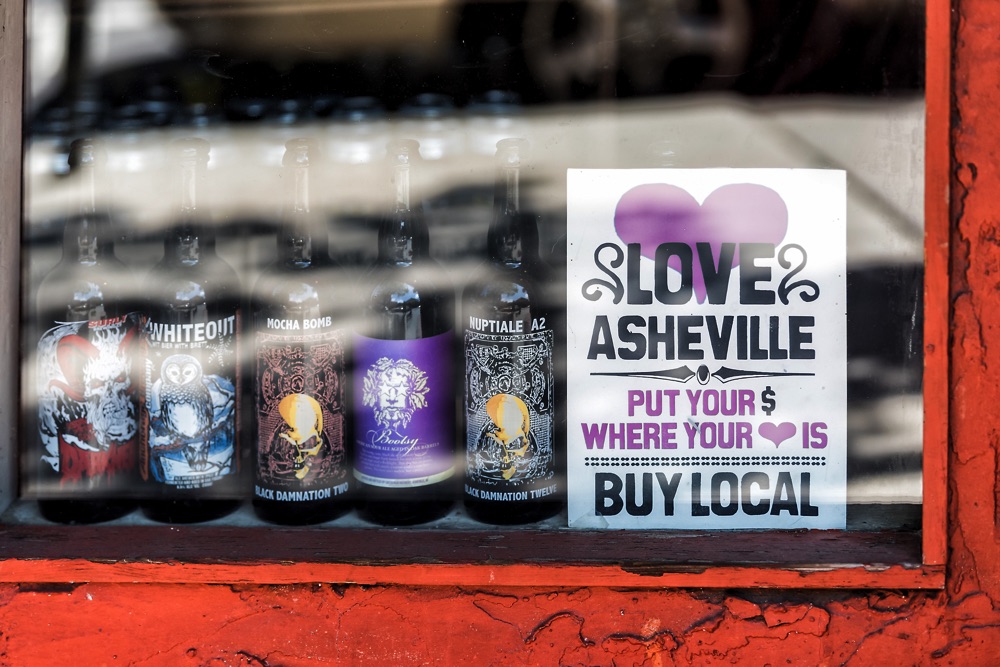 This excellent walking tour is about 2.5 hours long, taking you through downtown Asheville while covering all the highlights and insider tips on where to eat and drink (plus, some samples along the way). The cost is based on tips, so whatever you feel is appropriate.
Another (spookier) option is to join this 1-hour haunted ghost tour! All of the stories your guide will tell you are based on historical events, local legends, and eyewitness accounts of paranormal activity across the downtown area. Creepy! Find out more here.
3. Drive the Blue Ridge Parkway
If you're wondering what to do in Asheville, just jump in your car and take a cruise on the Blue Ridge Parkway. This National Parkway and All-American Road is part of the Appalachian Mountains and one of the most scenic drives in the country.
The Blue Ridge Parkway actually stretches through both Virginia and North Carolina. It's 755 km (496 miles) long and is full of viewpoints, hiking trails, historic sites, and so much more. This is one of the most incredible places to visit on your trip to Asheville.
Every time we have people come to visit when we're in Asheville, one of the first things we do is head out for a drive on the Blue Ridge. These amazing views really never get old, so I don't mind going back every time we're in town.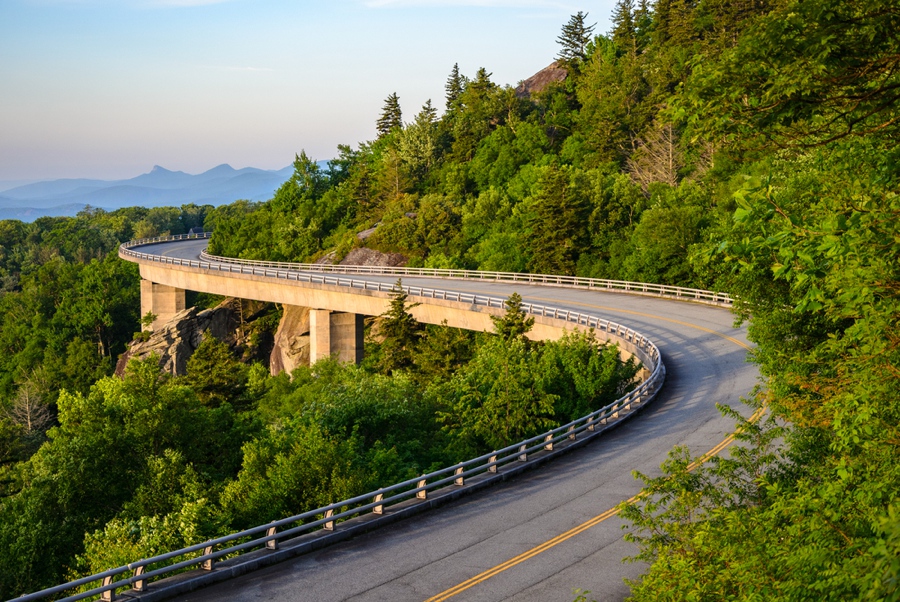 If you don't have your own wheels, another way to see this beautiful Asheville attraction is to join a tour. This one takes you in an SUV where you simply sit back and enjoy the ride. Drive the Blue Ridge Parkway, go on a 30-minute walk and experience an amazing sunset over the mountains.
4. Climb Mt. Pisgah
As I mentioned, there's a lot to see and do along the Blue Ridge Parkway. One of the best things to do in Asheville NC is hiking up the trail at Ms. Pisgah, which is easily accessible via the Parkway.
It's about a 45 minute to hour-long hike to reach the top of Mt. Pisgah. While it's not exactly an easy hike, it's not too difficult. The hike is about 1.2 miles (1.85 km) to the top and there are plenty of places to rest along the way.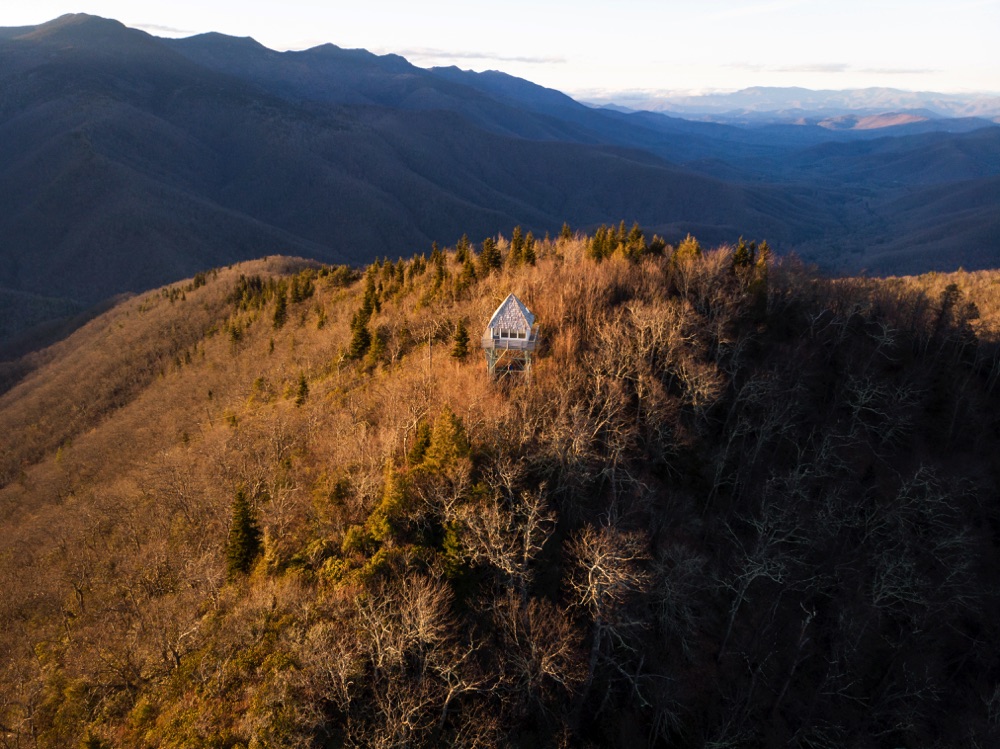 There's a large TV tower at the top and an observation deck. From here, you can enjoy some of the best views of the Blue Ridge Mountains and the city off in the distance. You can find the trailhead for Mt. Pisgah on the map here.
⇒ See Also: 21 Fun Things To Do in Detroit – An Insider's Guide
5. Dinner With a View at Pisgah Inn
After hiking up Mt. Pisgah, you're sure to work up an appetite. While you can certainly bring a picnic lunch to have on the Parkway, my vote goes to enjoying a meal at the nearby Pisgah Inn.
Grab a drink and head out to their observation deck while you wait for a table. They have plenty of rocking chairs where you can kick back and soak in the amazing views.
Having eaten here several times, I'll give my recommendations for the fried green tomatoes and the walnut-crusted mountain trout.
They're open from 11:30-4 for lunch and then again from 5-9 for dinner. You can get directions and find the Pisgah Inn on the map here.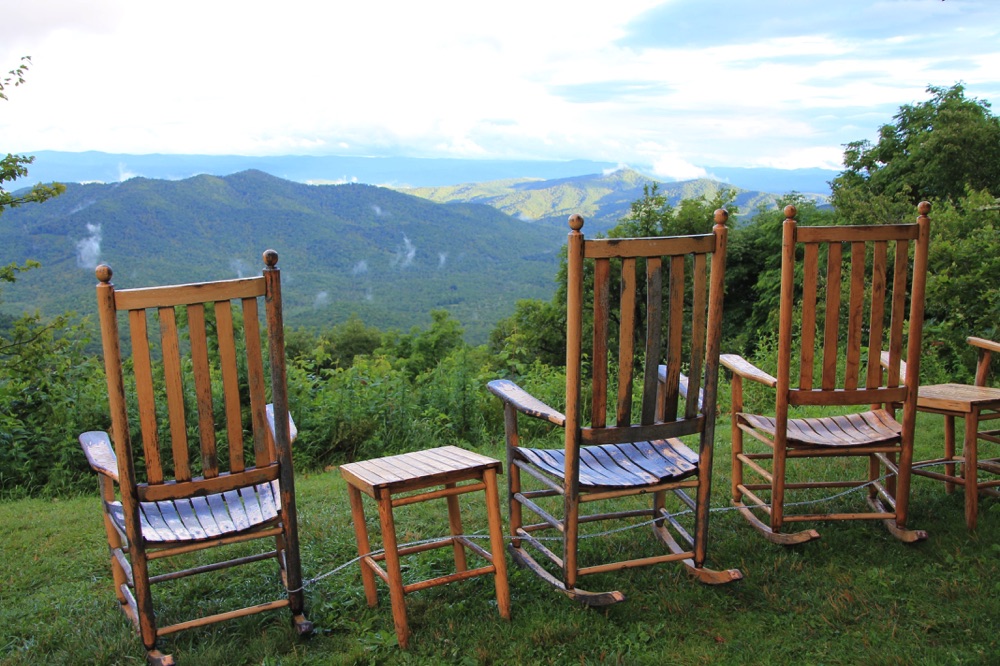 If you'd rather be up in the mountains than down in town, you might want to look into booking a room here. It's pretty awesome when you can wake up and have the Blue Ridge Mountains right outside your window!
6. Play Disc Golf
If you enjoy the great outdoors, one of the top things to do in Asheville is playing a round of disc golf.
For those unfamiliar with the sport, it's just like golf but with a frisbee instead. The goal is to get your disc into a basket with the least amount of throws, and you can use a variety of different discs in the process.
The biggest difference between disc golf and regular golf is that it's almost always totally free! That's the case at nearby Richmond Hill, an excellent course and local hangout. Get directions and find the park on the map here.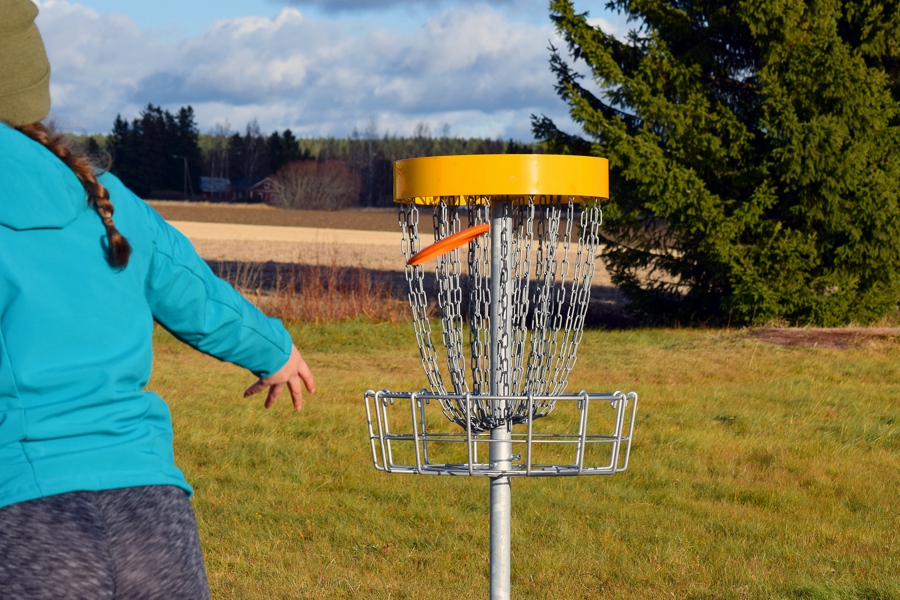 If you've never played disc golf before and don't have any gear, there are plenty of shops in Asheville where you can pick up a starter kit.
For about $10, you can get a driver, a mid-range disc, and a putter. Just try not to lose them on your first round. Most people write their name and phone number on discs as a precautionary measure.
⇒ See Also: 21 Top Things To Do in New Orleans
7. Feast on Southern Food
Asheville is home to plenty of amazing restaurants of all different styles. If you're travelling here for the first time, I recommend sticking mostly to southern fare. After all, you're in the south even though the State is North Carolina!
For brunch, a solid choice is Biscuit Head. Their slogan is "put some south in your mouth" and that's exactly what you'll do here. Choose your favourite biscuit (I love the pulled pork) and top it off with their various jams and butters.
One of the best restaurants in Ashville, in my humble opinion, is Home Grown. This local eatery serves local food cooked by local people, so you know your money is going right into the local economy when you eat here.
I personally love their Redneck Pot Pie or buttermilk fried chicken. You can see Home Grown and much more in our "Streets, Beats & Eats" video on Asheville.
8. Drink Local Craft Beer
Asheville has been named Beer City USA on several occasions. There are over 40 breweries and beer pubs here in total! As such, sampling local craft beer should be high atop your list of things to do in Asheville NC.
Walking around Asheville, you're never too far from a brewery. Some of the best places for a beer include Asheville Brewing Company, Burial, and Green Man. The best way to find your favourite brew is ordering up a flight to sample 4-5 different styles.
While they're not exactly microbreweries, it's also worth it to visit the Asheville locations of New Belgium and Sierra Nevada. The former has a scenic location right along the French Broad River, while the latter is a bit of a hike as it's out by the airport.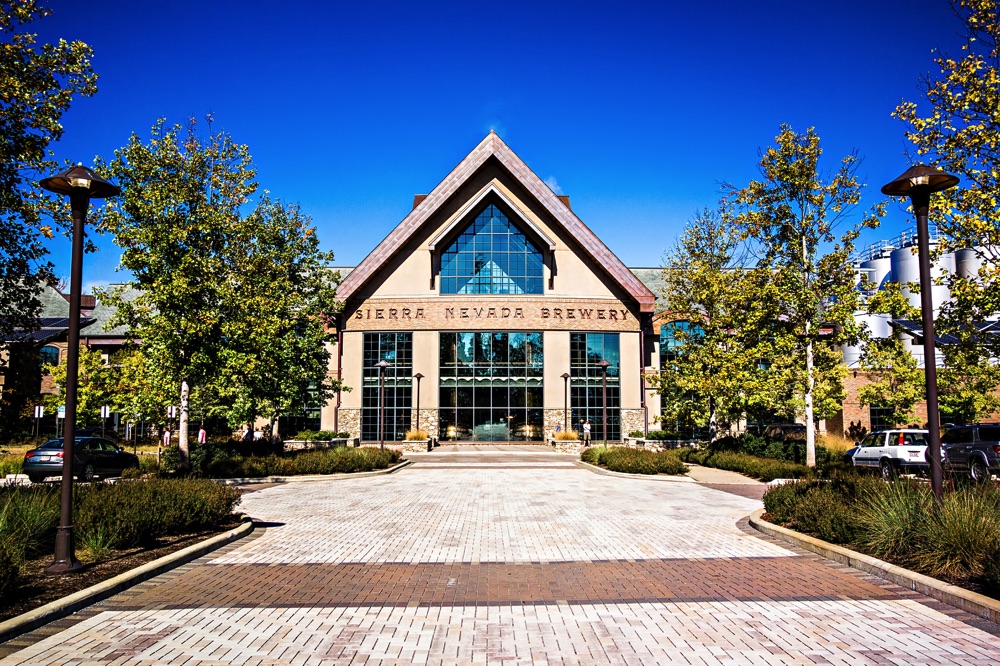 If you want to take a tour of either, be sure to sign up well in advance! I've been to a lot of breweries, and these are two of the best I've ever seen.
9. Visit a Few Museums
If you're downtown and aren't quite sure what to do in Asheville, why not drop into one of the city's museums for a bit? Whether you're interested in art, science, or even pinball, there's a museum for you here.
The Asheville Art Museum has recently had some major renovations and is bigger and better than ever!
It's open from 10-5 Tuesday-Saturday and 1-5 on Sunday. It's totally free to visit, but donations are very much appreciated. You can find the museum on the map here.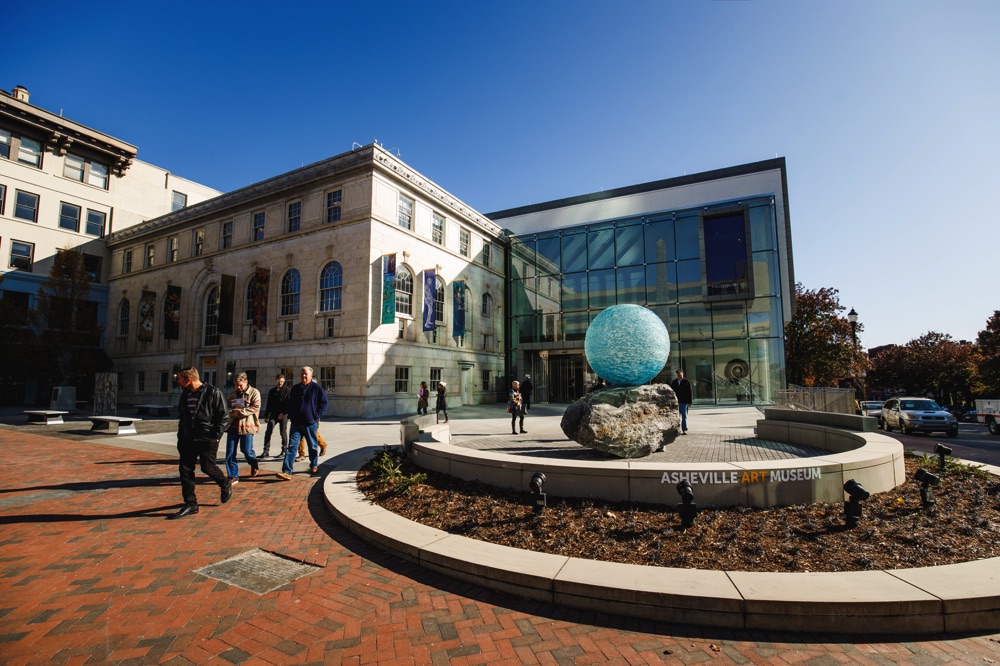 Just a block away, you'll find the Asheville Museum of Science. They've got lots of cool exhibitions and displays that are fun for all ages. It's open Monday-Saturday from 10-5 and from 1-5 on Sunday and costs $7-8 to visit.
If you love a good retro pinball machine or video game, you'll definitely want to check out the Asheville Pinball Museum.
For $15, you can play as many games as you want on their 80+ machines. Hours vary depending on the day, but they're typically open until 9PM. Get directions to the museum here.
⇒ See Also: How To Spend 24 Hours in New York City
10. Explore the RAD (River Arts District)
For art lovers, one of the top things to do in Asheville NC is visiting the RAD (River Arts District).
Hundreds of artists have galleries and studios in this area along the French Broad River. It's a really fun place to explore for a while, especially on the weekends.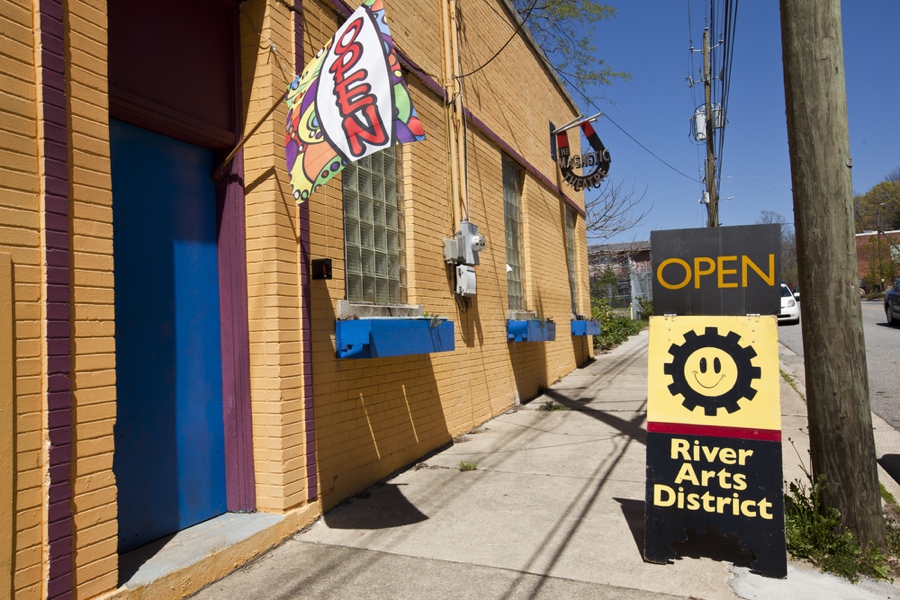 On the second Saturday of each month, the RAD is a very lively place. There are demonstrations, workshops, wine tastings, live music, and a lot more. There's even a free trolley that you can ride as you bounce around the different venues.
Whether you're interested in painting, ceramics, photography, or jewelry, you'll find something to enjoy in the RAD.
While you're over here, be sure to drop in another excellent local craft brewery — Wedge. You can find the River Arts District on the map here.
11. Fun on the River
Speaking of the French Broad River, there are lots of fun things to do there. Well, at least during the warmer months. There's not much going on in the dead of winter…
One of my absolute favourite things to do in Asheville is tubing down the river.
The best way to enjoy the Homer Simpson of water sports is by signing up with this tubing experience. It's like a floating pub crawl!
I won't give it all away, but it's a lot of fun and you can also bring your own beverages to put in the onboard cooler. Click here for details.
If you'd prefer a bit more activity than just lazily floating down the river, you can also rent a kayak or a SUP (stand-up paddleboard). There are a few different places that rent boards as well as tours (such as this one) you can sign up for to get out and enjoy a day on the river.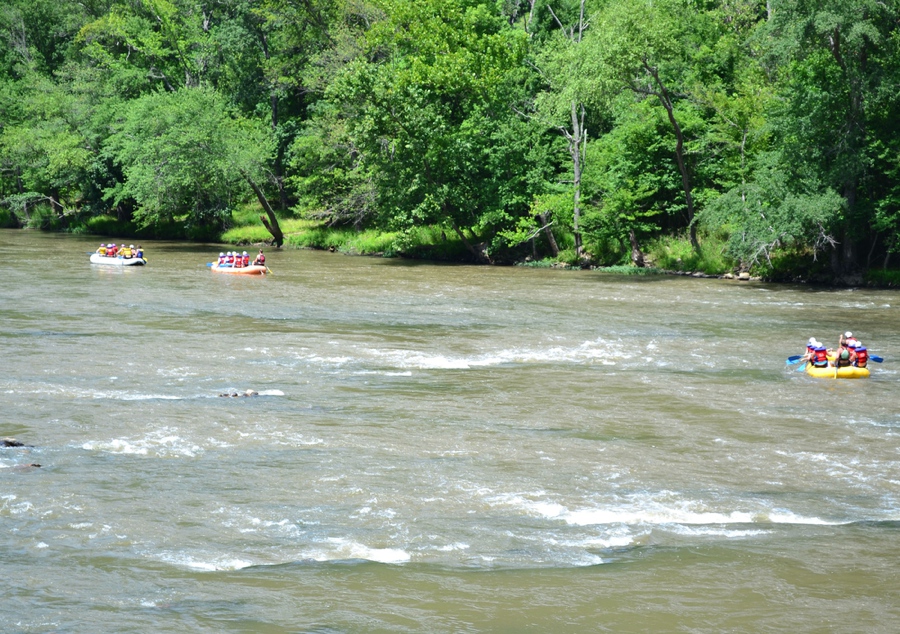 12. Listen to Buskers
Walking around downtown Asheville, you're sure to hear a lot of music. Some of it may be coming out of shops and bars, but more often than not, it's actual musicians jamming in the street!
It's very common to see people "busking" on the streets of Asheville. Busking is when you play music in public and simply open your guitar/violin/keyboard case to take tips from passersby.
The various musicians busking around downtown Asheville really add to the eclectic atmosphere of the city. If you enjoy the music, stop for a while to listen and toss a few bucks in to show your appreciation.
13. Day Trip to Hot Springs
If you're looking for some good old-fashioned R&R on your trip to Asheville, then you may want to add in a day trip out to the town of Hot Springs, NC. It's not just a clever name, as the small town is home to some amazing hot springs.
It's about a 45-minute drive from downtown Asheville out there, and it's well worth it.
The Hot Springs Resort & Spa has amazing mineral baths and spa services. After a busy couple of days exploring the city, a nice massage and a soak in the hot springs is just what you need. This is definitely one of the most relaxing things to do in Asheville.
The resort has a variety of different options, so be sure to check their website for details.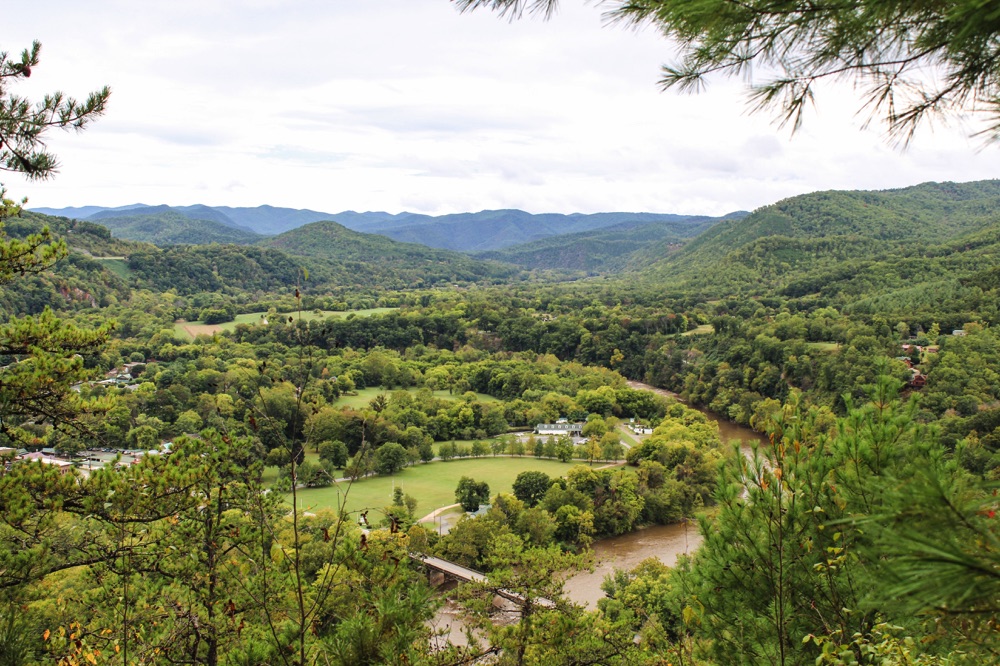 Just be sure to book in advance, as it's a popular place. They also have several different choices for on-site accommodation if you're interested. You can get directions to the Hot Springs resort on the map here.
⇒ See Also: 27 Top Things To Do in Chicago – The Ultimate List For Travellers
14. Join the Friday Drum Circle
One of the coolest things to do in Asheville NC, for both visitors and locals alike, is joining in the weekly drum circle. People of all ages and backgrounds come out to enjoy this fun and free event.
The drum circle goes on every Friday at Pritchard Park downtown. People usually start showing up around 5 and it gets bigger and bigger until the whole park is packed with people drumming, dancing, and singing.
Even if you don't have a drum of any kind, it's a good time. You can just dance to the music and enjoy connecting with people. Once the drum circle wraps up, you're smack dab in the middle of downtown Asheville on a Friday night.
⇒ See Also: Top 10 Best Bars in Chicago – A Guide To The City's Nightlife
15. Shop at the Grove Arcade
If you're looking to do a little shopping before you leave Asheville, be sure to swing by the Grove Arcade downtown. This building has a very interesting history, which I recommend you read before going there!
At the Grove Arcade, you'll find a very diverse array of shops, including the Batter Park Book Exchange and Champagne Bar, Nutz About Fudge, the Woodrow Instrument Company, and much more.
In addition to all the great shops inside, there's also the Outdoor Artists Market. You'll find paintings, clothing, jewelry, and local honey, among other things. The Grove Arcade is open from 10-6 Monday-Saturday and noon-5 on Sunday.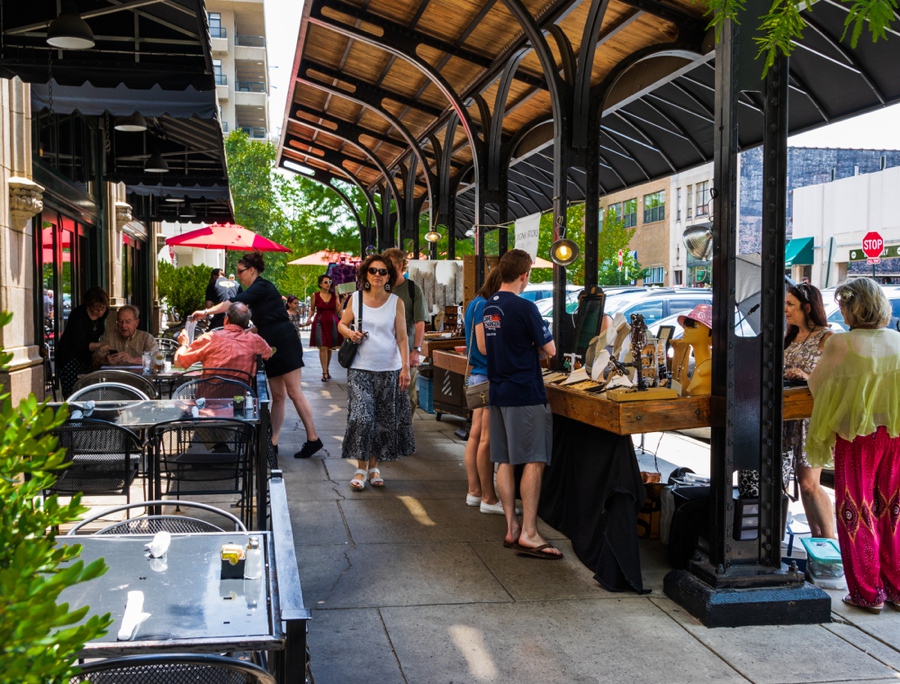 16. Treat Yourself at the Grove Park Inn
For those who enjoy the finer things in life, a trip out to the Grove Park Inn is a must when visiting Asheville. In case you were wondering, yes, it is the same Grove who started the shopping arcade.
E.W. Grove is known as the "father of modern Asheville." He was a self-made millionaire who moved here in 1910 and opened this grand inn soon thereafter. A hundred years later, and it's still going strong as one of Asheville's premier resorts.
Even if you don't splurge on a room at the inn, it's well worth it to pay a visit here.
Book yourself a nice spa treatment and then grab a hand-crafted cocktail and a bite to eat at their Sunset Terrace Lounge, or choose one of the many other options for wining and dining.
⇒ See Also: 21 Best Places to Eat in Chicago – A Guide For Foodies
17. Take a Hike
By far one of the most popular things to do in Asheville is hiking.
If you've got your own wheels and are willing to drive 45 minutes to an hour outside of town, you have tons of options for excellent hiking trails.
In addition to the aforementioned Mt. Pisgah trail, other great options include Catawba Falls, the Devil's Courthouse, or Max Patch. A hike to the latter can be rewarded with a trip to the hot springs, as it's a pretty short drive between the two.
There really are tons of options for hiking in Asheville with varying difficulty and distance from town. Just check this awesome Asheville trail finder to figure out which option is best for you!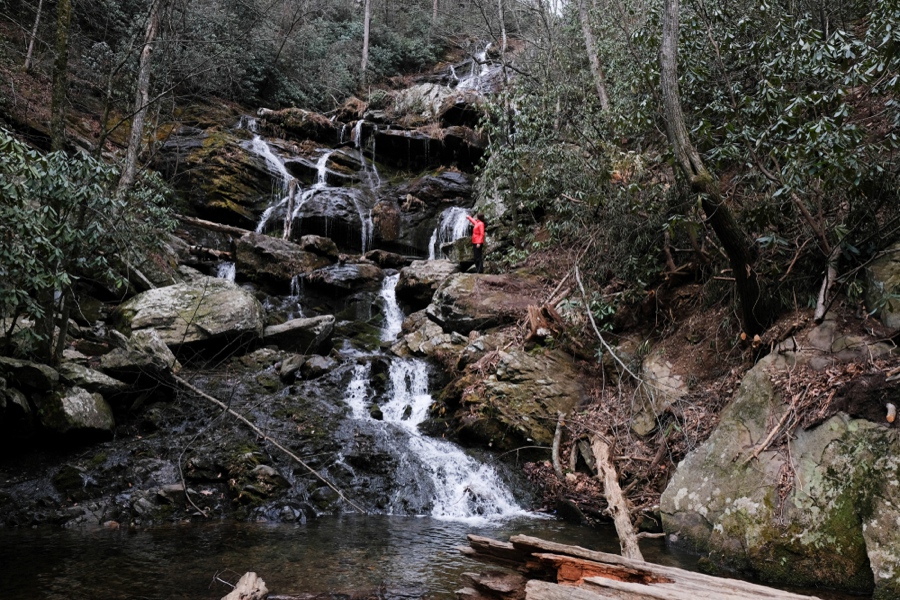 If you don't have your own vehicle, you can still enjoy the hiking and beautiful nature around Asheville. This tour combines hiking, waterfalls and breakfast! You'll be picked up from your hotel and will enjoy a one-hour guided hike, with breakfast at the bae of a waterfall. A great way to start your day.
18. Explore the North Carolina Arboretum
Another fantastic choice for spending time outdoors in Asheville is the North Carolina Arboretum. Here you'll find some lovely cultivated gardens, a bonsai exhibit, hiking & biking paths, and much more.
It's a great place to spend a couple of hours, especially on a nice day.
Actually, the arboretum is also a solid choice in the colder months thanks to the Winter Lights display they put up. The place really turns into a winter wonderland from late November until the end of the year.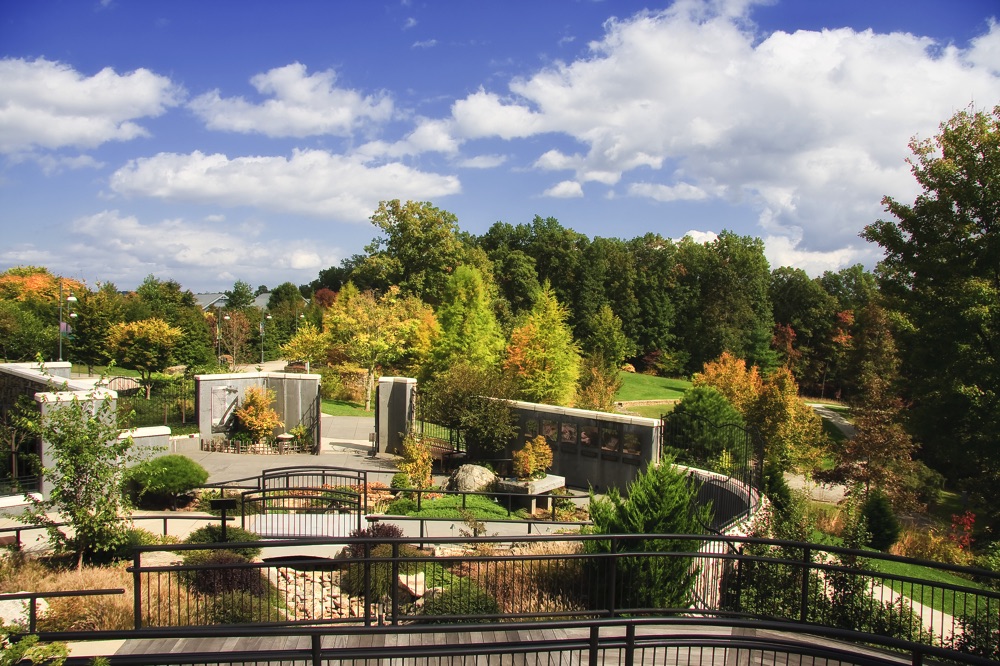 The arboretum is open from 8-7 in the fall/winter and from 8-9 in the spring/summer. They don't charge an entrance fee per person, but rather charge a flat fee of $14 per vehicle to enter. You can find them on the map here.
⇒ See Also: Chicago Architecture River Cruise – A Guide For Travellers
19. Go on a Ghost Tour
One of the spookiest things to do in Asheville is going on a ghost tour. Haunted Asheville has a few different options for chilling, thrilling tours that are fun for the whole family.
On their classic walking tour, you'll learn the stories behind some of Asheville's most haunted spots from a resident ghost expert. Tours usually run at 8PM and sometimes there's another one at 9. Tickets cost $23 for adults and $15 for children 9-14, while those under 8 go for free.
Another option is their Biltmore Village Mystery Tour. Apparently, you learn about a kangaroo that appeared from another dimension on this tour. Sounds cool to me!
Finally, US Ghost Adventures runs this one-hour tour for $22 per person. Learn about the creepy paranormal activity around Asheville…all stories are based on eyewitness accounts, historical events, and local folklore. Don't miss it!
⇒ See Also: Where To Eat in Meredith New Hampshire: A Guide To The Best Restaurants
20. Sundowners at Sky Bar
After a busy day of exploring Asheville, there's no better place to watch the sun go down with a nice adult beverage than SkyBAR.
Grab a cocktail and take in the amazing views from this rooftop bar, and you'll see why Asheville really is the Land of the Sky.
While there are some quality beer and wine choices on the menu, this place is all about the cocktails. I personally recommend their Mixed Berry Mule or the Peach Ginger Whiskey Sour. You really can't go wrong with any of the options.
SkyBAR is located in the historic Flatiron Building in downtown Asheville.
Half the fun of visiting there is going up in the old school elevator, which still requires an operator. They open at 5 during the week and an hour earlier on the weekends.

21. See a Show
No matter what night of the week it is, there are plenty of shows going on in Asheville. Take your pick between theatrical performances, stand-up comedy, live music, and more.
The live music scene is one of the things I love the most about Asheville.
The city has several venues that range in size and style, so you get all sorts of different acts coming to town. Some of the best places to see music here include the Asheville Music Hall, Salvage Station, and the Orange Peel.
Be sure to check the calendar and see what's playing when you're in town.
During the warmer months, you'll also find many different outdoor events and festivals happening in Asheville.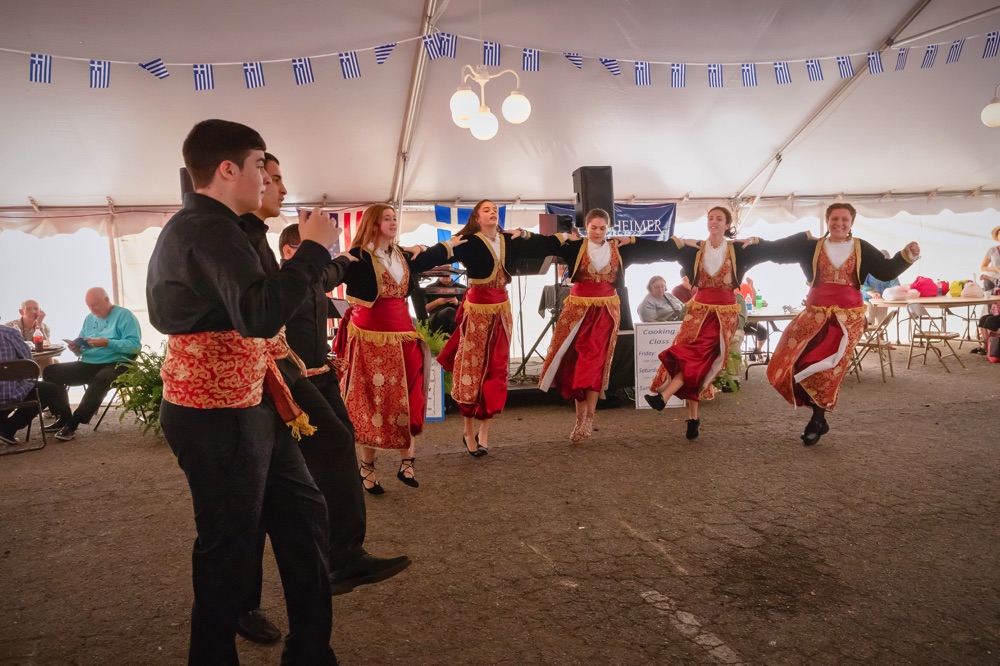 One such festival is Shindig on the Green, which takes place all throughout the summer at Pack Square Park. There are free shows most Saturdays as well as lots of informal jam sessions and other fun things going on.
Bonus! Food Tour For a Cause
This is one of the best things to do in Asheville NC for foodies. The locally-owned food tour company "Eating Asheville" offers 3 different tours. Pick between the classic tour, high-roller (with new hot spots!) or the cold one which is a food and craft beer tour.
For every tour booked, one meal is donated to someone in need. Learn more about this fun activity in Asheville.
Now You Know What to Do in Asheville NC!
Well there you have it. I hope you've enjoyed this Asheville blog, which gave you a look at one of my many homes away from home.
Asheville is such a cool city with so much to offer, whether you're into the great outdoors, epic adventures, the arts, or just relaxing and chilling out. Whatever you do, there's always lots of amazing beer, food, views, and music!
Images in this article courtesy of Shutterstock.com.
Like This Article? Pin it!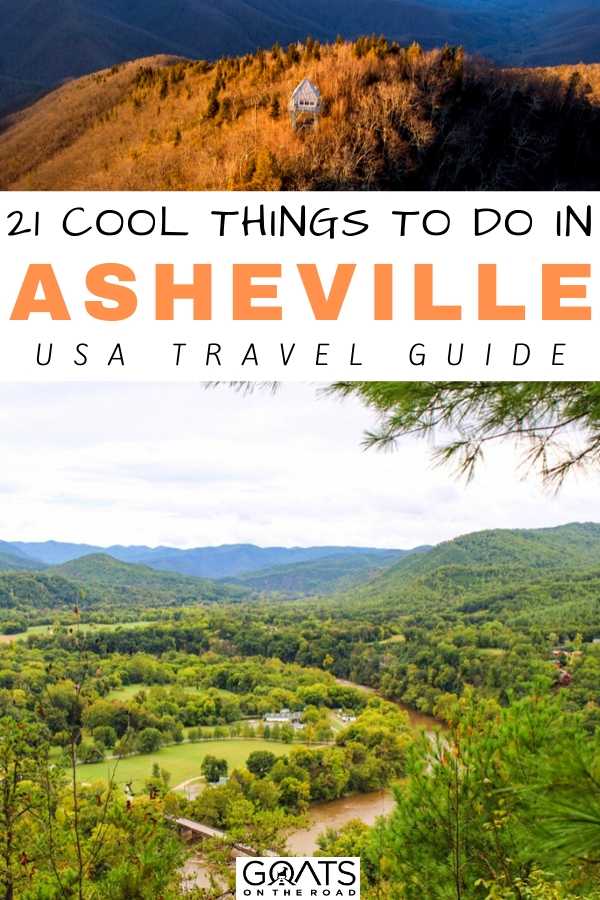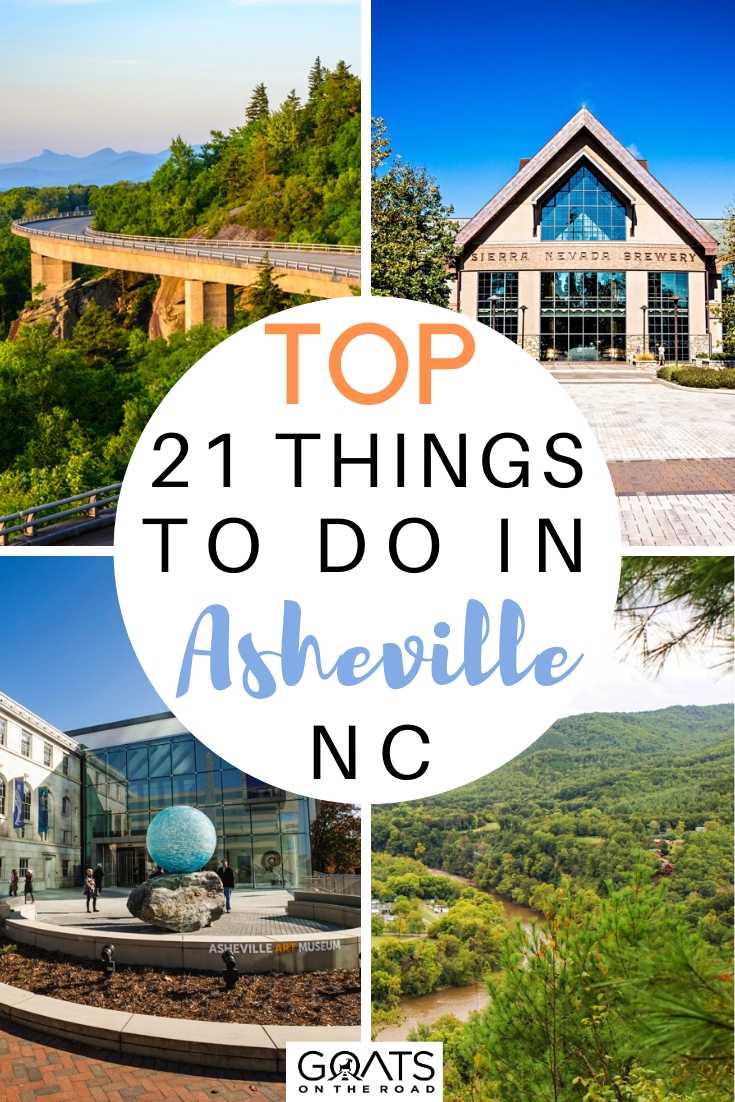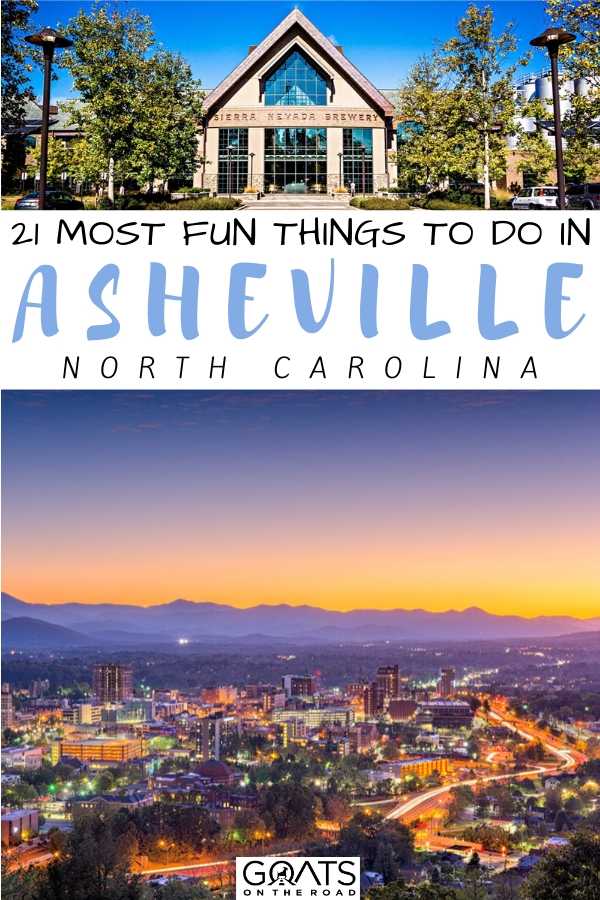 The post 21 Best Things To Do in Asheville, NC appeared first on Goats On The Road.