Finding unique gifts for travel lovers can be a daunting task. Not only do you need to find a gift that they'll like, but something they'll actually use.
As travellers ourselves who have been on the road for more than 10 years now, we've got the inside scoop on useful and fun items for travel that would make great presents.
Whether it's a birthday, Christmas or a going away gift you're after, you'll find some gift ideas for travel lovers in this article.
In this post, I'll list 12 unique, fun and practical travel gifts for your special someone.
On another note, we recommend also looking at the small businesses in your community and seeing if there are any products or gift certificates you can purchase, or other ways that you can support them this year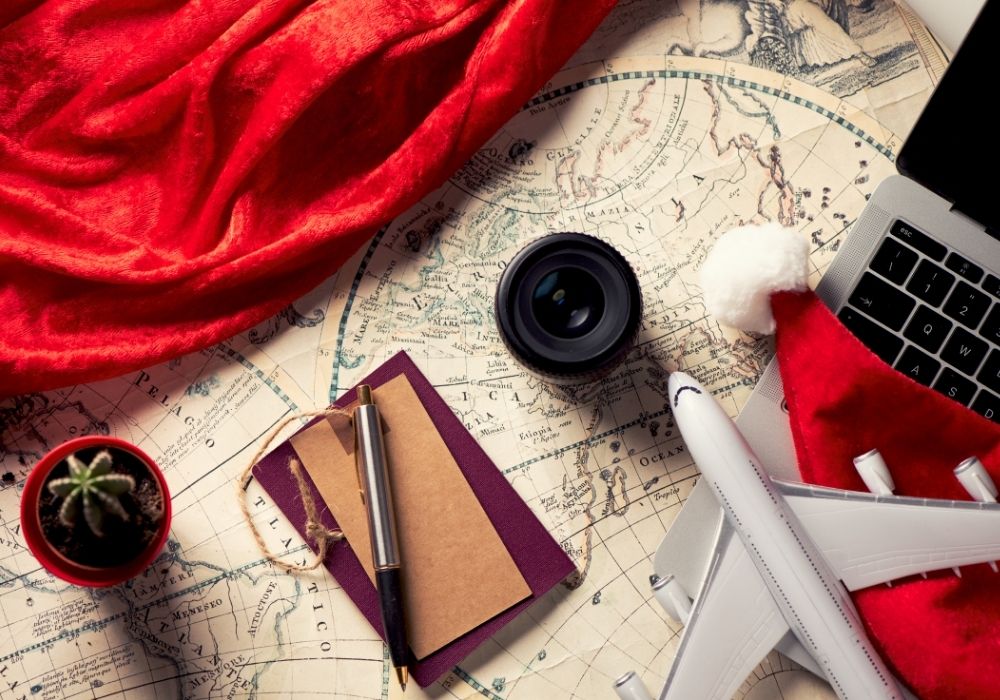 This article has been updated December 2020 to list gifts that your travel-loving family and friends will enjoy, but aren't necessarily presents that could only be used while on the road.
This post contains some affiliate links to Amazon and other companies. If you purchase a product using our link, we receive a small commission at no extra cost to you. Thank you for your support!
1. Airbnb Experiences (online or in-person)
This is my top choice for gifts this year.
Sure, many people aren't actually travelling at the moment, but what better way to keep the travel dream alive than joining an online Airbnb Experience?
These online experiences make for very unique travel gifts.
While you may not actually be in Italy, England, Mexico, or India, you can join an online class with people from there! Here are a couple of the top-rated options you can choose from:
Making Pasta With an Italian Grandma (a travel gift for foodies!)
If you love Italian food, you'll want to join this cooking class. Travel virtually to an Italian grandma's home and learn how to make pasta from scratch — from the experts.
Gnocchi, lasagna, ravioli, fettuccine and more. You'll be sent a list of ingredients and the tools you'll need to participate. Click here to learn more about this highly-rated, yummy class.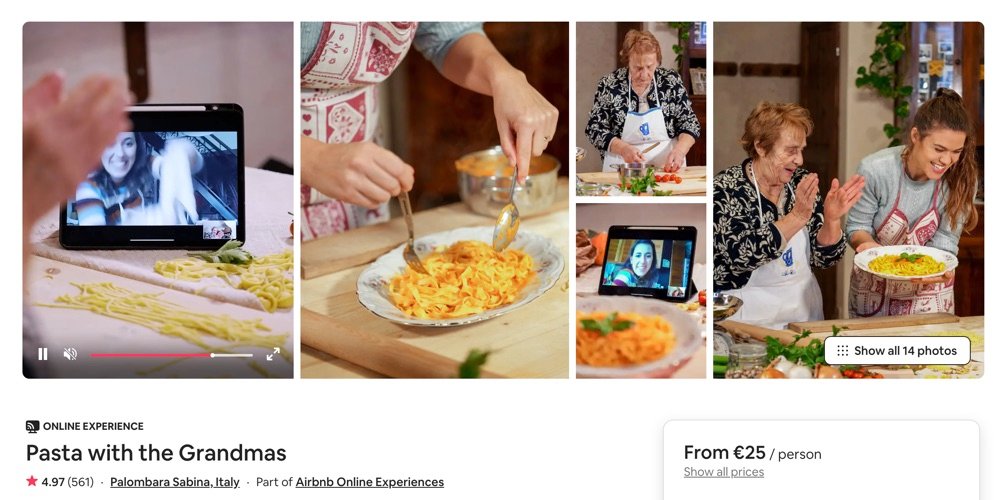 Fun fact: at the beginning of 2020, Nick and I actually did this Airbnb experience in person in a village outside of Rome. It was a great cooking class, the grandmas were so fun, and we were SO full by the end of it! Highly recommended. Find out more here.
Gin Cocktail Class With a Mixologist
If you're into gin, you'll want to check out this cocktail class with an expert from the UK. Expect to learn some unique gin cocktails, play some drinking games, enjoy some jokes and laughter, and a fun night with new friends.
This is a fun experience for singles, friends, couples, families and groups. You'll be sent a list of ingredients and tools you'll need in order to participate. Click here for details about this highly-rated class.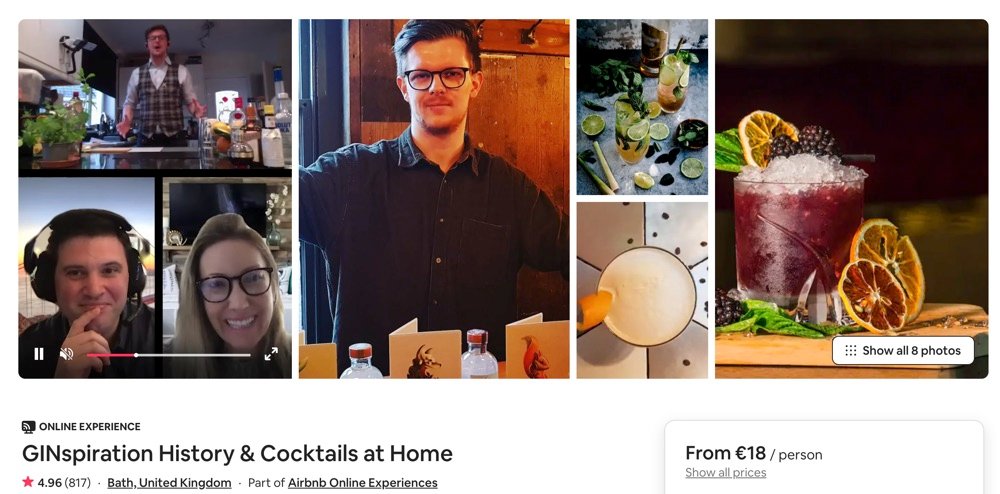 Taste Of India – Tea and Food
Learn more about Indian culture and cuisine with this online cooking class. Each day offers a different menu, so just choose the one that you think your travelling friend will enjoy.
Whether it's butter chicken, matter paneer, vegetable biriyani, paneer butter masala or samosas, there's something for every Indian food lover! Of course, masala chai tea is also on the menu.
JD is from Delhi and his family have owned a restaurant for three generations now — your special someone will be in good hands with this experience. Learn more here.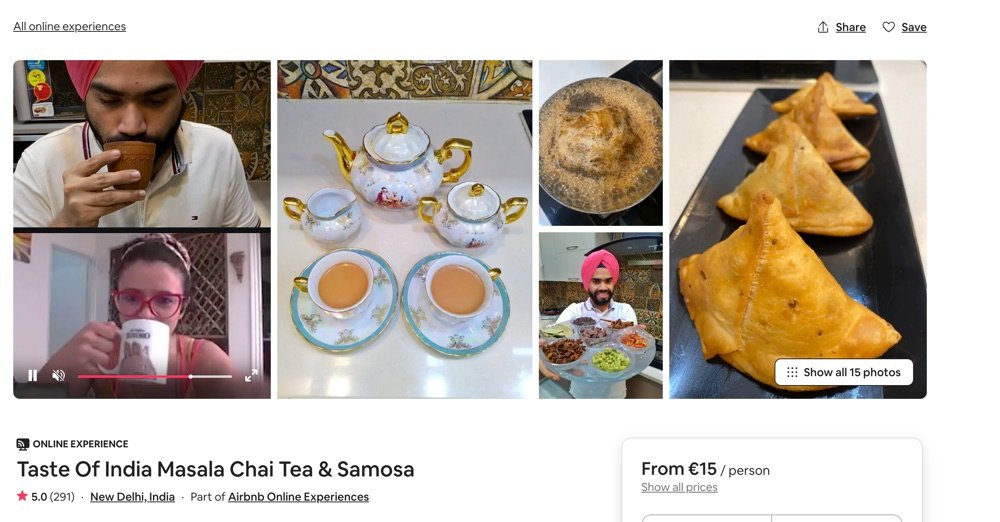 Other Travel Gift Ideas Online
Those are just 3 of the MANY amazing online experiences found on Airbnb. If you're looking for a gift that isn't food and drink related, there are many others — music, dancing, magic, storytelling and more.
2. JBL Portable Speakers
We've tried numerous Bluetooth portable speakers over the years, and as far as affordable electronic travel gifts go, these speakers are the best.
Everyone has a smartphone these days and connecting to these JBL speakers is easy. Plus, it weighs in at just over 1lb, making it practical for travellers.
Many people like to listen to music while they're at the beach, chilling out by the pool, or having a relaxing night playing cards with new friends. Bluetooth speakers are a must. These days, we also use them for watching Netflix on our laptops.
We've owned the JBL Flip 4 and Flip 5. Both are great, but the Flip 5 is waterproof and sounds excellent. This is an affordable gift for travel lovers.
3. Portable Espresso Machine
Not only is this travel gift great for those who love to wander, but it's an excellent idea for coffee addicts.
If you've gone on a long-term trip before, or if you travel on a budget, you'll know that the coffee available at hostels and guesthouses is usually sub-par filter coffee.
Or, if you're camping, hiking or living out of a small vehicle, this is a great gift to get that coffee fix!
Portable, handpump espresso machines can be taken on the go. They're small, compact and all you need is some hot water and some espresso grounds.
You simply add the grounds to a little pod, add some hot water, pump up the machine to build up some pressure, press the release button and voila, a shot of espresso appears.
You can then add more hot water to your cup to make it less strong, or, add milk.
We've used the Handpresso machine, our friends prefer the AeroPress, while the Wacao Minipress is popular on Amazon. Click here to learn more about handheld espresso machines.
4. Natural Body Care
With products for all sexes, and unisex items, you can find natural body care items from companies like Lush or Ethique.
Products are vegan (or vegetarian), handmade and nothing is tested on animals.
Not only that, but the ingredients are all-natural, and for the responsible traveller in your life, they'll be happy to know that many of the items don't have any packaging — plastic or otherwise.
When you're thinking about gifts for travel lovers, consider the shampoo, conditioner and soap bars, body lotions and face wash — many of which come in nice packaging, perfect for a present.
These items are great for travellers for many reasons:
There's no plastic waste.
No liquids so they can easily be brought on board a flight — great for those who fly carry-on.
Takes up less space in luggage than a shampoo or conditioner bottle.
5. Travel Hammock
Travel hammocks are great for those are looking to sleep under the stars, or on remote beaches. It's also great for campers or for those who like to do some multi-day trekking (provided there are trees around to hang the hammock from!).
A travel hammock is also an excellent travel gift for those who just plan to backpack around.
Setting up a hammock on the balcony of your beachfront hut, setting it up for a break mid-hike, or bringing it to the beach for a day of chilling out between two palm trees is the ultimate in relaxation.
There are numerous travel hammocks to choose from, just make sure you get one that is lightweight and rolls up into a small package. Travellers like small items!
With more than 20,000 positive reviews, the Wise Owl Outfitter hammock is a great choice. Click here to compare prices and reviews on numerous travel hammocks.
6. Bluffworks Clothing
Bluffworks brand of clothing is a good option whether you're on the road or at home. The clothing items are quick-dry, stylish and the best part…they don't wrinkle!
For business travellers, or those who jet-set, having a nice set of clothing in your luggage is essential. Even if the person you're buying a gift for plans on budget backpacking around the world, it's always a good idea to have 1 nice dress shirt and 1 nice pair of pants.
You never know what can happen on the road. We've been randomly invited to weddings, found ourselves in the area when a new bar was opening up and were invited to enjoy a 7-course fine dining meal.
Shorts and a t-shirt simply wouldn't meet the dress code.
Nick has owned the "Original" pants in charcoal for about 6 years now, and he wears them whenever there's a "fancy" event happening — and they never wrinkle. Click here to learn more about Bluffworks clothes.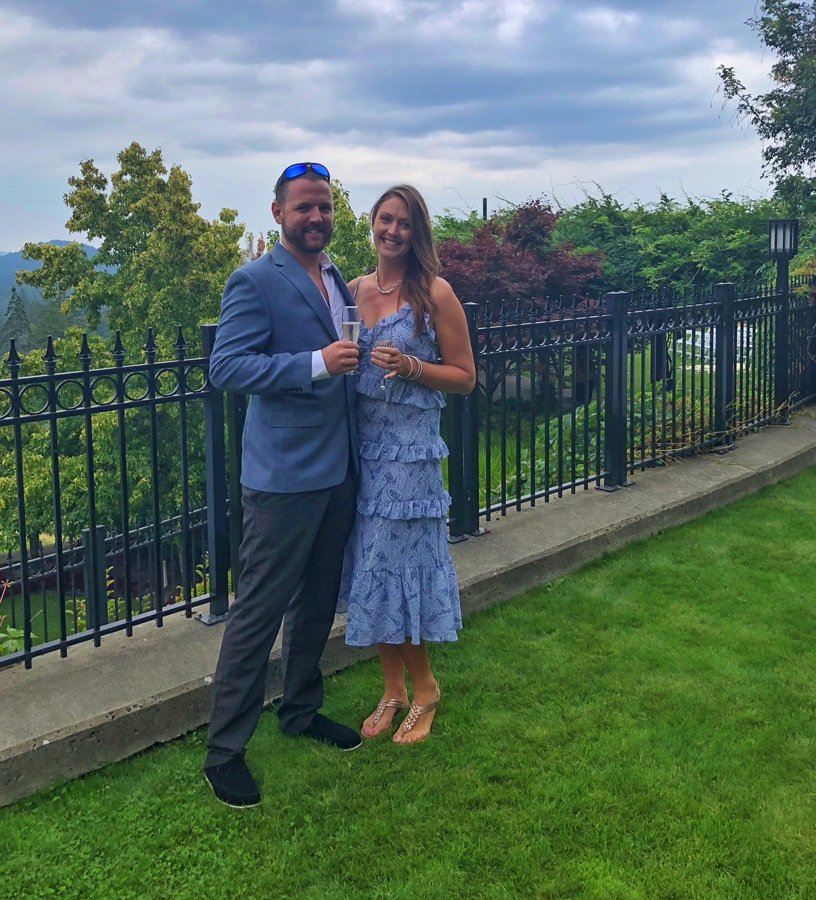 7. Airpods/Earbuds
Having a set of Bluetooth speakers is great, but having your own set of headphones these days is a must.
Listening to music and podcasts while bumping along on a bus, hiking or working out. Chatting to a friend on video calling, or for those flight days when you want to watch a movie, headphones are a must-have and make great gifts.
Look for earbuds that offer noise cancellation and a mic, and also make sure that the earbuds you're purchasing are compatible with your travel friend's smartphone or tablet.
We now both have Bluetooth Apple AirPods and although we can't use them when connecting to the TV screens on airplanes, we watch our shows on our smartphones or tablet using them.
Plus, when walking, chatting on the phone, and working out, it's nice to not have cords in the way. Click here to compare the different styles of AirPods.
8. Tinggly
When it comes to travel gifts, this unique idea from Tinggly is a good bet. Visit their website and choose a category that's relevant to the recipient of the gift — "Key to Europe", "Perfect For Him", "Perfect For Her", "Merry Christmas", "Ultimate Collection", "Bucketlist", etc.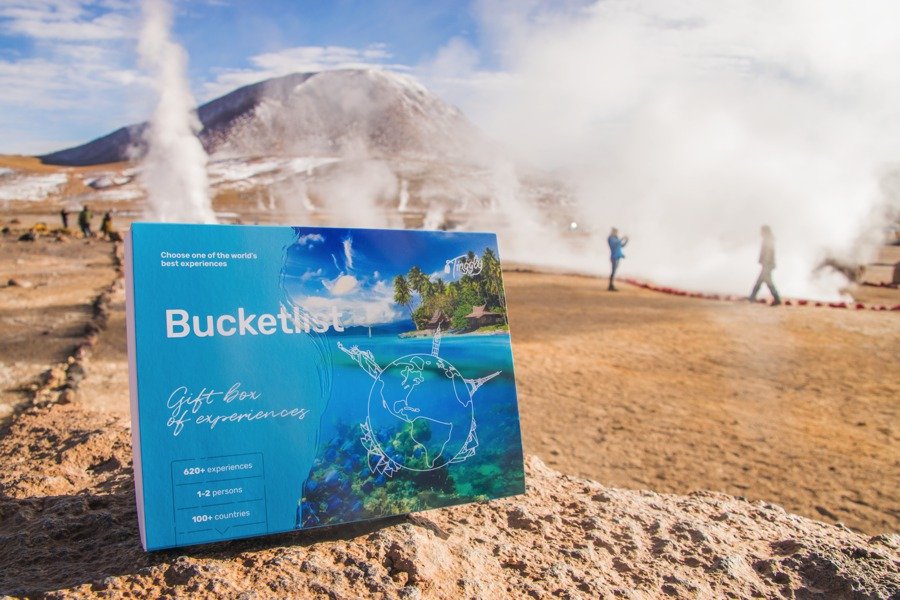 In each category are numerous tours and experiences for your travel-loving friend to choose from (in some cases, there are over 700 options).
Once they've chosen the event that interests them, they have 5 years to redeem it.
Experiences and tours are available worldwide, so just ensure that the gift you choose is offered in the country the recipient is going to.
When it comes to travel gifts, you really can't go wrong with a wine tasting in Tuscany, a helicopter flight over Las Vegas, a day at the spa in Bali or volcano exploration in Hawaii! As travellers ourselves, we can say we definitely prefer memorable moments over possessions.
You can opt to send a physical box to the gift recipient, or send a voucher by email. Click here to learn more about this fun gift idea.
9. Travel-Sized Instrument
One of the best gifts for travel lovers, and musicians is a travel-sized instrument. What better way to connect with people than by singing, dancing and playing music?!
Whether enjoying songs around the campfire, jamming on the beach at sunset, or travelling abroad, in many cases having a small instrument is more practical than a full-sized one.
A travelling ukulele or guitar are great options.
Musician Authority has some great posts on some easy songs for beginners and beginner's guides to playing the ukulele.
For guitar players, you can't go wrong with Martin, and luckily, this company has a travel version guitar. Weighing in at around 2.5 pounds, and fitting in the overhead compartment of planes, the Martin Steel String Travel Guitar is perfect.
Another option is a ukulele which is already small enough to be a travel item. This 21-inch ukulele is lightweight, small, and includes a carrying case and tuner. A great present for travellers!
10. Prana Clothes
Another clothing company that is an excellent travel gift. The travel, adventure and yoga clothes that prAna makes are practical, stylish and ethical. This brand cares about fair trade and sustainability.
I personally wear the Halle pant on about 95% of our flight days and I've always worn them when trekking — they're stretchy and comfy.
I also own a sporty tank top, a cotton t-shirt and a hooded sweater, while Nick has a polo shirt, a dress polo and some loose cotton yoga pants. The clothes have lasted us for 7 years so far and are still going strong!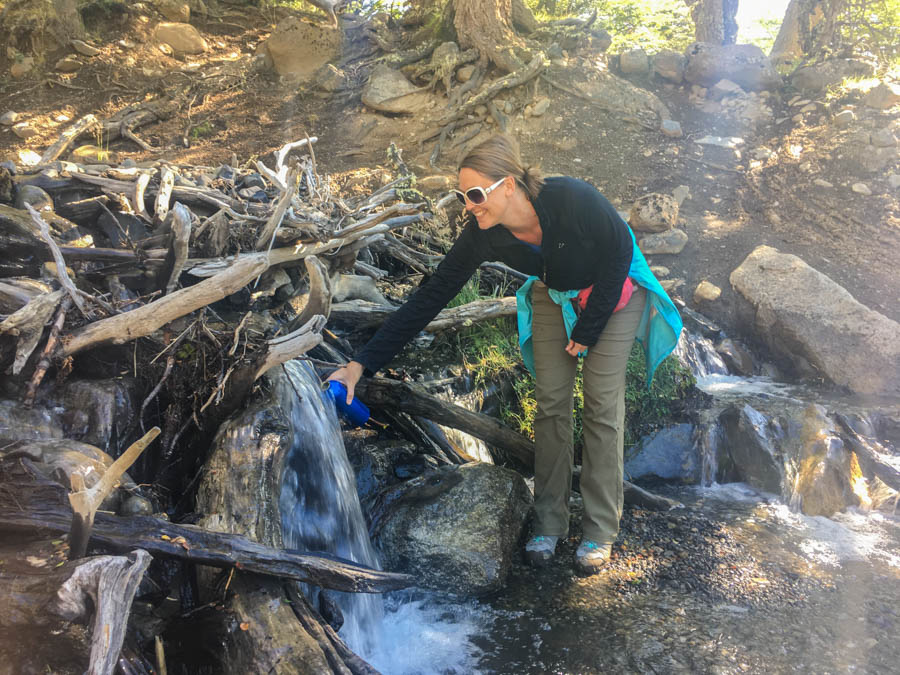 I wholeheartedly recommend this brand as a gift for the traveller in your life. Click here to see all Prana products on their website. They offer free shipping and 10% off new orders receive
*Update December, 2020: I fell off my bike and got a hole in my Halle Pants that I'm wearing in the photo above. So, after around 6 years I finally had to purchase a new pair, this time I went with black but in the same style. And, they are still built just as well as when I purchased my first pair 6 years ago. Also, for those women who are tall like I am (5'10"), these pants come in a "tall" length!
11. Water Purification Products
When it comes to travel gifts, this might not sound like the coolest idea out there, but it can be a lifesaver and is something that travellers need to have in their bags.
When travelling to more offbeat destinations where the drinking water is questionable, it's imperative that water from the tap is purified before being consumed.
Similarly, when you're camping, cycling or trekking in the wilderness and the water source isn't safe, it'll need to be purified. We used a SteriPen when trekking in remote locations in Kyrgyzstan and it worked very well.
Not only do products like SteriPen or Lifestraw remove harmful bacteria and microbes from water, but travellers don't need to purchase bottled water, which helps to save cash and the environment.
With SteriPen, you simply fill a (reusable) bottle with 1 litre of water and "stir" the pen around for 89 seconds. As you stir, it gives off UV rays that kill harmful bacteria.
Once you see a smiley face on the device, the water is safe to drink. There are different models of SteriPen, some charge via USB, others with batteries.
The Lifestraw is only good for one person as it is a personal straw, which has a filter inside of it.
It's small and lightweight and is a good option for drinking straight from streams or puddles in emergency backcountry situations — it also filters out debris.
I think of it as more of a survival tool, which could be a cool travel gift if someone is going on an expedition. Click here to learn more about the SteriPens available and click here to learn more about Lifestraw.
12. Games (fun gifts for travel lovers!)
If you're looking for fun travel gifts, then purchasing a game (or 2) is a good idea! These gifts can also be used for people travelling in a van/RV, going on camping trips, or simply for weekends at home.
If the person is travelling solo, then games for 1 or more are preferable but consider games that can be played with a group over a few beers.
We always have games in our backpacks and play when we're waiting for flights, for our meals to show up, or when we're in our accommodation. Keep in mind that travel games need to be somewhat small and lightweight.
For us, our go-to travel games are Cribbage, a simple deck of cards, pass the pigs, and dice for playing Yahtzee.
Our latest purchase is Bananagrams which is kind of like Scrabble but without the board, and it's more fun. Other hilarious adult games include Cards Against Humanity (a great way to get to know people – and their sick humour), and The Game Of Nasty Things (travellers would just bring the cards and not the actual box, obviously).
Other great options are Monopoly Deal and Skip-Bo.
13. Bonus! Mini Projector
This is one of the more unique travel gifts on this list.
For people who are travelling around in a van (which is very popular right now), who are travelling slowly or living abroad, or for those who want to set up movie nights in their backyards — get a projector!
These small machines project quality images, making it fun for a group of people or a simple movie night.
Because the projectors connect to your smartphone or laptop, you can also watch YouTube, Netflix, look at your photos on the big screen and more.
We've used projectors with a proper pull-down screen, but we've also used a plain white wall and a white sheet and that works also.
Have a look at this pocket-sized projector (yes, it fits in your pocket!) and this one which is a little bigger but is still considered a "mini" — it's a highly rated, quality product.
Other Gifts For Travel Lovers
There are a few gifts ideas that I want to suggest here — but they won't be available to everyone. I'm recommending them as they are items that are created by good friends of ours, and we want to help support small businesses whenever we can!
Here are a few items to consider:
Handcrafted Caribbean Gin
Owned and operated by our good friends in our adopted home of Grenada, Bluelight Gin is the only gin distillery in the Caribbean. They've worked hard to create tasty bottles of booze, with a tropical vibe.
A portion of their profits goes towards helping keep our oceans clean as well. The gin is now available for delivery in the UK. The perfect addition to your camping trip, van life (while parked!) or weekend at home. Get your bottle here.
Beautiful Paintings
Our talented friend in Grenada has started offering her paintings on Etsy. Paige creates unique pieces with love — from flowers, plants and landscapes, to portraits, animals and fruits. Plus, she can make a one of a kind piece of your pet.
Just send her the photo of your furry friend and consider it done. Learn more on her Instagram account here, or directly on Etsy. Items are shipped from the USA, and there are small-sized prints available, perfect for hitting the road.
One Of a Kind Greeting Cards
Again, more of our talented friends living on the island of Grenada! Lily and Lauren run Pickalily cards, which are hand-drawn and filled with hilarious puns. These unique cards are available online through Thortful for the UK only. See if there is a travel-related, or Christmas card for you. Learn more here.
Happy Gift Giving
There you have it, 12 fun, unique and (more importantly) practical gifts for travel lovers. In reality, no matter what you give your travelling friend, I'm sure they will love it.
But hopefully, this article gave you some good ideas for products that can actually be taken on the road or enjoyed at home this year. Every time your friend uses your gift while they're away, they'll think of you.
Like This Article? Pin it!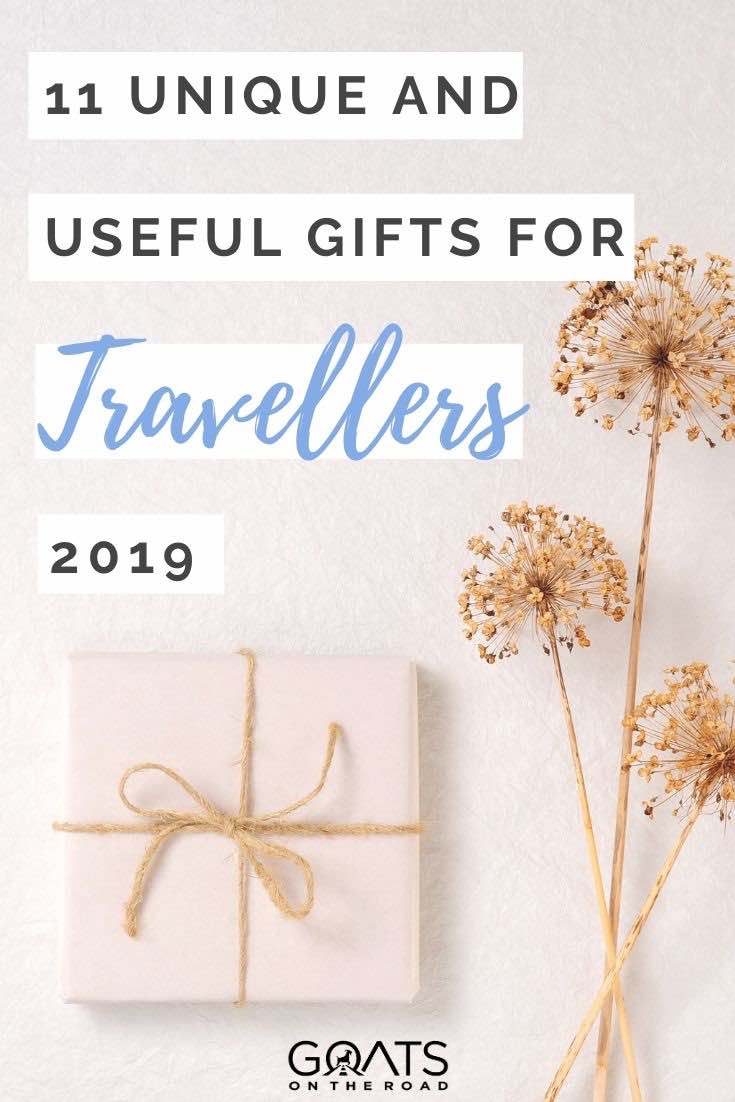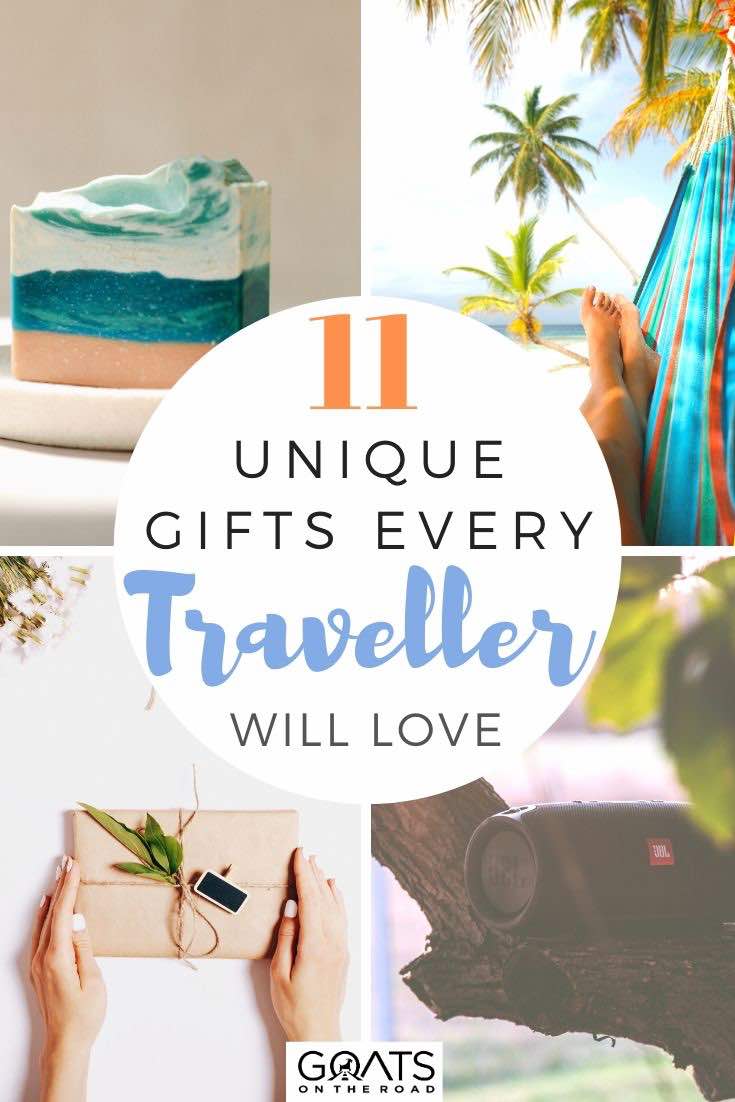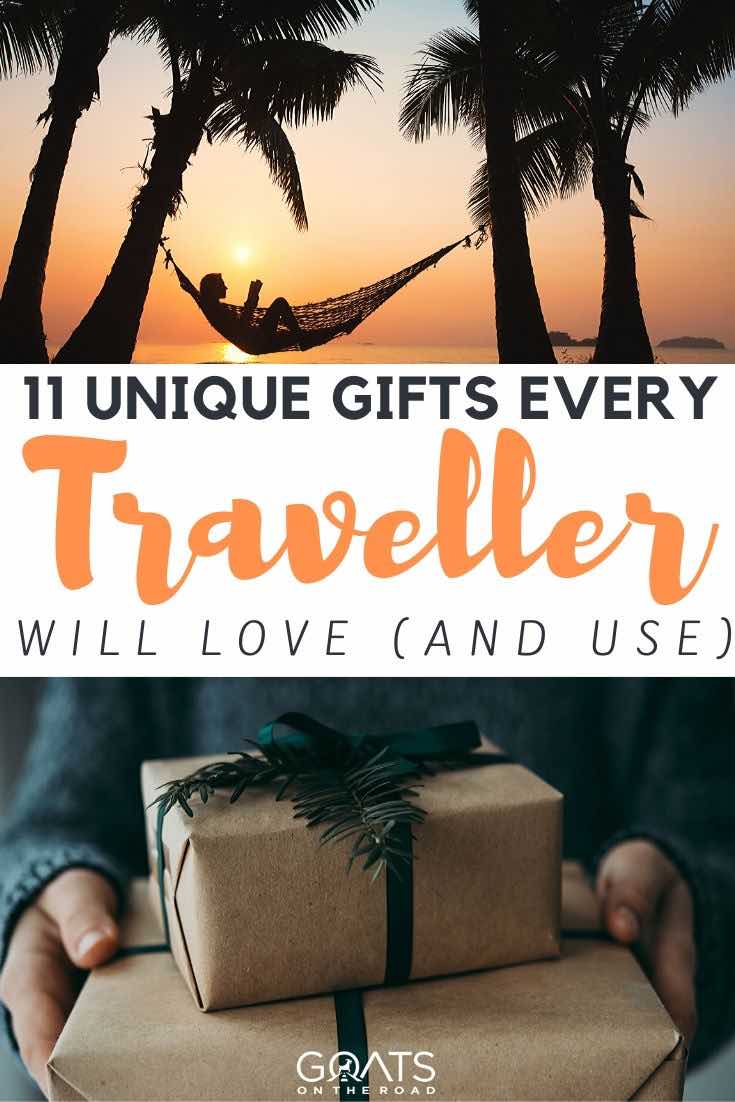 The post 12 Unique Gifts For Travel Lovers (2020 Guide) appeared first on Goats On The Road.