It can be daunting trying to find one of the best laptops for remote work. There are tons of articles out there and so many laptops claiming to be the so-called "best."
I've been freelancing for almost a year now full-time, and the majority of my work is done on a laptop.
I've found a good work-from-home laptop that works best for me and have spent quite a long time researching other laptops, too, before making this purchase.
This list will go over all of the top laptops that you'll want to consider — from the best budget laptop for remote work, to more expensive ones. Whether you're a Windows or Apple lover, this post has got you covered.
Here are the best laptops for working at home, or abroad.
Things To Consider When Choosing a Laptop For Remote Work
When looking for the best laptops for remote work, there are quite a few things that you will want to think about. Learn more about the top considerations below before we dig into information about the specific laptops.
1. Size
When trying to find the best laptop for a remote desktop, you'll want to think about the size. Do you want a big computer or do you want a smaller one?
The size of your laptop is incredibly important to consider if you'll be travelling a lot. A large laptop is going to be more difficult if you work in a different remote location every week, so you may want to consider a smaller one.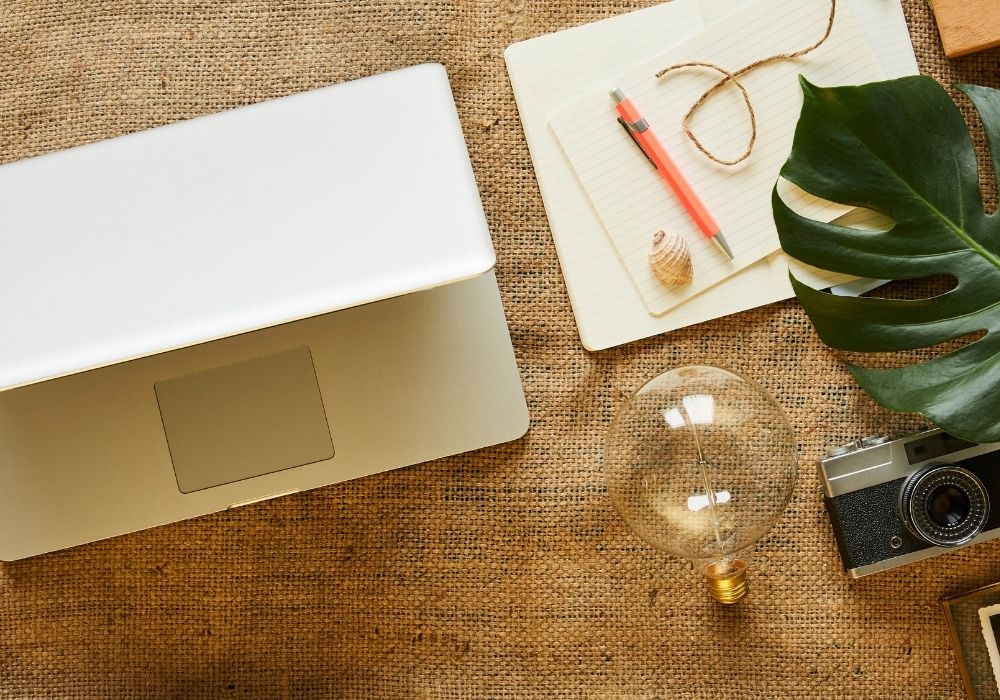 However, if you'll primarily just be working remotely around your town and co-working spaces, you could consider a clunkier laptop that might have a bit more power because you won't be lugging it around in a backpack everywhere.
2. Battery
Battery life is another consideration when looking for the best laptops for remote working. I
f you're near a plug at all times, then battery life might not be as important to you. You'll be able to plug in your computer whenever you need to, so it won't be an issue.
Digital nomad remote workers will want a computer that can sustain being unplugged for a more extended period of time. Much of their work might be done at the beach or in airports where it will be challenging to find a place to charge a laptop.
Laptops vary immensely when it comes to battery life, and it might just be your most important consideration.
3. Abilities
Abilities are critical depending on your line of work when looking for a good work-from-home laptop.
If you're a video editor, for instance, you're going to need a computer that can handle your software without dying quickly, running slowly and making tons of noise.
Another interesting computer ability is also a touch screen, which you might consider if you're an artist.
Having a touch screen or a laptop that converts into a tablet could be vital to you because it is more versatile. Plus, it's easier to carry around a computer that converts into a tablet instead of a laptop and a tablet simultaneously.
Think about the abilities that you need a computer to have when looking for the best laptops for remote work.
4. Purpose
What's the purpose of your laptop?
If you're a freelance writer who works from home, then you're going to want to consider finding a computer with a comfortable keyboard. You might want to try it out in person at a store before buying it to make sure it's comfortable.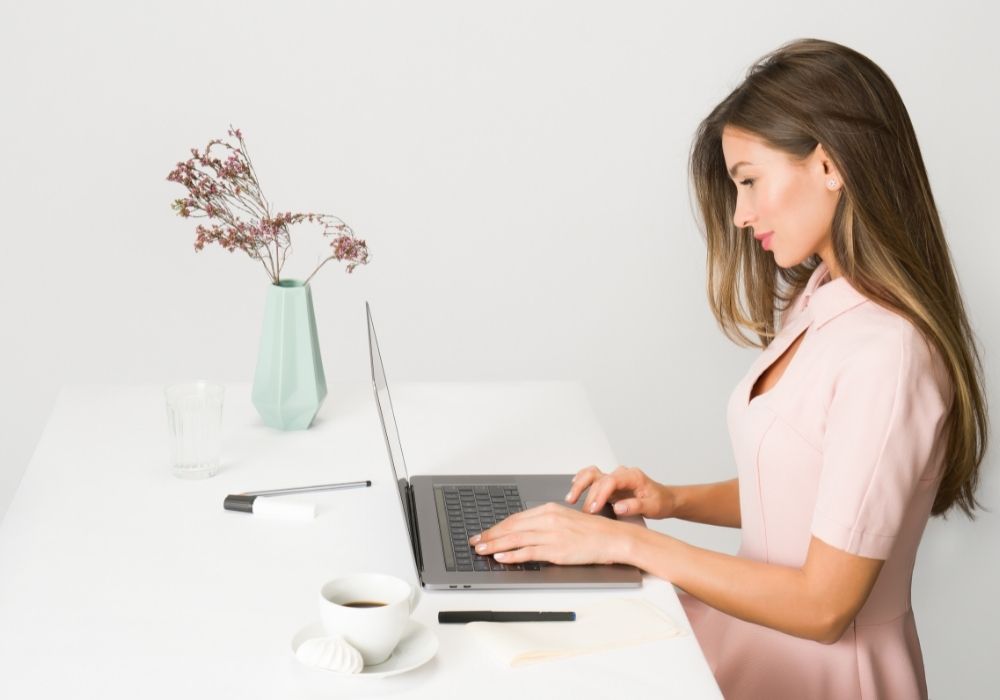 If you're editing videos or doing graphic design, maybe you'll want a larger screen. Or, perhaps you'll often be working in the dark or at night, so you'll want a computer that has a solid light-up keyboard.
Think about these options when purchasing a laptop for your remote work.
5. Price
Last but not least, the price is significant. Luckily, this post does include the best budget laptop for remote work, which can be found later in the article.
Computers range greatly in prices. Some smaller laptops can be purchased for as little as $300 USD, but they might not have that many capabilities. On the high end, you'll find computers around $2,000 USD and up.
If you know you want a top-notch computer but don't want to pay the price, you could also consider buying a refurbished laptop. Many companies sell them refurbished and are incredibly trustworthy.
Mac vs. PC
This article would not be complete without at least discussing the debate between Mac and PC computers. More often than not, most people will have an opinion of one versus the other.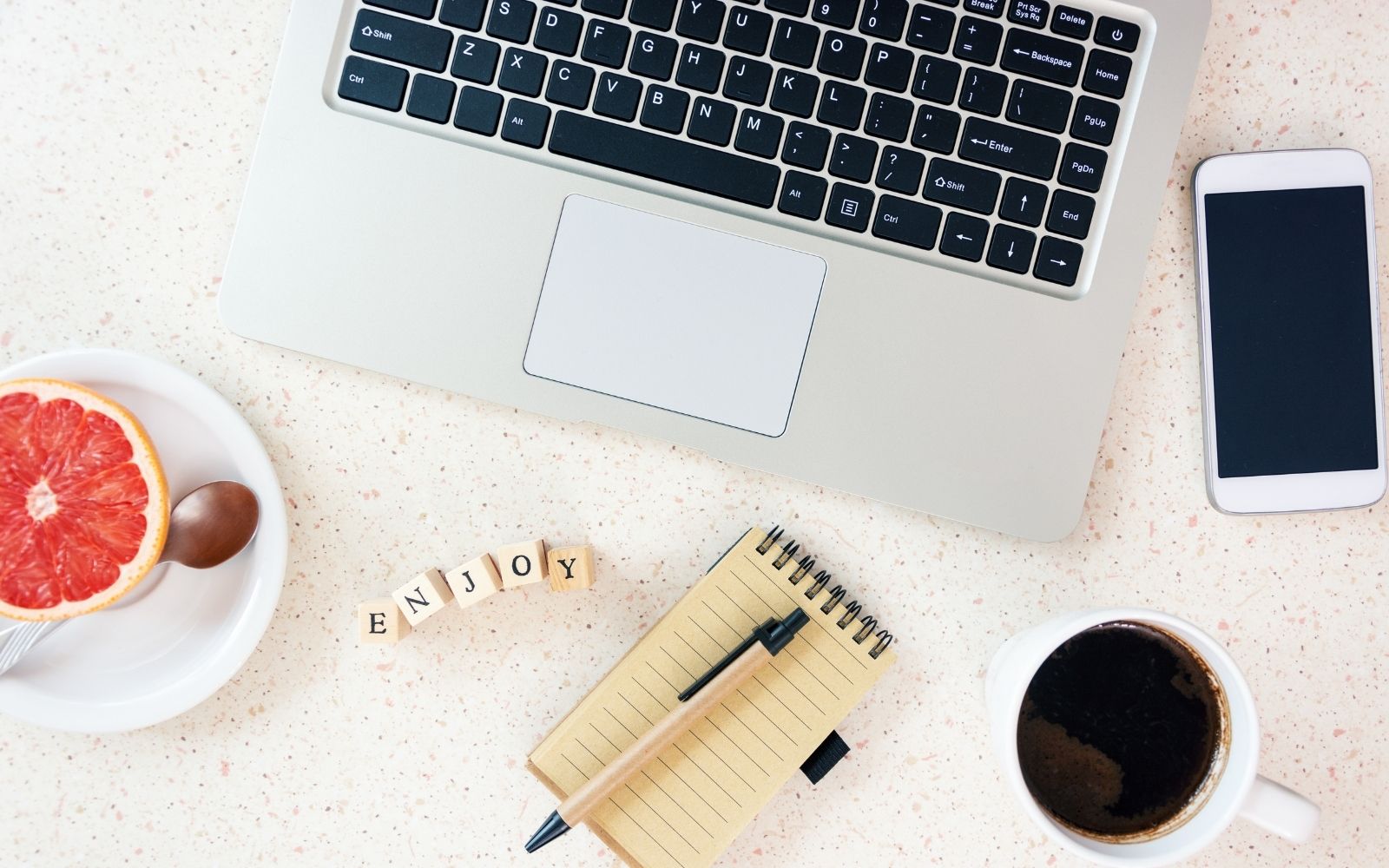 Traditionally, Mac computers tend to be more expensive. They tend to be preferred by graphic designers, architects, and people who want to move between their Apple products seamlessly.
Air dropping between products makes it so easy to send documents from one device to another.
PC computers are usually more budget-friendly. While they are often looked to as the best computers for video gamers, they often last longer than Mac computers by at least a few years.
Another stark difference between the two is that Mac computers can't get viruses, while PC computers can.
Ultimately, it's up to you whether you'd rather have a Mac or a PC computer. It depends on what type of capabilities and pricing you're looking for, as well as your personal preference of brand.
Here's my list of the 10 best laptops for remote work this year — Apple and PC.
1. Macbook Pro
The Macbook Pro is hands-down the best computer out there if you work in the design space. It's not that heavy and can run all Adobe programs incredibly easily without shutting down quickly.
Plus, the laptop tends to last about three to five years, depending on how well you take care of it.
This is the best laptop for remote desktop as a designer or video editor because it also easily connects with your other Apple products. So, if you sketch something out on your iPad, you can airdrop it to your laptop within seconds.
The battery life is impeccable, but of course, running lots of design applications at the same time might kill it a bit faster. However, because the battery life is pretty high, this is also a great laptop if you're a digital nomad — you won't have to worry about charging your computer all the time while you're on the go.
I chose to use the Macbook Pro back in 2016 and it's the computer I've been using ever since.
I would never consider switching to anything else, but I'm also a graphic designer and website designer who needs an Apple computer. I often use my iPad for designs too, which I can seamlessly send to this computer in a heartbeat.
If you're looking for one of the best laptops for remote work and you're an Apple fan, look no further than the Macbook Pro.
Editor's note: Apple should be coming out with the MacBook16″ M1 chip later this year, which would be a game-changer. At the time of writing, this 16″ is probably still the best for online workers due to the screen size.
2. Macbook Air
If you want a thinner computer, but you're a designer, video editor, creative, or a huge fan of Apple products, then the Macbook Air could be perfect for you.
It's one of the best laptops for remote working because of its small size, making it easy to bring from place to place if you don't often work in the same spot.
While it only has eighteen hours of battery life compared to the Macbook Pro's twenty, you won't even notice the two-hour difference. Plus, the odds of you working for twenty hours straight are probably slim.
This computer also has the same screen size as the Macbook Pro and costs a lot less than it, making it such an excellent option for remote workers.
This is also a good work-from-home laptop because it also connects with all the other Apple products and comes in various colour options. It's also often considered to be the best budget laptop for remote work if you're an Apple fan.
3. Google Pixelbook Go
If a lightweight computer is what you're after, then this is one of the best laptops for remote workers that you'll want to consider buying.
The laptop is a touchscreen Chromebook, and it has one of the best battery lives for the type of computer that it is.
If you are doing a lot of work that includes writing, blogging, or something like virtual assistance, this could be a great option. Even though you might not be the biggest fan of Chromebooks, this one stands out from the rest because of its fun features.
One of the features that it has is what Google likes to call "hush keys." This means that the keyboard has been made with technology that makes your typing a lot quieter.
This can come in handy if you're often travelling with others, or if you hate the sound of typing as I do!
The Google Pixelbook Go also comes in a variety of colours, so you'll definitely be able to express yourself with your laptop. Plus, it's pretty affordable compared to other computers on this list.
4. Acer Aspire 7
The Acer Aspire 7 is one of the best laptops for remote work if you won't often work in multiple places. It's also listed as "Amazon's Choice".
The laptop's total weight is 4.85 pounds, which is a bit bulkier than other laptops on this list, but it's a reliable option to choose that will last you quite a while.
It's thin and is an excellent price for its capabilities. Plus, it has two USB ports, unlike many other laptops on this list, which says a lot considering it is still a thinner laptop option. The large screen size is perfect if you have a lot of detailed work to do.
Many reviewers have said that the computer is high-speed and boots up quicker than other laptops that they've owned before. If your time is valuable, this could be an excellent option for you while working from home.
One thing to keep in mind is that the computer doesn't have an SD slot, but you most likely won't need one unless you're a photographer or videographer. You can also always purchase a plug-in converter if you ever need to use an SD card during your work.
This is truly a great option for you to consider if you're a freelance writer or blogger who doesn't need many capabilities but wants a great computer.
Unfortunately, the computer doesn't have a super long battery life, but just writing or browsing online is not going to use up your battery that quickly.
5. Dell XPS 13
While Dell computers often get a bad reputation, this is a great laptop for remote workers. Plus, it uses the Windows interface, so if you're not a fan of Apple, you'll definitely like this computer.
To start, it has a lot more memory storage than other laptops on this list. The Dell XPS 13 can be perfect if you know you'll have tons of tabs open at once or if you'll be using multiple applications on your computer simultaneously.
The screen size is decent and is the same size as many other computers on this list, and it also has pretty good battery life.
The display is 4K too, so the colours are pretty vibrant. This can be more noticeable if you're a designer or often work with colours or video while working.
If you find that you need more storage on your hard drive instead of 512 GB, you can pay and get it upgraded to 1 TB, which is an incredible amount of storage.
6. Microsoft Surface Book 3
If you're looking for one of the best laptops for remote work that doubles as a tablet, then you'll want to check out the Microsoft Surface Book 3. It has a great battery life and is pretty powerful for being a tablet.
While it may not be the lightest computer on this list, 3.62 pounds isn't that heavy. This could still be a remote work laptop that you use with your digital nomad lifestyle and can be helpful for plane rides if you'd rather just use a tablet.
This computer is great for artists too, because of the tablet conversion. Plus, it can also handle video editing if that's something you also do in your career.
While the Macbook Pro is the best option for creatives who love Apple, this is easily the best computer for creatives who love using Windows.
7. ASUS Zenbook 15
Next is the ASUS Zenbook 15, which is an incredibly thin laptop. It's a fabulous computer if you will be travelling around a lot and want a laptop that's comparable to the higher-price laptops on this list.
The computer has fast storage and also works with Alexa, similar to how Apple products work with Siri.
You can even sign into this computer with facial recognition instead of using a typed password, which is a fun feature that not many computers have.
ASUS computers are known for being predictable and reliable, which is excellent if you don't want to constantly have to bring your laptop in for maintenance or issues. Plus, it can handle pretty much any job that you might have.
The only downside to this computer is that the resolution isn't the best compared to some other laptops on this list. However, if you're a freelance writer or something similar, you probably won't even notice the difference.
8. Samsung Galaxy Book S
One of the best laptops for remote workers who want a lightweight computer is the Samsung Galaxy Book S. It has a pretty long battery life, too, of 17 hours, which is close to the longest battery life on this computer.
At just two pounds, this computer barely weighs anything at all.
If you're a traveller or a digital nomad, you'll have no issues carrying this computer around with you. Plus, it still has a great screen size despite its lightweight, and has an incredible battery life, as mentioned before.
It's incredibly lightweight because it features a processor that is often used inside smartphones, but it can still be a great laptop no matter what your job is. The computer is pretty fast and can run a variety of programs that you may need every day.
This is a great laptop if you don't have a design-heavy job, which is something to keep in mind. You might want something with a stronger processor if you're creative.
9. HP Envy x360
This laptop is perfect if you want one that you can fold in half and convert into a tablet. Unlike the other tablet on this list, you can't detach the keyboard from the tablet screen, but this is still a great laptop.
HP computers are known for being dependable. I had one for seven years that I used before finally caving and purchasing a new laptop, and that was just because I wanted to keep up with the latest technology.
The tablet is a touch screen, and you can also use a pen to take notes with it if you want, or even draw and sketch. Truthfully, opportunities are endless with the HP Envy x360.
10. Lenovo ThinkPad E15
Last but not least is the Lenovo ThinkPad E15. While this may not be the most attractive laptop to own, it's incredibly durable and is built to last. That's why it's often used in schools and by educators.
Even though it weighs a bit more, it's a great laptop because even if it gets jostled around in your bag, it's going to be perfectly fine.
The screen size is also a lot bigger than many other computers on this list, so if you like a larger screen, definitely consider this laptop.
It runs on Windows and has an excellent processor so that you can run quite a few different applications simultaneously. Plus, the battery life is decent.
The Lenovo ThinkPad E15 is easily the best budget laptop for remote work. While it still costs almost $1,000 USD depending on where you purchase it from, its durability, features, and dependability make it one computer that you're not going to want to overlook.
Conclusion
Now you know all of the best laptops for remote work. There are truly so many options, so you're really going to have to consider what matters to you most in a computer before making a purchase.
Luckily, many of the laptops on this list also last quite a few years and offer warranty options, so you won't have to shop around for a new computer often. I wish you the best of luck with finding the laptop of your dreams as a remote worker!
The post 10 Best Laptops For Remote Work in 2021 appeared first on Goats On The Road.