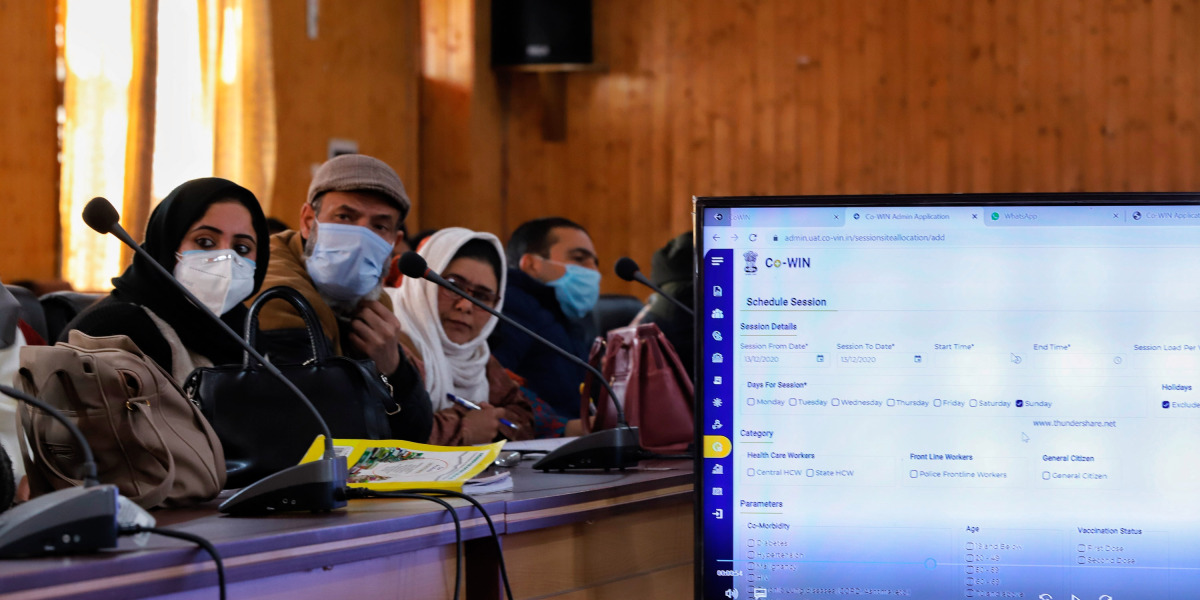 But experts suggest that India may need to fall back on the old, proven methods if it wants to administer 600 million doses of covid-19 vaccine in less than seven months.
Giridhar Babu, an epidemiologist and part of the Covid-19 Technical Task Force in India, believes that reaching the country's goals will require creating a comprehensive list of people to be vaccinated—the method used in previous campaigns. "As of now, health workers and frontline workers [are being vaccinated]: these are the easiest ones to capture," says Babu. "But once we start going beyond this to the population, there is not a single list which has people with all the comorbidities, elderly people, their [medical] history."
He says that list should be created by officials going door to door and signing people up. Babu believes that self-registration through Co-WIN may only work for the urban and educated and not for people in rural areas, and that "incomplete registration will then lead to incomplete vaccination." He acknowledges, though, that making a list of people to be vaccinated "is a phenomenally large exercise which requires a lot of planning."
"It's dangerous to have it just on an app"
Experts worry not only that the drive will fall short of its targets, but that it will be used as a way to gather citizens' private health data. In August, Prime Minister Narendra Modi announced the launch of a national health ID—a way to centralize the health-care data of Indians. Later the health ministry said that citizens being inoculated would have the option to create a unique health ID through their Aadhaar number—India's controversial 12-digit national ID, which is linked to people's fingerprints and iris scans.
"When a beneficiary shares their Aadhaar details at the vaccine center for the purpose of ID verification, the Aadhaar data gets shared with Co-WIN at the back end, which is then being used to create a health ID of that person," says Srikanth Lakshmanan, a tech researcher who has been studying the documents around Co-WIN. "While the government says it's voluntary, not many people even know that it's being created."
There are privacy concerns, too. The Co-WIN app, which for now has over 100,000 downloads in Google's Play Store, does not have a proper privacy policy, and there is no data protection law that would appropriately cover this data. Lakshmanan says, "My bigger concern is that while the government is building the digital health infrastructure for sharing health data with the insurance and pharma industry, there isn't investment by the government in expanding the real health infrastructure we need."
Digital policy experts say using an app for the vaccination drive reflects India's love of techno-solutionism but is fraught with potential difficulties. "It's not easy to make an app-only solution when the infrastructure is not good—people not only need mobile phones, they need connectivity, internet, they need to be able to use the phone," says Shweta Mohandas, a policy officer at the Centre for Internet and Society, a think tank. "Especially with regard to medical services, it's dangerous to have it just on an app … it limits the number of people who can use it."
Meanwhile, the doctor who received the misaddressed vaccine invitation was able to get the first dose when he showed up at the hospital to inquire about it. He feels thankful, he says, because if it hadn't been for that SMS addressed to a stranger, he wouldn't have gotten the vaccine so soon.
But the Co-WIN snags continued.
Days after he got the first shot, he received two more text messages addressed to two other people, with details of the time and location for their first doses. "I wonder," he said, "if those people have gotten this message or missed their first dose."
This story is part of the Pandemic Technology Project, supported by The Rockefeller Foundation.