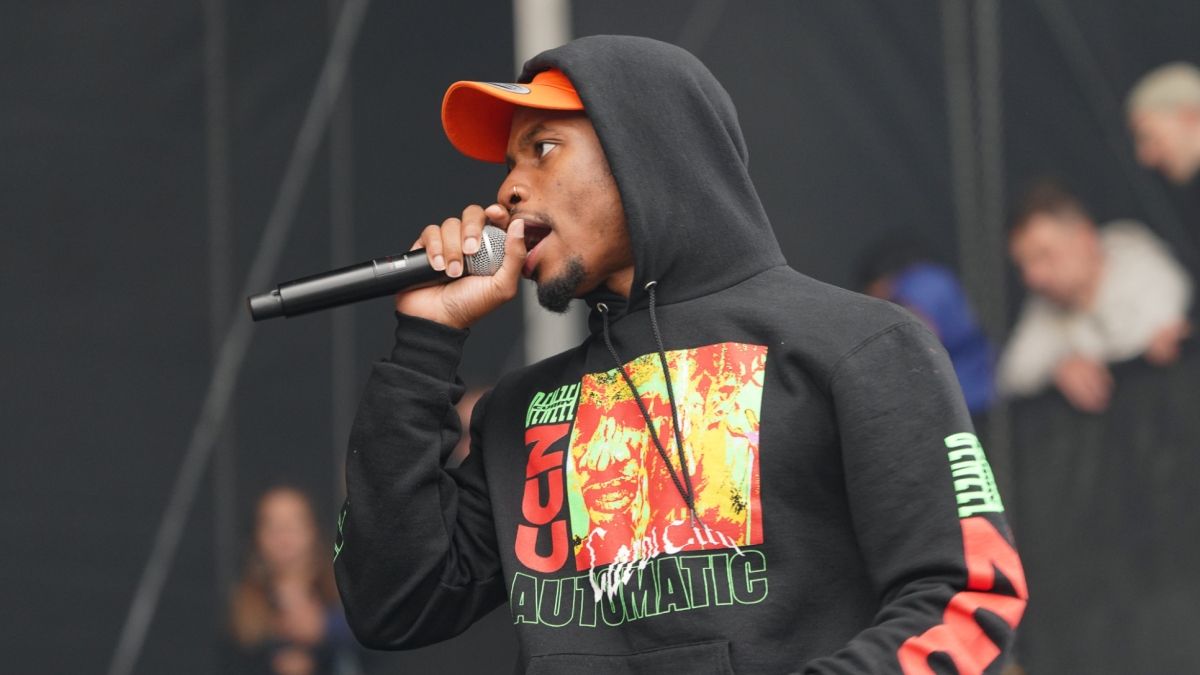 Our newest feature, Rap Song of the Week, breaks down and talks about the rap and hip-hop tracks we just can't get out of our head each week. Check out the full playlist here. For our first installment, Denzel Curry returns with his first solo release in over a year.
---
With one of the most versatile and technical flows out there, Denzel Curry has a multitude of ways to approach production like G.O.O.D. Music affiliate Charlie Heat's lowrider beat on "The Game." Choosing a carefully measured flow so listeners can hear every word, the Carol City rapper assesses the current state of hip-hop culture and tips off his contemporaries to lessons he's mastered over time.
Zel comes in hot from the start, setting the record straight to people who call him a sellout ("I told the hood that I'ma come back, just get me out first") while pointing to the hard work it took to make it out of the hood. The former Raider Klan member continues by urging rappers to avoid the trappings of a flashy lifestyle and focus on their music first. "We lookin' up to junkies and shit, then mimic they lives/ N****s go and get the some new tats, wear the same chains," he raps. "You don't need to brag or dress up when all your shit flame."
However, if there's one main takeaway from "The Game," it's uplifting each other. Denzel makes a call to end petty beef and support women in hip-hop like Megan Thee Stallion and Noname, while stating the obvious: there's room for all types of rappers. Despite the song's being recorded for the Madden '22 soundtrack, Curry makes every second count.
For now, it should keep fans satisfied until he drops his fifth studio album, Melt My Eyez, See Your Future, expected to arrive later this year.
Honorable Mentions:
Monaleo, "Suck It Up"
After breaking out earlier this year with her thumping viral hit, "Beating Down Yo Block," Houston's Monaleo is back with a swaggering display of her rhyming prowess. Not afraid to take down anyone in her way, the rising MC makes a case for being one of the hottest out of her city while using a multisyllabic rhyme scheme. Adding insult to injury, Monaleo reminds haters just how young she is: "How you mad at a bitch who can't get in the club, legally?"
EarthGang – "Erykah"
Back with a tribute to another R&B icon, Dreamville standouts EarthGang stoke the anticipation for Ghetto Gods by flipping Erykah Badu's "Window Seat." While reminiscing about hearing the neo soul pioneer for the first time, the Atlanta duo reminds fans to make the most of the time we have together. When life is going to deal everyone a bad hand or two, all we can do is find the real ones to make it through the bullshit.
Zombie Juice feat. Devin the Dude & Rae Khalil – "Alto"
After nearly a decade in Flatbush Zombies, "Alto" sees Zombie Juice stepping out on his own over hazy production by fellow group member Erick The Architect. Wisely recruiting the legendary Devin the Dude for this stoner anthem, Zombie Juice drops jewels about holding his secrets to success close while hinting at greater ambitions. "We put the hood name on our back, I'm used to heavy liftin'/ The pressure turned that shit to diamonds, now it's finer livin'," he raps, before revealing that he's not done pushing for greater success.
Ncognita – "Higher Please"
South Central rapper NCognita has dropped the latest installment of her Short N Sweet series, a 1:22 lyrical exercise in which she remembers her middle school days and opens up about the trust issues that came with her upbringing. While acknowledging the pain, the junior at Loyola University New Orleans refuses to be held back: "Can't erase history that's already written/ I forgive it/ I'm making my plans to do my thing and just shift it."
Wale feat. Yella Beezy and Maxo Kream – "Down South"
Throwing it back with a sample of Mike Jones' classic "Still Tippin'," Wale switches it up by recruiting Houston's Yella Beezy and Maxo Kream to break down the downsides of hustling in the streets. While Folarin sticks to observations of police brutality and criticizes the glorification of drug dealing, Maxo speaks from experience ("Racks on racks, move packs, sell packs at school, had packs like Lunchables") and puts everything in perspective with his closing lines: "Every since my bro got killed, I can't trust shit, I can't trust nothin'/ Can't even trust my Crips because a Crip killed Nipsey Hussle."
---
Best Rap Songs playlist: