Being in a relationship is about getting to know each other in a uniquely intimate way. During the early stages of your relationship you may feel like you're "baring all" and learning all there is to know about each other. But has that included sharing your views and habits on spending and saving?
Money–how you earn it, spend it, save it, manage it, and think about it–isn't exactly the sexiest topic of conversation, but it is an important one! With many couples nowadays taking on the "what's yours is mine" approach in a partnership, you'll want to make sure you're aware of any huge debts or liabilities before you decide to invest too heavily in the relationship. 
Long distance relationships can also add an extra element of financial stress when you factor in travel costs and other expenses that result from loving someone who doesn't live in the same place. Often in these situations, one partner ends up spending more than the other to keep the relationship going, which can put a strain on the partnership (not to mention their bank balance). 
Talking about money early and often can help short-circuit misunderstanding and frustrations and make sure you're both on the same page. But how do you bring the topic up? With a money talk date night!  
Hosting a money talk date night is a great way to ease into the financial conversation without prying. These free printable games make it easy to talk about money in a lighthearted but insightful way. Read on for more tips on how to host a money talk game night: 
Play Money Talk Games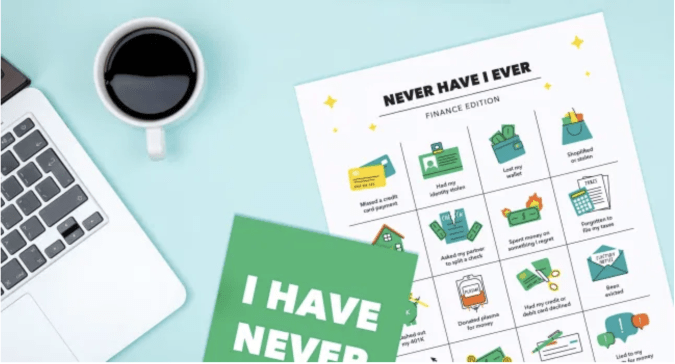 These free printable games put a financial spin on classics such as Never Have I Ever and Would You Rather. You can play these games in person, on video chat, or over the phone so they're perfect for long distance couples. 
Why play money games in the first place? These games can help reveal your partner's wants and expectations for the future, as well as realize financial burdens from the past. 
Once you've eased into the conversation with a fun game you can use these 24 conversation starter questions about money and finances to ramp up the money talk with questions such as "Did your family have enough money when you were growing up?" 
Appreciate Your Differences 
During your money talk date night, you will likely realize some differences in opinion that you and your partner have around finances. Unless there are major red flags (including any of these signs that you might be being scammed in a romcon) there's no need to sound the alarm just yet: almost everyone has a different relationship to money than the people around them. 
It's also important to remember that change and management can come about through self-reflection. If anything concerning is discovered through your talk––such as a huge debt your partner has been hiding––just know that these sorts of financial situations can be changed and managed. It doesn't necessarily need to be the end of your relationship. It is, however, something to pay attention to, because money can become one of the most common sources of stress and conflict in long term relationships. 
To promote honest and open communication in your relationship, acknowledge and appreciate any financial differences. Tell your partner what you admire about their relationship to money, such as "I love how you prioritize spending money on your passions", or "I love how you are saving for a goal you hope to achieve in the future." And be equally honest about any concerns you may have. 
Set Goals and Boundaries
It's not uncommon for two people to have very different views on spending and saving, so don't panic if this is you and your partner– it's not a total deal-breaker! In fact, it can be an opportunity to set financial goals together. If you discover that you're a saver and your partner is a spender, it's a great opportunity to put your communication and compromise skills to the test. Strengthen your bond with common financial goals that suit you both. What's more intimate than opening a bottle of wine and whispering about savings goals all night?! (OK, OK, they may not find that as scintillating as you, but you may be able to make it worth their while and, um, incentivize them to save?)
There's no denying long distance relationships often come with added expenses– your money talk date night is the perfect opportunity to discuss boundaries surrounding these. How much do you feel comfortable spending a month? How often will you travel to see each other? What is the most you'll spend on a plane ticket? These are important boundaries to communicate early on to ease financial stress and prevent future miscommunications. For example, it's easier to manage expectations on how often you'll see each other when you have a clear idea of what your travel budgets are. 
So when should you have the money talk? Every couple is different, and while we recommend knocking it out early and revisiting often, we'd love to hear your thoughts! When do you think it's appropriate to start talking about money in a long distance relationship?
By Karlyn McKell
Karlyn is a writer who specializes in the relationship and finance spaces. She believes the best ingredients for a relationship are open communication and hard work.