Well, hasn't 2020 been A YEAR? I know so many couples in long distance relationships have seen each other less than you would have guessed possible and thatmany of us are dragging ourselves towards Christmas and the New Year feeling so very weary of it all.
If that's you and you're stuck for some Christmas gift inspiration this year for your long distance love, I've got you covered. Check out our best-of-2020 ideas below, and if you want even more inspiration, hop on over to our long distance relationship gifts page.
Email them real-time smiles with a Skylight Frame
What's the next best thing to magically beaming yourself over to your SO? Sending new photos of your smiling face that show up, like magic. The Skylight is a touch-screen photo frame that you can update by email from anywhere. Forget connected touch lamps and send them the gift they really want to see instead–your face. Give The Gift Of Skylight This Holiday!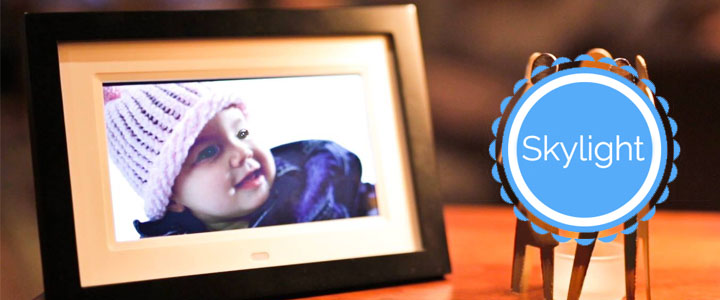 Write them Open When letters
Keep it affordable and make it super-personal this Christmas and give them a gift that will keep on giving for weeks, Open When Letters. Find 30 great ideas to get you started here or check out our affordable long distance love quotes and Open When Letters printable bundle deal.
Give them 12 weeks of great long-distance dates
Download our most popular combo-pack of resources to help you build a stronger, closer relationship even while you're far apart. Includes 401 Great Discussion Questions For Couples In Long Distance Relationships and our 12-week guided long distance dates series, The Long Distance Dating Blueprint. (Get 50% off with code CONNECT). Email these to them on Christmas Day with a sweet note about your hopes for 2021.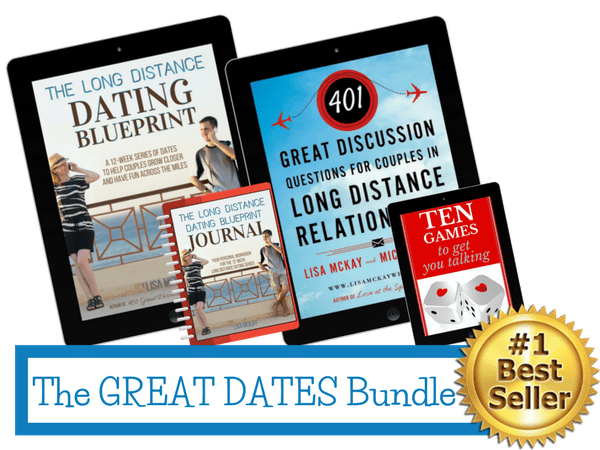 Make a photo book
You really can't go wrong reminding your partner of all the funny, fun, and tender moments you've shared. I recommend Shutterfly for ease of use and fun layouts. Choose the 8 x 11 size and one of their fun travel-themed books, and you're halfway to a great present. Actually, travel-themed is so not on point for 2020, come to think of it. Maybe you could make them a "how we survived the pandemic in a LDR" book. It's hard to believe now, but in years to come I guarantee you'll look back on it and smile. A little.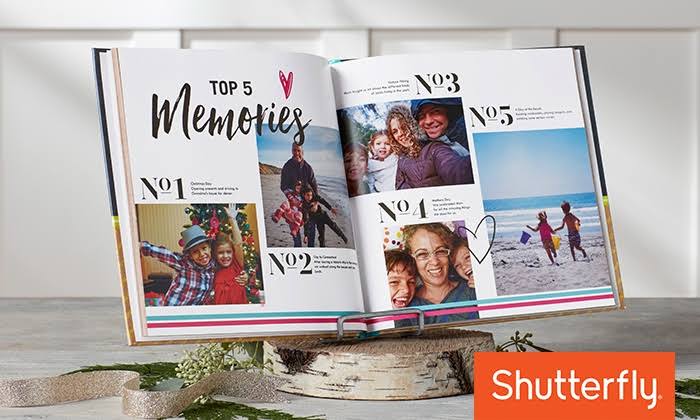 Plan a picnic
Picnics. SO romantic. (Also, during COVID-times, SO much safer. Sigh.) When you're in a long distance relationship you obviously can't go on picnics every weekend, but anticipating your next picnic will make it all the sweeter when it DOES happen. So help out in that anticipation dept with this fabulous red for-two picnic set. It's got everything you need for a romantic outing, including an insulated holder for a bottle of wine.
Join them for coffee in the morning
Coffee mugs sometimes get a bad rap as gifts, but I don't know why. When friends give me mugs I think of them every time I use them! And drinking a delicious warm (usually caffeinated) beverage at the same time just reinforces all the happy feelings. So don't overlook the power of a simple mug to warm someone's heart and keep you on their mind. Check out these uber-cute matching Couple Coffee Mugs for LDRs from BoldLoft.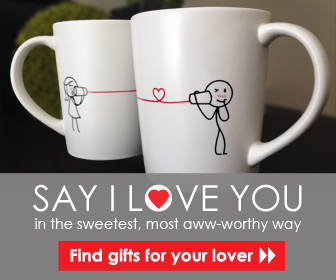 Warm up their heart AND their body
If you can't be there to snuggle them, a soft blanket printed with sweet messages such as "I love you" and "I miss you" is the next best thing. This plush option comes in more than a dozen colours–there's one in there to suit everyone, and they're perfect for staying safe at home and watching TV (#2020themes).
Send them 100 messages in a bottle
Gosh, it really sucks being separated from the person you love, doesn't it? Play up the dramatic romance of it all by gifting them a message (or 100 of them) in a bottle. The easy way to do this is to grab our download kit of 100 long distance love quotes, roll them all up, and put them in a bottle. If you want to get really fancy you can dash a small personal note on the back of each quote.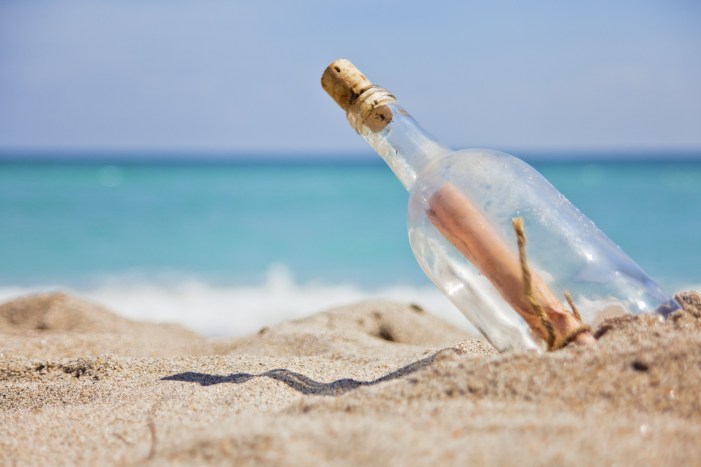 Send them love poems or LDR success stories
Check out these sensual, earthy love poems by Nobel Laureate Pablo Neruda that formed the basis for the popular movie Il Postino. It's now in a beautiful gift book. If poetry's not your thing, how about memoir? Love At The Speed Of Email by yours truly won a Writer's Digest Award and is getting great reviews on Amazon. Almost 13 years married and we're still going strong…
Go to bed with them
OK, OK, so you can't do that in person a lot of the time at the moment. Again, le sigh. But you CAN buy them something they can WEAR to bed. Then they can drift off to sleep literally wrapped up in your love. I like the tee shirt below. It was made for runners, but what is a long distance relationship if not a marathon? Buy big and it'll make a great sleep shirt.
Help them go hands free
OK, this cell phone stand is so practical it masquerades as "boring" but… wait… think about all the things they could do if they didn't have to hold the phone during facetime calls. My mother gave me one for Christmas last year and I love it. Of course, I use it in the kitchen so I can juggle recipe books and ingredients, but there are many (many) other ways this gift could be put to good use in certain other (ahem) settings.
Help them hear you clearly
Along the same lines… these can sure come in handy when you're out and about and trying to talk to someone at the same time. If your SO is often on the go (or you want to encourage them to walk and talk to you at the same time, which often leads to better chats) why not get them some wireless earphones.
Make them even happier
You already know that YOU make them happy, just by being their lives, but here's a scientifically proven way to make them even happier… help them practice gratitude. Studies show that if you express gratitude, it raises your happiness by 25%. There are lots of ways to do this, but I recommend using this simple book as a tangible prompt. Buy them one, and write something in the front cover about how grateful YOU are that they're part of your life.
Touch their heart
Buy then a gift as unique as they are. I'm a big fan of personalized jewelry and keyrings, and I love this range of fingerprint necklaces. You provide your fingerprint and they will digitally engrave it onto an elegant bar-drop necklace. If you're shopping for someone who won't wear a necklace, this store does the same thing with keychains.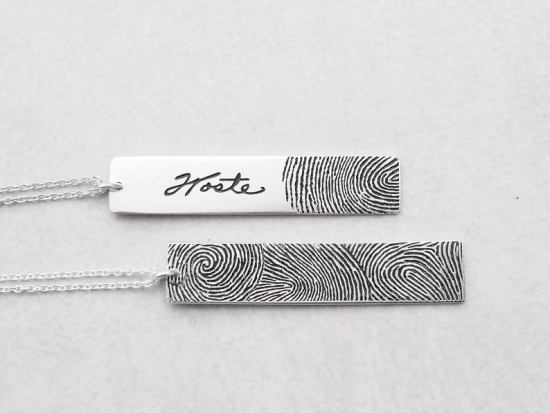 Send them a secret message they can carry around
Is your SO no fuss, no frills, and definitely not into gold necklaces and the like? Here's a simple alternative that will still warm their heart. Have a message engraved onto the inside of a simple leather bracelet with a magnetic clasp.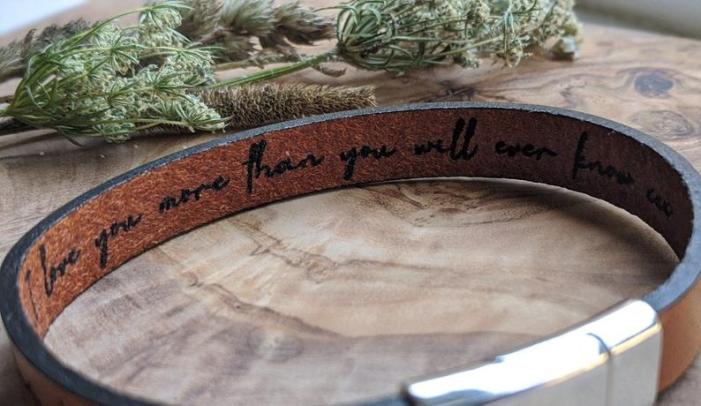 Make them dinner… sort of
If your SO isn't big on cooking, help take some of the work out of it all and get them a meal subscription kit. There are dozens on the market, but start by checking out Blue Apron, Dinnerly, and Home Chef. Or go one step further and check out Freshly. They cook AND deliver, then your SO just has to heat it up.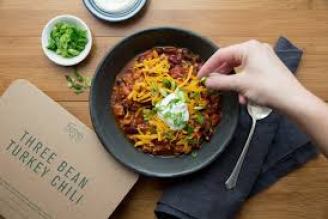 Buy them a customized Christmas tree ornament
My husband and I have been collecting ornaments since we got married, one per year. We started the year we met, and our ornament that year was a broze computer with the latitude and longitude of both our locations (Papua New Guinea and Los Angeles) on it to symbolize all those skype dates. This postage stamp one is particularly cute for LDR couples.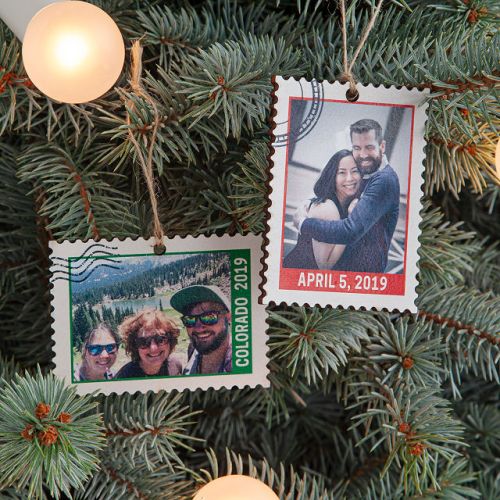 Warm them up right down to their toes
There are some pretty wacky personalized socks out there, but this LDR pair are actually a really cute way to tell them that you might be many steps apart, but you'll always be connected by the heart.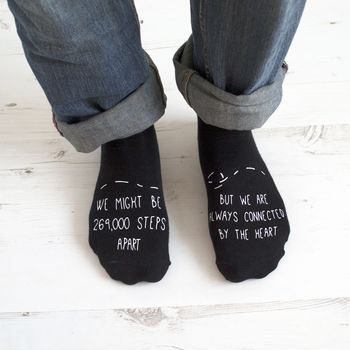 Remind them how glad you are that your paths crossed
This photo print is a sophisticated way to commemorate when you met and when you will close the gap, or any other two important dates.

Remind them you love them all year long in 2020
What is simpler and quicker to put together thana a photo book? What will space out the visual love all year long? A custom calendar! Make them a calendar showcasing a few happy snaps (and maybe a couple of screen-shots of you Skype-Dating, cuz let's keep it real) and they'll think of you all year long.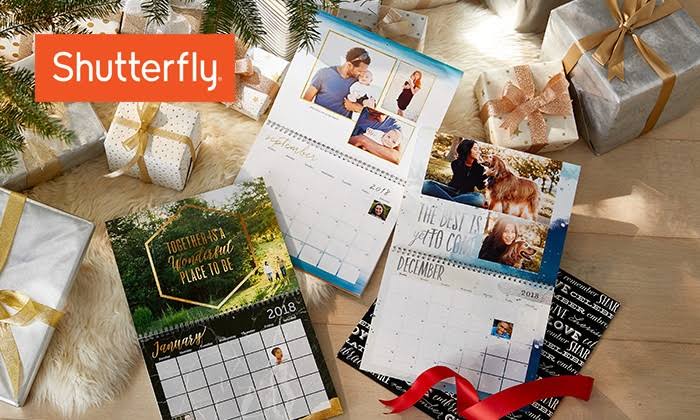 Other wacky ideas…
If you're looking for sometimes a bit more outside the box… the internet is your oyster. Seriously. You can find some SERIOUSLY wacky presents out there if you go looking. You can put your face on a pair of socks, or on a nightlight, or on… underwear. You can make a custom 3D lamp out of a photo. You can find mugs with all sorts of saucy phrases on them to heat them up. You can… (blush)… even clone a willy. Or, you can stay safe and stick with couples tee shirts. As far as those go, this set even manages to be fairly classy.