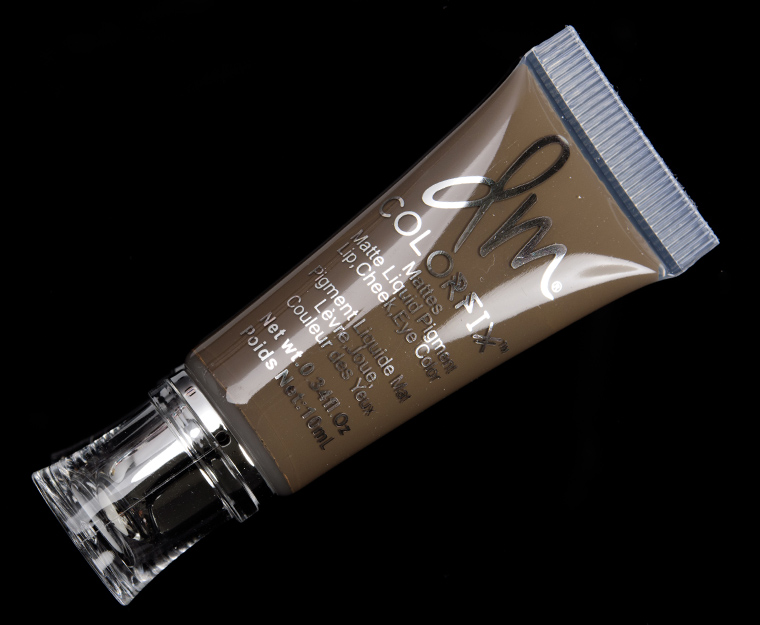 Formula Overview
$18.00/0.34 oz. – $52.94 Per Ounce
The formula is a cream product that is supposed to be "highly pigmented," "smudge proof," "waterproof, and "rapid drying." They're multi-purpose products that can be used on the eyes, lips, and cheeks (though note: the Foil finish includes plastic, or PET, glitter, which is technically not considered eye safe via FDA).
The key takeaway with this formula is that they really do mean "rapid drying" — it is both a pro and a con, but you have to work quickly and efficiently when using this product on the skin where one might want to diffuse, spread, or blend out edges. While the brand is consumer-friendly, this product is particularly favored by makeup artists, and I did feel like there was a learning curve with them.
Some shades dry a little faster than others, and once they dry down, they are pretty smudge proof as marketed, so they don't want to be moved. Attempts to blend them out after they set often resulted in the product lifting off the skin. They are also, typically, quite pigmented, so one should exercise caution when applying to cheeks initially. I found that some of the more sparkly shades were sheerer.
The consistency was thin, lightweight, and a runnier cream, which meant that it was easy to squeeze out more product than desired from the tube for the uninitiated. After a few uses, I was able to dial in the pressure I needed to squeeze out the product and was consistently able to get what I needed from there.
Eyes
Depending on the intensity of the shade relative to your skin tone and whether you wanted a sheerer or more opaque end result, fingertips or synthetic brushes would be the primary tools. I found that I often preferred to put a little product on the back of my hand and then used either my fingertips (for more all-over application) or a brush (for more precise or opaque application). For precision and ease of use (as my fingertips are a little large compared to my eye size), I liked fluffy, synthetic brushes to diffuse the edges or sheer out the product.
Some of the Foil shades in particular tended to a little thicker and tackier when applied, and I wasn't always able to maneuver them evenly. They seemed to work better as an accent, like on the inner tear duct or on the middle of the lid.
The majority of shades were very pigmented, fairly blendable, and long-wearing, while most shades lasted 10 hours without fading, creasing, or flaking. I did feel like my eyelids got a little drier from wearing several of these shades for multiple days in a row.
Lips
They applied a lot better to lips than I anticipated, as I often find that multi-purpose products do well on one or two areas but rarely all of them. The product applied well with a fingertip or a lip brush, though for speed, I liked using a fingertip. The majority of the shades applied evenly, didn't emphasize my lip texture/lip lines, and were comfortable enough to wear.
The dry down was noticeable, but the product had light tackiness, though I didn't have issues with the color lift up. Despite having more of a liquid lipstick kind of dry down, it still felt lighter-weight and was flexible, which is what made it more comfortable to wear. I didn't see marks left on my glass, and they easily lasted through a cup of coffee. Most shades seemed to wear for six hours or longer on me.
The more sparkly shades with less opacity tended to be least even and felt tackier, and if I pressed and rubbed my lips together, it seemed like some product moved a bit.
Cheeks
As cheek application tends to be sheerer, rather than full coverage, applying the more pigmented shades to cheeks took some getting used it as one has to work quickly and start with way less than you need. I preferred using my fingertips for applying the products as a blush or highlighter, as the warmth helped to give me a slightly longer working time, but it was also more forgiving and easier to sheer out/spread rapidly.
The wear time on cheeks was comparable with eyes (so around 10 hours of good wear).
Editor's note: I don't know why I didn't make this connection previously (at some point, I was aware they were multi-use), as I bought these as cream eyeshadows for review. If I had to go back and do swatches of each shade on cheeks and lips, I might never, ever review (based on the volume of other products I have in the queue), so while I tested each shade for application, pigmentation, longevity, etc. for all three purposes, you will only find a skin swatch.
Browse all of our Danessa Myricks Colorfix Matte swatches.
Ingredients
Isododecane, Cyclopentasiloxane, Isononyl Isononanate, C30-45 Alkyl Methicone, Trimethylsiloxysilicate, Silica, VP/HEXADECENE COPOLYMER, Cyclopentasiloxane (and) Disteardimonium, Hectorite (and) Propylene Carbonate, Dimethicone, PARAFFIN, Tocopheryl Acetate, Mica, Phenoxyethanol, Titanium Dioxide CI 77891, Iron Oxides CI 77491, Iron Oxides CI 77492, Iron Oxides CI 77499, Red 6 Lake CI 15850
Disclaimer: Ingredient lists are as available by the brand (or retailer)
at the time of publishing. Please always check product packaging, if it exists, for the ingredient list applicable
to the product you're purchasing, or the brand or retailer's website for the most up-to-date ingredient list.