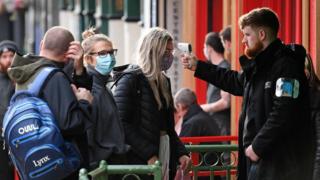 Businesses groups have largely welcomed a new wage support for workers at firms forced to close by Covid restrictions.
Chancellor Rishi Sunak has said the state will cover two-thirds of staff wages at closed workplaces, and firms in England can get grants of up to £3,000 per month.
The subsidy is an extension to the Job Support Scheme announced last month.
The CBI business lobby group said it "should cushion the blow for the most affected and keep more people in work".
"But many firms, including pubs and restaurants, will still be hugely disappointed if they have to close their doors again after doing so much to keep customers and staff safe," added CBI boss Dame Carolyn Fairbairn.
The business group additionally called for a "consistent and open strategy for living with Covid-19 through the autumn and winter".
An update on restrictions, which could see pubs and restaurants shut in the worst-affected areas, is expected on Monday.
UK Hospitality, an industry body representing pubs, restaurants and bars, also welcomed the government support for wage bills, but said more help was needed for companies still trading under restrictions.
"Support for nightclubs and other businesses left in limbo, still unable to reopen, is very welcome. It will help save jobs in a sector that would be sorely missed it were allowed to die," said UK Hospitality chief executive Kate Nicholls.
"However, worryingly, it does nothing to address the issues faced by sector businesses operating well below capacity due to restrictions and consumers avoiding travel and struggling to keep their workforce employed".
'Haemorrhaging money'
The boss of London pub company Young's said pubs and restaurants should be congratulated by the government for creating safe environments for patrons, not seen as a problem whose activities should be restricted.
Chief executive Patrick Dardis said: "Since reopening, we have had 2.7 million people through our doors, but just nine confirmed Covid cases. That's an infection rate of just 0.00000328%.
"Our sector has spent hundreds of millions in ensuring it is Covid safe and secure for staff and customers alike."
The head chef at Newcastle field-to-fork restaurant Bistro forty six, Max Gott, said the restrictions already in place mean he can only sit 12 people per night instead of 30.
If a local lockdown was imposed, Mr Gott said the company would have to decide whether it was worth taking the grants, shut up shop and furlough staff while "trying not to haemorrhage too much money while we shut, or try and operate as a takeaway and try and make some money and break even, although that's unlikely".
He said it would be better for staff if his restaurant could access grants and the subsidy while operating as a take-away.
"Some of the staff won't be able to live on two-thirds wages, we've got mortgages to pay," Mr Gott added.
See-sawing between opening and closing the restaurant, based on customer reactions to restrictions, came with added costs each time, he said.
"We've got bills coming in all the time – we've got stock that we'll lose – if we had to shut we've got £300 of stock that we'd put in the bin or try to give away or something so it all adds up and each time we get told to shut and then open it's a cost".
Impact on suppliers
Federation of Small Businesses boss Mike Cherry said the extra help for closed businesses would be "welcomed by thousands of small businesses".
"Evolving the Job Support Scheme to provide two-thirds of total salary costs together with enhancing existing cash grants for those faced with this scenario are both game-changers, and it's welcome to see them adopted today.
"We will work with government on clarity on where and when any new restrictions will apply, and clear, accessible small-business-friendly guidance to make sure this help gets to those facing a lockdown of their business premises."
Although it said "a lockdown with support for staff wages is better than a lockdown without any support," the Belfast Chamber of Trade and Commerce warned that if businesses were forced to close it was not just staff who lost money.
"Companies who supply the food and drink we consume in bars, pubs, cafes and restaurants will feel the consequences too," said Belfast Chamber chief executive Simon Hamilton.
"Similarly, sectors which aren't formally forced to close could well find that their custom drops because of wider lockdown restrictions, thus impacting on their viability too."