Deciding to visit Cozumel is easy, choosing where to stay on this gorgeous island can be more of a challenge. In this post, I'll share the best places to stay in Cozumel so you can enjoy the perfect dive, snorkel, or beach holiday.
We recently spent a week on Mexico's popular tourist island and are already planning our return.
At 48 km (30 mi) long and 16 km (9.9 mi) wide, Cozumel is a manageable size and no matter where you stay, you're an easy drive to all points of interest.
Where to stay in Cozumel Mexico depends on what activities you want to do, whether or not you'll have transport, and the style of accommodation you're after.
In this post, I'll break down the main areas of the island, plus share some top accommodation options as well.
Let's take a look at the best places to stay in Cozumel for all types of travellers.
Central (Centro)
This part of the island is home to the majority of the action. The capital city (and only city) of San Miguel is where you'll find the main square, lots of shopping, numerous restaurants and bars, and many accommodation options.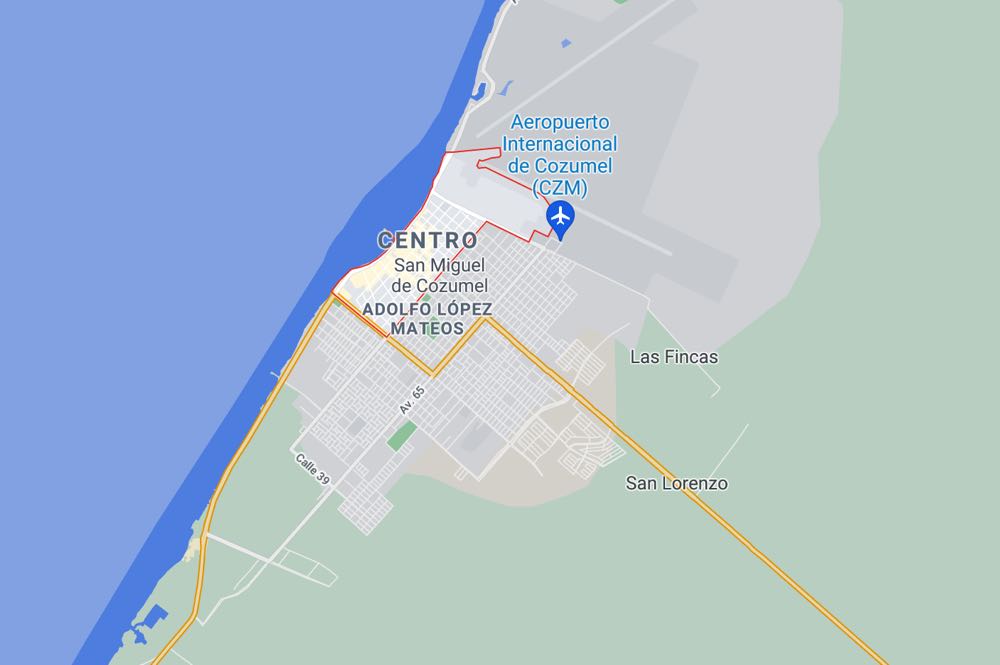 This is where you should stay in Cozumel if you want to be within walking distance to everything — including the malecon, which is where you can walk and enjoy the sunset and lots of great beach bars.
For anyone who wants to be near the action, and within walking distance to everything, Centro is a great area to stay in Cozumel.
Where to Stay in Centro Cozumel
We stayed at Stingray Villa which is a 4 room boutique villa located just 3 blocks from the sea. All of the rooms face towards the shared pool and are elegantly designed with new furnishings and paintings on the walls.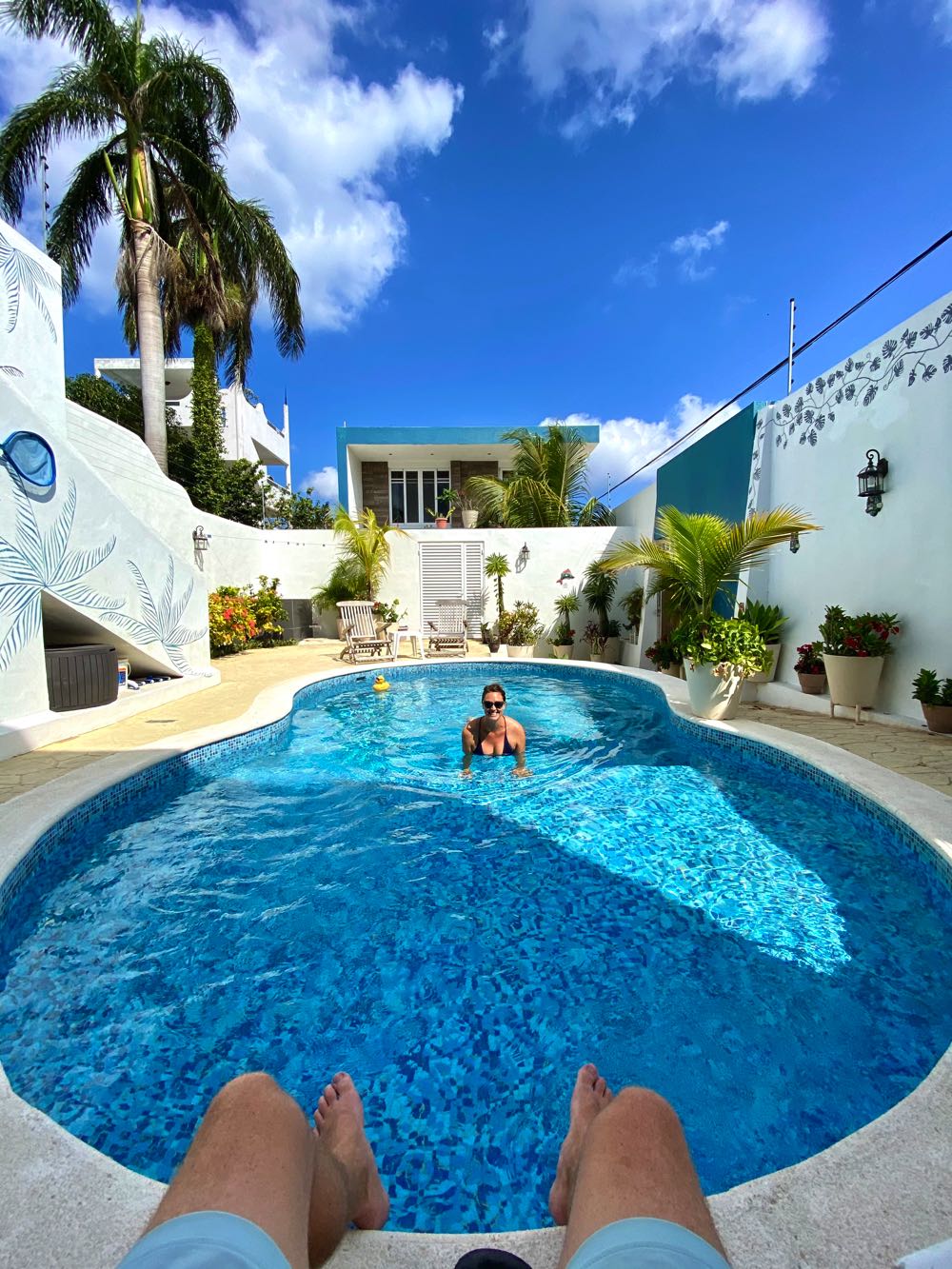 Built in 2019, the new rooms offer a comfortable king-sized bed, tiled flooring, and a large bathroom with granite countertops.
All of the amenities you could need are available here, from a hairdryer and seating areas to blazing-fast wifi and drinking water. Plus, you'll find a coffee machine with Mexican coffee grounds, and a small fridge (perfect for keeping beer cold!).
The friendly, knowledgeable owners Greg and Silvia are around to help with anything you need. We enjoyed our quiet, 5-night stay here and recommend it. Click here to book direct (and receive the lowest price), or learn more on Airbnb.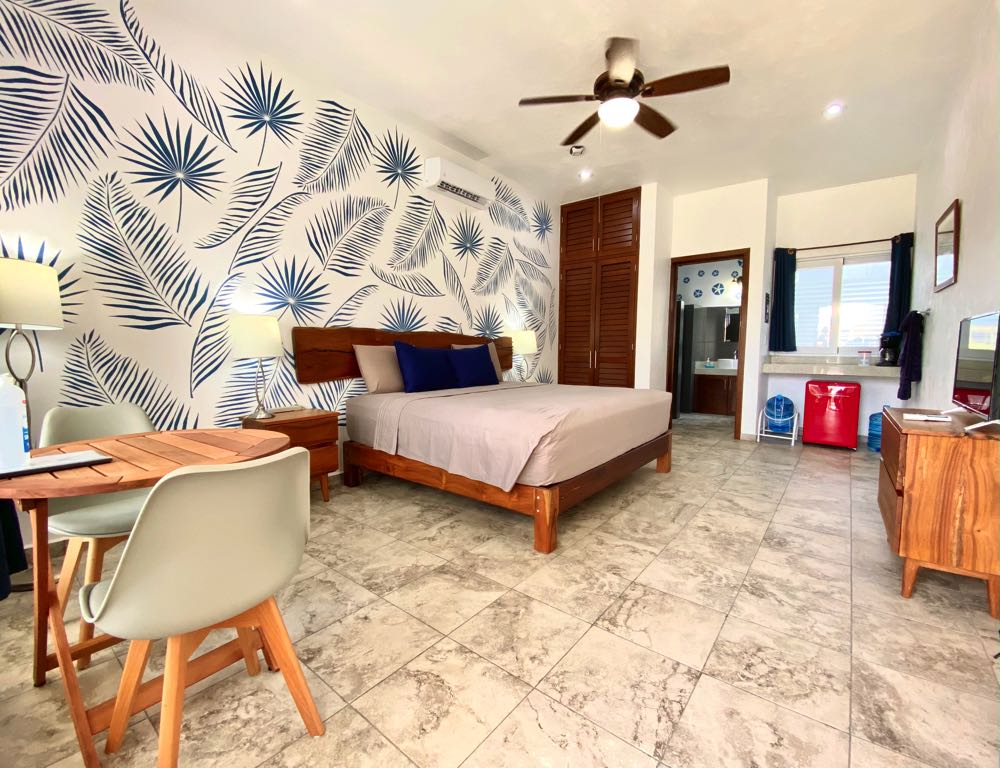 Other places to stay in Cozumel in the center include:
Caribo Cozumel: a high rated, budget option in central Cozumel. This property offers a common kitchen area and is located about a 12-minute walk to the malecon.
Casa Mexicana Cozumel: this midrange place is directly across the street from the malecon and offers a sea view and a pool. The downside is that it can be noisy here.
Southern Cozumel
When I say southern Cozumel, I mean the area south of Centro to Playa Palancar on the southwest coast.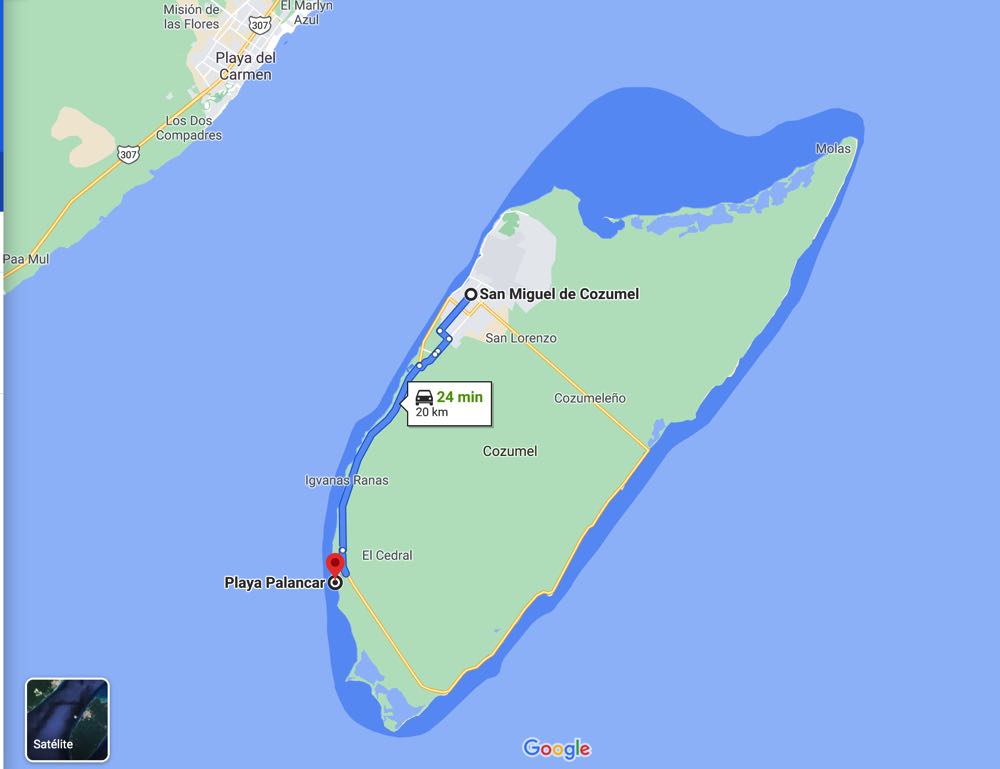 In my opinion, this is where to stay in Cozumel for diving and snorkelling. But, it will come at a higher price tag than staying in Centro, and you will definitely need a vehicle to stay out here or hire a taxi to get around.
As you leave San Miguel city and head south of Centro, you'll find fewer restaurants, bars, and small hotels. Instead, there are more resorts, beach clubs, and just a handful of restaurants.
There are also fewer people, and it's less developed. So, it's a tradeoff.
Many of the resorts and hotels here have their own private jetties, meaning that your dive boat can pick you up and whisk you away right from your doorstep — how cool is that?!
Most of the dive sites are located south of the center of the island. We went scuba diving with Scuba Tony and were able to get a pickup at the jetty at Money Bar.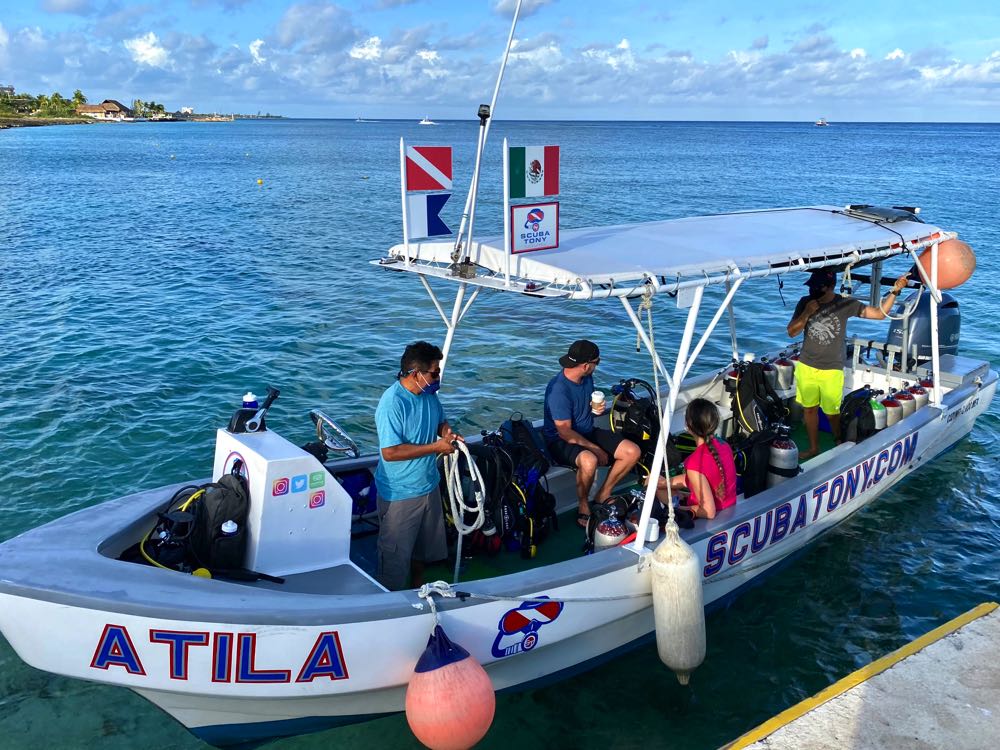 Where to Stay in the South of Cozumel
We spent 2 nights at the Landmark Resort and while it's an expensive place, we enjoyed our stay. Built in a Greco-Roman style, with granite flooring and luxurious decor, the sea view rooms here are incredible.
Due to the Dzul-Ha reef being just offshore, this is a great place to stay in Cozumel for diving and snorkelling.
Snorkel gear can be rented for $15 per day from the Money Bar (restaurant and beach club), and if you're diving with Scuba Tony, they'll pick you up right from the jetty.
The downside to staying here is that you'll definitely need your own mode of transportation, or you'll need to take a taxi to get to restaurants in town. Click here to learn more about the Landmark Resort.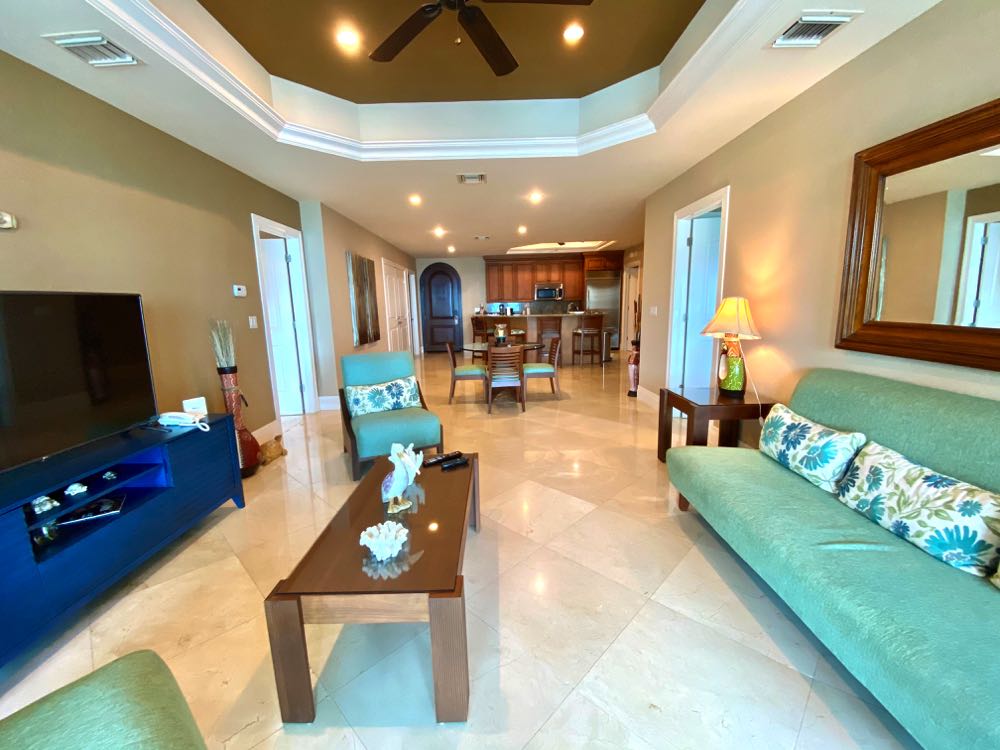 Other places to stay in Cozumel on the west coast, south of Centro:
Occidental Cozumel: this all-inclusive resort is located quite far south, but pick-up is still available when diving! With 3 pools, a sea view, and a beach, this is a top choice when it comes to places to stay in Cozumel. Learn more here.
Presidente Intercontinental: this gorgeous property has a private beach, 2 pools and offers a variety of dining options onsite. This is where to stay in Cozumel if you're looking for a luxury experience. Click here to learn more.
☞ Related Post: 15 Best Beaches in Mexico
Northern Cozumel
This part of the island is a great place to stay if you're interested in golfing, waterfront accommodations, and a quieter trip. Plus, some of the best restaurants are up in this area — Buccanos, La Monina and Hemingway.
The northern part of Cozumel is from around La Monina Restaurant to the public beach as shown on the map below.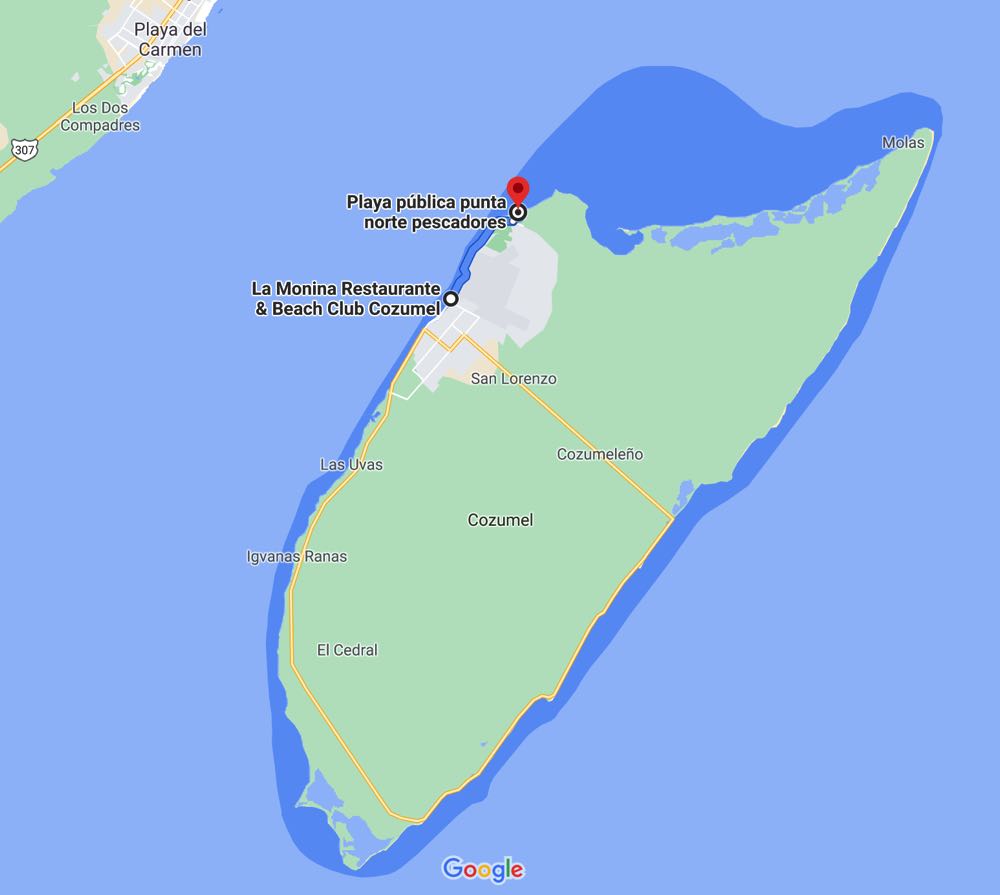 However, if you're a scuba diver, this isn't the best area to stay in Cozumel due to the fact that you're far from the Marine Park, and scuba boats won't pick you up here.
Where to Stay in the North of Cozumel
Here in the northern hotel zone, you have the choice between apartments, well-known hotels such as the Westin, all-inclusives, and smaller boutique hotels as well.
The Westin offers a private beach area, an outdoor pool, free snorkelling equipment, and an onsite restaurant. You have the option to make this an all-inclusive stay if you wish.
Hotel B and its sister accommodation, Hotel B Unique, are great options as well. Unique is more adult-orientated with chic design and trendy style. Rooms are oceanview or jungle here.
Puerta del Mar is located farther north of Cozumel, but still within an easy drive of activities. This bed and breakfast has a private beach area and bicycles for rent. This is a great quiet option for accommodations on Cozumel.
5 Things To Do in Cozumel
We've written a whole post on the fun things to do in Cozumel, so make sure to check that out here. But, here's a teaser of the top 5 activities you won't want to miss.
Scuba diving and snorkelling: The Mesoamerican Reef is 1,126 kilometers (700 mi) long and spans 4 countries — Mexico, Belize, Guatemala and Honduras. Diving in Cozumel is some of the best in the world. Join a scuba trip with Scuba Tony and explore the underwater world.
Visit the Mayan Ruins: Located in the northern part of the island, you'll find the San Gervasio archaeological site. The Mayan ruins here aren't as grand as Chichen Itza, but they are most definitely worth a visit (hire a guide onsite to show you around and bring the place to life.)
Watch Sunset: On the west coast of the island, you can witness magical sunsets each evening. While on the east coast, you'll be able to see some spectacular sunrises! Watch the sunset from any of the bars on the water, or on the malecon.
Visit Punta del Sur: This nature reserve is not to be missed. Located on the southern part of the island, it doesn't matter where you stay in Cozumel, make sure to drive here, take a tour, or hop in a taxi. At the reserve, you'll find mangroves, beaches, lagoons, crocodiles, a lighthouse, and more. It's a nature lover's dream spot.
Drive Around the Island: Ok, so you can't actually circumnavigate the entire island. But, starting in Centro, you can drive south, and around the southern tip, before coming back up the island on the east coast. You will then cut inland and cross the island (taking the Transversal de Cozumel road) and head back to Centro. A road trip to the east coast is a must.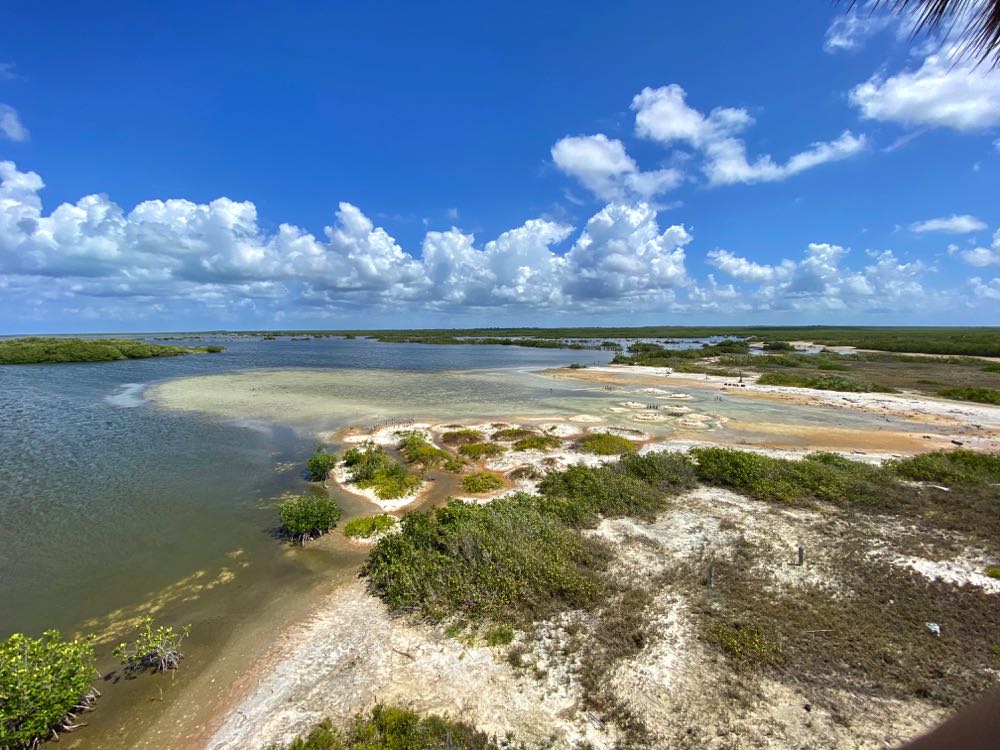 Frequently Asked Questions
Answers to common questions about choosing an area to stay in Cozumel.
Where to stay in Cozumel for an all-inclusive?
All of the all-inclusives on Cozumel island are on the western side of the island, with the majority being south of San Miguel city. Check out the Occidental Cozumel or the Cozumel Palace.
Where to stay in Cozumel for diving?
It's best to stay in central or southern Cozumel for diving. The dive sites are mostly in the Marine Park and if you choose to stay south of Centro, you'll most likely be able to get picked up at your hotel's jetty for a day of diving. If not, you will need to drive to the dive center.
Where to stay in Cozumel for snorkelling?
For snorkelling, it's also best to stay in the south of Cozumel, on the wind-protected leeward side of the island.
While the best snorkelling is done from a boat trip where you can really get to the healthy reefs, there are many places where you can snorkel offshore — Money Bar, Iberostar hotel, and Playa Palancar.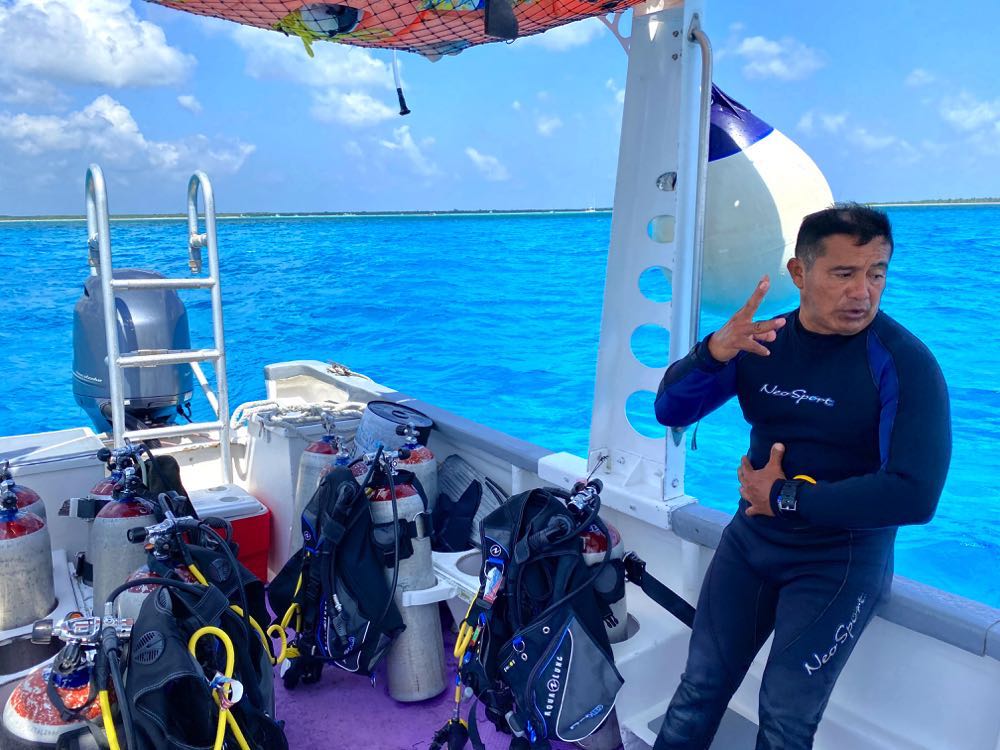 Where to stay in Cozumel on a budget?
To save some cash, you'll want to stay in the center of Cozumel. There are numerous Airbnbs, guesthouses, and shared accommodations here. Just because the accommodations are more affordable in Centro, doesn't mean they aren't high quality and great value for money.
Where to stay in Cozumel for the weekend?
Depending on what kind of weekend you want to have on Cozumel, you have a couple of options. For a fun, party weekend, you'll want to stay in the center where you can walk to all of the restaurants and bars.
For a quieter getaway, have a look at accommodations farther south out of the city, or north.
Where to stay in Cozumel near the airport?
If you're staying anywhere in Centro, you'll be close to the airport. Cozumel's airport is located downtown which makes early morning flights a breeze. Find the airport on the map here. As an example, the drive from Stingray Villa in Centro to the airport is just 7 minutes.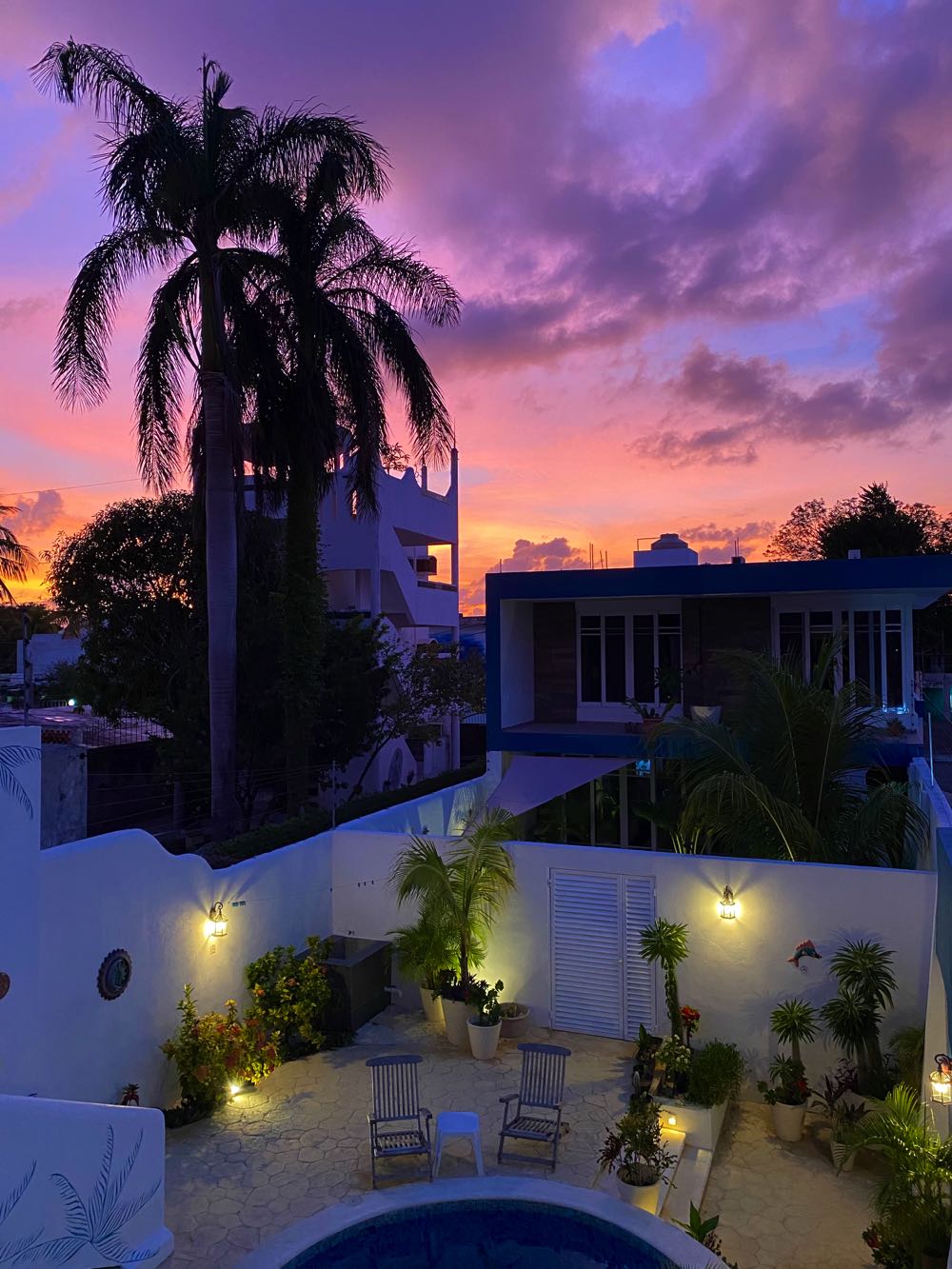 How long should I stay in Cozumel?
As long as you can! Many people visit Cozumel for a weekend trip — either from mainland Mexico, or from the USA. There are direct flights from many major US cities, making this a popular getaway.
People also opt to do day trips from nearby places such as Cancun and Playa del Carmen. But, if you have the time, spending a week in Cozumel will allow you to really enjoy the island at a slower pace.
What is the best side of Cozumel to stay on?
The west coast is where you should stay on Cozumel. The east is undeveloped, making it a great place for an interesting road trip, and there are some nice spots for lunch as well. But, when it comes to choosing where to stay in Cozumel, the west coast is your best option.
Is Cozumel safe?
Cozumel is one of the safer destinations for travellers in Mexico. It's a popular cruise ship port, crime rates are low, and they take numerous precautions against COVID-19 here.
The usual common sense applies in Cozumel — don't go on beaches at night by yourself, keep an eye on your belongings, and avoid all drug use.
For scuba divers, make sure you're comfortable in the water and do a refresher dive if needed. Cozumel is home to an international hospital that has a Hyperbaric Chamber. Always make sure you have proper travel insurance. As digital nomads, we use and recommend Safety Wing (they also cover COVID-19).
Keep in mind that the sun is intense here and sunstroke is a real thing! Wear a hat, long sleeves, and reef-safe sunscreen — especially when you're on a boat.
Always do your own research before visiting and speak with the locals to get the latest "on the ground" information.
Enjoy your stay in Cozumel
Cozumel has a little something for everyone, and regardless of where you end up staying, you're not far away from the gorgeous Caribbean Sea, great food and good times. Pack your flip-flops, sunscreen and laid-back attitude and enjoy a trip to this chilled-out island destination.
The post Where To Stay In Cozumel, Mexico: Best Areas & Accommodation appeared first on Goats On The Road.