"Hooooly…..," I exclaimed. Once we arrived on the 12th floor, it felt significantly higher than when we were looking up at the zipliners from the ground. It was too late to turn back. In mere moments, we were strapped in and ready to fly through the LINQ promenade.
We've been plenty of times over the years, but it was our first time on the Fly LINQ. On our recent visit, we got to see all the newest restaurants and updates to put together our current favorite things to do at the LINQ promenade.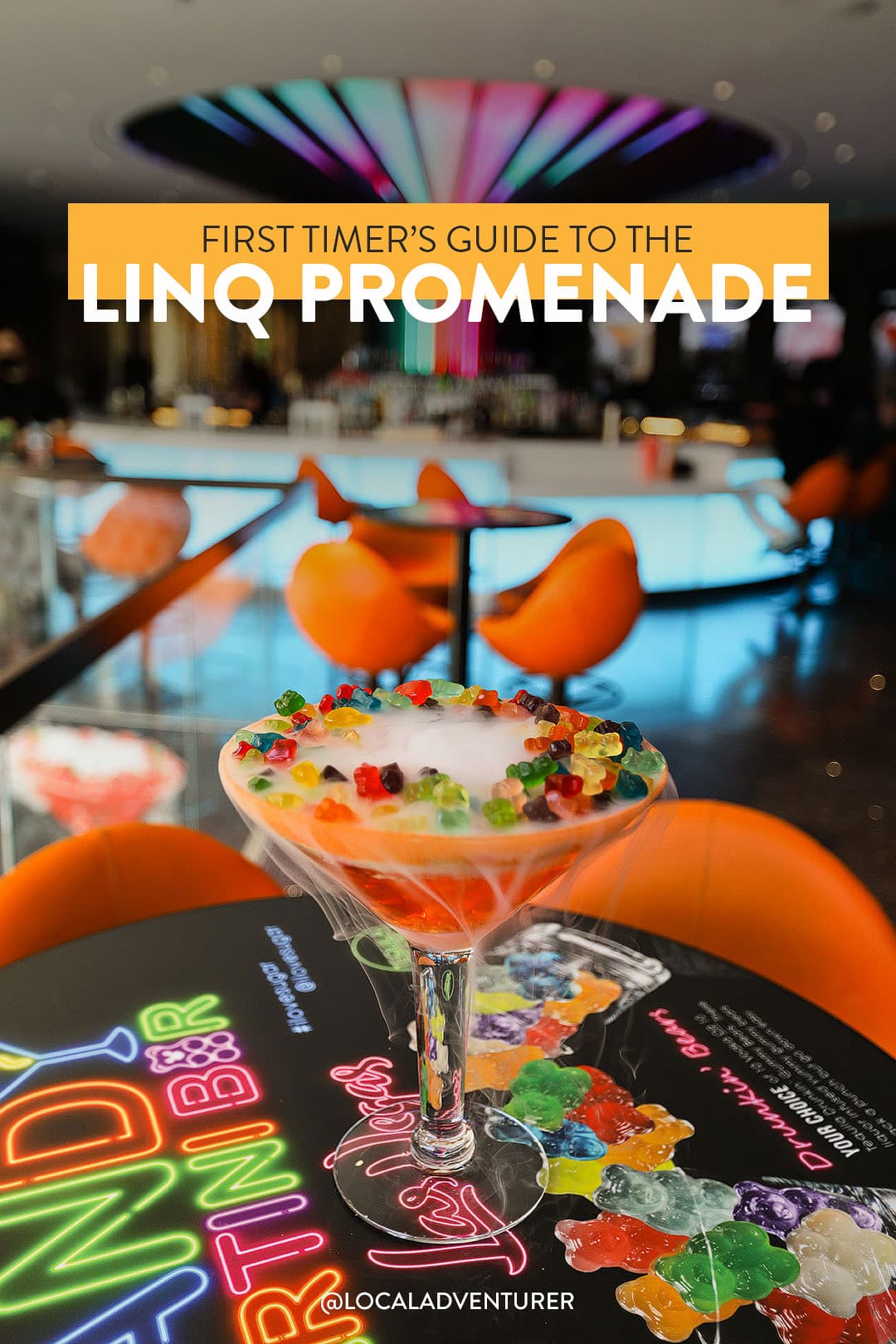 This post may contain affiliate links, where we receive a small commission on sales of the products that are linked at no additional cost to you. All opinions are always our own. Read our full disclosure for more info. Thank you for supporting the brands that make Local Adventurer possible.
Last Updated: April 13, 2021
When we lived in Vegas back in 2013, the LINQ Promenade was brand new and the most local hang-out on the Strip. We locals don't visit the Strip much, but at the time most visitors didn't know about it yet.
Since then, it's changed a lot. They've added many attractions while others have closed (RIP Polaroid Museum and Sprinkles Cupcake ATM). Now, it draws a much larger crowd, mostly tourists.
With 35+ restaurants and shops and the iconic High Roller, it's a wonderful outdoor spot to walk around, eat, and people watch.
The first photo on the left was when the Strip was shut down and hardly anyone was around, but as you can see on the right, the crowds are already coming back.
5 Top Things to Do at the LINQ Promenade
It's hard to miss this towering observation wheel since it's a major part of the Las Vegas cityscape. You can do the standard 30-minute ride to enjoy 360 views of the Strip, do a happy half-hour (our favorite), or rent an entire cabin to yourself for a romantic date. Be sure to read our High Roller guide and be sure to book your tickets here in advance.
Flying through the air 1,121 feet above the promenade was a lot of fun! Being the only zipline on the Strip, it's truly a unique experience and a nice change from the usual casinos.
From below, it doesn't seem very high, but we were surprised by how high it felt up top.
After checking in, they bring you to the top floor where they strap you in. There's a blue bag that you can put your belongings in. It fit our 10L Sling, but not much beyond that. If you have a bigger bag, they can send it down to the landing point in their cargo cart.
Local Tip: If you're wearing sandals or flip-flops, they will ask you to take them off and place them in the bag.
We bundled up in (faux) fur coats and hats and entered our very own winter wonderland in the middle of the Las Vegas desert.  When the temperatures are blistering, the Minus 5 Ice Bar is the perfect way to cool down. We visited in the winter, and they provided all the gear to stay warm too.
They serve all their drinks in cups made of ice, and we got to try their Northern Lights cocktail.
If you plan on drinking, buy the upgraded package because you get a discount when you pre-purchase them.
Also, even though it's a bar, it is kid-friendly! They have mocktails for anyone underage, but stop letting kids in after 9 (sometimes a bit before depending on the crowd inside).
Local Tip: On the weekends, waits can be up to 3+ hours (especially with the current capacity limits). To avoid crowds, visit during the week or before 8 pm.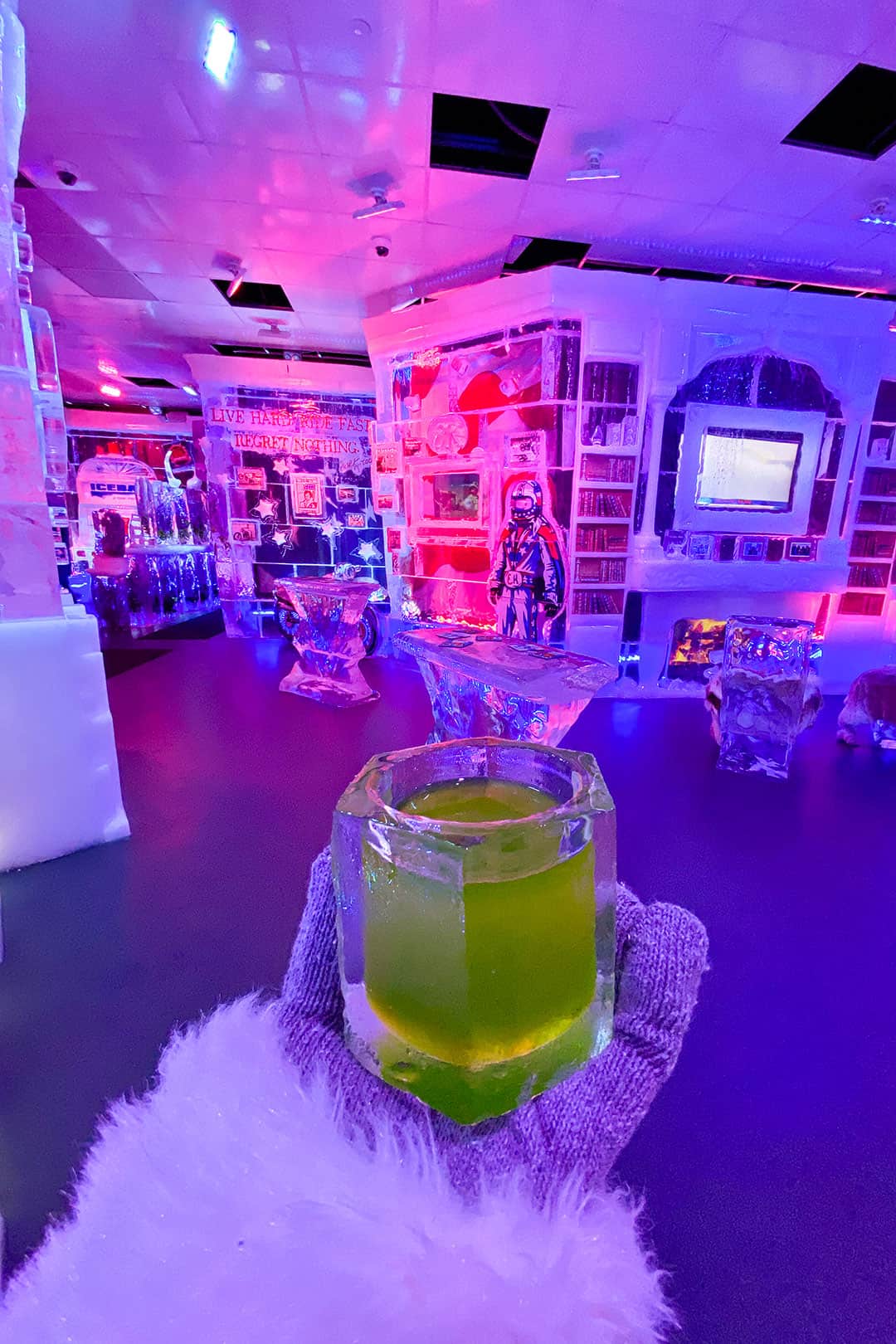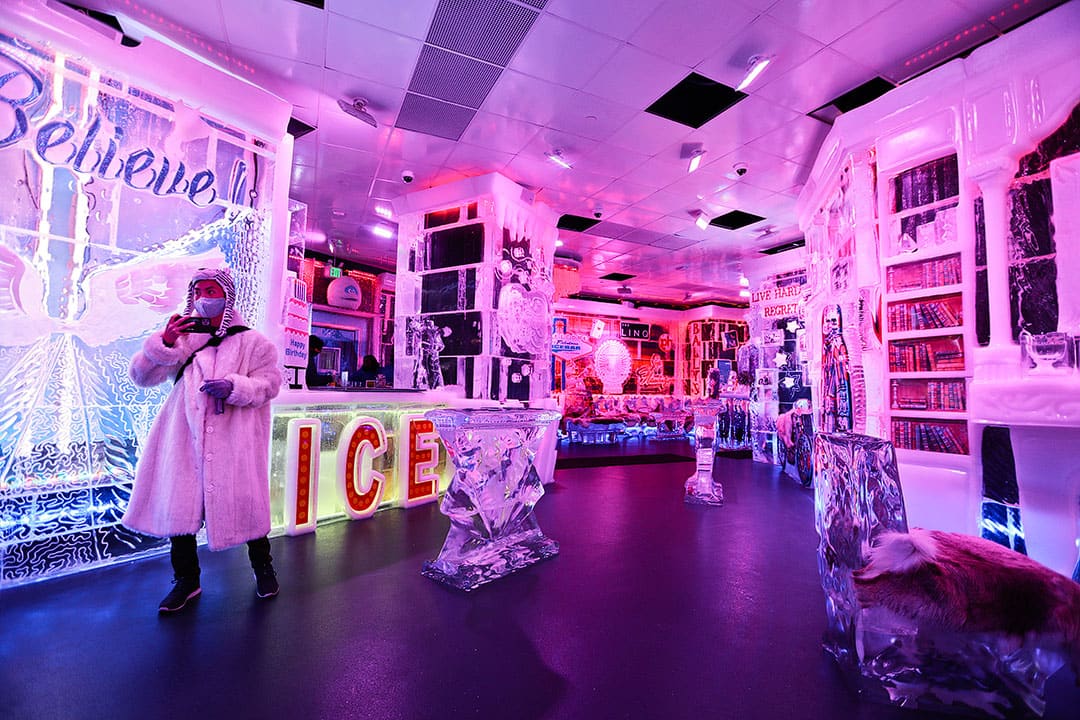 If you love sugar, this is the place to go. Sour candy and gummy bears are my guilty pleasure (maybe I don't feel all that guilty). Besides being a massive candy shop, to make it a truly Vegas experience, try a candy martini at the Candy Martini Bar.
They make extremely photogenic candy martinis and other drinks that have gone viral on TikTok. The drinks start at $19, and you better believe they get you tipsy. My favorite was the giant Gummy Bear martini.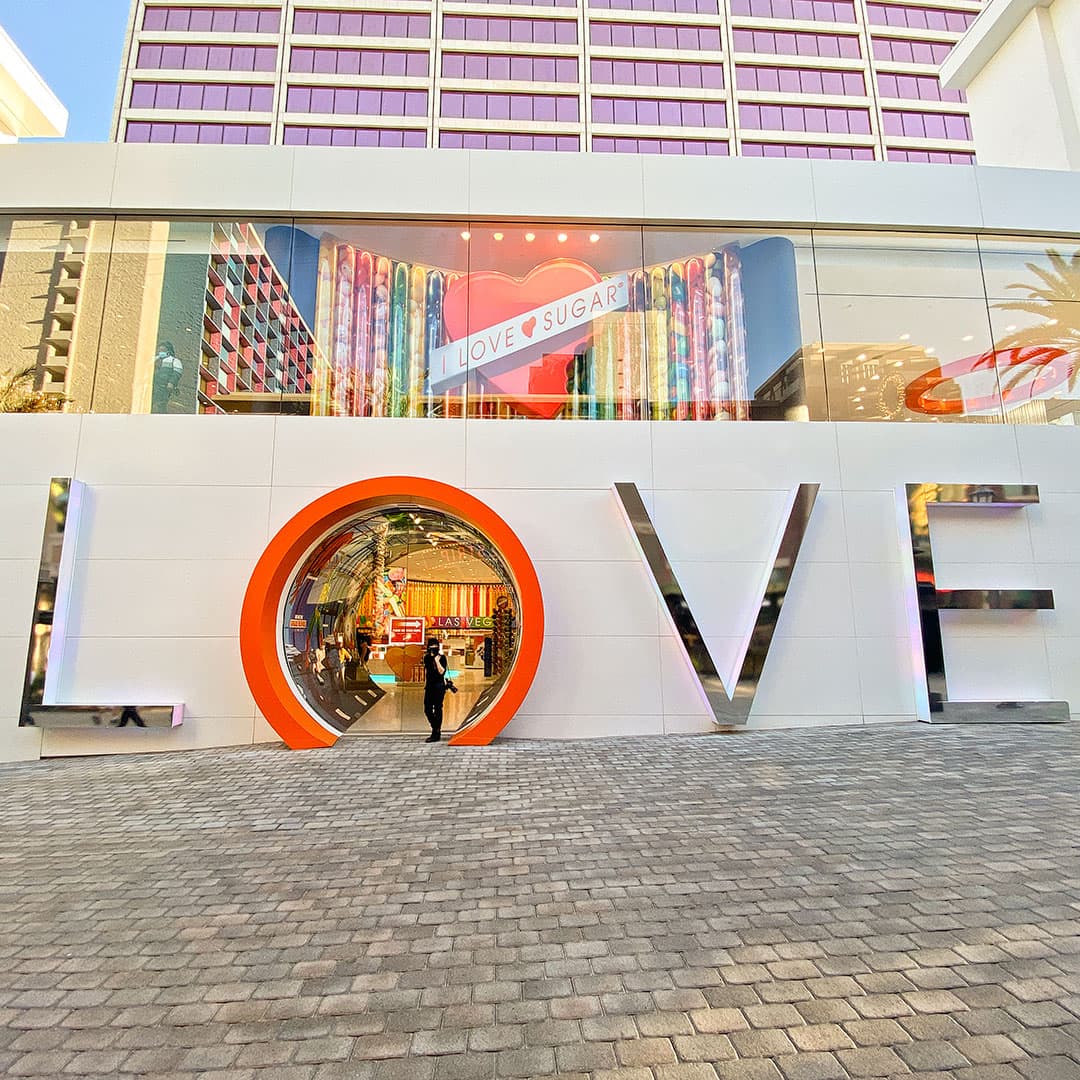 If you've been wanting to try VR, check out VR Adventures. There are 5 different experiences or adventures that you can take, including a haunted elevator, air balloon trip around the world, and iconic roller coasters. Along with responsive seats, each adventure brings you to a different world you can see with your friends.
Jacob got inside the haunted elevator. I went inside to film his reactions, but since I can't even do scary movies, even the music was creeping me out. I did the Big Apple roller coaster ride, which was so fun to virtually see the Las Vegas Strip while at the Las Vegas Strip (so meta). We haven't tried the real one yet, but now we'll have to check it out to compare.
Local Tip: Additional adventures are half off after your first one.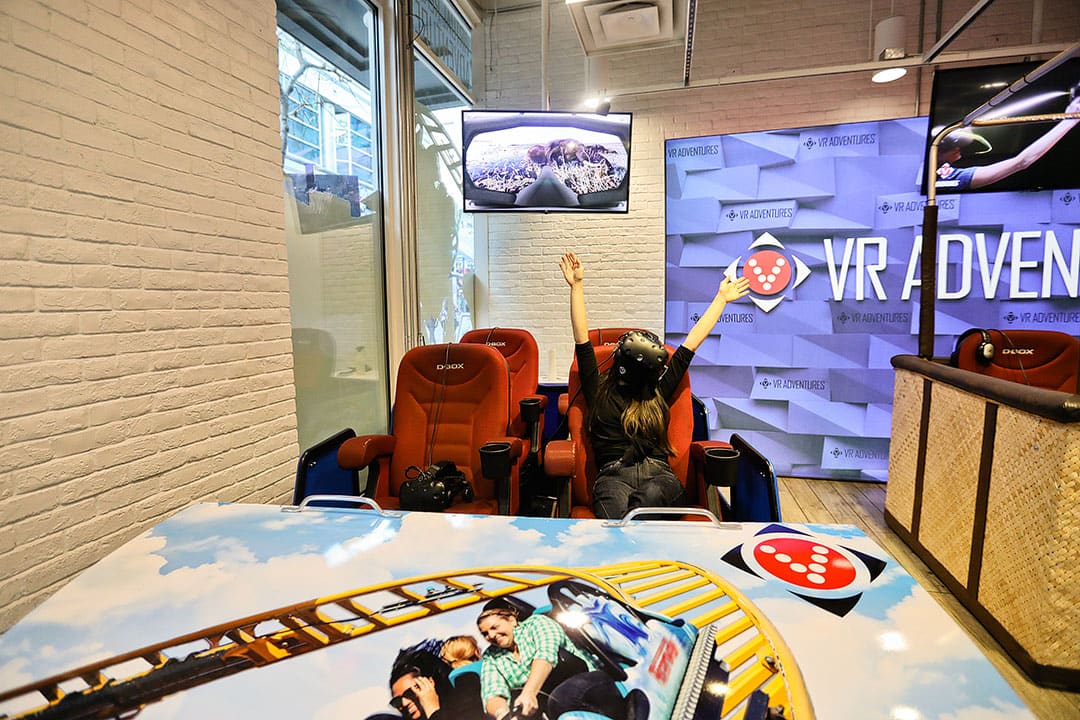 The Best Restaurants at the LINQ Promenade
While exploring the LINQ Promenade, there are plenty of spots for you to grab a bite. Here are a few of our favorites.
Whether you want the classic fish and chips, or prefer shrimp, chicken, or sausage, there's something tasty for everyone. There's even a secret combo! If you ask for the 'G Spot' you'll get fish, chicken, and shrimp together.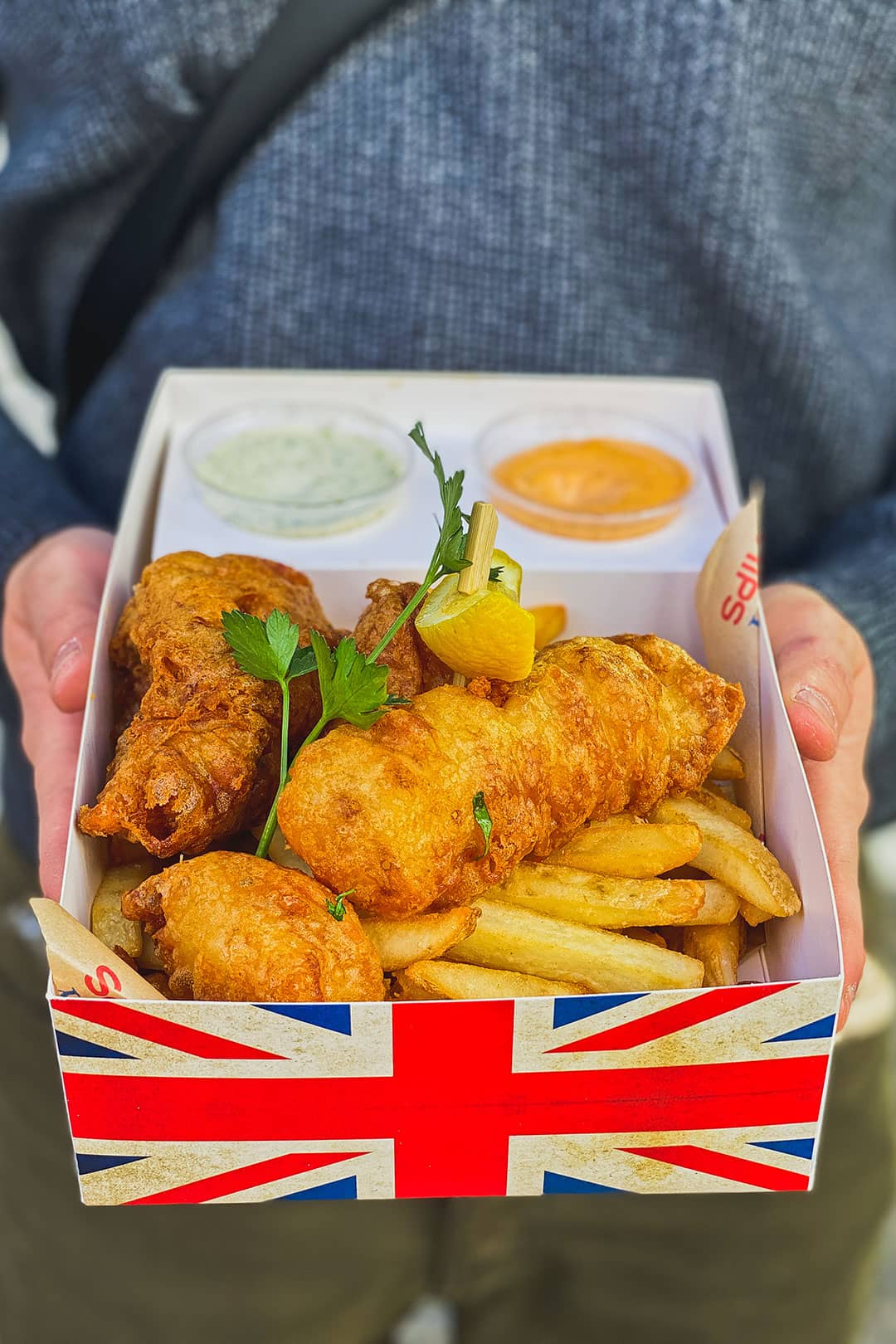 It's hard to resist stopping by for a Double-Double every time we're there because it smells so good. If you're hanging out off the Strip, it's cheaper to go to another location, but if you smell it, it's already too late.
I know there's always the debate on what's the best burger. But if you're talking about the fast-food category only, this one takes the cake.
Favorite Bistro has the vibes of a Paris cafe serving French fare with an American flair. It's the first U.S. location from restaurateurs Thierry Bourdoncle and Ariane de Senneville. Don't miss their delicious and beautiful desserts too.
Try these upscale gourmet hot dogs with recipes inspired from all around the country. If you want something very Vegas, they even have a Billionaire Dog, complete with Kobe beef frank, foie gras torchon, port onion marmalade, and truffle mayo.
Shopping at the LINQ Promenade
Besides the activities and restaurants, there are plenty of shops for you to browse at the LINQ Promenade. To help you plan, here is a list:
Chilli Beans – Fashion Forward Sunglasses with Weekly Releases.
Goorin Brothers Hat Shop – Fashionable hat wear (one of our climbing buddies works here and we have other friends who are regulars here).
Harley Davidson – Shop for products made by this iconic motorcycle brand.
Havaianas – Known as the most popular flip flop brand in the world with tons of options.
Honolulu Cookie Company – Try their signature shortbread cookie.
Nectar Bath Treats – Bakery-inspired scented handmade soap.
Pier 30 – Swimwear, clothing, and accessories.
Razer – High-performance gaming gear.
Sky Shop – Souvenir shop offering High Roller and Fly Zipline gifts as well as other Vegas goodies.
Socks & Bottoms – For those who love matching underwear and socks.
Welcome to Las Vegas – A one-stop shop to find souvenirs.
Directions and Parking at the LINQ Promenade
The LINQ Promenade's official address is 3545 S Las Vegas Blvd, Las Vegas, NV 89109 (map). If you are on the strip, make your way towards the LINQ. Between The LINQ and Margaritaville, you'll find the Strip entrance to the Promenade.
If you are driving, map your way to the High Roller: 3545 S Las Vegas Blvd, Las Vegas, NV 89109 (map). Just behind the giant wheel, is a large parking lot. The fees are as follows:
1st Hour – FREE
1-4 Hours – $12
4-12 Hours – $15
Over 24 Hour – $15 per day
If you're looking for free parking, there are three ways to park for free.
Hotel Guests park for free
Locals park for free (with a valid Nevada driver's license)
Platinum, Diamond & Seven Stars members park for free
Local Tip: To get free parking with your NV driver's license, take a ticket when you pull in but scan the back of your license when you leave.
Remember to always give yourself 10-15 extra minutes when walking around the strip or getting there from parking. Things always are farther than you anticipate.
Bring your masks. Even though it's an outdoor space, masks are mandatory at all times unless you are actively eating or drinking.
Weekends get very crowded so if you can visit during the week, you'll deal with fewer people around.
They have seasonal decor at the LINQ Promenade. We loved checking it out during the holidays.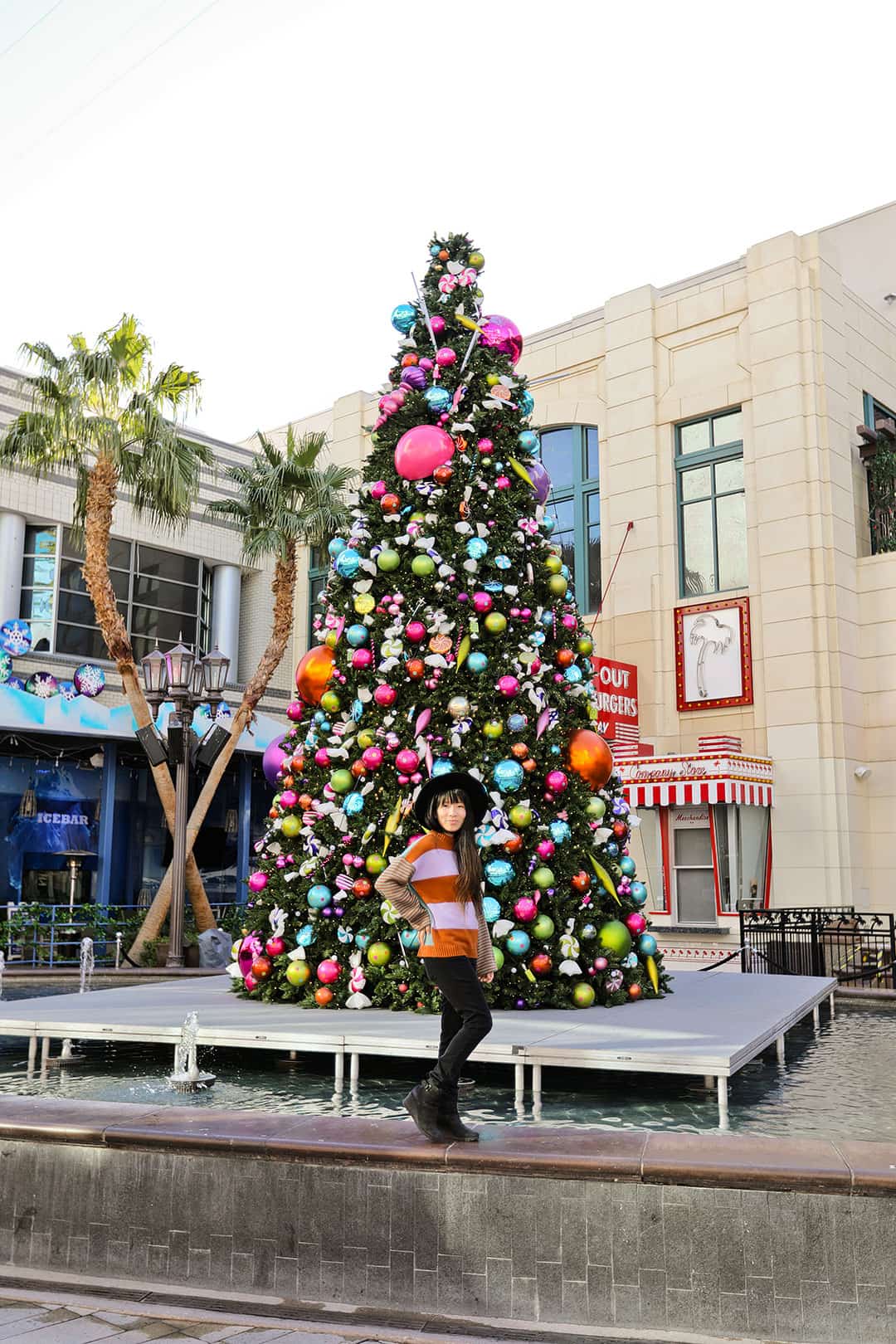 Have you been to the LINQ Promenade? Which of these things are you putting on your bucket list next?
Did you enjoy this post? Pin it for later
See More Las Vegas GUides
"Discovery consists not of seeking new lands but in seeing with new eyes" – M. Proust
Esther and Jacob are the founders of Local Adventurer, which is one of the top 5 travel blogs in the US. They believe that adventure can be found both near and far and hope to inspire others to explore locally. They explore a new city in depth every year and currently base themselves in Las Vegas.
The post The LINQ Promenade – Your Ultimate Guide on What to Eat See and Do appeared first on Local Adventurer » Travel Adventures in Las Vegas + World Wide.