Looking for the best things to do in Sonoma? This was our second visit, and we discovered there's so much more to Sonoma than wine.
People like to refer to Sonoma as the laid-back and authentic neighbor of Napa, and our Bay Area friends love Sonoma and always tell us if IYKYK. It's not only known for its wine but also its farm-to-table cuisine, diverse geography, and open spaces.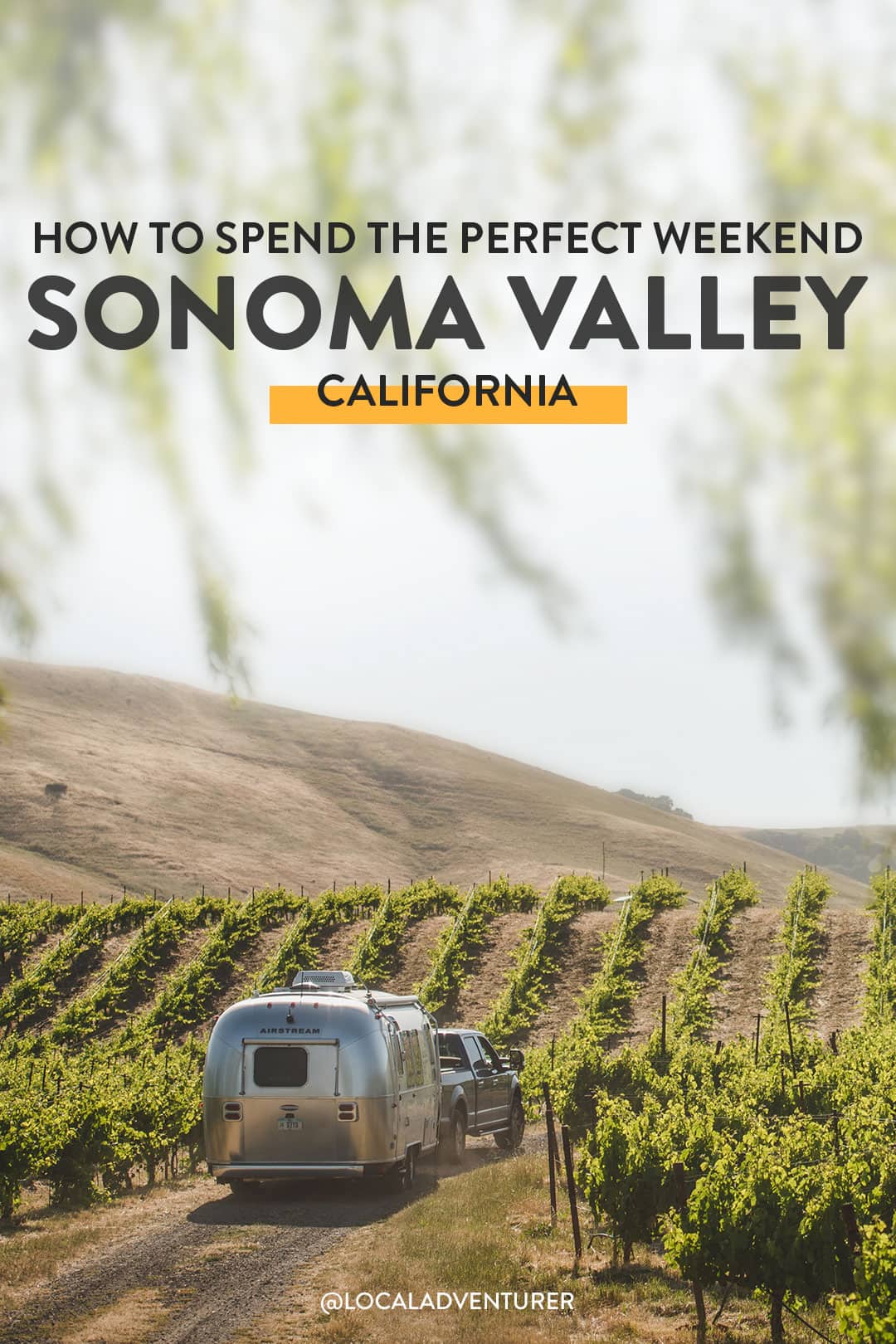 A big thank you to Visit California for sponsoring this post and Sonoma County for hosting our trip. All opinions are always our own. This post may contain affiliate links, where we receive a small commission on sales of the products that are linked at no additional cost to you. Read our full disclosure for more info. Thank you for supporting the brands that make Local Adventurer possible.
Last Updated: November 19, 2021
There are three distinct regions in Sonoma County: the pacific coastline, redwood forests and rivers, and fertile valleys and vineyards. Amongst these regions, you'll find over 30 small towns, villages, and cities where Life Opens Up.
Is your visit to Sonoma is part of a larger trip? You'll want to check out these articles.
Best Things to Do in Sonoma County CA
Let's start with the obvious. Jacob is allergic to wine, so it's nice to have options that don't involve wine. But there was also no way I would skip out when I have the perfect DD.
Wineries cover less than 6% of land in Sonoma but still amount to over 60k acres of vineyards and 400+ wineries. Because of the varying landscapes, you can find over 50 grape varietals. We highlighted the ones we visited plus other notable wineries we need to come back for.
If you love art paired with your wine, then you need to visit Paradise Ridge Winery, which is only 10 minutes away from downtown Santa Rosa. As we drove onto the property, large-scale art installments greeted us among the backdrop of the beautiful vineyards.
We loved the origin story of how they started to incorporate art into the vineyard. Rene, co-owner and one of five kids that runs the winery, told us his dad had proposed to his mom in a sculpture garden. Some of the pieces are from Burning Man, and they even have a portion of The Empyrean Temple, a 40-foot sculpture, which was supposed to be used at Burning Man 2020.
We started our visit with a tasting at the main building, then strolled through the sculpture garden to view the art.  I really loved their sparkling Shiraz.
Local Tip: Every Wed from May to Oct they host a wine and sunsets event with live music. They multiple seatings at 5, 5:30, and 6.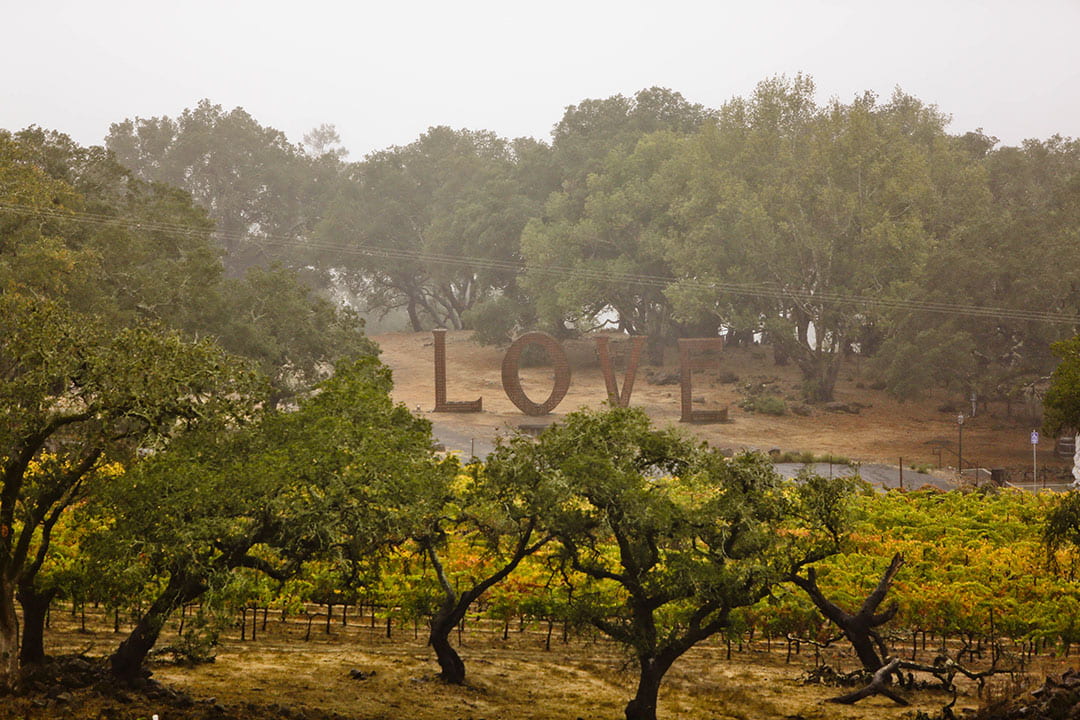 Afterward, we headed over to Korbel Winery for some food and bubbly. They have a delicatessen and market, which is where we had our lunch. The sandwiches and salads were so fresh and yummy, and we enjoyed our time on the outdoor patio.
They offer complimentary tastings for up to 3 champagnes, but you need to call and make a reservation ahead of time.
Buena Vista was founded in 1857 and is the oldest commercial winery and California's first premium winery. 
If you're looking for more than wine, check out Francis Ford Coppola Winery. They not only produce over forty wines, but they also serve food at their restaurant to pair with your wine. You can take a dip in either of their two swimming pools and check out their huge collection of movie memorabilia.
Benziger Family Winery is one of the first wineries to integrate biodynamic farming, and you can even take a Biodynamic Vineyard Tram Tour.
If you're looking to spoil yourself, head to Chateau St. Jean Winery, where you can pretend you're royalty for the day. The grounds are picturesque, and they have a European chateau and gardens atmosphere.
Other Wineries to Check Out
Bartholomew Estate Winery
Cline Cellars
Ferrari-Carano Vineyard
Gloria Ferrer Champagne Caves & Vineyard
Gundlach Bundschu Winery
Hamel Family Wines
Jordan Vineyard & Winery
Jacuzzi Family Vineyards
Lake Sonoma Winery
Larson Family Winery
Ledson Winery
Medlock Ames
Nicholson Ranch
Pangloss Cellars
Ravenswood Winery
Repris Wines
Roche Winery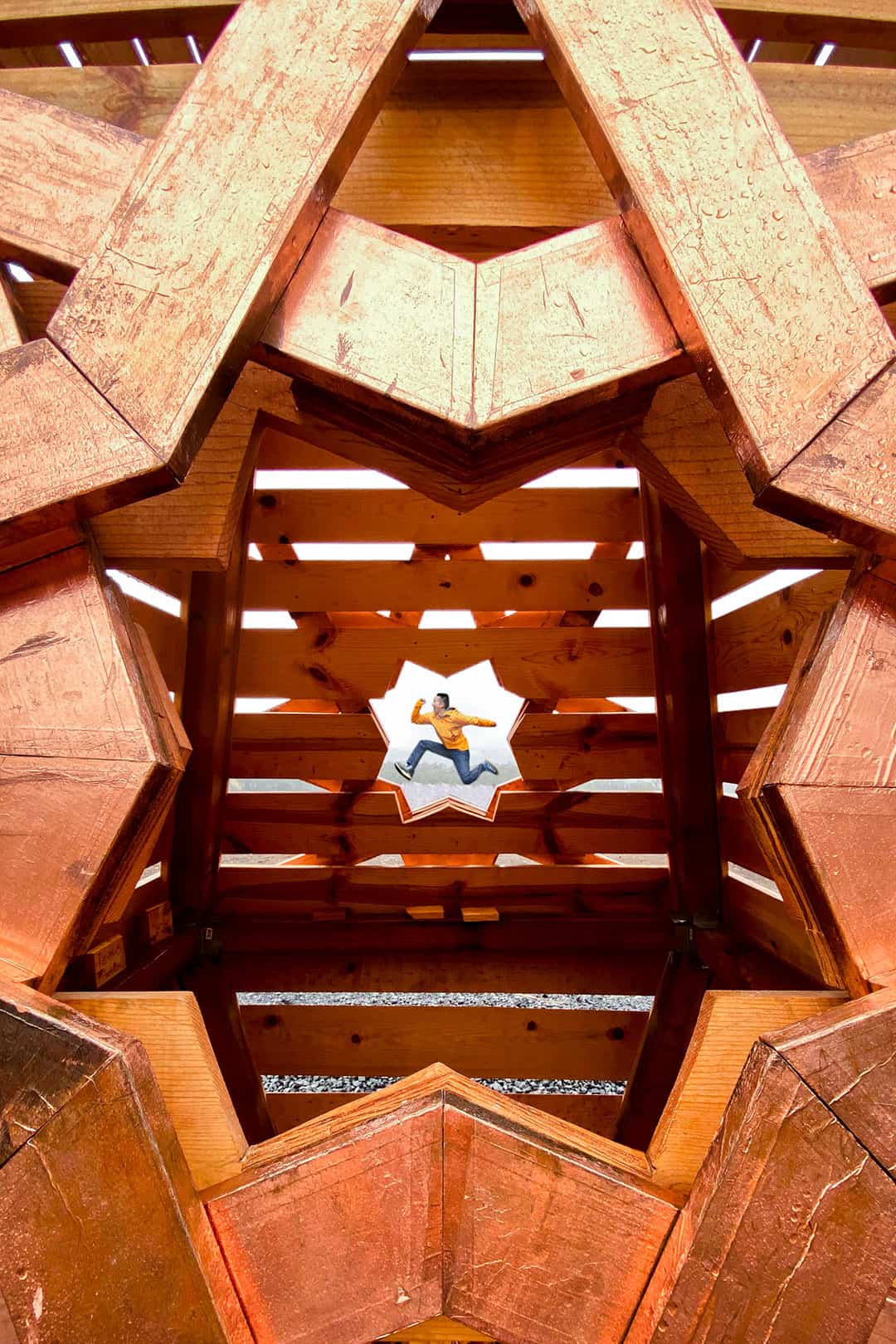 Osmosis Day Spa and Sanctuary was the highlight of our trip. We did the Cedar Enzyme Bath, which is a practice from Japan, and Osmosis is the only place you get this treatment in North America.
When we first heard about the cedar bath, we imagined a cedar tub filled with water, but we were surprised to find ourselves buried in a mixture of ground cedar and rice bran. The natural fermentation that is happening through the enzymes results in a warm treatment that improves circulation, relieves joint and muscle pain, and cleanses your skin.
In addition to that, the rest of the property is absolutely stunning. We spoke with Michael Stusser, who founded the spa. He studied as an apprentice in Japan, which helped him design the beautiful Zen gardens. Fun fact, the property used to be a junkyard and they left one of the old cars there as a tribute to the space.
Local Tip: They have a locker where you can keep your belongings when you're in the spa. We just brought our phones with us and during the Cedar Enzyme Bath, our therapist helped us snap a few shots.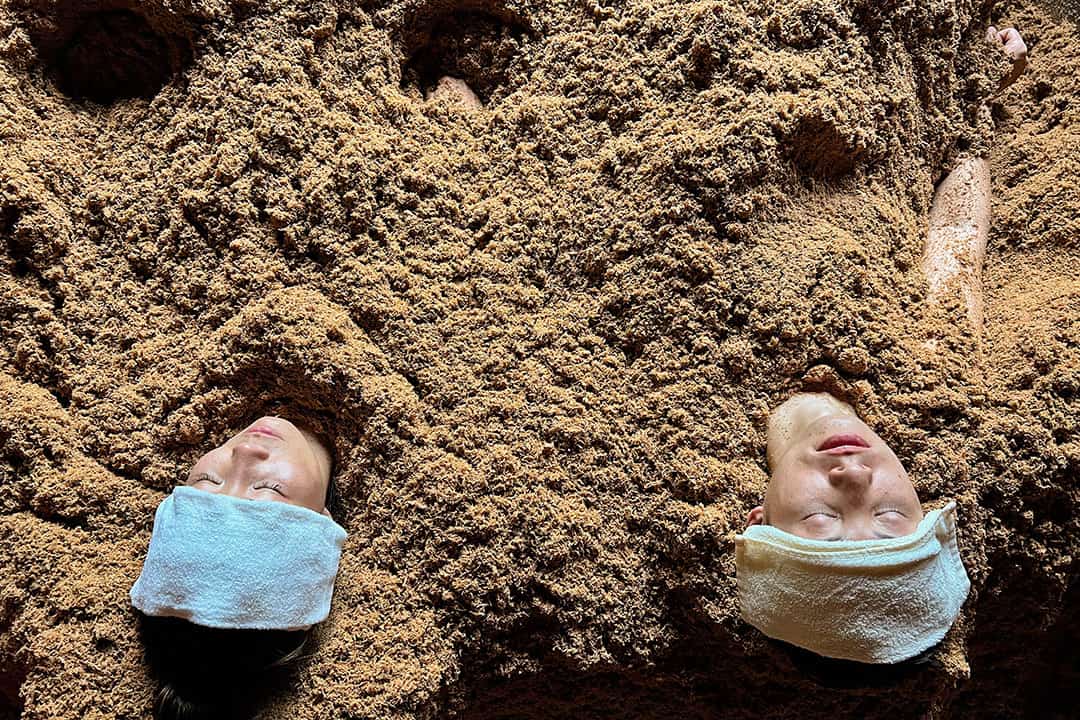 Have you heard of forest bathing, also known as shinrin-yoku? It was developed in Japan in the 80s and is part of preventive health care and healing when they saw people's mental health deteriorating from being overworked.
The idea is that you slow down and mindfully walk and meditate in a forest environment. Like meditation or yoga, if you're a beginner, it helps to have someone guide you through it. Oftentimes in Japan, you end having tea made from what was foraged during your forest bath. You take it all in through meditation and then taste the land.
Jenny from Ecowisdom showed us how to forest bathe with a Sonoma twist at Zephyr Vineyards. Near the end of our forest bath, rather than tea, we did a wine tasting, since wine is one of the few beverages where you taste the earth. If you try it, let us know if you can taste the redwood spice.
Even when I got home, it helped me pick up the daily habit of meditating again.
Before Sonoma became grape country, apples were the star. It's still one of the popular crops, and if you're visiting in late summer to fall, you should try their apples. Gravensteins are the most popular variety, and every August they celebrate with an annual festival. Check out the apple trail here.
Otherwise, you can visit a U-Pick farm in the Sebastopol area, shop at the farmer's markets, find a local cidery, or try some apple pie.
Since voluntourism is becoming more popular for travelers, you can also spend time apple gleaning in an orchard. Gleaning is when you volunteer to pick apples that are distributed to people in need. We were supposed to on this trip, but we kept getting rained out.
Local Tip: They also glean other fruits and vegetables throughout the year.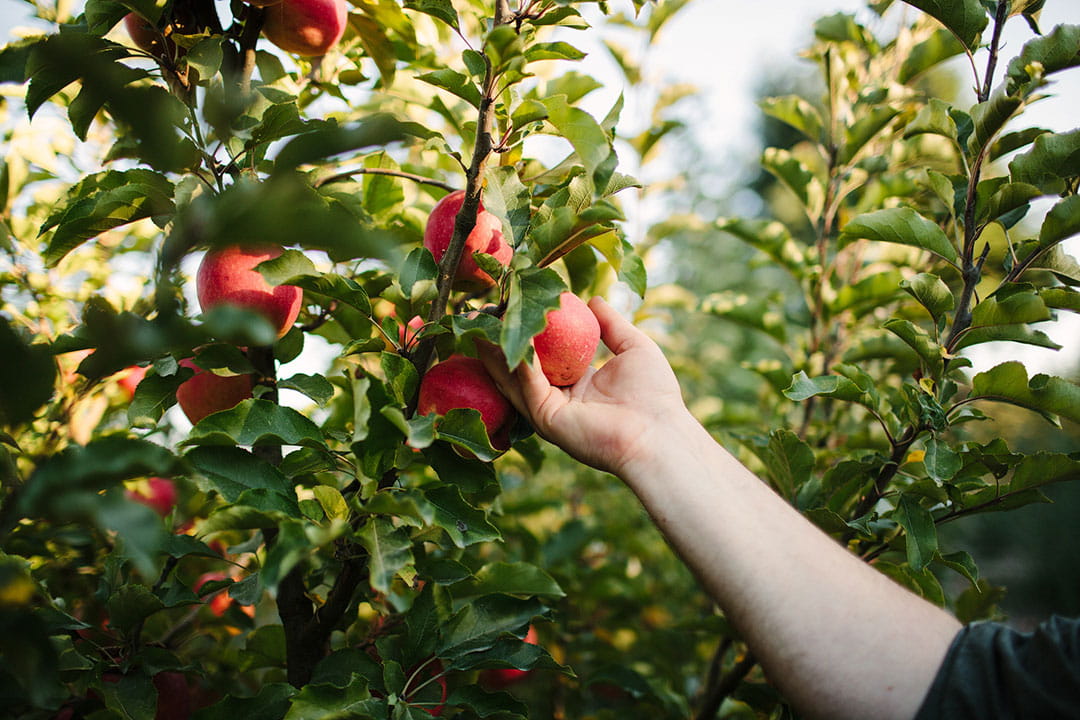 Next, we headed to the picturesque Bodega Bay. Bodega Head is a popular rock cliff overlooking the ocean, where you can walk along the cliffs and sometimes spot migrating whales. You can also head to the beach to take surfing lessons or charter a fishing boat.
If you saw Alfred Hitchcock's The Birds (address linked above), you can also see their filming locations here at Potter School and the Inn at the Tides. I haven't seen it yet, but I've been itching to since visiting and watching Schitt's Creek make references to it.
Doran Regional Park is a great place to go birding.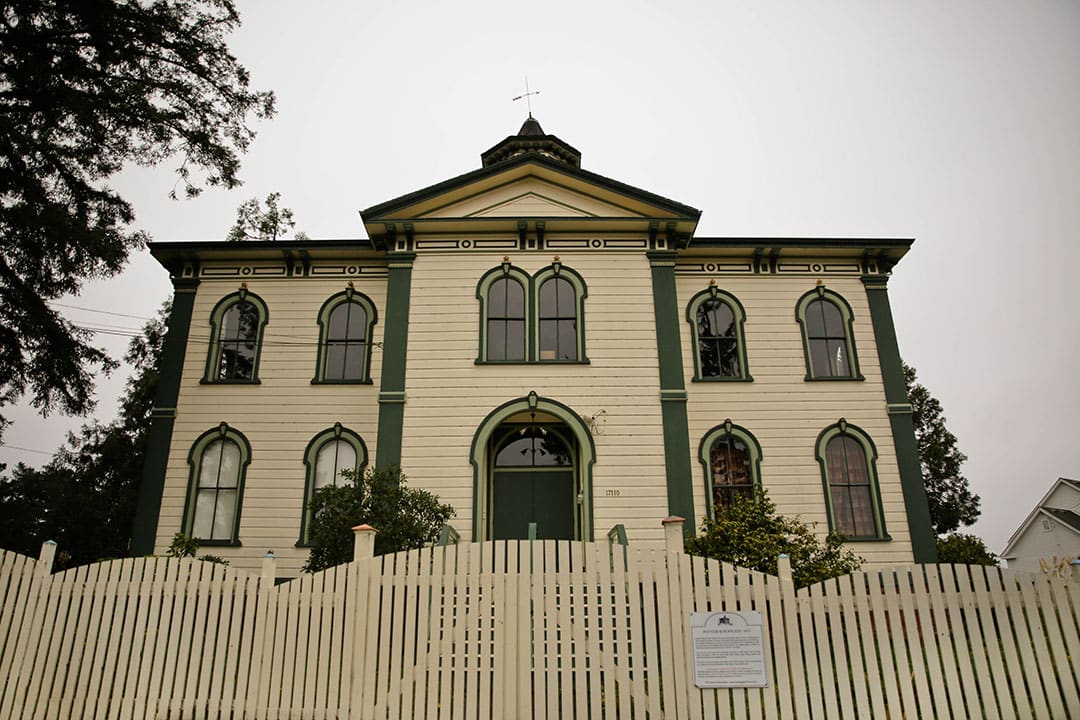 If you're looking for beach time, head to the Sonoma Coast State Park. It actually encompasses 17 miles of the coast from Bodega Head to Vista Trail and has multiple beaches and rocky cliffs.
Schoolhouse Beach, Wright's Beach, or Goat Rock Beach are popular spots for sunset. We wanted to spend some time on the beach, but since it was rainy the entire time, we ended up just seeing Schoolhouse Beach from above.
Local Tip: It's always good to have cash with you in case you need to pay for entry and/or parking.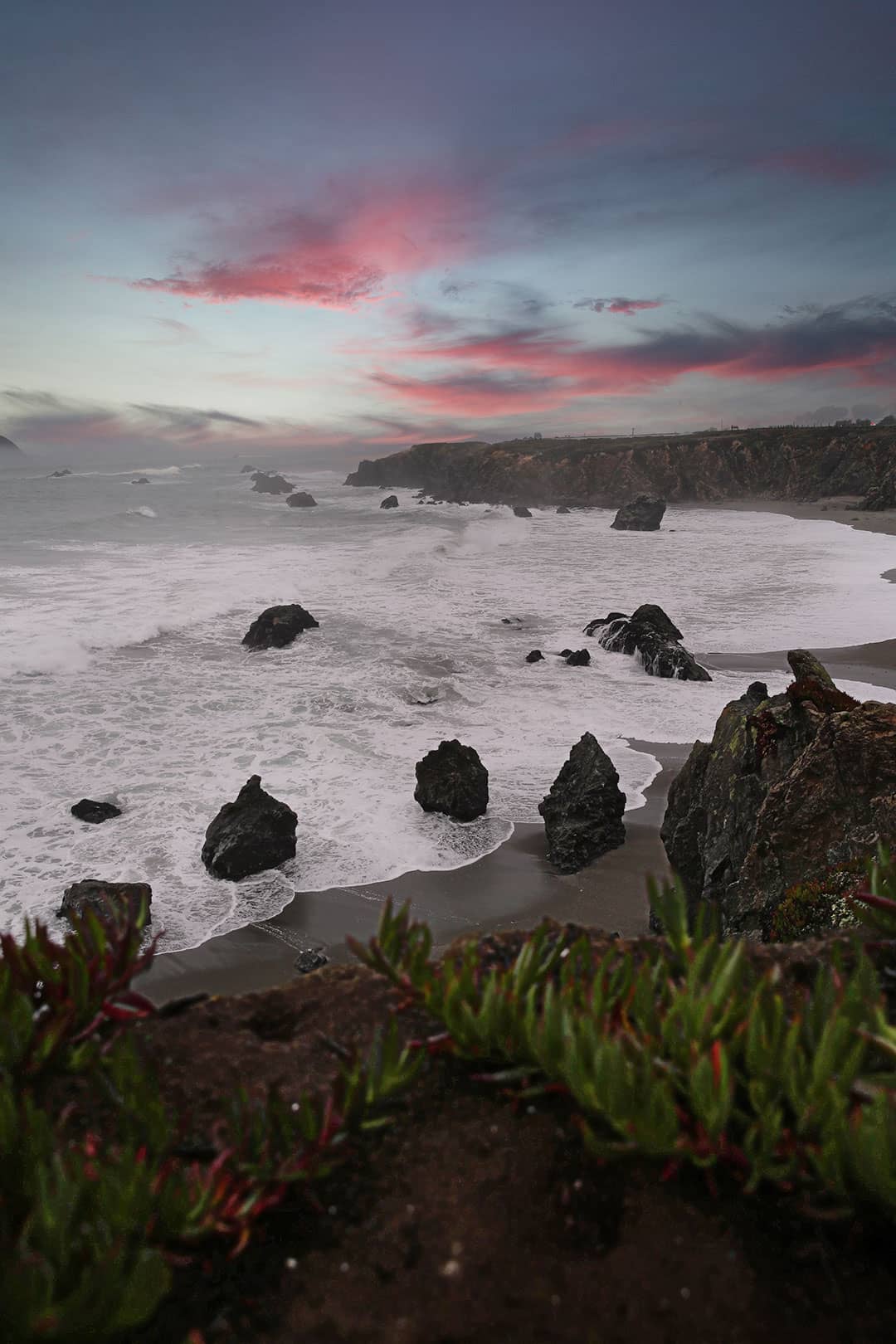 The Barlow is an open-air marketplace that covers four city blocks where you will find restaurants, shops, breweries, cideries, galleries, and more.
We had a delicious lunch at Kosho Sushi, grabbed coffee at Taylor Lane Organic Coffee. I also couldn't resist stopping at California Sister Floral, a super cute plant shop next to Taylor Lane.
The area used to be home to the Barlow family who built facilities to process apples into applesauce. Some of the original structures are still there. In 2012, new structures were added and local makers came to create a community where people can shop, drink, and play together.
Local Tip: If you see any fruit on the trees in the public areas, then you're free to pick them. – Duskie, Farm to Pantry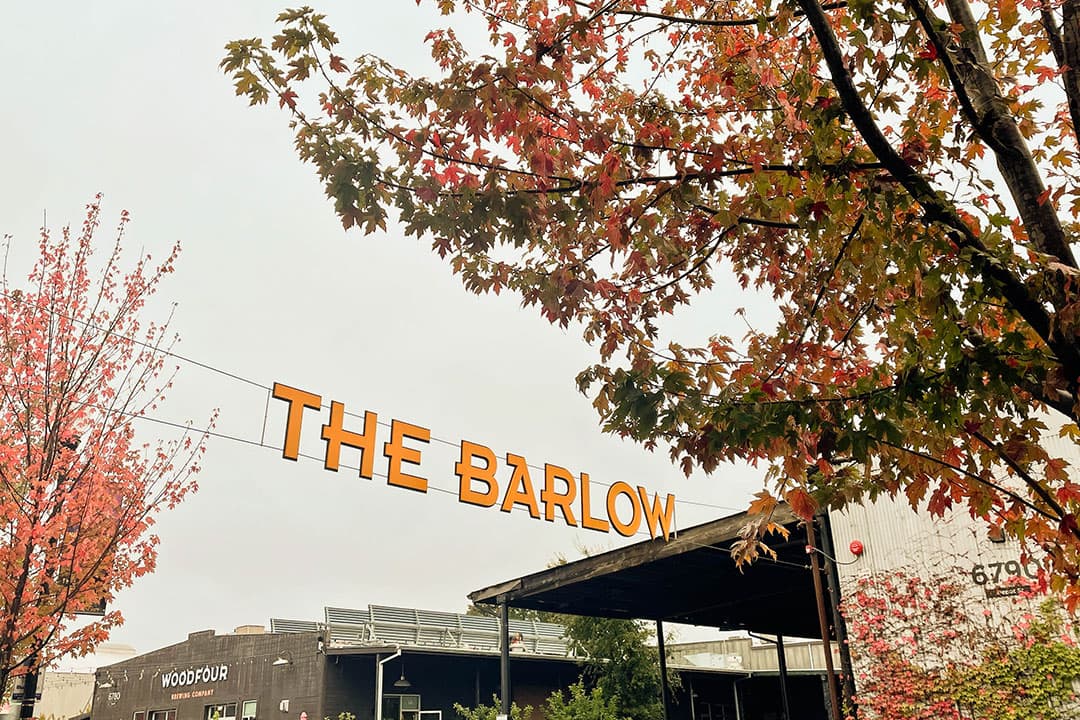 Map of Things to Do in Sonoma
More Things to Do in Sonoma County
Florence Ave, Sebastopol – Showcase junk art of Patrick Amiot and Brigitte Laurent
Graton Casino & Resort, Rohnert Park
Jack London State Historic Park, Glen Ellen
Kruse Rhododendron State Natural Reserve, Cazadero
Russian River – Float, Tube, Kayak, or Boat down.
Sonoma Botanical Garden, Glen Ellen –  Originally named Quarryhill Botanical Garden
Salt Point State Park, Jenner
Sandy Cove Beach, Jenner
Sea Ranch Chapel, Sea Ranch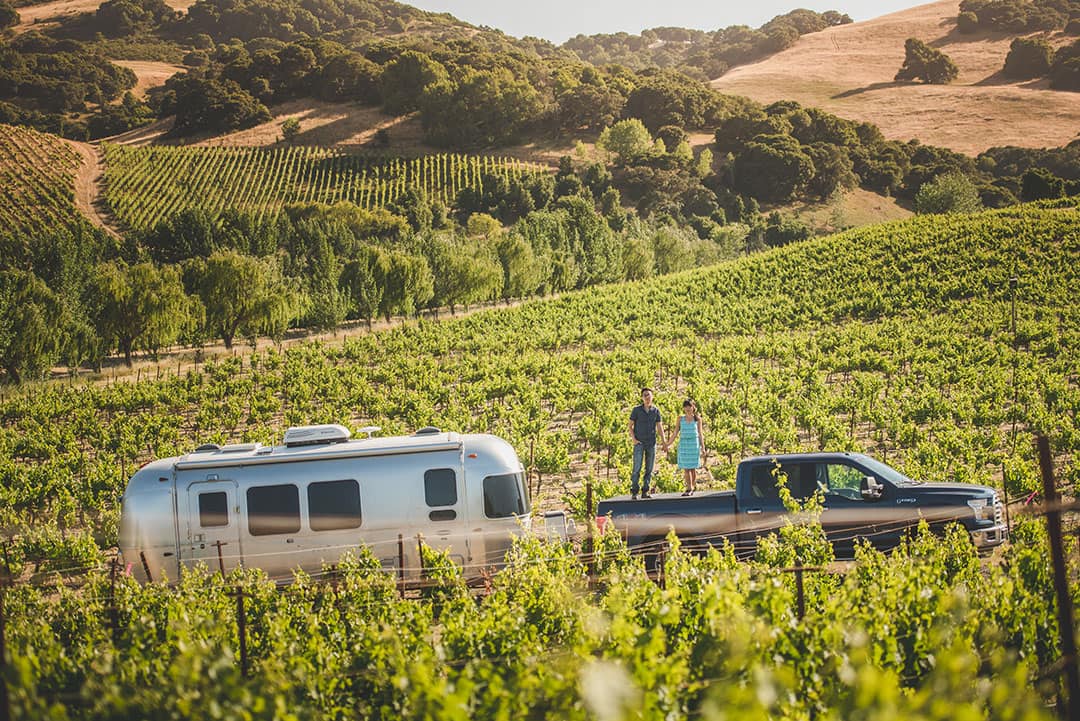 A lot of restaurants in Sonoma County are farm-to-table and source everything locally. That means you get seasonal dishes and the freshest food. Although Healdsburg is known for its world-class restaurants, you can find great food everywhere. Here are some of the restaurants to check out in the area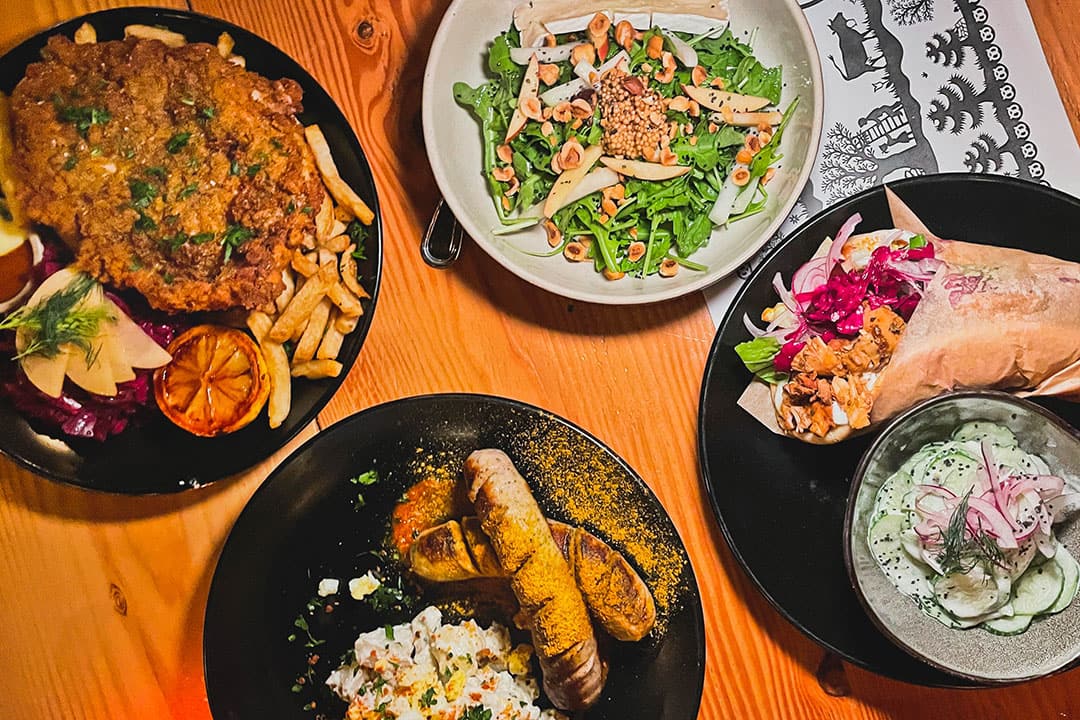 If you prefer to go on a tour and have all the details taken care of for you. Check these out:
Best Places to Stay in Sonoma
During our visit, we stayed at the Highlands Resort in Guerneville. We stayed in a cute cabin with a fireplace and jacuzzi. Plus, it was a few mins walking distance from great food and shops. For other options, check the map below.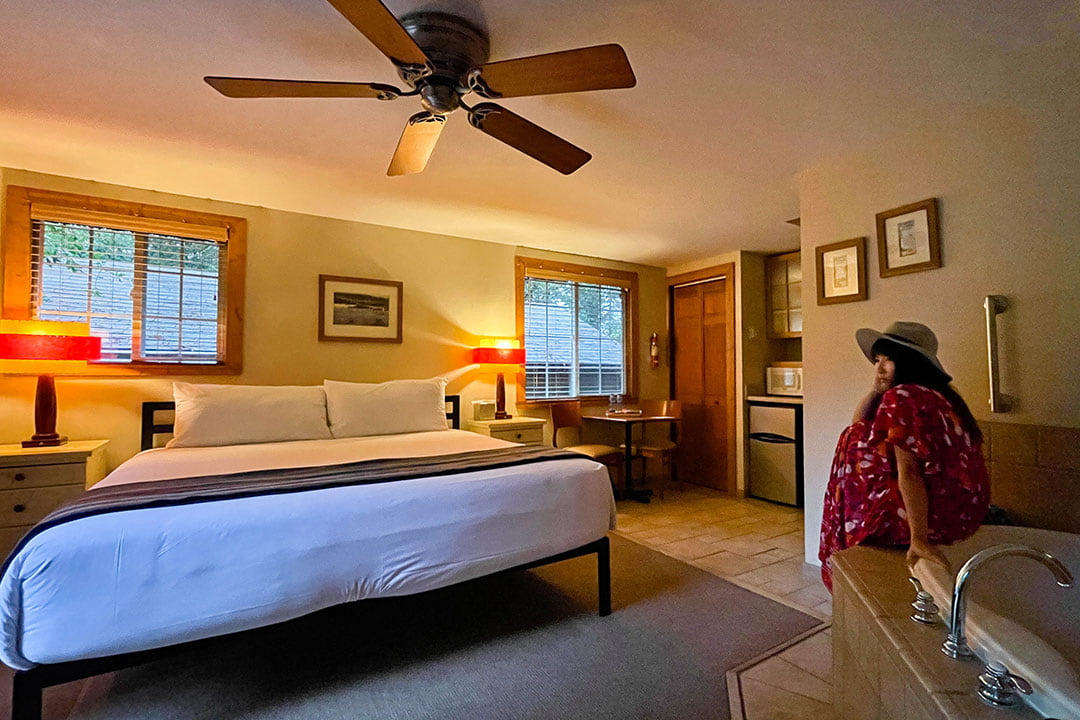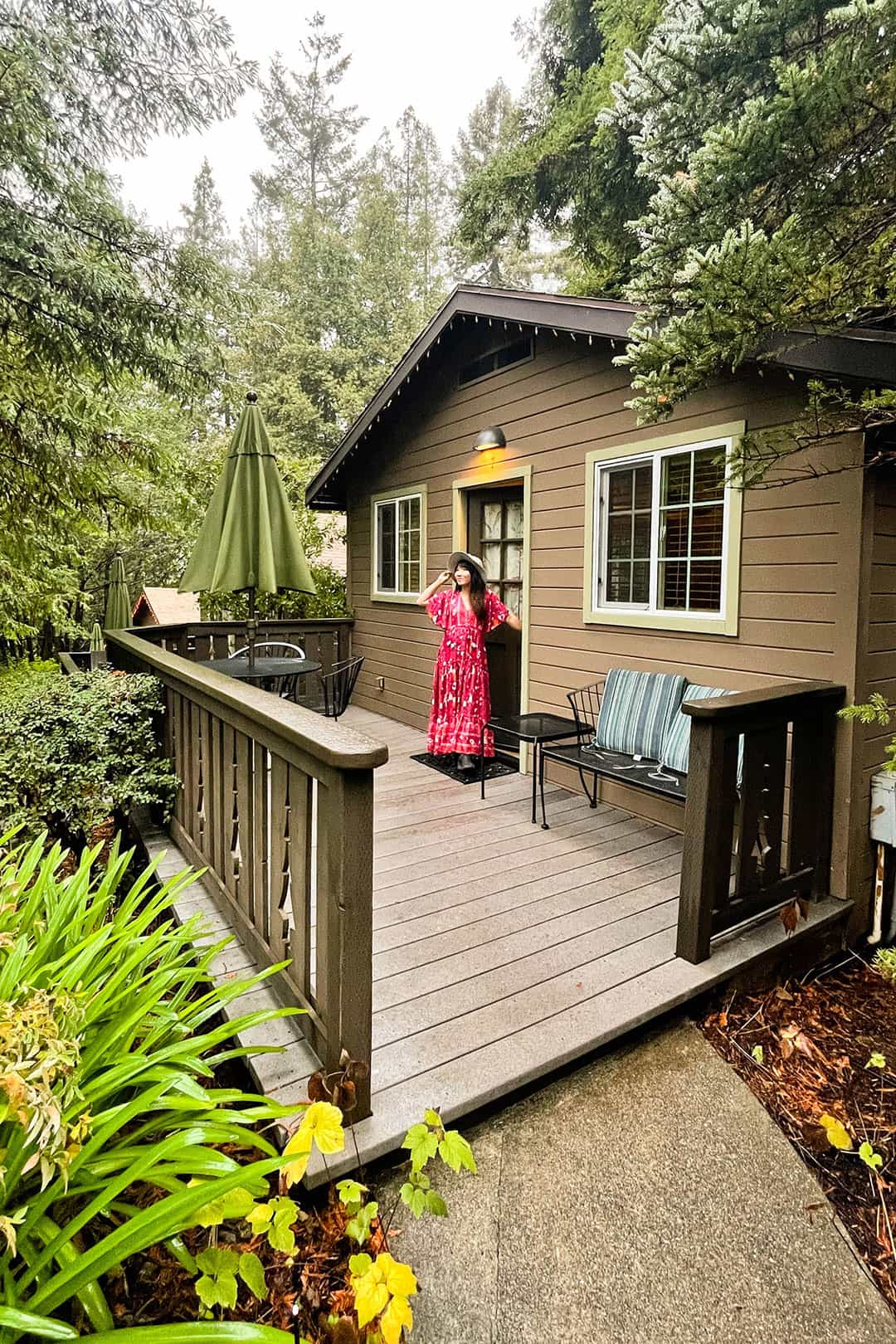 Don't just go for the wine. We all know Sonoma is known for its vineyards, but they're also famous for plenty of other things like their apples and farm-to-table dining.
There are a lot of smaller communities. Do a little bit of planning to make the most of your time in each town.
Sonoma has a Mediterranean climate and has mild winters.
Try to explore all three regions to see the diversity of the county.
Having a rain jacket and waterproof shoes is important outside of Summer when it might be rainy.
If you plan on doing a lot of wine tastings, check out the Sonoma County Tasting Pass.
For more guides and resources, check out SonomaCounty.com.
BY AIR
The Charles M. Schulz Sonoma County Airport (STS) is in Santa Rosa and is convenient for flying in and out of the county. Since it's a smaller airport, only a handful of airlines fly here, including:
Alaska Airlines: Burbank, Los Angeles, Orange County, Portland, San Diego, and Seattle
Avelo Airlines: Burbank and Las Vegas
American Airlines: Dallas Fort Worth, Los Angeles, Phoenix Sky Harbor
United Airlines: Denver and San Francisco
Other nearby airports
San Francisco International (SFO) 1.5 hrs and 75 miles away
Oakland International (OAK) 1.5 hrs and 76 miles away
Sacramento International (SMF) 2 hrs and 119 miles away
Find rental cars here. 
BY CAR 
From SF – Sonoma is only an hour away from San Francisco making it an easy drive from the city. You have to pay a toll on the Golden Gate Bridge when you enter SF but not when you leave.
From Sacramento – Take US-80 West to Ca-12/121 West. The drive takes roughly 1.5 hours.
From Seattle/Portland – Take US-5 or US-101 South. The drive from Portland takes nearly 10.5 hours.
PUBLIC TRANSPORTATION
Sonoma County Airport Express – from SF or Oakland airports with four stops in Sonoma County
Golden Gate Transit – buses from San Francisco to Petaluma and Santa Rosa
Ferry – from the San Francisco Ferry Building to Larkspur Ferry (then take the Golden Gate Transit or ride a SMART train to Sonoma County)
Greyhound – from San Francisco to Santa ROsa
Sonoma County Transit – buses that run throughout Sonoma County
Sonoma-Marin Area Regional Transit (SMART) – clean diesel trains from San Rafael in Marin County to Charles M. Schulz Sonoma County Airport
Amtrak – trains run to Martinez and you can connect with buses to Santa Rosa or Healdsburg
Frequently Asked Questions
What is the best time of year to go to Sonoma?
The peak season is June through October. It's the best weather and you get to be there during apple season too. Unfortunately, it's the busiest time to visit. We prefer shoulder months like November and May for fewer crowds. During the winter, it's after harvest season, so you have all the locals' attention. You get to meet the owner and maker since things are still small and family-owned vs corporations in Napa.
What is there to do in Sonoma besides wine tasting? What is there to do in Sonoma under 21?
As we've reviewed in this post, Sonoma is so much more than just wine. There are plenty of outdoor places to explore, delicious restaurants, and quaint towns. If you're visiting with your family, fly a white on the coast, go on a safari at a wildlife preserve, or check out the local museums. 
Is Sonoma cheaper than Napa?
Overall, Napa is typically more expensive than Sonoma. With that said, you can easily spoil yourself and make a dent in your wallet in Sonoma by staying in a 5-star hotel, eating pre-fixe meals, and going on wine tasting tours in private cellars.
How far apart are Napa and Sonoma?
The city of Sonoma and the city of Napa are only 14 miles apart, but each county has distinct climates, landscapes, and conditions.
Do you need a car in Sonoma?
Generally having a car is helpful if you want to explore multiple towns in Sonoma. They're pretty spread out, and we always like having the freedom and flexibility. If you choose to visit without a car, you can do guided wine tours, so you don't have to worry about having a DD or use buses to travel between towns.
What is Sonoma known for?
Sonoma is known for wine, apples, farm-to-table restaurants, and beautiful landscapes that span forests, rivers, valleys, hills, beaches, and rocky cliffs.
What should I wear to Sonoma? Can you wear jeans to a winery? What is wine country casual?
A general rule of thumb is when in doubt, go dressier over casual. You want to be comfortable, though, since you'll most likely be visiting multiple spots. It also helps to have layers for when it gets cooler.
Wine country casual includes sundresses, casual skirts, and slacks or jeans with a dressier top. I recommend comfortable shoes, whether that's wedges, flats, or boots. Avoid gym shorts, cut-off jeans, shorts, sports tees, and flip flops.
If you plan on going to a nice restaurant, you will have to dress up more (often jacket required for men). 
What wine is Sonoma known for?
Sonoma is best known for pinot noir from the Russian River Valley and Sonoma Coast.
How much does wine tasting cost in Sonoma?
Between $20-30 is standard for most tastings, but you can find ways to do it on a budget or splurge on exclusive experiences.
How many wineries are there in Sonoma?
Does Sonoma have a downtown?
Yes, downtown Sonoma is a great spot to explore and the surrounding towns and communities also have their own distinct downtown experiences.
Is Napa or Sonoma closer to San Francisco?
Both the city of Sonoma and the city of Napa are about an hour away from San Francisco. 
What is there to do between Sonoma and San Francisco?
There are a few spots you can explore between San Francisco and Sonoma, including Sausalito, Berkeley, Mill Valley, and Napa. You can also check out J V Fitzgerald Marine Reserve, Reinhardt Redwood Regional Park, Alcatraz, the San Rafael Farmers Market, or Point Reyes Lighthouse.
Can you think of any other things to do in Sonoma that can't be missed?
Did you enjoy this post? Pin it for later
See More FIrst-Timer City Guides
"Discovery consists not of seeking new lands but in seeing with new eyes" – M. Proust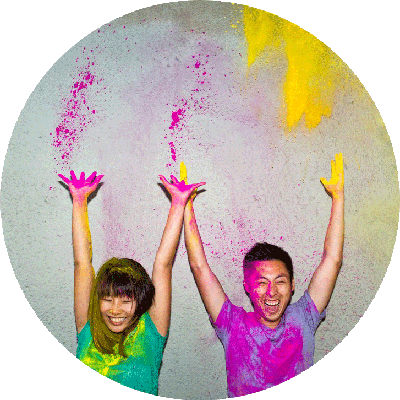 Esther and Jacob are the founders of Local Adventurer, which is one of the top 5 travel blogs in the US. They believe that adventure can be found both near and far and hope to inspire others to explore locally. They explore a new city in depth every year and currently base themselves in Las Vegas.
The post 7 Best Things to Do in Sonoma Valley appeared first on Local Adventurer » Travel Adventures in Las Vegas + World Wide.