Planning a visit to Green Valley Ranch and Spa? Don't miss these things!
Most visitors stay on the Strip, but if you talk to locals, their favorite casinos are the Station Casinos. Green Valley Ranch is the Station Casino located in Henderson, Nevada.
It's a luxurious resort with stunning Mediterranean-inspired architecture, lush gardens, and impeccable attention to detail. It offers a one-of-a-kind experience for travelers looking for a unique escape from its award-winning spa to its casino and delicious dining options.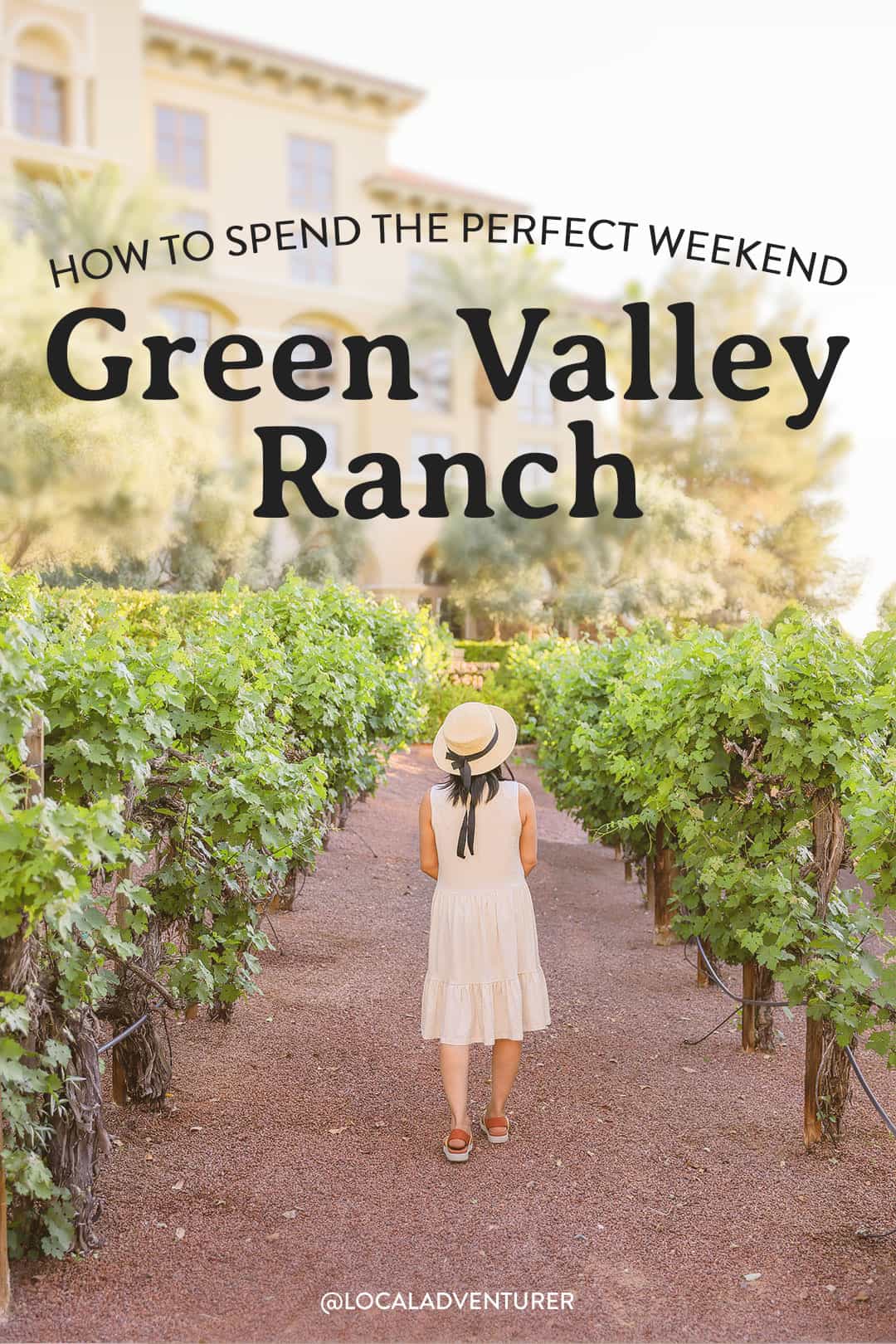 This post may contain affiliate links, where we receive a small commission on sales of the products that are linked at no additional cost to you. All opinions are always our own. Read our full disclosure for more info. Thank you for supporting the brands that make Local Adventurer possible.
Last Updated: May 5, 2023
About Green Valley Ranch Resort and Spa
Green Valley Ranch is a favorite amongst locals. It's located in Henderson, Nevada, a suburb of Las Vegas and roughly 20 minutes from the Strip. It's adjacent to The District, an outdoor shopping and dining destination.
The resort has over 450 luxurious guest rooms and suites, various dining options, a full-service spa, a beautiful pool, a casino, and more.
Parking is free at the resort, with options to park in uncovered areas or on a parking deck.
GVR Address: 2300 Paseo Verde Pkwy, Henderson, NV 89052 (map)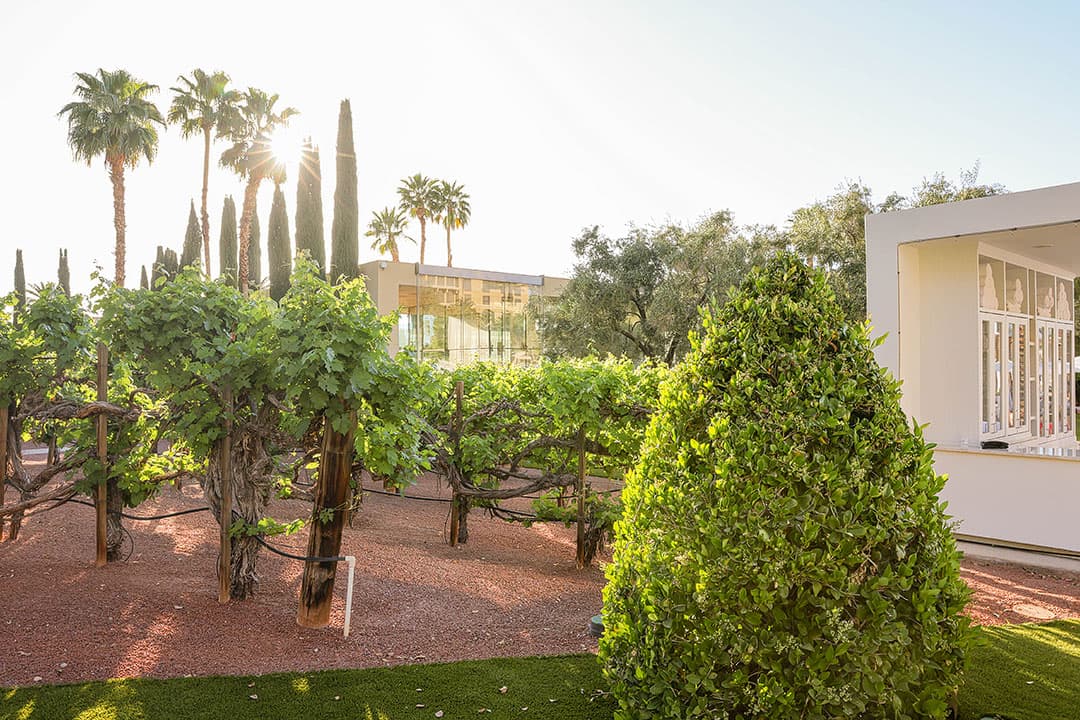 7 Best Things to Do in Green Valley Ranch
1. Have a Spa Day
We started our staycation with a 60-minute couples massage to get us in relaxation mode.
One of the unique features of the Spa at Green Valley Ranch is the hydrotherapy circuit. This circuit consists of heated hydrotherapy pools, hot tubs, and eucalyptus steam rooms designed to promote relaxation and detoxification. You can follow at your own pace, spending as much time as you want in each area.
In addition to the hydrotherapy circuit, the spa has a full-service salon that offers hair styling, nail care, and makeup services.
Local Tip: Give yourself plenty of time to enjoy the facilities after your treatment, including saunas, hot tubs, and the gym. We unfortunately booked something right after our massage and wished we spent more time here.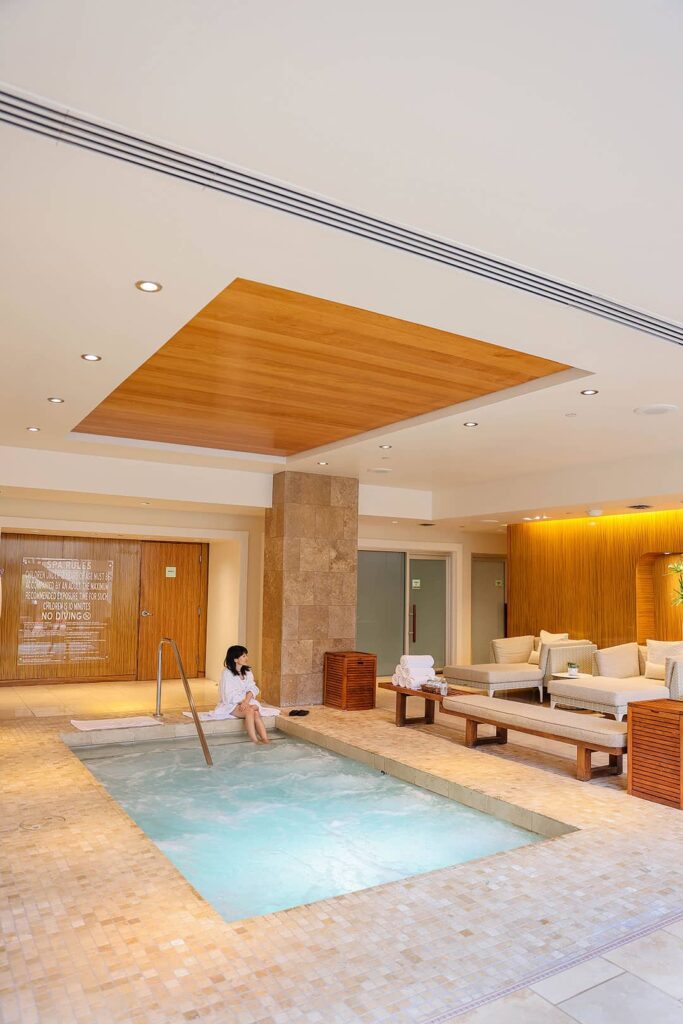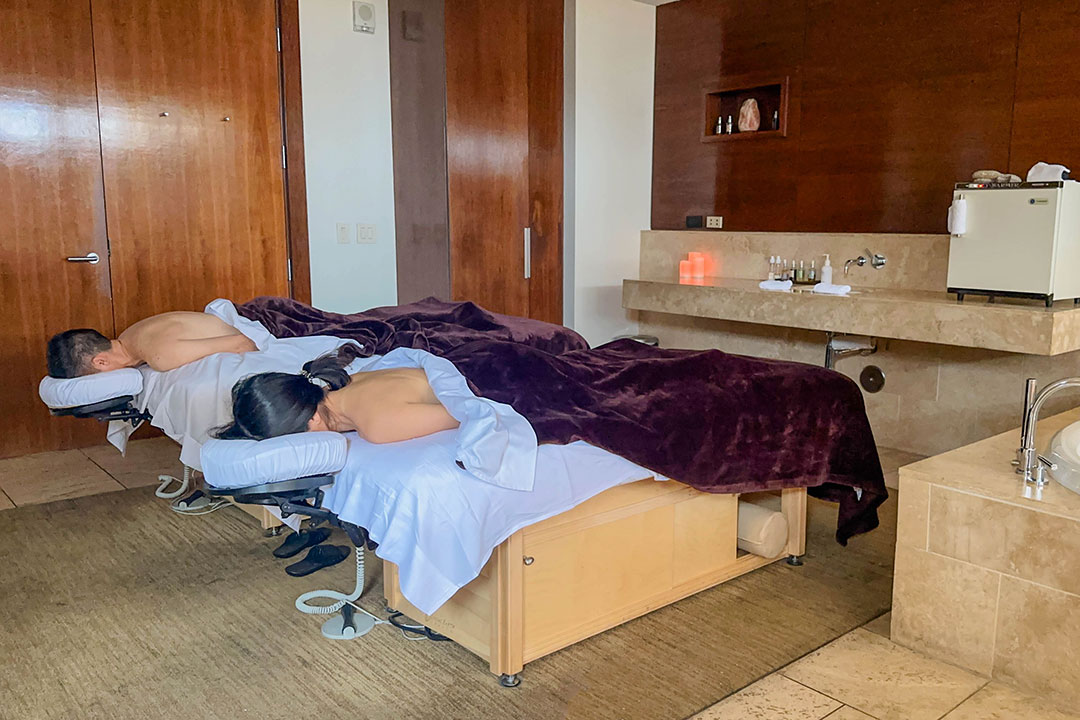 2. Play Bingo
We played Bingo once years ago at a brewery when we first lived in Las Vegas, and this was the first time playing since then. It was much more fun than I remember (probably because we won twice)!
Bingo games run throughout the day, and you can go old school with paper and dauber or new school with the electronic screens they provide. We tried both to see what the experience was like.
There is something fun about marking it on your own, but it can get stressful. Next time we go, we're sticking with the screens. It does everything for you except for yelling Bingo when you win. That way, you can focus on hanging out over fretting over keeping up with the numbers.
Local Tip: For a fun group night out, check out Rock Shot Bingo. These monthly themed events are like a party. There's a DJ, and everyone uses the screens so you can drink and dance. Plus, if someone at your table wins, everyone gets a shot!
See More: 101 Things to Do in Las Vegas Bucket List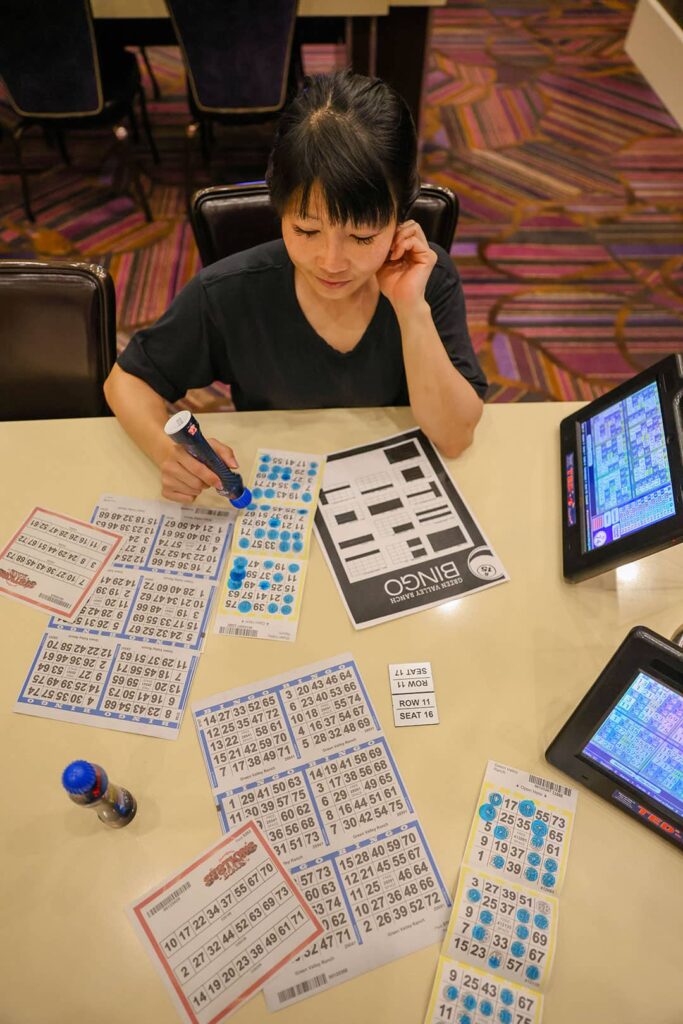 3. Relax by the Pool
The pool at Green Valley Ranch is one of the resort's most popular attractions. This sprawling, multi-level pool complex is perfect for soaking up the sun and cooling off. Surrounded by lush greenery, palm trees, and cabanas, the pool offers a tropical oasis right in the heart of the Nevada desert.
They have multiple pools, including a main pool with natural sand and an adults-only pool. The cabanas are available for rent and include private seating areas. They also serve delicious food and drinks, including sushi and a massive Dole Whip. See our Wes Anderson Style GVR Pool reel here.
Local Tip: The public can also use the pool, but it hits capacity on the weekends during the summer. If you want to spend time at the pool, make a reservation 2-3 weeks in advance.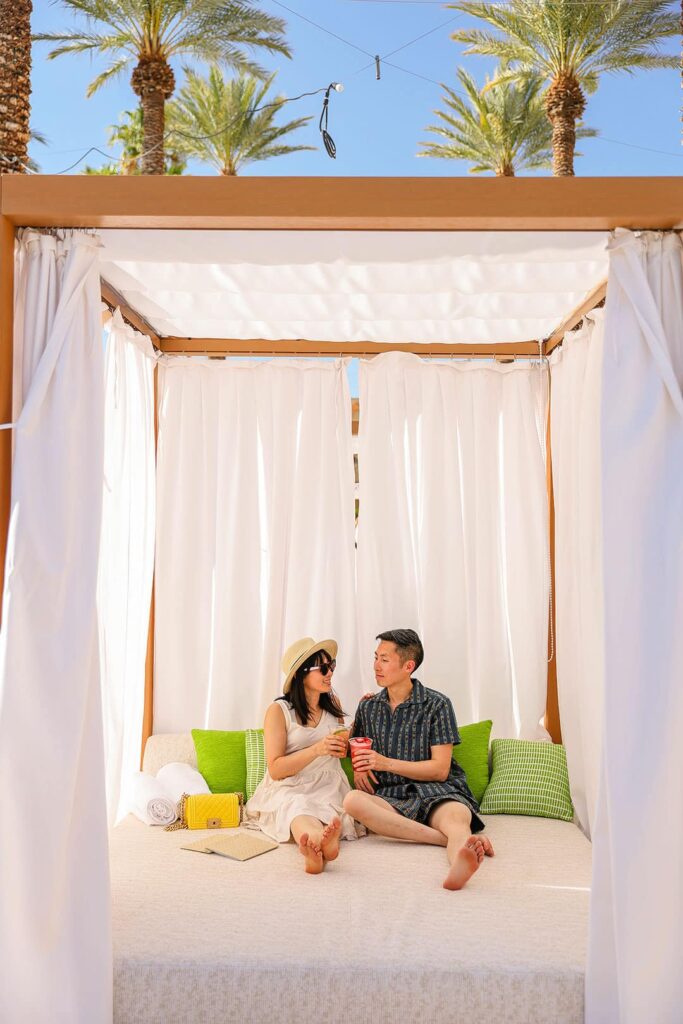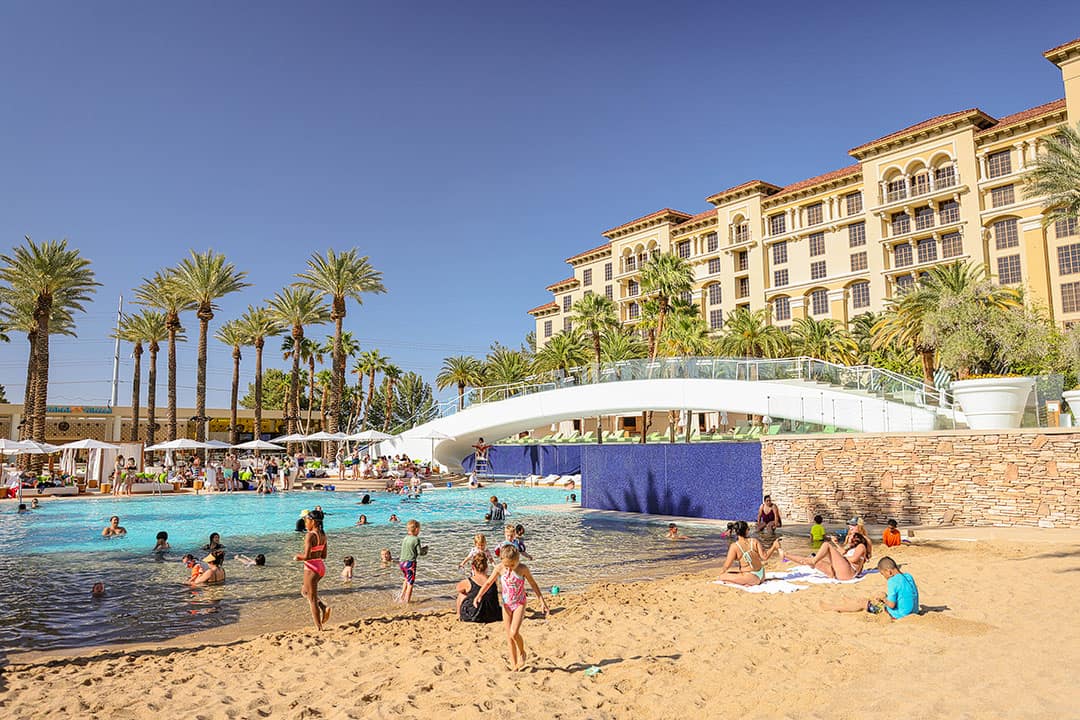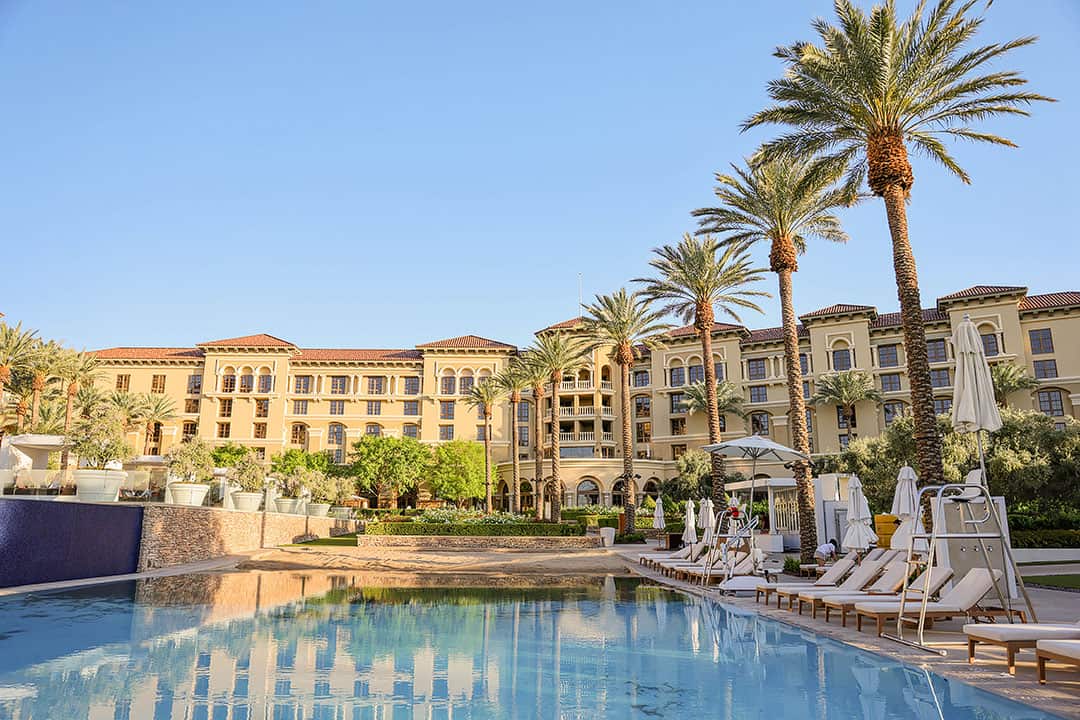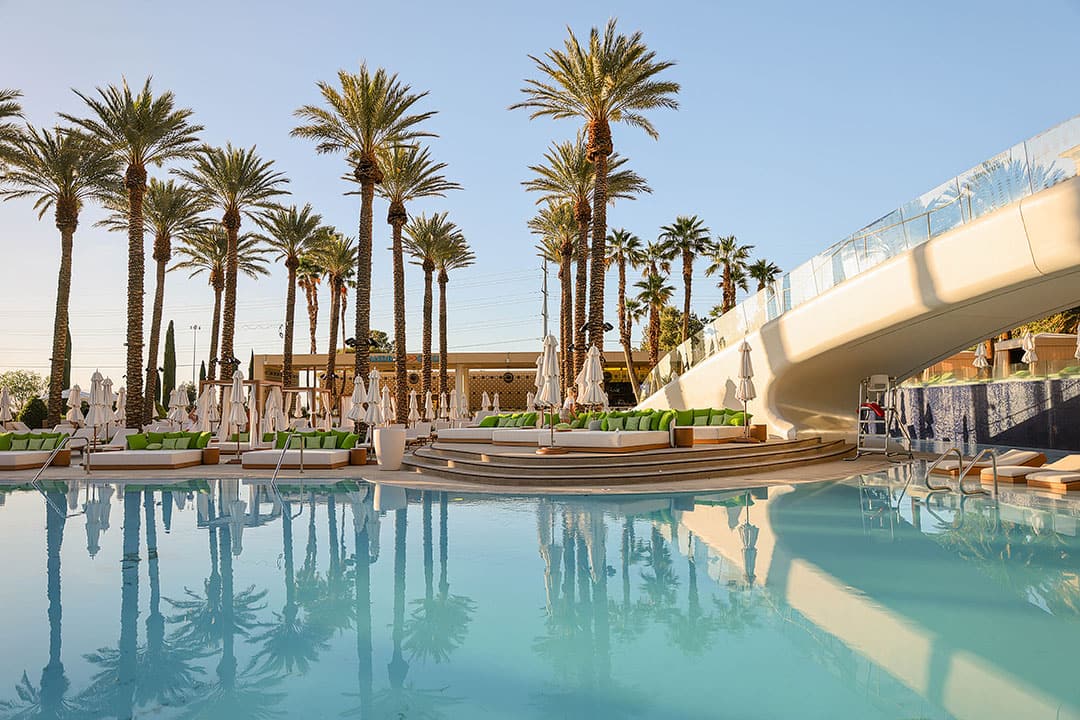 4. Go to a Movie
Jacob loves watching movies. I go for the movie theater popcorn and Icees. The theater is the perfect place to relax, especially on hot days. It's a Regal, so they typically show the latest movies and have plenty of movie times to choose from.
Local Tip: They have movie deals on Tuesdays (for Regal Crown Club members. It's free to join) and a subscription plan for all-you-can-see movies each month if you're interested. Just ask any of the employees at the box office for more details.
See More: 25 Fun Indoor Activities in Las Vegas for Scorching Hot Summers and Rainy Days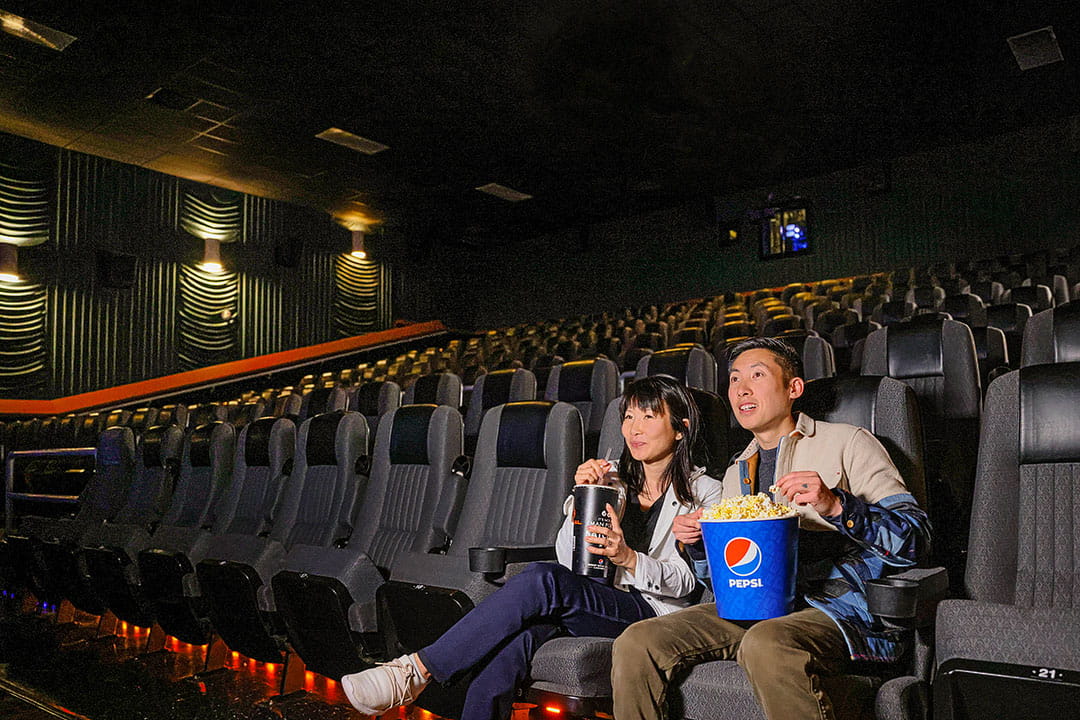 5. Grab a Drink at One of the Bars
Green Valley Ranch has several bars to enjoy a cocktail or two. We hung out at Drop Bar after dinner for some yummy drinks. Here is a list of bars:
Drop Bar – Located in the heart of the casino floor with a chic design and hand-crafted cocktails. They also have live DJs here on Friday and Saturday nights.
Lobby Bar – Laid back environment right in the lobby. There's also a private patio to enjoy when the weather is nice. It's an excellent spot if you're looking for a quieter environment.
Sidebar – Located next to the rewards center, this is the newest bar and a great spot to grab a drink when you need a break from gambling.
Sip Bar – Tucked away on the casino floor, this is a local favorite for a premier selection of martinis.
Sports Bar – Located in the Sports Books, this is where you want to go if you're watching the game.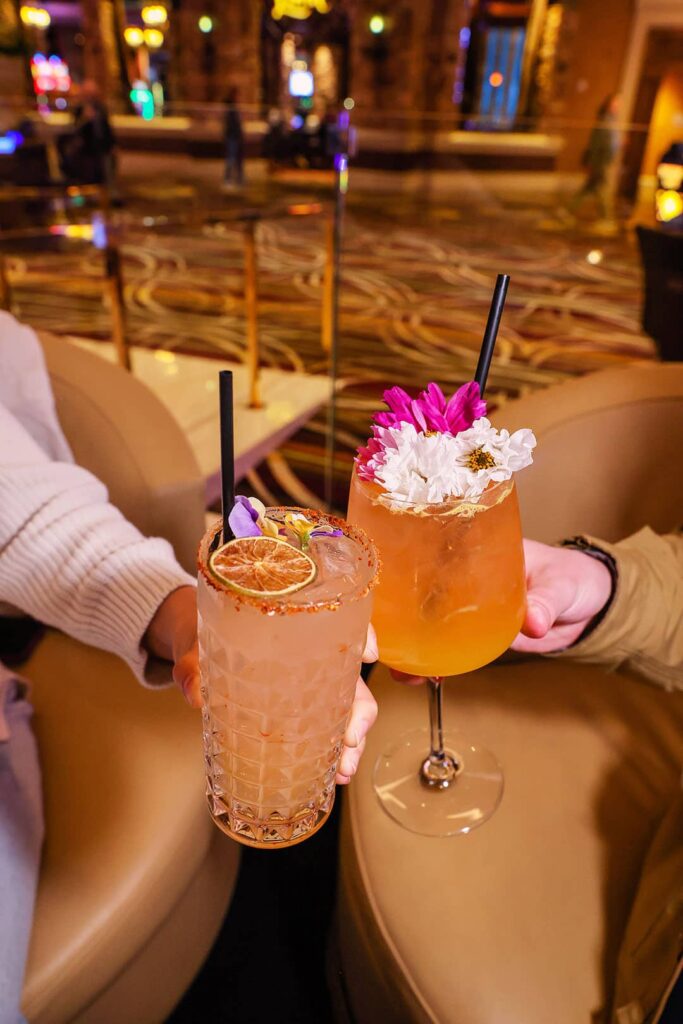 6. See a Concert
Green Valley Ranch hosts concerts and live music at a few different concert venues. In addition, they host artists at Hank's and DJs at Drop Bar.
See More: 11 Las Vegas Shows You Can't Miss
7. Dinner Date
There are some great restaurants at GVR! We have a list of all the food options and more photos below, but two spots you should check out are Hank's and Bottiglia.
If you're hankering

for a steak, Hank's Fine Steaks & Martinis is where the locals go for high-quality, aged steaks. They have an extensive selection of fine wines and handcrafted cocktails, including their signature martini, made with dry ice for a dramatic effect.
Bottiglia Cucina & Enoteca is a more laid-back spot focusing on Italian cuisine with an extensive wine list. On the weekends, they have a brunch menu and cute outdoor seating for when the weather is nice. If you love pasta, you have to try the Mushroom Truffle Tagliatelle. It was, hands down, our favorite dish!
See More: Recap of Our Endless Caravan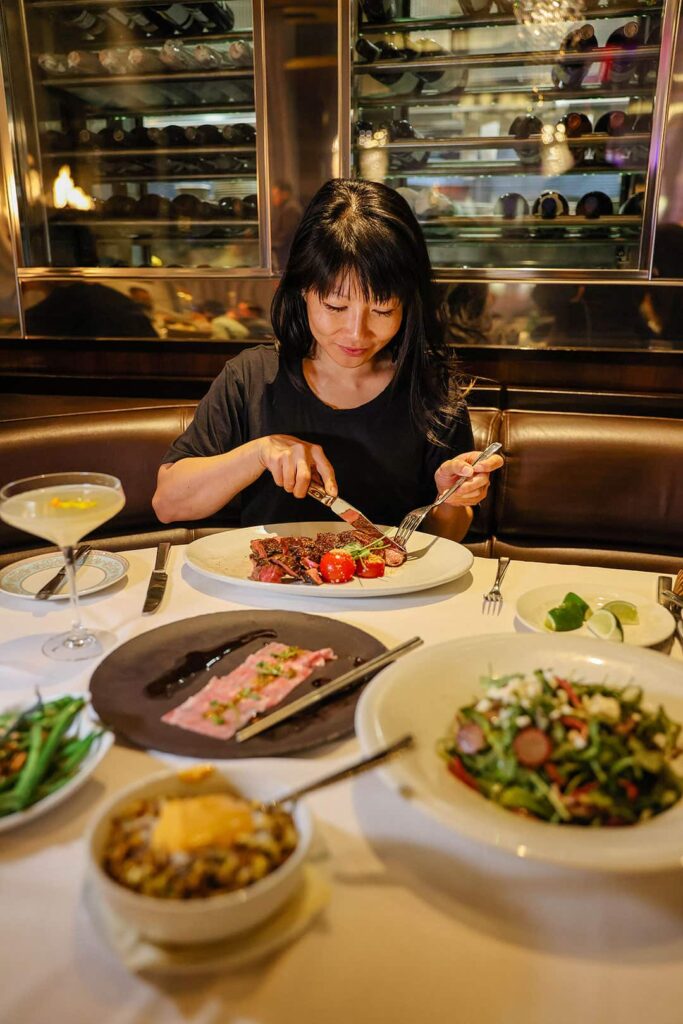 Seasonal: Spring and Winter at the Terrace
Green Valley Ranch does a pop-up lounge near the pool twice a year. Spring at the Terrace and Winter at the Terrace have themed menus that are super cute. In the winter, they set up cozy igloos and fire pits; in the spring, they have private pergolas and fire pits.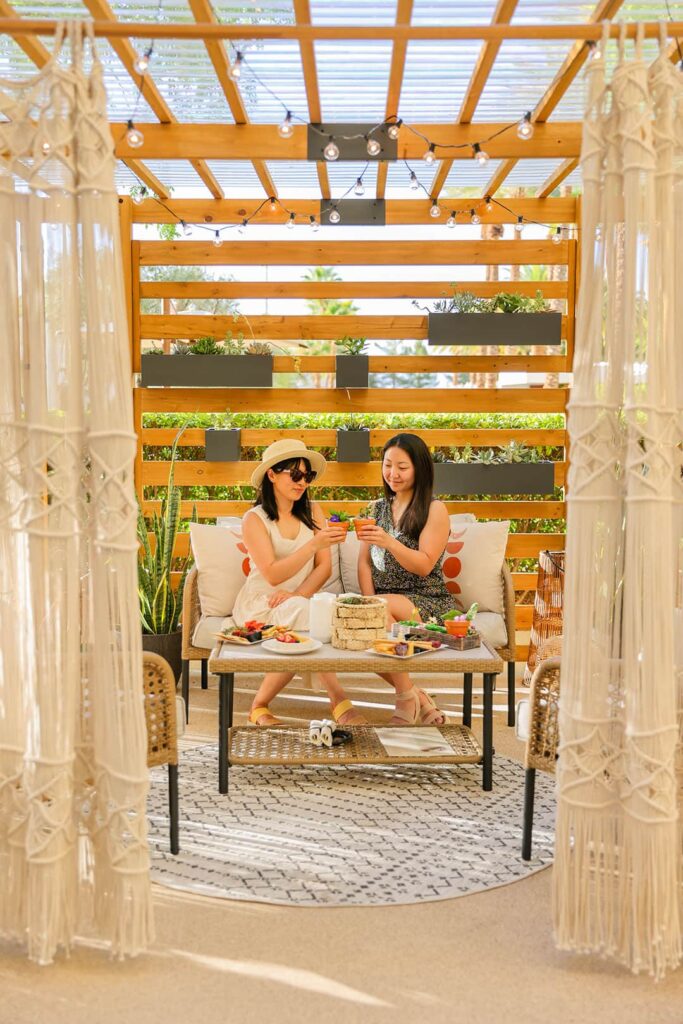 More Things to DO at Green Valley Resort
Kid's Quest
Cyber Quest
Shop at The District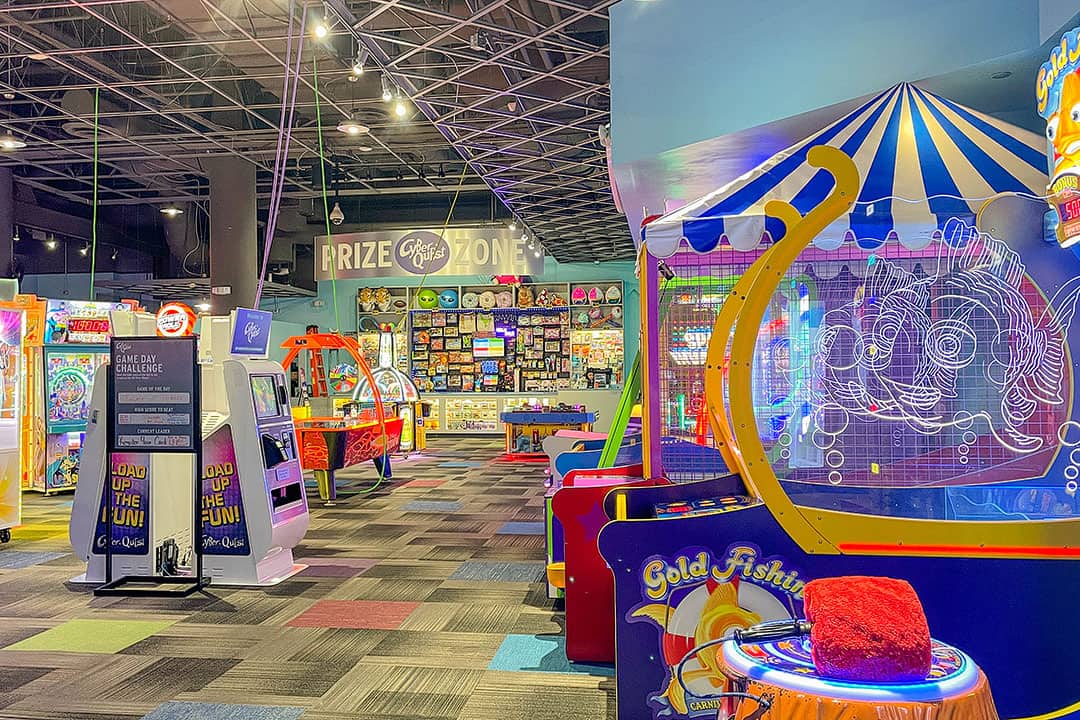 Where to Eat at Green Valley Ranch
Green Valley Ranch has some great restaurants that are staples in the Henderson community. Besides the restaurants listed below, there is a food court with many options.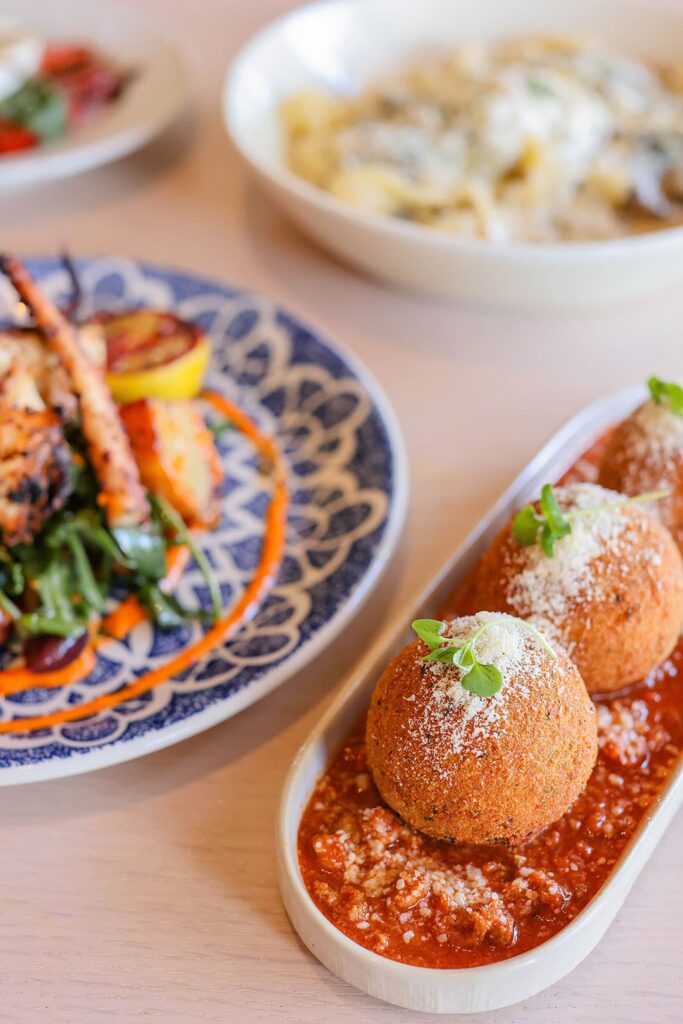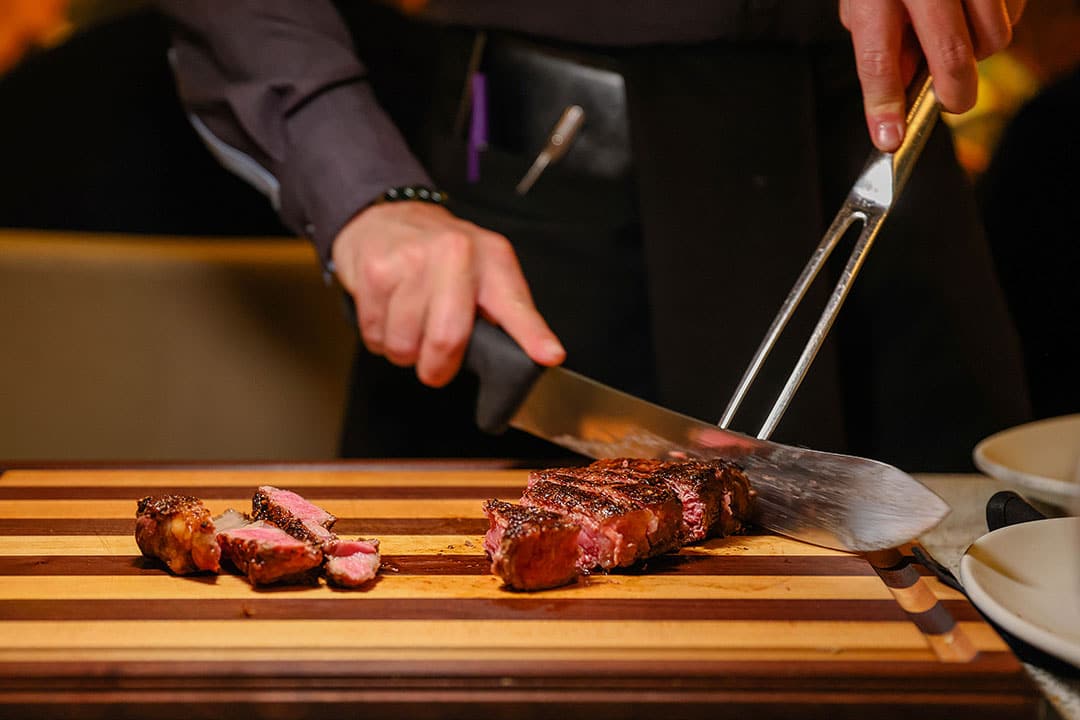 Where to Stay in Henderson Nevada
We stayed in a stunning and spacious suite at Green Valley Ranch. It overlooked the pool, and we could see the Strip from our Juliet balcony.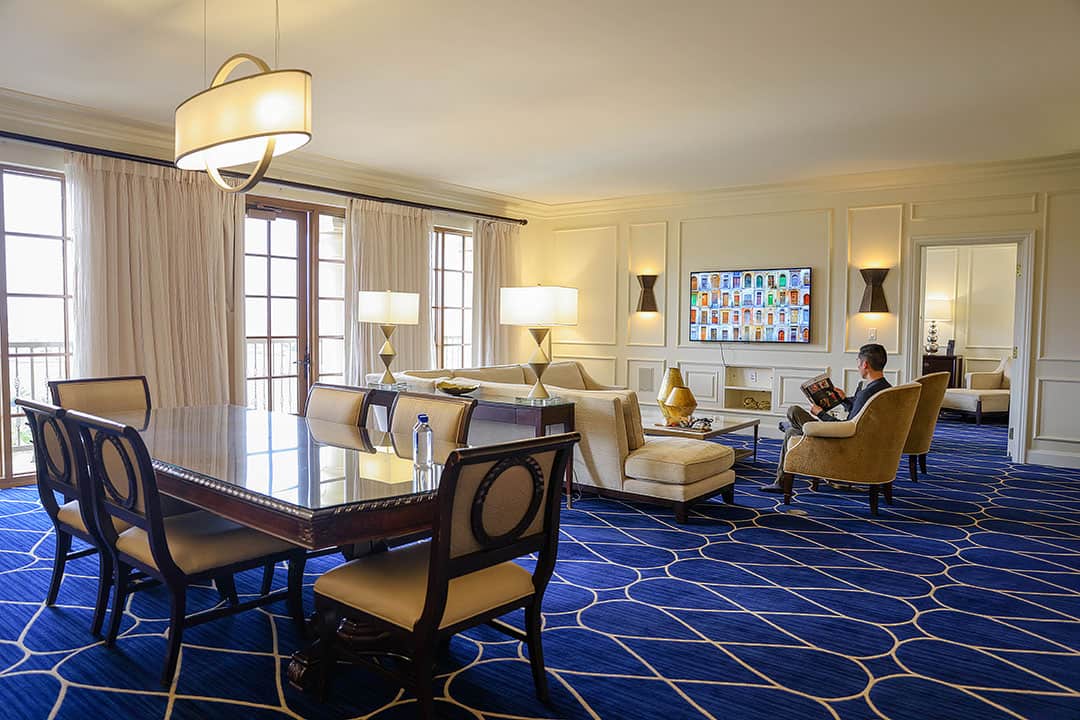 Essential Tips for visiting green valley resort
Take advantage of the resort's amenities: Green Valley Ranch offers a variety of amenities, including a spa, fitness center, and pool. Be sure to make time to enjoy these facilities during your stay.
Explore the local area: Green Valley Ranch is in the heart of Henderson, known for its parks, hiking trails, and outdoor activities. Take a walk around the neighborhood and enjoy the beautiful scenery.
Green Valley Ranch is only a short drive from the Las Vegas Strip.
Book pool reservations 2-3 weeks in advance for weekends and holidays.
Frequently Asked Questions
What is Green Valley Ranch known for?
Green Valley Ranch is a Mediterranean-themed resort known for its luxury, world-class spa, fine dining, and casino. It's located in Henderson, Nevada, and is a popular destination for tourists and locals alike.
How much is a day pass to Green Valley Ranch Spa?
The day pass to the spa at Green Valley Ranch Resort varies based on the day of the week and the time of year. The best way to find out the current pricing is to contact the spa directly.
How many rooms does Green Valley Resort have?
Green Valley Ranch Resort has a total of 495 rooms, including deluxe rooms, suites, and villas.
How old is Green Valley Ranch Resort?
Green Valley Ranch Resort opened in December 2001, making it over 20 years old.
How much is the pool at Green Valley Ranch for locals?
One of the best ways to experience the Green Valley Ranch Pool is by reserving a cabana or daybed. Rates range from $150 – $550 for a cabana and allow up to 8 guests. Daybeds run $50 – $250 and allow 4 guests.
Fees for non-registered Hotel Guests, locals, and guests without a Cabana or Day bed reservation are as follows:
Monday- Friday: $30 adults and $20 kids
Saturday-Sunday: $40 adults and $25 kids
Holidays: $50 adults and $30 kids.
*Holidays include Mother's Day on May 14, Memorial Day Weekend (Friday, May 26 – Monday, May 29), Father's Day on Sunday, June 18, Independence Day Weekend (Saturday, July 1st -Tuesday, July 4th), Labor Day Weekend (Friday, September 1 – Monday, September 4)
What time is check out at Green Valley Ranch?
The standard check-out time at Green Valley Ranch Resort is 11:00 am.
What's the name of the casino by Henderson?
There are a few different casinos in the Henderson area including, Green Valley Ranch, M Resort, Sunset Station,
Is Green Valley Las Vegas a good place to live?
Green Valley Las Vegas is a popular place to live due to its convenient location, beautiful neighborhoods, excellent schools, and easy access to amenities.
How much does it cost to stay at Green Valley Ranch Resort and Spa?
The cost of staying at Green Valley Ranch Resort and Spa varies based on the room type, time of year, and availability. Starting rates can range from $149 to $799. The best way to find out the current pricing is to check the resort's website or contact them directly.
Are pets allowed at Green Valley Ranch Resort and Spa?
Pets are not allowed at Green Valley Ranch unless they are service animals.
Is parking available at Green Valley Ranch Resort and Spa?
Yes, parking is available at Green Valley Ranch Resort and Spa. Guests can choose from valet or free self-parking options.
Which room amenities are available at Green Valley Ranch Resort and Spa?
Green Valley Ranch Resort and Spa offers a wide range of amenities in its rooms, including high-speed internet, flat-screen TVs, minibars, in-room safes, and more. Some rooms also feature private balconies or patios, jetted tubs, and fireplaces.
Planning Checklist
Have you been to Green Valley Resort? What is your favorite thing to do there?
Did you enjoy this post? Pin it for later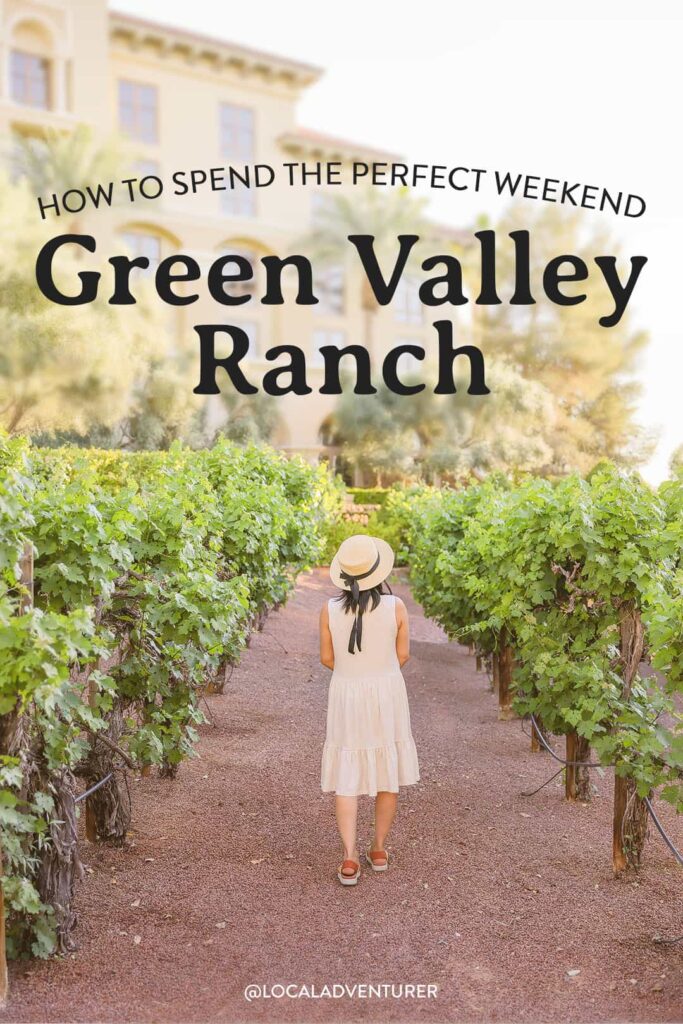 SEE MORE LAS VEGAS GUIDES
⟡⟡⟡⟡⟡
"Discovery consists not of seeking new lands but in seeing with new eyes" – M. Proust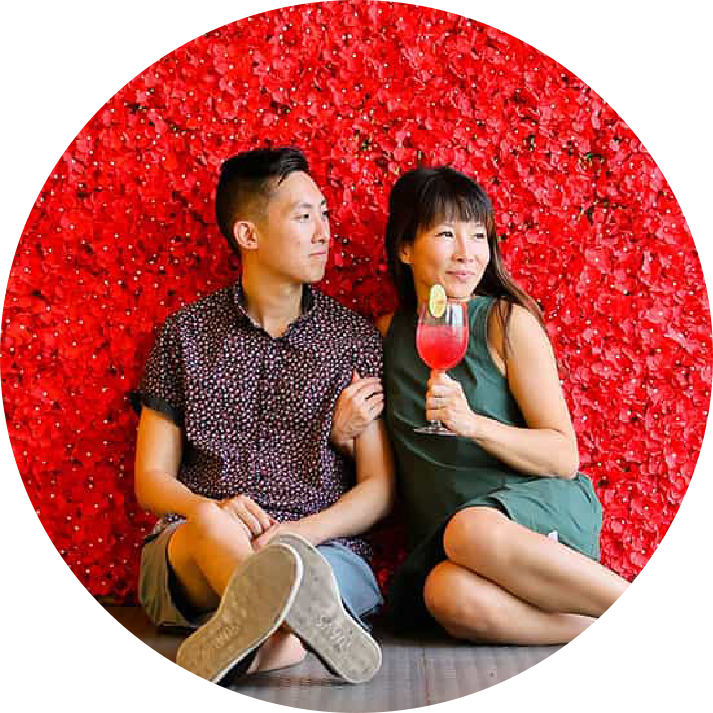 Esther + Jacob
Esther and Jacob are the founders of Local Adventurer, one of the top 5 travel blogs in the US. They believe that adventure can be found near and far and hope to inspire others to explore locally. They explore a new city in depth every year and currently base themselves in Las Vegas.
Follow along on Instagram (E + J), YouTube, TikTok, and Pinterest.
The post 7 Best Things to Do at Green Valley Resort Las Vegas appeared first on Local Adventurer » Travel Adventures in Las Vegas + World Wide.