Working remotely in Thailand is what dreams are made of. This article will list the best places to live in Thailand for digital nomads.
Imagine working beside a swimming pool or beautiful beach and taking breaks to eat pad Thai while soaking up cool, cosmopolitan cities or amazing nature — all of this is possible in Thailand.
There are plenty of vibrant digital nomad cities in Thailand, as well as some fantastic islands for livin' la vida nomad!
Another fantastic thing about being a digital nomad in Thailand is the prices. It's one of the world's most affordable regions for living and working remotely.
While living in Thailand in 2016 and again in 2018 and again in 2019 (you get the idea – I can't stay away!), I lived comfortably on $1,000 a month and never had a bad meal.
So far, I've worked remotely from all the places in this guide and travelled around so many diverse destinations in Thailand. I never get tired of this warm, friendly country and can't wait to get back.
In this article, I'll cover the best places to live in Thailand as well as the pros and cons of living in the country.
1. Bangkok
The capital is one of the best cities in Thailand whether you're a tourist or a nomad.
Why Bangkok is a top city for digital nomads
It might be better to ask why Bangkok ISN'T a great digital nomad city in Thailand! It has fast Wi-Fi, plenty of co-working spaces, a fantastic third-wave coffee scene, and endless expat communities you can tap into.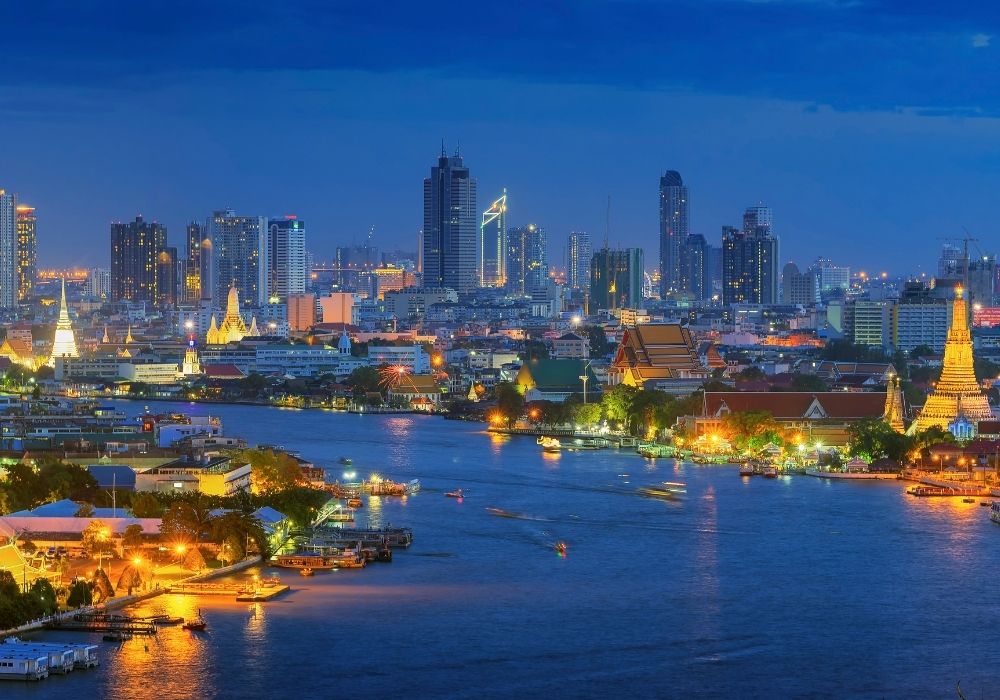 From podcasts to Facebook groups, it's easy to find resources and inspiration. Plus, the locals are a friendly bunch, too.
Although travelers tend to spend 2 days in Bangkok, you could spend years getting immersed into the culture, activities, and hidden gems without ever having a dull weekend.
Bangkok co-working spaces
To work remotely in Thailand, you have tons of options in Bangkok. Just Co. is one of your best options spread across two floors of the AIA Sathorn Tower. It has a hipster feel with exposed brick walls and motivational quotes in neon lights.
There's super speedy Wi-Fi and a range of packages to choose from depending on whether you need full-time access and your own desk.
A cheaper option is Common Ground CentralWorld with office space from B4,000/month.
WiFi speeds
An average of 122 Mbps download and 101 Mbps upload speeds.
Finding apartments in Bangkok
Unlike some cities where there's a clear expat area, you have plenty of options in Bangkok.
As one of the best digital nomad cities in Thailand, there are a few areas to earmark for renting an apartment.
Ekkamai has a hipster vibe and plenty of bars and restaurants. You may also want to check out Phrom Phong, a pleasant, relaxed area of town with a large park and lots of coffee shops.
To find an apartment in Bangkok, you can use a real estate agent or use websites including DDproperty, Hipflat and Baht&Sold. Craigslist can also be useful, or otherwise you can start with monthly Airbnb rentals until you find somewhere more permanent.
Cost of living in Bangkok
Depending on which neighborhood you choose to live in, the rough cost of living for one person in Bangkok is 40,000 baht, around $1,000 USD.
The main way to keep your living costs low is to eat street food instead of restaurant meals. It's hardly a chore: the Bangkok street food is some of the best on Planet Earth!
From pad Thai to som tam (papaya salad) and Kuay Teow Reua (boat noodles), dishes cost as little as $1. You can also shop for fresh ingredients at local markets rather than pay close to Western prices in Thai supermarkets.
Although Uber is affordable, you can save money by using Grab scooters instead. It's the same principle, call one and a driver will arrive, hand you a helmet and let you hop on the back.
Pros & cons of living in Bangkok
The obvious pros are the relatively low cost of living, the excellent co-working spaces and the abundance of amazing Thai food everywhere you look.
The main downside of living in Bangkok is the traffic, especially during Thai holidays. It's a real chore. Another downside is that Bangkok gets HOT and can also be polluted and smoggy.
Things to do in Bangkok
There's so much to do in Bangkok from palaces to temples (don't miss Wat Arun at sunset), shopping at Chatuchak Market, visiting galleries & museums, walking or running in Lumphini Park, and eating amazing street food.
2. Chiang Mai
The beautiful city of Chiang Mai in Northern Thailand is another of the best places to live in Thailand for digital nomads. It's totally different from Bangkok so it depends on what type of city vibe you enjoy.
If you prefer a more relaxed pace of life, then you need to research digital nomad cities in Thailand no further. Chiang Mai is for you.
Why Chiang Mai is a top city for digital nomads?
There's incredible food, not too much traffic, beautiful nature, lots of other nomads to meet. Basically, Chiang Mai is one of the best cities to live in Thailand. It has everything you need as a digital nomad base.
Better yet, it's one of the cheapest places to live in Thailand for digital nomads. Prices are notably lower than the islands and Bangkok.
Chiang Mai co-working spaces
There aren't as many co-working spaces in Chiang Mai as there are in Bangkok but luckily, you don't need that many. Chiang Mai has a few options whether you want a social co-working space or somewhere quieter to get your head down.
Your best bet is Punspace, Chiang Mai's original co-working space which has been open for nearly a decade.
There are two branches, one in Nimman with a gorgeous, large garden area when you need to take a break. However, this branch gets a little crowded so you might prefer the Tha Pae location inside a spacious warehouse-style building.
WiFi speeds
An average of 93 Mbps download and 88 Mbps upload speeds.
How to find apartments in Chiang Mai
To find a rental, check out Perfect Homes or keep an eye on the Expat Facebook groups. Another option is long-term Airbnb stays. You get a decent discount when you opt to stay a month or longer.
The best neighborhood for digital nomads is Nimman. This expat hub is a 5-minute drive (or 20-minute walk) from the Old City. You'll find coffee shops, Western restaurants, experimental Thai cuisine. You name it, Nimman's got it!
Cost of living in Chiang Mai
You can easily live for under $1,000 a month in Chiang Mai.
Expect to pay around $600 a month for a 1-bedroom apartment although this varies depending on the neighborhood and how long you're staying (generally, it's cheaper the longer you sign for).
You can pay less than $500 for your monthly food and transport in Chiang Mai. Street food is as little as $1 a meal and there are so many food markets to choose from. For a 3-course meal and drinks in a Western-style restaurant, you're not looking at more than $20.
Hiring a scooter costs as little as $70 a month. You can also rely on Uber and Grab to get around. There are always plenty of vehicles around and it's inexpensive. Around the Old City, it's easy to get everywhere by foot, but prepare for it to be hot at certain times of the year.
Pros & cons of living in Chiang Mai
The major downside of living in Chiang Mai is the burning season that runs from February to March.
This is when local farmers burn the leftovers of their harvest. You don't want to be in Chiang Mai for this: the air quality is hazardous at best, and the sky is an ominous grey.
Many digital nomads in Chiang Mai choose to skip town for this period and return when it's over.
Things to do in Chiang Mai
With more than 300 temples, you could temple-hop every weekend and still not get through them all. Hike through the jungle on the 'Pilgrim's Path', take a day trip to the Sticky Waterfalls, or take a trip to Northern Thailand's very own grand canyon.
There are numerous things to do in Chiang Mai to keep you busy.
3. Koh Phangan
Although it used to be solely on the map as a place for party goers wanting to experience the infamous full moon party, Koh Phangan now has a reputation as one of the best places in Thailand for digital nomads.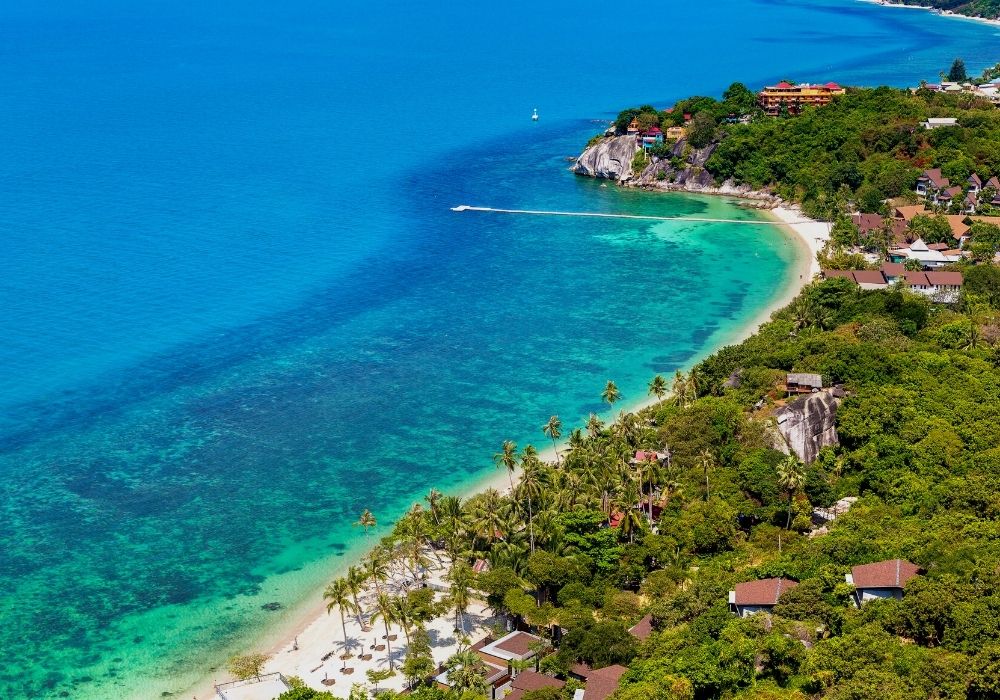 There are plenty of co-working spaces and cafes where you can pitch up for the afternoon with no one moving you on. Yup, digital nomads rule the roost in KP!
Why Koh Phangan is great for digital nomads?
There's a great community. If you want to meet like-minded remote workers, practice yoga, and enjoy the beach life, this is easily one of the best places to live in Thailand. The only downside is the risk of sand in your laptop.
Koh Phangan coworking spaces
Koh Space on the south of the island and Beachub on the North of the Island are both great options with fast Wi-Fi and plenty of desk space.
Casa Tropicana by Remote&Digital is a hotel, restaurant, and co-working space with beautiful views. You can book your accommodation and co-working space in one package if you're keen for a boujee, holiday vibe!
WiFi speeds
Decent. Make sure to use Wi-Fi at dedicated co-working spaces rather than the touristic beach cafes; some are pretty slow.
How to find an apartment on Koh Phangan
Check out Koh Phangan Rentals, Facebook groups, and monthly deals on Airbnbs.
Cost of living in Koh Phangan
Outside of the high season, $1,000 per person per month is a good amount to budget.
Although there are a few markets like Phantip Market in Thong Sala, you won't find the same abundance of street food as you will in Bangkok or Chiang Mai. The restaurants are also more expensive.
Budget $70 for a scooter and a little more for gas; it's basically the only way to get around the island.
Pros & cons of living in Koh Phangan
It can get expensive during the high season. This runs from December to February. During this time, it's far from the cheapest place to live in Thailand.
Things to do in Koh Phangan
Hire a scooter and explore the island or why not kayak around it? Try diving at Sail Rock or trek to Bottle Beach, one of the most beautiful on the island.
4. Koh Lanta
Another one of the best places in Thailand for digital nomads is Koh Lanta, a beautiful island off the coast of Krabi. It's a small island that can be explored by scooter with beautiful beaches and plenty of decent co-working spaces and cafes.
Koh Lanta coworking spaces
Kohub is the main co-working space on Koh Lanta, and part of the reason the island became known as one of the places to live in Thailand for digital nomads.
Wi-Fi speeds
Usually ok but check your accommodation's Wi-Fi speeds before booking to avoid disappointment.
How to find an apartment on Koh Lanta?
There are plenty of websites you'll find through Google that have apartments for rent. Renting monthly Airbnbs is also a good option, or you can live at Kohhub. Accommodation and co-working packages including breakfast start at $600 a month.
Cost of living on Koh Lanta
Although Koh Lanta is easily one of the best places in Thailand for digital nomads, it's not the cheapest. In the same way as Koh Phangan, you'll find more tourist prices and it's harder to get a bargain than in a city.
However, you can still get by on $1,000 a month if you get a good rate on accommodation and seek out lower-priced restaurants.
Pros and cons of living in Koh Lanta
It's quite a small island so most nomads only stay 1-2 months meaning it's harder to find a long term community.
Things to do on Koh Lanta
There are opportunities for diving and snorkeling, as well as yoga studios and gyms. It's a great place to stay active. Then, relax on the beach later with a cocktail! You can also volunteer for the day or longer at Lanta Animal Welfare.
5. Krabi Town
In the south of Thailand near Koh Lanta island, the region of Krabi is ripe for adventure. Krabi Town is the urban hub at the heart of it all.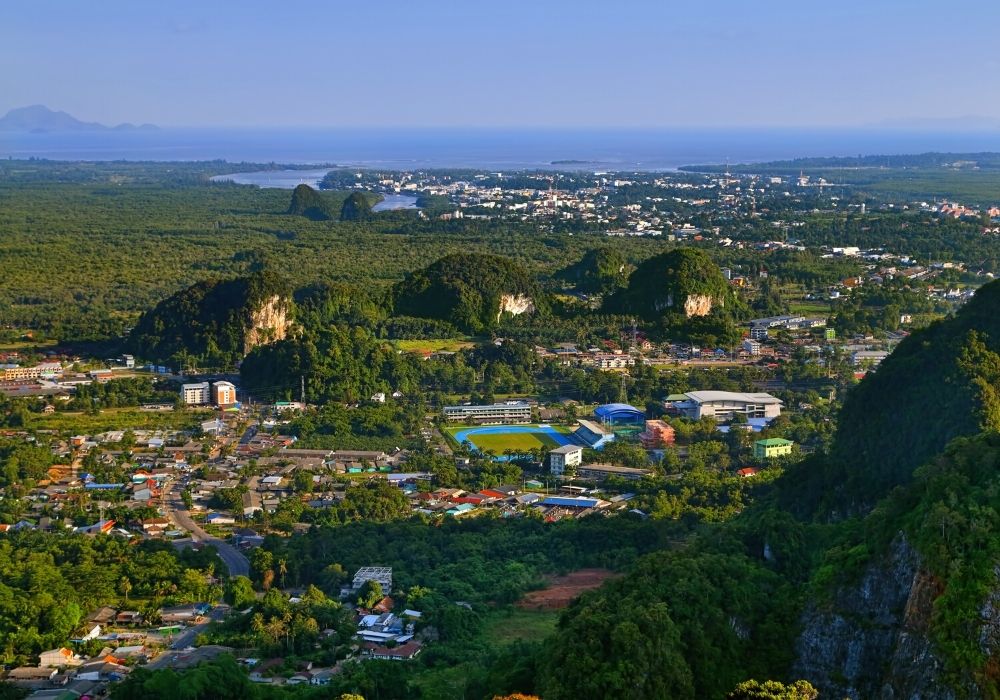 Why Krabi is a top destination for digital nomads?

Krabi has all the benefits of the islands, such as beautiful beaches and diving opportunities, but access to mainland comforts.
With miles of coastline and inland attractions to explore, it's one of the best places to live in Thailand for those who'll get bored of life on a tiny island.
WiFi speeds
Around 25 mbps; not the best nor the worst.
Krabi Town co-working spaces
Krabi Town has plenty of decent cafes where you can grab a coffee and work but your best bet for a dedicated co-working space is Phansa.Space, a short drive from Krabi Town near Ao Nang Beach.
Another laptop-friendly option is Lekker Cafe and Restaurant where you can buy reasonably priced food and drink and stay for several hours. The Wi-Fi is speedy, plus it's spacious and usually quiet.
How to find an apartment in Krabi Town?
Check the real estate website or YourKrabi.com for medium-long stay options. As ever, Airbnb is a good option to bag a monthly discount.
Cost of living in Krabi
Krabi is one of the cheapest places to live in Thailand because there's an abundance of accommodation and you won't be affected by inflated island prices in peak seasons.
You'll easily get by on $1,000 a month. There's plenty of street food as well as local markets and supermarkets where you can pick up affordable ingredients and prepare your own meals.
Pros and cons of living in Krabi
Krabi has more of a reputation with backpackers than digital nomads so you can find the community transient as people journey between Thailand and Koh Lanta for digital nomad life.
Things to do in Krabi Town
Explore the Krabi beaches like Ao Nang and Railay. From here, you can kayak and go hiking and rock climbing.
Thung Teao Forest Natural Park is a paradise for hikers with rare wildlife and the idyllic Crystal Pool where you cool off after a day hiking. Basically, Krabi is a mecca for outdoor adventurers.
6. Phuket
Phuket is an island in southern Thailand connected to the mainland by road. For many years, it's been a hub for tourists and due to being one of the few places open for foreign tourists in 2021, it's become a nomad hub.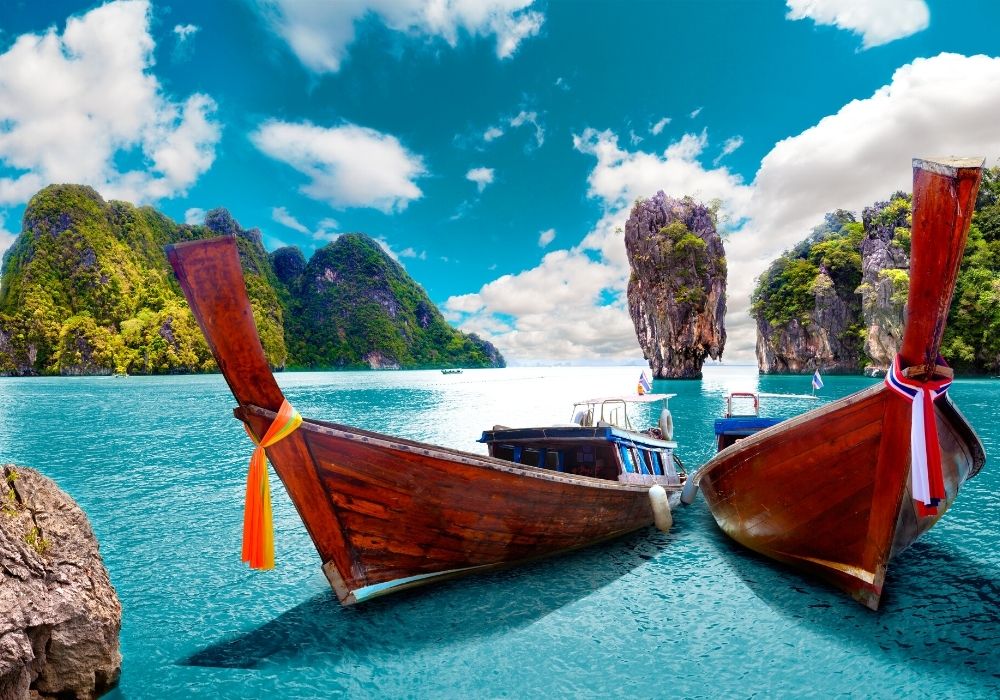 Why Phuket is a great place for digital nomads in Thailand?

Phuket has been voted not just one of the best places in Thailand for digital nomads but the best in the whole world! It's safe and cheap with plenty to do and lots of places to work.
Coworking spaces in Phuket
Hatch is one of the best places to work in town with ergonomic chairs and speedy Wi-Fi. It's 100 baht for 2 hours or you can splash out on a full month pass for 5,700 baht.
Other good working spots include Garage Society in Patong Beach and Phuket Stash in Koh Kaew.
Wi-Fi speeds
Very fast! You'll have no trouble finding good Wi-Fi in Phuket. You don't think it would have earned the status of the world's best digital nomad destination without it, do you?
How to find an apartment in Phuket?

Use real estate websites, Airbnb or book a room at Phuket Stash. Phuket Town is the best place to stay as it's nearby to co-working spaces and away from Pattaya which can be quite touristy and loud.
Things to do in Phuket
Head to Phang Nga bay, visit the Phi Phi islands, hike to the Big Buddha statue and admire Chalong Temple, a 60-meter Buddhist pilgrimage site.
Cost of living in Phuket
Despite its popularity, it's not hard to live cheaply in Phuket providing you avoid touristy areas which I suspect if you're a digital nomad in Thailand, you're keen to anyway. $1,000 a month is reasonable providing you visit local restaurants and shop at local markets.
Pros and Cons of Living in Phuket
Although it has all the facilities to be a great digital nomad destination, it's not quite as beautiful as the islands, not quite as pleasant as Chiang Mai and not quite as cosmopolitan as Bangkok. It does the job but you may not fall in love…
7. Koh Samui
The larger neighbor of Koh Phangan is Koh Samui. Although it traditionally had a reputation for resorts, it's recently become known as a place to work remotely in Thailand, possibly as an overspill from Phangan.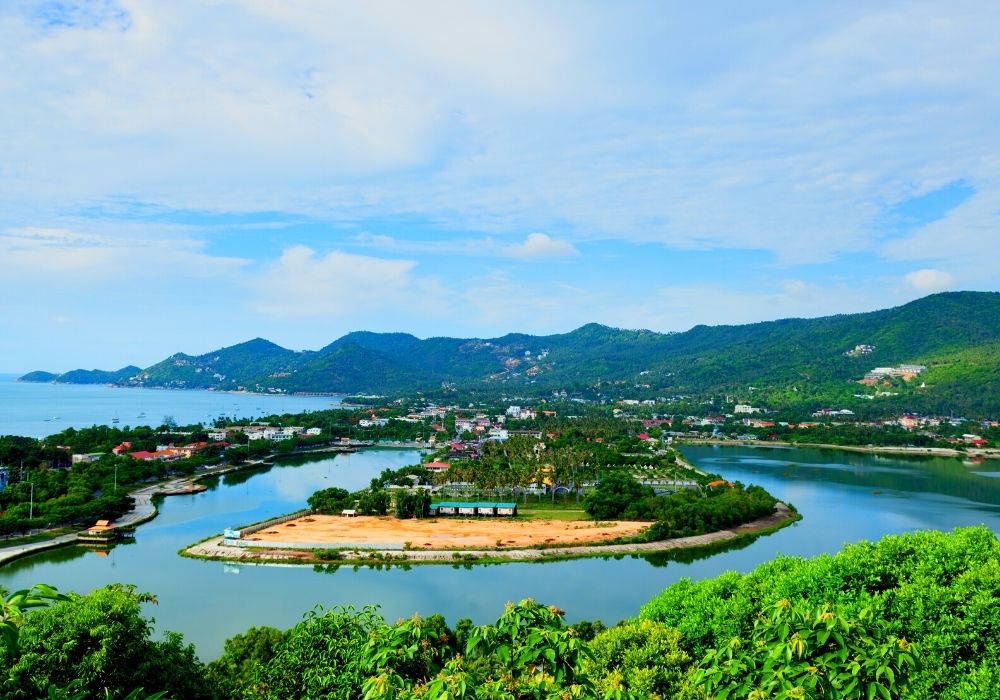 Why Koh Samui is a great digital nomad destination?

It's beautiful, has plenty to do, lots of cafes (including co-working ones) and restaurants. Although there are slightly fewer digital nomads than in Koh Phangan, you may like the more relaxed vibe.
Wi-Fi speeds
You won't have any problems at co-working spaces or hotels, plus you will also find affordable 4G SIM cards for purchase.
Co-working spaces on Koh Samui
Mantra Work Lounge is a beautiful place to work resembling a luxurious apartment. The views from the terrace when you need a break are equally stunning.
You may also want to check out WYSIWYG Coworking Space & Cafe which has two floors of co-working space and fast Wi-Fi.
How to find an apartment on Koh Samui?
Use a rental agency such as Samui Renting or Airbnb and Facebook groups to find affordable medium to long term rentals.
Lamai and Chaweng areas have the most on offer in terms of infrastructure, restaurants, and nice apartments but prepare for them to be busy and noisy if you stay too close to the centre.
Cost of living in Koh Samui
Costs of living on Koh Samui are slightly higher than the mainland. You may want to budget between $1,000 and $1,500 a month but you can do it on the lower end if you eat local food rather than Western and avoid lavish nights out.
Things to do on Koh Samui
Soak up the beaches including Chaweng Beach, Chaweng Noi and hidden gem, Laem Setbeach. Take a tour or hire a boat to Ang Thong National Marine Park for snorkeling with colorful sea life. Experienced divers can look out for whale sharks and black coral at Sail Rock.
For a quirky excursion, find Secret Buddha Garden at the top of Pom Mountain.
Pros and cons of living in Koh Samui
Aside from the fact the nomad community is more active in other digital nomad cities in Thailand, there are no huge drawbacks of living in Koh Samui.
Having said that, islands aren't as fun in bad weather, plus you may need to make occasional trips to the mainland to buy things the Samui stores have run out of.
Living in Thailand Pros and Cons
Working remotely in Thailand is always a good idea but there can be pros and cons. As we've covered, the pros are the prices, the beaches, and the nomad communities.
However, there are a few downsides, the main one being the visas. You only get a 30-day visa on entry although you can apply for a 2 or 6 month one at the Thai Embassy.
The culture of 'saving face' can be also confusing around Thailand and may baffle you when you ask for directions.
Basically, if people don't know the answer to your question, they may make up incorrect directions to appear friendly and helpful. While the intention is pure, you may spend a lot of time lost in Bangkok!
Traffic in the cities and the odd tourist scam can also be an annoyance but you'll soon get the hang of staying savvy!
Conclusion
To summarise, there are countless places to be a digital nomad in Thailand. Bangkok is the clear winner if you want a cosmopolitan city while Chiang Mai is the best place if you like your city amenities without the traffic and big city rush.
Koh Phangan has the best island nomad community, but Koh Lanta and Koh Samui are great options if you want to relax and work somewhere quieter.
Krabi and Phuket sit somewhere between island and city life making them decent options if you want modern amenities with beaches nearby. You really can't go wrong! Thailand is digital nomad heaven.
The post 7 Best Places to Live in Thailand for Digital Nomads appeared first on Goats On The Road.