The Big Easy, the Crescent City, NOLA. Whatever you decide to call it, there's no denying that New Orleans is one of the coolest cities in the US! With a vibrant culture, fascinating history, and world-class culinary, music, and nightlife scenes, New Orleans is a fantastic travel destination.
While New Orleans is famous for its epic festivals (Mardi Gras!), there's much more to the city than its yearly carnival. In this guide, we'll take a look at some of the best things to do in New Orleans to help you plan an unforgettable trip there.
The city's motto is "let the good times roll," and that's precisely what you'll do on a trip to New Orleans.
Whether you're catching some live music on Frenchmen Street, feasting on gumbo and jambalaya, or just wandering the streets with a massive to-go cocktail, you're pretty much guaranteed a good time.
I've been to the Big Easy a few times now, and every time I go I find something new to love about the city — even just on a weekend trip.
There's just something about the energy of New Orleans that's hard to put into words, but I'll do my best.
If you're wondering what to do in New Orleans, this article will give you a good start!
1. Get Lost in the French Quarter
For most visitors to NOLA, their trip is centered around the French Quarter. This is one of the city's most historic neighborhoods, and is often called the Crown Jewel of New Orleans.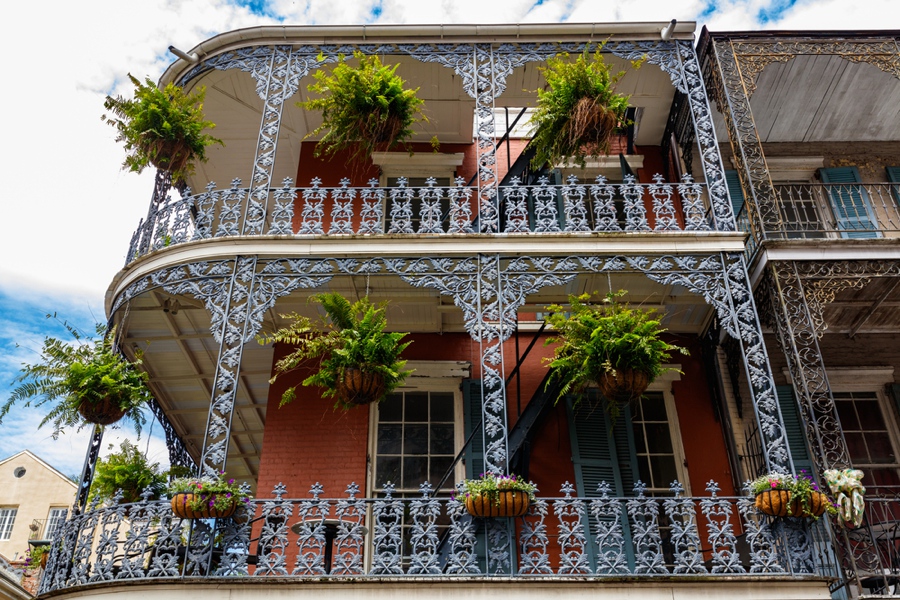 Known locally as the Vieux Carré, this area was founded by the French back in 1718 along the banks of the mighty Mississippi River.
Unfortunately, most of the French colonial buildings were destroyed by fire. Most of the buildings you see today were actually built during a time of Spanish rule, although French tastes remained.
These days, the French Quarter is the tourist center of New Orleans. Here you'll find countless hotels, restaurants, shops, cafes, and bars.
There's also plenty of sightseeing to be done here, with famous landmarks such as Jackson Square and the St. Louis Cathedral as well as many of the city's best museums.
One of the best things to do in New Orleans is simply getting lost in the French Quarter. It's a relatively compact area and there's something interesting around every corner, so go ahead and just wander. Be sure to bring your camera, as there are lots of amazing photo ops in this historic neighborhood.
If you'd prefer a bit of guidance on your exploration of the French Quarter, you can always sign up for a free walking tour. Free Tours By Foot offers tours at 10AM Thursday-Tuesday and also at 2PM on Thursday-Monday.
Looking for the best hotels on Bourbon Street? Check out our epic post on where to stay in New Orleans to learn more about the French Quarter and the top accommodation options.
2. See Live Music on Frenchmen Street
New Orleans is known as the birthplace of jazz, which is said to have developed from drumming and voodoo rituals here before the Civil War. Music has been an integral part of the culture of the city ever since.
While there's live music everywhere you go in the Big Easy, one of the best places to jam out is Frenchmen Street. A 3-block section of the street in the city's Faubourg Marigny neighborhood is home to dozens of live music venues, which are rocking every night of the week. It's definitely one of the top New Orleans attractions.
Some bars on Frenchmen Street have a cover charge, but many of them don't. This allows you to bounce around and catch several different bands in one night.
On your way in between bars, you'll likely find marching bands jamming out in the street. I told you music is everywhere in New Orleans!
3. All Things Mardi Gras
We can't talk about the best things to do in New Orleans and not mention Mardi Gras. The first Mardi Gras parade happened in New Orleans back in the 1830s, and the party hasn't stopped since.
Mardi Gras is one of the most famous parties in the world, and rightfully so. It's an incredibly festive time full of music, parades, costumes, and of course plenty of colorful beads.
While the most popular time to visit NOLA during Mardi Gras is the extended weekend before Ash Wednesday, there are events going on for several weeks leading up to it.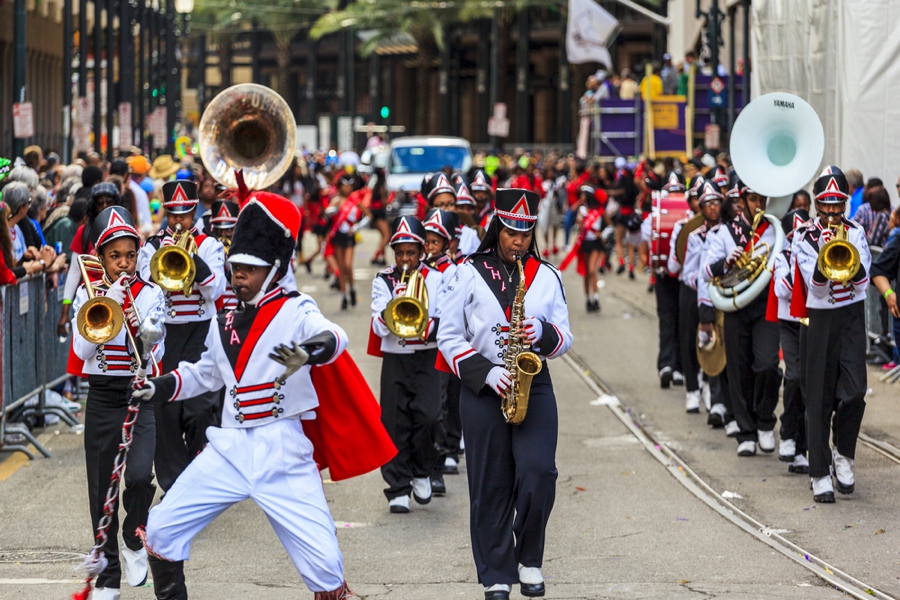 Be sure to check the parade schedule to see what's happening, and definitely book your accommodation well in advance.
Even if you don't make it to New Orleans for the actual Mardi Gras celebrations, you can still experience this world-famous holiday.
Head to Mardi Gras World to see where the floats are made and stored. It's open 7 days a week from 9-5:30 with tickets costing $22 for adults, $17 for seniors and students, and $14 for children. Book your tickets here and take advantage of the free shuttle from downtown.
Mardi Gras may be the most popular event in New Orleans, but the city has numerous other awesome festivals that you won't want to miss. Learn more in our list of the Top 10 New Orleans Festivals!
4. Walking Tour of the Garden District
When you need a break from the busy French Quarter, a great place to head is the city's Garden District. Here you'll find plenty of historic buildings and stately mansions, many of which are now home to celebrity actors and athletes.
To get there, you can enjoy another quintessential NOLA experience by riding the streetcar. Get on at Canal and ride the St. Charles line to Washington Avenue. A ride on the streetcar costs $1.25 per person, so try to have exact change.
When we explored the Garden District on our first visit to New Orleans, we just followed this excellent self guided tour. It has a map with a route you can easily follow, detailed descriptions, and even an audio guide. If you'd rather experience the Garden District with others, there are plenty of options for guided tours of the area.
The Garden District is a beautiful place to explore for a few hours. If you need a break, you have lots of choices for places to grab a drink, do a bit of window shopping, or sit down for a meal. It's definitely one of the top New Orleans attractions.
5. Feast on Traditional Food
If you're a foodie, you're going to love visiting New Orleans. Honestly, you could spend your entire trip here just eating your way across the city and there would be absolutely nothing wrong with that.
New Orleans food is a mixture of Cajun, Creole, and soul food, with seafood featuring prominently. If you're ever unsure of what to do in New Orleans, just sit down and eat again!
There are too many must-eat dishes to list them all, but here are a few you can't miss out on: gumbo, crawfish etouffee, jambalaya, red beans & rice, and po' boy sandwiches. That will keep you busy for at least a few days.
Seriously, my mouth is watering just writing about the food! Your taste buds are in for a real treat when you come here, so get excited. Sampling all of the delicious local dishes is definitely one of the top things to do in New Orleans.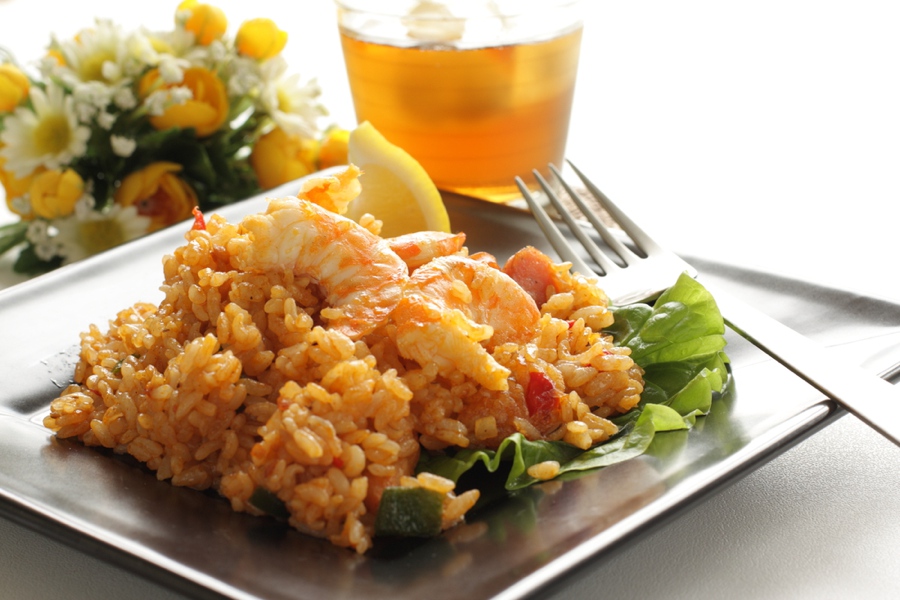 One of the fun activities in New Orleans for couples or groups of friends is this cocktail and food history tour.
You'll visit award-winning restaurants, while sampling 10 dishes, sipping on 4 cocktails, and learning about the destinations and the cuisine from your guide. If you're 21+, this is one of the best things to do in New Orleans! Learn more about this fun tour here.
6. Attend Local Festivals
Mardi Gras may get all the attention, but there are tons of other awesome festivals going on in New Orleans. The city has festivals dedicated to music, art, film, food & drink, literature, and so much more.
When it comes to music festivals, it's hard to top the New Orleans Jazz & Heritage Festival. This legendary festival is celebrating its 50th anniversary this year by bringing in icons like Fleetwood Mac, Santana, Diana Ross, Buddy Guy, and hundreds of other acts. In addition to the festival itself, there are late night shows galore.
Another excellent choice is the French Quarter Festival. This 4-day music and food festival is held every April and is tons of fun. The French Quarter is filled with over 100 stages playing all kinds of genres of music and there's amazing food on every corner. Best of all, it's totally free!
7. Visit a Few Museums
When you encounter a super hot or rainy day in New Orleans, you can head inside to check out some of the city's many fantastic museums. Whether you're interested in learning about history, art, music, or even voodoo, there's a museum for you.
One of the best museums to visit here is the National World War II Museum. This impressive museum tells the story of the American experience in the war that changed the world. It's open daily from 9-5 with tickets costing $28 for adults, $24 for seniors, and $18 for students. You can get directions to the museum here.
If you're looking for an alternative museum experience, you might want to visit the New Orleans Historic Voodoo Museum.
Take a tour of their two rooms packed with voodoo-related artifacts to learn more about its history in the area. It's open daily from 10-6 with tickets costing just $7 for adults. It's located in the French Quarter and you can get directions here.
8. Take a Swamp Tour
While there are plenty of things to do in New Orleans to keep you busy, it's worth it to head out of the city on a swamp tour. Thanks to its location in the Mississippi Delta, there's plenty of swamp just outside of New Orleans.
On a typical tour, you'll cruise through the swamp on a small boat as you learn about the environment and its many inhabitants. Along the way, you may see wild boards, egrets, snakes, and maybe even alligators.
One company that comes recommended is Cajun Pride. They have a few different options, including their popular sunset swamp tour. Kayaking tours are also available through New Orleans Kayak Swamp Tours.
Whichever you choose, a swamp tour is definitely one of the top New Orleans activities.
There are numerous companies you can join for a tour of the swamp. Check out our list of the best 7 Swamp Tours in New Orleans.
9. Eat Beignets at Cafe du Monde
This is most definitely one of the most touristy things to do in New Orleans, but we just can't leave it out. Cafe du Monde is an institution in the city — it's been around since 1862.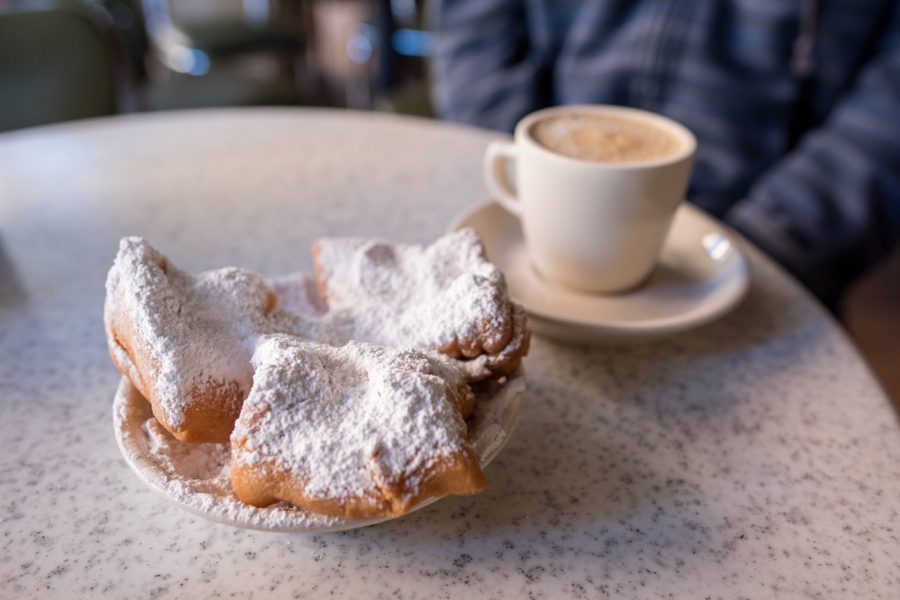 Join the crowd and get in line for a plate of beignets and a cup of coffee. In case you're wondering, beignets are tasty little morsels of fried dough covered in powdered sugar.
Amazingly, Cafe du Monde is open 24/7. The only time it closes is on Christmas Day or "when an occasional hurricane passes too close to New Orleans." You can find Cafe du Monde on the map here.
10. Stroll Along the Riverfront
With a nice sugar high and caffeine buzz from your trip to Cafe du Monde, you'll have plenty of energy to burn. Thankfully you'll be right next to the scenic Moonwalk Riverfront Park.
This long stretch of park along the Mississippi River is a great place for a casual stroll. Watch steamboats as they move along the river and check out the many sculptures and monuments along the way, including the Holocaust Memorial.
Whenever you don't know what to do in New Orleans, you can just head down to the riverfront and take in the scenery along the river. Go ahead and bring a beer or a to-go cocktail with you if you like. It's all good here in NOLA!
11. Go On a River Cruise
Speaking of the Mississippi, taking a river cruise is one of the most popular things to do in New Orleans. There are quite a few options for a NOLA river cruise depending on your tastes and budget.
For a classic experience, head out for a river cruise with Steamboat Natchez. There's a lot of history behind this name, as they're currently on the ninth Steamboat Natchez. Here's an interesting piece of history for you — Natchez VI actually beat Robert E. Lee in a race along the Mississippi.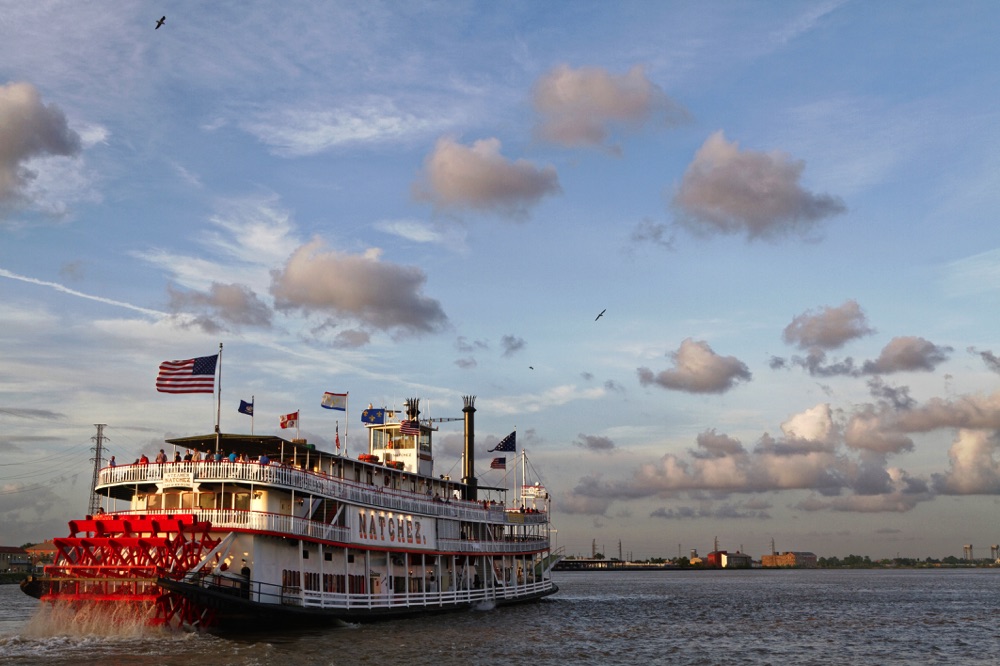 They have a few options for 2-hour cruises around the river and all of them include live jazz.
You can choose between their afternoon cruises with lunch, dinner cruises in the evening, or their famous Sunday brunch cruise.
If you're travelling to New Orleans on a budget but still want to experience being on a boat in the Mississippi, just take the local Algiers ferry for only $2.
12. Drink: New Orleans Style
New Orleans is one of very few places in the US where you can legally consume alcohol in public. There are even bars here that are open 24/7. No wonder this is such a popular place to party.
While you're out partying in the Big Easy, you'll definitely want to try some local drinks.
The most famous New Orleans cocktail is the Hurricane, which is made with light and dark rum. It also has passion fruit, orange, and lime juice along with simple syrup and grenadine.
Another local classic is a Ramos Gin Fizz. This gin-based cocktail also has lemon & lime juice, orange flower water, egg white, powdered sugar, and milk. It takes a lot of time to make this frothy cocktail, but very little to put one down.
For a unique New Orleans bar experience, hit up a drive-thru daiquiri place. That's right, you didn't misread. You can get frozen daiquiris from a drive-thru here. They just have to give you the straw on the side and you technically can't drink it until you get out of the car.
☞ SEE ALSO: New Orleans Cocktails – 7 Must-Try Drinks In The Big Easy
13. Explore the Bywater District
If you're into quirky shops, colorful street art, and rowdy dive bars, head to the Bywater area of New Orleans. Since Hurricane Katrina, this neighborhood has experienced a renaissance thanks to a thriving art and music community.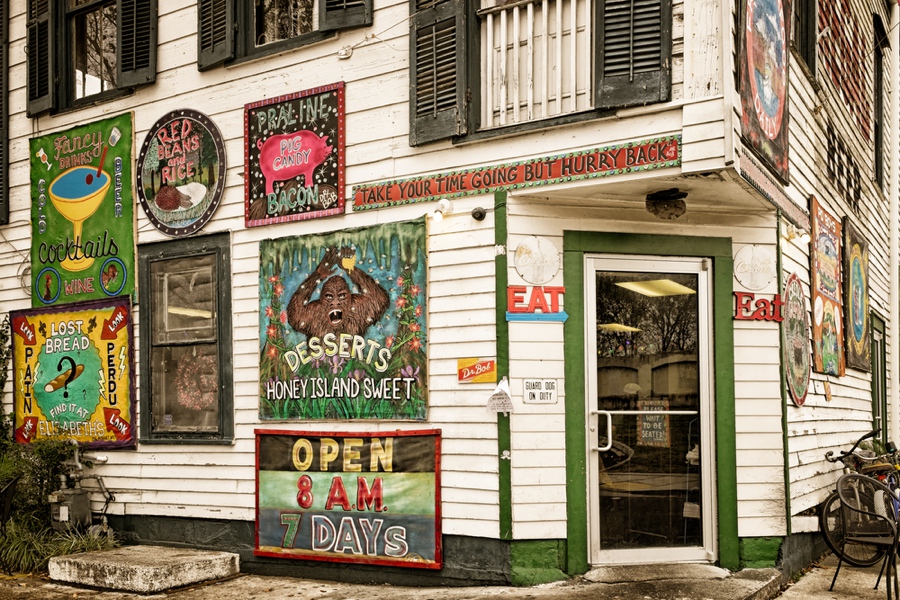 When prices rose dramatically in the French Quarter, many artists and musicians moved over to Bywater. This bohemian/hipster hood is now home to some amazing record shops, art galleries, restaurants, music venues, and bars.
The Bywater is located just a 10-minute ride east from the French Quarter, and is a quick bus or Uber ride away. For those looking for a more local experience than the touristy French Quarter, be sure to add a trip to Bywater to your list of things to do in New Orleans.
14. Try Your Luck at the Casino or Track
If you're feeling lucky in New Orleans (or just tipsy), you can head into Harrah's Casino. They've got tons of machine and table games, as well as plenty of bars. You can even order your drinks straight from the slot machines here.
Another option for trying to win some cold hard cash is heading to the Fair Grounds Race Course & Slots. This is the third-oldest racetrack in the entire country, dating back to 1872.
The racing season at the Fair Grounds starts on Thanksgiving Day and runs until the end of March. Their biggest race is the annual Louisiana Derby, which takes place in late March. You can find the Fair Grounds on the map and get directions here.
15. Visit a National Historical Park
One of the top New Orleans attractions is the Jean Lafitte National Historical Park & Preserve. This park seeks to protect the natural and cultural heritage of the Mississippi River Delta region of Louisiana.
There's a lot to see and do here, including boat and canoe tours, hiking trails, and a battlefield. If you're hoping to see a gator out in the wild, this is one of your best chances!
The park is located about a 30-minute drive outside of downtown New Orleans. If you don't have your own wheels, there are plenty of options for tours that visit the park. You can get directions and find it on the map here.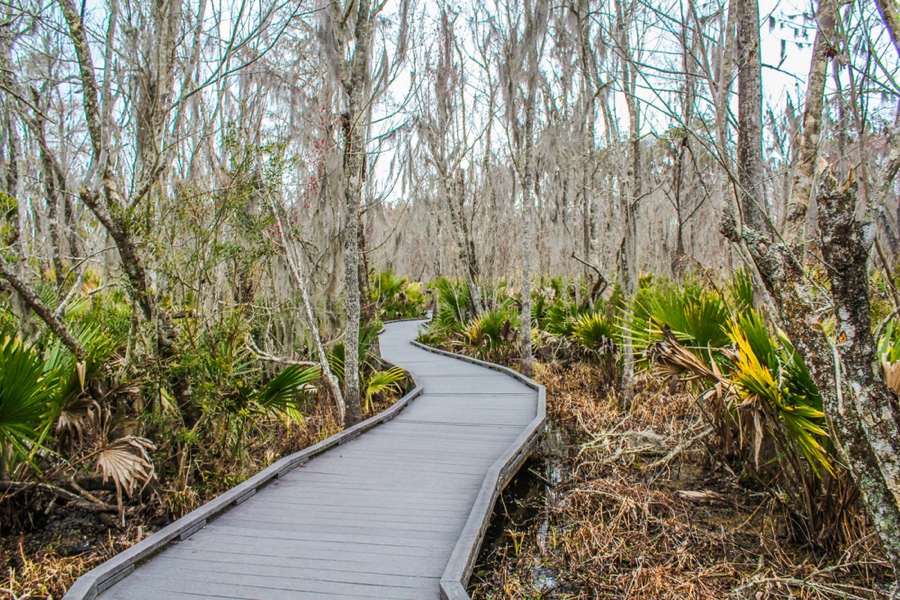 16. Cheer on the Local Teams
Since it's home to two professional sports franchises, cheering on the local teams has to make our list of the best things to do in New Orleans. The Big Easy is home to the Saints (NFL) and the Pelicans (NBA).
Going to a Saints game is quite the experience, as they have some of the most passionate fans in the country. If you're going to a game, be sure to learn the chant first:
"Who dat? Who dat? Who dat say dey gonna beat dem Saints?"
The Saints play at the Mercedez-Benz Superdome downtown. They play eight home games throughout the regular season, which lasts from early September to late December.
For those basketball fans out there, the Pelicans play next door at the Smoothie King Center. The NBA regular season lasts from mid-October to early April, so there are plenty of chances to catch a home game.
17. NOMA (New Orleans Museum of Art)
Art lovers will want to be sure to include a visit to NOMA – the New Orleans Museum of Art. Home to over 40,000 pieces, this is a vast and impressive collection of art from around the world.
In addition to all the amazing art inside the museum, there's also a beautiful sculpture garden outside. With so much incredible artwork to see here, it's no wonder the NOMA is one of the top New Orleans attractions.
The museum is located in City Park (check the map here) and is open from Tuesday-Sunday. Be sure to check their hours as they vary from day-to-day. Tickets range from $6 (children) to $15 (adults). As it's part of the park, the sculpture garden is free to visit.
18. Chill Out in City Park
If you came all the way to City Park to check out the art museum, you might as well hang out for a while. It's a huge park — about 50% larger than New York's Central Park, to be exact — so there's plenty to see and do here.
One of the most popular attractions in the park is the New Orleans Botanical Garden.
Featuring more than 2,000 plants from around the world, it's a beautiful place for a leisurely stroll. The garden is open every day from 10-5 and admission costs $8 for adults or $4 for children.
The park is also home to several athletic fields, an amusement park, a golf course, and so much more.
It's a massive park, so you might want to consider renting a bike to properly explore it. Or you could just relax and rent a paddleboat to cruise around the lake. The options are nearly endless here.
19. Day Trip to a Plantation
It's still possible to travel to the Antebellum south, and you don't even need a time machine. Just head out on a tour to one of the many historic plantations that's within a short drive from New Orleans.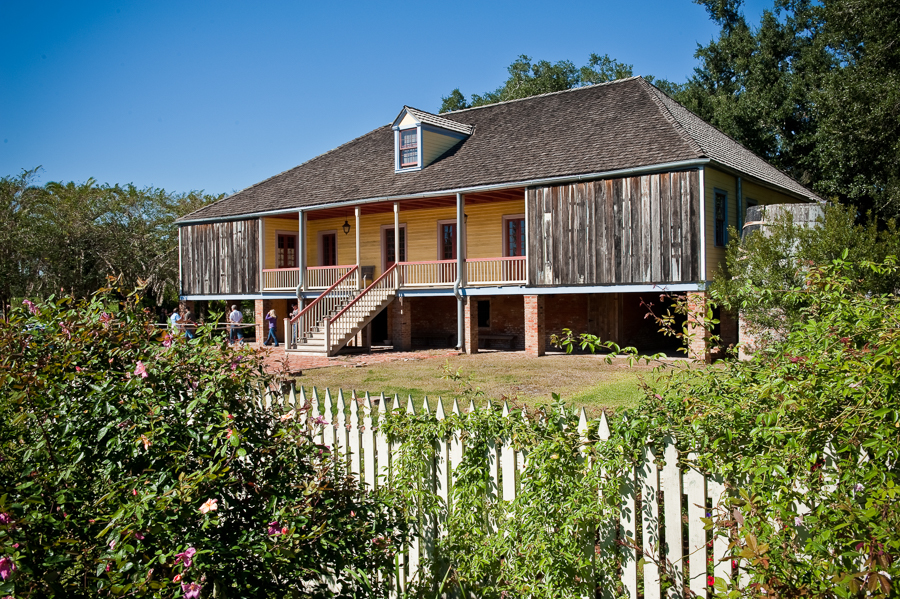 On a typical tour, you'll get to visit one of the very well-preserved stately mansions and learn all about their history. It's a window into the agrarian past of the area and a dark time in American history.
You'll see examples of the power and wealth that the plantation owners enjoyed, while also seeing the brutal conditions that slaves lived and worked under.
Some of the most popular plantations to visit near New Orleans include Laura, Whitney, and Oak Alley.
You can get yourself there and join a guided tour at the property or sign up for an organized tour that includes transportation. It's possible to see all three in one day as they're all so close together.
This tour includes Oak Alley plantation and an Airboat trip in the swamp. No matter which tour you join, or how you get there, just make sure visiting a plantation and learning about the history is on your list of things to see in New Orleans.
20. See a Show at Preservation Hall
There are lots of awesome places to see live music in New Orleans. One venue that you definitely won't want to miss in the Big Easy is Preservation Hall.
This historic venue was founded in 1961 to "protect, preserve, and perpetuate traditional New Orleans jazz."
Preservation Hall is far more than just a venue, though. It's also a non-profit organization, record label, and house band. You have plenty of chances to catch a show at Preservation Hall, as there are performances nightly at 5, 6, 8, 9 and 10PM.
You can book reserved "Big Shot" seats online in advance for $35-40, but these tend to sell out well in advance. There are plenty of general admission tickets for $20 (cash only), and it's recommended that you arrive at least 30-45 minutes before the show starts.
Preservation Hall is located in the French Quarter, so it's right in the thick of all the action. You can find it on the map and get directions here.
21. Party on Bourbon Street
You knew this was coming eventually, didn't you? Love it or hate it, partying on Bourbon Street is undoubtedly one of the most popular things to do in New Orleans. For visitors, that is. You won't find too many locals out on Bourbon Street.
Even though it's noisy, chaotic, and yes, incredibly touristy, it's still a fun place to check out at least once. Order up a "huge ass beer" or a giant Hurricane to-go and join in the madness as you bounce around the many different bars.
In my humble opinion, it's worth going to Bourbon Street just for the chance to visit Lafitte's Blacksmith Shop Bar. Built sometime in the 1700s, it's said to be the oldest bar in the US.
It's easy to feel like you've stepped into a time machine here, as the bar is lit only with candles. Grab a drink and head to the back to listen to the piano player. On a street full of so many terrible bars, this is a diamond in the rough.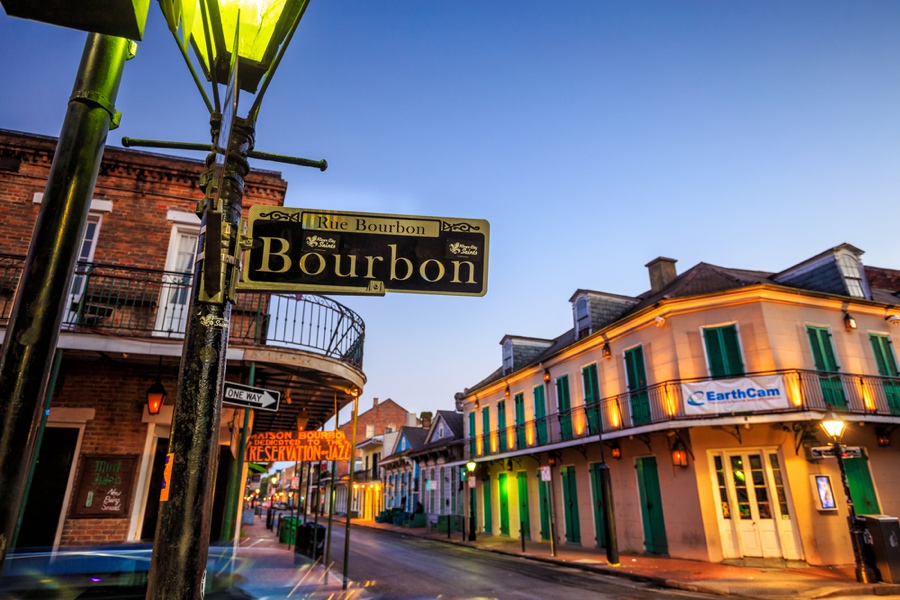 Bonus! Join a Ghost Tour
If you dare! This creepy ghost tour is one of the more unique things to do in New Orleans. Unlike other walking tours, this one showcases the city's vampire theories, voodoo rituals, and witchcraft.
Meet up with your energetic guide and wander through the French Quarter on a two-hour walking tour while learning about the spooky side of New Orleans. Find out more about this highly-rated tour here.
Now You Know What To Do in New Orleans
Can you see why New Orleans is my favorite American city to visit? With so many fascinating cultural and historical sites, a world-class music scene, probably the best regional cuisine in the country, and a wild party every night of the week, what's not to love?
I love New Orleans so much that it was one of twelve stops on our "year-long party" in 2018, as we attended WrestleMania at the Superdome.
While I covered some of the best things to do in New Orleans, there's so much more to see and do in this incredible city. Do yourself a favor and get there sooner than later. It'll be one of the best travel decisions you ever make.
Images in this article courtesy of Shutterstock.com.
Like This Article? Pin it!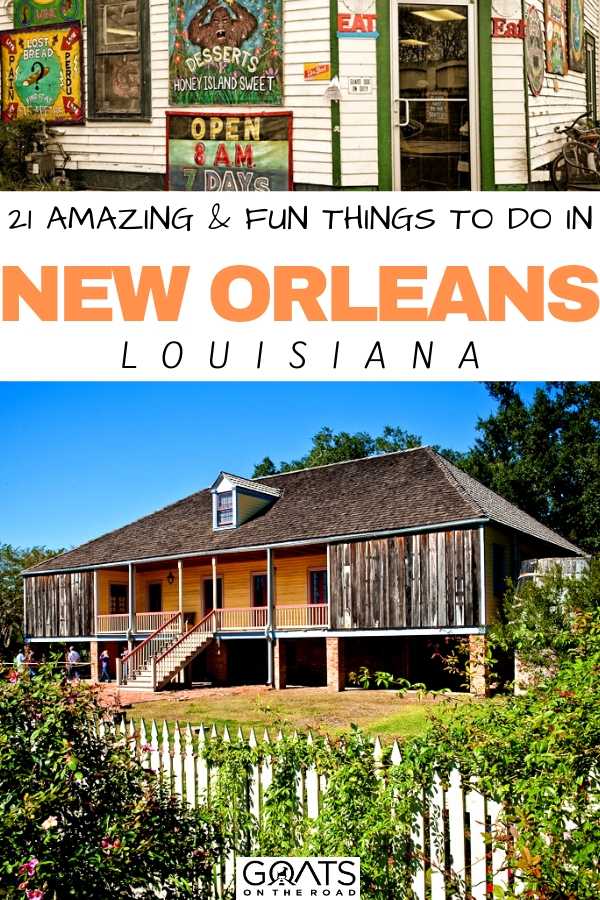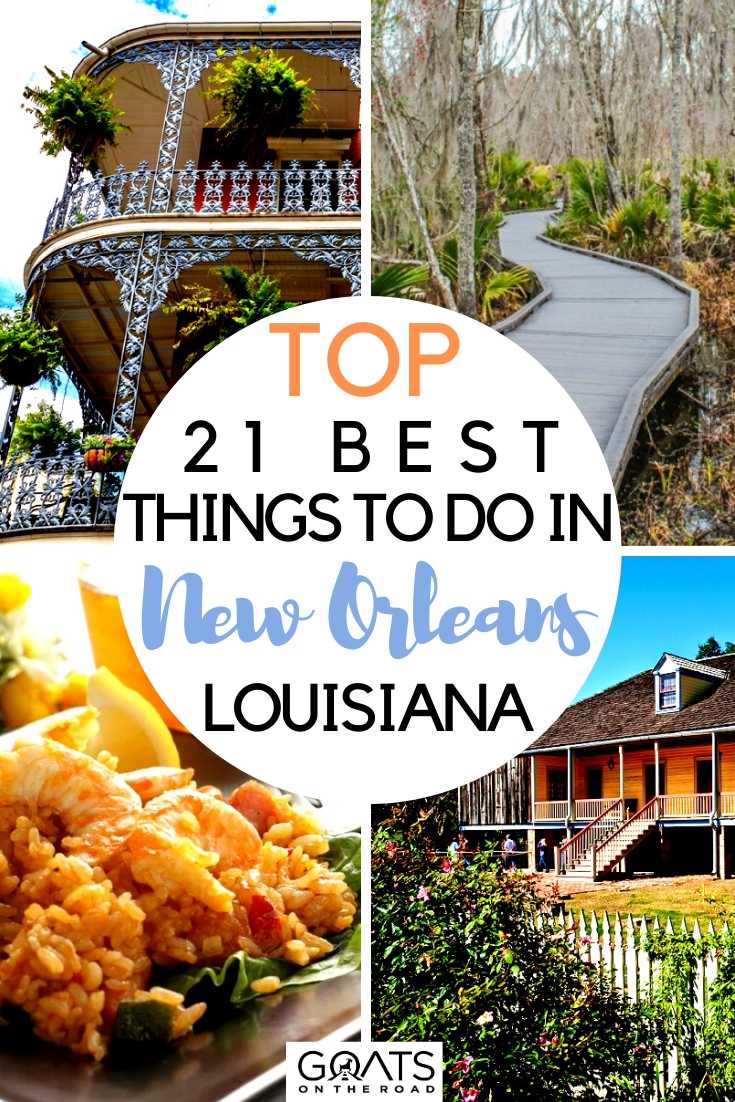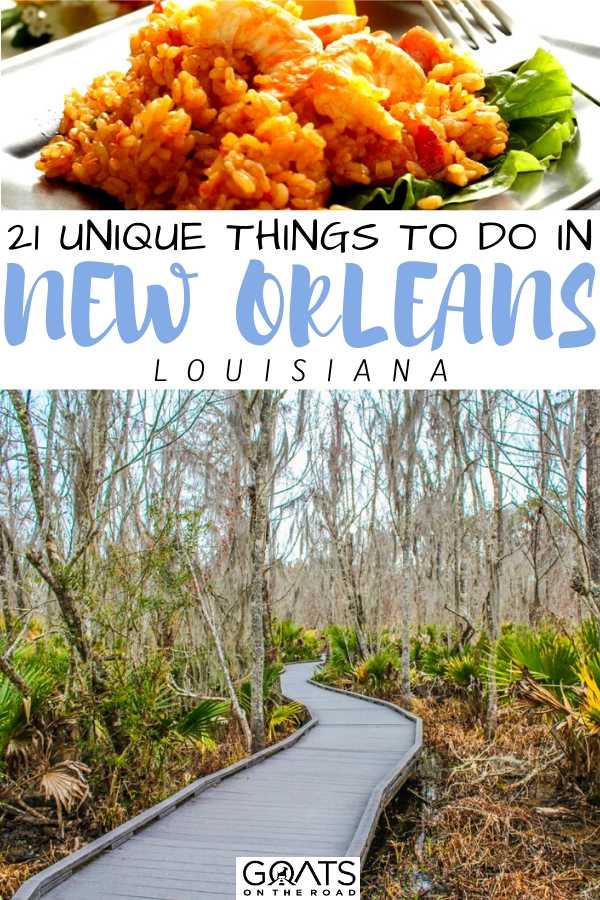 The post 21 Fun Things To Do in New Orleans appeared first on Goats On The Road.