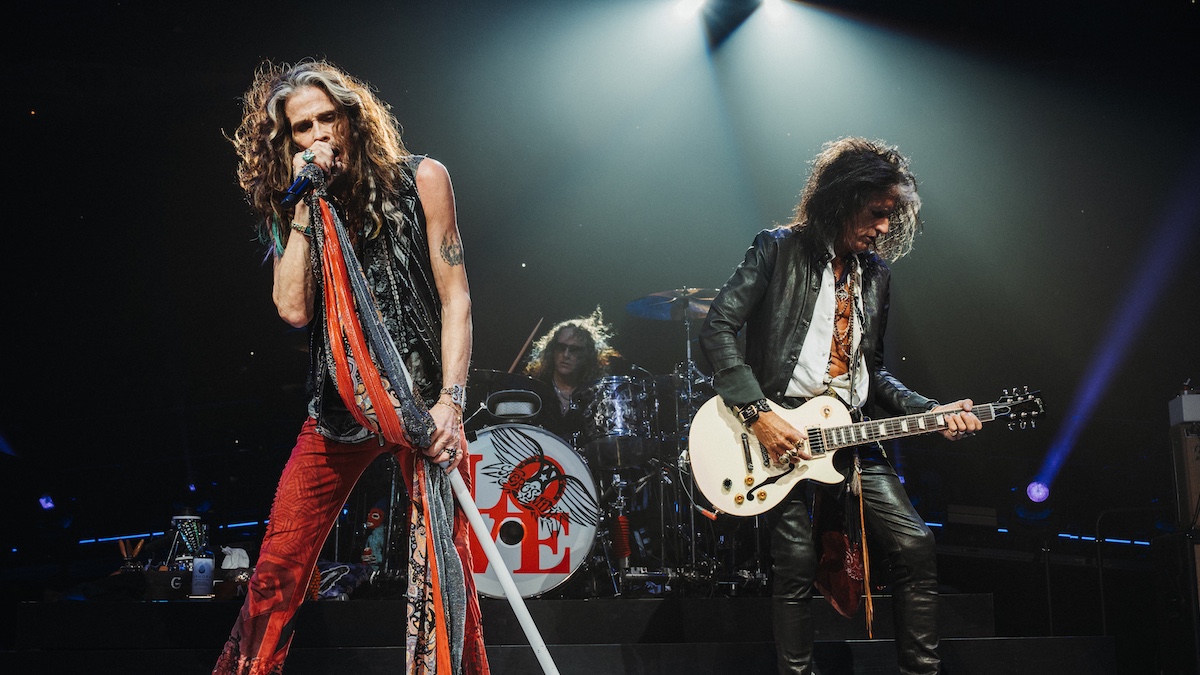 Aerosmith kicked off their "Peace Out" farewell tour on Saturday (September 2nd) at the Wells Fargo Center in Philadelphia, where the Rock & Roll Hall of Fame band played an 18-song set filled with their many hits and fan favorites.
Back in May, Aerosmith announced that they'd be embarking on a final tour (tickets available here), stating, "It's not goodbye, it's PEACE OUT! Get ready and walk this way, you're going to get the best show of our lives."
On Saturday, singer Steven Tyler and company launched the first show of the 40-date North American outing with "Back in the Saddle," followed quickly by the hits "Love in an Elevator," "Cryin'," and "Janie's Got a Gun." Alongside those instantly recognizable tunes, the band worked in deeper cuts like "Adam's Apple," "No More No More," and "Seasons of Wither," as well as their cover of Fleetwood Mac's "Stop Messin' Around."
It was nothing but classics when the band closed out the show, as the main set ended with "Sweet Emotion" and "Toys in the Attic," followed by an encore of "Dream On" and "Walk This Way."
The Black Crowes, who are supporting the entire tour, played an 11-song set featuring hits like "Hard to Handle," "She Talks to Angels," and "Jealous Again."
Aerosmith's North American farewell outing continues through a January 26th show in Montreal, and includes a New Year's Eve hometown show at Boston's TD Garden, as well as a January 19th gig at New York City's Madison Square Garden.
See photos of the opening night (courtesy of Aaron Perry via Live Nation) below, followed by fan-filmed videos and the full setlist. Pick up tickets to Aerosmith's upcoming shows here.
Photo Gallery – Aerosmith kick off "Peace Out" farewell tour in Philadelphia (click to expand and scroll through):
Fan-Filmed Videos:
Setist:
Back in the Saddle
Love in an Elevator
Cryin'
Janie's Got a Gun
Adam's Apple
Livin' on the Edge
No More No More
Rag Doll
Hangman Jury
Seasons of Wither
Movin' Out
Stop Messin' Around (Fleetwood Mac cover)
Rats in the Cellar
I Don't Want to Miss a Thing
Sweet Emotion
Toys in the Attic
Encore:
Dream On
Walk This Way