A FaceTime date isn't ideal, but when you and your sweetheart have to be apart, it can be a great way to keep things exciting and still spend quality time together. It's important that no matter how far the distance, you should make plans to hang out even if it's only through video chat. In fact, many people find that spending time with their SO while in different locations can deepen their relationship and open them up to fun new experiences and conversations together. Try doing something with your hands (like working on a craft set while you talk), or plan your own happy hour and game night date. Here are a few more ideas to keep the sparks flying between you.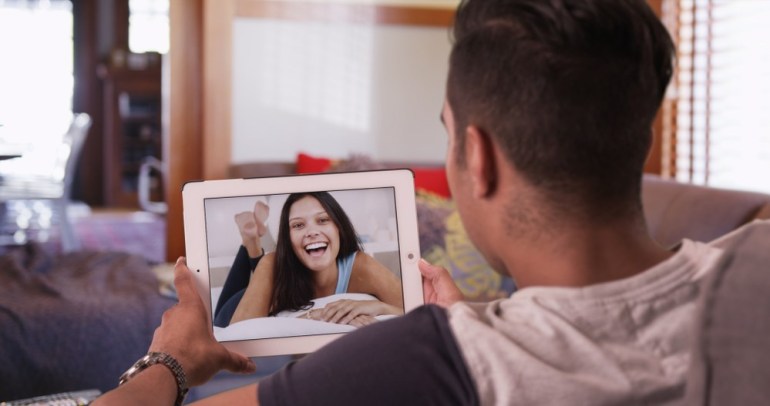 1. Have a Cocktail Competition
The COVID-19 pandemic started a trend–virtual happy hours—and they are becoming increasingly popular amongst people in long-distance relationships, those who travel a lot for work, and friends who have spread out to different cities and towns. It's a great way to stay connected and involved in each other's lives. So why not turn your Friday night Skype date into a special happy hour together or even a cocktail competition. If you've got a lot of ingredients on hand, get creative. Lime, mint, and a pinch of chilli, anyone?
2. Make something together
Crafting or making something with your hands is a great hobby because it helps reduce anxiety and release tension. So why not combine a facetime date with some craft activity. You could try a paint with diamonds kit, a cross stitch, model building, coloring, knitting, whittling, or anything else.
Although you'll both be focused on your individual crafts, you can offer each other inspiration and chat while you work. It's an excellent way to pass the time and work on something together. When you're finished, have a little art exhibit to examine each other's work–maybe even pair it with some wine and a cheese plate. 

3. Share a Meal
Show off your culinary skills by preparing the same dinner from different kitchens!  If you're the competitive type, you can also turn this into a friendly competition and see who comes up with the most creative or aesthetically pleasing version of the same dish. You can either plan a grocery shopping trip prior to the date to make sure you have the right ingredients or get creative with what you both already have in your house. If one of you has a particularly special recipe, you can try sharing it and walking the other person through cooking the meal step by step. After you've finished, sit down together for a candlelight dinner FaceTime date. Or, if you're in a different time zone, share dinner/breakfast.
4. Watch a Movie
Netflix recently released a new feature meant to help friends spend time together even while practicing social distancing, but this is a great way to spend a romantic night together from two different places. Netflix Party is a service that allows users to stream the same movie over their laptop or desktop computers with a group chat feature, so you can discuss the movie just like you're in the same room. If you want to play it old school, you can also simply FaceTime and play a movie at the exact same time. Of course, it might be a second or two off, but it should be close enough that you can enjoy sharing a movie night while apart.
5. Have Your Own Personal Wine Tasting
Wine aficionados will love this date night idea. Get a few of your favorite wines and ask your SO to do the same. Then, pour a sampling of each and discuss the wines with each other over video chat. If you share some other love of a particular drink, you can adjust this idea to any type of tasting—beer flights, whiskey samples. At the end of the date, each of you should pick the wine or other adult beverage that you liked the best and then go out and purchase the other person's favorite. The next time you FaceTime, you can try each other's picks and discuss your thoughts. This is a great way to spend time together and try sharing in each other's interests over great conversation.
6. Take a Virtual Vacation
Nothing is quite as wonderful as a real vacation to a new destination, but it's not always possible to jet off at the last minute. If you and your SO are apart for a while, you can take a virtual vacation to a place you've always wanted to visit. Many national parks, museums and globally recognized monuments are offering virtual tours of these locations to allow people to experience the beauty of these places from the comfort of their own homes. While it doesn't replace the thrive of walking around and exploring a new place, it is a great way to learn something new and research potential ideas for real vacations together in the future.

7. Play a Game Together
Everyone loves a good, fun-filled game night–whether it's with a group of friends or just you and your sweetheart. Switch up your date nights from the standard FaceTime and use other video chatting platforms like Zoom or Google Hangouts Meet to play online games through the screen-sharing feature. There are dozens of great virtual games for just two that can make you laugh, create new inside jokes and learn more about each other. If you're really looking to spice things up, try playing a drinking game like Never Have I Ever or Truth or Drink, or check out these 10 saucy LDR games right here.
Make FaceTime Dates Fun!
Being far from your loved one is tough no matter how short or far the distance, but with our many forms of technology, it's easier than ever to stay involved in each other's lives. Schedule your dates ahead of time and decide if you want to start a craft project or have a dinner cook-off. There are so many great ways to learn more about each other still while having fun over nothing more than a video chat. Have a game night together or plan a happy hour where you show off your inner mixologist. No matter how you choose to bond, you can still have fun, exciting LDR dates if you let yourselves get creative.