I've got great news for you! Games aren't just for kids, they're fun for everyone, including couples in long-distance relationships! In our post today, we bring you 5 classic games you can play with your SO when you're in a long distance relationship.
Assuming you can play without getting TOO competitive, games can help you build your relationship by having some lighthearted fun. Here are just three of the research-supported benefits of playing games…
1. They boost your mood
 When you do something fun—such as playing a game—you switch channels in your brain. You're able to be present in the moment and as a result, you stop thinking about your to-do list, or anything you've been stressing about. As you become absorbed in the game, your stress and anxiety levels go down, and your mood tends to go up.
2. It's good for your brain
Nothing "lights up" your brain like play. Playing games tends to improve your logical thinking skills, makes you a better learner, and decreases the risk that you'll develop dementia or Alzheimer's.
3. It's good for your relationship
Playing games is usually an "easy" way to spend time together. They allow you to share time while you're focused together on something else. You can share laughter and have fun together. And you are building memories of a shared experience doing something you both enjoy. They'll also help you find out how your partner responds to both winning and losing. 
So there you go, games are good for your love life. (Well, often. I do know a couple of relationships that have suffered after a game of RISK became particularly heated. So try not to get too competitive about it all.)
If you're wondering how you are meant to bond with your loved one over a board game while you're in a long distance relationship then you've come to the right place.
There are so many online games to choose from nowadays—from board games to action-packed, adrenaline-overdosing, action games—there is a game out there you will both love playing. Guaranteed. We'll be doing a whole series of posts on games this year here on Modern Love, and to kick us off, here are 5 classic games you can play. 
5 CLASSIC GAMES to Play in a Long Distance Relationship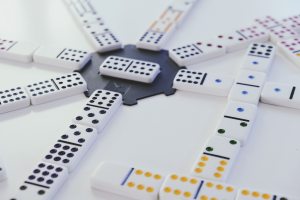 1. Dominoes
How the game works
The earliest version of dominoes was invented in China in the 1200s so it well and truly falls under the Classic Game category! Dominoes is played with a group of rectangular pieces known as tiles. There are a couple of different ways to play, but the most common version involves trying to get rid of all your tiles while blocking your opponent from laying down theirs. 
What's great about this game?
My good friend, who hates competitive games, claims that Dominoes is the only one she can play without breaking out into a cold sweat. So it's a good two person game option when one of you is (ahem) more competitive than the other. This one doesn't hurt as many feelings.
Where can you find it?
You can play dominoes online at Pogo here: http://www.pogo.com/games/dominoes. Want to play on your phone instead? Google "play dominoes on phone" to find the appropriate app. 
2. Backgammon
How the game works
This is the world's oldest known board game (5,000 years old according to some estimates)! Backgammon is a classic 2-player game where you and your opponent take turns rolling a pair of dice and moving your set of 15 pieces according to the dice rolls. Remove all of your pieces from the board before your opponent, to win.
What's great about this game?
Backgammon has some hard-core devotees. One fan writes, "It is far more than a game. It's a philosophy, It's a logic exercise, It's a tool for emotional perseverance, It's a game that parallels life itself,"
A bit over the top?
Maybe. But backgammon is all about the relationship between your 15 pieces and your opponent's 15 pieces. It's a strategy game, which makes you think out of the box and try to read your partner's mind. Reading your opponent and knowing yourself are powerful tools in backgammon. Are there any better skills for couples to practice, really?
Where can you find it?
You can play backgammon at Pogo here: http://www.pogo.com/games/backgammon.
A lot of the mobile versions appear to be buggy and are poorly rated. Some don't allow you to play with friends, just random opponents. The best mobile option at present is "Backgammon Plus"—search for it in Google Play or the Apple App store to find the right app.

3. Chess
How the game works
I couldn't write about classic two-player games and leave out chess, could I?
The history of chess is rooted in the eastern Indian military, way back in the 7th century. It's been a "war" game long before technology made such games uncomfortably visual and realistic. 
Over time, however, the game of chess has also come to be associated with courting and love. In fact, a quick google search now on "chess and relationships" brings up dozens of articles comparing the dynamics of dating and love to a chess game. Chess has become an iconic metaphor for strategy in life and love.
I won't bother trying to explain how it works, because we all know what a chess board looks like, and you either know how to play already or you don't. If you don't, perhaps it's worth learning. Rightly or wrongly, if you know how to play chess, others will usually assume that you're smart and cultured. And if neither of you know how to play, you can learn together. 
What's great about this game?
Chess is fairly easy to learn and difficult to master. You can learn new things about this game years after first starting out, and it's a great way to "exercise" your brain and improve problem solving and planning skills, working memory, and creativity. 
Where can you find it?
If you've never played chess before and want to learn, visit https://www.chess.com/play. They have a whole interactive section dedicated to helping newbies. You can also play chess with friends online at Pogo here: http://www.pogo.com/games/online-chess. To play on a mobile search for "Chess With Friends" on Google Play, and "Chess" in the Apple app store. 

4. Checkers
How the game works
This is another game that dates back to the 12th Century. It was developed in France. Win tokens by zigzagging to the other side of the board. Jump your opponents ragged. Turn your game pieces into Kings. Capture all of your opponent's pieces to win!
What's great about this game?
It's far simpler and quicker to play than chess, and very easy to learn. There are also lots of different variations, so if you're getting a bit bored you can mix it up by playing by new rules.  
Where can you find it?
You can play checkers at Pogo here: http://www.pogo.com/games/online-checkers. There are also good "Checkers" apps on google play and in Apple's app store. 
5. Bingo
How the game works
Match the pattern on your Bingo cards before anyone else calls "BINGO". 
What's great about this game?
This is a pretty simple game, and low intensity. It leaves plenty of time for chatting about other things. Unless they're five years old, no one's going to cry a river of feel too bad about themselves over losing a game of BINGO (read: low potential for hurt feelings and heated words.)
However, you can add a bit of excitement and challenge by changing up the patterns you need to match and throwing in prediction prizes and different ways to win.  
Where can you find it?
Pogo has a free tropical themed BINGO game. Need a dose of pretending you're in Hawaii? Find it here: http://www.pogo.com/games/bingo-luau.
More Classic Games to Play in a Long Distance Relationship
Try your hand at these 5 classic games and in our next blog post we'll detail 5 more games to play in a long distance relationship–games that will help hone your relationship skills just as surely as they're developing your gaming skills.