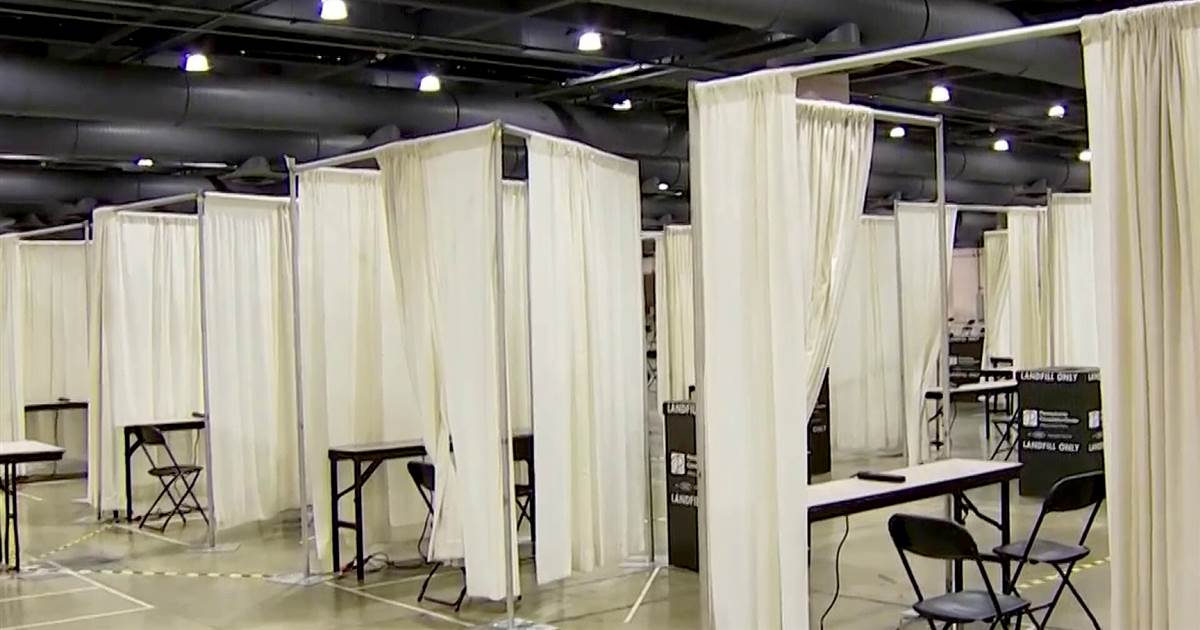 The 22-year-old CEO of Philly Fighting COVID, a group that ran the city's biggest Covid-19 vaccination site, has been accused of taking home vaccines designated for public use after a host of other missteps that prompted Philadelphia to terminate its partnership with the group.
Philadelphia District Attorney Larry Krasner on Tuesday acknowledged reporting from public radio station WHYY, and said he had "questions" about allegations that PFC's CEO Andrei Doroshin took home unused vaccines for personal use after a particularly disorganized day.
"I encourage members of the public, including City employees, who have information about what they believe to be crimes related to this matter or other pandemic relief efforts, to contact our Special Investigations Unit directly," said Krasner in a statement.
WHYY reported that people who had appointments were turned away Saturday, but there was still a stock of vaccines left at the end of the day.
Katrina Lipinsky, a nurse who was on site that day, said on Twitter that Doroshin "took home a Ziplock bag-full of vaccines."
Doroshin, a Drexel graduate student, confirmed to NBC News that he took vaccines home.
"On Saturday, we had a mandate from the city of Philadelphia that said we were only allowed to vaccinate health care workers," said Doroshin. "We turned 3,000 people away that got the link fraudulently. At the end of the day, we had 100 vaccines that were left over. These vaccines were going to go expire."
Doroshin said he "frantically" called health-care workers and others to find people to be vaccinated, and that he wound up finding takers for 96 of the 100 extra doses.
"We stayed late in the day to make sure that happened … to make sure that every single person that we can get ahold of before these vaccines expired, we could use."
He said that he took the four remaining doses home, and said "yes" when NBC News asked him if he had used those doses to vaccinate his friends.
"I stand by my decision. I made sure that not a single dose went wasted. … This was an ethical dilemma for me. Do I throw these doses into the trash, which is what I needed to do? Or do I put them into arms? I did what the mandate said. I put them into arms."
"In this pandemic where every single vaccine matters, I did not want a single vaccine to go expired. Because those vaccines were about to expire."
He also confirmed that the same day, seniors who were in line to get a vaccine were turned away, but said that the city had only mandated his group to vaccinate healthcare workers on that day.
A 'unique' partnership
Three weeks ago, the city's Department of Public Health announced its "unique public/private partnership" with Philly Fighting COVID, according to NBC Philadelphia, and urged residents to pre-register for vaccination on the group's website.
While the partnership lasted, PFC administered 6,756 vaccine doses for the city, according to the Department of Public Health. The group was provided with 7,260 doses, according to the department, and 750 doses were returned to the city unused. That means PFC had 6,510 doses to administer, but since PFC was using Pfizer, which sometimes has an extra sixth dose in a five-dose vial, PFC was able to administer an extra 246 doses.
The city and the group together were running a mass vaccination site at the Pennsylvania Convention Center, and the relationship was covered by the media, including NBC News.
On Monday night, however, the department said in a statement that it had decided to end the relationship after learning that PFC had changed "its corporate status" to for-profit and had updated its data policy "in a way that could allow the organization to sell data collected through PFC's pre-registration site."
Philadelphia Health Commissioner Thomas Farley told reporters Tuesday that he had seen Lipinsky's tweet about Doroshin taking home doses. "If that's true, that's very disturbing, they shouldn't do that," said Farley, noting that any leftover vaccine doses should have been returned to the city.
"I hope people can understand why on the surface this looked like a good thing," said Farley. "In retrospect, we should have been more careful with this organization."
James Garrow, the department's director of communications, told NBC News on Tuesday that the group had actually changed its status to for-profit in December but only told the city it was considering such a change in passing during a January conversation.
Garrow said the group had a contract with the city for Covid-19 testing through Jan. 31, but had unexpectedly suspended testing.
PFC also updated its data policy on its website Monday. The new policy says it will not sell users' personal data. It does say, however, that it "may share Your information with Our business partners to offer You certain products, services or promotions."
Doroshin told NBC News his organization has never sold data, and is still in the process of changing from nonprofit to for profit — something he said he told the city about at the beginning of the month. He said the change in status is necessary to keep the operation afloat.
"The reason why we needed to do this … is that with only donations, you know, we got maybe $20,000 donations in nine months. Whereas it costs over $200,000 a month to run these sites. We needed capital to run these sites and bill insurance companies. In order to do that we needed to become a for-profit entity."
He said the group had stopped testing because it ran out of money. "Invoices couldn't be paid out. And we could not pay our staff. … [W]e're literally just trying to help. And if I cannot pay our people to be there, I cannot expect them to be there."
PFC published a statement from Doroshin on its website Tuesday afternoon, saying, "There was language in our privacy policy that was problematic and as soon as we became aware of it, we removed it. I apologize, for the mistake in our privacy policy. We never have and never would sell, share, or disseminate any data we collected as it would be in violation of HIPAA rules."
Pennsylvania Attorney General Josh Shapiro called on residents Tuesday to file complaints if they believed they had been "misled" by PFC.
"These allegations are serious," Shapiro said in a statement. "Taking advantage of people and their privacy under the guise of serving as a nonprofit is not only unethical — it can also be against Pennsylvania law."
The group, which began as volunteers 3D printing PPE for essential workers when it was in short supply, said it was able to test more than 20,000 people "in neighborhoods with inequitable access to quality healthcare."
"We are a bunch of nerds, engineers, and scientists that have come together to fight this pandemic," said the group's "team" website page, which has since been taken down but can still be accessed.
A statement from the Philadelphia Department of Public Health said it would be in contact with people who received their first vaccine dose through PDC to help them set up second dose appointments elsewhere.