This post is sponsored by iHerb. All opinions are mine – you know I keep it real with you guys!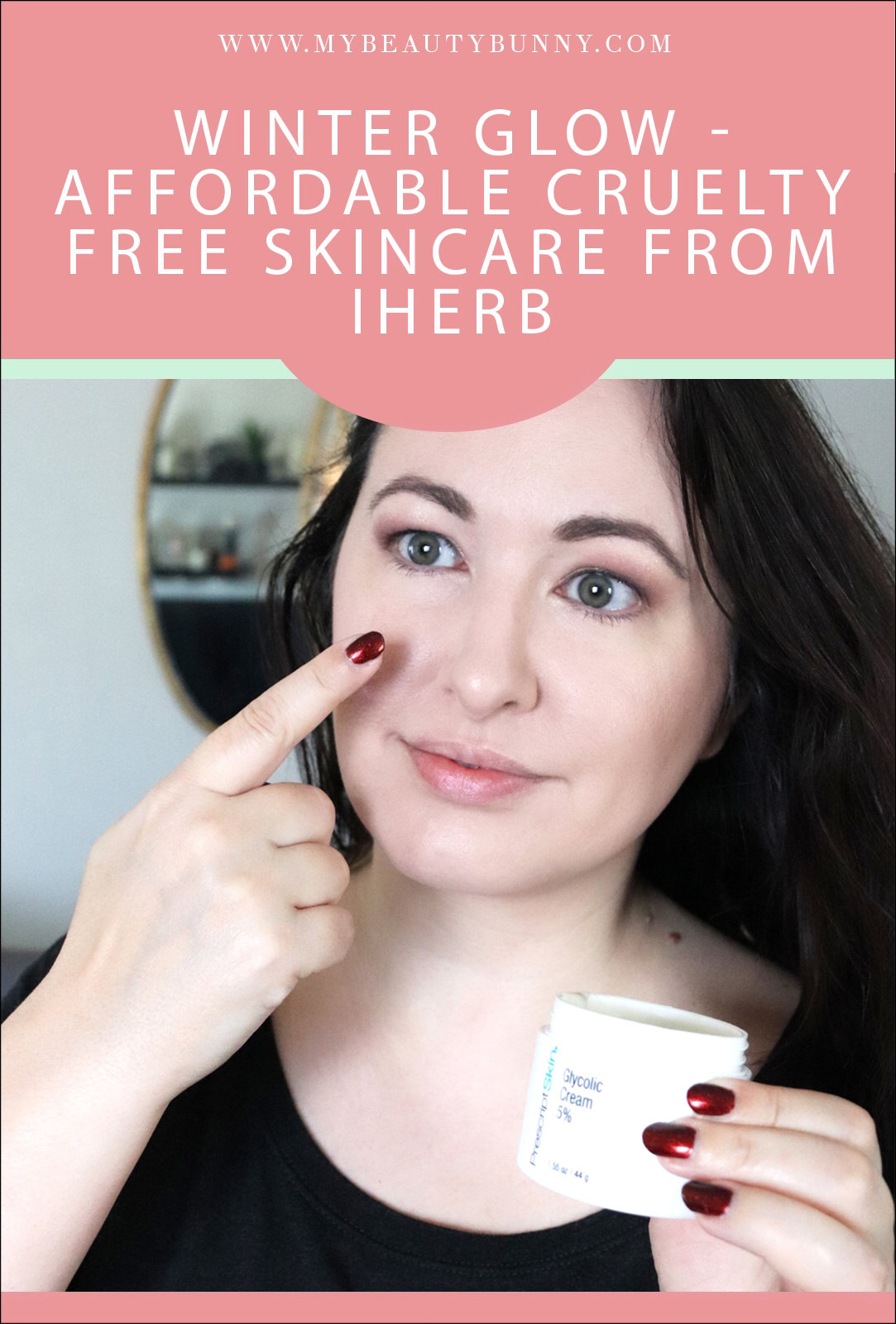 You guys already know I'm a HUGE fan of iHerb. I have been buying their supplements and natural products for years, and recently I've come to realize what an amazing selection of skincare and beauty products they have.
You'll find major brands here – big and small, but the prices are usually lower than other retailers. They also ship to 180 countries, so iHerb is accessible to most of the world!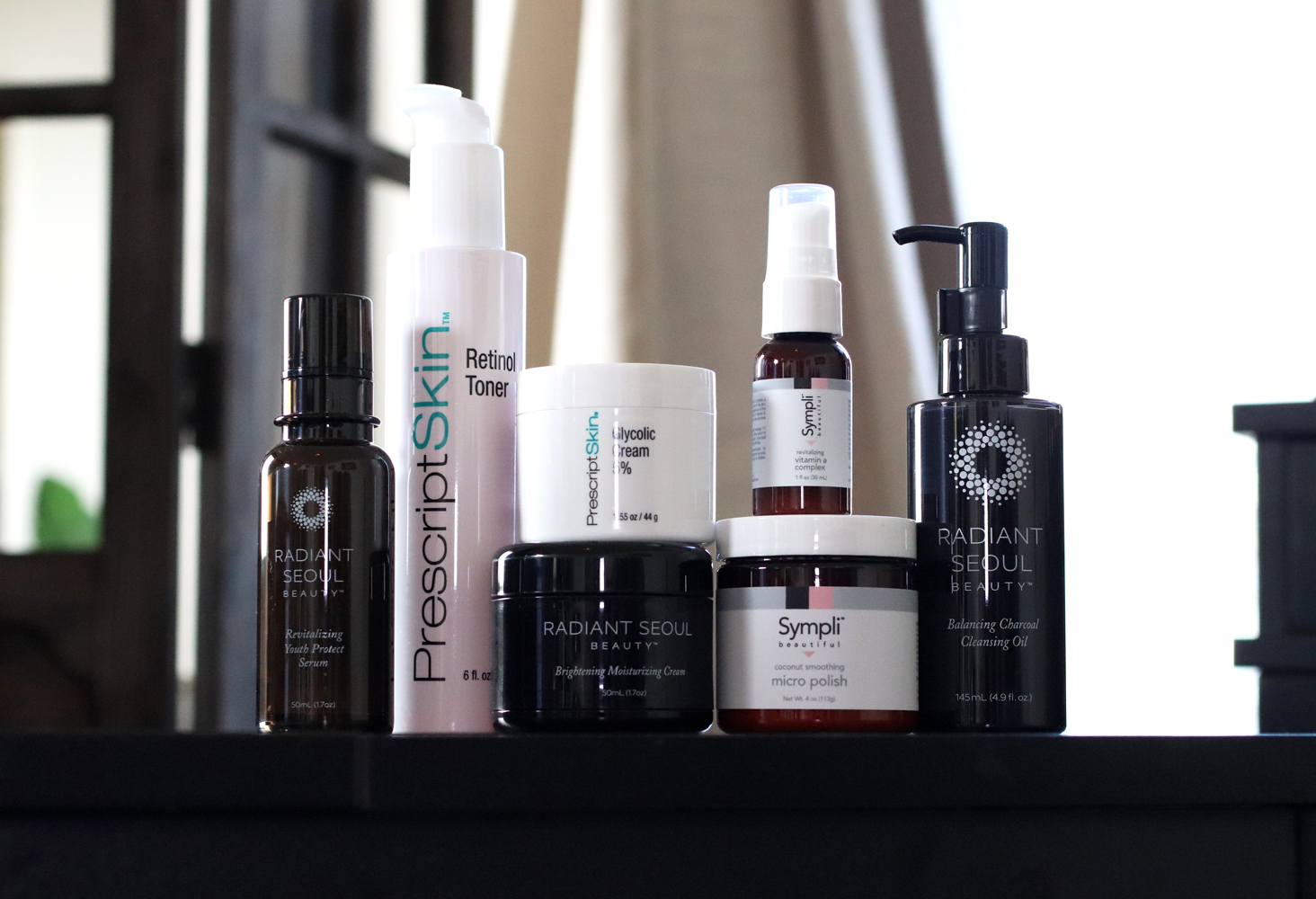 Today I want to focus on some of iHerb's exclusive cruelty free skincare products that may not be on your radar yet (but should be)! I tend to focus on acne-prone, oily skin products because that's my skin type, but I want to be inclusive, so there's something for every skin type here. These products are effective and affordable – everything is under $20!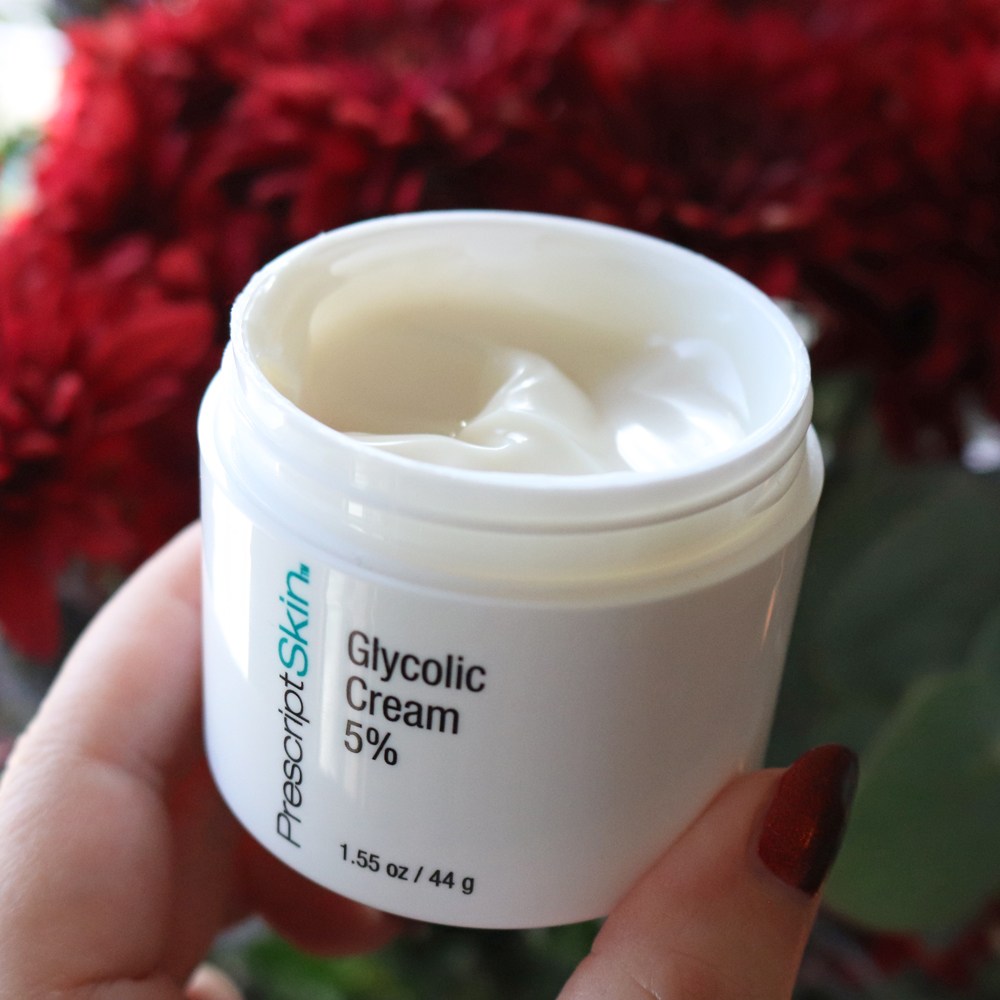 Let's start off with my favorite of the bunch. It's no secret that glycolic acid is one of my holy grail skincare ingredients. It makes an IMMEDIATE difference in how my skin looks – overnight I see smoother, more glowy skin.
Glycolic acid is an alpha hydroxy acid with small molecules that are able to penetrate deeply into the skin. It exfoliates and removes dead skin, unclogs pores, boosts collagen production, and acts as a humectant in lower concentrations.
PrescriptSkin Glycolic Acid Cream 5% is perfect for almost every skin complaint – acne, acne scars, dry skin, flaky skin, textured skin, aging skin, melasma…and the list goes on.
I find that this formula is very hydrating and mild enough for my sensitive skin. If you're new to glycolic acid, this is a great one to start with. I find that it gently exfoliates, brightens and hydrates without irritating my skin.
It does contain fragrance – it has a light citrusy scent. The jar comes with a spatula to apply, but I do wish they'd come out with a squeeze tube or pump. That's the only thing I would change if I had my druthers…what are druthers? I have no idea… Anyway, I digress!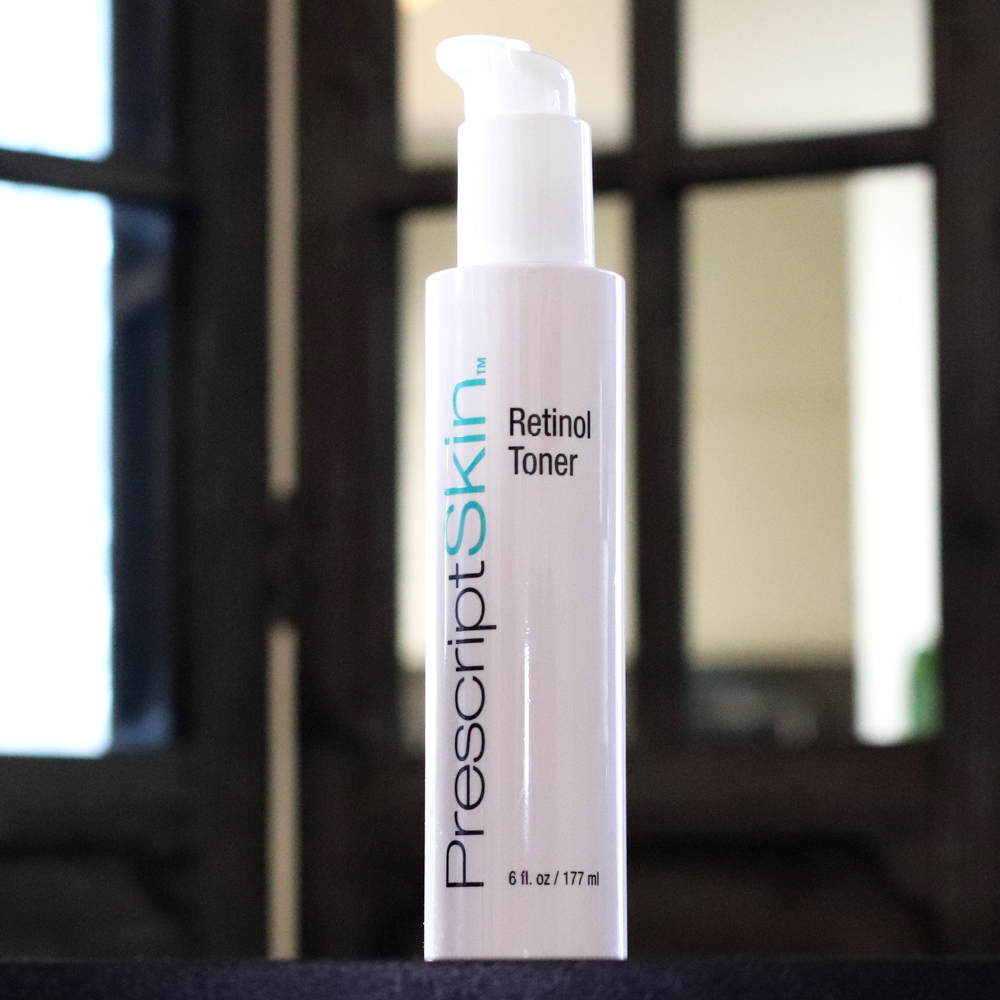 Whether you're concerned with aging skin or acne (or BOTH like me!), retinol is your friend. It's a well-known and well-studied skincare ingredient that boosts collagen production and skin cell turnover, which reduces lines and dark spots, while decreasing oil production and acne over time.
The thing to keep in mind is that because it speeds things up, you may have a purge when you first start using it. That means any blemishes that were brewing under the skin will come out.
Be patient and use it regularly and you will see results in about 12 weeks. That's a long time, but it's worth it. My grandma has been using retinol for years. She's in her 90s and her skin looks incredible!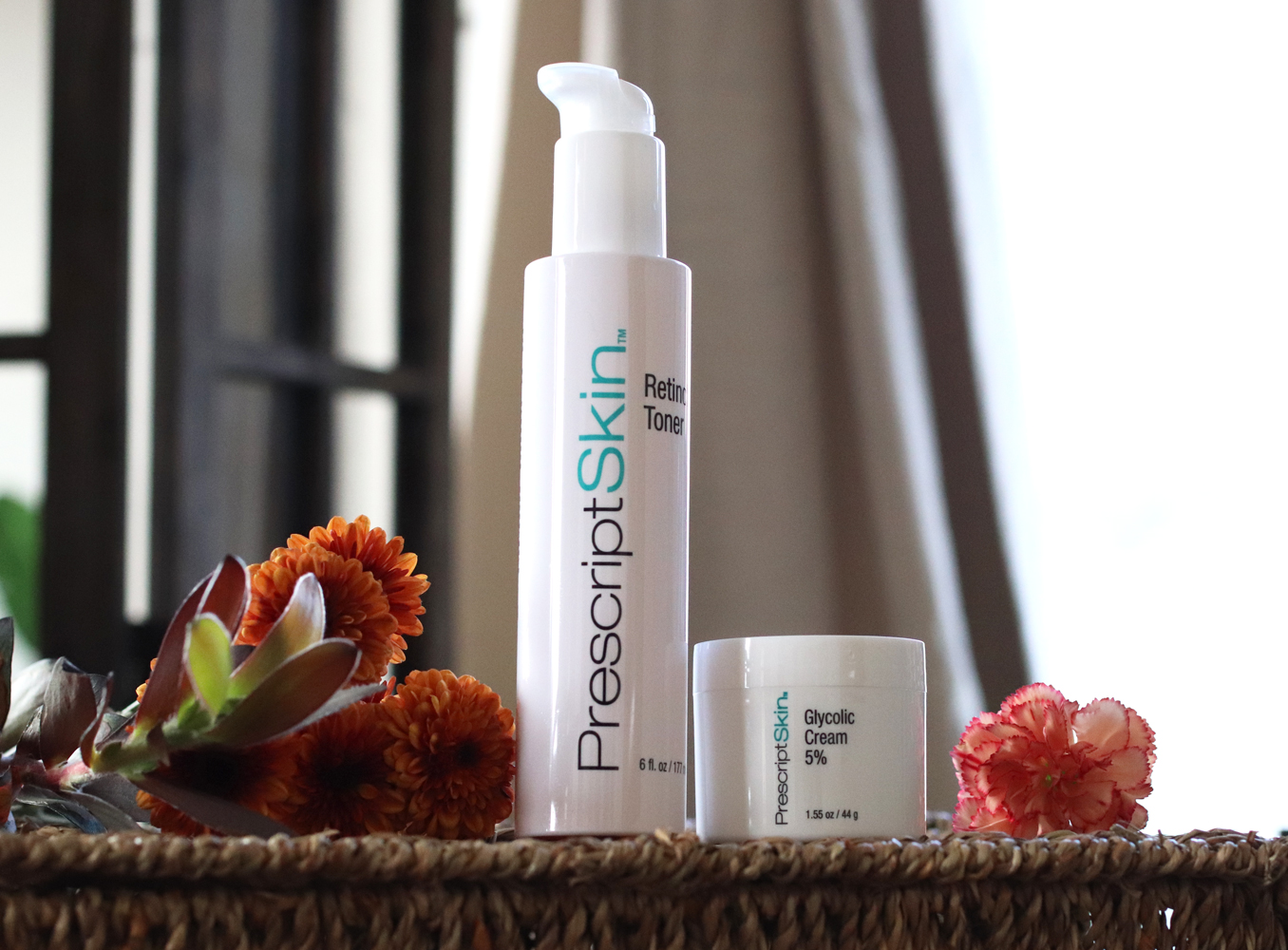 Retinol is an ingredient you may have to start small and work your way up to a higher percentage. PrescriptSkin Retinol Toner is a great way to do that. It's gentle, hydrating and doesn't irritate my skin. You can use it as a gateway retinol when you're just starting out, or add it to a routine with other retinol skincare products to double down on your glow!
A note: if you're using glycolic acid (or other exfoliating or acne treatment) products, you may want to alternate days or use glycolic in the morning and retinol at night. Go easy at first and see how your skin reacts. If it gets red and irritated, back off a bit. And if you're pregnant or breastfeeding, you should avoid retinol.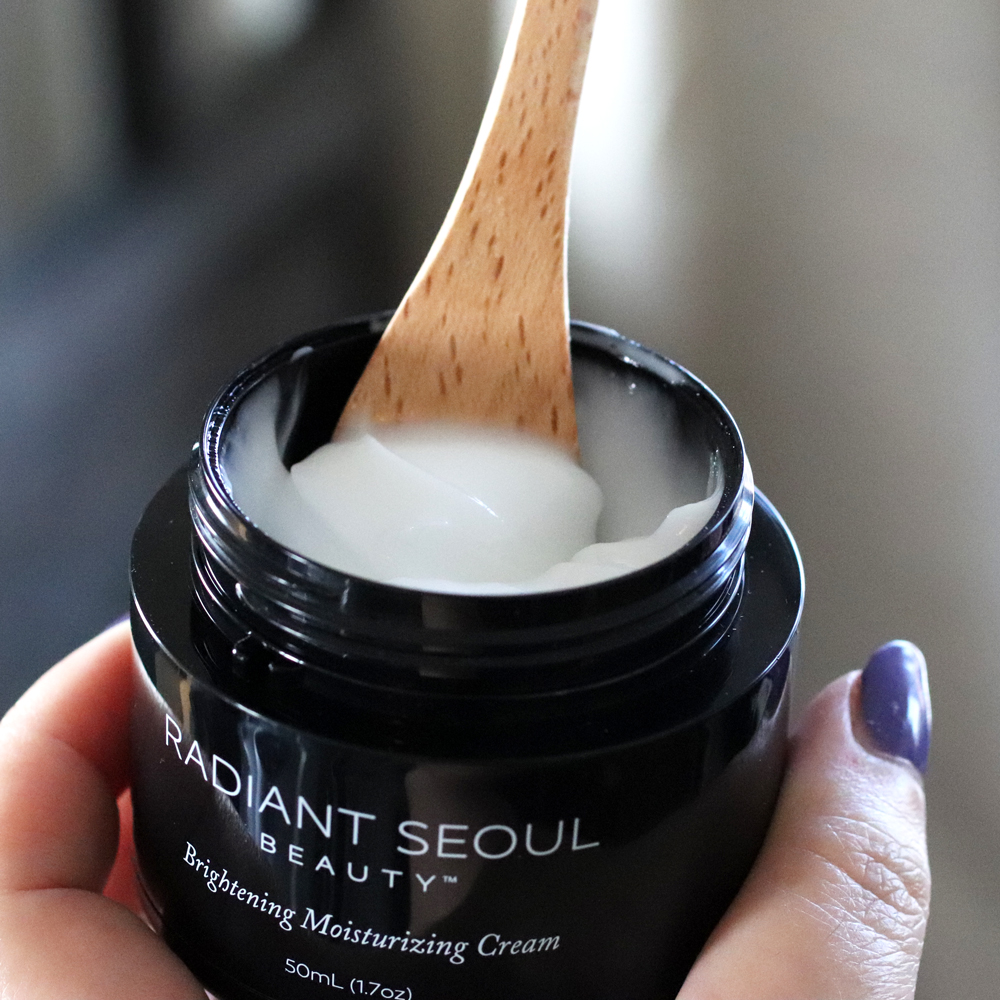 This is a great all-purpose moisturizer that is especially great for dry skin. Radiant Seoul Brightening Moisturizing Cream is made with niacinamide, shea butter and adenosine to brighten skin, reduce dark spots and hydrate.
Niacinamide is another one of my favorite skincare ingredients. It is a B Vitamin that is great for reducing acne AND for anti-aging and hydrating.
Shea butter is great for hydrating skin naturally and is especially great for mature or dry, winter-ravaged skin. If you're feeling extra dry from turning your heaters on this time of year, this is what you need! Note: From what I've read, the jury is out on if shea butter is beneficial for acne-prone skin. Some say it has a comedogenic rating of zero and others say acne-prone peeps should avoid it.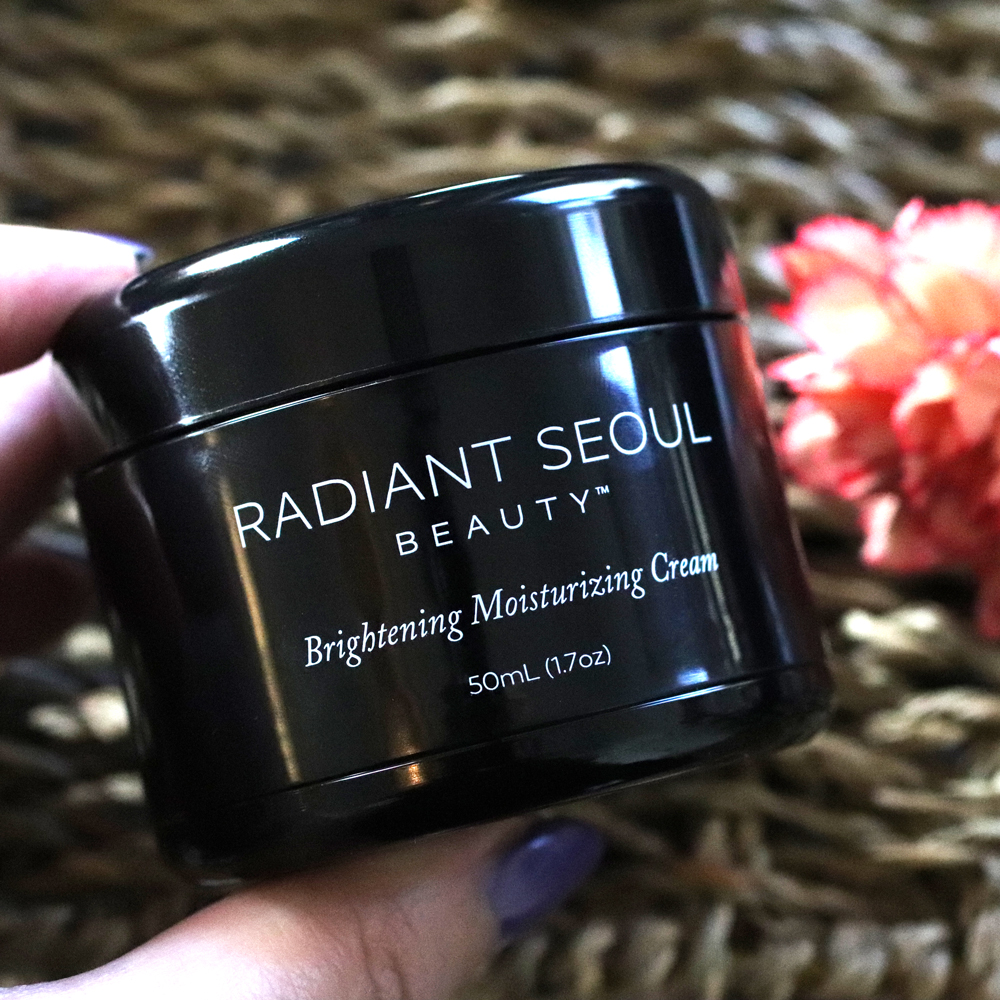 The other major player in this formula, adenosine, comes from yeast and has proven anti-aging and anti-wrinkle benefits.
I felt that the cream gave a nice protective coating to my skin – kind of like a heavier version of a primer. It wasn't greasy at all. It also wore well under makeup. It does contain fragrance – it has a fresh clean scent.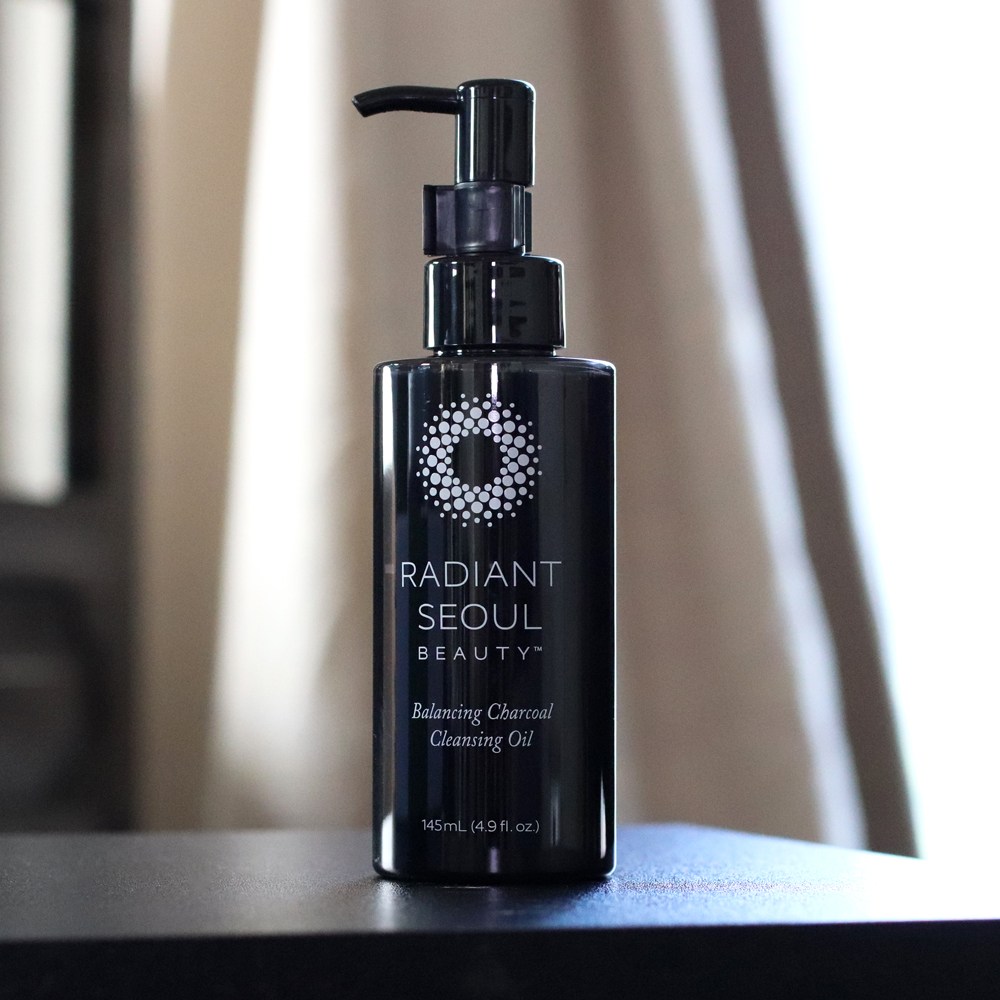 If you wear makeup, a cleansing oil is a must to make sure you get those pores clean! They say "like attracts like" and that is true when it comes to dissolving oils and makeup residue on the skin.
Radiant Seoul Beauty's Balancing Charcoal Cleansing Oil is infused with charcoal, which is known to draw toxins out of the skin. It's a dark black oil that you use on DRY skin to remove makeup, dirt and oil. Add a bit of water to emulsify, and then rinse. If you have oily skin, like me, you can use it as a pre-cleanse – just follow that up with another non-oil-based cleanser to remove any last bits of oil.
In addition to charcoal, this formula contains calming, healing, toning and brightening plant-based ingredients like licorice, gotu kola, green tea, knotweed, scutellaria, chamomile and rosemary. It does contain fragrance – it has a citrusy scent.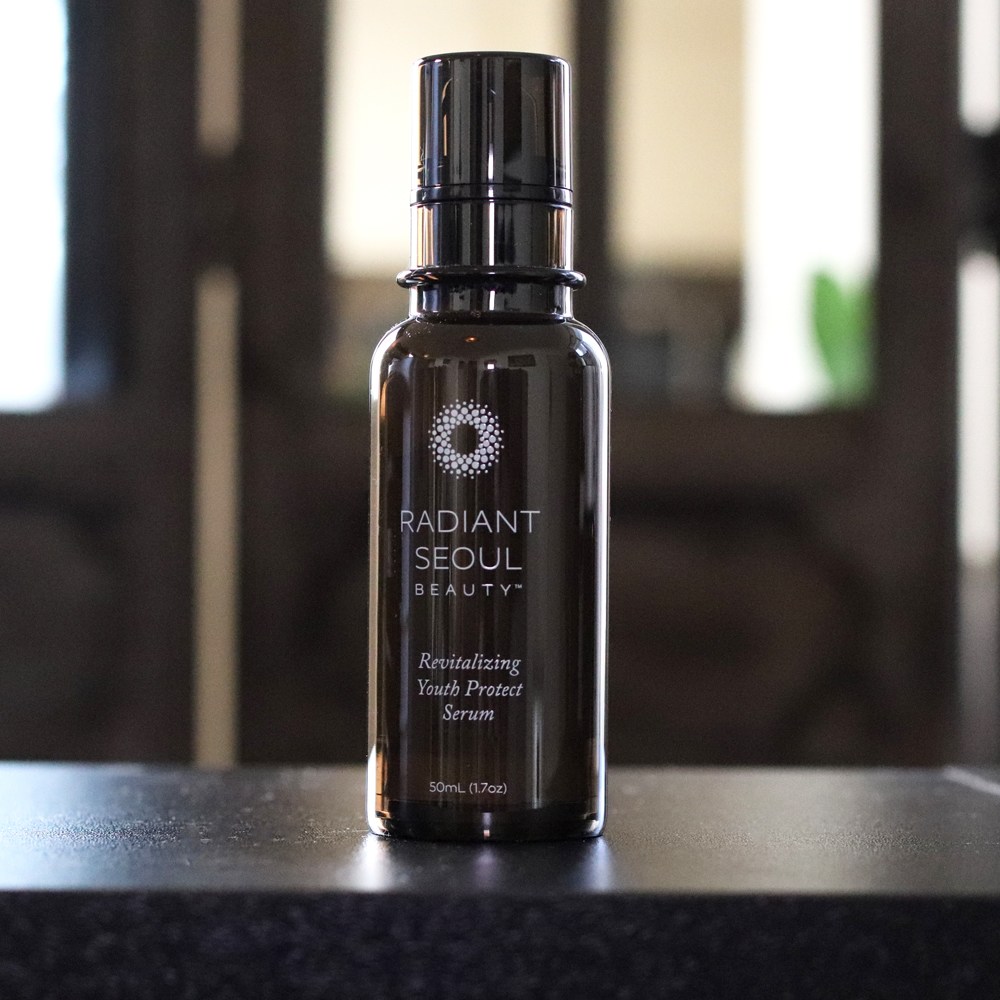 Who doesn't love a good serum? Serums tend to be thinner and lighter and packed with potent ingredients. You typically use them before a moisturizer, but if you have oily skin, you could also use them alone.
Radiant Seoul Beauty's Revitalizing Youth Protect Serum is an anti-aging powerhouse. It has Vitamin C (in magnesium ascorbyl phosphate form which doesn't irritate my skin – hooray!), hyaluronic acid (for oil-free hydration), caviar extract (to improve skin tone – not vegan), apple and wild cherry (antioxidants) and peptides.
I love me some peptides! These amino acid chains help to stimulate collagen and reduce fine lines and wrinkles. Acetyl Hexapeptide-8 has been nicknamed "Botox in a bottle" for its ability to help relax facial muscles, reduce the appearance of wrinkles, and promote collagen production.
The formula also contains dimethicone, which people seem to either love or hate. I have no problems with it and find that it smooths skin texture and makes a great makeup primer. It does contain fragrance – it has a fresh clean scent.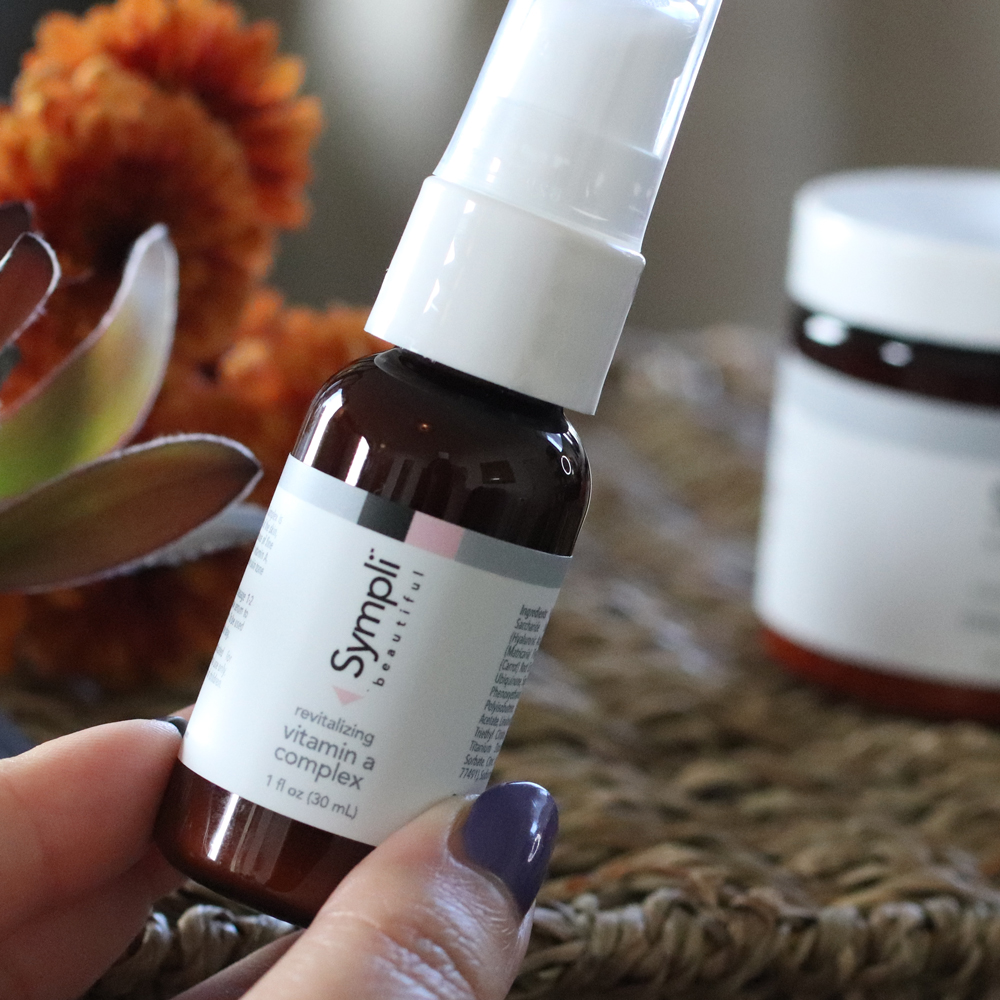 If you read what I wrote about retinol (above), and thought, "I need to start using that!", here's a great serum to start with. Sympli Beautiful Revitalizing Vitamin A Complex is made with a non-irritating form of Vitamin A called retinyl palmitate, carrot root extract (which is full of beta carotene that our body converts to Vitamin A), AND a sensitive-skin-friendly retinol alternative called bakuchiol. It's also formulated with hyaluronic acid for hydration and CoQ10 for skin-smoothing. A note: if you are cystic acne-prone and avoid carrageenan, this serum does contain a small amount.
To use, add one or two pumps to freshly cleansed skin. Let it absorb and then add a moisturizer if you wish. It's non-greasy and has a bit of mica for a glow. It's naturally scented with orange oil and doesn't have a heavy fragrance.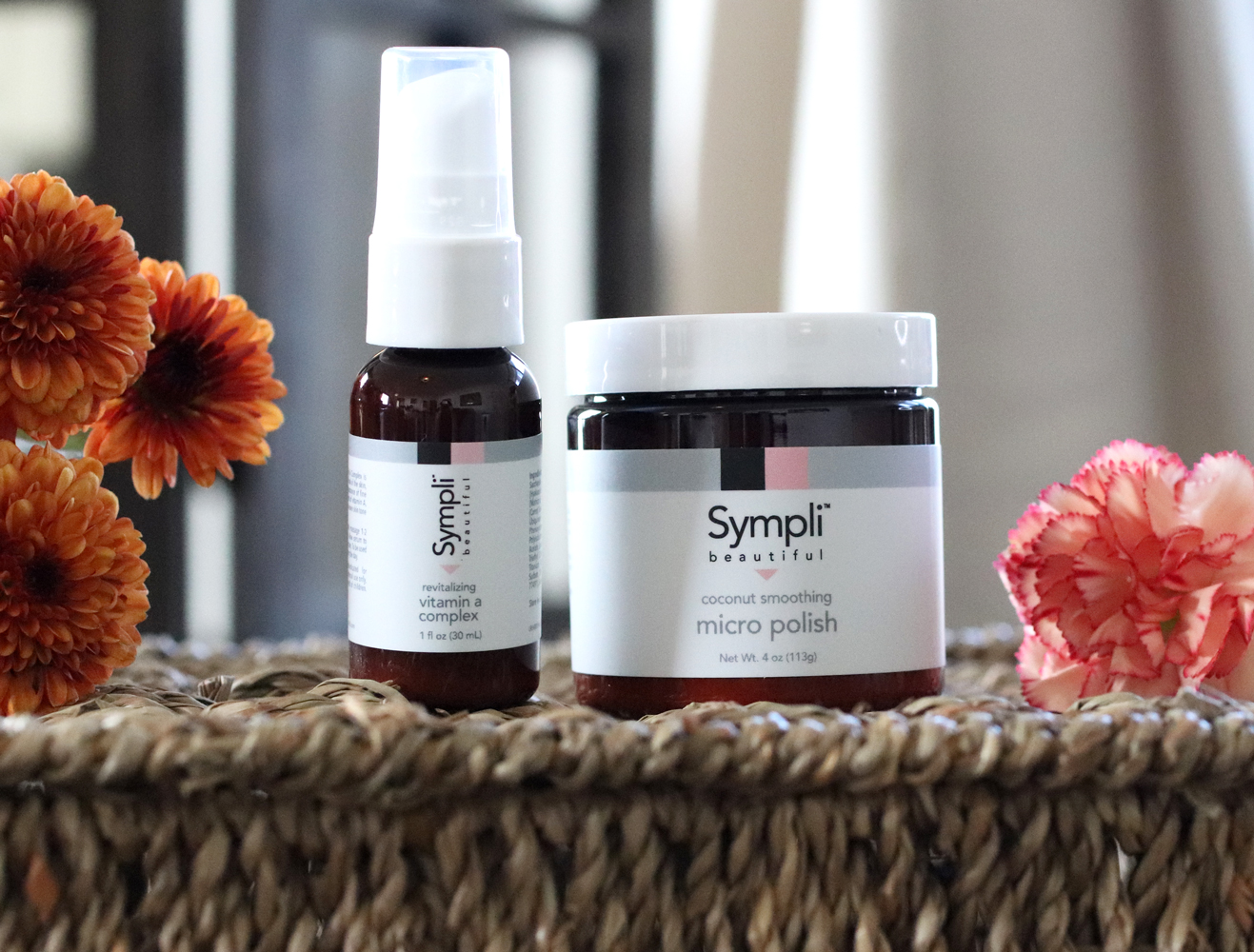 I love a good exfoliator! This one is great for normal to dry skin types. Sympli Beautiful Coconut Smoothing Micro Polish is made with coconut, vanilla, anise, jojoba oil, Vitamin E and kaolin clay. It has a light coconut-vanilla scent and no artificial fragrance.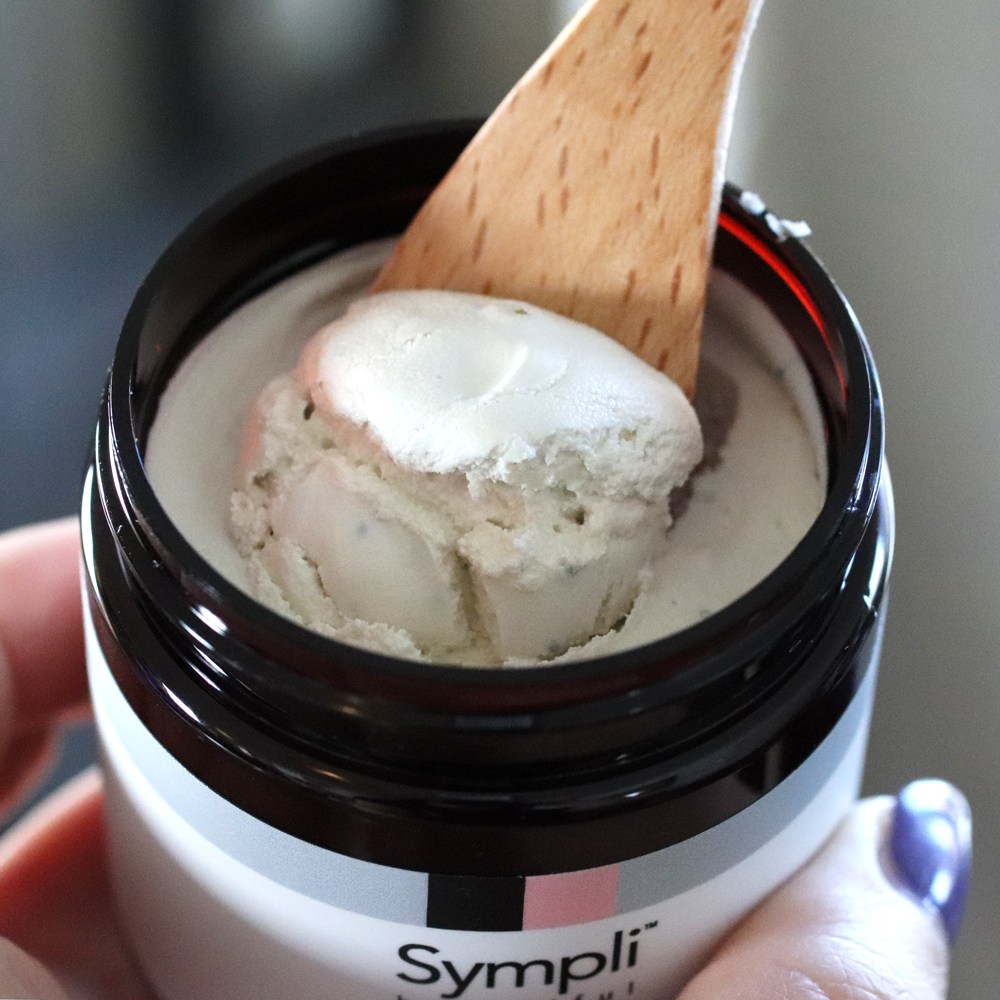 The scrub has micro-crystals (not plastic microbeads which are bad for wildlife and the environment) made from sodium bicarbonate (baking soda) and jojoba esters. They do a great job of scrubbing without irritation, and the result is fresh-feeling, clean skin. There are no sulfates, parabens or silicones in this facial scrub. They recommend using it 2-3 times per week, but I personally think it's gentle enough to use daily if you wish.