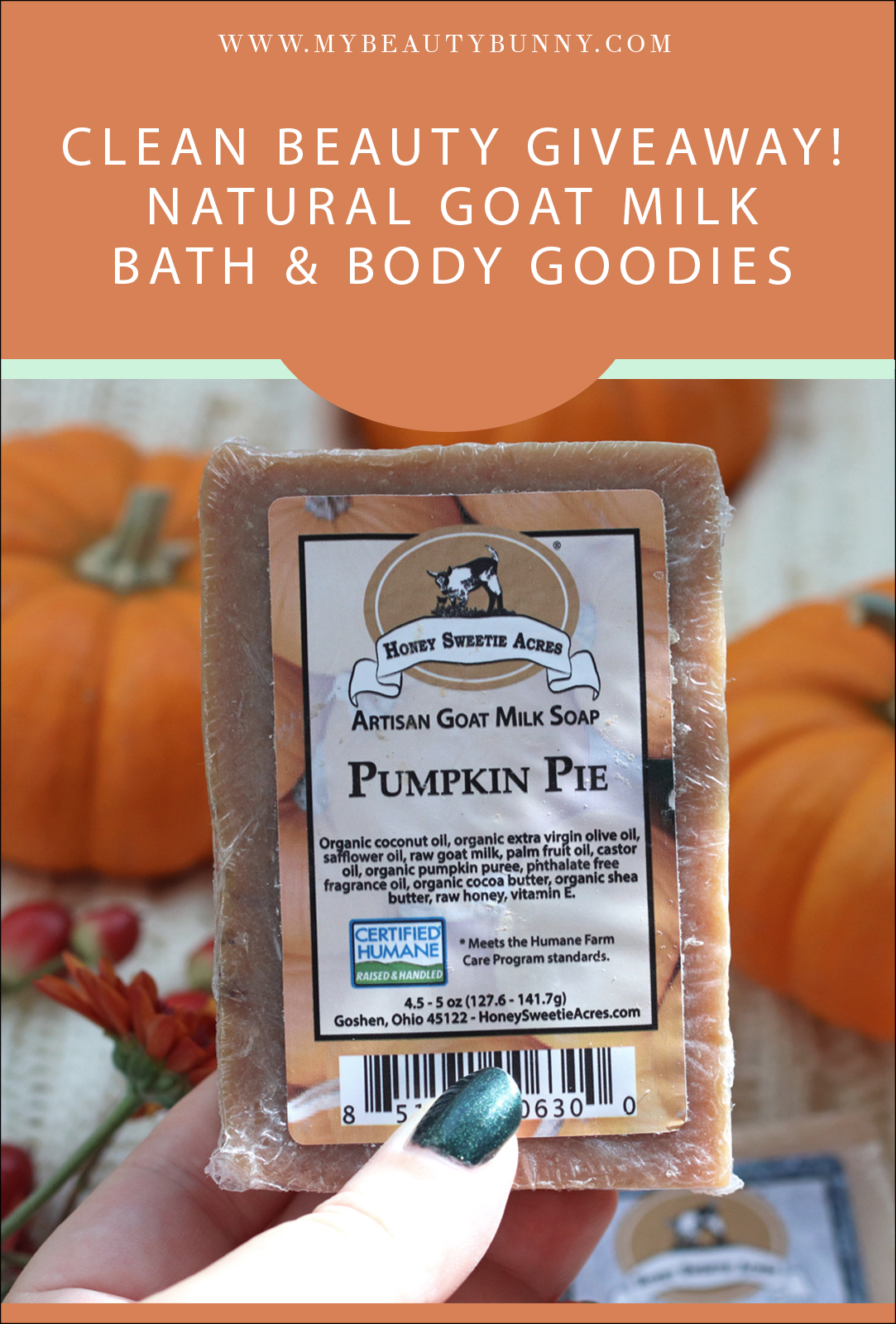 Honey Sweetie Acres is a newly Leaping Bunny certified cruelty free brand! Husband and wife team, Steve and Regina Bauscher, make clean skincare and body care using fresh goat's milk from their humane goat farm in Ohio.
I first tried their products when I was a judge for the Clean Beauty Awards. I recommended they get a Leaping Bunny certification, since I think LB is the gold standard of cruelty free organizations. They signed up, and they are now approved!
Honey Sweetie Acres makes goat milk soap, skincare, aromatherapy, hair care, and even CBD products formulated with the milk of their own herd of humanely raised Champion Nigerian Dwarf Goats. They are Certified Humane in the care of the animals and undergo a yearly inspection both at the farm and at the production building. None of the products created have ever been tested on animals and never will be.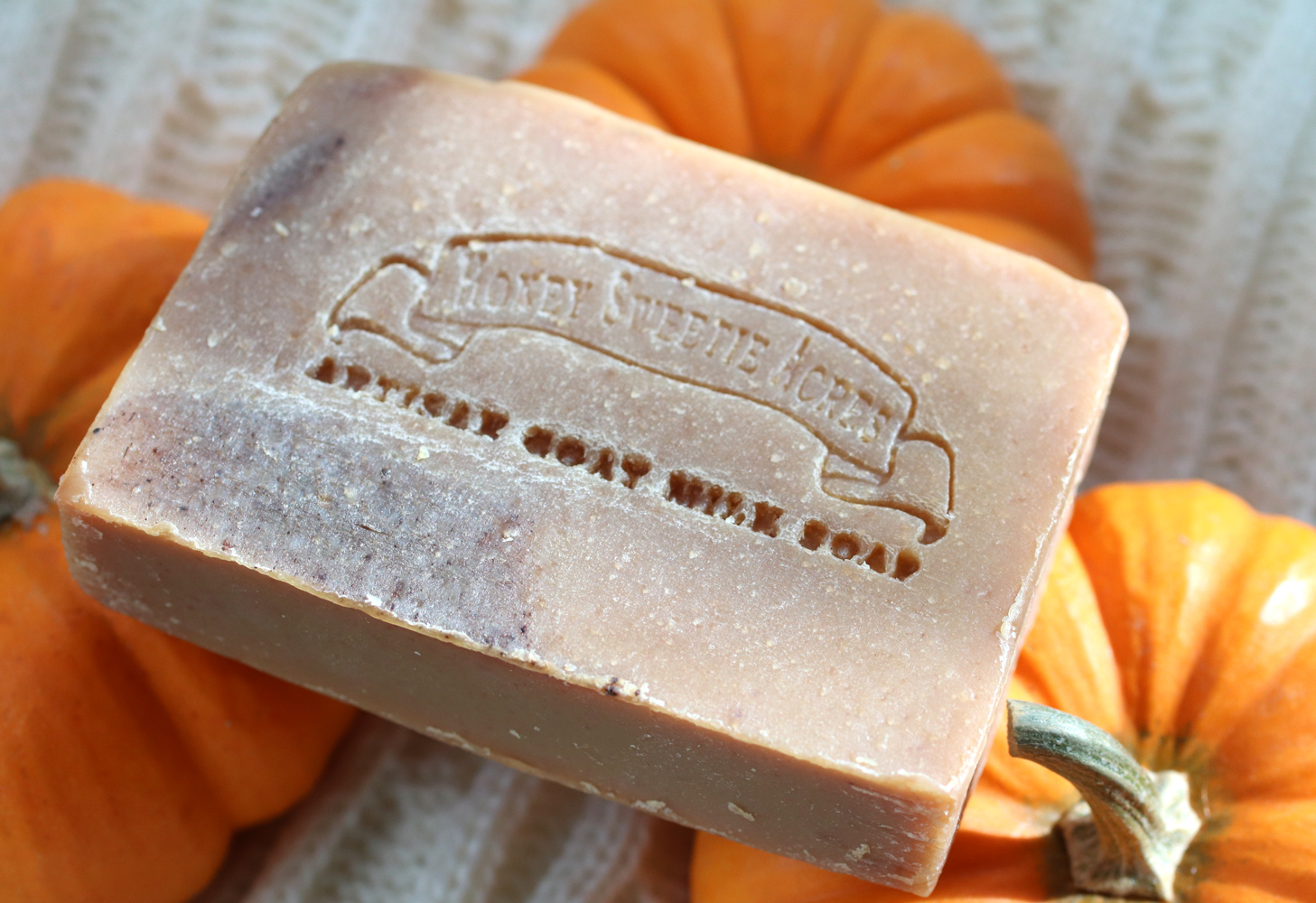 So why use raw goat milk products? I'll explain more, but first I want to let Regina tell you her story in her own words:
"With an education in chemistry, I had made natural soap for my children in previous years. I knew the value of lipoproteins and specific enzymes, and began making soap for my husband's skin condition. He had been to a dermatologist for cracking, peeling, splitting skin on his hands and fingers. Prescriptions kept the condition tolerable but it would not go away. So after 30 days of using our goat milk soap, Steve's skin condition cleared and has never returned."
Honey Sweetie Acres' humanely-raised artisan goat milk soap is full of natural antidotes for dry, parched or rough skin. Goat's milk soap naturally contains enzymes, alpha hydroxy acids, Vitamins A, C and E, and several B Vitamins that act as antioxidants and increase cell turnover to gently exfoliate your skin.
These soaps are also enhanced with coconut oil, extra virgin olive oil, shea butter, cocoa butter, high grade essential oils, and natural ingredients like pumpkin puree and blueberries.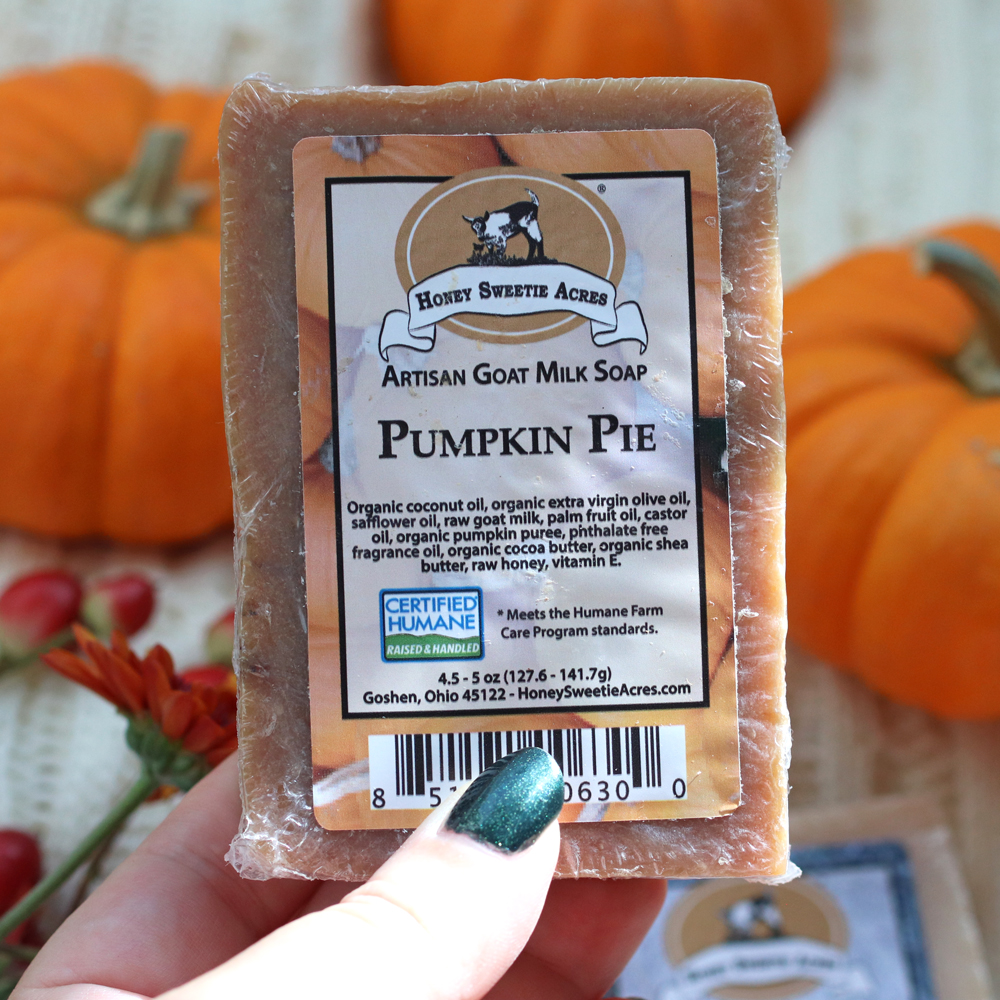 Right now, they have seasonal soaps like MY FAVORITE, the Pumpkin Pie Goat Milk Soap. It's made with real pumpkin puree, and to me, it smells strongly of cinnamon, which I absolutely love! Pumpkin has its own natural exfoliating enzymes, as well as Vitamins A and C to boost collagen production and nourish your skin.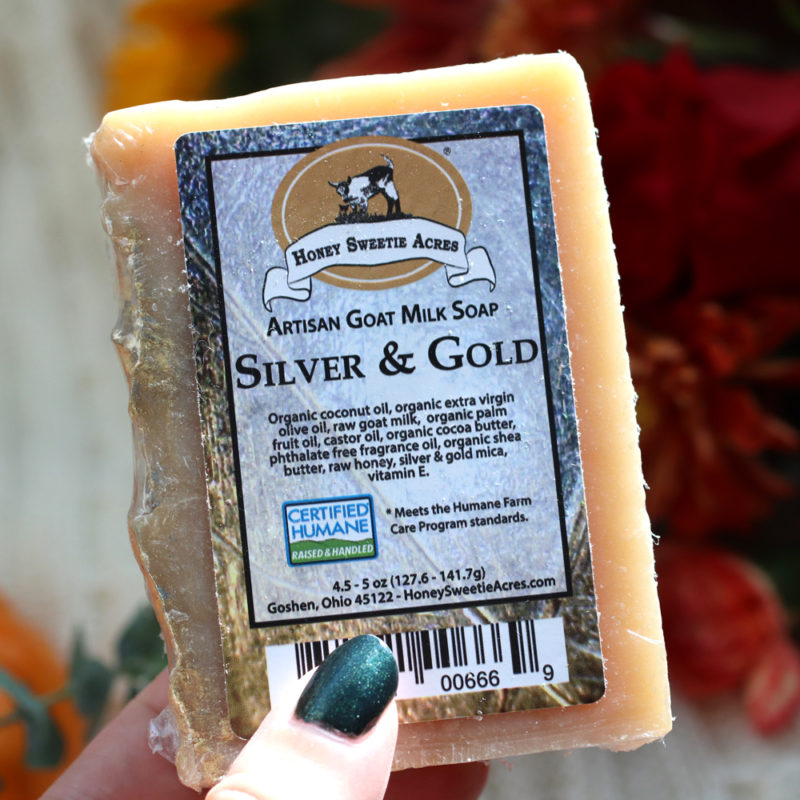 Not a pumpkin spice fan, but want to get in the holiday spirit? Try the Silver & Gold goat milk soap bar. It's got all of the raw goat milk goodness plus some extra flair (silver and gold powdered mica) and it smells SO good. Imagine a cross between that fresh, clean Irish Spring scent and a Christmas tree!
There are tons of fun scents to choose from, but if you have sensitive skin, eczema, or are avoiding scent for any reason, they also have an unscented soap!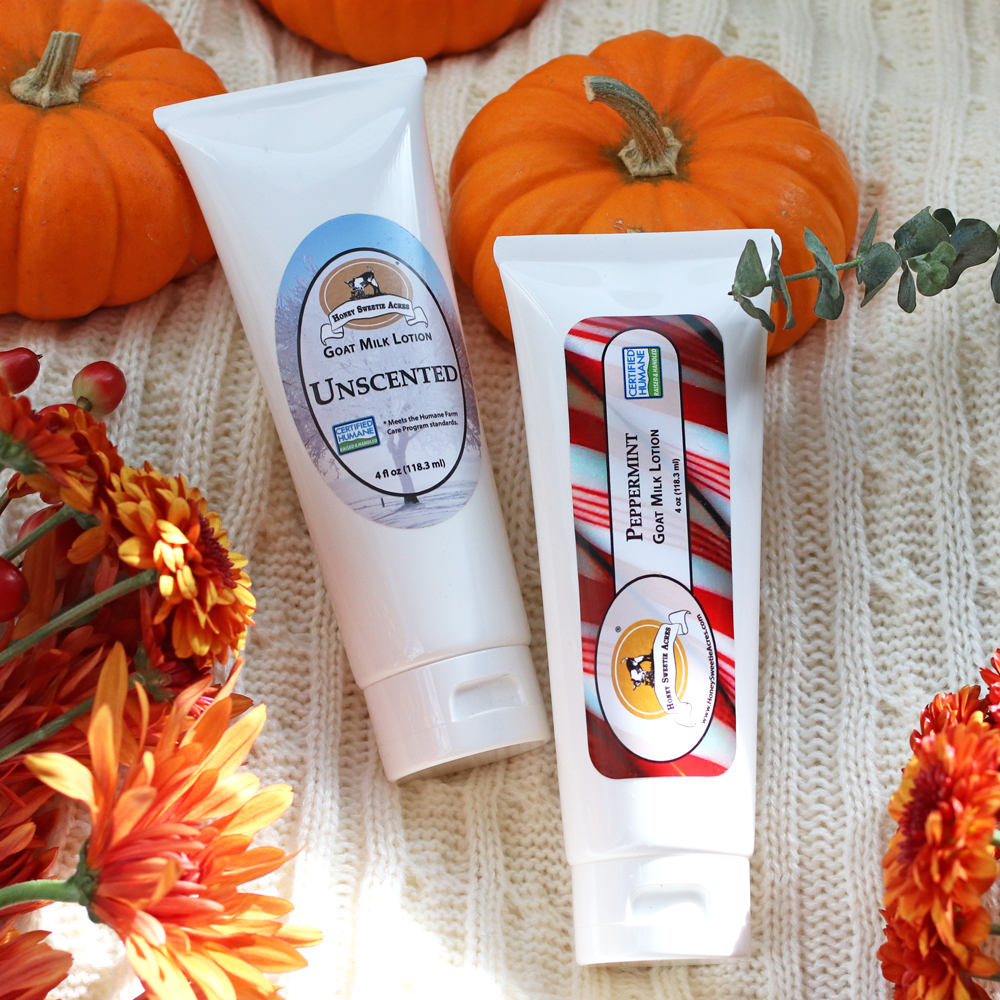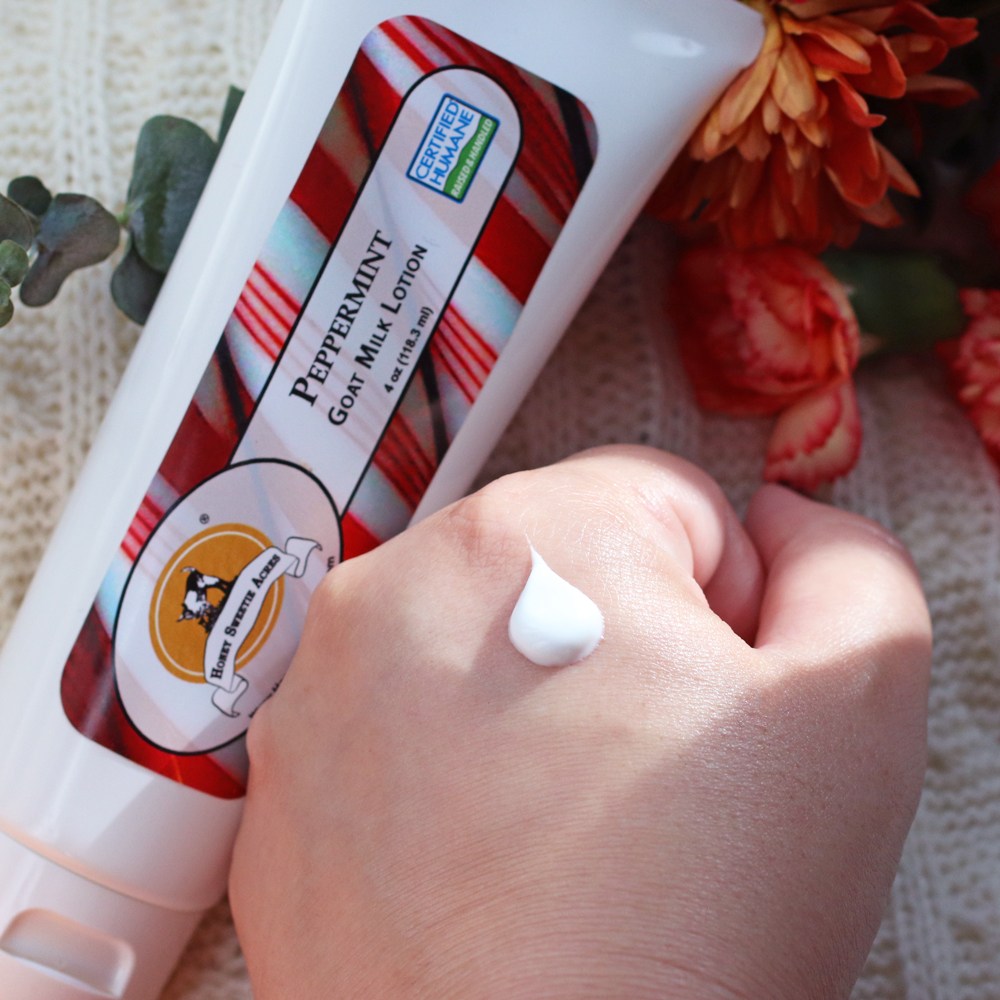 If you want mega-hydration with mild exfoliation and NO greasiness or heaviness, this goat milk lotion is for you! It comes in several scents or you can get unscented if you're sensitive or don't want your lotion to compete with your perfume. I tried the festive peppermint scent, and it's got a refreshing, holiday vibe.
These lotions have all the benefits of raw goat milk mentioned above, plus organic aloe vera, organic coconut oil, grapeseed oil, chamomile and natural fragrance. They are perfect for winter chapped hands and feet!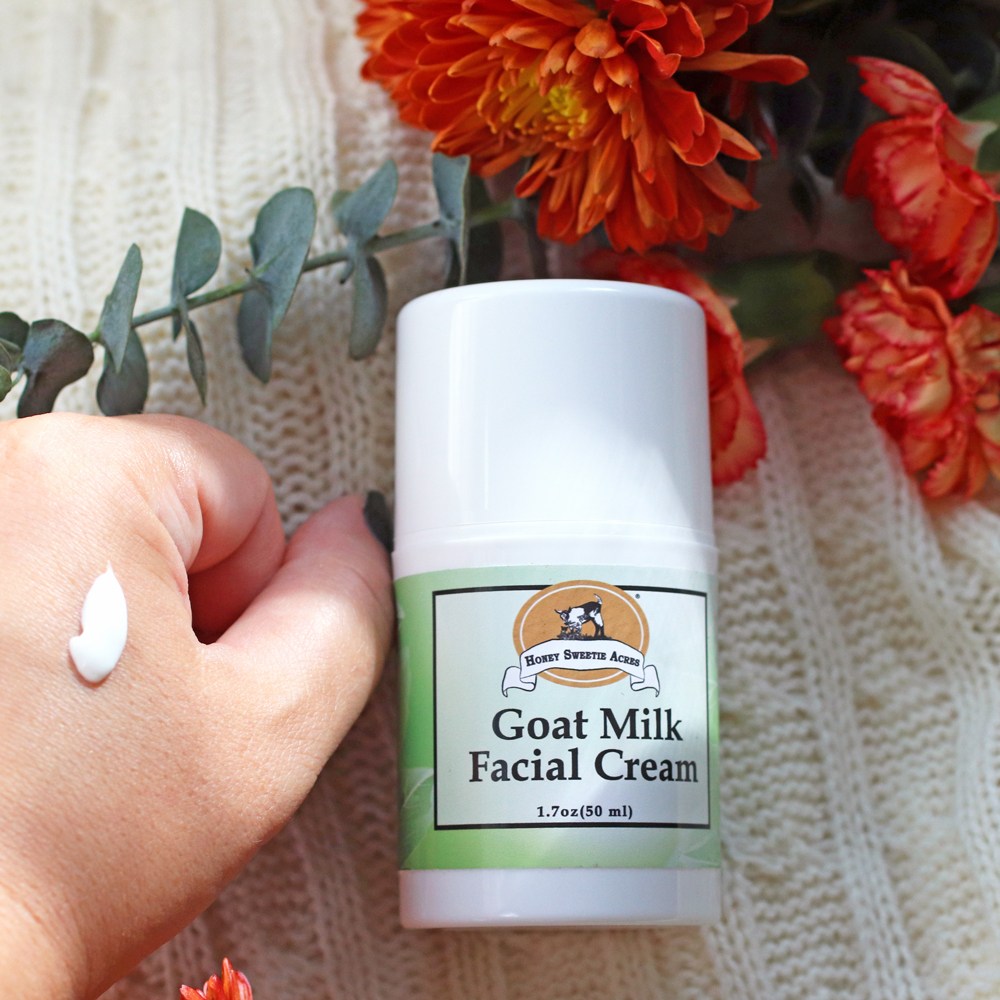 If you have normal to dry skin, I really think you will love this luxurious, hydrating Goat Milk Facial Cream. First of all, it comes in an airless pump, which I love. You don't have to dip bacteria-covered fingers into a jar! (I was a germaphobe even before the pandemic!)
It's made with ingredients that wintery dry skin will SOAK UP like organic aloe and coconut oil, grapeseed oil, jojoba oil, avocado oil, Vit E, neem seed oil, Vit C and rosemary. It's tempered with witch hazel and white willow bark (which naturally contains exfoliating salicylic acid).
This facial cream is made with 77% organic ingredients, fragrance-free, and contains no parabens or alcohol.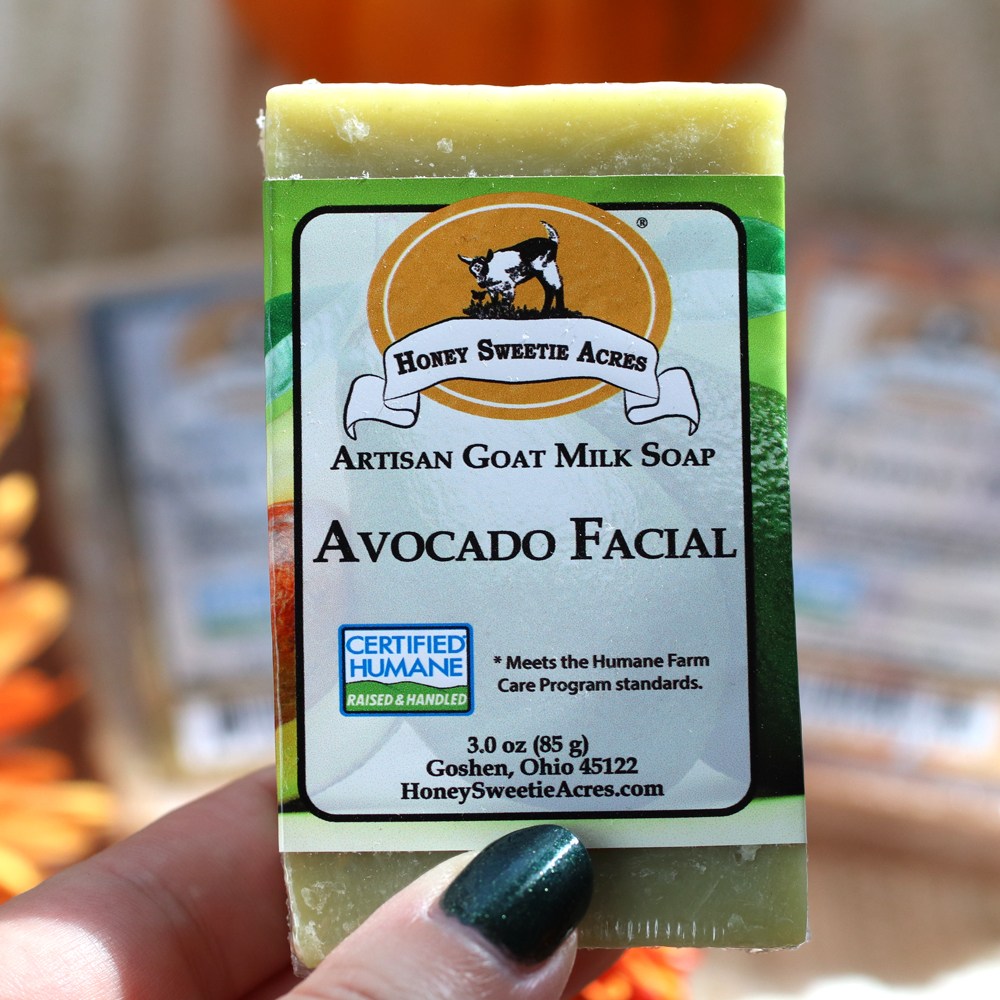 And last, but certainly not least, Honey Sweetie Acres' Avocado Facial soap bar is a mega-hydrating bar that you can use on face and body. It's made with real avocado puree and avocado oil. It's loaded with fatty acids and antioxidants lutein, and Vitamins C and E. It also has raw goat milk of course, as well as olive oil and raw honey. Almost every ingredient in this facial bar is organic.
If you're a DIY skincare type of person and love mixing up fresh ingredients in your kitchen, this is a time-saving way to treat yourself to that daily. The ingredient lists for these products are simple, effective and you can pronounce every ingredient. They are made with love on a happy goat farm in Ohio – not in a factory!
If you want to try the products for yourself (or buy them as gifts for friends and family), use my code BeautyB for 15% off!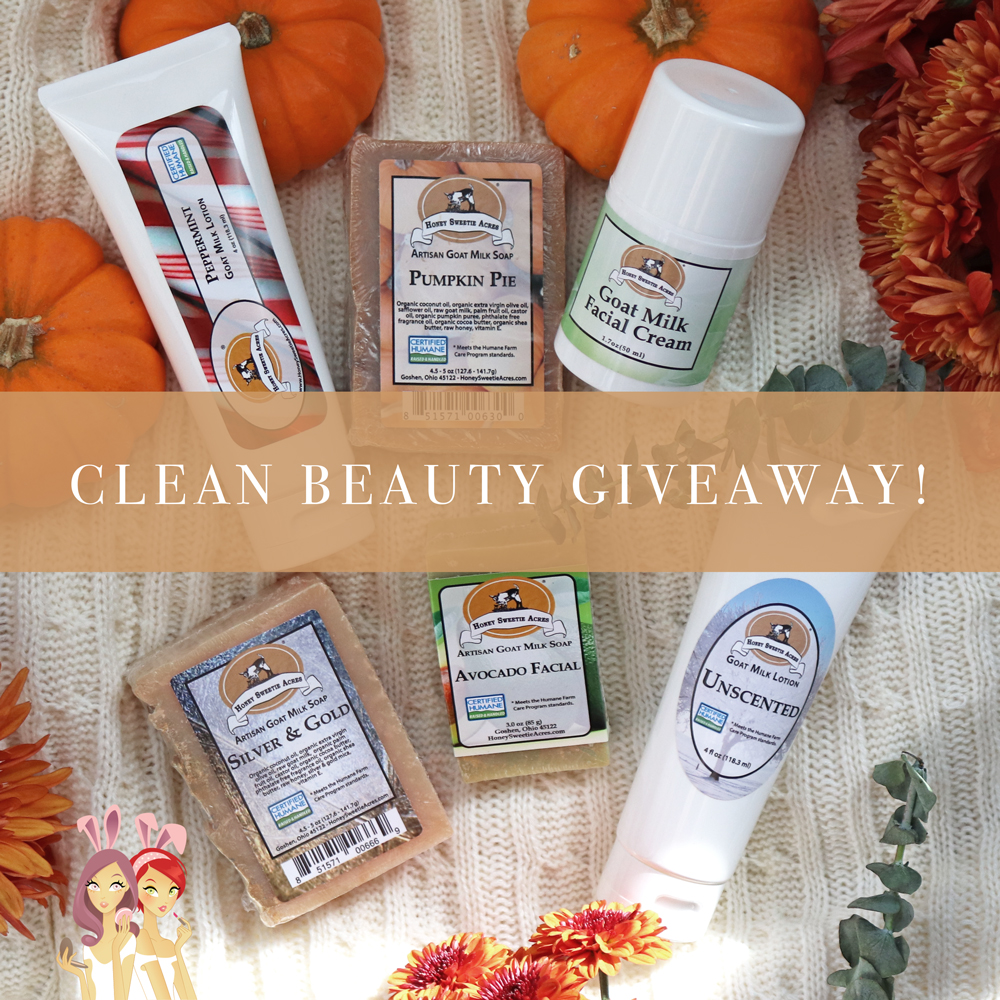 Goat Milk Soap and Skincare Giveaway
So, who wants to win a big haul from Honey Sweetie Acres? I'm excited to give one lucky reader ALL of this natural goodness ($51.71 value):
Pumpkin Pie Goat Milk Soap
Silver & Gold Goat Milk Soap
Goat Milk Facial Cream (Cert Awards Finalist)
Peppermint Goat Milk Lotion
Coconut Organic Flavor Lip Balm 
Avocado Facial Bar
No purchase necessary. To enter, wait for the Rafflecopter form to load below. You can enter as few or as many times as you like (you don't have to fill out all of these to be entered). By entering you agree to the official rules. You must be 18 or older and living in the US to win. Ends 11/18/20 at 12 am PST.