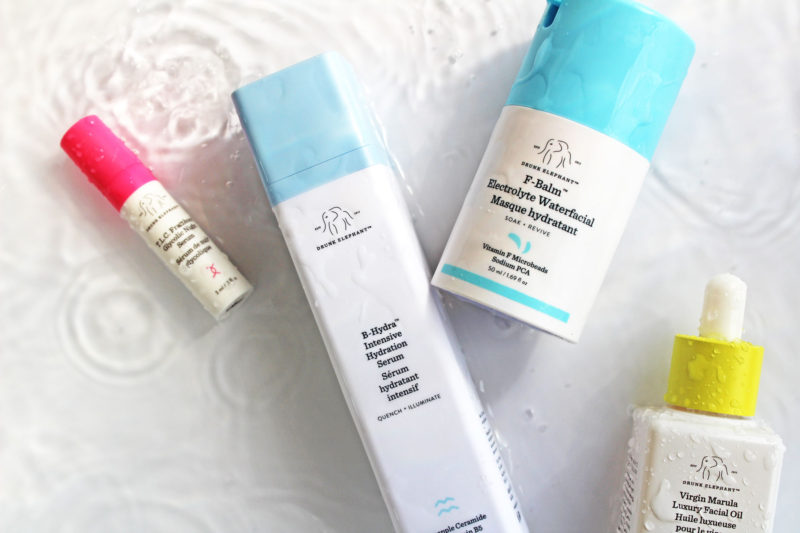 Photos and article by Claudia Materdomini
Living in the Arizona desert has made me realize that my skincare routine needed to be switched up after living for years in California. Sunscreen was a MUST as well as keeping my skin hydrated and moisturized.  Not only am I more diligent with sunscreen, but also with making sure I don't miss any steps in hydrating my skin as I adjust to the desert and the changing seasons.
Aside from sunscreen, there is one thing I always do to treat my skin – and that's giving it a healthy dose of hydration. Whether you have oily skin or dry skin, everyone can benefit from a hydration boost to improve elasticity and oil control, all while keeping the skin looking plump.
Hyaluronic acid has always reigned king of skin hydration helpers and for good reason — it can hold up to 1000X its weight in water! And as we get older, our skin needs more and more help which is why I use hydration products on the regular like Drunk Elephant's B-Hydra Intense Hydration Serum and F Balm Electrolyte Water Facial.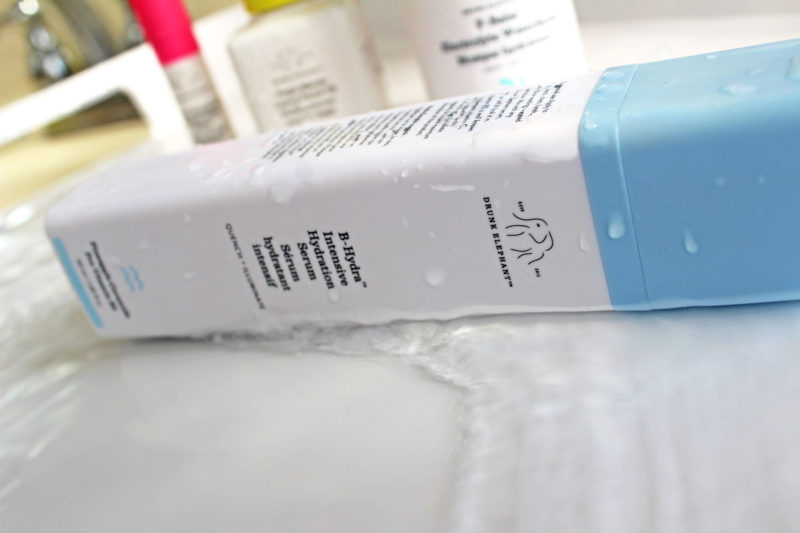 I'm actually already on my second bottle of the B-Hydra Intense Hydration Serum because I enjoy it that much. While the name says serum, the texture is closer to a thin gel cream. B-Hydra applies and absorbs like a dream. I love using this right out of the shower in the morning or right after cleansing my face in the evening. It works best when applied on damp skin, so I'll use a facial mist and apply quickly afterward.
B-Hydra is formulated with pro-vitamin B5 to draw in moisture from the air (and from any facial mists you apply to your skin) and ceramides to do the work of locking it all in. Not only does this serum do wonders for upping hydration levels, but also works to improve the skin's barrier function. This is something we can all benefit from in terms of lowering water loss via the skin but also keeping the bad stuff out, like bacteria, viruses or irritants which lead to skin sensitivities.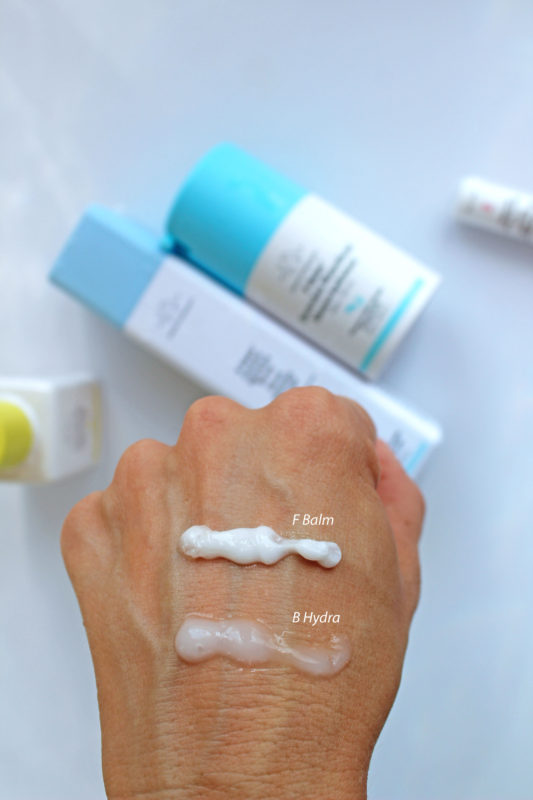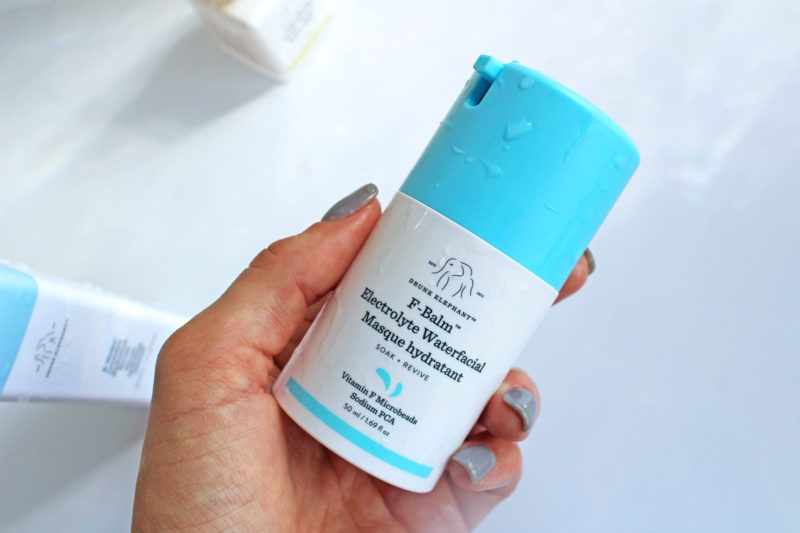 If it's a morning application I can easily move on to the next step which is usually a tinted sunscreen or foundation. It never feels heavy, sticky, or "too much", but more like the perfect amount of "dewy" before I move on with my normal makeup routine.
If this is a nighttime routine, I like to follow or even mix with F Balm Electrolyte Water Facial. I like to think of this as my double down attempt to lock in moisture overnight as I have a fan blowing and A/C going on and off throughout the night. Want to really give your skin everything Drunk Elephant's got? Layer this over their Virgin Marula Luxury Facial Oil.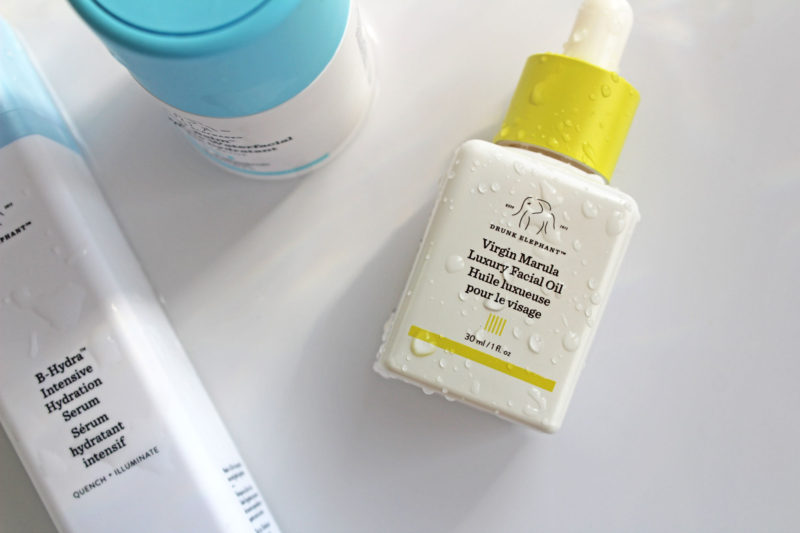 I absolutely LOVE the feel of this oil because it's super lightweight, non-greasy and packed with skin-loving antioxidants that fights pollution and free radical damage. It works great to smooth out those dry areas of the face before applying makeup and I've even used this oil on my elbows and the palm of my hands when I get split callouses from working out with barbells. As someone who has a handful of facial oils to choose from, I can see why Drunk Elephant's option is a cult favorite!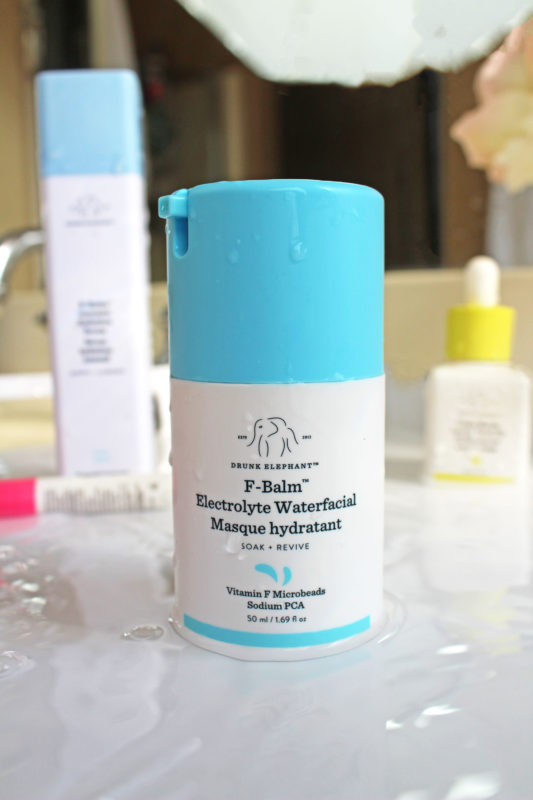 But back to F Balm! F Balm is an overnight facial mask that plumps and strengthening the skin's acid mantle (part of our skin's protective barrier) with a combination of niacinamide, sodium PCA, plant squalane, ceramides, and vitamin F (fatty acids). If your skin is in need of a big drink of water, I can't emphasize enough how hydrated your skin will feel! The electrolyte blend in this product definitely helps me in controlling redness on my upper cheekbones that I get after going heavy with alpha hydroxy acids, and those dry areas around my nose seem to just disappear.
What's awesome is that Drunk Elephant supplies you with a mini bottle of their T.L.C Framboos Glycolic Night Serum to further enhance the results of F Balm. By loosening up those dead skin cells, F Balm can do it's magic even better by penetrating the skin more optimally, so you wake up to skin you absolutely love. 
Both products work fantastic for keeping my almost-40 skin looking good. I will admit that because of the price of these products, I don't think you need to buy ALL of them to see a difference in your skin, but they do work synergistically together to produce fantastic results. If you don't feel you need the overnight help, B-hydra and the Virgin Marula Oil serve as a great day time base for makeup, or even glowy, makeup-free skin days. If you know your skin needs some more help and you can't get it all, maybe invest in F balm that comes with the glycolic serum to give yourself an intense moisture mask overnight.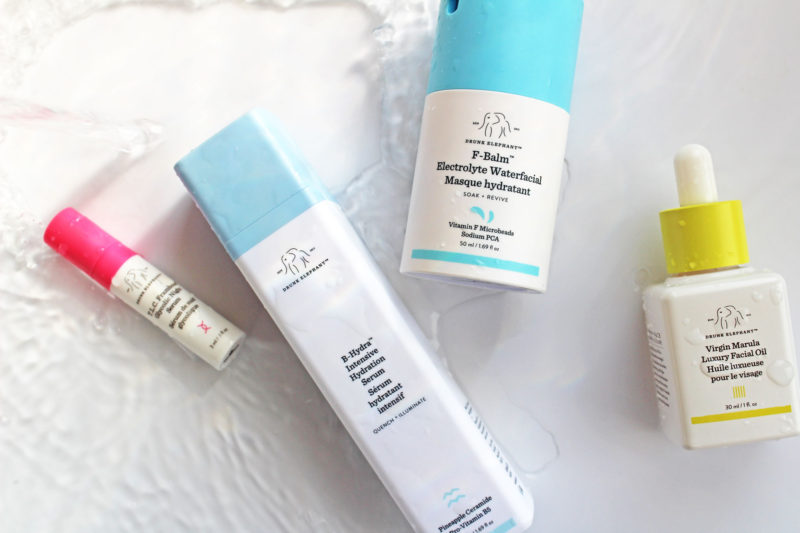 Have you tried any of Drunk Elephant's skincare? Jen's husband is a huge fan of their A-Passioni Retinol cream and Jen and I both love their glycolic acid. Share in the comments below what you've tried from the brand – and what we should try next!