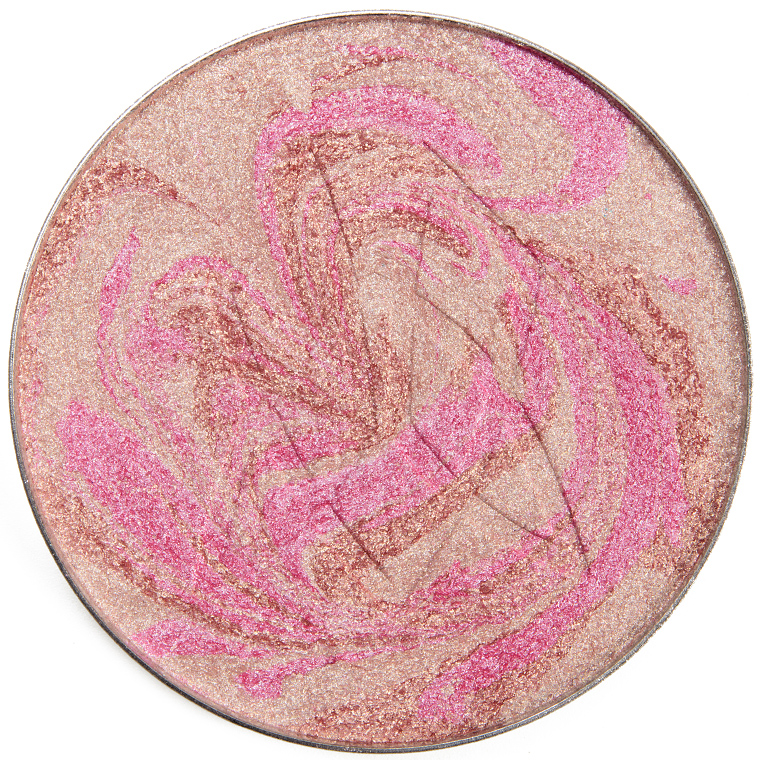 Clionadh (Medium)
Clionadh Clionadh (Medium) Powder Highlighter ($12.50 for 0.21 oz.) is a medium pink with subtle, warm undertones and brighter, golden shimmer throughout that gave it a metallic finish. The texture was smooth, lightly creamy without being too thick or too firmly-pressed into the pan, which made it easy to pick up with a brush. The highlighter/blush applied evenly to bare skin and diffused well along the edges.
It had intense color coverage in a single layer, though it could be used with a lighter hand to achieve more buildable application if preferred. The glow was more metallic but stopped short of accentuating my skin's natural texture. There were signs of fading after eight and a half hours of wear.
FURTHER READING: Formula Overview for details on general performance and characteristics (like scent).
Formula Overview
$12.50/0.21 oz. – $59.52 Per Ounce
There's not much that describes the formula other than it has a "soft, buildable application." They tended to be quite pigmented–semi-opaque to fully opaque–with soft, smoother textures that weren't too dense nor too softly-pressed into the pan. For sheerer or more buildable application, I'd highly recommend using a lighter hand a less-dense brush to do so.
The texture was typically smooth, slightly dense and a bit thicker than most powder highlighters on the market, so they often needed to be really buffed and diffused on the skin. The finishes were often more intense, leaning toward metallic, and occasionally, they emphasized my skin's natural texture when worn at higher coverage levels. They wore between eight and nine hours on me for the most part.
Browse all of our Clionadh Powder Highlighter swatches.
Ingredients
Mica, Titanium Dioxide, Tin Oxide, Iron Oxides, +/- Ultramarines, +/- Chromium Oxide Green, +/- Ferric Ferrocyanide, +/- Bismuth Oxychloride, +/- Manganese Violet, Zinc Stearate, Calcium Carbonate, Kaolin, Silica, Allantoin, Magnesium Stearate, Isopropyl Myristate, Caprylic/ Capric Triglyceride, Dimethicone
We hope you'll consider supporting Temptalia by shopping through our links below. Thanks!
We're here to help you make better beauty purchases that you'll enjoy and love! We recommend signing up to take advantage of personalized features like tracking products you own, viewing dupes that you already have, and more!
Here are some useful resources for you:
Compare Any Two
Curious how two shades compare to each other? Type in the shades below to get instant side-by-side swatches!